The doors of the Marx Halle have opened – viennacontemporary begins its four-day art marathon 0
A report from the viennacontemporary international contemporary art fair
Arterritory.com
21/09/2017
Photo: Agnija Grigule
As one of Europe's most dynamic centers of art and culture, in autumn Vienna's diverse cultural agenda is, as always, in its prime. Being the center of Europe, Austria's capital is cognizant of its status as a crossroads, and its open character and receptive demeanor towards a myriad of nationalities presumes the participation of a broad spectrum of international artists in a host of artistic, musical and cultural events.
In October, the stage of Burgtheater Wien will feature Latvian director Alvis Hermanis' confrontation with the 19th-century playwrite Alexandr Ostrovsky and his depiction of Russia's brutal reality in the play The Poor Bride. By the same token, in November the Musikverein concert hall will feature the brilliant Latvian mezzo-soprano, Elīna Garanča.
ARCHIVE: Introducing highlights of the international contemporary art fair viennacontemporary 2017
The museum programs are quite intriguing, too – the Albertina has put together an impressive exhibition on the 16th-century Dutch artist Pieter Brueger the Elder, while mumok presents a slightly challenging behind-the-scenes look at the American FISCHERSPOONER art, music and performance project.
An active exhibition schedule is also taking place in Vienna's galleries. Galerie Meyer Kainer is presenting a show with artists selected by the artist Liam Gillick, and Krinzinger Projekte is hosting a group show put together by ten young and promising international curators. These two, as well as other presentations by the city's galleries, can be viewed at the contemporary art fair viennacontemporary, which is taking place at Marx Halle September 21 to 24.
This year the Austrian event is hospitably hosting 110 galleries and art institutions hailing from 27 countries. A special place has been given to Hungary this year with the fair's special program titled Focus: Hungary, which provides an in-depth look at the country's art scene. It features three Hungarian galleries – acb, Kisterem, and Vintage Galeria – which have combined forces yet again to bring to the forefront the most vivid elements of the Hungarian neo-avant garde movement from the 1970s. Independently from the Focus: Hungary program, Budapest's Chimera-Project Gallery is presenting the neo-avant garde icon Géza Perneczky; in addition, the gallery has the honor of representing Estonian artist Anu Vahtra, who this year received the viennacontemporary's Artproof Photo Award 2017.

Artist Christian Falsnaes and English Editor of Arterritory.com, Agnese Čivle

Hilla Kurki. Ripples, 2017. Gallery Taik Persons, Berlin/Helsinki
A notable number of local Austrian galleries are participating at this year's edition of the fair – 39, to be precise. Likewise, the solo shows in the ZONE1 section of the fair give prominence to either Austrian-born or Austrian-educated artists under the age of 40. All ten presentations are equally intriguing. Especially noteworthy is the one by Danish-born artist Christian Falsnaes, in which viewers are allowed to snip off a piece of the clothing that he is wearing that day; the same can be done to his gallery representative from PSM gallery. Both are left virtually naked while, on the wall next to them, the two create self-portraits of themselves from the snipped-off pieces of clothing.
One could say that, in a sense, the Finnish-born artist Hilla Kurki also frees herself from clothing through her photography in the work Ripples (2017). Represented by Gallery Taik Persons (Berlin/Helsinki), it turns out that this year German galleries are the second most common at the fair – 19 in total.

Donata Minderytė. Gallery Vartai, (Vilnius, Lithuania)

Kęstutis Svirnelis, Gallery Meno Nisa (Vilnius, Lithuania)

Paulis Liepa. Gallery Māksla XO (Riga, Latvia)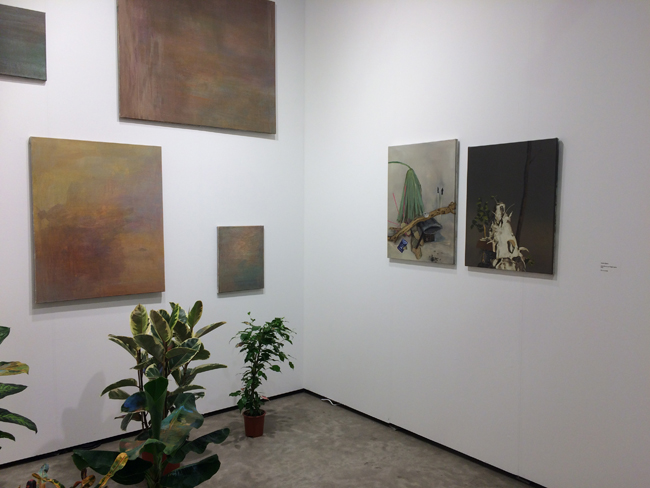 Paintings by Ivan Novikov and Andris Eglītis at pop/off/art gallery, Moscow
Three galleries from the Baltic States are being represented at the fair this year: Lithuania's Meno Nisa and Galerija Vartai; and Latvia's Māksla XO. Meno Nisa is featuring the works of Rūta Katiliūtė (a winner of Lithuania's national culture and arts prize), a video work by Rimas Sakalauskas, and Kęstutis Svirnelis' kinetic sculpture with which the artist once again reveals his amazing ability to create magic from completely simple and ordinary everyday items. Galerija Vartai is showing the installation Abstraction Will Destroy You by Ieva Rojūtė, as well as the latest paintings by Donata Minderytė. The Latvian gallery Māksla XO has gone with the concept of showing one of the most interesting artists in the country's contemporary art scene – Paulis Liepa. His solo show Kas ir šis laiks? (What is this time?) features his latest works, created specially for this event.
ARCHIVE: "Maybe the mega-fairs will die, and maybe the smaller ones will survive". A look back at Vienna's viennacontemporary art fair
Last year it was apparent that this one-of-a-kind art fair art specializing in art from Central and Eastern Europe had gained popularity, giving impetus to perhaps rethinking more seriously the future of regional art fairs. Keeping in mind that this year's fair has just gotten off to its start and it is still too early to make any broad conclusions, we present a photographic look back at the first day of viennacontemporary 2017.

Arterritory's booth at viennacontemporary 2017

Director of Arterritory.com, Una Meistere

Latvian artist Ģirts Muižnieks and Editor in Chief of Arterritory.com, Daiga Rudzāte

From the left: Latvian Editor of Arterritory.com Odrija Fišere, Head of the P.R.A.E. PR Agency Ainārs Ērglis, and English Editor of Arterritory.com Agnese Čivle

Géza Perneczky. Chimera-Project Gallery, Budapest

Regina Gallery, Moscow

Popiashvili Gvaberidze Window Project, Tbilisi

Galerie Elisabeth & Klaus Thoman, Vienna

Laura Rutkutė, the art director of a Lithuanian art gallery Galerija Vartai

Regina Gallery, Moscow

Works by Alexandra Paperno. Gallery DIEHL, Berlin

Anca Poterasu gallery, Bucharest

Popiashvili Gvaberidze Window Project, Tbilisi

Latvian Editor of Arterritory.com, Odrija Fišere

English Editor of Arterritory.com, Agnese Čivle

Jecza Gallery, Timiosara

Carbon 12, Dubai

TOBE, Budapest

Flatland Gallery, Amsterdam

Galerie Andreas Binder, München

Hans Knoll Gallery, Vienna

Raster Gallery, Warsaw

Raster Gallery, Warsaw

Work by Martin Walde. Galerie Krinzinger, Vienna

OstLicht. Galerie für Fotografie, Vienna

Work by Feng Lu. Galerie Michael Schultz, Berlin


Galerie Lisa Kandlhofer, Vienna

Galerie Krinzinger, Vienna

Rod Barton Gallery, London

Gallery Mikael Andersen, Copenhagen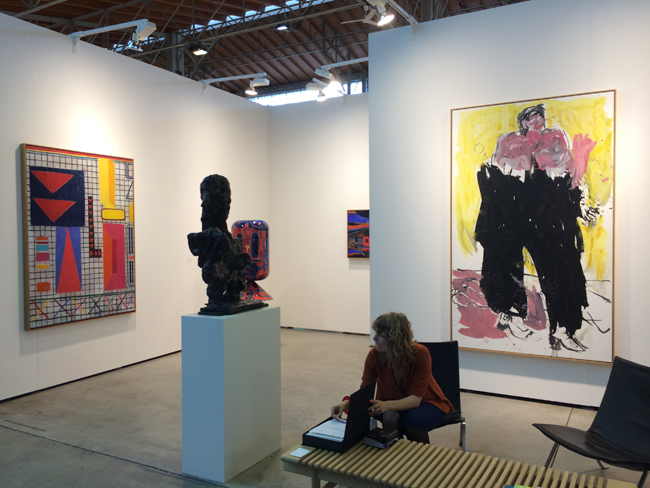 Galleri Bo Bjerggaard, Copenhagen

Gallerry Taik Persons, Berlin /Helsinki