ABLV Bank acquires works of art recommend by the committee of experts. And in this process, the bank employees' skills at conducting negotiations and determining the relationship between a work's artistic value and market price come in very handy. ABLV Bank's interests in investing a million lats is to acquire a collection of artwork—rich in content and as wide-ranging as possible—for the permanent collection of the forthcoming Latvian Contemporary Art Museum.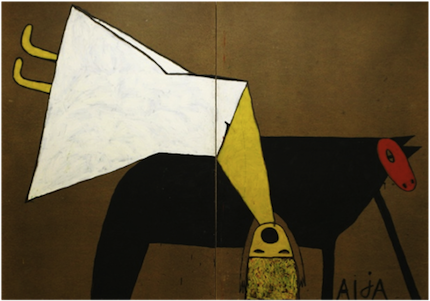 Aija Zariņa, The Rape of Europe Nr.1. Painting, cardboard/oil, 275x340 cm. 1988
Is the ABLV Bank Contemporary Art Collection accessible to curators who wish to loan works of art for exhibits?
Of course. ABLV Bank regularly receives requests, mostly from state and municipal museums, to loan individual works of art for exhibits. We have never refused, and in special cases we tried to help with information and solving technical matters. In 2010, works from the collection were exhibited at museums in Ventspils and Madona, as well as exhibited in Brussels and Frankfurt. We are seeing a marked trend that museums are increasingly interested in our collection, and this is very delightful.

Kaido Ole, Untitled CLXIII. Painting, canvas/oil. 200x190 cm. 2001
Are works from the collection exhibited in any public spaces, and is ABLV Bank planning on holding regular, rotating exhibits of the collection outside of the bank?
A portion of the collection's works can be view by any visitors to ABLV Bank at Elizabetes iela 23. Alongside this, we plan on soon introducing viewers to the ABLV Bank Contemporary Art Collection in a separate exhibit, and have received an offer to exhibit the collection in Moscow. The reason why there hasn't been an opportunity to see the ABLV Bank Contemporary Art Collection as a whole is the lack of a modern and sufficiently large exhibition space in Riga. We hope that this problem will be solved with the construction of the Contemporary Art Museum. Everyone can also view the ABLV Bank Contemporary Art Collection virtually, at www.ablv.com/lv/about/society/collection.