communication → Hype → POPULISM 0
The Creators of New Material Magazine Present Their Latest Project – New Number!
Agnese Čivle
04/03/2016
Photos: Tõnu Tunnel
In the autumn of 2014, the brand-new magazine/art project New Material (Uus Materjal) was presented at the Estonian Museum of Contemporary Art. Stepping away from the traditional format for magazines, New Material was a collection of extremely diverse forms of media and materials, with each copy packaged in a handmade concrete box weighing six kilograms.
Once again, having taken inspiration from Aspen magazine's box-like issues which were published in the United States between 1965 and1971, the New Material team presented their latest endeavor in an intriguing, experimental format – titled New Number!
Read in the Archive: New Material – Explorations in New Materials
The first publication was named New Material and explored themes linked to concepts like new materialism and the return of the material – subjects that have gained prominence in the art world over the past years. The latest publication is called New Number!, and its main topic is "communication, hype and populism in contemporary art and culture". New Number! will be published in both Estonian and English with a print run of 222 copies, offline only.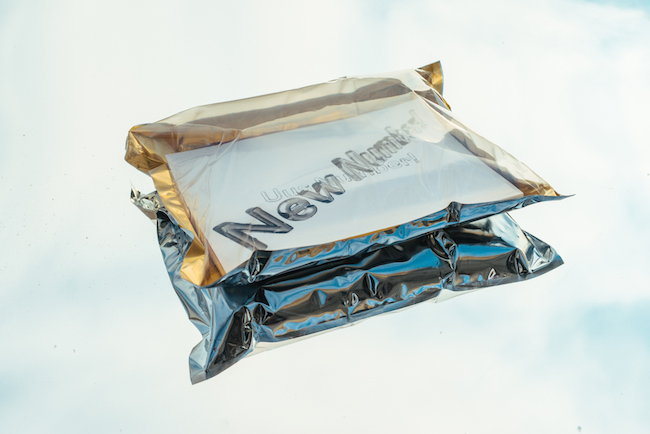 Answers to the following questions were provided by the editorial team of New Number!

How did you go about selecting a central theme for this project?
The team behind the magazine felt that the potential for art communication in Estonia is underrated – that is, the lack of both financing and human resources kill the idea of the possibility of communicating art events professionally. People working in the art field often feel that a press release is enough, yet thought-through communication could provide a platform for art to become more visible to a broader public. We focus on three points: communication, hype, and populism. New Number! explores the cultural and economical aspects emphasizing these keywords. This leads to questions like: How to communicate art that stands against its own commercialization? Where is the line that divides communication that is sensitive within the context of art, and over-hyping – which follows the market logic? Therefore, with this issue, we wanted to emphasize and tip over the understanding of communication and hype as intrinsically being "bad things", and to encourage people to think more about arts communication in specific ways while using innovative methods and considered strategies.
What are the main ideas, positions and conclusions that you express in this issue?
The purpose of this special issue of communication was to bring "communication in the arts" to the center of attention. New Number! does not intend to make strong conclusions about the selected topic, but rather aims to offer diverse approaches, fresh discussions, and even pragmatic solutions to communicating art and culture. Hence, there is no single standpoint, but a grid of ideas opening up different situations in the field of art and communication. We want to offer an insight into the possibilities that the use of conscious communication strategies may provide.
New Number! is a multifaceted collection of culture and art experts' insights into arts communication. Who were the people that you approached?
We have included interviews with gallery owners and representatives of art institutions that deal with art sales – people who communicate Estonian art internationally, and who provide an opportunity to get acquainted with the works of artists online. Among them are: Maria Arusoo and Rebeka Põldsam from the Center for Contemporary Arts, Estonia; Kadri Laas from the Estonian Contemporary Art Development Center; Kadri Uus from NOAR (an online platform for Estonian contemporary art); Triin Männik from the Pluk communication bureau; and Olga Temnikova from the Temnikova & Kasela Gallery.
We have also incorporated short stories about personal experiences working in the field, with conclusive references by various people involved in the art and advertising scenes. The magazine also includes playful texts by local and international art theorists and artists like Margus Tamm, Maarin Mürk, Karin Laansoo, Emily Butler, Hanno Soans, Norman Orro, Kitty van Leeuwen, Stacey Koosel, etc.
How were the authors for this edition selected?
We invited authors who have experience and interest in the arts and communication field to collaborate with us. The selection of authors was an ongoing process. Through creative discussions, we tried to clarify who are the ones actively involved with the selected topic, and who might have the kind of "know-how" that would be interesting to share. Since the interest of the editorial team lies mainly on contemporary art, the focus is on that area; but having said that, we have also selected topics and collaborators who touch upon broader issues of contemporary culture and society.
Could you tell us more about the experimental qualities of New Number!, as well as about its aesthetics – the experimentation with form and materials?
We've always encouraged writers to experiment with the form of their writings by both compounding visual and verbal material, and using distinct linguistic styles or collaborative writing. The whole format of the magazine has to carry across the theme as strongly as the content does. We were initially inspired by Aspen magazine's box-like issues, published during 1965−1971 in the United States, and for which people like Andy Warhol, George Maciunas, Brian O'Doherty, Susan Sontag and Roland Barthes contributed material. Since each of our publications functions as an autonomous art object that determines its own theme, form, name and working methods, New Number!'s physical form reflects the inflated, kind of blown-up nature of hype – thus, the translucent puffy packaging and design. It is also important for us that each owner of a copy has a little something extra to the reading material, whether it be audio, posters, stickers, a piece of personal artwork to possess, or a 3D-printed object. Since the physicality of the art-project/magazine New Number! is inseparable from its content, we continue to release the magazine as an exclusively offline publication.
Could you expand on the design team for this edition – were there any artists involved in designing New Number!?
The graphic designer and artist Viktor Gurov worked with us from early on with this issue. When coming to grips with the visual appearance of the magazine, it is important that the designer's input is equal to that of the whole editorial team. He had the right to suggest material for the content, and his visions played an important role in the whole concept. As advertising is part of the current number, some pages are wittingly designed to look like pages straight out of a shiny lifestyle magazine. In addition, the graphic designer and artist Norman Orro contributed with a visual essay about phrases currently afloat in the artworld; and graphic design students from the Estonian Academy of Arts − Kristjan Kesküla, Jakob Tulve and Ulla Väljaste − designed their analysis of Instagram pages for Estonian art institutions.
What is your vision of the future for the art magazine? How should it change?
We hope to continue with the amorphous identity and experimental approach of the magazine. Another important aspect is getting inspiration from, and dealing with, our contemporary society and cultural focus points in it. As an exciting theme is more important to us than following the rhythm of time, it is a non-periodical magazine. We see it also as an open platform for editors and artists to collaborate on, and in some cases, the main theme determines the whole approach, the working methods, and even the creative members of the editorial team.
To order magazine (25 euros), please contact: uusmaterjal@gmail.com