ARTERRITORY in Venice 0
Arterritory.com
08/05/2019
Tomorrow in Venice the art and culture portal Arterritory.com is launching its annual issues of ARTERRITORY CONVERSATIONS and ARTERRITORY CONVERSATIONS WITH COLLECTORS. As always, questions and answers are at the core of Arterritory's magazines. It is essential that we ask the right questions ‒ an effective question can prompt the interviewee into revealing their view of the world...and in our case, their understanding of art and the role of art in this world. If you were to look at our planet from afar, you would see that everything is linked via the dotted lines of ideas and the outlines of impressions. We humans understand these links and connections via questions and answers, with art having the potential of being a very effective tool through which an infinite chain of questions can be asked. But is it the role of art to ask questions and/or give answers? Is that too much to ask of art, of artists, or even of the final consumer of art – the viewer? If you, too, wish to better understand the role of art in this curious world of ours, welcome to Arterritory.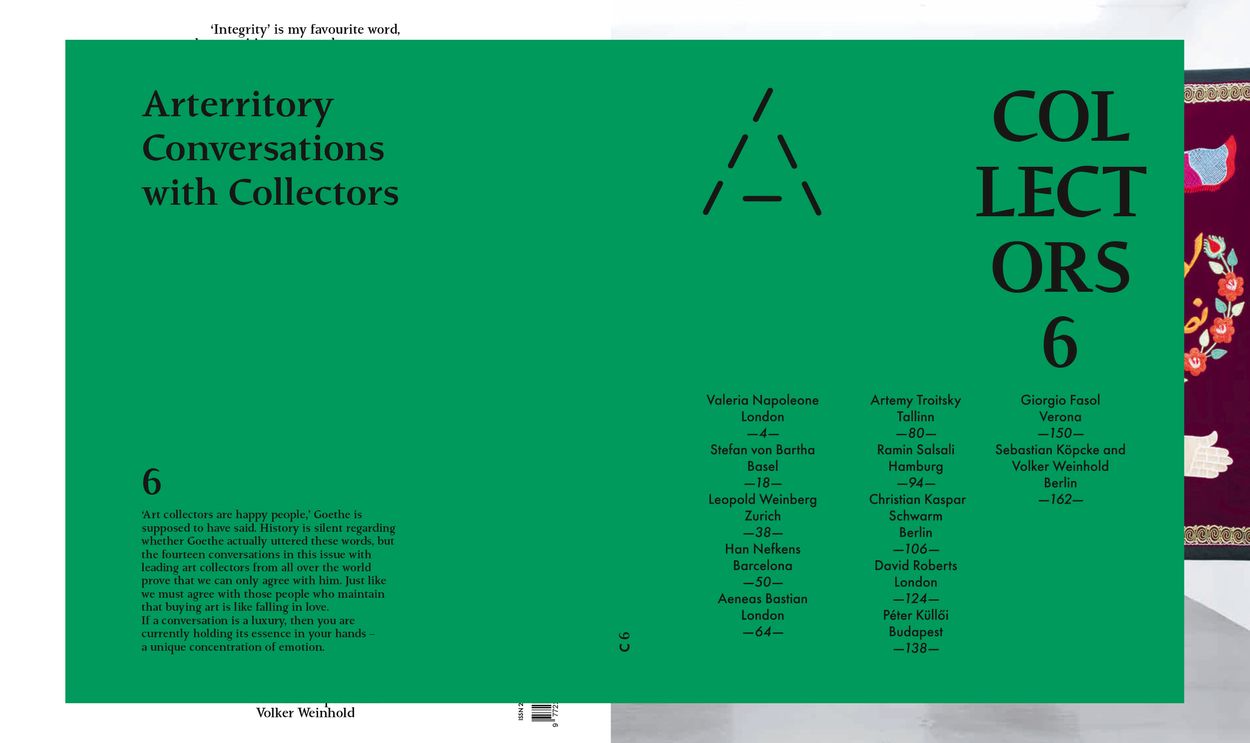 ARTERRITORY CONVERSATIONS WITH COLLECTORS No 6 contains 12 interviews with 13 art collectors: Valeria Napoleone, Stefan von Bartha, Leopold Weinberg, Han Nefkens, Aeneas Bastian, Artemy Troicky, Ramin Salsali, Christian Kaspar Schwarm, David Roberts, Péter Küllői, Giorgio Fasol, Sebastian Köpcke, and Volker Weinhold. 'Imagine spaces without art. Imagine churches without art. Imagine all the history, all the creative people – without art. It just doesn't work' – is the firm belief of Swiss gallerist and collector Stefan von Bartha, one of the 12 collectors featured in our 6th edition. The founder of Independent Collectors, a community and online platform which connects nearly 7,000 collectors from 100 countries, German collector Christian Kaspar Schwarm tells us that from his point of view, introducing art into one's personal space incredibly expands the scope of our own vision of things: 'My apartment has windows. But I regard all the artworks in it as additional windows. And these windows are there for looking out onto something. Therefore living with art just doubles or triples the number of windows I have in my life.' Most every interview in this edition affirms the importance and power of art, yet at the same time, these conversations also reveal how much power today's collector has in terms of influencing and directing art processes: the wish to share and a sense of responsibility have turned on its head the once popular notions of collecting being an egotistical game or a form of exhibitionism. 'I'm in this field because I know that I can make a difference. Because I collect artists who are not on everybody's lips – artists who are either young or forgotten or not yet discovered, artists at various life stages,' explains Valeria Napoleone. Barcelona-based Dutch collector Han Nefken is of a similar mindset: '[...] rather than buying something that's already finished, I wanted to help the artist and the art institution by making it possible for the artist to create a new work – producing work together with the museum. And I found that much more satisfying than buying something that's already finished, because you're there right from the beginning.'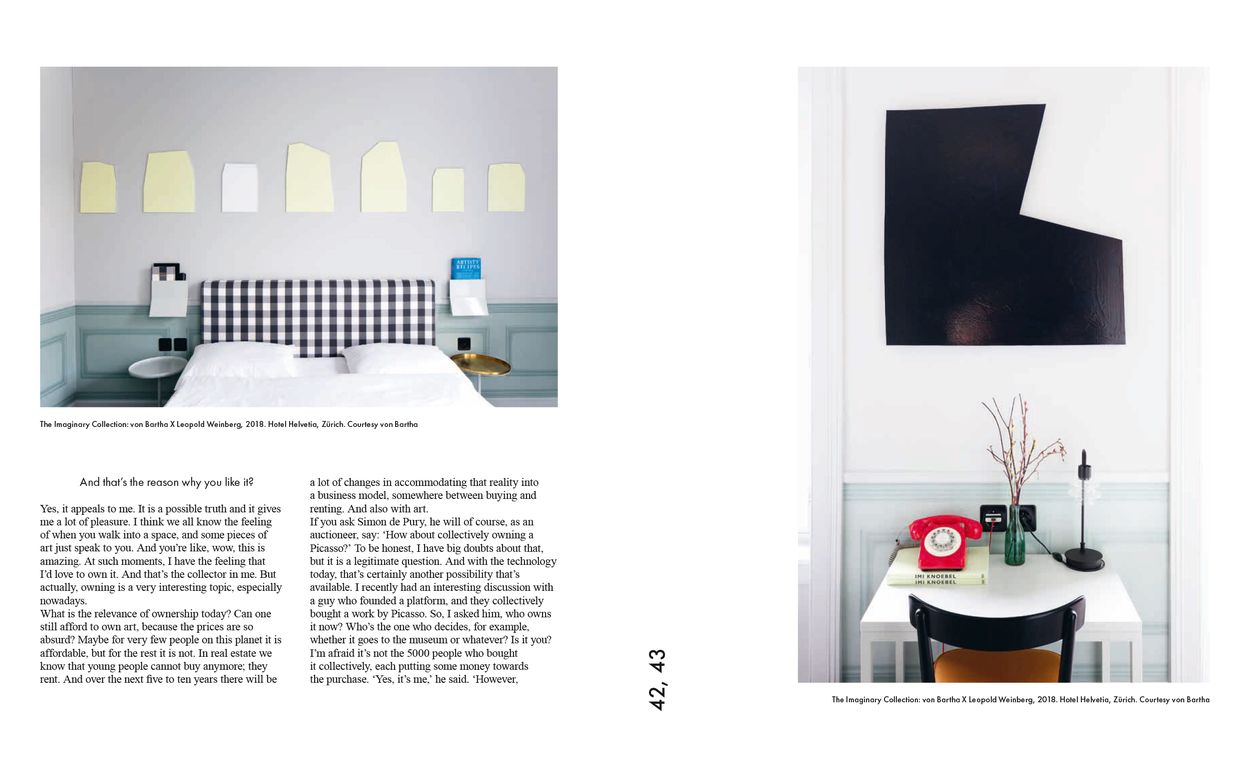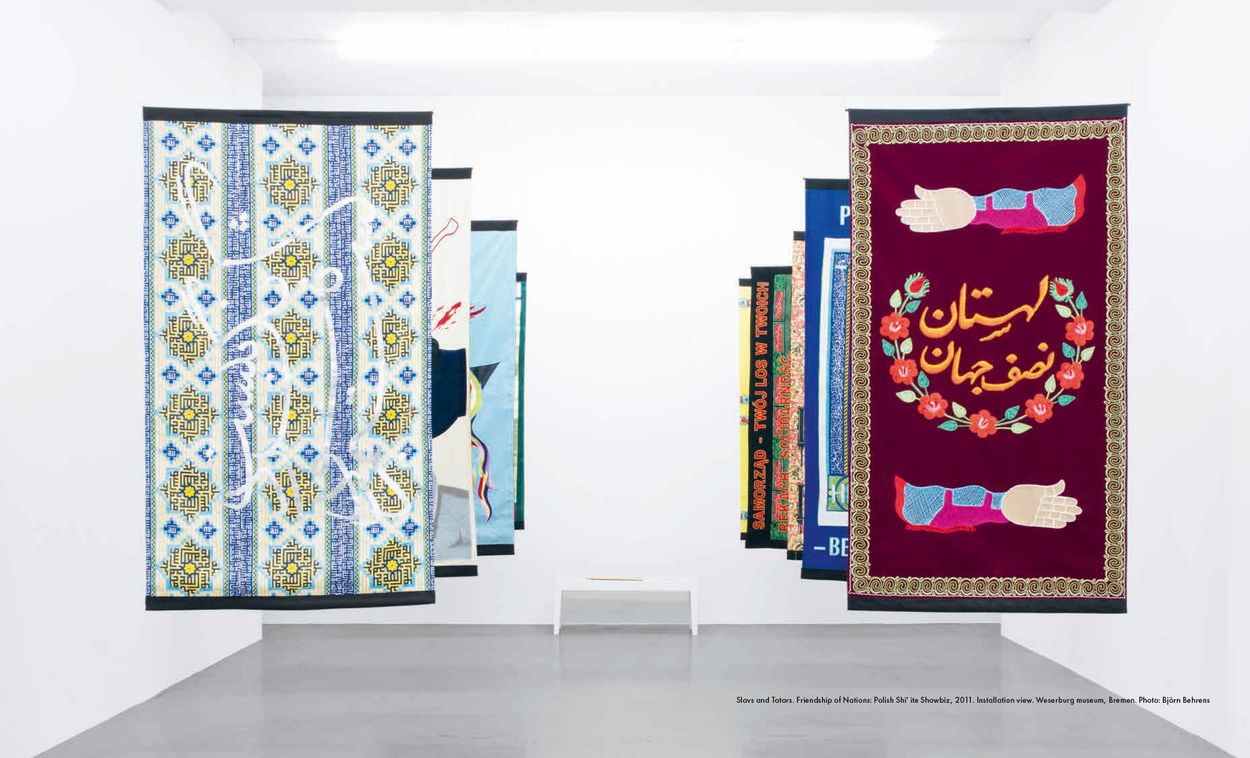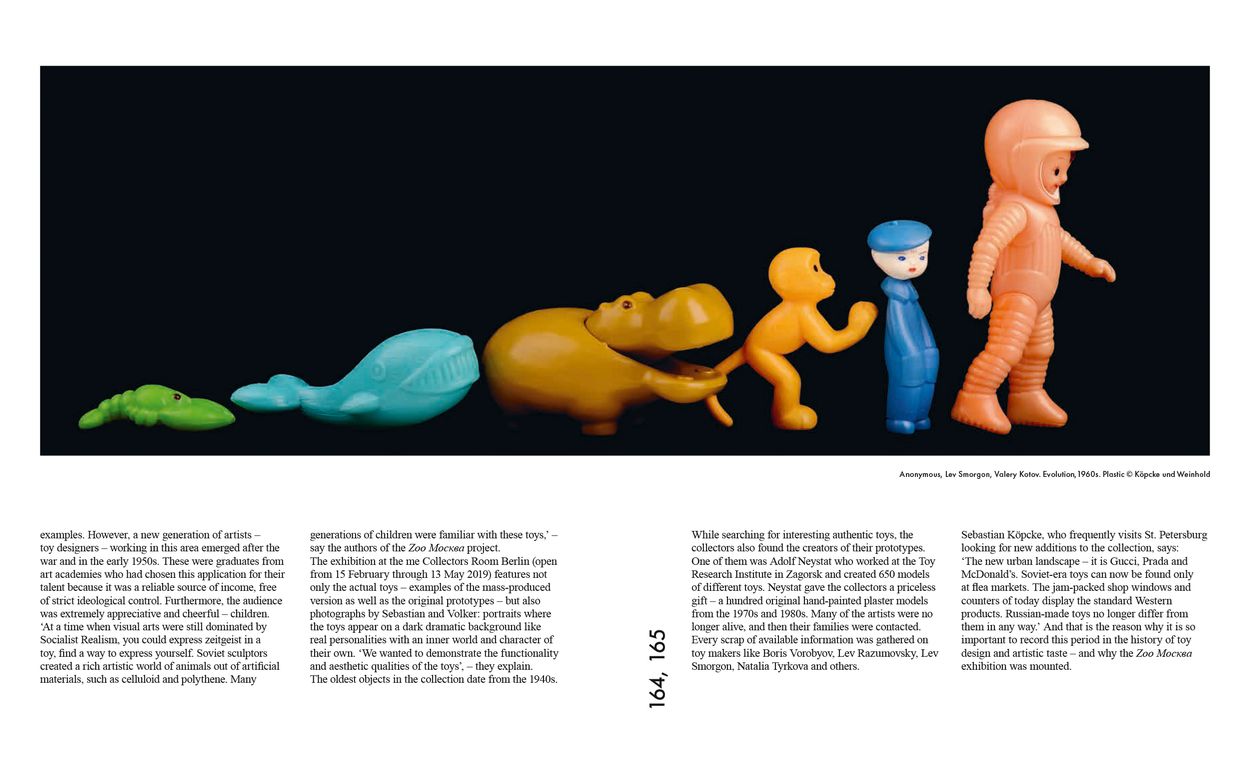 ARTERRITORY CONVERSATIONS No 7 features interviews with 18 vibrant figures of the art world: Daniel Marzona, David Shrigley, Adriano Picinati di Torcello, Gavin Turk, Gabi Ngcobo, Gregor Muir, Hans-Ulrich Obrist, James Beckett, Julian Schnabel, Katja Novitskova, Laris Strunke, Robert Whitmen, Sam Keller, Slavs and Tatars, Stelios Faitakis, Timothy Ventimiglia, and Viron Erol Vert. It's quite possible that many of the interviewees in this edition are not personal acquaintances of one another, yet this almost 300-page-long publication is a place where their thoughts, ideas and passions can meet up and resonate with one another. 'When you talk, do you think as you talk, or have you already thought everything out beforehand?' is a question we posed to Hans-Ulrich Obrist, one of the most famous curators working today. 'That's an interesting question,' he replies, continuing: 'As my mode of activity is based on conversations, I don't really give "speeches" in the sense that I have a preformed idea of what I'm going to say; instead, it is very reactive. The 20th century was all about manifestos – as the poet Etel Adnan has said, it was often about very loud and masculine manifestos, but the 21st century could be more about the feminine quality of listening. A lot of my conversation mode has to do with listening, with feedback loops. And that's how all of my ideas for exhibitions come out of conversations.'
The ARTERRITORY CONVERSATIONS WITH COLLECTORS and ARTERRITORY CONVERSATIONS concept was developed by Arterritory.com director Una Meistere and editor-in-chief Daiga Rudzāte. The publications' visual identity was developed by artist Kirils Kirasirovs, one of the most talented graphic designers in Latvia.
ARTERRITORY CONVERSATIONS WITH COLLECTORS No 6 and ARTERRITORY CONVERSATIONS No 7 will both be launched tomorrow, May 9, on the terrace of Cafe Paradiso in Venice, along with the public discussion 2 OPOSSITE APPROACHES: Artemy Troicky (the Russian music journalist and writer who was one of the most popular figures of the perestroika era, and who now seeks social narrative in art) & Leopold Weinberg (a Swiss architect who is interested in art as natural component of life; as a collector, he focuses on abstract and minimalistic art).