Don't miss out! 0
The three Baltic State pavilions at the 58th Venice Biennale
Arterritory.com
09/05/2019
The 58th International Art exhibition La Biennale di Venezia, which will be open to the public from 11 May till 24 November, has rapidly approached.
Entitled May You Live in Interesting Times this year, the Biennale is one of the most important art events in the world and has been taking place in Venice since 1895, with every iteration bringing together several hundred thousand visitors. The main curator of this year's exhibition is Ralph Rugoff, a recognised art and culture critic and the head of London's Hayward Gallery.
In total, the 58th Venice Biennale will bring together 89 national pavilions that, as usual, will be spread out among the Arsenale, the Giardini, and other places around the city. The central exhibition has been curated by Ralph Rugoff, and there are an additional 21 Biennale satellite projects – including an ambitious retrospective of Georg Baselitz in the Gallerie dell'Accademia and a solo show by the winner of the 2018 Turner Prize, Charlotte Prodger. An interesting programme is also being offered by other independent exhibition spaces in Venice (you can find a short insight into the highlights of the 58th Venice Biennale here).
To minimise any possible confusion at this grand art event, Arterritory.com has provided the following overview of the artists representing the three Baltic States, so make sure you don't pass by the national pavilions of Latvia, Lithuania and Estonia!
LATVIA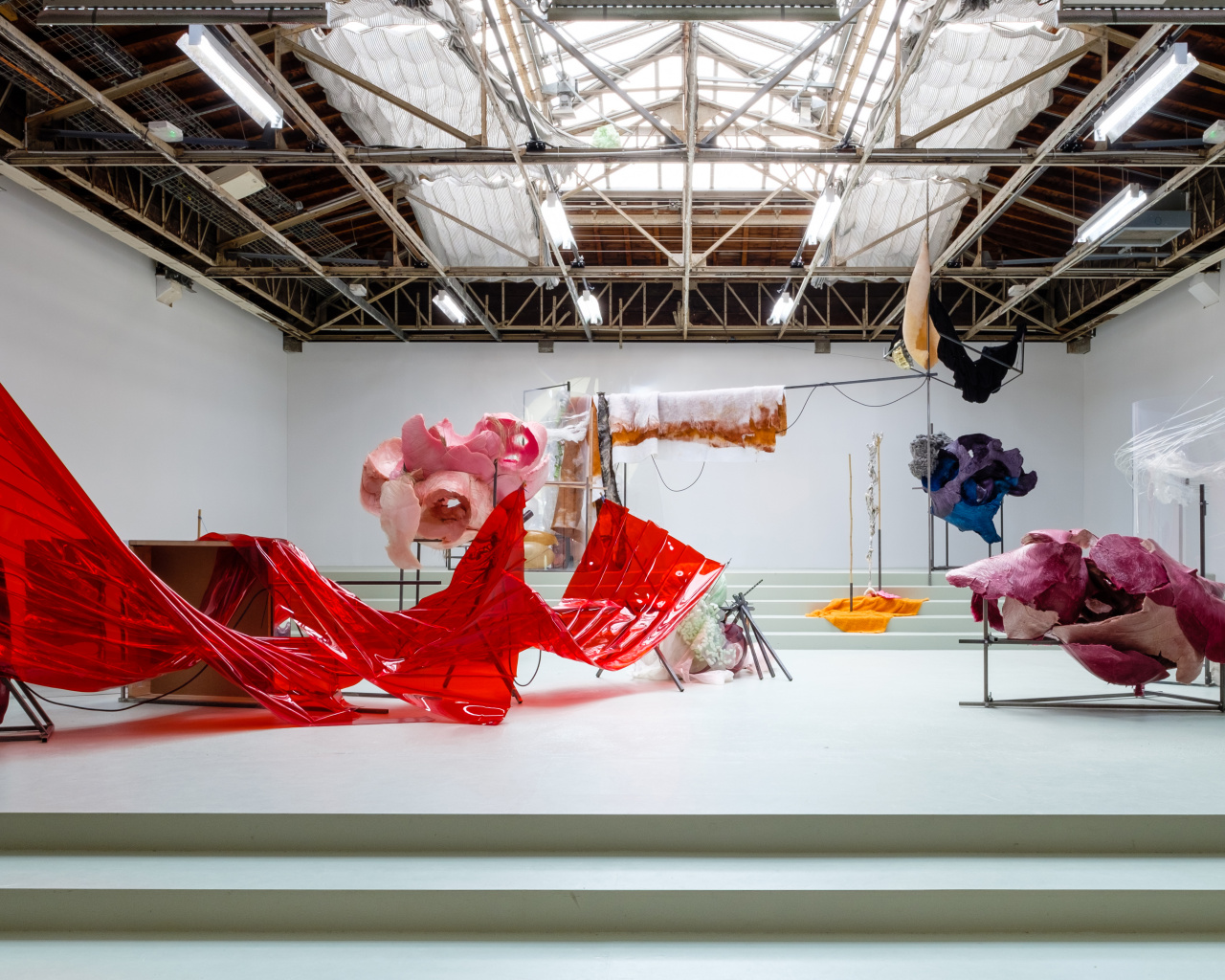 At the 2019 Venice Biennale, Latvia is being represented by the internationally recognised artist Daiga Grantiņa and her exhibition Saules Suns. The curators of the pavilion are Inga Lāce and Valentinas Klimašauskas, and it is has been organised by the kim? Contemporary Art Centre and the Latvian Contemporary Art Centre.
At the core of the exhibition Saules Suns are the themes of light and contemporaneity; Daiga Grantiņa's installation reveals a landscape with several centres that have been designed around several suns and other light sources. 'As if a scene from a myth of cosmological creation, it opens up a place and a moment for new opportunities. The perception of these opportunities is reinforced by a myriad of perspectives and the viewer's several possible pathways in the installation,' states the exhibition's announcement.
Daiga Grantiņa uses synthetic and organic everyday materials in her practice of making installations that reflect on the subject of light and materiality; they also have a tendency to merge with sculptural motifs. Curves, shapes and diverse colours turn the art of Daiga Grantiņa into more than just art – it's a unique experience in itself.
Daiga Grantiņa's works have been displayed at 83 Pitt Street and Hester Gallery in New York, Kunstverein gallery in Hamburg, Matthew gallery in Berlin, and Joseph Tang gallery in Paris. Last year she had a solo exhibition at the Palais de Tokyo in Paris.
Location: Arsenale
More info: www.latvianpavilion2019.lv
LITHUANIA
The Lithuanian pavilion and its featured artists – Rugile Barzdžiukaite, Vaiva Grainyte, and Line Lapelyte – invite visitors of the 2019 Venice Biennale to dive into the sea and enjoy continuous sunshine through a performative opera entitled Sun & Sea. Marina.
More than 20 participants and singers will be 'lounging' on the artificially made beach as they give a contemporary opera performance that the public will view from above. During the performance, participants will be enjoying sunbaths on colourful beach towels while they sing their private reflections – stories, things and events that
have come into their minds. Each visitor of the performance is welcome to participate in the making of the exhibition by becoming one of the 'holiday-makers' on the sandy beach. The only condition one must meet is be willing to spend at least three hours at a time on the artificial beach.
Rugile Barzdžiukaite is a film and theatre director who often explores the differences of objective and imagined realities in her works. Vaiva Grainyte is a writer, playwright and poet who tends to participate in interdisciplinary projects instead of practising individual writing. Lina Lapelyte is an artist, musician and composer who reflects on pop culture, gender equality, and nostalgia in her works.
The national pavilion of Lithuania has been created in cooperation with Nida Art Colony; the curator of the project is Lucia Pietroiusti, General Ecology and Live Programmes Curator at Serpentine Gallery.
Location: Marina Militare
More info: nidacolony.lt
ESTONIA
With the exhibition Birth V, Estonia will be represented at the 58th Venice Biennale by one of the country's most extravagant artists – Kris Lemsalu. The project's curators are Andrew Berardini, Irene Campolmi, Sarah Lucas, and Tamara Luuk.
The immersive installation is a reflection on a shamanic, fantasy-filled world that concentrates on questions about life and its meaning. The artist has invited a team of representatives of different creative fields (writers, curators, artists and personal friends) to participate in the making of the installation. This environment will be created for the purpose of producing a whole and emotionally charged installation in which every viewer could themselves participate. In contrast to her previous work, this time Kris Lemsalu has chosen not to make references to the subject of death; she has instead focused on aspects related to moments of human life.
Being one of the most vibrant figures in Estonian contemporary art, to the broader public Kris Lemsalu is known as a provocative artist who often combines elements of fantasy and reality. In her works she researches worldly subjects and the elements of performance. Lemsalu has participated in a number of important exhibitions around the world, including the Frieze New York art fair.
Location: Giudecca
More info: www.cca.ee