Ten Painters' Shows to Visit After Gallery Weekend Berlin 0
Highlights from Gallery Weekend Berlin
Monika Čejková
02/05/2019
Though this year's edition covered all artistic media, painting continues to dominate the market.
In Europe, Berlin is synonymous with electronic music, fashion and art. A city that was still relatively poor fifteen years ago has become one of the world's most progressive metropolises, primarily attracting young people who go there to take in the current trends. This has not been prevented even by the city's gentrification, astronomical rent prices and the costly lifestyle which have characterised the city over the last few years. Gentrification has already led to several relocations of the art scene – studios and galleries have moved across town either in order to cope with high rent prices, or to get closer to potential clients. Berlin belongs among Europe's most dynamic art centres and Gallery Weekend Berlin is an event focused on attracting clients, curators and artists directly into the authentic milieu of the city's galleries.
Over the fifteen years of its existence, Gallery Weekend Berlin has become a fixed item on the calendar of international art events and through its success it serves as a model for similar projects in many other European cities. For the GWB, local galleries present highlights of their exhibition programmes – most often showing newly discovered artists, or by contrast presenting their established stars. This year's fifteenth edition presented more than forty officially registered galleries, but in one way or another the event embraced every private gallery and non-profit project that has anything to do with art. To an extent, even public institutions adapted their programme to make a connection with GWB. This makes a commercial event into one sought out by a general public, as well as by art experts, who also head to Berlin to attend a social event.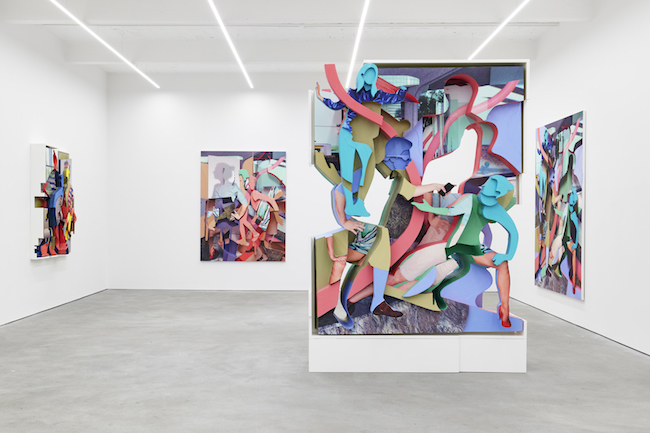 Pieter Schoolwerth. Installation view, Kraupa-Tuskany Zeidler gallery, Berlin. Photo: Stephen Faught
This year's edition covered all artistic media, even though painting continues to dominate the market. That does not mean, however, that the painting – viewed as a satisfying commodity – was presented in its traditional form. The painting projects on show are often posited on the boundaries between installation and object-focused practice, or they experiment with video. Progressive galleries such as Kraupa-Tuskany Zeidler and Peres Project thus aim to attract the informed collector as well as a younger clientele, which in recent years has turned out to have hidden potential. Although compared to previous years this edition has brought many more conservative projects at most of its gallery spaces, the latest trends in painting also made an appearance, including narrative painting working with the legacy of surrealism and magic realism, as well as formal abstraction.
The following selection of interesting painting exhibitions at this year's GWB is more or less based on my own interest in contemporary painting and its expanded forms, but visitors will also find photography, installation, video art and sculpture at the event.
Entitled Odd Glove, Stefanie Heinze's (born 1987) exhibition at the Galerie Capitain Petzel is her first solo show in Berlin. The German artist's fantastical, gesturally expressive paintings are sensitively installed together with her drawings within the context of the spacious, modernistic building with large windows, situated in East Berlin's renowned Karl-Marx-Allee constructed during the socialist era. Heinze's painterly expression oscillates between high and low culture in a similar way as that of another German artist, Jana Euler (born 1982), whose exhibition is on show at the nearby Galerie Neu. Both artists work with absurd, grotesque situations, depicting scenes composed of playfully transformative and sexual motifs. Jana Euler is presenting a series of monumental paintings capturing the moments when sharks surface and attack, striking poses that are conspicuously phallic. Euler's poetry serves as an accompanying text to the exhibition – she compares her sharks to the Mona Lisa, noting that both follow viewers as they move around the room.

Jana Euler, GWF 4, 2019. Courtesy of the artist and Galerie Neu, Berlin. Photo: Diana Pfammatter
Galerie Barbara Weiss is presenting work by the young artist Frieda Toranzo Jaeger (born 1988). Originally from Mexico, Jaeger graduated from Jutta Koether's studio at the University of Fine Arts in Hamburg and today lives in Berlin. Her paintings make allusions to the masculine world through iconography based on the automobile industry as an expression of male power and wealth. Her 2016 work Autoportrait revealing a car motor appeared on the cover of Mousse magazine in 2017. She created new artworks for her show at the Galerie Barbara Weiss, some of which are site-specific.
Markedly site-specific projects by painters include the installation Sol Carero's (born 1982) installation at the ChertLüdde. The artist pays homage to her grandmother Louise Hernandez who enrolled at an art school in her later years. As a little girl, Sol Carero experienced her grandmother's beginnings and progressive development as an artist. As a general part of her practice, Hernandez painted from newspaper cuttings and one such surviving clipping forms the show's imaginary centrepiece. Carero returns to this specific item as a metaphor of her grandmother's unfinished artworks. She creates a striking and colourful interior, covering the floor with linoleum imitating the surface of water and adorns the painted walls with multicoloured paintings, as well as decorating the rooms with artificial potted plants and mangos. The central room includes plastic furniture, enabling viewers to nostalgically enjoy the calming view of a colourful fountain.
In terms of other painting exhibitions, worthy of mention is the representative solo show by Pieter Schoolwerth (born 1970) at the Kraupa-Tuskany Zeidler gallery, where he experiments with transforming his illusionist paintings reflecting upon the history of painting into 3D. Unlike last year, when the progressive gallery presented the work of the young Chinese artist Yu Honglei, this year it put its stock in one of its established middle generation artists. The Peres Project is another progressive gallery dedicated to exhibiting young artists and successfully selling their work on the art market. Contrasting with last year's visually provocative show by Rebecca Ackroyd, much reflected in the media, this year Peres Project also put on a traditional exhibition of paintings – the abstract works of Beth Letain's (born 1976).

Pieter Schoolwerth, Model For Behavioral Surplus Capture, 2019. Photo: Stephen Faught
Of the more conservative galleries, Galerie Thomas Schulte is presenting the large format and formally simple work of Jonathan Lasker (born 1948), which has been an inspiration to young abstract painters and is often cited as one of their basic reference points. Perhaps for the first time, this year the galleries officially registered for the GWB do not include the renowned Max Hetzler gallery. Even so, it used the weekend to launch an exhibition by American artist Adam Pendleton (born 1984) entitled Who We Are at both its locations. The show crosses the boundaries between painting, installation and video, working with the recollections of the renowned dancers and choreographers Ishmael Houston-Jones and Yvonne Rainer.

Jonathan Lasker, Recent Paintings, 2019. Galerie Thomas Schulte, Berlin. Photos: hiepler, brinier,
Wentrup Gallery put on a two-man show by Florian Meisenberg (born 1980) and David Renggli (born 1974). The exhibition provides an interesting insight into new work by the talented Meisenberg, who currently lives mostly in New York. The gallery recently moved to Charlottenburg, a quarter that is once again becoming a trendy part of town. The premises of a former post office built in 1928 in the New Objectivity style have been sensitively reconstructed by German designer Sebastian Herkner into a functional exhibition space, preserving several of its original details, for example a partially surviving, structured floor which has – in the spirit of the expanded conception of painting – become part of Meisenberg and Renggli's exhibition.

Florian Meisenberg, "URHEBERRECHTSREFORM (A Ich habe gemacht. B Ich mache. C Ich wuerde machen. D Ich koennte gemacht haben. E Ich wuerde gemacht haben. F Ich haette gemacht.)", 2019. Courtesy the artist and Wentrup, Berlin. Photo: Dario Lasagni
In terms of galleries which mostly feature installations and new media projects, this year's König Gallery programme is worth highlighting with its presentation of new work by the Leipzig painter Matthias Weischer (born 1973) in the Nave, the gallery's main space located in the former St. Agnes Church. It is the first time in quite a while that painting has been presented here in such a traditional way – hung on walls. The rough surface of the gallery walls reacts to the coarse execution of Weischer's paintings which elaborate the motif of architecture and interiors. After a period of painting landscapes, with these works the artist has returned to the early 2000s when he gained renown for his interiors.