Stanislav Kolíbal's hymn to an interesting life in interesting times 0
Stanislav Kolíbal represents the Czech and Slovak republics at the 58th International Art Exhibition of La Biennale di Venezia
Una Meistere
03/05/2019
Stanislav Kolíbal, a Czech pioneer of avantgarde art, was born in 1925 and began his career as an artist right after the Second World War. Over the past 70+ years, his unique style, which unites minimalism with conceptual art, has developed along with the historical context of his era. His two- and three-dimensional works of art dissolve the borders between painting, drawing, sculpture and architecture.

Stanislav Kolibal, Black relief, 2017.
The fact that Kolíbal was chosen to represent Czech contemporary art at the 58th Venice Biennale can be seen as a gesture of respect to a giant of the avantgarde as well as confirmation of the increasing interest the art world has taken in recent years in 1960s and 1970s art from Central and Eastern Europe. This interest has even been witnessed at such prestigious international art institutions as the Metropolitan Museum of Art in New York City, Tate Modern in London and the Centre Pompidou in Paris. Asked why this breakthrough is finally happening now, historian, curator, writer and art collector Dieter Bogner, who is the curator of the Czech Republic Pavilion and also the author of Vienna's MuseumsQuartier concept, provided the following explanation:
"After the collapse of the Soviet Union, curators rushed to Central and Eastern Europe to open up a seemingly new world. The idea was to integrate this art into the Western context. But this hype did not last long. It didn't even last ten years. Other interesting parts of the world came into view. Now, nearly twenty years later, a more precise view has emerged of the special artistic conditions and traditions of Central and Eastern Europe as a special and diverse cultural region. The focus is on important representatives of the older generation, whose work turns out to be extremely consistent in retrospect. The existential content in the minimalist works of Kolíbal has long been an obstacle to their reception because it does not fit into the context of Western concrete art. He writes that his intention is 'to express being, that spatial merging of a certain perfection and insufficiency. That which changes, transforms, grows and decays; which does not last.' This specific use of elementary geometry seems to me more contemporary today than formalistic geometric works. And this is what makes it so relevant!"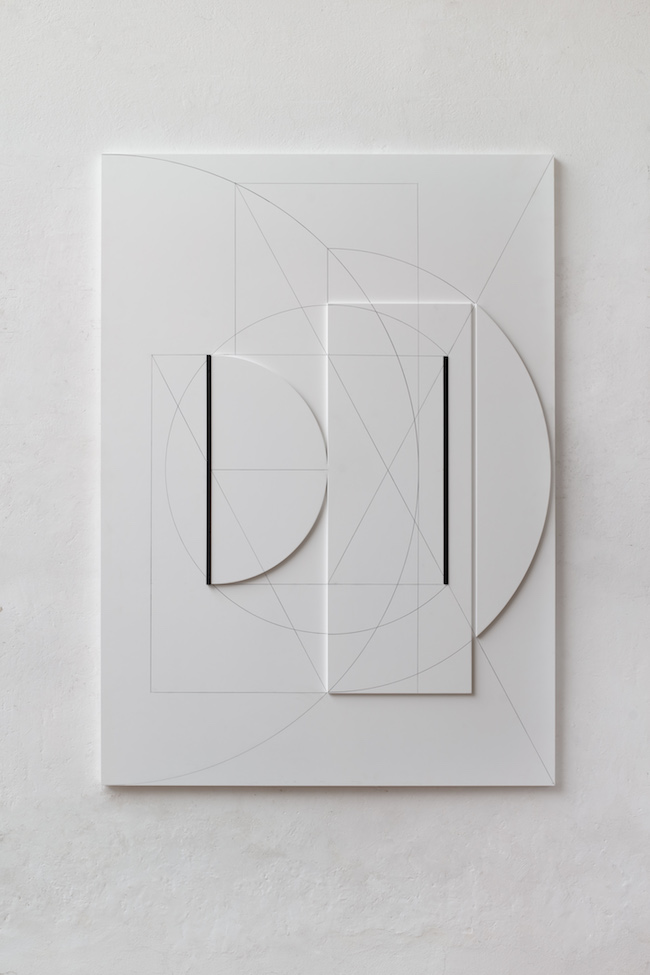 Stanislav Kolibal, White relief, 2016. Photo: Martin Polak
While American modernism was based on materiality, Kolíbal's work has always been closely linked to poetry and narrative. He is interested in the theatrical and existential aspects of creating objects. To him, the space around an object has always been just as important as the object itself. Kolíbal believes that the object and space cannot be separated from each other. He provides vivid proof of this in his installation at Dieter and Gertraud Bogner's Kunstraum Buchberg, a medieval castle on the outskirts of Vienna that also serves as a home to the couple's large collection of contemporary constructive and conceptual art. Kolíbal's large-format wood, metal and neon installation Fundort Dachboden (1992) is situated in the castle's attic. Starting from the first drawings and sketches, it took three years to complete.
"When Kolíbal finished it, he was a professor at the Academy of Fine Arts in Prague. (...) He came with a model and drawings – diagonal, square, circle, half circle, etc. – and he continued to work on site. Technically, he could take the whole construction out and rebuild it somewhere else, but it's not possible, because elements of this space are also a part of the installation. It's an integration," Dieter Bogner told me when I visited Kunstraum Buchberg.

Stanislav Kolíbal, Mizející tvar, 1967. Photo: Martin Polák
Kolíbal was not loved by the communist authorities and was for many years prohibited from showing his work publicly in his native country. So, in place of solo exhibitions, he experimented with the walls of his studio. As he stated in an interview with Radio Praha in 2005 on the eve of his 80th birthday, "I was not allowed to exhibit nor create outside my studio. It become my only world. I started to use the studio's ceiling, floor, walls or an object that was somewhere in a room. I would connect this object with the walls using strings. I would paint on a wall or lay mirrors on the floor, which created different shapes on the walls. I thought up a new way of creating sculptures that was later adopted by many other artists. It is now known as 'installation'."
Through his own geometric, illusory language, Kolíbal urges the viewer to look twice at seemingly common, everyday situations. But at the same time we are never fully convinced that the things we see really are what they are.
Bogner continues: "Kolíbal's works articulate aspects of lability and ambiguity and originate from an acute perception of a social and political context of the 'most interesting times' he has lived through. He writes: 'From the biggest to the smallest, towards the empty, from the square to the circle, towards another possibility, from the solid "such as iron" towards the line, from the barely sensed uncertain to the precise…' Because his work is content-based, it can be transformed into small watercolours, huge wall drawings and so called 'constructions'."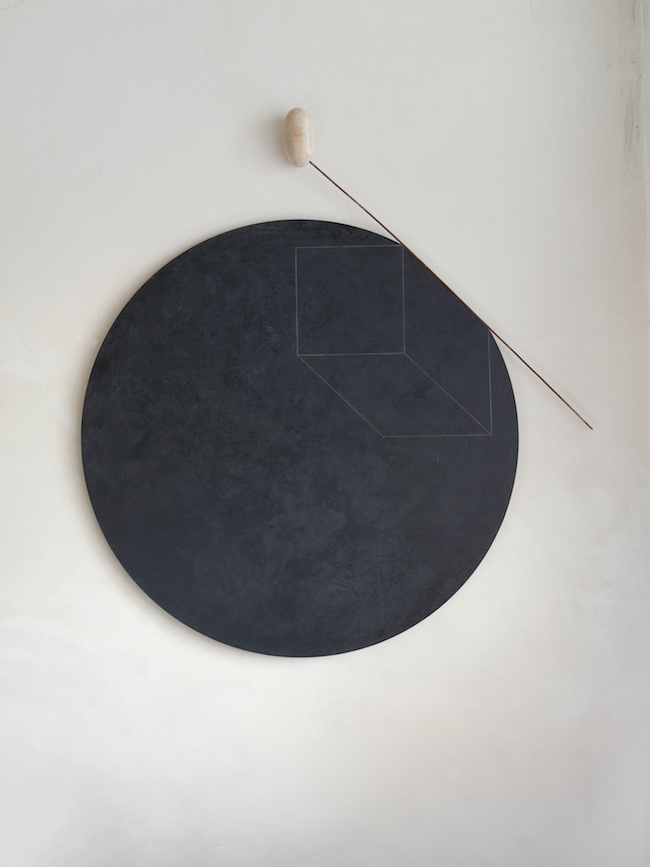 Stanislav Kolibal, Borderline between Light and Dark,1985. Photo: Martin Polak

Kolíbal's works are a bridge between abstraction and reality. Although they sometimes resemble a random combination of square, circular, spherical and rectangular figures, they are in fact thought out to the very last detail, thereby leading us to contemplate meaning in chaos and consistency in inconsistency. Balance in fragility and instability. Kolíbal has also worked as a teacher, set designer, illustrator and architect, and at age 94 he continues to inspire others.
For the Czech and Slovak Pavilion at the 58th Venice Biennale, Kolíbal has created a project whose name, Former Uncertain Indicated, is from a conceptual installation he made in the mid-1970s. The exposition consists of two parts that, according to the pavilion concept, revolve around the idea of opposites: "stability and instability, unambiguity and ambiguity, (and) certainty and uncertainty". The "spatial drawing" exhibited outside the pavilion creates a dialogue with the modernist architecture of the Czech and Slovak Pavilion, which was designed in 1926 by Czech architect Otakar Novotný, while the wall drawing inside the building includes references to the many different periods of Kolíbal's career. The exposition also contains Kolíbal's white sculptures from the 1960s and four minimalist wall installations from the 1970s made of found materials.

Stanislav Kolibal, Fall, 1967. Photo: Martin Polak
When asked what was his biggest challenge as a curator while developing the Czech Pavilion's exposition, Bogner says: "The Czech Pavilion is rather small, only 170 square metres. Stanislav Kolíbal's work covers seven decades! We agreed from the first moment that a contemporary work should be created. How to reduce the quantity of objects but give an important insight into Kolíbal's artistic work? The result of our discussions was: a transparent relief-drawing in front of the pavilion and a ten-metre-long wall drawing inside representing the artist's contemporary position. On the floor, seven white sculptures represent the 1960s, which was a period of growing political hope, and on the opposite wall are installations from the 1970s, the decade after the end of the Prague Spring and a period of growing communist repression and intellectual isolation. So, three periods of Kolíbal's life, each politically very different and each represented by artwork echoing the corresponding socio-political situation with minimal formal tools and poor materials. For Kolíbal, the presentation of the two historical complexes in an international context is very important because of their meaningful content expressing basic insights into the concept of being."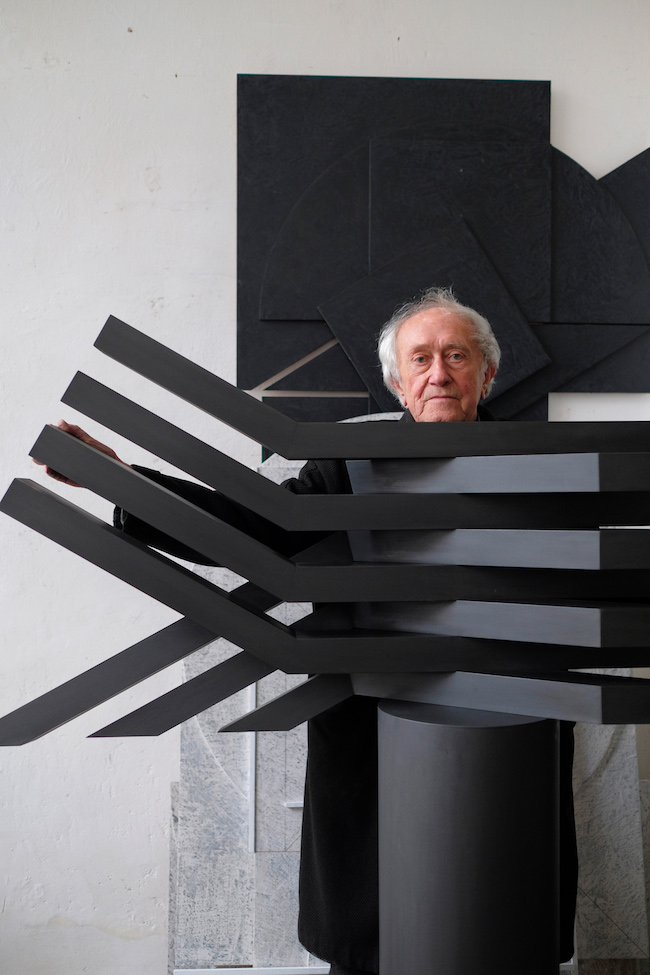 Stanislav Kolíbal, Křídla, 1963. Photo: Martin Polák