At the right time. In the right place. 0
An interview with German curator and gallerist Daniel Marzona
Auguste Petre
13/12/2018
German curator and gallerist Daniel Marzona is one of the most well-known figures in European contemporary art. He is a man who doesn't believe in bad art or the concept of simplicity. He is a man who decided to open his own gallery after seven years of working at the Konrad Fischer Gallery. And he is a man who initially wanted to escape his own destiny, by avoiding the same work his father, art collector Egidio Marzona, was doing. But most of all, it seems that Daniel Marzona is a man who has always made the right decisions to develop his mind and become the person that he is today. And even if he's made some mistakes in the past, he looks at them from a positive point of view, as an observer.
To evade the same career as his father, Marzona first studied sociology and economics. Soon, however he realised the importance of art in his life. He switched to studying art history and became fascinated by the oeuvre of Marcel Duchamp, also known as the father of conceptualism. Perhaps it's a coincidence, but Marzona's father is known for having one of the largest collections of minimal and conceptual art – the same artistic movements that Marzona himself has been interested in for quite some time.
Subsequent events in Marzona's life seem to have evolved almost like a chain reaction: his first curatorial experience together with his father at a collateral exhibition of the Venice Biennale, followed by a job offer at MoMA PS1, two published books on conceptual and minimal art, becoming the director of the Konrad Fischer Gallery in Berlin…and finally opening the Daniel Marzona gallery in 2014. For someone dreaming of a bright career in the art world, such a course of events might seem enticing. But for others, it might just seem logical – after all, life rewards hard-working and ambitious people.
Today, the Daniel Marzona gallery is one of the most interesting contemporary art spaces in Berlin, representing 16 artists of diverse cultural backgrounds, interests and ages. Marzona only collaborates with artists he appreciates professionally as well as personally. The exhibitions on view at the gallery are also a reflection of his own taste and interests in art. Adhering to a similar concept, Marzona also works as a curator and creates independent exhibitions.
I met Marzona in Vilnius, where his curated exhibition Four Rooms with a View was on view at the Vartai Gallery. After acquainting myself with the work of Aron Mehzion, Anastasia Sosunova and Andrea Zucchini, Johannes Wald and Neringa Vasiliauskaitė, I joined Marzona for lunch and a conversation at the café in the freshly opened MO Museum.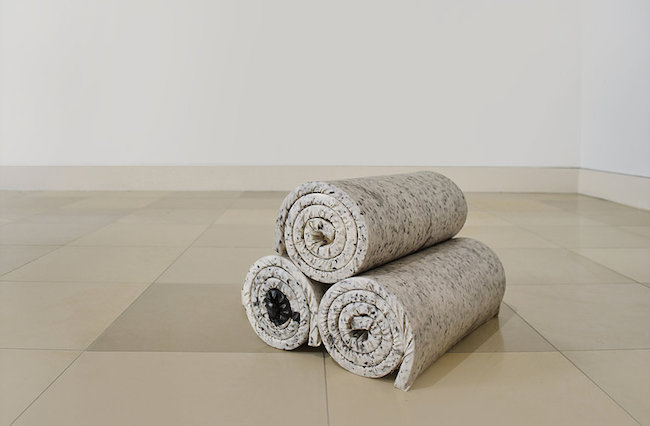 Neringa Vasiliauskaitė. Towels, 2018. Printed latex, silicon belt, foam.

Your curated exhibition Four Rooms with a View was shown at the Vartai Gallery in Vilnius from October 29 until November 30. It was accompanied by a public talk on minimal and conceptual art that you held together with Julian Heynen. How did you come up with the idea to curate an exhibition in Lithuania?
I have to admit that I've had a 'Lithuanian connection' already earlier in my life. I was a curator at a museum in New York (PS1), and it so happened that I co-curated the first museum show by Žilvinas Kempinas. Then several years later, in 2010, I met Laura Rutkute, who is the creative director of Vartai, and we had a good connection when she took care of the Lithuanian pavilion in Venice.
Last year I did a project at Vartai with one of my artists, Vajiko Chachkhiani. He's a young artist from Georgia, from Tbilisi. We had such a good time, and it was such a wonderful experience overall, plus, the gallery's space is very beautiful and it allows you to do various projects. I think they liked the project and had the intention of showing works from different contexts. I feel that the plan, or my intuition, worked out quite well. Four Rooms with a View is a show that you can understand as four solo projects. At least, that was my idea, to turn this group show into four solo shows.
Why did you feel this need to transform a group show into four solo shows?
Well, I had two artists I wanted to invite to show their work at Vartai. Aron Mehzion and Johannes Wald, whom I work with in my gallery in Berlin. Afterwards Laura sent me a list of other artists she was interested in, artists she wanted me to show in Vilnius together with my artists. I chose Neringa Vasiliauskaitė and Anastasia Sosunova because I thought that it might work out well. The whole idea was really to make a group show in which you can see the freedom of an artist. I wanted the artists to do whatever they liked without much interference from me, because I was hoping that each artist would create a room and a vision of his or her own.
But didn't you give them some advice or an idea of how they should do it?
Actually no, there was no guidance from my side. From the very beginning I made it clear that I don't want to interfere with their work. I also didn't want to make a traditional group show, but instead four solo projects, because the gallery has four separate rooms, and I wanted each artist to have their own space.
I believe that artists don't always need that 'curator'. They need their space and the freedom to interact or to not interact with the other invited artists.
Of course, we had some discussions about where to place the works of art, but there was no real curatorial work from my side. That's why I would have preferred the exhibition to be described as 'organised by Daniel Marzona' and not 'curated by Daniel Marzona'. Because the curating part was basically bringing together the artists and finding the rooms.
So you work as a curator in different parts of the world, and at the same time you're running a gallery in Berlin at which you have around six or seven exhibitions opening every year…
Yes, and at least once a year I do an invitational exhibition at my gallery. At my gallery I work with 16 artists now, which means that I'm kind of 'full' and can't handle more, because we're a small gallery with just three people on our team. Maybe there will be some additions in the next few years, but I have to be a little careful, because I already have too many things to take care of.
But to be open and to give the gallery itself a little freedom, every once in a while I invite an artist to do a show at my gallery. Usually I've followed these artists for quite a while or I know them already. These are not artists I represent, but artists whose work I find interesting. This year we did a show with Jörg Gelbke, a very interesting artist whom I've known for a couple a years and who has kept me in the loop. And what he does is rather unusual…
Gelbke developed an early interest in the technique of casting objects, but then he also kind of works against the logic of the cast. For example, he made something that you could call a monument to a process: he built an oven and put about 15 kilos of copper ore in it, and then he fired up the oven so it got very hot. Because you need a temperature of 1200 degrees Celsius to get copper out of the ore. So he did that in a small-scale oven, and then he let the oven cool down for a couple of days and poured it full of wax so that it melted together with the residues from the process. After that he basically had to destroy the oven, thus creating a wax object, or sculpture, that in a way resembles a monument to the process. What I find fascinating is that the artistic process is kind of blind and the result is unforeseeable.

Magnus Plessen. 2018. Exhibition view. Photo: Thomas Bruns

It seems to me that all of your artists are united by an interest in concept, but at the same time they're all quite different.
Yes. I mean, in a certain way they're all reflecting what they're doing. So, they're not in any way expressionists. I also work with artists from different generations. That was very important for me from the beginning.
I worked for seven years as the director of the Konrad Fischer Gallery in Berlin, a gallery that's very well established and works with several generations of artists. And I enjoyed that very much, because it enriches the experience of running a gallery. The work for a very young artist is very different from the work for a well-established artist, and to be exposed to all of these different aspects is very attractive to me.
So, at Konrad Fischer – who started in the late 1960s to work with artists like Bruce Nauman, Carl Andre and many others – one of my tasks was to develop a programme of younger artists. We started to work with Nina Canell, Sofia Hultén and added some other younger artists. After seven years of working there, we couldn't come to an agreement on how to continue, so I left and opened my own gallery, and a few of the artists came with me. I didn't ask them, but they came because we really liked working together. And so Matthew Buckingham, Nina Canell, Sofia Hultén, Johannes Wald, Magnus Plessen and the estate of Stephen Antonakos joined me. So, when I started my gallery, I already had a group of six artists that I would exhibit.
Because I wanted to make clear that it was not going to be a 'young, hip gallery', because of the fact that I'm not a young, hip gallerist [both laugh], I decided to open the gallery with an artist from an older generation who passed away some years ago – Bernd Lohaus. Bernd was one of the first students of Beuys and a very interesting sculptor whom I was friends with for a long time. Bernd also had some influence on my thinking about art, so I decided that it would be a good idea to open the gallery with his work.
Based on your experience, how is working in a gallery different from running a gallery?
In my case, it was pretty much the same because I did run the gallery in Berlin. I had quite a bit of freedom, except that I didn't own the gallery. The widow of Konrad Fischer, who passed away some years ago, was living in Düsseldorf and was running the gallery there. I, on the other hand, was in Berlin. I learned a lot from Dorothee Fischer on how to run a gallery and how to avoid the typical mistakes. And actually it was planned that I would take over the gallery, but it didn't quite work out. Anyway, I always worked there as if it was my own gallery.
How do you usually discover new artists?
Well, there isn't just one way. You just have to keep yourself open and try to see a lot. Sometimes artists give you recommendations, or you make a studio visit and the work seems interesting to you. Or you see something that resonates with you at an art fair, and then you research it later on. Or you see a good exhibition, and afterwards you try to find out more about it. So, for me, there's not just one way to discover art. Well, there's also the factor that, because I'm not a young, hip gallerist, I don't have to focus on that aspect so much...
It just happens, you know. You see something, or somebody tells you that they've seen something amazing. It happened like this with Vajiko Chachkhiani, that young artist from Georgia. A couple of people had told me that they'd seen his work, that they had no idea if it was good but it definitely seemed different. He was still a student then. So I made a studio visit and kind of liked some of his work. On the other hand, some of the work was not so clear to me and so not really suitable for my gallery. But then, two years later I went to his studio to see his pieces again, and I decided to work with him.
I have to admit that I'm also not that fast with these decisions; I want to see a little more, to see a little development on the part of an artist. And that's why I'm typically late – if somebody's hot, then some young gallery will already be working with him. Another example of a young artist I work with is Elodie Seguin from France. I discovered her maybe five or six years ago, when she did a Statement in Basel with her gallery in France. I saw it and thought that it was by far the best Statement at the time, and I kept following what she was doing. And then at some point I called up the gallerist – we knew each other and were on friendly terms – and I said that I'd like to represent Elodie here in Berlin. And everybody was happy.
But to return to your question, there really is no formula. I mean, it's only my instinct and my trust that there is some substance to the work of the artists whom I invite to work with me.
Do you mainly focus on minimal and conceptual art?
That's not quite true anymore. First of all, because both are historical movements. I did write books on both, and my father, Egidio Marzona, was a collector of this kind of work early on. So as a child I was basically exposed to minimal and conceptual works of art and also to the people who made them. My father was a very close friend of Konrad Fischer, so I saw a lot of shows at Konrad's gallery when I was younger. And this kind of work apparently had an impact on my development and on my way of approaching and thinking about art. But life goes on, and my horizon has widened.

Exhibition of Ferdinand Penker, 2018. Photo: Thomas Bruns
Was that also the reason why you became interested in art?
No, I don't think so. First of all, I remember that when I was a young man, I clearly decided not to go into that field. My father was a prominent figure on the art scene, and when you're young, you don't really want to do the same thing that your father does. So I studied sociology and economics for a couple of years, and only when I was 24 years old did I really kind of officially enter the 'art world'.
I had some really interesting contacts with artists, and I started to see a lot of interesting exhibitions at museums and galleries. And then I decided that, if I want to get into that field, I'd like to study its history first. So I changed my studies and the city where I lived, and I began studying art history and philosophy in Bochum. It was then that I started to get more involved in the classical avant-garde of the 20th century, especially the period from 1910 to 1930.
At that time, Marcel Duchamp was the artist I was affected by most, and in a more or less academic way this interest led to a focus on conceptual art. Duchamp had become a very important figure for many young artists in the late 1950s and early 1960s. These young artists might have liked him or not, but somehow he was a reference for them. And that's basically how it came about…that through Duchamp I later came to a more intense investigation of the conceptual approach of the 1960s. And then minimal art, which, of course, is very closely linked to conceptualism. For example, there's an artist like Sol LeWitt, who is considered a minimal and a conceptual artist, and both are true.
How did you decide to become a curator? Was it somehow connected to your research?
It really happened by accident. My original plan was to be engaged in an academic career. It was already some years after I had begun my studies in art history and philosophy that my father and I were invited to curate an exhibition in a baroque palazzo close to Venice. Harald Szeemann was the director of the Venice Biennale at that time, and he made our project a collateral event, meaning it was included in the official programme of the Biennale. And, by chance, the entire board of MoMA PS1 came to the opening, so I had the chance to show and explain to these people a bit more about the whole exhibition. I also had the opportunity to curate a group show of some young artists who were connected to the exhibition of my father's collection. The board must have liked the way I talked about the exhibitions, or they began to understand the exhibitions in a way they couldn't have without my explanations…
Whatever the case, a couple of months later I received a fax asking me if I was interested in becoming a curator at PS1. By that point I had already met my girlfriend, who is now my wife, in New York. She was living there. So it was quite obvious that I would say yes. And I never regretted it, but it was not really planned. I think most of my life is not so much about planning but just letting things happen.
What is it that fascinates you the most in art? What kind of art do you like?
For me, it was always the kind of art that not only pleases the eye but also gives you a different and new perspective on the world. So, yeah, I would say that I'm fascinated by art that addresses the mind as well as the soul. It's therefore rather impossible, for example, to find certain types of paintings in my gallery… But what you will find there are artists who are clearly developing their concept. That doesn't necessarily mean a close connection to historical conceptual art, but it means art and artists with a long-term idea or field of interest. Artists like that usually continue developing certain issues for several years.
Take Nina Canell, for example. I don't know if you're familiar with her work, but she has been working for 15 years now and has a great variety of different things, mainly sculptures and installations, often including sound. But they're all kind of interconnected through an interest in connectivity, distances, processes and transformation. So her work is always visually very intriguing but it also always challenges the viewer's mind.
To paraphrase, we could say that you're more interested in the kind of art that makes you think?
Yes. I mean, it makes you think and makes you feel, and that goes together for me. Early on, probably as a child, I somehow understood that an idea can be something very beautiful – as beautiful as an object or anything else. And once you understand that, you're open to things and maybe even search for them. So, in some cases an artist can describe what he or she is going to do, and that's enough for me. Afterwards I want to see it, of course, but I already have an understanding because I can feel that the idea of what he or she wants to do is very beautiful in itself.
Do you believe that there's a difference between bad art and good art?
I would rather say that there's art I'm not interested in and there's art that I am interested in [both laugh]. And I don't need to necessarily classify these things. But yes, if I see something that I'm not interested in, I usually don't say much. But there's no good or bad art per se… I think it's a stupid category; it doesn't apply to art.
Of course, you can go and see a show and say that something is good or bad, but that's often very subjective. It doesn't 'hit' you or you don't understand it, or maybe you have a problem with the painter's palette…or you wonder what it's about, or it seems too simplistic. All of this can make for an unsatisfying experience, but I would never say that certain art is bad. That's not a category for me. In my case, it's always about the interest. And I tend to forget things that I'm not interested in very quickly.
You've said that art shouldn't be simplistic.
Yes, that's true. I believe in that very much. Or, what I mean by that is that the making of art is probably one of the most difficult things one can do. Trying to make a good work of art is the hardest thing I can imagine. So I have great respect even for those people whose work I don't like very much. Because they're trying to do something that I consider to be one of the hardest things anyone could ever do. And if they fail in my point of view, it doesn't actually matter much.
But what I mean by simplistic is… Let's put it this way – to me, art is not an object for appreciation but more an object that challenges you. Art is something that makes you think about your place in the world and can eventually help you to develop your perspective of the world. And you know that you can do a lot of things in your life, but the question is whether they really have to come easily for you? I'll tell you something I find interesting – when I see something and I don't like it, it often tends to become something that I can really appreciate after I've found out what's behind it. So, the fact that I don't really understand a work in front of me almost immediately becomes a criterion that this may be a very good work of art. This epiphany that happens when a work of art really hits you is usually not enough for me. Instead, it's a process. In a good way, in the best sense, a work of art can open up a process of thoughts and feelings while you're engaged with it. And this process can last long after you've left the gallery or museum.

Exhibition of Ferdinand Penker, 2018. Photo: Thomas Bruns
Okay, so you have a taste for art that develops your mind, and anyway it means that this type of art requires certain knowledge from the viewer. Have you ever thought that art is something that belongs to the more 'elite' part of society?
No, I've never believed that. I wouldn't know what it is that distinguishes such an elite from the non-elite. It takes effort to appreciate a work of art, you must be willing to spend some time with it, and sometimes also to acquire some knowledge. After many years of, let's say, engaging with art on a regular basis, you build up your criteria and it becomes a bit easier. But it's still a lifelong learning process. And things are changing. I can tell you, for example, that there are certain things that really didn't matter to me 15 years ago that I now consider to be very important. And vice verse. You change, and your views change, and that's all a part of it.
Is there a particular artist or work of art that has had a large influence on you?
As I already mentioned, during my studies it was Marcel Duchamp. Later on I very much got into the work of Carl Andre and Bruce Nauman. Now, and also even during my studies, it's usually the artists who are rather stubborn in developing their fields of interest.
Could you say that a personality in art is what attracts you?
Personality doesn't attract me at all. I mean, for example, it happens that you like the work of an artist but you can't stand him personally. And then you better not start a working relationship with this person because it will always fail. That has happened to me a few times in my career. But there are artists whom I really don't like personally but I can still appreciate their work. I would rather separate these things. It's just that if you run a gallery or are a curator, it's much nicer if you have a good understanding and a good personal relationship with an artist. It's just frustrating when personalities are constantly clashing.
Have you ever worked with someone at the gallery whose personality you don't like?
No. I don't even want to try, because it's not worth it. It's too complicated.
Even if the work is fascinating?
Even if the work is fantastic, I'd rather say that I would find another artist. Because it's not fun to work with someone you don't like. And it's a pretty intimate relationship that you have with your artists. Also, if you run a gallery, it's supposed to be a long-term relationship. So why would you make your life and the artist's life so complicated? Why work with someone that you really can't stand?
Were your studies in sociology and economics helpful to what you now do? Has this knowledge helped you in running the gallery?
Absolutely not. That was such a long time ago! [both laugh] That was a different time, before globalism hit the scene and… I mean, it was good that I waited before diving into the art world. I entered rather late in a professional sense – I was 29 when I had my first show as a curator. And that was good, because when I was young I had many interests and it was good to allow myself to do other things as well. And sociology is an interesting science because it has strong relationships to all kinds of other sciences. By the time I began studying, one of the most famous sociologists in Germany, Niklas Luhmann, was one of my professors. So I had a fantastic teacher. And I learned a lot. But you know, when I came to the art world, I mostly benefited from the fact that I was pretty stable and to some extent experienced.
You got me thinking now about the criteria for bad art. How would you define it?
It's not necessary and it doesn't help much to identify something as bad. That's the reason why I always say I don't like the concept of this judgment. As I said earlier, I'd rather argue that there's art that's interesting to me or not… For example, look at this [points at a mural in the café]. This is definitely not the greatest mural I've ever seen, but I'm sure that there are many people who would find this very beautiful. And I like that and think it's okay.
Yes, I agree with you. And the most interesting part is that sometimes art leads you to extremes. By that I mean that there's art that you consider bad, but other art that you consider good, and so, almost automatically, you begin granting the taste of those people as bad. Do you believe in objectivity in art?
I think we're losing the concept of aesthetic criteria. I'm not really sad about that, but I think it will probably change what art is going to be like 50 years from now. But, let's say, I grew up in a generation that was still trying to figure out if there are criteria. And now we live in a world where this doesn't seem to be necessary. I wonder what that may bring, and I can only imagine that it will also change the idea of what art is. I guess that future generations will grow up with a completely different concept of what art can be, but that's okay and all a part of it.
But yes, in my opinion, the formal aspects of a work of art are valuable, and I believe that a form has to fit an idea and vice versa.
Do you have any aesthetic criteria of your own when it comes to art?
When you think about the idea or the concept, and then you look at the work of art and realise that there's a gap between the two, certain problems can arise… It's something you can't define by doing case studies. Every case is different, but you have this expectation that there should be a correlation between those two aspects. Sometimes you find works that don't seem to rely much on a concept, and they're more about the immediacy of an experience, which is fine with me as well.
Some artists say that they don't have any particular idea of what they're doing – the main idea is just to make art.
Yes, that is possible!
I find it quite impractical, though.
[laughs] I mean, yes, again, it might result in works that are not so interesting.
Although you said that you're not that interested in minimal and conceptual art anymore, you've written two books on those topics. What stands behind the idea of writing about it?
It was just, as I said, when I was studying art history, those were some of the topics I was mainly focused on. And I had already dug pretty deep and had acquired a certain knowledge about this period of art history. I was working as a curator in New York, and it happened that my girlfriend and I had a daughter. That meant that I couldn't really keep on doing my work as a curator, because it involved a lot of nightly activities and socialising, which I didn't feel like doing anymore. So I quit my job there and was free.
And then a friend of mine, who at the time was running the Taschen publishing house, called me up in New York and asked me if I wanted to write a book. They had just started a series of small books on each 'ism' of the 20th century. She proposed doing these books on conceptual and minimal art, and I said yes, because it was the perfect thing for me at that time. They're not really books for people who already know a lot; both are written for those who have no previous insight and need an introduction. So they were meant to be a little educational. The books were published almost 15 years ago, but I still get e-mails from people all around the world saying that they've really enjoyed reading them. That's strange, isn't it?
Is theory something that's also important for your curatorial practice?
Not so much anymore. I flipped sides again and became less and less interested in the theoretical part, because if you work with living artists…as I already mentioned, they don't really need a clever curator. And in my mind, a gallery is not the best place for complex and refined group shows. I would rather assign that task to museums and institutions.
Of course, I try to keep up with the theoretical developments, I try to read as much as I can, and I think the artists I work with appreciate that they can talk to me about what they do on a complex and complicated level if need be.
But my role is certainly not the role of an educator, except when I try to explain the artwork to an outside audience. My relationship with artists is not like that at all, and if an artist makes a mistake, in my view, that's fine too. I once worked with a very young artist who did a show that was a complete disaster – not because of the work itself but because there was just too much of it. But I didn't say much…and in hindsight I think it was good for the artist to make this mistake, because he'll probably never do the same mistake again. I believe that there's value in mistakes.
But your opinion is still very important to artists?
To some yes, to others not. It always depends.
I guess there are some cases when gallerists, curators or other art theoreticians interact too much with the artist's work.
That has never been my thing. I mean, it was never my thing to tell an artist that this needs to go there and that needs to be the other way… I've had a lot of discussions with many artists about what they do, but I've never been eager to determine their shows. This is the role of a curator, but it's not the role of a gallerist. Ever.
And, as a curator, it's very different anyway. As a gallerist, you usually have a long-term relationship with the artist. That relationship might end, of course, but in normal cases it's supposed to be long-lasting. That way you have the opportunity to follow the development of the artist. As a curator, you might do one solo show with an artist and then the next one maybe only ten years later. Many curators seem to pretend to understand the work better than the artists themselves in order to become the legitimate composer of a show. In my case, it's usually the artist who is the composer, and I like that much better.
Do you also collect art?
Yes, I do. On a much smaller scale than my father, but I do have a collection.
Your father, Egidio Marzona, is one of the most prominent art collectors of conceptual and minimal art. It's never easy to concretise one's private selection, but I still have to ask – do you have a concept for your collection?
My collection is not very straightforward. At different periods in my life I've liked different works of art. I admire the work of Alan Charlton, a British painter who has been painting grey paintings for about 50 years now, and at some point I had the chance to buy one of his paintings. The same is true of Gregor Schneider, and we have a series of photographs by him. Sometimes an opportunity arises unexpectedly or someone calls me and says that they have three works on paper by Carl Andre that they'd like to sell! Of course, I've bought artwork by the artists I represent, and, seeing as I'll be turning 50 next year and started to collect when I was 25 years old, there are also some things in my collection that do not seem very important anymore.
So, one could say that my collection reflects my interest in minimal and conceptual art, but there's always room for other things as well. I've never followed a plan with my collection, and I admit that I've also made a few mistakes.
How do you know that you've made a mistake?
I just lose interest in the work of art and the artist's development. If I don't want to follow the artist, the work doesn't seem that interesting to me anymore.
I believe there's only one stable criterion if you collect: by the time you acquire a work, you have to like it. And then you can make a mistake. So, when I said that I've made mistakes, I meant that this is normal as life goes on and things eventually change.
And you never regret that you've bought something?
No. Life changes, and we change, too. Anyway, I wouldn't call myself a big collector. My wife and I usually discuss what we eventually want to buy, and then it's a question of whether we have the money to afford an acquisition. For the most part, our collection simply reflects what we're interested in, what we're looking for when we look at art. It would be interesting to one day show all of the works in one large space and see if and how it makes sense.

Daniel Marzona. Photo: Jakob Hoff