Let's talk about women! 0
An interview with Estonian visual artist Liina Siib in Tallinn
Auguste Petre
05/04/2019
Liina Siib is one of the best-known Estonian artists, and she often explores the society she lives in as well as the boundaries and structures of contemporary life. After studying engraving at the Institute of Fine Arts in Estonia, Siib turned to digital printing, collage and photography, which has remained her main medium of expression. In 2003 she obtained a master's degree in photography from the Estonian Academy of Arts, and since 2015 she has worked there as a professor of graphic art. Siib has had more than 20 solo exhibitions and has participated in various group shows all over the world; she has also received multiple art awards and was the editor of the Estonian Art magazine from 2002 to 2015. In 2011 she represented Estonia at the 54th Venice Biennale with her photography series A Woman Takes Little Space.

A Woman Takes Little Space. Photo: Karel Koplimets, Tallinn Art Hall

The topic of Liina Siib's work is often femininity and the social framework of one's space and possibilities. Through visual images she reconstructs the beauty of everyday life and what effect it has on different parts of society. In her latest exhibition, Siib has adopted the meaning of politics as an associative bridge to paradise. Politics of Paradise at the Tallinn Art Hall (on view from February 16 until April 14) has brought together particular works that examine the demonstration of power in the contemporary lives of other individuals, especially women.
Politics is a complex concept that over time has become more and more layered with new interpretations and meanings. From public administration (or the "science of government", as it was called in a thesaurus from the 1520s) to societal development and culture, politics – or at least the use of its concept – has become a comprehensive field of meanings that is often used by visual artists. Politics has affected art in different ways in different periods of time, and this has resulted in numerous manifestos, art genres and movements, whether as resistance to the government or stories of social reality or as observations and conclusions.
According to Taru Elfving, the curator of Politics of Paradise: "Siib's work pays acute attention to the minor narratives that usually persist in the shadows of the attention economy or in the crevices of accelerated lived experience. She turns the discovered stories and characters into prisms that shed light on shifting societal values and persistent gendered imaginaries as they manifest in ghost stories, scientific signs, spiritual beliefs, legal systems, esoteric economies and beyond."

Augusta or Politics of Paradise, Installation, 2019. Photo: Karel Koplimets, Tallinn Art Hall
You're a visual artist mostly known for your activities in the fields of photography and filmmaking, but your creative path began quite differently… You first studied engraving and only later switched to photography. How did that happen?
It happened quite fast, in the 1990s, and I think it had a lot to do with the transformation within society at that time. I was a student in the late Soviet era, and just as I was about to graduate, Estonia suddenly became free, the world was open, and I realised that printmaking methods no longer related to the ideas that I wanted to explore. Photography seemed to be the right medium, because I wanted to go into the streets, to observe and capture real life. I'm interested in how people perform their lives.
Filmmaking came to me when I went to London as an exchange student and had my first film camera with me. This was also how the documentary approach came in, because I was very much interested in street photography and filming in the streets – just going out there, setting up the camera and letting everything happen in front of it. You can also see this kind of approach in my series Urban Symphony in E-Minor (2018). Not so much interfering or playing for the camera, but instead letting things happen and by chance being in the right places.
If we speak about social context, then there's no doubt that this context is just as important today as it was in the 1980s, when you first began making your photos and films. Do you believe that it has become easier for artists now to include social reality in their work?
I've thought about this notion quite a lot, because it seems to me that when I studied graphic art, there was this dilemma that if you used a social subject in your work, it wasn't considered art. Photography, for example, wasn't considered an independent art form back then; it was also a supporting material for the painting of graphic art…
Indeed, this idea has existed for many years.
And it still exists! Some people still feel very disappointed if they go to an exhibition and there are no paintings included. This is a phenomenon you can still encounter today.
In 2001 I made a series called Movie Posters, in which I used photographs of mine that I didn't consider as separate photos that I could show, so I made photo montages and created these fictional movie posters. Now when we began working on this Politics of Paradise exhibition together with curator Taru Elfving, I found two slides that I had made in Kiev in 1986, when I was a student. I looked at them for a while and thought that they're actually quite interesting as an individual work and worth exhibiting.
I think this comes precisely from this educational notion in society about what you can show, what has and what doesn't have meaning. When, as an artist, you use the social context or discuss, let's say, an Estonian woman working in Finland, it either gets labelled as feminist art or as art that examines problems that art shouldn't be dealing with. But I am interested in these matters and in how society functions, and because I have an education as an artist, this is what I do. But not in the same way as a scientist or researcher would do, because as an artist I have more ways of working, I have more freedom in developing my ideas further and showing things that we usually do not notice.
When you have a research subject – either in art or science – there's always this material that you have to go through to find out every possible aspect of it. It's very important to understand how to put out emotions, ideas or thoughts that one has about a subject. It's always like this – at some point you need to finish with the research and do something new, while still keeping the research in mind.

Them, zinc sheet, MDF, paint, 1996 / 2019. Photo: Karel Koplimets, Tallinn Art Hall

Do you think that belonging to one or another generation influences the way one becomes an artist?
Yes, I believe so. Art is a very social phenomenon. It's not only about making a picture and putting it on the wall. There are so many relationships around it, and I think that to take part in this social movement is as important as to learn how to use your tools and how to change the ideas around you. Social relationships have always played a great role; they always take you further and give you feedback about what's happening.
You're also a professor at the Estonian Academy of Arts. Do you see how the new generation of artists is different from your generation, and what are the ambitions of the younger people?
Recently we had an artist talk at KUMU regarding the exhibition The X-Files [Registry of the Nineties]. I was participating together with curator Eha Komissarov and Ene-Liis Semper, and when we got to this presentation room, I looked around and realised that it was filled with young people! There were, like, five people my age, and everyone else was younger. So, that confirmed to me that there is interest among the youth to come together and discuss different ideas.
The younger students are very different from my generation. Some of them have high ambitions from the very beginning, others reveal their aspirations over time. This development – how you become an artist – is a life-long process, although some people understand what they want a bit faster than others, and that's natural. Nowadays there's so much information; you can learn so many things through YouTube and social media, but school has still remained an important element in the development of a person. It's also very important that school as an institution gives these students a social network around them, and that makes a lot of things more accessible. I actually like to be around students and see how art is born. It's amazing to experience the moment when they start to blossom.

Urban Symphony in E-Minor III, Installation, 2019. Photo: Karel Koplimets, Tallinn Art Hall

Since you mentioned Movie Posters, I'd like to ask you if irony is something you use in your art as a method or a concept?
Irony? It used to be quite important! (laughs) I think in the early 2000s it was one of the main strategies in my work, but nowadays I don't use it as much anymore. Maybe I feel more responsible for the things I express, or maybe it's because I'm inspired by my students, who are not cynical at all. Irony is not their main tool. There's this notion of a new sincerity or naivete, but there's no nihilist cynical approach like what happened for the generation that I'm a part of. In terms of society, I think of this as a good thing.
We already mentioned social means in relation to art, and your latest exhibition, Politics of Paradise, also suggests that there's social context involved. How do you prefer to include the social background in your work?
I'm interested in what's happening around us, and I believe that social context is one of the most important things. On the other hand, because I'm a visual artist, I never want to ignore the aesthetic or formal aspect either. For me, it's very important how I present my work, because if I didn't think about it, I could just make social documentaries on a variety of issues. But I can honestly say that I'm more interested in a subjective way of approaching things. It's so important for me to look into the little details of everyday life that professional documentary makers might ignore. These strange details are always somehow connected to my memory or knowledge or to visual ideas, and they emphasise certain issues.
The title Politics of Paradise came to my mind when I was in residency in Italy, at the Civitella Ranieri Foundation in 2016. The residency is located in an old castle. We were there for six weeks and very well taken care of, basically living this dreamy and beautiful life. But at the same time it felt weird to be, I wouldn't say isolated, because I don't believe it's possible to actually be isolated nowadays, but it felt strange to enjoy such privilege while there's so much happening in the world at the same moment. All these things like climate change, the status of women in the 21st century, work issues and free movement between countries – all the issues discussed here in this exhibition are just some of today's unresolved problems that we're trying to ignore. Certainly, this exhibition is not a poster-like call or challenge to fight for a bigger change immediately; instead, it's a tool to look at how these structures operate.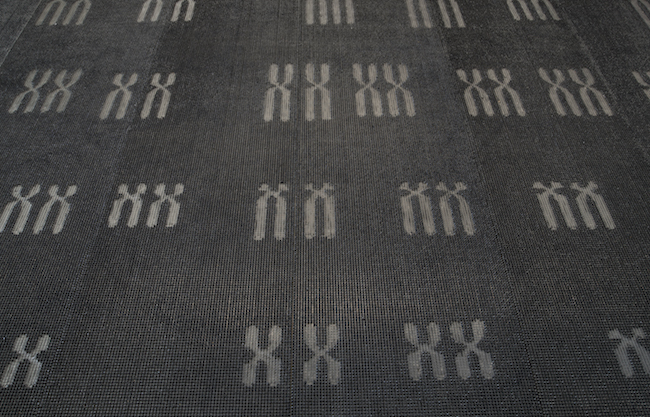 Alienus, plastic floor mat, cut, 1995/2019. Photo: Karel Koplimets, Tallinn Art Hall

Women and their role in contemporary life is my research subject now, but then there's also the science that comes with some of the earlier works. For example, in this exhibition we've included a video that I made at Civitella Ranieri. It's called Orbs (2016), and in it you can see two hands that are trying to move a model of a planetary system. The movement of these hands is a metaphor for us – people – and how we're trying to explain what the world is like. Another work is a carpet titled Alienus, which shows how chromosomes are depicted by scientists. This work is from 1995, and it was made for the Biotopia exhibition that took place here, at Tallinn Art Hall. Then another work called Them (1996/2019), which depicts the measurements of a man and a woman. Of course, this work doesn't say that it actually is a man and a woman, but somehow this becomes clear through the way we look at the figures. Because the woman is slightly smaller than the man, and this is how I interpret social norms and the way we're used to looking at things – this is the idea I've put into this work.
Politics of Paradise is about the fantasies and desires everyone in this world has, how we would love to live in a better place and be surrounded by better things. For example, you live in a small town in Estonia and have this dream of going to a big city, because you really have the hope that life there is great.
Don't you think it's kind of a never-ending circle? Because those who live in big cities might think of the same thing, just on another level.
Yes, exactly. So they go somewhere else, and there's constant movement. But on the other hand, I think that there's no solution to this, because it wouldn't be right to forbid people to go where they want. I actually believe that it's a good thing that you can choose where you want to be, because that way you can learn new things and try them out.
You mentioned some of your previous works that are included in this exhibition, but I understand that you've also made two new installations?
Yes. Since 2016 I had been working on a research project about Estonian women who migrate to Finland for work. This happens because we're neighbouring countries and we're also related by language, and since Estonia became a member of the European Union it has become easier and easier to go and work in another country. Right now some of these people are starting to come back to their homeland in Estonia, especially the older ones – they return home to spend their retirement with better pensions. But the issue still exists.
This problem has been very obvious since 2011, and that's exactly the time I noticed it, too. It seemed very interesting to me, because earlier I had been working on job issues in Estonia, specifically the way women are paid in comparison to men. All the research I had done regarding this topic had already initiated my project A Woman Takes Little Space (2007 – ongoing).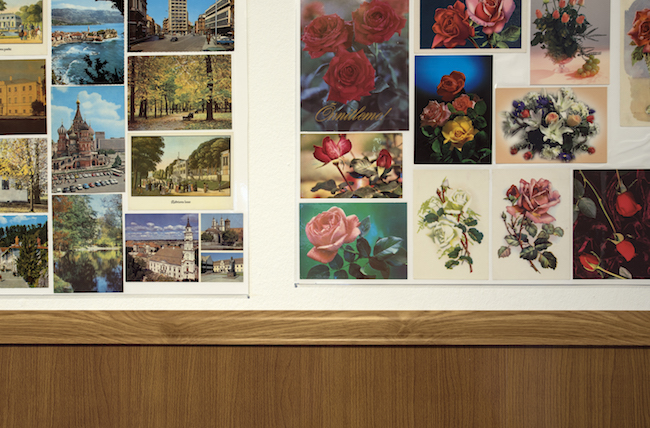 Augusta or Politics of Paradise, Installation, 2019. Photo: Karel Koplimets, Tallinn Art Hall

Why did you specifically choose to study migration to Finland and not some other country in the EU?
Well, because Finland is very close to Estonia and it's more accessible to do the research there. And also because, the numbers may vary, but in 2017 it was said that there were 33,000 Estonian women working in Finland for a shorter or longer period.
Did you also communicate with the government here in Estonia while doing the research?
I thought of doing so, but I didn't manage to do it. But I read every article I could find on this topic.
What's the general opinion about this issue?
Three years ago the director of the Estonian National Museum stated that the women who go to work in Finland are "comfort refugees". For him, it meant that these people go there for an easier life. This was one note to remember when I went to Finland to see what the situation is actually like, and when I conducted the interviews, I always asked the women what they think about the notion that some people consider them "comfort refugees". I have to say that I really didn't meet anyone who had gone to Finland for more comfort; these people really work hard and want to prove to their families that they are really good workers. And most of them do have that kind of reputation.
What kind of jobs do these women do?
The jobs are very diverse. When I first started the research, I only had the information that the Estonian media propagates: that these women are mostly cleaners and workers at low-paid jobs. Of course, if we compare the salaries paid in Finland to those in Estonia, then even this low-paid work is of a higher average salary than here. It is indeed true that some women work as cleaners, but the most popular reason for this is that they're not so fluent in speaking Finnish. Quite often Estonian women also work as teachers, social workers, doctors… Another big field of occupation is beauty treatments; there are a lot of Estonian women who work as beauticians.
You know, there are even some special agencies that go to the University of Tartu to recruit workers for Finland, so basically it's a structural thing. People don't go there as individuals anymore; it has somehow become a ready procedure.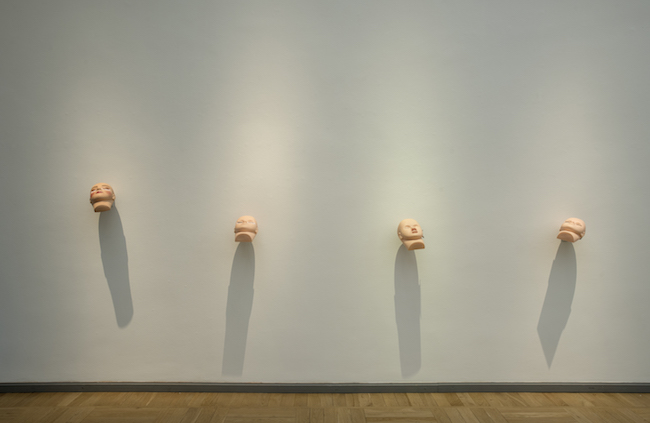 Urban Symphony in E-Minor III, installation, 2019. Photo: Karel Koplimets, Tallinn Art Hall
Does it often happen that these women leave Estonia together with their families?
I have to say that the circumstances and situations differ greatly. While working on this project, I found out that there are so many stories with good outcomes as well as bad outcomes, and that there are also family stories. A while ago it was very popular for Estonian men to go to Finland as construction workers and leave their families behind, which, as you can imagine, was very exhausting for the families and had a great impact on their relationships. So the women began migrating to Finland as well.
Do you believe that these people enjoy living in another country?
I think they do, and they do enjoy the work that they're doing there. I spent a lot of time at one particular dancing and fitness club, following the everyday lives of these women. It felt so strange to be somewhere on the outskirts of Helsinki together with 200 Estonian woman who gather for dancing or fitness classes several times a week. This is what happens when you come to a new place – your identity changes, and the place itself changes as well. This is exactly what my new videos are about. When I was in Helsinki, I contacted this one woman and we met for about 30 interviews, the focus of which was to find out how she perceives her new surroundings and the people living there. I also wanted to get to know how clichés work out in real life.
And what are your conclusions?
If we're talking about women, then one very interesting aspect is femininity. I think Estonian women always try to take care of themselves, no matter the circumstances. They pay a lot of attention to how they look, and sometimes they try to compare it with the approach of Finnish women. I think that the difference is the aspect of space. Culturally, there's more equality, including gender equality, in Finnish society. At the same time, you know that everything looks nicer from a distance than it does in reality, and Finland has its own problems. There's this silent knowledge in society, which you maybe don't know about because other people have an absolutely different perception of things.
Return to the aspect of appearance, though, I think that Finnish woman also pay a lot of attention to how they look, just that it's a bigger country than Estonia and this space and place changes the way Finnish women take care of themselves. In a bigger place you don't have that much time to think about looks; it takes time to commute from one place to another, and the scope is a bit different.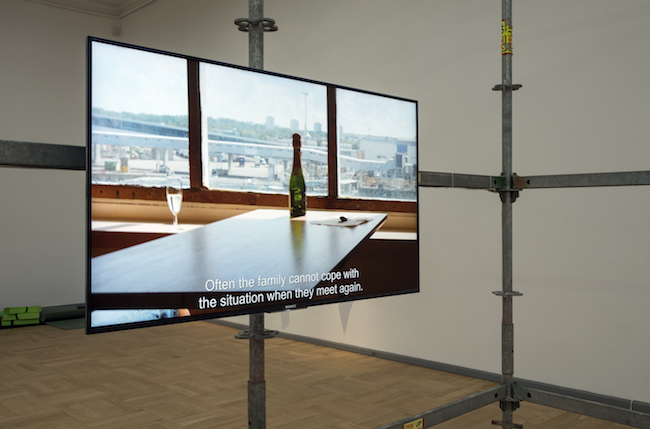 Urban Symphony in E-Minor III, installation, 2019. Photo: Karel Koplimets, Tallinn Art Hall

You mentioned that documenting is not the main reason why you do the research. But I wanted to ask you how important is it to you to document this time period or these women?
I think that documentation is one way to get to know them better. I met some of these women several times, and I still have a good relationship with them, and it somehow helps me to get over the feeling of being a stranger. Because I'm more interested in things that happen during the process, and I think that documenting brings it to another level. The interviews I did helped a lot, for example. I think that interviews are a nice way of getting to know things better, and they can later help you make interesting constructions to use in your work.
This exhibition balances between two different approaches. On the one hand there's the new installation with the documentary work from Helsinki and Võru, a small town in Estonia. Using these two places forms the metaphor of these two dreams: some people wish to go to a big city, and others fantasise about a country house. For me, Võru seems like a nice, calm place, and I perceive it as a paradise of sorts. On the other hand, I've used a staging concept for other purposes. The other new installation, titled Augusta or Politics of Paradise, which happens to coincide with your name (laughs), is a staged work with the image of a castle. There the castle is the paradise.
If we talk about documentary, I've been very interested in Italian neorealist films. There you can see this everyday life of a person, and these films have a great connection with real life. So I think that this has stimulated my interest in the documentary approach. I'm interested in how real life becomes a staged life – I'm guessing that people like to act when they're not alone. Therefore, to me, a documentary is nevertheless more likely a performance or a play.
As you already mentioned, this is not your first project that speaks about inequality. A wider circle of art viewers certainly remembers A Woman Takes Little Space, which was displayed at the Venice Biennale in 2011. Why is it important to you as a woman to speak about these issues?
It's important because I see that these issues are still around us. I see that this patriarchal society somehow still exists. And there's still this notion that the ideas of a woman are not as important as what she looks like.
Would you call yourself a feminist?
Yeah, kind of. I think that I'm becoming a feminist in a sense that… there are so many issues that only women can resolve themselves. There are so many problems that are in our own hands. It's not my aim to say that men are bad and women are good – absolutely not! (laughs) I think that it's more important to be seen as equal human beings and to be equally respected. To me, the question of why things are the way they are seems more relevant.

Liina Siib. Photo: Mark Raidpere