"Art has become part of our social life"
An interview with gallerist and art collector Valérie Bach

12/03/2018
The French Riviera's terroir is an ideal place for a passionate lifestyle. This becomes evident when looking at the long history of art, gastronomy and human relations that is present here. It's also true at the Commanderie de Peyrassol, a place that embodies a whole bouquet of passion. Famous for its magnificent rosé wine and its splendid art collection, the Commanderie de Peyrassol is an 850-hectare estate with a vineyard, a medieval manor, restaurant, small hotel, art gallery and a spacious sculpture park that in some places reaches into the vineyards while elsewhere it leads guests into a thick forest. The property belongs to Brussels-based gallery owner and art collector Valérie Bach and Philippe Austruy, who is an entrepreneur and likewise a collector and lover of art.
In the 11th century a pilgrimage path wound through the domaine, but later it fell under the control of the Order of Malta, which started the wine trade here. If the scarce historical testimonies can be believed, the first wine harvest, consisting of 28,000 litres, was collected in 1256. After the French Revolution the knights were sent packing, and the church and the state took over the vineyards. In 1790 the Rigord family acquired the Commanderie de Peyrassol. They worked the estate for four generations, before selling it in 2001 to Bach and Austruy.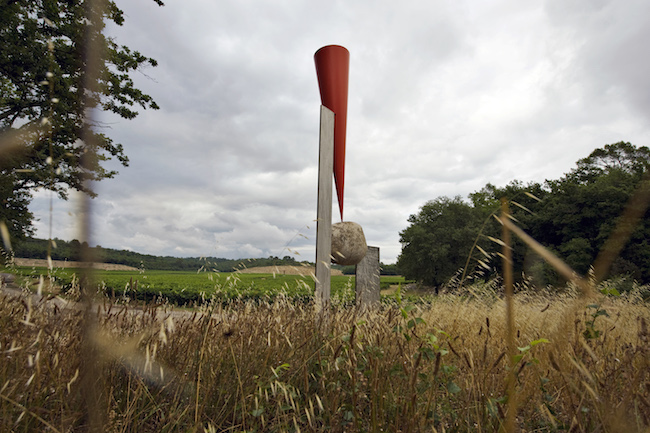 Keiji Uematsu. Floating Red Form. Foto: Courtesy of Galerie Valérie Bach
A total of 60 works of art have been installed on the grounds of the Commanderie de Peyrassol. Sculptors from all over the world have contributed to the collection, including Bernar Venet (who lives a mere half hour's drive from here), the Korean artist Lee Ufan, César, Arman, Niki de Saint Phalle, Jaume Plensa, the British sculptor Gavin Turk and many others. Most of the sculptures were made specially for Peyrassol, and they stand right in the wild landscape, because the owners wish to preserve the authenticity of the environment.
Visitors can view the collection on a serene walk...or from a horse-drawn carriage. The latter option is, however, a rather lavish experience. Cicadas chirr all around, the pines release their aroma in the summer heat, and the clicking of the horses' hooves mingles with the trilling of birds whose midday nap has been disturbed. Never before have I experienced art in such a way. But, considering that the art here is an integral part of the natural landscape, it feels perfectly organic. Bach later tells me that, though from time to time they have to repair this or that, they try not to interfere in the dialogue between nature and art. "Occasionally an artist asks us to clean his sculpture because the birds have done their job."

Le Galerie at the Commanderie de Peyrassol. Photo: Goussard
Since 2016 the park also has an exhibition hall, designed by architect Charles Berthier. It is intended as a solution for those works of art in the owners' collection that might suffer from being exposed to nature's inevitable caprices. In fact, the structure is designed more as a sculptural refuge – an object of land art lacking any elements of classical architecture such as doors, windows, or a roof in the traditional perception. The 800-square-metre building is made of concrete, steel and glass. It is integrated with the path through the sculpture park and represents a symbolic crossroads; the roof terrace also serves as an aesthetic viewing tower from which to embrace the surrounding vineyards, forests and art.
Bach was born in France and has been involved in the world of art and collecting for more than twenty years. She worked for a long time at a gallery in Paris. Then she took a time-out, but when the family moved to Brussels twelve years ago, she returned to the art scene. "I decided to open a gallery. Of course, I could have just continued collecting art, but I wanted something more."
The listed building in which the Galerie Valérie Bach has been located since 2012 has a very special place in the history of Brussels. La Patinoire Royale (the Royal Skating Rink) was built in 1877 in the Saint-Gilles district of the city and was the first skating rink in Europe also suitable for roller skaters. In 1900 the building was transformed into a Bugatti garage, but five years later it became an ammunition depot. After the Second World War it hosted a Siemens workshop, and in the 1970s it even managed to become a showroom for collectors' cars.
Though the building has since been restored and adapted to the needs of an art gallery, the Patinoire Royale has retained its historical patina and scale. The 2000-square-metre gallery is spread across several levels. Without doubt, the most impressive part is the main hall, which is covered by a decorative roof construction made of wood, steel and glass. When I met Bach there in October of last year, the gallery was hosting the Sculpting Belgium exhibition, a project that could fill a museum and focused on Belgian sculpture of the post-war era and the so-called Belgian School of sculpture of the 1950s. The best-known representatives of this school were Pol Bury and Oscar Jespers.
Despite being a workday afternoon, the exhibition is as busy as an ant hill. More than eight thousand people have already attended the exhibition in its first few weeks. During our interview, Bach comments: "It's crazy. Everybody visiting Brussels comes to this exhibition. Nowadays everybody goes to museums. Art has become part of our social life."
I vividly remember one of the previous projects exhibited at the gallery – a retrospective of the Portuguese artist Joana Vasconcelos. Only a single work of art was on display in the central hall – one of Vasconcelos' bright, monumental and challenging objects, whose gigantic size and ambition competed with the hall itself. The following summer a part of the exhibition moved to Peyrassol, where Vasconcelos' big "cupcake" of colourful plastic pretzels, bright-green toy pears and radiantly yellow lemons stood across from the manor's medieval walls and vineyards. Vasconcelos is said to be currently working on an idea for a sculpture intended specially for Peyrassol.

Kostis Georgiou. Thesis A. Photo: Courtesy of Galerie Valérie Bach
How would you characterise your collection? Does it have a thematic focus?
I think it's just my heart and my eyes. I only collect items that I like, and I don't want to confine myself to a single theme. They might be paintings, photographs, sculptures, video.
What attracts your attention more – work by renowned artists or that of lesser-known artists?
It's a mixture of everything. Like in music – I listen to everything, except, for example, rap music. The only genre missing in my collection is street art. And that's not because I don't like it, but until now our paths just haven't crossed – neither with street artists, nor with galleries representing them. Apart from that, my collection includes artwork from well-known artists as well as very new artists. The artist's status does not matter to me. I might acquire a work of art just because I like what the artist is doing, even if he's not yet widely known.
Moreover, I believe that it's very important to collect work by young artists, and I don't think it's very interesting to collect only those that can be found at the prestigious art fairs. I've stopped acquiring works by some artists because they've become too expensive and it's too late to start collecting them now. For example, even if I'd like to have a sculpture by Anish Kapoor at Peyrassol, in my opinion the right moment has past. I choose to collect what I can afford.
A visitor to Peyrassol gets the impression that the artwork exhibited in the park is closely linked to the place and its history. It seems that they are in a dialogue with each other.
We try to find this dialogue. And to some extent it's just natural, because this collection was created by the artists in situ. There was no specific plan for it; for example, we didn't say that now we want to add an American or British artist. Its development has been very personal.
What was the first sculpture in the park?
It was created by Patrick Fleury, who at that point was a little-known French artist. He was a friend of ours and had just come for a visit. Back then we had no intention of amassing a large collection, we just wanted one or two sculptures. Today – ten years later – there are already sixty. But this was not a conscious decision. We never had the intention of creating a sculpture park. We're just dedicated collectors, and things happened naturally – we had no space left on our walls for more paintings, so we decided to focus on sculptures, because Peyrassol has enough space to display them. Besides, artists visit us often, and they come up with various proposals. But we've never set any concrete objectives. Maybe the time has come to pause a bit and contemplate what to do next, because the idea of a collection isn't to just keep adding more and more to it.

Gavin Turk. L'Age d'Or (taupe). Photo: Courtesy of Galerie Valérie Bach
How would you describe the essence of the Peyrassol sculpture park?
In my opinion, it's just a very personal collection. Something you want to live with. And it embodies the pleasure of collecting. You can't stop. You just buy another sculpture, and another, because you have this inner necessity to do so.
Like an obsession for which there is no cure?
Yes, like an addiction !
Why do you want to be surrounded by art?
I think that it's just my life. I love artists, I like to meet them. I'm intrigued by their different personalities. Maybe it's passion of mine to meet the people who create art and are fascinated by the process. That's what I like.
Most of the artwork in the park has been created especially for Peyrassol.
Yes, whenever possible. Even when I've acquired works through galleries, I always try to meet the artist. For example, I once acquired a work by Antony Gormley from a large gallery in Brussels. First I met up with him and tried to arrange something special for us. But Gormley answered that he was too busy and had no time. So I bought the sculpture at the gallery, but he came to install it and stayed two nights at Peyrassol. This is what we're interested in – not just going to an art fair, buying a sculpture and exhibiting it. We would probably stop collecting if it came down to that. Most of the artists return to Peyrassol, and it's wonderful to spend a weekend together with them.

Bernar Venet. Ligne Indeterminée. Photo: Courtesy of Galerie Valérie Bach
Each of the works of art on display here has a story to tell. When walking through the park with someone, I like to tell them about the art. It's not just, "Look here, this is a sculpture by Gormley." Instead, it's a story about how we met. For example, I wanted to purchase a work from Bernar Venet. I found one that I liked, and then I learned that we're just a half-hour's drive away from Venet. Now he's one of our best friends.
Bertrand Lavier is another good friend of ours. He spent a lot of time coming here and searching for the right idea. His original idea didn't seem quite right to us, and so he returned here again and again for several weekends. At one dinner he finally said, "I know what it has to be!" Five years had already passed. I always tell the artists – take your time, we're never in a hurry.
Sometimes the story evolves around the artwork itself. I remember that once we bought a large sculpture by Jean-Claude Farhi. It was huge but not in very good condition. It was the end of the year, when everybody attends auctions. About a year later, at a local vineyard, I heard somebody say with a beautiful accent, "I'm an artist, and I have a big sculpture at the Nice airport." I knew that it had to be Farhi's work, and I replied, "Excuse me, are you Jean-Claude Farhi?" He answered, "Yes, yes!" Then I said, "You know that I recently bought a large sculpture of yours." "Ah, it is you! But you did not pay enough for it, the work was sold too cheap." So I said I was sorry, and the ending of this story was that Farhi came to Peyrassol in order to restore his work. The process took a long time, because the sculpture had to be brought to his workshop. We spent a lot of time with his wife and young daughters. When the sculpture had finally been restored and installed, he attended its opening. Three months later Farhi died. Now when I look at this sculpture, it calls to mind many emotional memories. It's much more than just a sculpture by Jean-Claude Farhi.
It makes a big difference whether a sculpture is installed indoors or out in nature, even more so if it's created in situ. When working with Daniel Buren, it took a long time to implement his idea as intended. It was also difficult to find people who were technically able to build it. We had many meetings before the sculpture was finished. It's different than with a painting – you can visit an exhibition in a gallery, find a beautiful painting and just buy it.
But this is a very long process – occasionally even too complex or too expensive. There have been occasions when we've backed out of a project because we were not completely convinced about the work itself, the price or the installation. For example, we met with Arman shortly before his death. He was creating the last copy of his sculpture, but we never realised this project because it was very difficult to come to an agreement with his family. Perhaps it was no longer as interesting because he wasn't around anymore, and also the price seemed too high. In any case, we decided not to do it.
And so this work remained just a sketch?
Yes.

Denis Oppenheim. Color Mix. Photo: Courtesy of Galerie Valérie Bach
Do you look for beauty in art? When speaking about art, though, many people avoid this word because it seems too banal.
I think I probably prefer aesthetic works. Beauty is very important to me. I don't want to have ugly things around me – this is important to me on an emotional level. For example, even though I like some of Paul McCarthy's sculptures that I've seen at fairs or biennials, I know that I'd never want to have them in my home. I find them ugly. Repelling. I don't want them around me. Even if the person who made them is a very famous artist.
Most collectors are concerned that the artwork they buy does not drop in value, even if they don't intend to sell it. In your experience, is it possible to foresee the status of a particular artist in ten years' time? Or is it all only speculation?
This is why I don't like this sort of talk. When I look at my collection in Peyrassol ten years later, I know that sometimes I've made very good purchases and sometimes less so. But this is not essential anything from our collection. It doesn't really matter whether an artist who is represented in our collection becomes famous or not.
What makes an artist famous?
Considering the scale of today's art market, it's important for an artist to be visible in good galleries. When I say good galleries, I don't mean the world's most prestigious galleries. These are galleries that take part everywhere, in art fairs all over the world. Of course, this is difficult. Today there are really two markets: the market of the big galleries that attend the prestigious fairs like FIAC, Art Basel, etc., and then there are all the other galleries and the many other art fairs around the world, which together also form a very considerable part of the market. In the first instance you'll always see the same artists, for example, Frieze will always include three or four works by Gormley. But at these fairs you'll most likely not see many of my Peyrassol sculptors, who are maybe not as famous but whose art is nonetheless very exciting.

Le Galerie at the Commanderie de Peyrassol. Photo:
Is it very important for you as a gallery owner to be a part of that first market niche?
It depends on what you want to do and how you want to work. From my perspective, this is very important for the artist and also from a sales perspective. Even if I don't particularly like art fairs, that's where the most art is sold, and therefore it's important for me to be there. It's also important for the gallery's reputation to be at FIAC, Basel, Frieze – all of the best galleries in the world are there.
But what determines the reputation of a collector? The artwork in her/his collection, whether she/he sells it or not?
Honestly, I'm not worried about my reputation as a collector. I just collect art. I do what I want – with all my faults. Sometimes people suggest that the Peyrassol sculpture park should be divided into two parts – one for famous artists and one for everybody else. This is absurd – Peyrassol is a mix of everything. I buy a piece of art because I like it, not to own work by famous artists.
What do you feel is the main responsibility of a collector?
I think that for myself and for the gallery it's important to support young artists. Help them to find a market outside the big fairs. I've never bought anything for Peyrassol at an art fair because I'm not interested in that kind of collecting. I want to invest time, to meet the artist, to see whether I can help him, to understand how significant his work might be for our collection. I find it important that visitors to Peyrassol see artists from all different parts of the world: Greeks, Belgians, British. And they instantly feel that this is a very personal collection. Instead of thinking that it has been created based on an art consultant's recommendations – "Hey, this work should not be here, it adds no value to the collection, etc." But I like Daniel Buren, for example, I want to have his work here, and we go to meet him to see if he is also interested in creating something special for this place.
In a way these meetings are like food in my life. They are my source of energy. Being with people recharges me. And I believe that artists have more energy than other people. I like to talk with them about art.
Do you think that works of art also possess energy and continue living after having left the artist's studio?
Yes, some works of art are magic.
What makes a work of art a masterpiece?
I don't know. Art has become very complex. Is a work of art a masterpiece because its creator is famous or because he's represented by prestigious galleries? Because you see him often and his work is exhibited in all the major museums? Or is it a masterpiece because you find it to be a masterpiece? This is a question of art history – it can be something very special or something very new. It's very difficult to answer this question. If a young artist has sent you a really great piece, you can't say right away that it's a masterpiece. You have to wait and see what happens over time – wait for many years in order to see how the artist's career has progressed, what museums are exhibiting his art, which galleries represent him. How will his career evolve? Because you can be very famous for a moment, but this might be followed by a very bad period.
Do you agree that a private collection is only alive as long as its collector is living?
It certainly changes after the collector has passed away, but there are many examples of collections that have continued to live, for example, Peggy Guggenheim's collection. Maybe there are things we can already do today. This is the reason why Bernar Venet established his foundation. His collection lives with him and will continue to exist after he dies. I hope that my daughter will carry on the idea of Peyrassol, but, to be honest, I don't want to think about it. Venet is an artist, he has a different perspective. For him, it's important that his artwork continues to live. For me, it's only a collection, and I hope that it will be able to stay at Peyrassol. And my daughter will continue her endeavours in the fields of wine and art. But I can't tell her what to do. It's her choice.
You said that you've never purchased anything for the Peyrassol collection at an art fair, but you do attend them as a gallery owner. Don't you ever view the pieces at art fairs with the eyes of a collector?
To be honest, when I attend an art fair as a gallery owner, I have little time for anything else. You're always in a hurry when you're at an art fair, and I do not want to rush any purchases. But as a gallery owner I'm glad to see that there are other collectors who like to buy art at fairs. However, also as a gallery owner, I prefer to meet people in my gallery than spend just two minutes with them at a fair stand. It's important for me to dedicate time to art. It's no fun to just go to a fair, notice a large sculpture by Gormley and say, "OK, I'll buy this!" You know, just take it and bring it to Peyrassol.
It sounds a little bit like a supermarket.
Yes, and I don't like it. Even if I can't meet the artist, I need someone with whom I can talk about him or her, someone who provokes me to dream about this work of art. To fantasise about seeing it at Peyrassol. There's always a degree of poetry in it. It's not like I need to buy this artist's work because he's currently famous. It's about me and my collection. And some works of art I buy because I see something special in them. And then someone might ask, "Who is this artist, what's his name?"
When I meet with artists at Peyrassol, we never talk about price at the beginning. The most important thing is to understand what the artist wants to do. Only when the idea is completely clear do we say, "OK, this idea of yours is great, but how much might it cost?" Occasionally a project can't be realised, but usually we try to find a way to make it work, even if it costs a bit too much.
To what degree do today's art prices reflect the true value of the art? When you have to choose between a work by a famous artist that costs a ridiculous amount of money and a wonderful work by an artist who's not yet so well known in the system, does price guarantee quality?
Of course, the market follows certain principles. The works of Gormley and similar renowned artists are everywhere, in nearly all the museums, all the art fairs. From year to year his work just becomes more popular, and so it's only natural that the prices go up, too. If an artist has an exhibition at a major museum like Tate or the Guggenheim, naturally the price of his work goes up. That's the way it is. Of course, the fact that he has an exhibition at the Guggenheim does not mean that he's better than some lesser-known young artist who hasn't had the chance to be represented by a major gallery and to push his way through.
I think it's very difficult to be an artist nowadays, and therefore I do what I can to help. It isn't enough to be gifted. You have to be visible, you have to go and be everywhere, people have to see you. Today's artists have to market themselves. And that's not easy. I remember when I started working in the art sphere 25 years ago, one gallery owner told me, "You don't have to meet the artists; it's even better not to meet them, because sometimes talking with them about their art might be too complicated. Just find a work of art that appeals to you and buy it." But today things are completely different. Everybody wants to meet the artist, see him in his workshop, and he himself needs to be very commercially oriented. This can be seen very well in today's young artists – they all speak fluently about art. It's a necessity for them. And nowadays it's easy to meet the artist.
20 or 30 years ago it was not so common for an artist to allow someone into his studio. It was like a sacred place, where only the chosen few could peek inside.
Exactly. Today everything is open. Take, for example, Joana Vasconcelos – she speaks several languages fluently, she gladly speaks to journalists, and she knows how to talk to them. She's very smart about it, too. It's crazy, but that's the way it is today.
To some extent this also explains the phenomenon of Damien Hirst and Jeff Koons.
Yes, you're right. But I don't believe that the essence of collecting is to purchase a Jeff Koons or a Damien Hirst – even if you're able to do so. And only a very small percentage of the world's inhabitants can afford it. What's really fun and exciting it is to take the time to look. It's like playing golf – you have to practise. And it's the same with art. You can discover a work of art and buy it, but you have to practise doing it. You have to attend art fairs, you have to look. In a way, it's like a day-to-day job and a passion at the same time. Something you're permanently interested in.
Art doesn't consist only of contemporary art. If you like contemporary art, you probably also like fashion, music and actually anything that's artistic. I like all those people who play something. It's a very passionate environment. You can't use only your eyes and your ears and say that you like something. It's work, and you have to invest your whole self fully in it.

Frank Stella. Tengan–Tenganan. Photo:
The world of collectors has changed quite a bit over the last decade. As the art market has gained momentum, the number of collectors has increased, and passionate art lovers have also been overcome by calculating, investment-minded people and schemers.
I completely agree. Today's art market is so huge and accessible. Everybody knows everything, and everyone attends the art fairs. In fact, this can be observed so very well at art fairs – you're in the VIP zone, and everybody else is in the VIP zone, too. It's just completely crazy. I remember when FIAC just started, when if you had a VIP invitation, there was a maximum of 100 people at the fair with you at the same time. Those really were VIPs. Today there are thousands of VIPs. Nowadays it's considered a completely normal activity to go to galleries, to attend art fairs. My friends, whenever time allows, they visit galleries – groups of women attending exhibitions. Art has become part of people's social life.
It's fashionable to talk about art.
Yes, it's completely normal today. It wasn't like that just twenty years ago. On September 8 we opened the exhibition Sculpting Belgium. What do you think – how many people have visited it in the first couple of weeks?
Five thousand.
Eight thousand! t's crazy. Everybody visiting Brussels comes to this exhibition. Nowadays everybody goes to museums.
Do people really immerse themselves in the art, or do they just take pictures and run through the exhibition?
Most people just run through it.
How did this hype about art begin?
Nowadays there's an immense number of art fairs. When I started working in the art world, there were about ten. Today there are more than 300. Today everybody goes to art fairs; it's like going to the cinema. To talk about art and recently visited exhibitions has become part of the daily routine. Newspapers and glossy magazines write about art.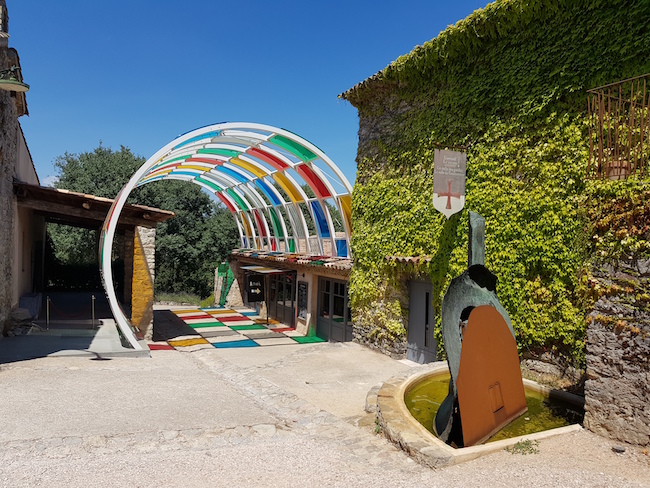 Commanderie de Peyrassol. Photo:

Do you think this trend helps to raise the quality of art or just its quantity?
I'm not sure. I think there's currently too much art. Too many art fairs. Why do you have to have an art fair everywhere in the world? I would like to experience a time when collectors stop going everywhere. The number of biennials is also unreasonable. You think it's important to go to all the biennials and to all the art fairs? As a gallery owner, I'm often asked by people, "Have you seen Mr. X or such and such an artist there and there?" When I respond, "No," the person goes on, "But I saw him at the biennial in Istanbul." I say, "Good for you, but I can't attend everything and everywhere. I can't know everything and every artist." To which they tell me, "But that's your job." No, that isn't my job – to travel to all the biennials and art fairs and to know every artist. There are a million artists in the world. It's impossible.
Some of today's collectors have a better overview of the art scene than I do because they have the time to go everywhere. They do nothing else but travel from one biennial to the next. They've got a rhythm to it: fair, biennial, fair, biennial... It's crazy. By doing that you become an art consultant instead of a collector. I doubt that this is a good thing. There's too much of everything, and as a result there are no benchmarks and the value system gets lost. For example, you see a young artist in Dubai or Abu Dhabi who uses the same technique as one of the artists in my gallery who's 80 years old and has been making art that way for the last 40 years. And this young artist from Dubai sells his work for twice the amount than my honourable artist. And people buy it because he's represented by a prestigious gallery. It's absurd.
Maybe the problem is that many people pretend to be interested in art, but their lack of basic knowledge makes them easy victims in this market bubble.
Exactly. They buy what they see. Like in a supermarket – you simply go there to buy your things. Therefore it's very difficult to be an artist today.
Does art have the power to make the world a better place? Or is this a naive question?
I would like to think so, but I'm not convinced. We always say that art changes the world. But when you look at the facts, in which direction is it changing it?
Has art changed you personally?
I'm not sure whether art has changed me. I could just as well be in love with horses or playing golf. Many things have changed my life. Art is only one ingredient in the recipe. It's all in there together: family, friends, children, the work you do, the place where you live. All of these things make up our life.
So, art has no supernatural qualities.
Not in my opinion, no. At least not in my case. Even when I go to Peyrassol, which is a place I truly love, it's much more than just my sculpture park. It's nature, history – I don't think that it's only the art that makes this place magic. The magic in life is created by many things. Yes, art is important to me because it's my work. I enjoy going to Art Basel, FIAC, Frieze – I enjoy discovering something new, meeting people, seeing works of art. This is my life. A friend of mine works with horses. Her whole life revolves around them, and she is very happy. And she looks so beautiful. This is exactly the same.

Rooftop of Le Galerie at the Commanderie de Peyrassol. Photo: Goussard
But you nevertheless get something from art, considering that you feel the need to be close to it?
Of course. I think that the very moment of purchasing a work of art is also important for me. And the process of collecting, because it makes me happy. It's like buying a beautiful hat or shoes – this very moment makes you happy. The process of seeing and dreaming about it, and then going out to buy it and acquire it. Afterwards, of course, I certainly enjoy living together with the art. Just like wearing recently purchased shoes.
Forgive me for the provocative question, but is there any difference between buying a new lipstick and buying a work of art?
Yes. Because when you purchase a work of art, you want to live with it. I can't buy something if I know that two years from now I'm going to want to put it in storage. I am somehow drawn to the things I buy. They attract specifically me. Why? I can't explain it – maybe it's just the right moment, I don't know. This is the world in which we live, and sometimes you see something and want it to be yours. That's why different collectors have different collections.
Do you agree that a collection always reflects its owner's personality?
If it's a truly personal collection and you don't purchase art under the supervision of an art consultant, then yes. Several times I've been to homes where it's apparent that the owners work with this or that gallery. This is not my case, but it could just as well be a friendship with a certain gallery owner. Maybe things have changed, but twenty years ago this was a familiar situation. Today things are different – there's less trust in a single gallery owner, you buy everywhere. Even if you're friends with a gallery owner who sells Gormley, you'll go to New York and London to see whether there are any Gormleys available there and for what price. And only then will you decide where to buy.
I don't know if we're in any way special as collectors. When I talk with other collectors, I learn that each of us buys different things. But with the same passion and love, and the wish to be part of this world. We mentioned Peggy Guggenheim. I would love to see my daughter 50 years from now, when we're no longer around, telling the visitors to Peyrassol about what her parents collected and how it was embedded in the context of that time and place. Just like in music, you instantly see the link between art and a specific time. Therefore, I believe it's good to collect in your time. There are many collectors who go a long way back in time. But for me it's wonderful to see what people can do, what they can create in the current time. For example, I like antique items, but I could not collect them. I have often thought about it – maybe it's our necessity to be in our time.
I'm now a little over fifty years old. Maybe I won't understand what my daughter will like in the future. Everybody has his own age. I doubt that it's worthwhile to try being a fashionable gallery owner who follows every new trend. But it all depends on what you want. Similar to music. There's classical music, there's Nirvana, and there's punk rock. You can change it all the time. In the art world the range is very large. You can find whatever you want: photography, painting, sculpture, performances in new media... There is no end to it. You always have this opportunity to discover something new. And this becomes a kind of lifestyle – it doesn't matter where you go, you'll always find something to look at. If you're in Dubai, rent a car and drive to Abu Dhabi to visit the new Louvre. Recently I was at a vineyard in Bilbao, and, of course, I went to the Guggenheim. There was a wonderful exhibition by Richard Serra. Wherever you go, you'll always find at least one gallery or museum. I often compare it to golf. No matter where you go on holiday, you'll always find a golf club.
Do you play golf?
No, I don't have time for that (laughs). Anyhow, I prefer to stroll through a museum.