"I do nothing else but look at art"
An interview with gallerist and art collector Thaddaeus Ropac

26/03/2018
Thaddaeus Ropac is not only one of today's most prominent and successful gallerists (two galleries in Salzburg, two more in Paris, and, since 2017, one in London) but also the owner of an outstanding collection of art. The foundation of this collection consists of work by artists Ropac has worked with as a gallerist, people who have in one way or another played a part in his life. In all, he has works of art by about forty artists, from Joseph Beuys and Gilbert & George to Anselm Kiefer, Antony Gormley, Tony Cragg and Robert Rauschenberg.
Ropac does not shy away from the fact that an art collection mirrors its owner. In fact, he finds a certain positive challenge in this statement, "because you really want to make sure that people understand the concept you've put into the collection." At the present moment, a part of his collection is displayed in his homes in Paris, New York and London and his 18th-century Villa Emslieb in Salzburg, while another part of it is in constant motion from exhibition to exhibition in museums around the world. Ropac is convinced that the work of the best artists should be found in museums, and therefore his mission and ambition is to eventually open his collection to the public. "As soon as I decided that I would one day like to dedicate the collection to the public, I changed my habit of collecting. Because then it became a responsibility."
Our conversation took place the day after the opening of Anselm Kiefer's exhibition Für Andrea Emo at the Galerie Thaddaeus Ropac Pantin in Paris. Ropac had precisely 45 minutes for our conversation, after which he was scheduled for a telephone interview with The New York Times and then had to catch a train to London. He is a precise, rather intense man who is at once very approachable. He admits to not always having been immune to the whims and fashions of the art world and sometimes also finding himself in a conflict of interests, for instance, as an art collector sparring with his best clients for certain works of art.
"In the end," he says, "it's all about truth. You can't fake it with art."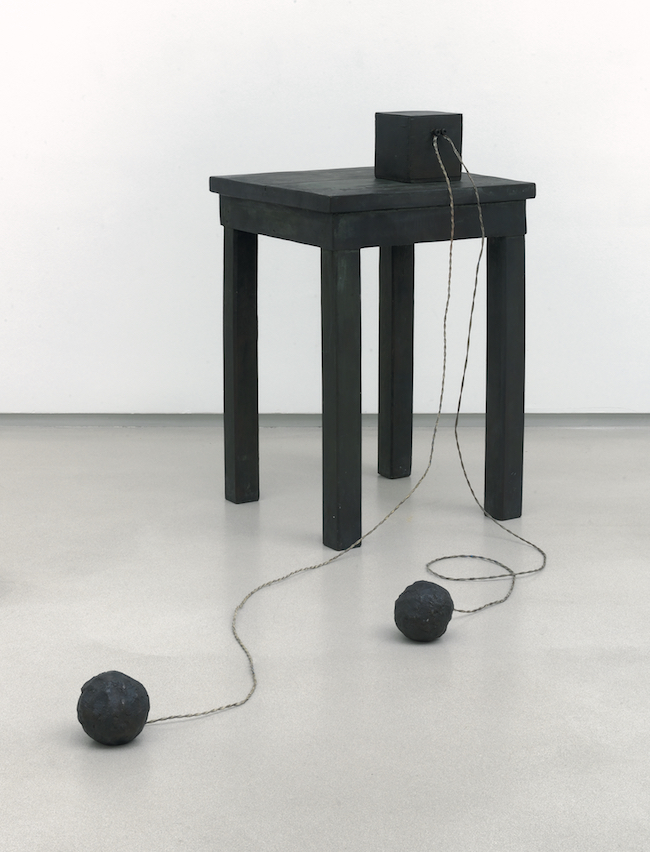 Joseph Beuys. Tisch mit Aggregat, 1958 - 1985 Bronze, wire cables. 98.5 x 58 x 170 cm (38.78 x 22.83 x 66.93 in) Ed. 2 of 4 (JB 1013.2). © Joseph Beuys, ASR 2018. Photo: Charles Duprat. Collection Thaddaeus Ropac, London • Paris • Salzburg
You once said that "as a gallery owner I am my own best client." What is it like to deal with this client? How pragmatic or spontaneous is he in his approach to collecting?
This has really changed tremendously over the last few years. Because in the beginning you just want to have great art around you. To surround yourself with the best you can get. But as well as living with art I lend a lot to museum exhibitions. So, it's a collection that is very active.
But more and more I felt that what remains from a successful gallery is essentially a memory of the exhibitions and the artists. And that can be the case for a great collection too, because you are really at the source, you have this privileged access to truly excellent works of art. As soon as I decided that I would one day like to dedicate the collection to the public, I changed my collecting habit. Because then it become a responsibility. From pure joy and an unpragmatic way of looking at art, it becomes something really focused.
In some way it became a collection with a mission.
Yes, mission is a good word. A focus for how this collection will stand after I'm gone. Having it make sense as a collection. So, it became a totally different ambition. It was important for me to go deep. Not in the sense of obtaining a hundred works by one artist, but to truly concentrate on those artists whose source of creation I've had the privilege of being close enough to, and by including in the collection the best that they've created over a specific time. Sometimes the only way to find certain artists' early work was to search for it in other galleries or at auctions, because very often artists themselves no longer have works from certain periods that I need to have. I started to think about how I could fill the gaps, how I could look for a period that is important for the collection. It became a totally different challenge, which I enjoy a lot. Because now I'm really thinking about rooms and ensembles and less about where and in which house I will put a particular work. Now it's more about how it will survive in the public sphere. Is it important enough? Is it good enough? Can it make sense in the long run? Is it really the best of this artist, of this particular period of his career?
For example, when I think about Anselm Kiefer, Georg Baselitz, Gilbert & George, Joseph Beuys, Andy Warhol – these are some of the artists I collect, and I have 30 to 40 works from some of them. I'm really going into periods, into the practice, when the artists have paintings and sculptures, drawings and books. Whatever they do.
So, your collection mostly consists of work by artists with whom you've worked as a gallery owner or whom you've known personally? Like, for example, Andy Warhol.
Yes. But I also buy artwork from artists with whom I haven't worked with the a gallery. That's especially true with young artists. I like to visit artists' studios, art fairs showing young artists, and so on. But I don't see that as part of the core collection at this time. The core collection must remain as a whole. Perhaps some of the work by these young artists will eventually join it, some not. Only time will tell how good they are. But it's important to look at young art, and I enjoy it. I am also less pragmatic when I see something interesting. At young artists' fairs the work doesn't cost a substantial amount, so I don't have to think much and make big decisions.
It's different with the core collection – I've already put those pieces in a foundation. And once that decision has been taken, it's difficult to get the pieces out of there again. So, I have to be sure that I want this or that piece in this context.

Adrian Ghenie. Degenerate Art, 2016. Oil on canvas. 200 x 172 cm (78,74 x 67,72 in) (ADG 1013). © Adrian Ghenie. Photo: Ulrich Ghezzi. Collection Thaddaeus Ropac, London • Paris • Salzburg
An artist should reinvent himself all the time. How it is with a collector?
The same. Time is constantly changing; when you're in the middle of a movement, you don't know what it will look like in five, ten years. You don't know which period of an artist will be considered the most important. For this you need distance. And time provides the distance. Without time you cannot really constantly rework a collection. It's incredibly important for a collector to stay ahead, to evolve, to get better.
I think it's also important to understand the codes of each generation. You are representing one generation, but there are already other generations around. Do you feel that you can completely understand the new art?
As a collector you're kind of constantly searching for the new artist, of course. This is the one very important and exciting part of it. And with a new artist you also do not have to be so critical.
But you have to find out first if the artist is serious. Today art is so fashionable that people sometimes think that the artist is great if he has one creative idea. But you usually need many years of practice to understand the seriousness of somebody. The next big question is context. You can never really make a decision based on only one piece of art; you have to see the entire output of the artist in a context. Can it survive in the context of what the present time is producing and the issues people are concerned with? This is also a part of the process of choosing a new artist for your collection.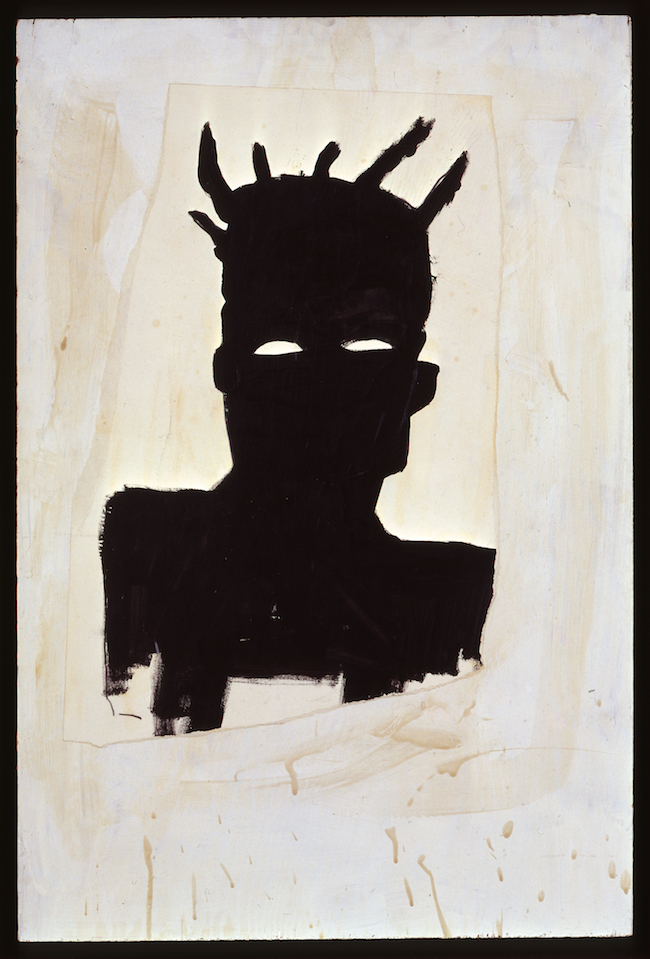 Jean Michel Basquiat. Self Portrait , 1983. Oil on paper and wood. 91.5 x 61 cm (36.0 x 24.0 in) (JMB 1018). Collection Thaddaeus Ropac, London · Paris · Salzburg © The Estate of Jean-Michel Basquiat, ARS 2018
Do you still have the drawings Jean-Michel Basquiat gave you in the 1980s and which formed the starting point for your gallery and also your collection?
Yes, I have a very important self-portrait by Basquiat from the beginning of his career. It's constantly travelling. At the moment it's at the Barbican Centre in London (as a part of the Basquiat retrospective Basquiat: Boom for Real– Ed.), and then it will travel to Frankfurt, where it will be on view at the Schirn Kunsthalle until the end of May. I never have this painting with me because institutions are constantly asking to borrow it.

Villa Emslieb, Salzburg, Courtesy Galerie Thaddaeus Ropac, London · Paris · Salzburg. Photo: Ulrich Ghezzi
Speaking of the future of your collection, you spent more than a decade restoring the Villa Emslieb in Salzburg. Do you think that maybe in the future you're going to open it to the public as, for example, Giuseppe Panza did with his estate in Varese?
Maybe. I haven't decided yet. But I'm definitely thinking of eventually maybe doing my own thing with the place. But, you know, I still have a few years to decide. And if something were to happen to me now, I think it's all organised in such a way that the collection would be split among different museums.
How big is the core of your collection?
Maybe 40 artists. I have a concentration on Joseph Beuys and German art, another part of the collection is American minimalism, and then a lot of single figures like Gilbert & George and contemporary sculpture, which is Tony Cragg, Antony Gormley, Richard Deacon.

Robert Rauschenberg. Untitled (Salvage), 1984. Acrylic and collage on canvas, 304,8 x 129,5 cm (120 x 51 in) (RR 1055). © Robert Rauschenberg Foundation, ASR 2018. Photo: Glenn Steigelman. Collection Thaddaeus Ropac, London • Paris • Salzburg
Do you agree that a collection in some way mirrors the person who collects?
Yes, very much. That's why it's a challenge, because you really want to make sure that people understand the concept you've put into the collection. I was asked a few times by museums to show my collection. But I didn't want to; I felt it was too early.
Really?
Yes, and I was happy that I said no. Because I think this is a big moment, deciding to show your collection. Maybe in five years I'll be ready. In the meantime I'm constantly loaning. I have one person at the gallery who does nothing else but take care of the collection. At the moment I have almost 300 pieces in the collection, and I get requests every day. And as I want to oblige as much as possible with loans, people know the pieces and ask me again and again. Like the Basquiat painting we talked about. At one point I will say no, because it's never in my own house. Ten years already. I have it for two months, and then it's gone for a year.
So, in a way, the collection already has a public life, but only single works in single contexts. I never put them together, because when you show a collection as one piece, then you have to create a context. And this is the most difficult thing. For this I want to take my time. I don't want to rush it.
Is it your ambition to also be the curator of this show?
If I do it at my own place, I guess I'll do the beginning and then give the job over to somebody else. I believe that all great artwork has to go to a museum. And I cannot keep saying this all my life and not do so with the works I own.
The problem with a private collection going to a museum is that sometimes it stays in the storage room for a very long time.
I know, but I don't mind this. In the meantime context is created and it's available whenever it's necessary.

Georg Baselitz. B.J.M.C. - Bonjour Monsieur Courbet, 1965. Oil on canvas 162 x 130 x 4 cm. Framed: 164 x 132 x 4 cm (GB 1337). © Georg Baselitz. Photo: Ulrich Ghezzi. Collection Thaddaeus Ropac, London • Paris • Salzburg
Given the current situation in the art market, with so many collectors-speculators buying art as an investment, what do you think is the main difference between a real collection and just an assemblage of things?
There is clearly a difference. If you create a collection because you feel it belongs in the public eye and will be given to a museum, then the whole investment idea is immediately zero. If somebody buys art because they want it to be in the family and still want a collection, that's fine. And then you have a third category, which buys purely for investment, and, of course, I have a very little respect for that. But it is legitimate, there's nothing wrong with it. Because people spend a lot of money, and they have the right to do what they want with it. But it's not something I would necessarily support.
When young collectors come to the gallery and want to start collecting art, do you feel in them that same passion that you have and that earlier generations of collectors have had?
Yes. For example, I had lunch today with a young French collector. He's thirty-five. And you can really see the passion in his eyes. First, of course, he thought about his apartment, but now he's over that. He just wants to buy good art and to see as much as possible. He comes from a family with a tradition of collecting. Speculators are not taking over the collectors. I think that the market is driven by the connoisseur.
Still?
I think so, yes. Especially in Europe where I look at the new generation, and I am amazed at how strong and how focused and committed they are to understanding art. They really want to be part of it, part of this excitement too, and today's collectors are much more knowledgeable.
Some years ago I discussed this issue with renowned German collector Egidio Marzona. He was very categorical, saying that there are very few real collectors today and the approach to collecting is starkly different than it was back when he started. He believed that "today everything is based purely on money and speculation. And investments. It's become a complete misunderstanding of art."
I disagree. Marzona is an amazing collector and was one of the exceptional collectors of his time, but how many other collectors were there when he collected? A handful. Today we have many more. He shouldn't think that things were better in the 1970s. I think it's better today. People know more today. Before, it was more of an exclusive "ivory tower" thing, whereas today it's much more inclusive, much more open. Back then you had to have so much intellectual capacity to enter this "ivory tower", and it was very much like "we are a small group of people..." Today it's different. Of course, as the scene broadens, there are plenty of people who aren't necessarily connoisseurs and are motivated to collect art for status, for acceptance, to be fashionable. As the total numbers increase, the number of speculators has increased as well. That is true. But the number of connoisseurs has increased, too.
Andy Warhol played a crucial role in the beginning of your career. Not only for you, but also for Gagosian. Do you feel there are still strong mentors like him nowadays? For example, could you say that you have been a mentor for a young collector?
I think when I was starting in the art world I looked up to people because I felt they were an example for me. There was Leo Castelli, there was Ernst Beyeler who I admired more for his collection, how he chose art, and his museum is a great example. With Castelli it was more about the way he worked with artists, how he discovered, treated, minded and helped them. So, I looked to different collectors and different galleries, because they showed me how to run a gallery and how to collect. And I hope that today I am also a mentor to a younger generation.
Of course, I am asked by many young collectors to spend time with them, to explain and to help them look at art. What I often do is, when I go to Berlin, Vienna or London and I want to see an exhibition, I call them up and ask – do you want to come with me? They love it, and I love it, too, this exchange. Because I learn from them, too; I learn about how the younger generation looks at art. Because they look at it differently. For example, I recently took a couple of young collectors through the Kabakov show at Tate, and it was interesting how they looked at his work. They saw it completely differently than I did. I told them about the history, about how Kabakov began. But I really saw how context can change when a new generation emerges. I am also often asked to help people shape their collections, to tell them where the weak points of their collections are. We do this a lot with our collectors. You know, people start, they make mistakes, and then they grow. I've done this with my collection. I've also sold pieces when I've gotten something better.
I'm building a Rauschenberg collection now. I know, I'm late coming to him. But now, when I represent an estate, I feel I have access and I want Rauschenberg to become an important part of my collection. It's not easy, because I have to search for his great works. When I started, I was so eager to get anything, and now I feel that maybe some are not his strongest works. So, I exchanged some of them for something else. It's a process, it never ends.

Anselm Kiefer. Die Ungeborenen, 1988.Lead, fabric, mix media on canvas. 280 x 130 x 12 cm (110.24 x 51.18 x 4.72 in) (AKI 3059). © Anselm Kiefer. Photo: Studio Anselm Kiefer. Collection Thaddaeus Ropac, London • Paris • Salzburg
Do you have, especially in this market situation, a price limit that you do not overstep because you think it's unreasonable?
It's terrible. I always have a limit, and I always exceed it. There's no way to keep within it, because you cannot stop. It's too tempting, there are too many good things coming along.
I am happy sometimes when I go to an auction and there's nothing I need to buy. Then I don't need to be nervous (laughs). But that's not very often.
I imagine that sometimes you bid against your best clients. Do you step aside?
Of course, my answer is "yes" (laughs). Sometimes I do, sometimes I don't. And this is sometimes a conflict, I know. But I'm honest, I don't pretend that the work is for somebody else. Sometimes I tell them I have to have it, it's so important for my collection. People understand. A few times there have been quite difficult situations, when as a collector I felt I should give in. But collectors usually respect passion, because that means you're a colleague of theirs instead of just the person selling them art. And when I tell them why I need a particular piece, they get excited and appreciate it. I've had good experiences.
You once said that art brings out the deepest possible emotions: hate, joy, love, pain... Do you have them all in your collection, or are there some things/emotions you try to avoid?
I'm not afraid of content. No, there's actually nothing I would avoid.
How did you select the art for your Salzburg home? For example, you have there the world-famous Be Amazing swimming pool by Sylvie Fleury. Is that art you want to live with?
No, I feel that the way I live does not necessarily have that much to do with the collection. The collection has now become a project. Because the way you live has its limits. For instance, my New York apartment has 3.4-metre ceilings. In Paris I have 4.5-metre ceilings, and in Salzburg they're almost five metres high. So, the bigger paintings, which I like in general, cannot go to my New York place. Those are the limits of the space you live in. It shouldn't dominate the collection.
When I buy something, I don't want to be thinking about whether it needs to go in this or that place. Then you're already on the wrong foot. I own a very important painting by Anselm Kiefer titled Bohemia Lies by the Sea. It's 6.5 metres long. And, of course, I have no place for it at the moment – but I still have to have it and working on accommodating it with some incredibly gifted young architects.
It's like a child playing with blocks...
Exactly. This is wonderful.
There was an interview with James Rosenquist in which he said that the magic of huge paintings is their scale, which is proportional to a human being. This is why people feel so good in the company of them. Do you agree?
Really? I do not understand the logic. I think it's wrong to measure by size. A huge painting and a small drawing can be just as powerful. For example, I went to see the exhibition of Paul Cézanne drawings at the Kunstmuseum Basel. There were just small drawings, but the concentration and the way the people looked at these drawings, it created the most intimate and intense space. It's the art that matters, the content. But maybe I'm too pragmatic. I always go back to content, the meaning of the art. It can be big or small, it can be a painting or a drawing, a sculpture or an installation, photography or video, it doesn't matter. It's the piece itself – how important, how strong, how much it touches you, how much it speaks to you. And then you contextualise it. You get one piece, and then the second piece has to somehow speak to the first one. That's the way it goes.
Have you already bought something as a collector from the last Kiefer show?
I buy Kiefer from each period. But since here we have so much demand maybe I will step back. I know what I wanted, but we also have museums who want it. And when museums want something, I step back.
Considering your experience, do you still spend as much time with works of art today as you did before?
I do nothing else but look at art. This is my life. Every weekend I go to a museum. Whenever I can. It's kind of an obsession. It's a bit of a problem I have that I'm not distant enough from art. Music is the only thing I enjoy besides art. I don't watch films so much. Sometimes I try to decide between going to a movie or a museum on Sunday, and I end up in a museum again. It's a bit silly, because I miss out on many other things.

Sigmar Polke. Nachtkappe I, 1986. Mixed Media. 303 x 227.5 cm (119.29 x 89.57 in) (SP 1006). © Sigmar Polke, ASR 2018. Photo: Charles Duprat. Collection Thaddaeus Ropac, London • Paris • Salzburg
Art is everywhere today. Do you think this popularity stimulates the quality of art as well, or only its quantity?
Yes, art is everywhere, but I tell you – quality also grows with quantity. So, if we have more quality, we also have the same proportion of bad art. And we have the same proportion of overrated art. Everything grows. You cannot only have quality increasing. But I still think it's OK. Some people start with the quantity and then grow into something more important, more truthful. It's all about truth. And when an artist is not true they won't be able to thrive in a mistake.
Can you say that your collection is immune to fashions and trends dictated by the art market?
No. It's not immune to trends, it's not immune to mistakes. But you have to then also admit this and correct it if you can.
There was a period when you collected turn-of-the-century Viennese art. You also have an old masterpiece by Jusepe de Ribera painted in 1624.
Ribera is a great artist of the 17thcentury. I saw this painting in Maastricht, and it really spoke to me. The Italian sculptor Medardo Rosso is an artist I absolutely adore too and I bought some of his works, but both of these artists works are totally disconnected from my collection. So I already have a museum in mind to which I will give the Ribera.
The Swiss on-line art auction Paddle8 is planning to accept bitcoins in their upcoming auction this summer. Can you yourself imagine ever buying artwork with bitcoins or another cryptocurrency?
No. I'm too conservative and too old. And beyond virtual currencies, buying art online. I believe art is still something you come to the gallery or the museum to look at in person. While the way in which we engage with art digitally is very exciting, it can't replace seeing the art in person.
I'm not against selling art online, and it's something we do. It connects us to collectors globally. But I still believe very much in the wall, in art on the wall. Times have changed, but to have artists represented in a physical space with great gallery shows, curated with insight and expertise, with an audience that comes and creates an event, this is very special and important to me. And still very successful.

Thaddaeus Ropac. © Galerie Thaddaeus Ropac, London, Paris, Salzburg. Photo: Peter Rigaud