Everything is about quality. Also in contemporary art
An interview with Norwegian art collectors Venke and Rolf Hoff

23/05/2018
'The scenery, and specially the light, changes all the time. It's hard for the art to compete with nature,' says Venke Hoff as we stand in a former caviar factory that has been converted into a contemporary art space and look out the window at the blizzard blasting over the sea. It's a bit strange to be talking about art one hundred kilometres above the Arctic Circle, in a small fishing village in the middle of the Lofoten archipelago. Yet at the same time it feels that here, art – as it shrugs off the mantle of luxury that has girdled it for decades – is finally reclaiming something of its primordial quality. The art collectors Venke and Rolf Hoff acquired the KaviarFactory building in the Norwegian village of Henningsvær after the cannery closed in 2006. Back then no one believed that the concrete building, built in the 1950s and which had been one of Henningsvær's most prominent features for more than half a century, would survive. Today, next to the village's main intersection, there's a sign directing visitors how to get to the exhibition Painting or Not, just a couple of hundred metres away. Marked with black block letters that spell out 'KAVI FAC ORY', the white cube of a structure stands on the edge of the sea, its water-facing facade often literally pummelled by incoming waves. 'The sign on the outside is by the German artist Michael Sailstrorfer – it's a work of conceptual art in itself – the three missing letters spell ART. The door pulls are from Bjarne Melgaard,' Venke Hoff later explains to me. One could say that Melgaard is currently the world's most famous working Norwegian artist. Deemed the 'bad boy' of Norwegian art, in 2015 Melgaard exhibited his works among those of national icon Edvard Munch at Oslo's Munch Museum, eliciting a serious uproar for such brazenness. Melgaard's works, along with those of 38 other artists, are also included in the aforementioned Painting or Not exhibition; a couple of years ago, KaviarFactory hosted a retrospective of Melgaard's 20-year-long career. Rolf Hoff began buying Melgaard's works when the artist was still young and unknown. In the Norwegian press, Rolf is described as a 'bell sheep' (the English equivalent being a 'bellwether') due to his influence among other collectors who trust his knowledge of emerging artists as well as his ability to sense potential. As Rolf says: 'They are very different, but because they are young they are like the temperature of the times.' Rolf's office in Oslo has become a popular destination for curators and the art crowd for two main reasons, the first being the artworks that he has on display there (Rolf believes that having art in the workplace is good for business success); and secondly, because of his willingness over the years to help artists produce large-scale works. For four years Rolf was also the Head of the Board of the Lofoten International Art Festival (LIAF). In 1998 the Hoffs bought the lighthouse in Henningsvær, which became a supportive place for artists even before the KaviarFactory. 'From the first day we bought the lighthouse, we have lent it out to artists from around the world,' Rolf explains as he shows me around the building, pointing out the many works on the walls made by the long list of artists who have stayed there for a period of time. In January 2018, at a time when northern Norway is immersed in its darkest time of the year, Yoko Ono presented her project, Onochord, a 24-hour light installation that broadcast a message of love directly from the lighthouse. Venke and Rolf live in Oslo. 'In Oslo we have an old family house from the 1850s, full of old furniture and contemporary art.' It is a place where one can see all of the layers and passions of their life. During our meeting, Rolf speaks of his obsession for collecting, a pastime of his which ranges from postage stamps and coins to antiques and contemporary art. 'It taught me a lot about quality and all of the things that gave these objects value. I learned how to discern good art not by looking at art, but by looking at antiques. Everything is about quality. Also, in contemporary art.' Venke Hoff: I think it was in 1998... we received a call from Bergen Kunsthall, which I think is one of the most wonderful art spaces in Norway. They asked us if we'd agree to exhibiting our collection. I turned to Rolf and said: 'Do we have a collection?' We had never thought about the artworks that we owned in terms of them being 'a collection'. But we said yes. Rolf was the curator for this exhibition. There, in that wonderful place, when I saw our artworks on the walls, I suddenly realised – yes, it is a collection. Since then it's been like a snowball that just rolls along and grows in size. We also exhibited some of our works in Paris, at Fondation Hippocrène, which was part of the FIAC VIP programme in 2016. But you know, Rolf is the main collector. He has been collecting since he was a child: stamps, coins, antiques... He was born a collector. Rolf's grandfather also collected. His grandparent's home was full of works by Munch; that's because Munch was a neighbour. Rolf Hoff: Their closest neighbour, actually. Their fences adjoined one another. I stayed at my grandparents' house very often as a little kid, and for many years. I was lucky in that regard – I grew up in that environment. When my grandmother died, I moved in with my grandfather because my school was close by. My grandfather and I would walk around the house and look at all of the things he had collected; that was something I never forgot. There were all sorts of old things around the house, paintings on the walls, including Munch's... it was a total mixture of many things. I was born into collecting things, and it stuck. There were also stamps and coins, but for me that was quite boring, actually. Nevertheless, I learned a lot about collecting by looking at them. For a while I was very into Norwegian antiques. It was good training in that it helped me to learn to discern the origin and value of things. It taught me a lot about quality and all of the things that gave these objects value. I learned how to discern good art not by looking at art, but by looking at antiques. Everything is about quality. Also, in contemporary art.

Bjarne Melgaard. Expected/Unexpected. Selected works 1995–2015. Exhibition view. Photo: John Stenersen

I've read that you also collected posters.
R.H.: When I was about 14 or 15, when artists had exhibitions, they would make their own posters. I would take them down, go to the framing shop for a frame and glass, and then frame them myself and hang them in my room. Later I would write to artists and ask them if they would be so generous as to send me their exhibition posters (they were actually lithographs that were printed in very limited quantities). And you know, some actually did sign them and send them to me. That's how it actually started.
It seems that for you, the process is just as important as the art.
V.H.: It's like hunting. Even today.
R.H.: Oh yes. The hunt is amazing. You never know what is going to happen next year or at the next fair. You never now.
V.H. Rolf has a lot of art 'secrets'. He likes video art, because then he can hide it from me.
You mentioned art fairs – do you go to them on a regular basis?
V.H.: Yes, there are quite a few that we try to get to every year. Brussels, Berlin, Basel, Vienna, Copenhagen, Paris, Turin and London. The Vienna Fair was the first fair to introduce us to art from Eastern Europe, and there is so much going on at the art scene there right now. When I saw Eastern European art for the first time, I felt like I had gotten a shot of energy. We will go to the Friend of a Friend project in Warsaw in April, and I am really looking forward to that. Turin has become a tradition. When you go to the smaller art fairs, there's more of a possibility to actually meet the people involved. And we always meet great friends there. Due to a lack of time since opening KaviarFactory, we rarely travel outside of Europe. But I hope that in the future we will be able to explore more art fairs.
When we first started going to art fairs, so many things changed for us. We had begun, like so many do, with works by local galleries and artists. But art fairs, with all of the people that we met there, changed all that. Now I feel just as much a part of the international art world as of the Norwegian one. And as I always say, in the art world there are no borders. We have loaned works to international museums such as the Contemporary Museum in Singapore, Garage in Moscow, and Tate Britain, as well as to most of the Norwegian contemporary art museums. With art fairs, we went from being national collectors to international collectors.

Bjarne Melgaard. Expected/Unexpected. Selected works 1995–2015. Exhibition view. Photo: John Stenersen

You were one of the first who began to buy works by Melgaard, and you continue to keep your eye out for promising young artists. What is it that makes a young artist stand out from their peers? How can you sense that they have potential?
V.H.: Firstly, I think one should see a lot of art. I really don't know what the right word for it is, but there's something about them that you can just feel that they have it. You develop an instinct, a sixth sense. It's difficult to explain what makes an artist stand out, it's just something we feel when we see the piece. In the Norwegian press they call Rolf a 'bell sheep'. If they see that Rolf is interested in a piece, they assume that it must be good. It's all because Rolf was one of the first to buy works by artists who were relatively unknown at the time, but who would go on to become some of the most important artists living in Norway today. Like when he first saw the unknown artist Marguerite Humeau in Berlin. It is complicated art, but for Rolf, it was the most exciting art of that year. Now she exhibits all over the world, and we are so pleased that we got hold of a work by her.
Is being in the company of young artists a way to stay young yourself?
V.H.: Yes. The young artists living in Oslo seem to highly value Rolf's opinion. They routinely invite him to come and visit, and therefore we feel like a part of the young art scene. Even if we are not that young anymore.
R.H.: We feel privileged that we are still included among the young. We have a lot of experience and contacts, and we are happy to share.
Do you think you can understand the younger generations?
R.H.: Even if there is a big generation gap, I do believe so. There are a lot of young artists and gallerists that we consider to be friends. And some of them are even younger than our children. They help us understand the younger generations
So, what it is that you look for in art?
R.H.: I don't really know what I am looking for. It's hard to explain. I've been in the art world for so many years, and at least once a week someone asks me what they should buy. I used to tell people that they should buy what they liked. But now, I don't agree. I think the interesting pieces are the ones you don't immediately like. That is, if you acquire a work of art, you shouldn't like it through and through. Absolutely not! If you like it 100%, you will never truly look at it again. The medium doesn't matter?
R.H.: No. Unless it's an installation; then that's a problem.
Because of the space it requires?
R.H.: Yes. At times we've bought art works clearly knowing that we don't have any more space for them.
V.H.: Actually, we do have some installations. For instance, by Banks Violette, Margurite Humeau, and Ai Weiwei. But they do require some space. In a television interview, I once said: 'Life becomes different as a collector. The first time you buy something knowing very well that you will have to put it in storage, you have become a true collector.' You do become a little bit crazy. I mean, why would someone in their right mind buy art and then put it away in storage?
You also have an office, Rolf, for which you came up with this wonderful idea that if you put art in it, it would bring your business more success.
V.H.: Rolf's business has visitors in his office every day.
R.H.: Well, not every day but very often.
V.H.: The art is not only for the people visiting but for the employees as well.
R.H.: It's a bit like playful teasing... they cannot choose themselves what they have around them – I do (laughs). The art may have been forced upon them, but now they actually find it interesting.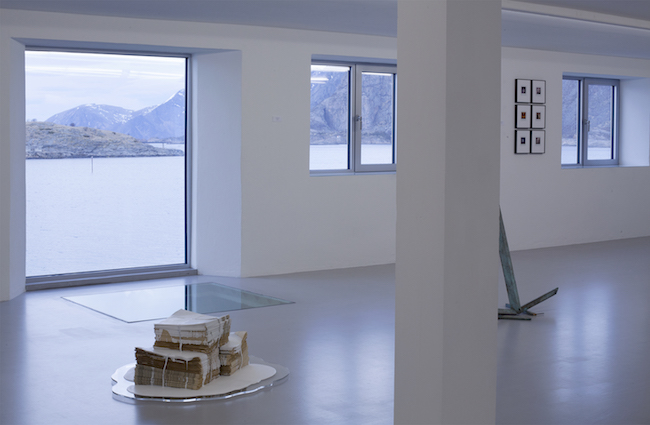 Above the Artic Circle. Exhibition view. Photo: Kristin Stubberud

How did you come up with the idea of putting art up in your office? Was it a conscious plan?
R.H.: We didn't have any more space at home.
V.H.: So, we started to put it in the office...
R.H.: It's quite interesting. My career had gone in such a way that I ended up making signage. And it is sometimes difficult to find the people with the right experience. But once we started hanging up works of art, something interesting happened. The art gave the company an interesting profile, and you can say that the art would bring people into the office.
V.H.: And when the people working there saw people coming in because of the art, that gave them an extra sense of pride about their place of work.
R.H.: So that's how it started...
It made them feel a bit more special. Do you change the artworks in your office?
R.H.: Not as much as I would like. We lend works out sometimes, and that forces us to make some changes, but due to a busy schedule, things tend to stay the same. Seeing as there are a lot of people coming for the art, we should make some changes soon.
Do you ever sell any of them?
R.H.: Very rarely.
Even if their worth has grown exponentially?
R.H.: It's not about that. It has never been about money; this is a passion. I have some friends in Norway who always tell me about the latest auction prices, but I don't care because that's not my thing. My thing is: 'What do I get from the art?'
V.H.: But at the same time, it is a confirmation that we have made good choices. And also, when you feel so close to the artist, it's great to see how successful they have become. A few days ago, a very arrogant foreign businessman visited the exhibition and asked me which the most expensive art work in the exhibition is. To be honest, I didn't know, but I pointed at Sergej Jensen's absolutely minimalistic work and said: 'Maybe this one.' And then he didn't ask a single other question (laughs). But it's true – art has become unbelievably expensive. Including some of the works in our collection. The monetary worth of the collection has never been something that I thought about. When I went to my first art fair, I learned that there are two kinds of collectors: those who collect with their heart, and those who collect with their ears. We never thought about [monetary] value. But of course, if you buy an artist's work early in their career, and then later they become important, you feel that you have made a good choice.
How do you make the decision to buy something? Do you make it quickly or do you think it over?
R.H.: It takes very little time. It's actually a question of minutes (laughs).
You also support artist-run galleries in Oslo. What's the difference between a regular gallery and an artist's space?
R.H.: There is a big difference. The idea behind artistrun galleries is that they are a non-commercial thing, with everything being done by the artists and their friends. There are several of these places now in Oslo, and it is a great addition to the more conventional galleries.
Do you trust artists more than you trust gallerists?
R.H.: Not necessarily. There are great artists and great galleries. I understand you also help artists to produce their works.
V.H.: Rolf is in a unique position; he has experience with technology and materials as well as art. And that combination has allowed him help artists realise their projects. Even some big-name artists, such as Daniel Buren.
R.H.: Yeah, that was fantastic. It was also one of the first things we produced. It has opened a new chapter for us. Producing for artists has become a bigger part of my business now, and my years of experience with art have proved to be invaluable.
How did you come to the Lofoten islands?
V.H.: Lofoten happened by accident, actually. We had spent some time up north that summer and were high on the midnight sun and the breath-taking scenery. When we learned that a lighthouse in the Lofoten islands was for sale, well, that was an opportunity we could not let pass. It was actually Rolf who made that happen. I remember it as if it were yesterday – I was in the kitchen when we heard on the TV news that the old lighthouse in Henningsvær was for sale. Rolf said: 'We're going to buy it.' I said – if you do, then I'm asking for a divorce. And then he bought it. It was as intuitive as it was with art. But now, I am the one who spends the most time up here [in Henningsvær]. Since the day we bought the lighthouse, we've been lending it out to artists from around the world. It's such a fantastic place! And over the years, we have invited so many people from the art world to visit us.

KaviarFactory. Photo: John Stenersen

Back then, when you first bought the lighthouse, did you have any concrete plans for it? Were you already thinking that it could become a place for artists to come together, to stay in residence?
V.H.: The lighthouse was only ever meant to be a holiday home. And it's not a residence, we just invite over friends from the art world. Rolf was Head of the Board at the Lofoten International Art Festival [LIAF], and then we had the opening party at the lighthouse. That is how we became involved in the art scene up here. And then, when I learned that the old and very run-down caviar factory in Henningsvær was for sale, I bought it. There were no concrete plans; I just had a feeling that it should belong to the art world. We opened in June 2013. And since then we have had several exhibitions at KaviarFactory.
Just recently you had the Yoko Ono project Onochord take place here. How did this collaboration come about?
V.H.: Yes, that's an unbelievable story. Yoko Ono had mentioned to the curator Luise Faurschou that she'd always had the dream to do something in a lighthouse and asked if Luise knew anyone with a lighthouse far up north. Luise replied that she did, and that's how it all began. My son, who is an architect and works with art, was in charge of making the project happen together with Faurschou Art Resources. He even spoke with Yoko Ono's studio on his wedding day. The installation was as spectacular as we had hoped it would be. Starting on January 20 and lasting for six weeks, Yoko Ono's message, 'I Love you', was sent from the lighthouse once every minute. People from all over the world could watch Yoko Ono's message of love in tandem with the dancing northern lights.
If you look back over time, what would you say has changed in the art world?
V.H.: When we started to collect, the only other person who knew that we were quite interested in contemporary art was our postman – because everything came by mail. A lot has changed in the art world now – everything is on the internet, there's so much information. You can check out all of the exhibitions from home. But when we started, it was just an invitation in the mailbox. I'm still fascinated by the fact that art can bring together the most diverse people, regardless of their political views, religion, background and nationality. They way art unites people is unique. For me, it's essential that art can be an instrument with which we can speak about current things – the political situation, the environment, social issues. It is very important to me that people use art to try and change the world and to speak out about what is going on. If people can use art to not only find something beautiful, but to talk about problems in the world, that's a good thing. I don't know what it is like to live without art. And I am grateful for that.

Venke and Rolf Hoff. Photo: Dagmara Wojtanowicz