"I grew up in an art gallery"
An interview with Swiss gallerist and collector Stefan von Bartha

22/10/2018
Swiss gallerist and collector Stefan von Bartha has literally grown up in the gallery that his parents, Margareta and Miklos von Bartha, established in their Basel home in 1970. In 2020, the gallery von Bartha will mark its 50th anniversary, and as Stefan von Bartha, who joined the family business in 2008, says: 'I think the gallery has a very artistic direction, which has a lot to do with the kind of art we represent: Concrete Art, the Zero movement, Hungarian avant-garde, artists like Imi Knoebel, Terry Haggerty, Andrew Bick...etc. But we also try to create interesting counterpoints with artists like Superflex, for example. We not only go down the logical path of combining things, but we also try to open up interesting discussions about modern and contemporary art between the different artists. We try to put our very distinct artists together with one another, and I think that that is what makes us unique. Apart from that, something else that certainly defines us is the family and our really unwavering motivation to talk about art. As a team, and as a family, we have an agreement which I am very strict about: when you come to our booth at an art fair and ask about a particular art work, we talk about the piece; we are never first to offer up the price. You have to ask us what the price is. Until the moment when the price has been asked after, we will only talk about the piece...'

Galerie von Bartha, Anna Dickinson NINE 17 - 27 February 2016. Photo: Conradin Frei, courtesy of Galerie von Bartha

Since 2008, the gallery has been located in a former auto garage that impresses not only with its large spaces and a library containing more than 4,500 books that have been collected over the last 48 years, but also with the still-operating petrol station that sits right in front of the gallery's entrance, thereby creating a clever dynamic with its artistic neighbour.
My conversation with Stefan von Bartha took place in the gallery's showroom. Directly behind us hangs Priceless Pearl (2001) , a gigantic work by Imi Knoebel, a classic of German minimalism; to the right of it stands a mathematical painting from the series Saturations and Shaped Canvases by renowned French sculptor Bernar Venet. We spoke about what it's like growing up within the walls of the Art Basel art fair, about his private collection, and about his latest initiative, The Imaginary Collection. The latter is an exhibition series in which selected pieces of von Bartha's impressive collection is entrusted to an independent collector who acts as the curator in setting up a pop-up exhibition in either their own home or a private space. The next edition of The Imaginary Collection will be held in collaboration with the architect and collector Leopold Weinberg, and will take place on October 26 and 27 at Weinberg's Boutique Hotel Helvetica in Zurich.

Von Bartha Basel. Courtesy von Bartha

You've made a petrol station the frontispiece of your gallery, and have begun a series of exhibitions dubbed The Imaginary Collection. It appears that you like to challenge the status quo.
I grew up in an art gallery, and I think I have a very clear understanding of the classical aspects of the art world. I know what it means to have a space, to run an artist programme, and so on. So, ten years ago, when we moved our gallery here, my main goal was to create a perfect space for artists, for our team and, of course, for the people who visit us. That was very important, and I feel that we've succeeded; no less important is the challenging aspect of helping a gallery develop by coming up with different ways of showing art.
I quickly get very bored when things are always the same. I remember once when I was driving from the airport back to the gallery, and I was supposed to go to a dinner at the museum. I was sitting in the car, thinking – [Sigh] Now I have to go back home to change clothes and then go to this museum. It's going to be the same people, the same catering, the same room, and the same boring conversations. You know what, I am just going to call them and say that I am sick. Along the lines of: 'I'm very sorry, I don't feel well. I have to cancel.' And then I was at home, laying on my couch, watching TV, and I was very happy. Then I thought – shit, that is exactly what people must think when they get their umpteenth invitation card for an opening at von Bartha. They must think exactly the same as I did – Oh...so we go to Stefan's, then we go to the same restaurant with the same people... We have to change! We have to do something differently. That is when we took on the challenge of changing our opening process. It may not always work, but we really do try to find new ideas.
Quite often I've experienced that the best place to look at art, and to see how art functions, is, of course, in a home. To see it in a different surrounding than just in a gallery space. I always sense that when people come to my apartment for a drink or dinner; I frequently hear them ask [about the art they see in my home] – Who is this? What is that? You discover things. In a white cube gallery with sleek walls and very bright light, it's very difficult to achieve such a freeing atmosphere. That's how I came up with the idea of the The Imaginary Collection. We had a different title at first, and then we did a test run in Zurich with a friend of mine, Leopold Weinberg, who has a very cool boutique hotel with a lot of art. That was a big success, so we continued with Mike Meiré [an artist, designer and collector – ed.] in Cologne in April 2018. It was Mike who came up with the title The Imaginary Collection, which I think is a perfect title for what we do.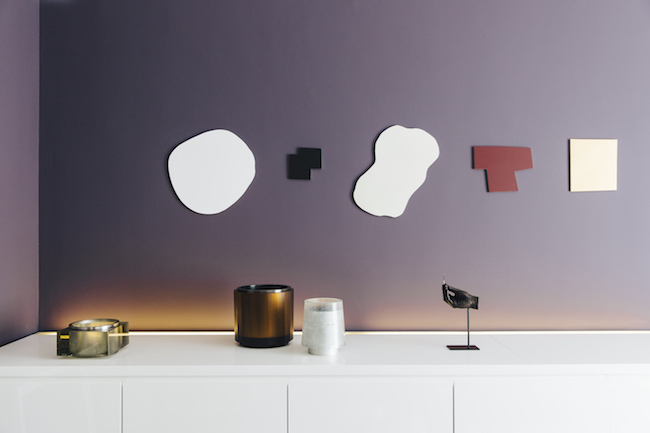 The Imaginary Collection, von Bartha X Mike Meire, 19&20 April 2018, Cologne. Courtesy von Bartha
Could you go into more detail about The Imaginary Collection? I understand that you also created it as an alternative to having a booth at an art fair. In Mike Meiré's case, he opened his home to the public for a couple of days and, instead of his own collection, displayed works of art (which he had selected in the role of curator) from the gallery von Bartha.
We approach collectors who know us well and who like what we do. The idea is very simple – you give us your space, but we give you our inventory. Mike Meiré, for example, came to Basel, and went through all of our storage – he spent hours in front of a computer looking through all the records – and he curated the show. They say, for instance – Ok, in my living room I'd like to have this Imi Knoebel, and then I want to put this piece by Landon Metz over there... Mike had put a piece by glass artist Anna Dickinson on a kitchen element. As a gallerist, one would never do that because you'd be afraid of offending the artist. But it was great to see because it immediately felt like this is how Mike really lives. We are going to do the same thing with Leopold Weinberg at Hotel Helvetia. It is very interesting for us because we learn a lot from our collectors in terms of how they see us – how they see the artists we represent and how they believe an artwork should function at home or in a different set-up. As a gallerist, you mostly think about how a piece will look at a gallery or how it will look at an art fair. Is this a piece we can sell? And then, suddenly, you have a collector who kills all that and has a totally different approach. That is a very inspiring thing for us to see.
The Imaginary Collection project is very short-lived. A couple of days, and that's it; it's like a pop-up exhibition of sorts.
We did it for five days in Cologne, and now in Zurich we are going to do it for three days. If you look at museums, if you look at art galleries – all of them have fewer visitors today. It is common knowledge that when you tell someone – I have a show, and it is up for a month, they will always find an excuse not to go because they keep thinking – I still have time; I can go look at it later. But when you do something that is very short and very intense, it's like we're giving you a kind of Instagram moment: BOOM – here we are...BOOM – we're gone. You have to go and look at it. It's also different from an art fair because at art fairs, all of the information is sent to you weeks beforehand – you know exactly what the fair will look like. Of course, you can still discover something, but you will not walk around Art Basel and suddenly see a Basquiat solo presentation in our booth. It does not happen that way; you know what to expect. Within the momentum of The Imaginary Collection, you still have things to discover; that is what the collectors experienced while browsing our stored art, especially taking into account that the gallery has a nearly 50-year-old heritage.
Will Hotel Helvetia be closed while The Imaginary Collection exhibition runs?
No, the hotel will be open. It's going to be total madness, but we want that. Everything that we do is extremely organised (and since we are in Switzerland, especially so); everything is very smooth and very elegant, so, we'd like to 'break a little crack' in all that. It is going to be chaos – that's for sure. Installing a show while there are 30 to 40 people staying as guests in the hotel, not to mention 20 to 30 staff members, is going to be a total nightmare. But even when we came to the moment at which we realised how chaotic it truly is going to be, we thought – Ok, let's go for that; let's have fun! Someone once told me that the moment you leave your comfort zone is when things start to get interesting. And that is what we try to do.

Stefan von Bartha's appartment. Photo: Sandra Amport

You were born in a family of art gallerists and spent your childhood surrounded by art. Yet you began your own career as a design dealer. Was this a kind of protest?
Kind of [laughs]. The full story is, I grew up with art. The first time I went to Art Basel, I was one month old – just a baby in a pram. I have always been in the art world, and I have always loved it. When I was sixteen, I looked through a magazine and there was an image of a robot space toy being sold at auction for CHF 1000. And I remembered that we had a lot of those – there had been a collector in Zurich who had a large collection of robots and space toys, and when he came into financial difficulties in 1988, my parents bought his collection. They sold a part of it in 1991, at auction at Christie's, but the rest just went into storage. So, I took it out, made an inventory of 420 space toys, and installed a little show at my parents' gallery – all at the age of 16. They told me that I could keep a third of whatever I make from the sale. I sold 419 toys; just one was left. They went for USD 50 to USD 2000, and some for even more. It was crazy. A lot of friends bought something just because they wanted to support me – How cute, a 16-year-old, overweight teenager is doing a show – let's support him. But there were already some real collectors who had shown up for it. So, I made a lot of money while quite young – a very dangerous thing to do. A year later, I was in London having lunch with a good friend of mine who dealt in Asian art. We walked by a design store, and we spontaneously bought it – the entire store. All of the money that I had made one year earlier was spent on buying that store. My friend pitched-in half, and we founded a company called Designago. My brother came up with that name; we thought it was the best name in the world. So, we started to deal in design, and we were quite successful at it.
Was it mainly vintage design?
Yes. And we were super lucky because my parents had been best friends with Verner Panton, and so we had some of his prototype lamps in the basement. I restored them and sold them for fifty, sixty thousand US dollars. So, I was very successful, but it was a kind of protest because I wanted to do something different than my parents. But when I was around twenty, I realised that being a design dealer and driving around in a Volkswagen station wagon and telling old ladies that the chair they are sitting on is actually one I've always wanted – and could you please sell it to me?... I just didn't see myself doing that for the rest of my life. I decided to reawaken my interest in art.

Stefan von Bartha's appartment. Photo: Sandra Amport

You yourself began collecting at age 14; was the first object in your collection an art object or a design object?
It was art. I remember that, at age 13 or 14, I received a painting by Aurélie Nemours as a gift from my father because I had gone with him to her studio in Paris. My father bought it and gave it to me as a present. I have always collected. It is a wonderful thing. I love to buy art. Bruno Bischofberger was once asked why he became a gallerist, and he replied: so that he could afford to collect. That was the only reason. I think that is a beautiful answer. I look at it quite similarly myself.
How would you characterise your approach to collecting? Is it very spontaneous, or quite the opposite?
Very spontaneous. For me, it is a fantastic situation if I am able to own a piece that I have fallen in love with. For example, I just bought a piece by Imi Knoebel that was at the exhibition held at Haus Konstruktiv this summer. I went to the museum during the installation process, and I saw that this piece did not have a courtesy label. Normally, there is always a note saying 'courtesy by the artist', 'courtesy by this gallery' or 'that museum'. It was a new piece, and I asked Imi to sell it to me. It totally destroyed me financially, but it was worth it, and now I have it in my living room and I love it. So, it is a very passionate thing.
But the collection itself doesn't have a very clear delineation. It is very personal. There are lots of things that I am interested in. I love works with letters. I love minimal art, works on paper.

Galerie von Bartha, Anna Dickinson NINE 17 - 27 February 2016. Photo: Conradin Frei, courtesy of Galerie von Bartha

How has your approach to collecting changed over the years?
That's a good question. I think that when I started, or let's say, when I became really conscious of the act of spending money to buy something (which, I would say, was at around age 20 or 22 for me), it was simply whether or not I loved the piece. Today, it's very important for me to find out as much as I can about the artist, about his practice, about the history behind it, about the style, about the technique, and about his or her personality. A good example is Landon Metz; when someone from the gallery first mentioned his name, I didn't know much about him. Later on, I found out all I could about him – I watched Youtube videos of his interviews and so on. And then, when I met him in person, I immediately become very emotional because I was just completely blown away by his work. I think that is very important. You should always have that first moment in which you think – do I like it or not. And then, if you keep liking it more and more, it is worth buying.
Do you usually arrive at the decision to buy something quickly?
Very quickly. My father and I once drove to Düsseldorf to visit Imi Knoebel. My father's car at the time was quite 'game over', and so we were talking about buying a new one. My father said that if we want to buy a proper car, it's going to cost a lot of money. For three hours we talked about cars – father and son. When we arrived in Düsseldorf, we walked into Imi's studio and, I think in less than five minutes, we had spent three times the amount of money that we would have spent for a new car. It was like – This is fantastic! Driving back, we both knew that we would not buy a new car anytime soon because we didn't have any money left. If you like something and if you are sure about it, it is very easy to buy. We also buy quite a lot for the gallery – because we trust in our artists. We trust that the work is good. On one hand, it is a great feeling to be able to buy. But it's also fantastic for the artist because it gives them some kind of support.

Sarah Oppenheimer, S-JT.D, 2014, aluminium, glass and existing architecture, 150x 130 x 82 cm. Courtesy von Bartha and the artist

Why do you have this need to be surrounded by art? What is it that interests you about art? Is it an intellectual challenge?
I think that it is a lifetime's decision that I took back then. I believe that the cultural importance of art is huge. Imagine spaces without art. Imagine churches without art. Imagine all the history, all the creative people – without art. It just doesn't work. I don't think that I could ever be bored by art; in addition, artists are unbelievably interesting people. Another aspect is the commercial one. And there, I think, one needs to find new ways, new motivations to keep that running. Because that world has changed very much...especially over the past ten years. But art as art will never become boring.
In one interview, you said that if you could change one thing about the art world, you would like it if we would all stop talking about art as an investment, adding: 'Art should be bought and sold because it is enjoyed and because it ignites a special response in the viewer'.
That would be beautiful. Of course, I am a commercial art gallerist, and I also benefit from that, but I am very bored by the fact that nowadays, it's only the money that you read about. It is no longer about discoveries (at least not as much as it used to be). In a certain sense, to a certain extent and on a certain level, art has become a currency. And that is very dangerous; because there is no guarantee. You can buy a piece for ten million dollars and, of course, the gallerist will tell you that it is a very good investment, but if you choose a wrong day to sell it, or you must quickly sell it because you need cash, or you want to make money on it – it can be a long road with hidden pitfalls. So, one has to be very careful, and gallerists also have to be very careful about what they promise collectors. We just sold a very, very important and incredibly expensive modern artwork, and when the negotiation was nearly finished, the collector asked – Do you think the price is Ok? Our answer was yes, the price is Ok for this and this reason. Which, of course, has to do with the condition of the piece, its provenance, how rare it is, how it compares with the selling prices of other pieces sold by this artist, etc. We had a lot of reasons as to why this piece was so expensive, but then he asked – Ok, what happens if I want to sell it? We said – there is no guarantee. There is never a guarantee. You can't guarantee that you will make more money. If you look at the art world, the art market has shown so many times what happens when it crashes. At those times, it is not about how much money you will get for a piece – it's about getting any money at all for it.
What I find interesting about art fairs is that everyone speaks about the very expensive things that have been sold, but no one talks about the thousands and thousands of paintings that have not been sold. The big problem is that if something doesn't sell within the five days of an art fair, a lot of people think that the piece must not be any good. But that is wrong; you can't judge an artwork by the speed at which it gets sold. That has nothing to do with the quality of an art work. For example, the painting by Imi Knoebel that we have behind us – if you like his work, that is one of the best Imi Knoebels in the world. The painting is, of course, ridiculously big, and it was very difficult to sell. We sold it to a museum last week. It has been shown in a lot of different galleries and museums, but for the past 17 years, we have not found a collector who was either able to afford it or who had the space for it. If I had shown it at Art Basel and it didn't sell, a lot of people would have said – Aha, you didn't sell it at Art Basel, so it can't be that good. The same thing happens when you bring something to auction and it doesn't sell – then we say it's 'burned'. Because everyone now knows that it didn't sell.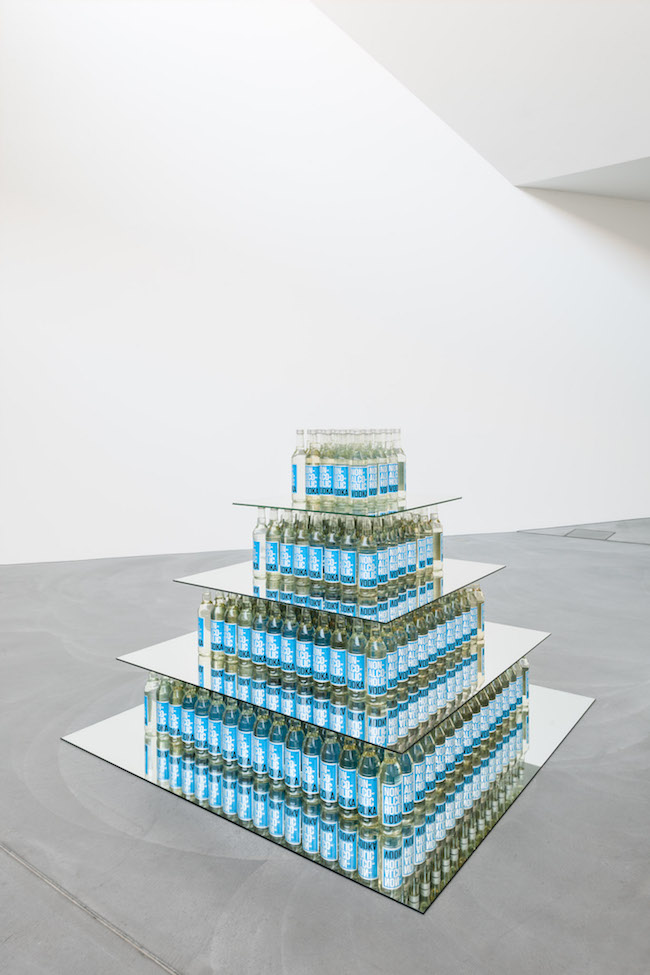 SUPERFLEX, Non Alcoholic Vodka, 2006. Courtesy von Bartha

What makes someone a real collector? Is it possible to differentiate between a real collector and someone who just accumulates things?
You can't. I mean, if you don't know a person, he or she can just walk in, buy something, and walk out. Of course, you can ask the right questions to get a sense of the potential buyer's intentions for buying an art work, but in the end, there is no guarantee. I had a very intense discussion once with Carl Laszlo. He was a very famous collector in Basel and, sadly, died a couple of years ago. Art Basel was founded in his living room. He was a Jew who had survived Auschwitz, was friendly with Andy Warhol, and had a million stories. I was at his home once because he was a big supporter of my parents, and I was complaining about someone who had walked in to our booth at TEFAF Maastricht and had explained to my father that he is a young collector and has so much love for Vasarely...he has always wanted a Vasarely, and if my father could give him a good price for it... In the end, my father gave him a very good price; three months later, this same guy puts the piece up for auction and sells it for a lot of money. I said to Carl Laszlo: 'This guy is such an asshole. He walks into our booth and simply lied to us,' and so on. Laszlo replied along the lines of: I understand where you're coming from, but what would you have done if the guy had walked in the booth and said – Give me a really good price; I am actually going to buy the piece purely as an investment, and later, I am going to put it up for auction. I replied that in that case, I would not have sold it to him. Laszlo then said: 'So, if someone is honest with you, you will not sell him a piece, but if someone lies to you, then you sell it to them?'. And that made me think – shit, he's right. In the end, there are certain things that we can ask, but we never have a guarantee. And we have to be careful about how far we take that.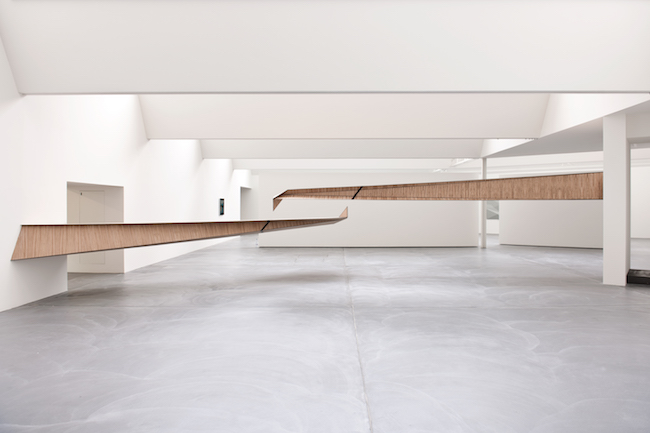 Von Bartha Basel. Courtesy von Bartha

In your opinion, do collectors have any kind of responsibility? From a purely legal standpoint, there isn't any – you can burn your collection to the ground if you want to.
That is a very good question. It's a question that I have not thought about deeply, I have to admit. The collector's responsibility, to a certain extent, is that when he buys an artwork, he is supporting the artist. It is kind of strange, if you think about it: you support an artist by buying their artwork, but in the end, you work against the artist by putting their work up for sale at auction. In terms of logic, that makes no sense to me. I think that, as with everything in life, in the end, it is just a matter of trust. You need to trust someone that he will act in the interest of the artist. However, you do have, of course, complete freedom to do whatever you want. If you wish, you can buy a Ferrari and, at the next corner, drive it into a wall. At that moment it is yours and you have a certain freedom, but I think there is a certain responsibility towards the work of the artist. One must hope that people respect that.
Returning to your childhood, what are the most important things about the art world that you learned from your parents and others while you were growing up in a gallery and spending your summers entertaining yourself at Art Basel?
Business-wise, it taught me (and we can still see it today in a certain generation of gallerists) that there is something like a gentleman's agreement. My parents would seal huge deals with just a handshake. Today, if I sell something, I always want to shake hands with the buyer...to keep the classical aspect alive. People have agreed to and promised each other so many things with just a handshake.
There are many facets to it...it is difficult to give a very precise example...in German, we say 'Haltung' – the attitude that you have towards others. That has changed very much. Today, in the world of galleries, artists, and the art scene in general, everything has to be very fast, very stylish, and very hip. Who has the best party has become an important thing. For example, Art Basel Miami is an excellent art fair, but often times, which parties you've either been or haven't been invited to is what people fixate on.
In my parents' time, the art world was not as public as it is now. I think that the public aspect of it started maybe 15 or 20 years ago. There was always a lot of money in the art world, and a lot was happening there, but it was a very small circle. There was a certain kind of unwritten law that was followed very dramatically, and I think that has changed very much. 20 or 30 years ago in New York, for example, everyone knew everyone who bought art. Today, that is impossible; there are just so many people. It was very, very fascinating for me as a child to see the classical aspect of being an art dealer.
You took over the gallery from your parents in 2008, right when the economic recession was taking place.
It was horrible. The timing was a disaster. When I started, I thought that I knew exactly what I was doing. I doubt that any other gallery was slapped in the face as hard as my gallery was during those first six months. I did three shows without selling a single work. Everything I did was a disaster. No one bought art; the whole thing just collapsed entirely. I would sit in the office and think about how I was going to have the shortest career ever. So, I was very fortunate that I was able to get through it.
I imagine you had a plan when you took over...
[Laughs.] One always imagines that there's a plan, but when nothing is working, you just kind of start without your plan. The biggest mistake that I have made was thinking that I understood the art world just because I grew up in it. I had so many people tell me – You know, you have to do something one day...you should come back to Basel, and so on. I thought that all of these people would now come to us and buy art, of course. And that didn't happen. I had to learn what it means to run an art gallery, what it means to represent an artist, and what it means to be able to give people something that they maybe wouldn't experience in another gallery. There was still a lot that I had to learn about running an art gallery.
In the beginning, I was very focused on the space and on the history and legacy of the gallery. That changed when I finally understood that, if that's all that I do, then I am only going to be 'the son who took over'. It then became very important to me to have a unique style. And that still is what drives us today. Right now we are working on a lot of questions for the next year and also for 2020, which is going to be our 50th anniversary. We ask ourselves – What do we really stand for? What do we do? What is our unique quality? What is it that we do better than others? These are quite interesting questions that I wasn't asking myself at the beginning. I was very, very sure that it was going to be a success. And I can tell you that I fell in a really grand way. The amount of money I burned in such a short time – that is an achievement [laughs].

Von Bartha S-chanf. Courtesy von Bartha
What did you parents say after those three unsuccessful shows?
They were not excited, I can tell you that much... I think the only thing that helped me was that my father had dealt with the same problem in his life. I remember when we did an exhibition with an American artist in our second space in S-chanf, in the Swiss Alps. We had a great show, and a lot of people had always asked about his paintings. And then my father had a meeting with an important collector. Afterwards, I went to the gallery and asked my father how it went. He said: 'He didn't buy it.' Dumbfounded, I asked: 'How is that possible?' And my father said that that's because we are now at the stage when people sense that we need to sell; and then we are lost. That was quite a good statement, because he was right. The moment you have to sell, you begin to act desperately – that's just human nature. And you can't hide it. So, we decided to try and relax, and things began to get better.
You won't find anyone in the art world who has a gallery that is at least 50 years old and has never had a major crisis. Usually, they have gone through at least two or three.

Von Bartha S-chanf. Courtesy von Bartha

That's true – compared to previous recessions, the art world rebounded very quickly after the one in 2008.
Very quickly, and that's because the thing that gave the art world a big push was that – and I know that this sounds horrible – people were running out of options of what to do with their money. 20, 30 years ago, if you had one million Swiss francs and you put it in the bank, you could have a good life just by living off of the interest rate – have a nice apartment, travel a little bit, etc. Nowadays, if you have a million in the bank, the interest rate is zero. You don't get anything. So, you have to do something with your money. Maybe if your banker is good, he can get you five percent. But you can't live off of five percent of a million. I mean, you can, but not at the level that befits someone who has a million francs. So people buy property, classic cars, watches and other collectibles. I also think that since 2008, the art world has crashed many times again, but just in certain fields – in certain markets. At the same time, when things crash, it always creates new opportunities...but you also need strong nerves.
Right now, everyone is talking about the recent 'Banksy incident' that happened at the Sotheby's auction. What do you have to say about that?
I think it is total bullshit. It only shows how easily and how primitively you can manipulate an entire market. It was all planned; the whole thing was staged. There is no way that it was not staged. There are a lot of things that I find interesting about this guy called Banksy. But I think the only way that I could take him seriously is if his art would only exist for a short time. The very nature of street art is that it is viable for just a short period of time. But the moment he took this work and framed it, he decided to make it a part of the commercial art world. He made the decision to make money from it, and he cannot be upset about the fact that now people are making even more money from it. So, he makes the decision to make an artwork commercially viable, and by 'destroying' it, he actually promotes it even more. He is all over the news – there is not a single Artnet, ARTnews, Artsy or other art site that did not mention it. The way in which he promoted his work was explosive. And what do they write? – He is reportedly upset about it. Nonsense! He is very, very smart. He knows exactly what he is doing – he is playing the art market to his benefit.
It seems doubtful that this sort of a situation would have been possible 30 years ago, when the art market was still quite closed off...
The thing is that all of these people benefit from the digital world. You can feel it. You put that video on Instagram, and eight million people will have seen it in the next twenty minutes...
The first generation to have grown up in the digital age is now coming onto the scene. They have a different value system and outlook on life. What do you think that they are looking for in art, and how much of an impact do you thing this generation could have on what happens in the art world?
I think that the problem now is that we have this crazy clash in which we still have a lot of people who only know the analog way, another large group of people who know both ways (like me), but then there's this generation who lives exclusively on the digital platform. The world has changed at such an unimaginable pace, and the biggest problem that we face is that we still have to learn how to handle that. Our whole system has to be able to adjust. I sense that a lot of people, especially the ones who grew up in an entirely digital world, will, maybe, at some point, feel the need for something real, and perhaps also a kind of old-school attitude. For instance, to go to a gallery to look at a painting in real life.
I've spoken about this at length with friends and acquaintances from a variety of art fields. We've talked about this whole thing of having a presence on digital media, and about how people deal with the idea of ownership. I think it is a very interesting development, and I think that the only way to get through it is that we have to be able to explain the quality – not price-wise – but the quality of what it means to have an artwork. Entering a home in which there are no works of art versus one in which there are – the difference is immediately obvious. Instantly, it has its own character, its own personality...it says something about the identity of the person who lives there. That is something that we just have to hope will come back...as well as hope that it will not be entirely destroyed by the digital aspect.
I just saw a documentary on Netflix about people who only own one hundred things; no more. I also sometimes feel the burden of owning so many things – everything that is in storage, this painting, that chair...and why did I even buy that bloody TV? Owning can also be a responsibility, and since people want to get rid of responsibility, they try to lighten the load; they try to find a different lifestyle. I think it is a very interesting concept and very challenging, but I don't think that it can be generalised to fit everyone. But coming back to the essence of your question, I think that we still have a lot to learn; we are still within the learning process.

Stefan von Bartha. Courtesy von Bartha