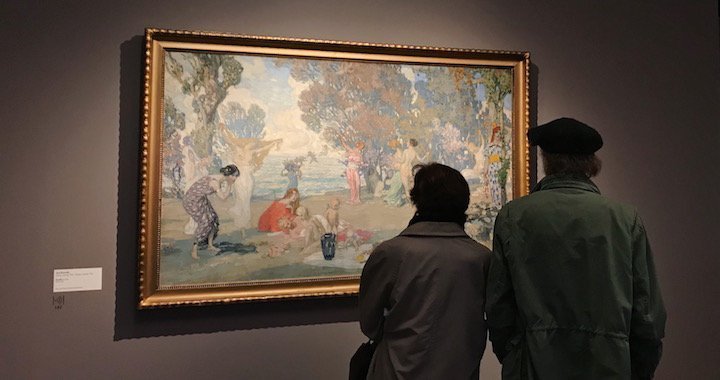 Wild Souls. Symbolism in the Baltic States
A photoreport from the exhibition opening at the Musée d'Orsay in Paris.
10/04/2018
Yesterday, April 9, saw the celebratory opening of the long-awaited exhibition Wild Souls. Symbolism in the Baltic States at the Musée d'Orsay in Paris. One of the headlining events marking the centenaries of all three Baltic States, the event is a testament to the strength and commensurate standing of the region's art on a global scale, as well as an indicator of the three countries' historical presence in Europe.
The exhibition is structured into three parts – Myths and Legends, The Soul, and Nature – and contains 167 artworks on loan from the Latvian National Museum of Art, the Art Museum of Estonia, Lithuania's National Gallery of Art, the M.K. Čiurlionis Museum of Art and others. Rodolphe Rapetti, the d'Orsay's General Curator for Heritage and an internationally renown scholar of symbolism, has put together this exhibition featuring art created in the period ranging from the 1890s to the end of the 1920s. Rapetti notes that Baltic symbolism is closely linked to cultural and artistic influences and events that were taking place throughout Europe at the time, yet it also reflects the local folklore and environment, thereby making it a truly original art form. Each section of the exhibition presents works that characterize, respectively, the mythical and symbolic world, society as a portrait of its time and place, and the superhuman quality of nature.
The reputable architectural scenographer Flavio Bonuccelli has designed the layout of the exhibition, which does not follow any chronological time-line or national divisions – the works from all three countries freely intermingle as they take the viewer on an instinctive journey through Baltic symbolism.
Arterritory.com presents the following photoreport on the exhibition's opening.