"The detail is potential for a scope"
An interview with Latvian artist Daiga Grantiņa
Valentinas Klimašauskas
27/07/2018
Latvian artist Daiga Grantiņa (b. 1985 in Riga, lives and works in Paris) is renowned for her site-adapted sculptural installations made from a range of materials with varying qualities, merging plastic and organic elements within an extensive color palette.
Still on view until September 9, 2018, is Daiga Grantiņa's solo show "Toll" at one of the most important contemporary art institutions in Europe - Palais de Tokyo in Paris. Moreover, on June 21st, Grantiņa took part, alongside other younger generation artists from the Baltic countries - Pakui Hardware and Young Girl Reading Group, in the exhibition titled "Solar Bodies" coinciding with one of the biggest projects of the Latvian Centenary "Wild Souls. Symbolism in the Baltic States" at the Musée d'Orsay in Paris. On this occasion curators Valentinas Klimašauskas and Inga Lāce interviewed Daiga Grantiņa about the exhibition and her work in general.
Daiga Grantiņa has also recently participated at the Baltic Triennial 13 in Vilnius and Tallinn (2018), curated by Vincent Honoré, as well as exhibitions at Villa Vassilieff, Paris, and La Panacée, Montpellier (2018). She has also been taking part in the Bergen Assembly (2016) in Norway. Her recent monographic exhibitions have taken place in Kunstverein Hamburg (Germany, 2017) and Kunsthaus Bregenz (Austria, 2016). Her work has also been shown in Latvia at the solo exhibition at kim? Contemporary Art Centre in 2016 and in a group show "Portable Landscapes" at the Latvian National Museum of Art, organized by the Latvian Centre for Contemporary Art. Grantiņa is also a part of the artists' collective in Paris called DOC which actively participates in the life and dynamics of the neighbourhood and art ecosystem of Paris. Daiga Grantina is represented by Galerie Joseph Tang in Paris.
Daiga Grantiņa will represent Latvia at the next year's Venice Biennial with a project which is called "Lighthouse". The richly charged metaphor was previously used as a symbol for metaphysics and religion, however, in our times of wars, immigration, climate change and technological acceleration the connotations of the 'lighthouse' might vary from a safe harbour to a symbol of changes. It may also refer to ever-changing borders between the sea and land and accelerating technology, as now the GPS and other digital technologies are used for navigation purposes instead of old-fashioned lighthouses.

"Toll", Palais de Tokyo, 2018. Plastic, metal, fabric, foam, wood, pigment, lights. Photo: Toan Vu-Huu
Historically there is a relationship between the discovery of materials and their history and development of art history as when certain colours are discovered and allow certain painterly developments. How do those material histories intertwine with your work?
I am reading Michel Pastoureau that every French art student has read. He wrote a series of books, each on the history of a colour. As for red it starts with the cave paintings, done in the very first colour available, obtained from the iron oxide in the earth. I am very interested how colour is entwined with matter, light included. I mean the palette of the screen is also specific, just as paper, foam or textiles. Joseph Albers would recommend colour tests with paper for example. A palette is its own parallel human and non-human, a sort of non-categorical, history.
I'm very much interested in the relation of your work to art history and specifically to realism and symbolism as in the context of your new work at "Solar Bodies" exhibition at Musée d'Orsay. As it is mentioned in the exhibition text, your new work may be read as a reference to "The Étretat Cliffs after the Storm" by Gustave Courbet or may be associated with "The Past" by Lithuanian symbolist, pre-abstractionist Konstantinas Čiurlionis. I'm pretty sure some other references may also be mentioned. However, to systemise the question in the background of those two works, one may say that, firstly, what really stands out in your work is the attention to a detail, which is an attribute of realism. Secondly, what is also very noticeable is the relation of detail to the totality of your installation, to landscape, to larger world, cosmology, which is part of the symbolist thinking. Thus to continue this line of thought I'm very interested how your work combines a few different thinking schools and styles as inspirations. Could you tell us more why you specifically mentioned "The Étretat Cliffs after the Storm" and "The Past" and not other works? Is it because of the materiality of the depicted objects, landscapes, painterly situations?
There are some encounters that are especially sticky. With this painting it's like you could smell the freshness of the air after the storm, Courbet catches the aftermath, the relief which might be a pun on painting the cliffs and his way of doing it with a knife. Looking back it actually marks a moment in his life before a storm. During the preparation for the show in Musée d'Orsay I inspected the painting more closely, and only with technical means, by zooming into the high-definition pictures where the water meets the pebbles, a group of figures appears, like a secret announcement. So, yes, I can relate to what you say about the detail. The detail is potential for a scope. And it seems to me that it is what Čiurlionis has painted in "The Past". Somehow he is depicting the opposite of Courbet with this radiating flat stone face but the feeling that comes along is similar and the titles are suggestive of that. What I am trying to do is relate detail and landscape. The subject is what I receive from these paintings, that moment of appearance in a sense of a personal reality effect and the work puts that into a perspective, a scope.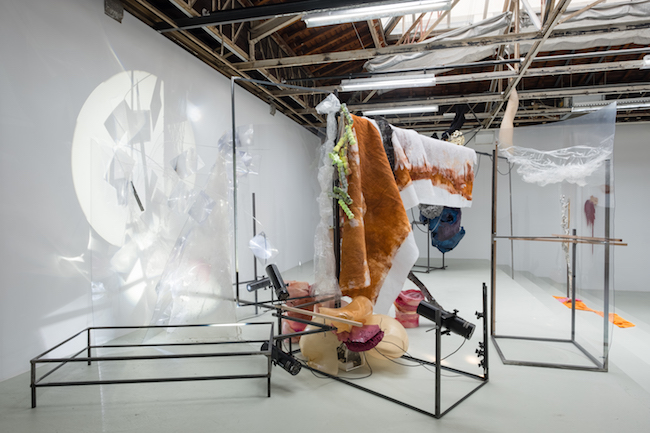 "Toll", Palais de Tokyo, 2018. Plastic, metal, fabric, foam, wood, pigment, lights. Photo: Toan Vu-Huu
One may also add that your work may be also described as a sculptural installation. Having that in mind, what historical sculptures or installations influenced your oeuvre?
The year I immigrated to Germany Jessica Stockholder made a work called "Growing Rock Candy Mountain Grasses in Canned Sand" and one of my favourite fashion items was these pink leggings made of lycra which was also the main material for that installation in Münster the same year. Much later I discovered that work in a catalogue at Sautter and Lackmann bookstore. That made me want to wear my leggings again which had not happened yet and at around the same time I was introduced to the work of Eva Hesse by my theory teacher Hanne Loreck in Hamburg, and I was sketching around with film stuff and montage which is still how I think of installing. It's like laying out the film and moving inside and around.
As your work is very spatial and even may be called operatic because of its richness of colours and shapes, is there also some connection to music, which you find interesting?
I realized that colour became interesting to me through texture first. So the change or movement of colour and that colour acts like a sensual interface. It includes all dimensions we want to think of. I visited the lighthouse cathedral of Auguste Perret in Le Havre recently for which Kandinsky was a major influence. The windows are composed in relation to the sunset. It felt like watching an Agnes Martin "Blade Runner" version with a soundtrack by Klaus Schulze.
It's like the architecture was not out there but inside me.
Have you ever experienced synaesthesia, for example, hearing words as colours or colours as music?
As part of a workshop, that was an experiment in making a collective show that addressed the process of 'installing' as a collective creative act, we underwent a session of hypnosis. It was led by Magda Kachouche, a member of the DOC association in Paris. The task was to focus on all our senses and fold them into one feeling: the sound of the street and body functions, the feel of the feet touching the concrete ground, the taste in the mouth and the focus on breath in order to see with the eyes closed. Somehow these few minutes of being all together and sharing something so non spectacular worked as sort of sublimation, from which we could rethink our encounter and the individual agenda. From automatic writing to automatic installation so to say.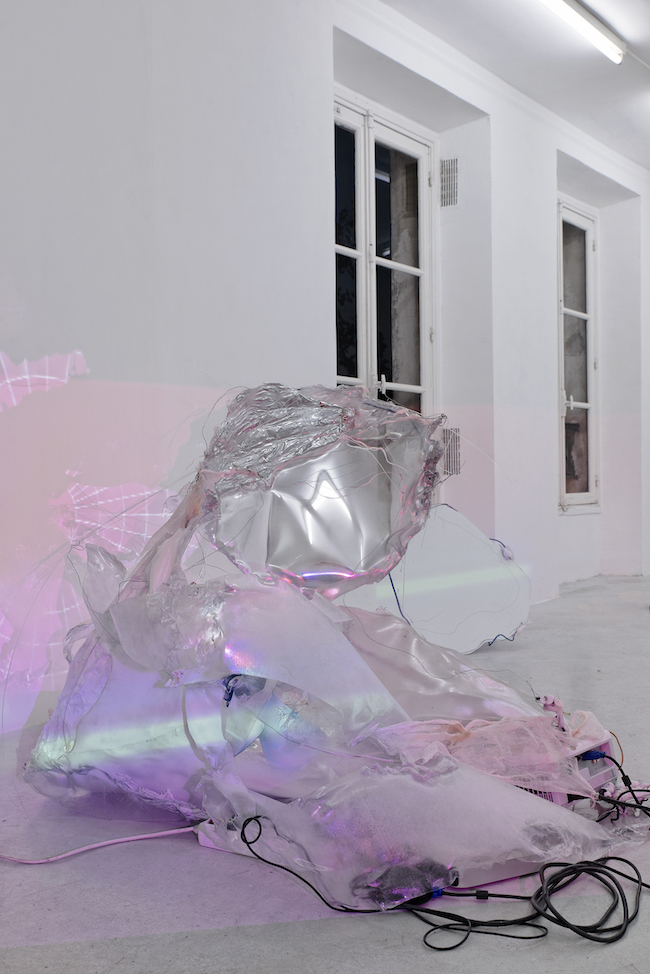 Legal Beast Language, Exhibition view at Galerie Joseph Tang, 2014
Colour is a very important and distinctive part of your work. How have you made the choice of your palette?
If we talk about the "Toll" exhibition then what I tried is to slide on a scale between red and blue, sometimes slightly beyond and playing with the lights. The red was used as baseline which is also the large red wave in the space, right at the left front. Out of this the magenta, pink and deep purple shades are emerging. The red wave flows out in a heart-like structure. It was important for me to have a general warm or heated feeling about the show so it works with the greenhouse like architecture of the roof. We can see the sky through it. There is also a cooler corner behind the big blanket hanging in the back of the space. With each colour comes a texture to the feel so the shades can be really varied — sliding between red and blue.