"Hair represents the animal or beast we once were"
An interview with Icelandic artist Hrafnhildur Arnardóttir
29/04/2019
Iceland is represented at the 58th Venice Biennale by one of the nation's most eccentric female artists, Hrafnhildur Arnardóttir (1969), alias Shoplifter, who is currently based in New York. The exposition, titled Chromo Sapiens, is curated by Birta Guðjónsdóttir, the director of the National Gallery of Iceland in Reykjavik, and consists of an immersive installation that uses hair – Arnardóttir's trademark material – to build an environment with multi-sensory stimulation.
For already more than fifteen years, both natural and synthetic hair has been Arnardóttir's artistic medium and instrument. Her work focuses on the symbolic as well as visual and artistic potential of hair. Her sources of inspiration range from anthropology and the esoteric to Nordic textile traditions, fashion, popular culture and her own childhood memories. Arnardóttir's work contains an element of play, which provokes the viewer to take a look at the world from often quite unexpected perspectives. And that's exactly what Iceland's pavilion on the island of Giudecca (May 11 – November 24) promises to be like. Arnardóttir has turned the former warehouse space into a cavernous environment where colour, sound and irresistible textures will guide visitors along a journey. It's a kind of virtual reality in analogue – a naturally artificial world that combines the grotesque, fetishism and humankind's existential obsession with ever-changing ideals of beauty. The musical accompaniment for Chromo Sapiens was created by the well-known Icelandic heavy metal band HAM.
Other significant work by Arnardóttir includes a window installation commissioned by MoMA in New York City in 2008, participation in the Liverpool Biennial in 2019, and the mask/headdress Björk wears on the cover of the Medúlla (2004) album, which was later also shown at Björk's blockbuster retrospective at MoMA. A large-format installation by Arnardóttir is also currently on show (until September 15) at the Kiasma Museum of Contemporary Art in Helsinki.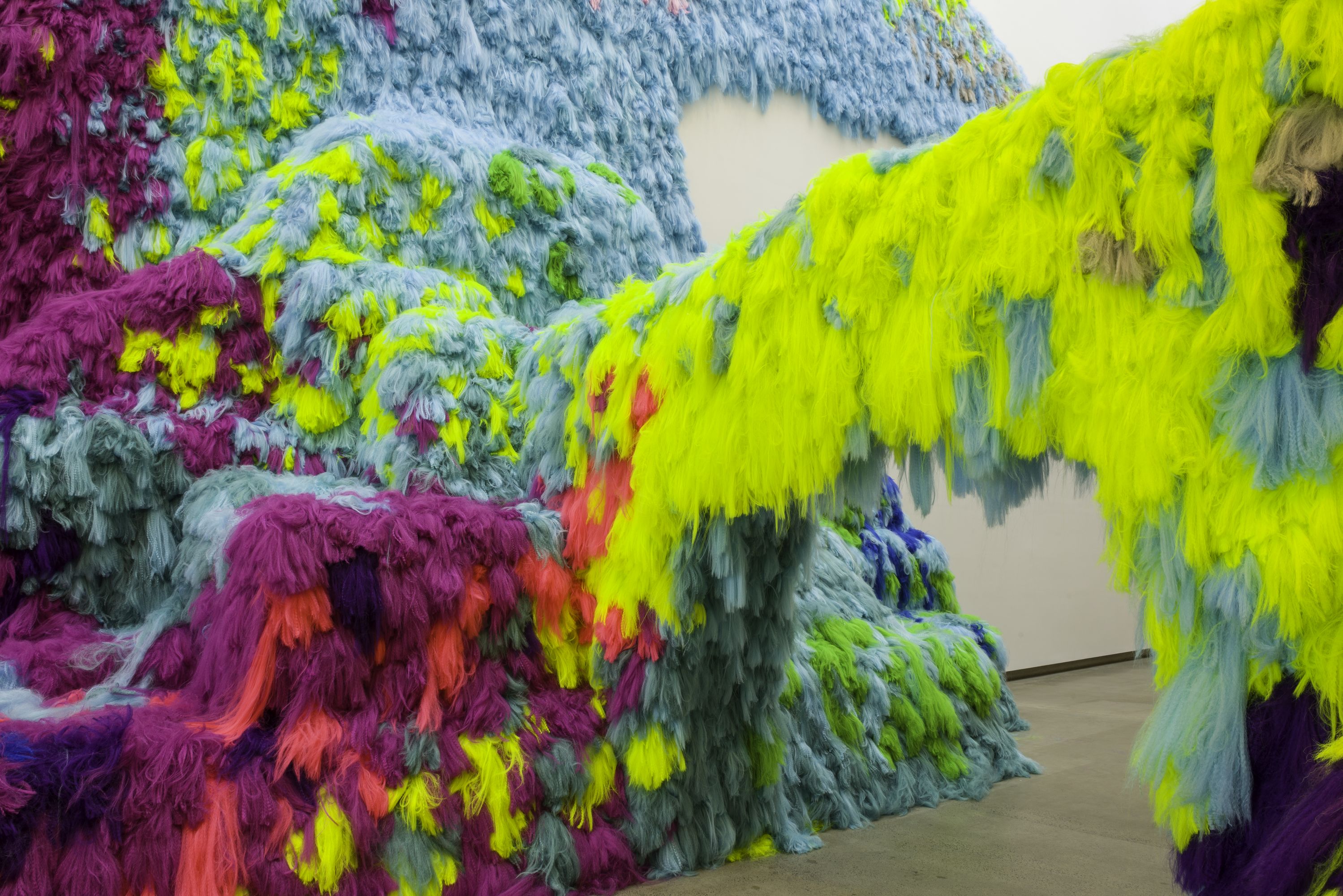 Installation view Hrafnhildur Arnardóttir / Shoplifter N​ ervescape V at Queensland Art Gallery of Modern Art, Brisbane, Australia, 2016. Photo: Natasha Harth
What fascinates you about hair as a medium?
I see human hair as simply a fibre like any other textile material. But it is of the body, a remnant of the beast in us that we so obsessively try to tame. Human hair is loaded with meaning and emotional energy that affects most people due to the fact that we all grow hair on our body. Everyone has a direct personal experience with hair or the lack thereof; few other mediums carry this intense emotional and conceptual quality when it comes to communicating with the viewer.
Human hair is a product of nature that survives us, and synthetic hair is a product of the popular culture that tries to enhance nature, a man-made material to be merged with our own hair in order to express ourselves through creativity and beauty, as well as to form our identity and be an expression of the most positive side of vanity. I find synthetic hair fascinating, a peculiar invention to say the least, and that has been a driving force behind my obsessive use of this fibre, both human and synthetic.
Is there anything that you as an artist can only do with real hair and that is impossible to do with synthetic hair?
Human hair, unlike synthetic hair, is in itself already so loaded with meaning when you look at it from the perspective of anthropology. It comes charged with the incredible ability to affect the viewer in so many different ways.
Although humans are the only species that can continuously grow long hair, there is a limitation to the availability to me of long strands of hair when I want to use it in large quantities. I started using synthetic hair in natural colours in order to realise my work Left Brain, Right Brain, because I wanted to create long braids for a mural. Synthetic hair has fewer limitations and different associations. It's not of the body, but it is manufactured in order to be attached to our body or to our own hair. Once human hair is detached from the body, it tends to become repulsive to us, which is very peculiar, because it's so powerful and worshipped while still growing. Synthetic hair, however, brings something different altogether to the conversation, depending on the context you put it in.

Hrafnhildur Arnardóttir / Shoplifter Soft Hippie Comet​, 2012. Photo: Jan Berg
What is the most challenging aspect to working with hair?
The process of manipulating the unruly filaments is very meditative, but at the same time it's a challenge because of its resistance to be contained in any organised way – I'm obsessively trying to tame it. After so many years of working with this material, I feel like I can now better predict how it will "behave". It's like trying to collaborate with an animal. Most people can relate to this in some way, because we've all struggled with our own hair: what to do with it, how to cut it, when to wash it, how to style it, trying to control it every day.
You often use brightly coloured hair in your installations. You once said that you have a theory about colour – that it penetrates the retina, goes into one's brain, and turns on the natural ecstasy. Is this an aim you want to achieve with your art? To provoke, to challenge all the senses and to pull viewers out of their daily life?
I'm convinced that colours have the power to change how we feel. Bright colours have a similar effect on people as does light therapy for SAD (seasonal affective disorder), and certain colour combinations can be extremely trippy and activate the neurons and help your brain release more endorphins. Colours play a magical role in nature, and I use them in my work to trigger emotions, just as in painting. I see myself as a colourist, a three-dimensional painter.

Installation view of Hrafnhildur Arnardóttir / Shoplifter N​ ervescape VII​, a solo exhibition at the National Gallery of Iceland, 2017. Photo: Frosti Gnarr
Cutting hair or shaving one's head is considered a sign of transition to a new level of understanding – like removing old ideas so new ones can grow in their place. How important for you is the spiritual aspect of hair?
Hair is the one part of our body that is in constant transition, and we can use it to alter our image, our self-image and our identity. Hair is very important to us. We have good-hair days and bad-hair days; people with extremely beautiful hair are envied, and if you lose your hair, it can be devastating. Forcing someone to have his hair cut off can be traumatising; it's like you're stripping that person of their power as an individual. In fact, it was used as a tool of oppression during the Holocaust, breaking people's spirit and resistance by stripping them of their individuality. Men can't have long hair in the army – they all get the same crew cut, which is also a way to get them in line and create a uniform look and take away as much visual character as possible.
The human relationship with our forever changing "vegetation" sometimes borders on the obsessive. There's a wildness in hair that we as humans try to restrict, but we can't. What makes hair so powerful?
Hair represents the animal or beast we once were: out of control, wild and unpredictable. These are elements that some people are afraid of in themselves. People who embrace their wildness, whatever the hairdo, are threatening to the general norm of our societies.

Hrafnhildur Arnardóttir / Shoplifter Imaginary Friend Littli Tittur​, 2011. Photo: Jan Berg
"Don't touch" is a phrase that does not seem to exist in your vocabulary. Your installations allow visitors to wander around, touch, delve into, wade into, sit inside, take selfies... Why is this interaction with a work of art so crucial to you?
In the series Nervescapes, it's important for me that people are allowed to touch it. I only ask that people pet the furry surfaces "as if it was an old, shy mammoth". There's something about this material, the texture and colours that make it irresistible to touch, and I choose to invite people to embrace the work as interactive and experience it on a multisensory level. Because synthetic hair is not as fragile as the majority of artwork, I prefer to share with the viewer my own experience and reasons for being so attracted to using this fibre in my work.
Why is it so important for you to cross this border between art and fashion, to make art wearable/functional in some way?
I've always been very particular about the way I dress, and ever since I was a kid I've been making clothes for myself. Fashion and dressing has always inspired me and affects my creativity in a positive way. Design comes very naturally to me, and when it feels right, I transfer my artwork into something wearable. However, I mostly make one-of-a-kind items, mostly made to order or in very small quantities, so they're more like special-edition items. But nowadays I can only allow myself limited time to create clothing, unless I'm invited to collaborate with a team where I only have to deal with the creative part and then the clothing is produced in a quantity on a case-by-case project, as was the case with & Other Stories, when I was invited to create a capsule collection based on my signature artwork.
Do you believe that art can make the world a better place?
Indeed, more often than not, I think creativity and making art contribute to making the world a better place.


Installation view of ​Aimez Vous Avec Ferveur,​ a collaboration between ​Hrafnhildur Arnardóttir / Shoplifter and a.v.a.f,​ at M​ oMA​, New York, 2008​. Photo: Erez Sabag