Baltic Shoemakers

12/06/2014
The combined length of the borders of the Baltic countries of Estonia, Latvia and Lithuania is about 3170 miles. What sort of shoes could last that distance? We believe that ones made right here, in the Baltics. We're not talking about seven-mile-boots – the ones from fairy tales that allow their wearer to take steps that are seven miles long each. Although, you never know... We've selected four master cobblers from the Baltics whose designs are so stable and aesthetically pleasing that they could, conceivably, make such a great leap. With the right shoes, one can go far – we all know of the girl who, thanks to the right shoe, pulled herself out of the cinders and into a castle; why shouldn't the quiet and dust-covered shoemakers of the Baltics show up on the lists of international design awards, in the programs for showrooms, and in the columns of reporters covering fashion shows?! They're not even that far off from reaching this goal – the Lithuanian felt-shoe label, my feltboots, just received the Red Dot Award in the category of product design.
As for a more detailed description of the current shoe-design scene in the Baltics, we'll let the designers – Sille Sikmann and Kärt Põldmann from Estonia, Elīna Dobele from Latvia, and Daiva Zgrabskė from Lithuania – speak for themselves. Read on to find out about their challenges, victories, discoveries, inspiration and view of shoe design as such.

Kärt Põldmann
Kärt Põldmann (Estonia)
After discovering that shoes are not repaired anymore, and that the materials used in modern footwear production do not allow for their refurbishment, Estonian designer Kärt Põldmann understood that the way to go is to collaborate with local shoe repairers and utilize their skills and resources – since only handmade footwear is long-lasting and repairable.
In terms of footwear design, Põldmann is very rational, putting functionality above all. She knows that design can empower our lives.
Põldmann uses only the finest quality leathers from premium Italian tanneries in her mens' and womens' lines of shoes. Each pair is individually crafted by local shoemakers. Consequently, the shoes might slightly vary from one pair to the next, but this is considered a welcome feature. Põldmann's design aesthetic is largely dictated by the Nordic tradition, which she then translates into something that is utterly contemporary. xn--krtpldmann-q5a1s.com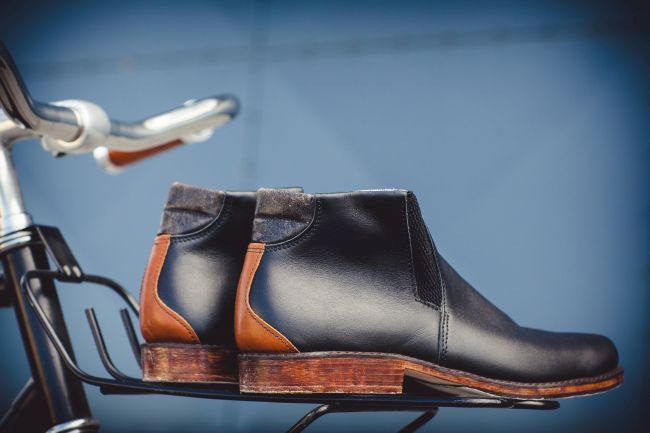 Sille Sikmann, Scheckmann. Photo: Liina Uudam
Sille Sikmann (Estonia)
The idea behind Scheckmann shoes – the mens' footwear label by Estonian designer Sille Sikmann – is to offer Nordic men a line of high-quality handmade shoes and accessories with a cheeky, chic and personalized touch.
Scheckmann shoes and accessories are made from natural materials in a broad palette of colors and in a variety of leather textures and thicknesses – occasionally even using some more exotic animal prints. Sikmann primarily makes shoes by custom order, but a limited number can be bought ready-made in shops in Tartu and Tallinn. As for the inspiration behind her designs, Scheckmann divulges: "Most of the designs probably come from my subconscious, I'd guess, but the subconscious definitely collects it from nature, from the people around me, from the details around me that catch my eye, and also from life situations; sometimes movies, but also dreams – I have seen dreams that show me certain designs, which I then put down to paper in the morning. www.scheckmann.com

ELĪNA DOBELE. Photo: Lisbeth Breland Saalmink
Elīna Dobele (Latvia)
The Latvian designer Elīna Dobele is a certified architect, and knows the importance of both design and the necessity of a successful compatibility among structure, form and material in the creation of a functional and aesthetically pleasing home. A designer of both mens' and womens' shoes, Dobele believes that our shoes tell the tale of which paths have been taken, as well as the ones we still wish to take, and that's why the sturdy shoes of ELĪNA DOBELE encourage one to take steps towards the unknown, no matter how far the journey may be. The simplicity and sureness of Dobele's footwear encourages its wearer to be motivated and decisive, while the shoes' stability and quality make one feel secure.
Elīna Dobele conducts her searches for inspiration both knowingly and constantly: "Most of all, I get inspired by man-made creations – architecture, art, music, books, photography. Live performances can also be the most touching. Furthermore, traveling has a very important role in my work – exploring cities, meeting amazing and creative people all over the globe."
Dobele's shoes are currently available in a variety of places around the world – in Latvia, the Netherlands, Germany, Japan and Canada. elinadobele.com

Daiva Zgrabskė, my feltboots. Photo: fotopastele.lt
Daiva Zgrabskė (Lithuania)
Lithuanian-born Daiva Zgrabskė is the designer behind the my feltboots brand which, as its name implies, manufactures felt boots (in Russian -- "valenki"). Since they are eco-friendly and natural, the demand for felt boots is growing; Zgrabskė believes that she has found a niche for her boots in the eco- or green-living market, which is made up of people who have a philosophy of using only raw products, or ones that are based on pure and natural materials. And my feltboots are, indeed, "eco" because they are made only from natural materials, such as a combination of wool and leather.
In the spring of 2014, the Lithuanian designer (who received her country's national design award, Best Design 2012) was the recipient of the prestigious Red Dot Award: Honourable Mention, for my feltboots shoe design in an international design competition. Her pure-shoes design fascinated the international panel of experts and the "Oscars" of design awards – the "Red Dot", was awarded to her in the product design category.
Zgrabskė does not deny that she is inspired by the weather – specifically, the harsh Baltic winters; instead of complaining about the climate, she has adapted to it by creating suitable footwear that is not only practical, but chic. myfeltboots.com

Sille Sikmann, Scheckmann. Photo: Patrik Tamm
Shoemaking in the Baltics
What is the current state of shoemaking and footwear design in the Baltic countries? This question can best be answered by the designers themselves, for they are the ones who must daily face such issues as materials sourcing, learning the tricks of the trade, and their customers' ability to judge quality.
Sille Sikmann from Estonia admits that the craft of shoemaking has practically died out in Estonia, which means that her choice of materials is limited. This same issue is especially problematic for her compatriot, Kärt Põldmann, whose designs are so deeply rooted in the legacy of Estonian shoemaking that every pair is made by hand, in her workshop – just like in days of yore. She says it was a sheer stroke of luck when two years ago, while working on her final project at the Estonian Academy of Art, she managed to find traditional cobblers who could show her the ancient methods and techniques.
Daiva Zgrabskė from Lithuania is of like mind when she states that in her country, there is also a lack of good professionals and modern manufacturing facilities; she adds, however, that such a deficiency is more or less natural in such a small country.
In speaking about industry overall in Latvia, Latvian designer Elīna Dobele points out the conducive situation in which Latvian design finds itself right now: "In the past few years there's been a strong surge of patriotism in Latvia. This has had a positive influence on the creative industry because people then tend to support local design and the media also pays more attention to us. This situation has helped me build stronger brand recognition and has allowed me to gain loyal clients in my own country." Elīna sees her design in a decisively international context, which leads her to comment on the fact that in Latvia, there is a lack of information and knowledge on how to develop a business internationally, and she stresses the importance of outside information: "...ever since I first started working on shoe design, I've understood that there are two important things – traveling, and asking people questions. This is essential if you come from a country with only two million people – so that you don't lose a profound connection with the outside world."
Admittedly, the Estonian and Lithuanian shoe designers aren't yet seriously involved in the export business – Kärt Põldmann creates designs for friends and friends of friends, some of whom live outside of Estonia, and Sille Sikmann admits that there is ample demand for custom design in her home country: "... in the Estonian market I'm mostly doing custom orders, and it seems quite sufficient – I have rather long order lines at the moment, and people are also interested in small series, so I'm also developing a Nordic mens' mini-series line for small boutiques." Daiva Zgrabskė is just beginning to take her first steps in doing business outside of the Baltics by participating in international trade fairs.
Through networking and events, Elīna Dobele, on the other hand, sells her shoes in some of the finest stores in Japan, Germany, the Netherlands and just recently, in Canada. And now she feels that it is time to spread her brand around the world: "I feel that it is important to be proud of my small country. Everywhere I go, people ask me – but where is Riga, Latvia? – and I have a story to tell."

ELĪNA DOBELE. Photo: Lisbeth Breland Saalmink
What should they be proud of?
Designers from small countries are usually most proud of breaking down the walls and getting into the big countries and their markets. For Sikmann, in addition to receiving an Honorable Mention for a Design Project at Estonia's 2012 Bruno Design Awards, this would be being part of the Estonian delegation that won the top prize at the International Fashion Showcase in 2014 – held during London Fashion Week, this was already the second time that the Estonian exhibition won. Põldmann was also part of this same winning team from Estonia, and also took part in one of the greatest recent projects in Estonian design – "Kaamos. Fashion now: Estonia by Tanel Veenre". But Põldmann says that she appreciates all of the projects in which she has been invited to participate, and she also values the everyday, little silent moments that make her shine with pride – because she is able to do something that she enjoys.
Zgrabskė's overwhelmingly proudest moment was her recent Red Dot Award win, but she is just as proud when she sees her Busy Moose designs being worn in the streets of the city, and knowing that people wear their pair of my feltboots with pride. Every time she sees someone wearing her footwear, she feels as if that is her personal pair – because she has put her whole heart into creating them.
When asked what her proudest achievements are, Dobele says that sometimes they're related to public accolades and recognition, but sometimes – to very quiet and personal occasions. She mentions her talk at TEDxRiga, which has garnered many internet views – Dobele was even approached by a woman in Tokyo who recognized her just from that video. Dobele also mentions the interest that the Latvian National Museum of Art has shown in her work – in 2013 the museum acquired four pairs of her shoes for their collection. But she is quick to add that: "I must also mention that every time a client buys a pair of my shoes, it has both a special and personal meaning to me. Every sale is an individual affirmation of my work."

Sille Sikmann, Scheckmann. Photo: Liina Uudam
Who are the people that wear footwear made in the Baltics?
When asked what she has discovered and learned about the wearer of her shoes, Sikmann unequivocally replies: "Men are my best clients, and I love the Estonian women who buy gift cards for their significant others, so that they can wear my designs." Sikmann's clients are men who wish to stand apart from the crowd, who are unafraid of wearing shoes in non-traditional colors, and who know who they are and what they should wear – so that they don't lose their true selves."
Dobele has observed that her clients are thinkers: "They choose the objects in their lives with great care and forethought, they don't impulse-buy. They live in a pensive state, and without regrets."
Põldmann knows that her clients trust her implicitly, and she is very appreciative of that. And Zgrabskė is confident of her chosen design path: "I do not please the tastes of all people, and I do not want to blindly follow the dictates of fashion."
All of the designers admit that they are happy and honored every time somebody, no matter who, buys their footwear. Dobele says unabashedly: "I like all of my clients because if they have chosen my shoes, I am almost sure of what kind of person they are. If I had to single out someone, I would want Nick Cave to wear my shoes one day."

Kärt Põldmann
What do the designers think is the role of footwear in a person's overall "look"?
In terms of the overall look, Sikmann stresses comfort, which will impact the wearer's health and, in turn, the wearer's gait; and a person's gait is an essential part of their image or "look". Põldmann agrees wholeheartedly: "Shoes can cripple, damage and harm us, or they can literally lift us. The better you feel, the better you look, and vice versa."
Dobele, however, approaches this issue from the standpoint of an architect: "I have a background in architecture, and I have always seen shoes as small houses for our feet. To me, shoes are wearable design objects."
Zgrabskė, on the other hand, looks at the question in terms of a person's needs, and says that whether it is boots or sneakers, moccasins or lace-ups, we complete our picture with a handy pair of shoes. This is not about being fashionable; it is all about necessity. A person's needs could be to have others see them as nutty, ordinary or eye-catching, or to even fish for compliments. It is all about the individual and the way he wants to see himself in the mirror.

Daiva Zgrabskė, my feltboots. Photo: fotopastele.lt
Well-constructed and well-designed
Thinking in terms of the look and wearability of their shoes, we gave the designers the opportunity to define what they see as the essential criteria for well-constructed and well-designed shoes.
Zgrabskė emphatically denotes the importance of proportion in design: "For me, the absolute key is proportion. Whether you want to look sophisticated or casual, it's all about natural proportions. The relationship between balance, proportion and the details of a shoe create its impression, and if well-designed, these individual aspects meld together into one whole."
Dobele likes to stress that well-constructed and well-designed are two different criteria. Construction can be a part of design, but at the same time, it can also not be a part of it. This is the designer's decision. When the two come together, this adds a special quality to the shoe. "Although my shoes are extremely comfortable, I have to say that I'm interested in creating shoe design that is honest and that reveals a certain idea behind it. I think that 'well-designed' can also mean having made compromises, whereas in my work, I like to deal with a specific directness."
Põldmann stresses: "I believe in comfort, yet also in being elegant; in standing high, but without ten-centimeter heels."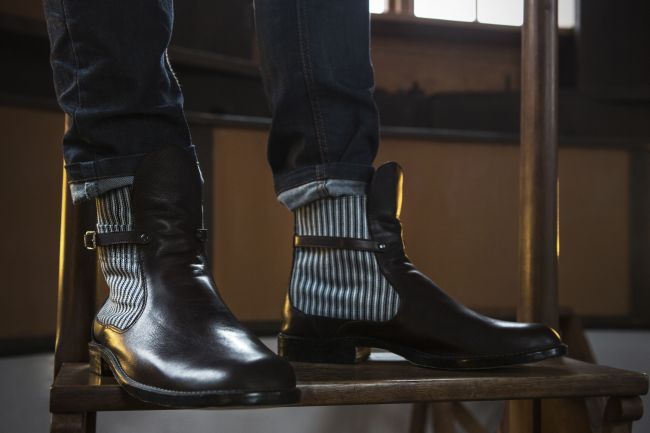 Sille Sikmann, Scheckmann. Photo: Sigrid Kuusk
In Her Shoes
Life, like the movies, is made up of scenes that must be played out – and that are best done while wearing the right shoes. When thinking about shoes and the movies, several iconic characters come to mind, such as Montmartre's Amelie with her boyish and scuffed brogues, Forrest Gump and his Nikes, Clint Eastwood's cowboy boots, and Al Capone's black and white patent spectators... Our selected group of designers create a very diverse array of footwear, and it's interesting to hear how they imagine their clients' lives playing out while wearing their shoes.
Dobele: Coincidentally, I just yesterday saw the new Jim Jarmusch movie, "Only Lovers Left Alive", in which he speaks about the importance of culture in our lives. Visually, the movie has this sense of nostalgia and longing for the over-saturated days of the past. I could see my designs fitting clearly into this moment."
Sikmann: "My clients are mostly men who live in the city, so they are businessmen, actors, musicians, etc. They wear them at work or after work, just to show their own personality through the shoes; because we women always notice someone's shoes – shoes usually tell quite a lot about who their wearer is, and how well he takes care of his personal items."
Põldmann: "I wish to bring the golden ideals to the present, combining dreamy magic and everyday reality. I believe in mixing styles and images, so you can look appropriate in many life situations. I can not list any definite rules about when and where one should or shouldn't wear my shoes; I hope that people feel that they can wear them for both special events and casually, day to day, just because they feel good".
Zgrabskė: "Speed, time, movement – these three words characterize the busy new age that dictates the pulse of the city and influences our lifestyle. We want to get dressed fast and to look fabulous – but we want to be comfortable. In my opinion, my feltboots shoes for the modern man and woman ideally fulfill this function.
And an ideal present are the my feltboots closed-heel slippers, especially for those who do a lot of running around during the day – the recipient will be thankful for such comfort and warmth that is also stylish. It's so easy to surprise a man in today's busy world with a gift that is pure naturalness and comfort."

Daiva Zgrabskė. my feltboots. Photo: fotopastele.lt
What else is out there?
When asked what is her view of current trends in shoe design and what brands are worth following, Sikmann mentions (in terms of mens' shoes) Aki Choclat, Aku Bäckström, and the Italian designer Diego Vanassibara, who uses wood accents in his shoes. Sikmann points out that in mens' footwear, the trends are still focused on classical styling, adding: "but as you can see from the magazines, there are little canvas- and tweed details sometimes added, too, and a little more color – to give men more variety of choice. And classical mixed with modern keeps a shoe in fashion for probably forever, because a touch of classical never dies out. And men usually like to keep it simple and chic, because they want to wear their shoes with lots of different kinds of outwear".
Kärt Põldmann, on the other hand, claims that she is not interested in global shoe trends, and has faith only in true handcrafting and quality. In terms of her peers, she does admit that her way of thinking is similar to that of German designer Leonard Kahlcke.
Elīna Dobele names Munoz Vrandecic as her favorite designer of the moment.
Daiva Zgrabskė predicts that natural materials such as wool, textile, suede, natural fabrics, and pure, minimalistic design will stay in focus. Art history, natural texture and traditional motifs from mixed cultures will be noticeable. She points to young designers of beautiful shoes, like Chau Har Lee, for creative inspiration, as well as the peculiar style of Armando Cabral. Z