Goodwill Begins With the Opening of a Door
Design: post-disaster and emergency housing
14/03/2016
From the very first days of Man, his survival on this planet has been dictated by greater powers – water, wind, sun, fire and earth. Each is vital for his existence, and each can be hazardous to his fragile continuance on the planet's surface. When the drizzle becomes a cascade, or the breeze becomes a hurricane, Man is involved in this classic struggle with the elements. To overcome the struggle without a roof above his head becomes an even greater challenge. The forced relocation of large groups of people is as much a result of natural disasters as due to man-made destruction.
There have been a handful of short-lived attempts to provide modular systems of emergency housing that are ready to be used in any situation, most usually failing on the grounds of logistics, cost, and weight and volume, not to mention political barriers, necessities of life, and cultural appropriateness.
In the 70s, both the West German Red Cross and the international aid organization Oxfam developed a polyurethane igloo. The Oxfam hexagonal housing structures were used after the Lice earthquake (Turkey) in 1975 and elsewhere. In the case study of Turkey, of the 463 Oxfam igloos, 44 were damaged, and it is probable that fewer than 50 were actually used. The shelters tend to arrive too late to fulfill their function. The shelters also did little to generate local employment – a vital need after any disaster. The polyurethane units were too small and created a great risk of fire that would not be tolerated in Western countries. Moreover, the units were culturally inappropriate. Fundamentally, they were in sharp contrast to local values and priorities. In Lice, many people ended up using moulds of the igloos as chicken huts. After this experience in Lice, Oxfam abandoned the system.
This is a classic example of an earlier attempt of importing a large-scale, prefabricated solution that eventually failed. However, this hasn't discouraged others from trying as well. In recent years, many designers have come up with innovative, and sometimes fantastical, designs for post-disaster housing.
DESIGN SOLUTIONS FOR BASIC SHELTER
U-Dome by World Shelters

U-Dome
In the late 1970s, World Shelters founder Bruce LeBel studied with Buckminster Fuller, the renowned American neo-futurism architect. Following Hurricane Katrina in 2005, LeBel adapted the modular geometry of Fuller's geodesic dome to create a weathertight, lightweight, low-cost post-disaster shelter – U-Dome. In 2015 World Shelters partnered with Peacebuilding Solutions and installed 190 improved U-Dome units reaching 800 people in Haiti. worldshelters.org
Global Village Shelter by Global Village Shelter

Global Village Shelter
The Global Village Shelter is made from biodegradable laminated cardboard, is shipped flat, and requires no tools to assemble – the pre-jointed walls simply have to be unfolded, and two roof pieces connected and placed on top. The design is a simple structure that would give the affected person stability and safety during a disaster- or refugee-situation lasting up to five years. Thousands of Global Village Shelters have been deployed to Pakistan, Guatemala, and New Orleans – and one unit is also now part of MoMA's permanent collection. Its architects, Daniel Ferrara and Mia Ferrara, also created a modular factory for creating the units – one that could be shipped anywhere for on-site production – thereby bringing each unit's production price down. globalvillageshelters.com
SURI by Suricatta Systems

SURI. Image courtesy of Suricatta
Designed by the Spanish building initiative Suricatta Systems, the Shelter Unit for Rapid Installation (SURI) was originally designed to provide temporary housing after earthquakes. Now it has become a low-cost, architecture modular system that is helping to house the millions of people fleeing armed conflicts in the Middle East and Africa. The housing system is composed of a lightweight framework surrounded by multiple layers of the paper-like synthetic material Tyvek. An accompanying water collection system has been designed to filter rainwater into drinking water. www.suricattasystems.com
InterShelter by InterShelter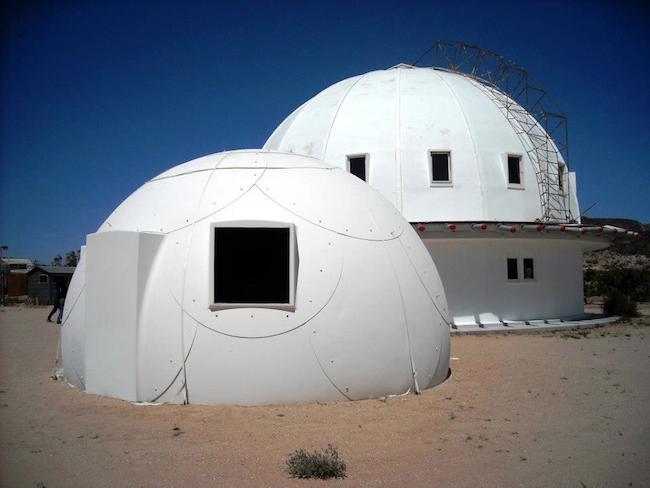 InterShelter
Before it has been assembled, the InterShelter looks like a pile of Pringle's potato chips. But when put together, its circular layers form a Solar Dome, a Polar Dome, and the disaster-relief housing unit Survival Sphere. InterShelter domes are frame-less structures made of high-tech aerospace composite material, providing strength and durability while allowing the structures to be disassembled in a matter of minutes. InterShelter stands ready to respond to natural disasters and refugee housing needs, and provides the next generation of blast-resistant military shelters. Intershelter units were some of the first on the scene to respond to the catastrophic earthquake in Haiti and 'The Great Wave' that decimated the northern coast of Japan in 2011. intershelter.com
WHAT CAN DESIGN DO?
The Amsterdam-based international design platform What Design Can Do (WDCD), along with the IKEA Foundation and the UN Refugee Agency (UNHCR), recently launched the global design competition WDCD Refugee Challenge. It invites designers to come up with innovative solutions for the reception and integration of refugees in urban areas. The five best designs will each receive funding in the amount of 10,000 euros with which to develop their ideas.
was fortunate enough to have a brief conversation with a WDCD representative Bob Witman, and to learn more about the power of design and this latest call for designers.
This design competition has the full support of the IKEA, and there already is a good example of a refugee shelter – as designed by Johan Karlsson and developed by the IKEA Foundation and the UNHCR. Could you please elaborate on how this new project will be implemented in real life?
The UN Refugee Agency's (UNHCR) primary purpose is to safeguard the rights and well-being of refugees. The agency is very critical in terms of with whom they work. The IKEA Foundation & the UNHCR have been collaborating since 2010. In 2015, the Better Shelter organisation delivered more than 10 000 of the so-called "flat-pack refugee shelter" units (by Johan Karlsson) for humanitarian operations worldwide.
For example, 520 Better Shelter housing units were delivered to the UN Refugee Agency on the Greek island of Lesbos in September 2015. In February of this year, Better Shelter and the Ahalna Campaign provided temporary housing in Iraq. The association plans to purchase a total of 500 shelters and aims to shelter more than 2500 persons in the Baghdad area, once sufficient funds have been secured.
What kind of factors should designers take into account when designing emergency accommodation for refugees?
In terms of the impact of design, this is an event that addresses all designers in their various fields: spatial, graphic, product, fashion, etc. We certainly want to show this cross-disciplinary attitude in the What Design Can Do Refugee Challenge. Specifically, we're also asking for ideas from designers who originate from the countries that are being affected with these problems in the most direct way: the Middle East, Turkey, and Africa. Still, we felt that the Challenge needed to have a context. So, we put a lot of time into research and in formulating an extended competition brief that poses five fundamental question-statements which we would like the designers to complete:
1. What Design Can Do to improve shelters and reception centres in society;2. What Design Can Do to foster personal development while waiting for asylum;
3. What Design Can Do to bring refugees and host communities closer to one another;
4. What Design Can Do to to exchange essential information with refugees;
5. What Design Can Do to maximize the potential of refugees.
It is an effort to help designers get a grip on the subject, which is quite complex and broad. We certainly don't want to suggest that we can solve the problem. We are hoping to make the circumstances of refugees more bearable and humane.
Could you highlight other activities brought into action by What Design Can Do so far?
What Design Can Do (WDCD) started in 2011 as an annual conference. We wanted to inspire, so we invited numerous inspiring speakers such as: British principal designer and author of the book Design Like You Give a Damn (2006), Cameron Sinclair; professor at the Harvard Graduate School of Design, Rahul Mehrotra; the chief executive of the Design Council in the UK, David Kester; TED speaker and innovator Rachel Armstrong; fashion designer Laduma Ngxokolo; designer Marcelo Rosenbaum; the designer duo the Campana Brothers; and graphic designer Stefan Sagmeister.
Sinclair, for instance, lead us to understand that architects could act for humanity; Mehrotra showed us that we could learn a lot from India, as did fashion designer Laduma Ngxokolo from South Africa on her own country, and Rosenbaum on Brazil. By showing beautiful examples of socially orientated design, we tried to engage with the designer's world.
Also, the What Design Can Do Refugee Challenge couldn't exist if we had not started with inspiration. This challenge is our first big step from inspiration to activation. And we are proud of that and willing to prolong the process if necessary.
A coat that turns into a tent
Among the first entries for the What Design Can Do Refugee Challenge is a wearable shelter for refugees, as designed by Interior Design & Textiles students of the Royal College of Art in London. The multifunctional coat, which can serve as a sleeping bag and even a tent, was designed in direct response to the Syrian refugee crisis.
When worn as a coat, the design resembles a baggy parka with a large hood, made from the UV-resistant and breathable membrane Tyvek. Pockets on the inside can be used to store passports and personal documents. www.whatdesigncando.com
Design for re-imagining community and uplifting lives
These semi-permanent camps are supposed to be only a short-term solution, and focusing on only making better shelters can distract from the even bigger issues that have been brought on by uprooting people. But the fact remains that there are thousands of people in stuck in refugee camps and migrant neighborhoods. The camps isolate people from the wider community, which makes integration even harder to achieve.
CUCULA – Refugees Company for Crafts and Design
CUCULA. Copyright: Verena Brüning
CUCULA, also called the Refugees Company for Crafts and Design, was founded in 2014, in Berlin. According to the organisation, its name originates from the African Hausa language and means "to do something together" or "to take care of each other".
In the CUCULA workshop, refugees make and sell furniture based on the design series Autoprogettazione (1974), by the Italian modernist designer Enzo Mari. He granted the CUCULA team the rights to use his designs, and to build and further develop his furniture. The pieces of coloured wood used in making the furniture come from the wrecks of the ships that brought the refugees to safety, collected in Lampedusa. As the refugees integrate the relics of their perilous journey across the Mediterranean into a traditional wooden object, they're making a statement that goes beyond the furniture's sheer practical value. They are transforming a personal and universal catastrophe into a constructive future.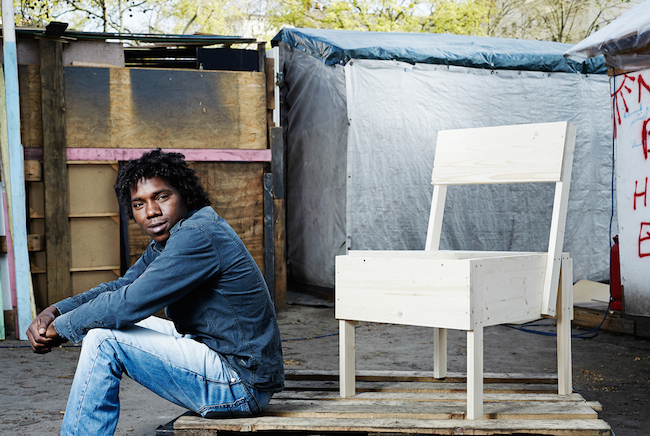 CUCULA. Copyright: Verena Brüning
Less than two years after its inception, CUCULA is now an established project that produces furniture pieces by the hundreds, and then uses the profits from the sale of this furniture to fund job training and basic living needs for refugees.
CUCULA ambassador and Danish artist Olafur Eliasson on the project: "What is reality? I believe reality is something that we create together. It's something we negotiate. CUCULA is a project that doesn't accept the current reality of refugees in Germany, and instead strives – together with a group of refugees – to create a different reality. CUCULA is a bottom-up project, one that shows how utopia can become reality. We desperately need projects like this one, and they need our support. Such projects don't just benefit refugees, but rather our society as a whole. We need these projects because they support us, they help us re-imagine our society." www.cucula.org
Volunteers taking action in Greece

Getty Images
About 100 volunteers, mostly citizens of Greece and other European countries, began volunteering in Lesbos in 2015, in response to the refugee crisis. In November 2015, more than 3,000 refugees were arriving daily on the Greek island that was now serving as a European entry-point for many migrants.
Many of the sea-crossers have left behind mounds of life jackets and rubber inflatable rubber boats as they continue their journey further into Europe. What hasn't been piled up at a nearby waste site has been left on the beach, threatening to pollute the island and its surrounding waters. In response, volunteers have come up with a plan, together with refugees and the locals, to up-cycle some of these left-behind materials into new products – such as backpacks, raincoats, and temporary shelters – and to raise money to support unemployed locals and refugees. This initiative addresses both an ecological problem and a human problem. Volunteers say that they need to raise an initial sum with which to fund the machinery for manufacturing the products, but once the products begin selling, the project should become self-sustaining.