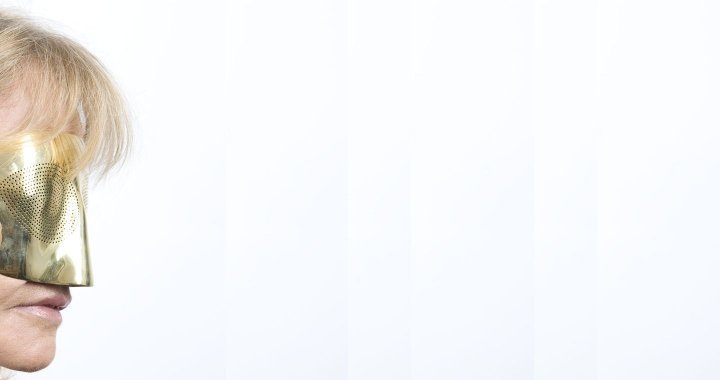 It's not necessarily diamonds that are 'a girl's best friend'
Diane Venet's artist-created jewellery collection is on view at Latvian National Museum of Art till December 3
17/11/2017
For some reason, I've always thought that the 20th century was the most exciting one. Perhaps because of the cardinal changes in culture, art, and politics that could be seen in those 100 years (one could argue the case of civilizations being cyclical in nature, but regardless, modernism's relevance is indisputable). Or maybe because I've always been fascinated by the culture of salons and closed intellectual societies; I'm pretty sure that upon learning of the Bloomsbury Group's activities, I became literally giddy with joy. And so, on a warm summer's evening, I invited some friends over for wine and snacks. Almost as if on schedule, we began to talk about art, and what are the contextually correct ways for using the term, i.e. how should one approach art if many see it as a hobby whilst for others, it is a serious profession. All of us engage in the occasional liaison. And no matter how paradoxical it may seem, a break from the daily grind is also necessary for those whose profession is seen, by some, as a diversion.
Artists also like to experiment by stepping out of the bounds of their field of specialization, thereby revealing new sides to their personal forms of expression. One of these "new sides" has become a subject of interest to the French art collector Diane Venet, whose jewellery collection is on exhibit in the show Jewellery by Artists: From Picasso to Koons. Diane Venet's Collection, in the Cupola Hall of the Latvian National Museum of Art.
For quite a while now, I've been into the habit of looking at a person's hands when first introduced to them. Specifically, their fingers, and whether or not they are wearing any rings. This (now reflexive) quirk of mine has nothing to do with an interest in palmistry or a salacious curiosity about a person's relationship status. Rather, I've always had a keen interest in the jewellery – especially rings – that people have chosen to wear. This could, very possibly, be due to the fact that I rarely wear jewellery myself: watches given as presents stopped ticking years ago, and the pearls I inherited from my grandmother lie in a box, waiting to be handed down to the next generation. My only two favorites are a bracelet with a golden fly, bought at London's Natural History Museum, and a gold ring based on a reproduction of an ancient artifact, bought at the souvenir shop accompanying the Damien Hirst exhibition Treasures from the Wreck of the Unbelievable. Jewellery requires special attention because, even more so than one's choice of clothing or other forms of image expression, it reveals the aesthetic requirements of its wearer. Jewellery has played a significant role in people's lives since antiquity; often it was worn as an amulet or a symbol of protection, and regularly, as a sign of one's status. As the relevance of religion and politics grew in the Middle Ages and the Renaissance, precious adornments became a coded mechanism for displaying ideological power.
Diane Venet's interest in jewellery was spurred by personal events – the collection's inception is linked to how her husband, the French conceptual artist Bernar Venet, proposed to her. Knowing that Diane was markedly different than other women and not of the kind that yearn for a diamond ring, he instead wrapped a strip of silver around his sweetheart's ring finger. In this way he both declared his love and created his first piece of jewellery. Mrs. Venet continued to expand her collection much like one write a book – each of the added pieces are associated with an event or occurrence that gives it immeasurable value. Incidentally, one of Pablo Picasso's objects of affection was, just as Diane, indifferent to diamonds. As Diane recounts: 'Once, when Picasso's infidelity had been found out, he came to Dora with a diamond ring. She took it and simply threw it out the window, saying that she doesn't want diamonds, but something special – something that Picasso had made himself. He went to the flea market and bought a ring in which he painted Dora's portrait. This ring recently sold at auction for 450 000 dollars.'
Although Diane admits that the financial value of her collection has substantially risen over the years, it is clear that its core value are the stories that accompany these works of art. Diane Venet's collection currently has more than 200 pieces of jewellery created by artists, several of which were specially made for her. Gathered together in the assemblage are miniature artworks by 20th-century masters such as Georges Braque, Salvador Dali, and Max Ernst, as well as completely contemporary flights of fancy by Jeff Koons, Orlan, and others. All of the jewellery in the Venet collection has been created by professional artists – painters and sculptors. The only exception is the silver necklace and earrings created by Finnish designer Tapio Wirkkala, Hopeakuu (Silver Moon, 1970). Interestingly, only a few pieces in the collection have been created by women, once again proving that great artists are not bound into their delivery by strictly feminine or masculine divisions.
There is no doubt that jewellery is an essential constituent of fashion, yet some would debate grouping it together with art, basing this upon a contention that has perpetually surrounded the separation of crafts from art. From a superficial standpoint, the only pronounced characteristic that could bar jewellery from being considered true art is the fact that it has a practical use. After all, jewellery is intended to be worn, whereas a painting, sculpture or installation can rarely be looked at through the prism of functionality (design objects and design as such are not being regarded in this argument). However, if we accept that the boundaries of what is or isn't art are impossible to pin down, why not simply set ourselves free of the issue and just embrace that which is beautiful?
While at the Bvulgari y Roma exhibition held at the Thyssen-Bornemisza Museum in Madrid earlier this year, for the first time in my life, I was hit with the realization that jewellery leaves no one indifferent. I must say that I've never been a huge fan of fancy labels, and I didn't take my planned visit to the show too seriously. Adding to my skepticism were the long lines at the ticket box and the suspiciously too-good-looking usher who checked our tickets at the entrance to the exhibition. But then, the darkly lit hall welcomed us into its labyrinths much like an exemplary Roman housewife would. Looking at jewellery is completely different than viewing paintings or installations; perhaps because – utterly unawares to the viewer – we perceive them physically, even intimately. Although Diane Venet's collection doesn't contain a single piece designed by a professional jeweller or goldsmith, she cedes that pieces by jewellery houses such as Bvlgari, Cartier, and Tiffany & Co. also have artistic value. Nonetheless, their real value lies is their quality and adherence to the relevant standards. According to Venet, the main difference between the pieces in her collection and the jewellery made by professional jewellery houses is the ability of art to live on beyond the constraints of time: 'Fashion is and stays fashion, even if we're talking about jewellery. What is in vogue today may not be in vogue tomorrow.'
Both Diane Venet, as a person, and her art jewellery collection are laudable. Over the years, she has developed her collection as an exclusive research project in which the world's most renown artists have added their hand. When contemplating the connections between Mrs. Venet and her jewellery, I've come to the conclusion that it is a link that is neither conventional nor aphoristic. It is an emotional, even agapeic association that can only exist between the inspiring and the inspired. In particular, because the inspiration was created through the crossing of inner boundaries – in this case, an experimental yet decisively sensual liaison.
The exhibition is supported by SIA "Alfor", Latvia's national airline "airBaltic", Porsche Center Riga, Live Riga, the French Institute in Latvia, Gallery Park Hotel, and P.R.A.E. Public Relations. Advertising support: "Pastaiga" magazine and "Delfi" online news service. The exhibition's collaborative partner is the Latvian National Museum of Art.