A Dress to Impress
The iconic dress of Atsuko Tanaka at Moderna Museet in Stockholm
01/10/2019
Imagine your all-time favourite artwork, whatever it may be – a kinetic installation, one of the metaphysical video works of Bill Viola, a 19th-century realism painting, or "Fountain" by Marcel Duchamp. And now envision that this artwork is easily transformed into a piece of clothing that you can wear and manifest on your own skin. Nowadays, the emergence of a variety of artworks printed on basic apparel is no longer anything unusual, and actually has become a popular way for contemporary youth to demonstrate their knowledge of art history (read – to show off their intelligence). T-shirts, socks and backpacks with reproductions of Munch's "The Scream" or Botticelli's "The Birth of Venus" can be found in the artillery of almost any fashion-conscious youngster. One of the most recognizable examples worth mentioning is the legendary "Mondrian collection" by Yves Saint Laurent, created by the famous fashion designer in 1965 in homage and appreciation of modernist artists. The "Mondrian's dress" has, over time, become a victim of copiers, in addition to having acquired a broad accumulation of meanings, which leads to the question – have the paintings by Piet Mondrian also become examples of great design in the course of history, or has the YSL dress acquired its own status as an autonomous artwork?

Mondrian Collection by Yves Saint Laurent (1966)
A dress can, indeed, become an independent artwork, just as a work of art can be based on the concept of the creation of a dress (or clothing in general). Such, for example, is the iconic "Denkifuku (Electric Dress)" by Japanese avant-garde artist Atsuko Tanaka (1932 – 2005) which, along with other extravagant and playful works by the artist, can be experienced at Moderna Museet in Stockholm from 14 September until 16 February of next year.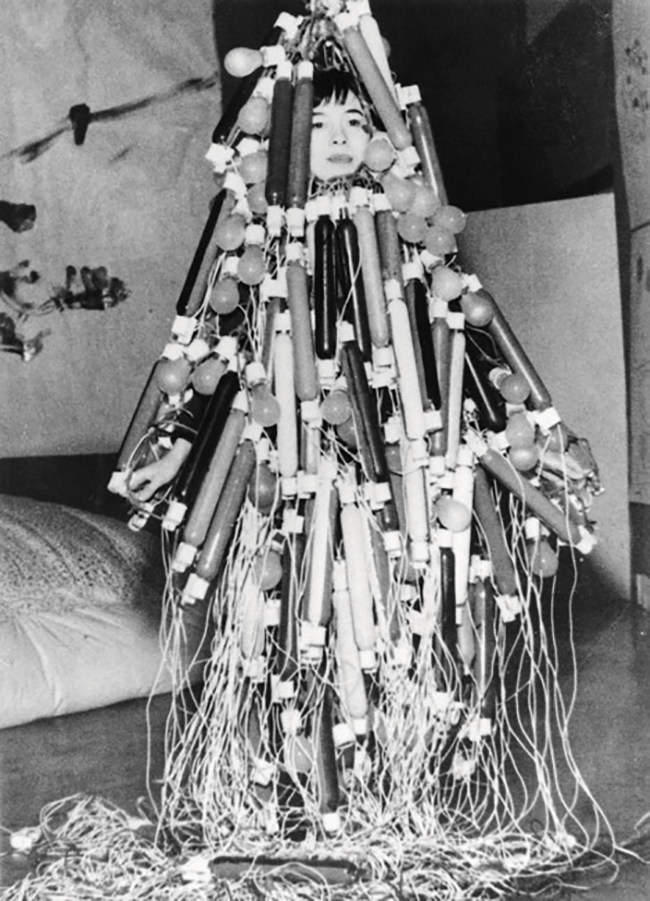 Atsuko Tanaka wearing Denkifuku (Electric Dress) (1956) at 2nd Gutai Art Exhibition, Ohara Kaikan, Tokyo, October 1956
The famous "Electric Dress" is made of electrical wires and hundreds of coloured neon light bulbs, and visually resembles a bizarrely-shaped lamp, a colourfully burning electric bonfire, and even a Christmas tree, but actually the dress is a tribute to the traditional Japanese kimono used for marriage, in combination with innovative technology. The wearable installation, created in the middle of the last century, is not only an exceptional but also an honourable acknowledgement of the development of the visual arts during this period, as well as of the power of art and its capability to materialize in the most limitless of forms. Atsuko Tanaka created this dress for a performance at the Second Gutai Art Exhibition that took place in Tokyo in 1956. She wore it on stage and the pulsating light from the dress illuminated the whole room as if electrified blood was circulating through the artist's body. As a revolutionary in modern art, Tanaka always tried to get closer to the materials she was using in her work, at the same time contextualizing the works as a part of social reality.

Gutai group in Osaka 1959. Photo by Christo Coetzee
Atsuko Tanaka was one of the pioneering Japanese avant-garde artists and a member of the Gutai group, which was active between 1954 and 1972. With the motto "create things that have never existed before", Gutai represented a radical approach to artmaking by combining painting, installation, happenings and performance. Besides Atsuko Tanaka, the group consisted of such artists as Jirō Yoshihara, Shōzō Shimamoto, Kazuo Shiraga, Saburõ Murakami, Akira Kanayama, Minoru Yoshido, Senkichiro Nasaka and Michio Yoshihara. New media art pioneers, the Gutai group tended to achieve individualism and "do what no one has done before!", thereby slowly destroying the idea of a national body cultivated in the conditions of a totalitarian regime. The word "gutai" translates as "concreteness" and is in close synergy with the concept of physically engaging with an extraordinary range of materials. Thanks to its conceptual orientation and freedom of ideas, Gutai has become one of the cornerstones in the development of Japanese contemporary art, however Atsuko Tanaka and her "Electric Dress" has created an endless and grateful environment in the search for a new era in art.

Saburō Murakami, Sakuhin (Tsuka) (Passage), 1956. Performance at 2nd Gutai Art Exhibition, Ohara Hall, Tokyo, October 1956