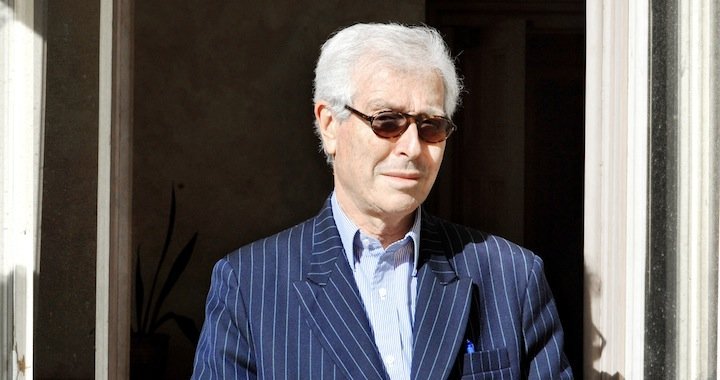 Didier Grumbach: The Fashion World Is In Great Shape
25/06/2014
One can barely imagine the fashion world without its epicenter, Didier Grumbach – the French industrialist and businessman who, since 1998, is the chairman of France's premier fashion organization, Fédération Française de la Couture, du Prêt-à-Porter des Couturiers et des Créateurs de Mode; Chambre Syndicale de la Haute Couture. It is this federation that decides which French fashion houses are awarded the legally defined status of "haute couture", as well as who can participate in the prestigious Paris fashion weeks.
Among other things, Grumbach wrote the book Hirstories de la Mode in 1993, a comprehensive history of fashion embellished with real-life anecdotes and commentary from Grumbach and his colleagues. Today the book has been translated into numerous languages and has been published around the world.
Grumbach's influential presence arose in the 1960s when, together with Yves Saint-Laurent and Pierre Bergé, they founded Saint-Laurent Rive Gauche – one of the world's most prominent fashion houses. Saint-Laurent was the first high-ranking fashion designer to create a whole prêt-à-porter (ready-to-wear) line, thereby paving the way for ready-to-wear to take a place as an equal next to the couture collections. In 1966 Saint-Laurent Rive Gauche opened a store in Paris that sold its prêt-à-porter line. The designer himself was present on opening day, and its first client was Catherine Deneuve. At the end of the day, the shop had taken in 24,000 dollars.
From 1968 to 1973 Grumbach worked with Hubert de Givenchy, creating the Givenchy label's ready-to-wear line, titled Givenchy Nouvelle Boutique. In 1971 Grumbach founded the company Créateurs & Industriels – a platform for cooperation between designers and manufacturers which would go on to premier fashion shows for such well-known designers as Jean-Paul Gaultier and Issey Miyake, among others. "In truth, when I created Créateurs & Industriels in the seventies, the fashion business wasn't as risky as it is now," Grumbach will reveal in our interview. "Currently it is one of the most difficult industries to control, and it needs excellent leaders to survive. The fashion business is more serious today."
What is the role of haute couture in today's fashion industry?
When couture was as strongly regulated as during WWII, ready-to-wear fashion didn't even exist. You could only wear clothes that were specially made for you. Today the situation is different because ready-to-wear collections are being made, and almost at as high a level as couture. High fashion is no longer an industry today. For a brand, couture is a flight of fancy with which to demonstrate masterful skill. Although one can talk about the rebirth of couture today, it has a completely different meaning now. One of the requirements for a fashion house that wants to acquire haute couture status today is to create ready-to-wear collections, because that is the only way that they can finance the creation of high fashion, which does not pay for itself; as I said, it is not an industry.
But why is it important for a brand to still spend money making haute couture collections? If it's not an industry, then what is it?
In France, haute couture protects excellent mastery and handcrafting. We have a slew of great craftspeople and seamstresses in the country, and it is extremely important for us to preserve the need for their work and for the knowledge and skills that they hand down. If we loose that, than an essential part of France's capital will be lost.
Is couture fashion or art?
Fashion is an industry, not contemporary art. There is no doubt of that. Nevertheless, some of the designers are true artists, and there must be the opportunity to express this talent. At the time when couture was the only fashion industry, the competition between designers was different. Now it's a fight to get into a sort of club which only the best of the new talent can join. Every season, Chanel, Dior, Gaultier and others select which designers to include in the Paris fashion show calendar. They can also be foreigners, such as Versace and Armani were back in the day. What we ask is that these designers have a couture atelier in which they employ excellent masters. Nationality is not an issue, as now indicated by a whole slew of talented participants from the Asian countries. This is essential because then new inspiration can flow into the world of fashion. The flourishing of couture is linked to the honoring of tradition, and it is making a comeback. As a result, the ready-to-wear collections also profit by showing that they can also be extremely creative. Just several decades ago, ready-to-wear clothing wasn't all that acceptable in high fashion. But the situation has changed, and I'm very delighted about that.
You once said in an interview that a fashion show is necessary only for provocative collections – because only this sort of clothing needs moving bodies. Could you expand on that?
If a collection must be demonstrated to help show it and explain it, then you have to organize a show. But if the clothes that you're creating simply adapt to the trends that already are out there – in order to be commercially successful – then what's the point of making a fashion parade? A showroom is sufficient.
When accepting new participants for the Paris fashion shows, we request that their contribution enrich the history of costuming, which is something that Chanel, Dior, Thierry Mugler and many others that we all know have already done. And how did they achieve this? By building a brand image with provocative collections. At one time Jean Paul Gaultier didn't sell a single piece of clothing for three seasons in a row – because his collections were too hard to digest. It's similar to contemporary art – if you immediately understand what the work is about, then it definitely isn't a good work. There's a saying in Paris: If everyone likes the collection, then it's probably not that good.

Thierry Mugler and Didier Grumbach in 1980
What is necessary for a promising young designer to bring about his or her dream of having a fashion house – and not just establishing it, but also successfully keeping it going? Or has this been relegated to being just a utopian fantasy in the 21st century?
What is necessary? – a partner. To open a bakery, you need to know how to bake bread. Fashion is an industry, not just pure creation, and that's why a fashion house needs a manager. Even if the designer has a knack for business, he cannot burden himself with the cares of running the business when he should be devoting himself completely to the new collection. History has shown that all of the brands that pop up one after the other soon die out – unless they're headed by a successful duo. Starting with Armani and Saint-Laurent, to Thierry Mugler and others.
So, the Saint-Laurent Rive Gauche phenomenon really is possible today?
No; because Saint-Laurent didn't make a single ready-to-wear piece at the beginning – he could afford not to, back then. Even such couture brands as Givenchy and others used to only do high fashion. It was specifically Saint-Laurent who created this niche of fashion that was democratized by creating excellent collections that could be sold and worn straight away. It was a coup. Something like that is no longer possible today because a profusion of fashion houses have already directed their focus towards ready-to-wear; that is the industry norm.
I must add that in the time of Yves St. Laurent, making a profit was possible thanks to the licensing system – the ability to put a brand's name on a broad range of products. I'm sure you already know that I was his license (laughs). Now it's a completely different time, and you want to make one product for the whole world; whereas when Saint-Laurent and Christian Dior were at the top of their games, the brands' products in Great Britain differed greatly from those in France because contracts were given out to use the brand's name, and it was someone else manufacturing it. That doesn't work anymore. Instead, the couture brands have almost completely switched over to ready-to-wear; it has grown into a strong-armed industry and has taken what was once the place of couture – which, in its time, was a competitive business and employed thousands of people. In 1949, Madame Carven would sell about nine thousand couture outfits a season, and a Dior couture suit cost 1000 euros in today's money. Bourgeois women from the South of France would come to Paris to buy a whole wardrobe at Dior – seven or eight outfits. Today, these sorts of daily clothes have been taken over by ready-to-wear, while couture only creates exclusive clothing for special events.
How many couture customers would you guess are in the world today?
In 1975, Madame Carven had 75 clients. Saint-Laurent had around 200.
Today the houses of Dior and Chanel say that they have about 1000 haute couture clients – because in a sense, the world has become larger. It used to be a very long trip for a wealthy woman to travel from Argentina to Paris; now it can be done with one direct flight. Around 500 people are now invited to the private dinner after the Armani fashion show. The assertion that couture is dead does not match up with reality.
What role do the head designers at France's big fashion houses, such as Dior, for example, play in the development of fashion?
Chanel and Dior have played a large part in preserving the couture and handcrafting trades in France. Every one of these houses have had their own way of doing this. Thanks to its perfume line, Chanel could afford to create extremely exclusive clothing collections. For its modern-day success, Chanel has, of course, Karl Lagerfeld to thank in large part; no one will ever be able to repeat what he has done. You will never find such a talented person who can run several private homes as well as be successful in absolutely everything that he does creatively. His talent is completely out of the ordinary.
It is interesting to observe how up to 1973, only the French fashion houses had spread their business out on an international level, around the globe. And then Issey Miyake from Japan came onto the stage. Today's scene is completely different. There are 24 nations taking part in the Paris fashion show calendar, including China, India and Japan.
Does nationality have any meaning in fashion?
Fashion has no nationality. There will never be French or Chinese fashion. That is exactly why the fashion industry is able to be so extremely modern and globally interesting. However, every designer's uniqueness exists due to the place from where he has come. Hussein Chalayan is a great Turkish designer. Even though his designs don't have a speck of ethnicity, he is the way he is, in large part, because he comes from Turkey. Those are his roots that have stayed under the podium and cannot be publicly seen. There is no need to show them openly. Fashion cannot become ethnic; it must immediately be global in nature.
Are the churning wheels of industry the only reason that fashion trends change at such an insane pace? Or perhaps fashion is a mirror of society, and it's actually telling us what we ourselves are like today?
Fashion changes every time that a new country steps unto the Paris fashion stage. When the Indian designer Manish Arora came on the scene a couple of years ago, he changed fashion trends in the whole world. In the same way, the speed of technological development in fashion is unfathomable. Of course, acceleration also comes from the market, and from the huge international market demand, at that. The market is always hungry for innovations. Creative people are constantly giving the world something new. That is exactly why fashion carries us away so. Paris fashion week is the mediator, so that the créateur de mode can change the course of costume history.
Thanks to the fact that the world is opening up and that technologies are developing, new talent from the most diverse countries now has the opportunity to come into today's fashion industry. This could also become a reality for Latvia. It used to take years for fashion from Tokyo to get to Paris. Today, acceleration is the rule because the speed of communication is simply faster.
In what way could the world fashion industry also become a reality for Latvia?
The mecca of fashion is spreading. Actually, the current fashion industry is more Italian than French – in the sense that we manufacture a large part of men's clothing in Italy, not France (laughs). Portugal is also in our circle of interest. Europe is becoming ever larger and you, too, are a part of Europe. The times change, and now there are candidates from Latvia and Lithuania appearing on our Paris fashion show calendar – and they've never been there before. Suddenly arriving in Riga was a big surprise for me as well, but at the same time, it's also a matter-of-course now – and it probably wouldn't have been twenty years ago. It is exciting to be aware of the fact that there is also great creative potential hiding in these countries, and that it may someday change the course of fashion.
Do you think that the next big names in fashion could really come from the Baltics?
If the talent is here, then that's where it is. In addition, it's an interesting phenomenon that it is never just one designer – there are always several at once. The Antwerp Six already proved that to be true in terms of Belgium.
How would you explain this phenomenon?
Because the market needs it. In 1962 Yves Saint-Laurent and others came onto the scene; in Italy – Valentino. After a few years, Miyake, Mugler and others appeared at the same time. The Antwerp Six were called a "wave", but analyzing it from the sidelines, one clearly sees that it is simply the ongoing need for new talent.

Photo: Karlīna Vītoliņa

What do you yourself look for in fashion?
I am an art collector. When I am at fashion week, what I long for most is to experience a really good fashion show. And it is indescribably special when that happens. The music rings true, the lighting is right, and there's a synthesis going on between well-chosen models and a great collection – this can be felt throughout the room. There is an atmosphere of suspense and everybody is holding their breath. When the fashion world discovers a new artist, everyone there knows it. It is impossible to describe. And you know, I've been experiencing moments like this with increasing frequency. People in Paris often complain that "the fashion world is dead", "the grass used to be greener"... But the truth is – the fashion world has never been in such great shape as it is now. We have never had so much great talent on the scene at one time.