Deeply devoted to the Arts
An interview with Viscount Linley
Irene Gludowacz*
23/11/2016
The office of David Armstrong Jones, Viscount Linley, is situated in a typical English town house in the heart of London. Endless little staircases and winding corridors – a veritable maze, in fact – finally lead to his cosy, solid office. We sit down in comfortable chairs upholstered in English green leather with cream piping – by Linley Design, of course. The work of the British design company LINLEY founded in 1985 is characterised by a profound knowledge of materials and finishes that is combined with surprising details, often concealed in unusual elements of its bespoke or custom-made furniture. It is synonymous with precision craftsmanship and is offered to the public today in an exclusive design furniture line retailed by three shops in the two London quarters of Mayfair and Belgravia.
On one wall is a sizeable painting by Dame Bridget Riley, on another an almost life-size portrait of Viscount Linley's mother Princess Margaret, who passed away in 2002. The sister of Queen Elizabeth, was one of the most scintillating personalities of her time.
Viscount Linley's father, Lord Snowdon, who is of partly German extraction, photographed the avant-garde scene of the "swinging sixties" and was preparing a book just as many individuals of that creative world were becoming world-famous. Trained as an architect, he also designed furniture as well as the aviaries for London Zoo. Oliver Messel, the renowned British stage and set designer and uncle of Lord Snowdon, was a strong presence in the young Snowdon family house. This artistic flair and creative background also influenced Viscount Linley's younger sister Lady Sarah Chatto, who became a painter. David Linley, as he is known professionally, has published several books and gives lectures around the world on furniture – both on his own furniture and on fine antiques. He is most humble about his heritage on his mother's side of the family. In 2006 he joined Christie's as Honorary Chairman Europe, the Middle East, Russia and India.

David Linley as a youngster. Courtesy David Linley
What made you decide to become a designer – and a craftsman in wood?
When I was a child, both my parents taught me to be observant – to use my eyes and to look. They both led glamorous social lives and were surrounded by interesting contemporaries, many of whom regularly came for dinner. They were always entertaining, and the air was filled with the heady aromas of wine and cigarettes. For me it was a very exciting time to be with my parents and, at an early age, to be able to meet artists, architects and theatre people. However, craftsmen, designers, welders and plumbers also came to see my father; and my mother regularly visited factories specialising in all types of manufacturing.
There was a workshop downstairs in the house at Kensington Palace. I began making things with my father, and at the age of seven I became very interested in making things by hand. My mother looked at the world with an intellectual mind; she loved music, the ballet, and literature. She had lots of friends who were writers. And all of that had an impact on me.
What line of education did you follow? Which schools did you attend to learn about craftsmanship?
Firstly, from 1975, I attended Bedales School outside London, which was founded in 1893 and was renowned for its arts and crafts. It was a great place to be – you could do whatever you wanted and were not obliged to do academic subjects, which was a relief! Each year there was an academic race and a sports race, but I was always in the workshops with all the fun people; we had our own record player and our own music and lifestyle. These were very formative years, and I worked with some great potters, artists and craftsman. I was not a great artist, but a better potter. From there I went into engineering but found that I had no talent in that particular field, in which I initially wanted to design cars and motorbikes. After Bedales I went on to study at Parnham House, the internationally renowned crafts school in Dorset, where John Makepeace, the proprietor, taught me the finer points of cabinetmaking, as did other designers from the United States. My idea was to become a cabinetmaker and designer. My interest really lies in understanding the way in which objects are manufactured; whether it's a shoe, a ring or a watch, these are all things which are of interest to me, and I try to apply my knowledge to pieces of furniture, in order to make them tell a story.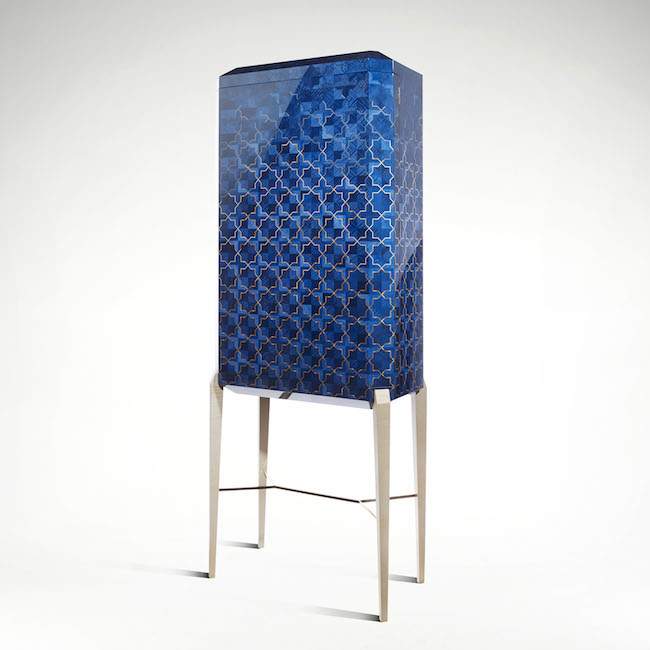 LINLEY Girih Treasure Chest (2016). Photo: Mark Reeves
When did you start your own business and how did it come about? What did you specialize in?
After my studies, I shared a workshop in Surrey with some friends from the school. My first associate was Matthew Rice; together, we designed veneer-marquetry screens which told stories with panels featuring Venetian architectural scenes and landscapes. They sold very well, the two of us became business partners, and we started our own company in 1985. Soon we were the only cabinetmaking enterprise with an agent in London, which helped the company to expand more quickly than others. One day we had a meeting with one of our collectors, a businesswoman, and she asked us about our future aspirations. With her help we drew up a business plan for an even bigger company, and in October 1985 the first furniture collection was launched at Christie's on King Street. Our concept and pledge was to make outstanding furniture in an artisanal, craftsmanly way. Once it took off, we opened a shop in Pimlico. At that time it was just one shop, and later we bought another.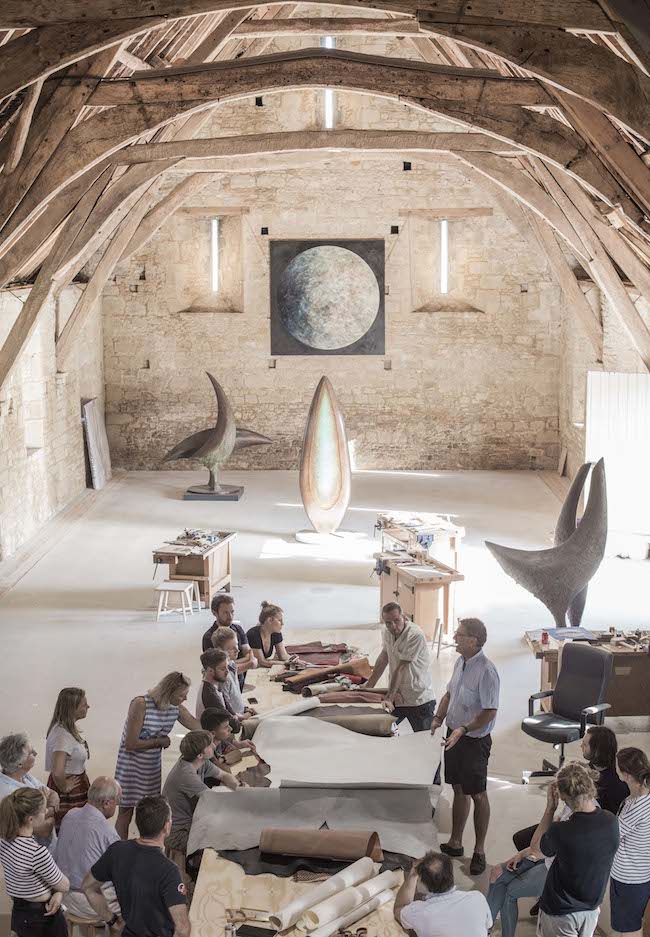 LINLEY Summer School 2016. Photo: Oli Douglas
What are your future plans for LINLEY Design? What are the challenges you face in your work today?
At present we have a new shareholder who is from Malaysia. He is full of energy and new ideas and very keen for the company to expand. We have a new chief executive, a new creative director, and a new head of interior design – in fact, everyone is new except me. I am still very much involved in the company. The firm is certainly based on a very simple philosophy, which has developed over time and is authentic: hand-crafted work, predominantly made in England. It has to do with the overall enhanced atmosphere of the shop and the sense that it all comes from a single vision – it is all very monoculture, you might say. Most of all, I am intrigued by finding ways to inspire the next generation of designers and increase their perfectionism and knowledge of old techniques and traditions, transforming them for a contemporary setting. My aim is not to take somebody to a workshop in the countryside and show them how to cut a tree by hand: after all, nowadays we have electric saws. However – within the tolerances of the craft – the sanding is by hand, the finishing is by hand, and the final polishing is by hand. We have a LINLEY summer school in Wiltshire, lasting for one week. The older you get, I find, the more important it is to teach people about how art is being created and about how objects are made. This is a "hands-on" school. We are looking for a more permanent location and we are seeing us pretty much as "guardians of British design". At present a lot of educational methods are changing and we are losing a lot of crafts – and we want to help. We need to keep them, otherwise we will lose this link for the younger generation. The mode of design I come from is a very luxurious one and the new company is also about bringing in new creative ideas. We now have someone who is trained in 3D printing and we have this new idea, an ideal based on the crafts of the past and the future. I am very keen on this new technology. What we do, the five of us, is to go away for a few days and chew on our ideas. My part is still on the creative side – I have a crazy input or idea and the others decide how they want to work on it. The store has been refurbished and is now open again. We have changed again and this year we are celebrating LINLEY Design's thirtieth year.

Christie's Hong Kong 30th Anniversary. Photo: CHRISTIE'S LIMITED ID
This seems to be the year of celebrations for you ...
Yes, indeed. First we celebrated 30 years of Christie's being present in Hong Kong and then 10 years in Dubai, then my company's thirtieth anniversary, and then there is the Christie's 250-year jubilee. All in all, that makes over three hundred years of celebrations in 2016.
You have your own company and you are also Chairman at Christie's – how do you manage to combine the demands of these two roles?
Well, Chairman is a very broad title. Ten years ago I was appointed to join the board and I started as a Chairman at Christie's on 1 December 2006. However, I am not assigned to any particular department and my background is not within the company. My relationship with Christie's goes back a long way, as I was taken there by my mother from a very young age. At that time she was invited by Lord Charles Hindlip, who is still in the art world and was a guest at the Alumni event this year in June. On that occasion it was a great pleasure seeing all the great heroes, the auctioneer Christopher Burge, for example, whose triumphs made history for Christie's. Some of them may have become dealers or are now working with another auction house – but their spirit and DNA for art is still in their blood. The whole dialogue in the art world interests me.

Christie's first sale. 5 December, 1766. Photo: CHRISTIE'S LIMITED ID
Mainly, I offer my assistance in places to which I have access, and do promotion by entertaining and creating opportunities in a way that the company cannot do in the normal course of events. I like to bring people together when I feel they have a common interest and might get along, not always for commercial reasons. I host lunches and suppers in our boardroom and we invite people from all over the world and from different professional fields such as the arts and music, the financial world or real estate and so on, and I help with charity auctions in different parts of the world. I am very privileged to be in this position and I enjoy the work. It is a great honour to hold this office in such extraordinary surroundings – on the one hand academic but on the other hand commercial – and to enjoy the privilege of combining beautiful objects with business. The way we interact with customers in my design firm is very similar to the way it is done at Christie's. The luxury sector in which we exist is about how to create your customers day and night on a long-term basis, and how to look after them more and more. What can we do to nurture them, how can we educate them, how can we educate their children about what it means to own a collection, and how can we attract new and young collectors? At Christie's there are many different ways to make the most of the ways of the world of luxury.
Besides Christie's, did you visit art galleries and museums in your early youth?
My mother took me to the National Gallery on a regular basis. She used to point out one picture to me and we spoke about it. My grandmother took me to exhibitions as well and always went when they were already open to the public. Everybody asked her about her special interests, which was wonderful. That's how I picked up on dialogue and discussions about art, and on the different perspectives possessed by the different specialists. A few days ago we had a new collector visiting the 250-year celebration exhibition at Christie's and he asked me to explain the art market to him and what it is all about. I took him to the specialists, who gave him their perspectives on different things. We went from the contemporary exhibition to the Old Master exhibition with the various experts and we started an amazing discussion and discourse about the different centuries and about the time when James Christie opened his auction house in 1766 – when there were about two hundred auction houses in this area. While one expert was speaking about the texture of the paint, the next one spoke about a sketch by an artist such as Constable and how it relates to us today. This is what these wonderful exhibitions do.

Photo: CHRISTIE'S LIMITED ID
Have the royal family ever bought works at Christie's?
Yes, they have, though I would have to go through the books to say when they precisely did, but it has happened throughout the past centuries. If you visit the Royal Collection – the Queen's Gallery, for example, which I love – you can see the way in which it was important in the past and the way in which it is important today. A lot of works are on loan, such as the Old Master drawings. Once it was a static collection, kept permanently in houses, and now it is all over the world, which I think is important, because the works will be seen by a broader public.
After ten years of working with Christie's, how do you personally see the changes that have taken place?
Online – I would say – is probably the most fantastic. Coming here and observing is different from what it was like in the past – the way you can interact with your telephone today is one example. When I ask collectors how they buy art, some tell me they buy from their desk – and the desk could be at home or on a yacht, anywhere in the world. Christie's has been experimenting with online auctions for the past ten years but I don`t think that it will completely replace the live auction. My experience is that everybody is different and we cannot generalize. Most people who are buying at a high level want to see the physical work somehow – at an event in the evening or at night, for example, or in a quiet space. Most people want to see the object to decide how they wish to act – and it can be at the very last minute that they decide they want to bid. The more new technology becomes available, the less fixed are the formats – the whole auction world is alive and it is always mutating and changing. However, it is perfectly valid to ask which innovations are acceptable and which are not. But I think the way the market changes points to the way ahead, showing us the way in which things will adapt.
What makes it special to work with an auction house that belongs to a sole owner?
Well, François Pinault himself is a great collector and he is very passionate about art. People here have an enormous loyalty towards him and personally I am a huge admirer. He has chosen some amazing people like Patrizia Barbizet and Steven Brooks to run the company, and the Global President Jussi Pylkkänen, whom I also admire greatly – they all do incredibly well and that's why we like to work with them.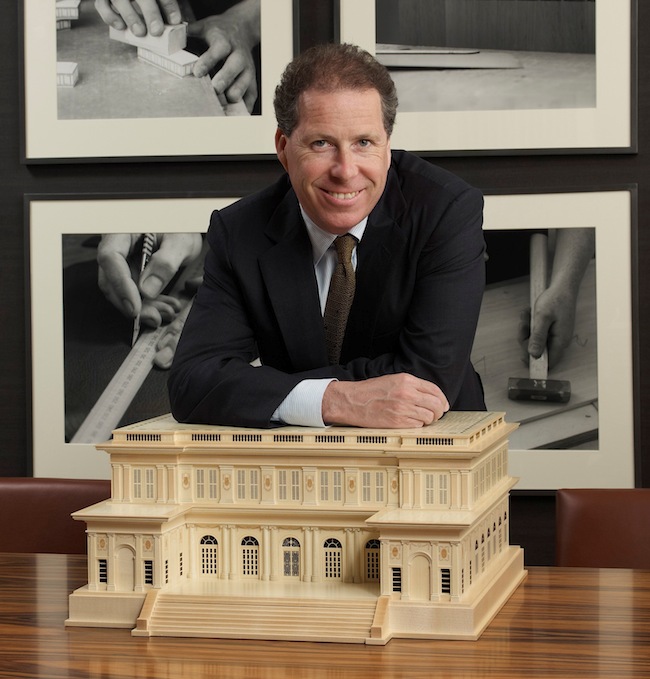 David Linley. Photo: CHRISTIE'S LIMITED ID
Some of your pieces of furniture are collector's pieces. What do you collect yourself?
I collect books a lot. One of my real passions is collecting clocks, wristwatches, and pocket watches – and in this field it's the design that appeals to me, the efficiency is secondary. Sometimes I'll acquire a watch that doesn't even work – but looks great. To be honest, it's completely compulsive: when I see a watch or a clock that I like it's almost impossible for me to resist. I always have catalogues and books by my bedside.
My taste is eclectic and I mix Old Masters with modern masterpieces and with "found objects" – objets trouvés – which have no monetary value but a personal value to me. If you look at a beautiful Roman or Greek torso – two or even almost three thousand years old – in combination with contemporary works, it looks so fresh. About fifteen years ago I wrote a book about the importance of "cross-collecting", collecting across many categories and not in just one. Everywhere I've travelled, I've always brought something back with me; in Kazakhstan I bought three pictures, for instance, and in Azerbaijan some carpets. It's a collection that features pieces from all over the world. I try to teach that to my children as well, in the sense that intrinsically worthless "found objects" can be fabulously valuable and precious because of the way you place them: that is the memory of an object, and that is what keeps the memory alive.
* Based in Vienna, Irene M.Gludowacz M.A is an author, curator and communication expert for foundations, museums and corporations in the international art world. She is also the co-author of the books "A Passion for Art: Art Collectors and Their Houses" (2005) and "Global Art" (2009)