Do we really need more?
A conversation with Danish fashion designer and multidisciplinary artist Henrik Vibskov
30/01/20
Henrik Vibskov has by now become an internationally prominent name on the current global map of fashion and art. As a key voice of the New Nordic Movement, the Danish designer and multi-hyphenate doesn't do anything in the traditional sense, which is why alongside the achievements of his namesake label you can also find a list of his various other creative pursuits. From playing drums in a band to designing costumes for ballets, one of the unique Dane's trademarks is the element of surprise and unpredictability. To be honest, there seems to be nothing he can't do.
Vibskov's story has been immortalized in print from time to time over the past two decades, but to hear it in person is more than humbling. In late November he flew to Riga to give a talk on the future of fashion alongside designer Rolands Pēterkops of the Latvian fashion duo MAREUNROL'S. Vibskov had just arrived at the Art Academy of Latvia and, with a little time to spare, agreed to share some food for thought.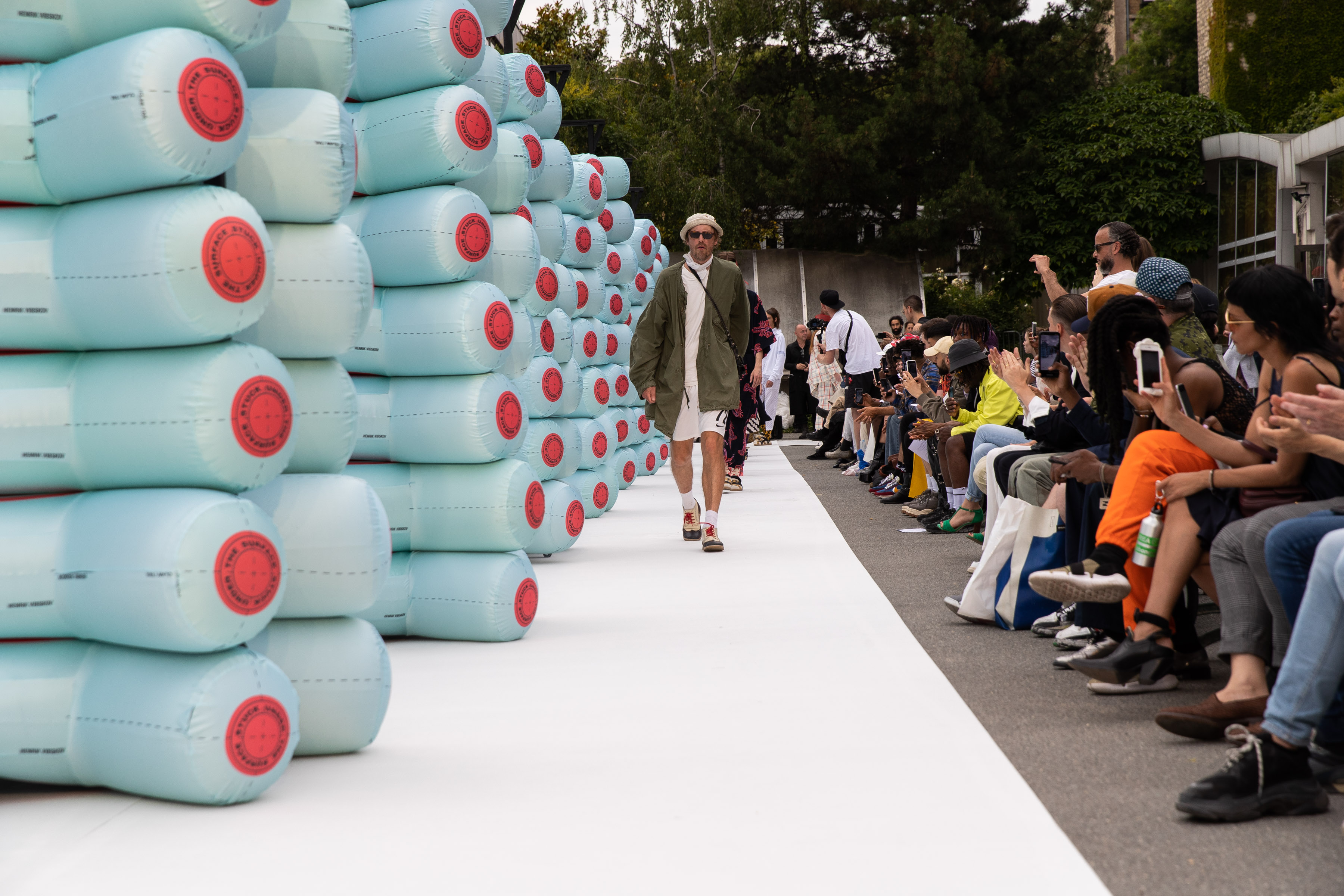 Henrik Vibskov at his S/S20 show "Stuck Under the Surface"
You have quite the path of creative pursuits, including joining a band and studying engineering before you ever considered professionally committing to design. What led you to fashion?
I was playing in a band that was kind of like a small society with its own unwritten rules of what books to read, which films are good and what music you're supposed to listen to. This circle of people also had kind of a strange dress code, and everybody was dressed almost the same. It was all about how you identified yourself through music and being in a band.
Back then I experienced everything through music, until I decided to apply to a small foundation school. It was normal for people in their 20s who didn't yet know what to do after graduating from high school to attend that school for half a year and study in one of their educational programmes. I applied to study architecture, photography and graphic design, but because everybody else also thought those were cool subjects, I was put on the waiting list. When I called my mom to tell her about it, she told me about the theatre, drama and music programme, which still had some free spaces left. I decided to take this as a sign, given that I'd been in music for already 15 years at the time, so I packed and left for the school two days later. I ended up in the fashion design course with 20 girls, and the course was mostly for building your portfolio and putting on a fashion show. Afterward, a teacher there told me to apply to a real design school, and it all kind of started from there.
Were you disappointed by the fact that you didn't get into the programme you wanted?
Oh no, not really. This school has stayed in contact with me, and they've been doing small pop-ups at my studio. That's the same school I didn't get into, and now look, 20 years later I'm asked to come and do a talk there!
A fun fact about you is that you enrolled at Central Saint Martins (CSM) in London – one of the most prestigious fashion programmes in the world – in order to impress a girl.
It sounds a little bit like a song, but it's true. After school, I wasn't thinking of applying to study fashion design, so I moved to Copenhagen to play in a band. I was deep in the music world when I met a girl who was applying to CSM. I was trying to play it cool, so to impress her I replied that I was applying to CSM, too! Long story short, I ended up with her, we both got into Saint Martins, and we moved to London together.
I had always been told that I was really bad at English, so when I got to the interview in London, all I could say was, "Hey, umh, Henrik, umh. Denmark. Drawing. Design". That was pretty much all I knew at that point, but I got better step by step. Now I mostly talk in English in my studio, because our team is from all around the world: France, Sweden, Slovenia, Finland, Italy, Taiwan, Korea, Germany.
Getting back to the topic of music, you're a record label-signed musician playing in multiple bands. Music is what you started with, and you still actively pursue it.
I don't play as much as I used to. I have two kids now, so I had to take down the tempo a bit. Seven years ago I was flying all around the world to play, but between the kids and all the other projects, it just got boring. I haven't toured since then. It was fun, though.
If you had to label yourself, would you call yourself a musician, a designer or an artist?
It varies, my identity shifts around. I've been a designer for a long time, but for the past month now I've been working with more artistic and creative projects, and I'm also back to playing drums. So, I don't know.
But music is still an indelible part of your creative process?
I try to play. After I take my kids to school, if I'm very lucky, I have about half an hour before my employees come, when I just play my drums loudly.
Since you graduated from Central Saint Martins, both the fashion and music industries have gone through a lot of changes.
They've changed a lot since I graduated. When I was at school, it was all about using as much as possible to make it look cool, but now it's quite the opposite – using as little as possible. Back then it was all about the silhouette, colours and combinations, but now it's very much about the material, functionality and sustainability. Technology has had a big impact, so now the environmental issues are on our shoulders. You have to defend yourself every time you use more fabric than you should. But we try to work a lot on environmentally friendly options, and 86% of our collections are made of sustainable fabrics such as linen or recycled polyester. We've removed all plastic; even the buttons are made out of nuts. But there's still a long way to go.

Stuck Under The Surface, S/S'20. Photo: Victor Jones
As you mentioned, sustainability in the fashion industry is now the most important issue designers are addressing and emphasising. Although we've acknowledged the 21st century's environmental issues, there seems to be a double standard in this matter. What do you feel is your responsibility as a designer?
I think it's my responsibility to try to do as much as I can. My actions have to reflect positively, and the materials we use have to be good and the kind that don't leave a trace. If all that's happening, then I can think about doing other things. I reuse and upcycle as much as I can. Or we change the setup – produce everything locally or close by in Europe.
Consumerism is going nuts, and people are buying like crazy. The real problem is that there are too many people in the world and we just keep on multiplying. We're going to spoil everything, and that scares me.
That's a dark topic to dive into.
It's interesting that to feed the ever-growing population, we have to use more pesticides. The earth's soil is not capable of organically supporting and feeding this many people. That is heavy. I've been looking into it a lot and thinking about what I do. And I'm producing more stuff! Should I? Do we really need more?

Photo: Nils Emil Nylander
Every designer asks themselves the same question.
All creatives do. I'm hoping that there's a scientific way to solve this. Such as a technology to reuse all the already existing materials, like polyester.
I believe that that's the only way to go about this – not making any more and reusing everything we already have.
And it would be great if the process of reuse wouldn't pollute. Of course, you can recycle polyester, but it's not healthy to do so because of all the chemicals involved. I took part in a programme in which buttons are made out of nuts, which is considered sustainable, organic, etc. But if we take into account the large amount of water that's necessary to produce one button – one nut – that's bad for the planet as well. It's a two-edged sword!
Thankfully, a lot has changed for the better over the past three years, and there's a variety of materials to choose from. Seven years ago, if you wanted to make something sustainable, the fabrics were available in only that one shade of natural colour. Now there are more choices.
I'm a professor at Design School Kolding, and in one of my masterclasses there are only eight students left, because the others are depressed and can't do this anymore. It's sad.
You're currently a professor, and you also frequently give lectures at institutions such as Central Saint Martins in London, the European Institute of Design in Madrid and the Royal Academy of Fine Art Antwerp. What do you teach within these educational programmes?
I teach about generating new ideas and creating something unexpected. We work on concepts and small briefs to make the students think about things in a way that they wouldn't otherwise do. I try to challenge them, maybe get them a little bit twisted. The brain tends to operate from point A to point B, and most people have nearly the same thoughts. I think it's necessary to get them outside their comfort zone and get them thinking in a zigzag way rather than in a straight line. And maybe they can create something from that – hopefully, genius. Even if that happens by accident.
You seem to be not just a mentor to these students but also very generous in supporting their creative talents. Did your job as a lecturer prompt you to create the PIG (Practical Intelligent Genius) foundation? How does the foundation work?
When I received a big design prize, I decided to use it to establish a small foundation for people to apply to, but my lawyer said that that wasn't possible. But what I could do was collect money from when I do talks or sell fake salami. And when the year is over, someone has the opportunity to receive the PIG Prize, which is about 4000 euros.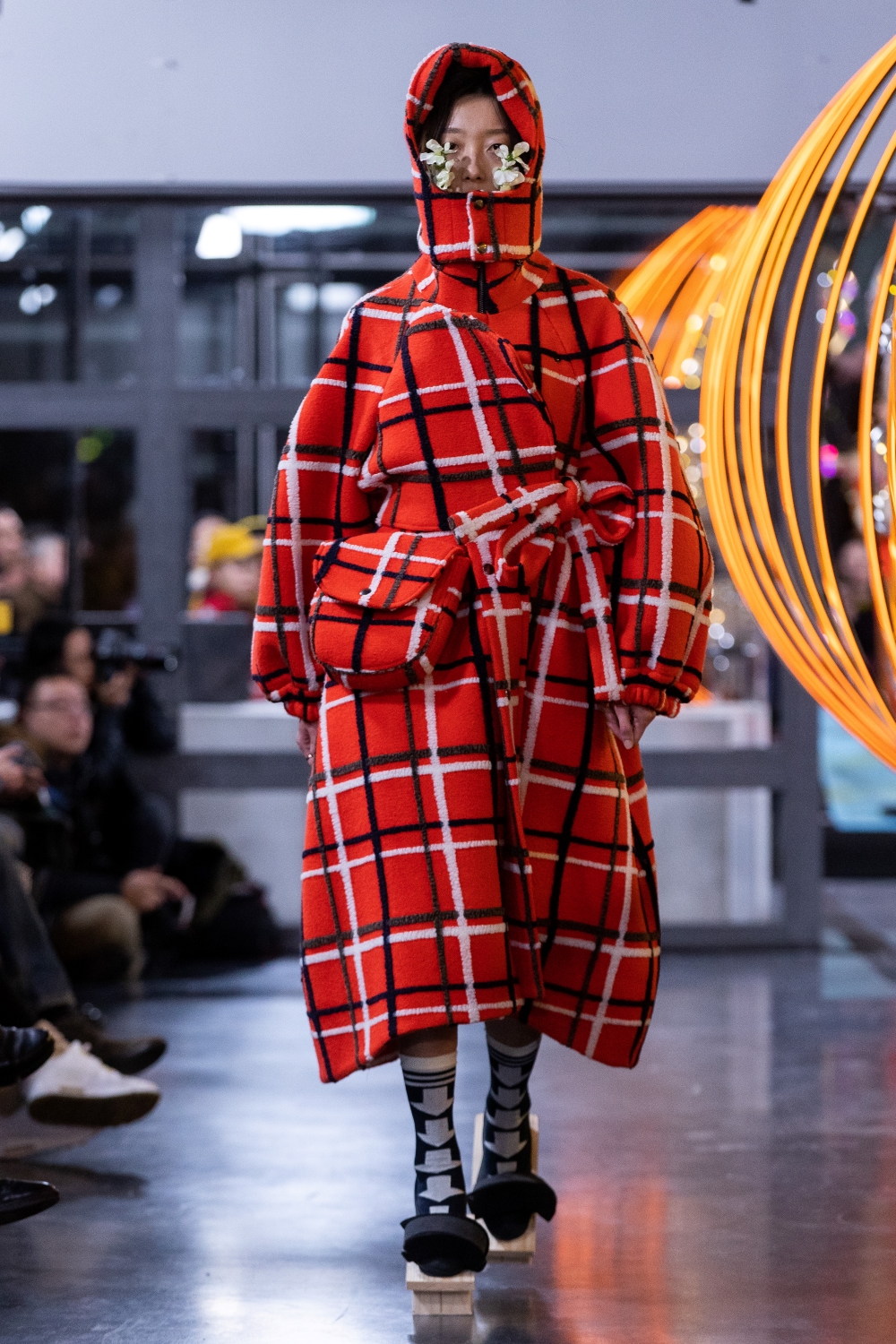 The Radish Arm Charm, A/W'19. Photo: Victor Jones
How would you describe your role in the industry?
I have a small brand, so we're able to change faster than larger companies. My role is to create something that's not standard, that's not something you can buy in a million other fashion brand stores. I do something that's hopefully unique without becoming haute couture. I'm in the middle between functionality and the avantgarde.
Yes, you do seem to cater to everything unconventional. Do you think you have such a unique approach because you don't limit yourself to just fashion design?
I'm doing quite a lot of things at the moment – one project kind of flows into the next one and so forth. The work I do outside the studio is being used in fashion and vice versa. When you're in the creative process, a lot of your ideas can be reused.
I need to challenge myself. I'm bored if I have to just sit and do fashion drawings all the time.

The Onion Farm. Photo: Andy Stagg
Do you believe that a designer needs an "escape" from time to time to be more efficient?
Probably, but it's more because of boredom. I've been doing fashion for many years, so my brain needs to be activated by new challenges and thoughts. Everyone needs to try something else from time to time.
One thing I must highlight – the names of your collections are as intriguing as what they represent. They kind of remind me of the titles of TV-show episodes, in which they give you kind of a sneak peek at the plot in a few words.
Yes, it's exactly like the titles of films! It gives you an idea about what to expect without saying too much. And hopefully, when you see the collection, the name adds up with the visuals, which is what gives the experience an extra layer. I like to make statements that underline something culturally, religiously or in some other important way.
Your latest collection, for Spring/Summer 2020, is titled Stuck Under the Surface and is about the feeling of being stuck. Was that the driving force behind the looks, or was it an exploration of a point from which to move forward?
When I was in Switzerland doing costumes for a ballet show, at one point I was just sitting and thinking about the paper that occasionally gets stuck in a copy machine. That led me to wonder about all the other things in life that get stuck, and I found the physical state of that interesting.
I had to do an exhibition in England and a theatre show in Shanghai, and all my flights got delayed, so I was stuck in airports. Four women from my studio got pregnant, which also put me in a slightly stuck situation. And sometimes there's also the feng shui aspect, when you choose to name something using a word that has a somewhat negative meaning. So there were a lot of things getting stuck at our show as well.

Stuck Under The Surface, S/S'20. Photo: Victor Jones
The name had an impact on the actual show?
Yes, we talked in the studio that we shouldn't name our stuff using words that have a negative connotation. I didn't see it as a negative at first, but somehow things did get stuck with the show. We had some pants that we called "Delay Pants". And what got delayed? The "Delay Pants", of course! (Laughs.)
So after that we decided that we shouldn't work with words that have the possibility of something getting stuck.
In a lot of interviews you've mentioned that the problem for you as an artist is that people sometimes see your work in fashion and, for some reason, believe it devalues your other creative work. Why do you think there's such an assumption about fashion and design in general and, in your opinion, what should be done to change it?
Maybe it's because of how I ended up in fashion. I like to do what I do, but I can't escape the stereotypes that surround the industry. When you talk about working in fashion, it's automatically perceived as luxurious, with champagne and blonde girls. And it's a little bit difficult to get away from that stereotype. What people don't realise is that it's the same as with music – you can listen to weird underground noise, but you can also listen to Britney Spears. There are many different layers of what counts as music. It can be both dark and cheerful, and it's the same with fashion. Sometimes people even go to great lengths to say that I'm not a creative, that I'm a fashion designer. That word has a sense of demeaning the work. That's what I've been fighting with a bit.
Now I'm represented by two art galleries. So am I a fashion designer or an artist?
There's still a need in our society to label everyone.
I do it myself. I have a background in music, and that labelling can get a little tricky, too. But it's the same thing with all the cross-disciplines. For example, if you're an artist, it's automatically assumed that you're no good at business.
Just this year you've done costumes for Cow at the Ballet Theatre Basel, Eskapist at the Royal Swedish Ballet in Stockholm, Replay of State at MVA Chicago and more. What have you learned about apparel through working with ballet, theatre and performance costumes?
I've mostly worked with dance apparel, which is all about physical stretchiness. The clothing has to be very stretchy, it needs to work for an extreme sport. The functionality is more important than the finishing, because you usually see it from a distance of at least ten metres. So you can do things that probably wouldn't work in the real world with wearable pieces. Ballet is extreme.

The Eskapist. Photo: Nils Emil Nylander
How important do you think it is to have a sense of humour when working in this industry?
For me, humour is very important, and in general I believe there should be more of it. Many of my creations are built around a funny, surreal idea. Not that it has to be clowny or anything, but it's always nice if there's some kind of weird humour.
Fashion is a proper industry in which you have to sell products, and for most companies that's not a thing to joke around with. Of course, it depends on the boss, but the people have to think more about getting good prices, earning as much as possible, profits and so on. It's hardcore, but that's how you do business.

The Transparent Tongue, S/S'13
But that's not the way to do design, is it?
No. There should be more humour. But without treating it all as a joke, of course. I thought that my salamis were funny, though.
Do you think a person is affected by what he or she wears?
Definitely. In South Africa I was taken to see some of the smaller towns, where I met a woman who didn't have any electricity or running water in her home, and probably not much to eat as well. But she was standing there, cleaning her home in the most beautiful dress. When you don't have a lot, being proud of your identity works as a kind of survival tool.
Back in the city, when I had to give my speech, everybody seemed so creative and cool. The speaker before me was talking about inventing a small watch that could tell people when to go to the doctor, when to check their blood pressure and such things. He was working to save the world by making hospitals more efficient and able to treat more people. And then I was announced as the next speaker, as "fashion designer Henrik Vibskov". But how does one follow a presentation like the one before mine? So I remembered the woman who was out there, in the poorest of conditions yet in a beautiful dress that gave her a sense of pride and identity.
You've also come to Riga this evening to do a talk, titled "The Future of Fashion". How do you see the future of fashion, how would you describe it?
The future is about dealing with the problems that have been created. It's about coming up with new scientific developments and very creative solutions. But there will always be a need for functional clothing. And it will probably involve new technologies and types of materials that become like a second skin.
Speaking of that, a doctor once told me that if I gave one square centimetre of my skin, it would be possible to grow it up to a whole square metre in a lab. They use this special technology to make skin grafts as a treatment for burn victims. That got me thinking about how interesting it would be if I could use my skin as a material. So I planned to give this British doctor a piece of my tissue, but he didn't get back to me with a response. Well, actually, that was my secret plan. But it would be great to do a real Henrik Vibskov jacket, literally. Also a bit gross.

Henrik Vibskov Boutique in Copenhagen. Photo: Harry Clover
What impact has the digital era had on the fashion industry? Has it changed for better?
I don't know if it's changed for the better, maybe quite the opposite. Everything happens so quickly nowadays. You can buy everything you just saw in a show, and from a consumerism perspective, the digital era has not led to anything good. But of course, there are some positive things, like the fact that now we're more connected and there's more awareness. If you do something wrong, it doesn't go unnoticed.
The interview was conducted with the help of cooperating partners – State Culture Capital Foundation, Danish Cultural Institute and Arts Academy of Latvia