Injection: Modern
An interview with Belgian architect David Van Severen
At the beginning of April, Belgian architect David Van Severen – one of the founding partners of OFFICE Kersten Geers David Van Severen – gave a lecture in Riga. Held in the auditorium of the Art Academy of Latvia on Kronvalda bulvāris, the lecture also marked the opening of an exhibition presenting a small part of the projects developed by the firm in recent years, from a private detached house to a large-scale public building. Among other subjects, the lecture and the exhibition also focused on OFFICE's participation in the urban regeneration programme "The Revitalisation of Muharraq", a rehabilitation project of the area of Muharraq, Bahrain – formerly the centre of the global pearling trade and the economic cornerstone of the Bahraini nation until the 1940s. The project, which OFFICE did in collaboration with the landscape architect Bas Smets, has led to the inscription of Muharraq as a UNESCO World Heritage Site, and in 2019, the programme received the Aga Khan Award for Architecture, which seeks to identify and encourage building concepts that successfully address the needs and aspirations of societies across the world in which Muslims have a significant presence.
One of OFFICE's architectural interventions in the former pearling centre are two similar buildings in the old neighbourhoods of Muharraq and Riffa, Dar Al Jinaa and Dar Al Riffa respectively, which now function as traditional music centres. OFFICE renovated the existing dar (Arabic for "house") and added a new collective space, which the architects liken to a majlis (Arabic for "sitting room") and which is where traditional music performances take place. The new centre is a simple minimalistic structure of concrete columns topped with overhanging platforms. A glass facade fitted with perforated wooden shutters serves as the external wall, and the whole building is draped in steel mesh which provides shading and wind protection. Although the visually filigree mesh gives the impression of a veil covered in a light sprinkling of urban dust, it has the strength and weight of medieval chain-mail armour (1m2/12 kg). Shielding the interior from the harsh desert sun, the mesh gives the exterior a veiled and enigmatic sculptural form that stands out in the city's labyrinth of coral stone walls. Moreover, the mesh is raised at the bottom when performances take place in the ground floor communal space, forming the rouches of a metaphoric stage curtain.
Initiated as a series of restoration and adaptive reuse sites, "The Revitalisation of Muharraq" project evolved into a comprehensive programme that aims to re-balance the city's demographic makeup. Now known as the "Pearling Path", it seeks to entice local families back through improvements to the environment and the provision of community and cultural venues. While several hundred historic buildings along the 3.5-kilometre Pearling Path (sixteen of which are to be open to the public) are being restored, with respect to this former vein of the city's wealth once inhabited by divers, captains, boat builders, sail makers, pearl brokers and traders, OFFICE has implemented a second project – an urban path-marking system. All along the Pearling Path, the firm has created eighteen public squares, pleasant recreational oases with a series of outdoor landscaping accents that reference the city's history.
These projects aptly portray OFFICE's practice, one in which architects pursue the idea of architecture as a cultural activity that aims to improve the environment for people and provide a framework for life in all its diversity. The Bahrain projects also underline a point once made in an interview by the two principal architects of OFFICE: "What you cannot design designs more than what you can design. It is more about what architectural form can not do than what it can do."
A situation in which construction and intervention are only marginally possible, and in which any injection of modern architecture into the existing historic fabric of a city must strive to be particularly thoughtful, is relevant not only in the case of Riga and other Latvian cities, but in the context of Europe's historic architectural heritage as a whole. Accordingly, in the following conversation, the vision of architect David Van Severen is revealed through the prism of the Muharraq projects.
Historically, Muharraq was the pearling capital of the Arabian Gulf, and the city was constructed mainly of coral stone. What surprised you the most about these existing walls, as well as about traditional construction techniques and designs?
The coral stone extracted from the seabed is a historically widespread building material in this area. It is covered with limestone and clay plasters. As the climate in this region is quite harsh – there is high humidity, the sea is very warm, and summers are hot – the oldest buildings you see around are built less than 200 years ago. When we say "old building" in Europe, we're referring to much older constructions, whereas here we're talking about relatively recent heritage and history. Actually, what is really old in this city is the original tissue, or the street pattern.
The historic Siyadi Mosque, Siyadi House, and the majlis are part of a larger Siyadi complex of buildings constructed for the former pearl merchant family. These buildings are connected by the so-called Pearling Path snaking its way through the lanes of the old city. These buildings are very beautiful. They are generally modular in plan, with several rooms surrounding a courtyard that is often accessed through a bent entrance. The courtyards are very important in this architecture, which is interesting because the idea of an enclosed garden is also important in our work. It's almost like an old-fashioned variant of designs we have made.
The setting of rooms in the buildings is also very interesting. As there is not much wood available (only palm trees and mangrove), and the size and strength of the wood is very limited, rooms are constructed between two coral walls and are quite small, perhaps three metres wide.
Also, the coral stone walls have a system of natural ventilation built in. There are these weird ventilation grooves so that air can go through the house. In addition to that, they have small towers called wind-catchers that catch the wind blowing above the lower construction – the wind can then come down into the rooms and into the courtyard to create a microclimate.
We were lucky to be there from the beginning, when not all the monuments were restored yet, so we could see the ruins and everything that is under restoration.
Dar al Jinaa: Photo: Bas Princen
What was your approach to constructing the future atop the legacy of the old?
Since the city of Muharraq is so old, there are many empty lots of destroyed houses that the Authority for Culture & Antiquities Conservation Department has started to buy. In these small pieces of land where nothing was happening and only cars were being parked, we made small-scale public squares, like plazas but smaller, where locals and visitors could gather under the trees. By doing this, we wanted to install these small public moments of urbanity, of community. We didn't want to pull a visible line through the city street maze just to make city guests visit the monuments. We wanted to keep the maze, keep the feeling of this old traditional labyrinth.
How do locals use the public space? How does it correspond to their culture?
The modern community of Muharraq is very mixed – there are not just Arabic people, there are also Indians, Pakistanis, and so on. Very different cultures are living together there. This mix actually makes a good opportunity to open up a bit and give this old system a new layer of urbanity and a new public space – which is not traditional in the Arabic world but is very valid today. Moreover, Muharraq is not considered a fancy area; actually, it's a poor neighbourhood. For us, maybe it is old and beautiful, but for most of them, it is just old and dirty.
Dar al Jinaa: Photo: Bas Princen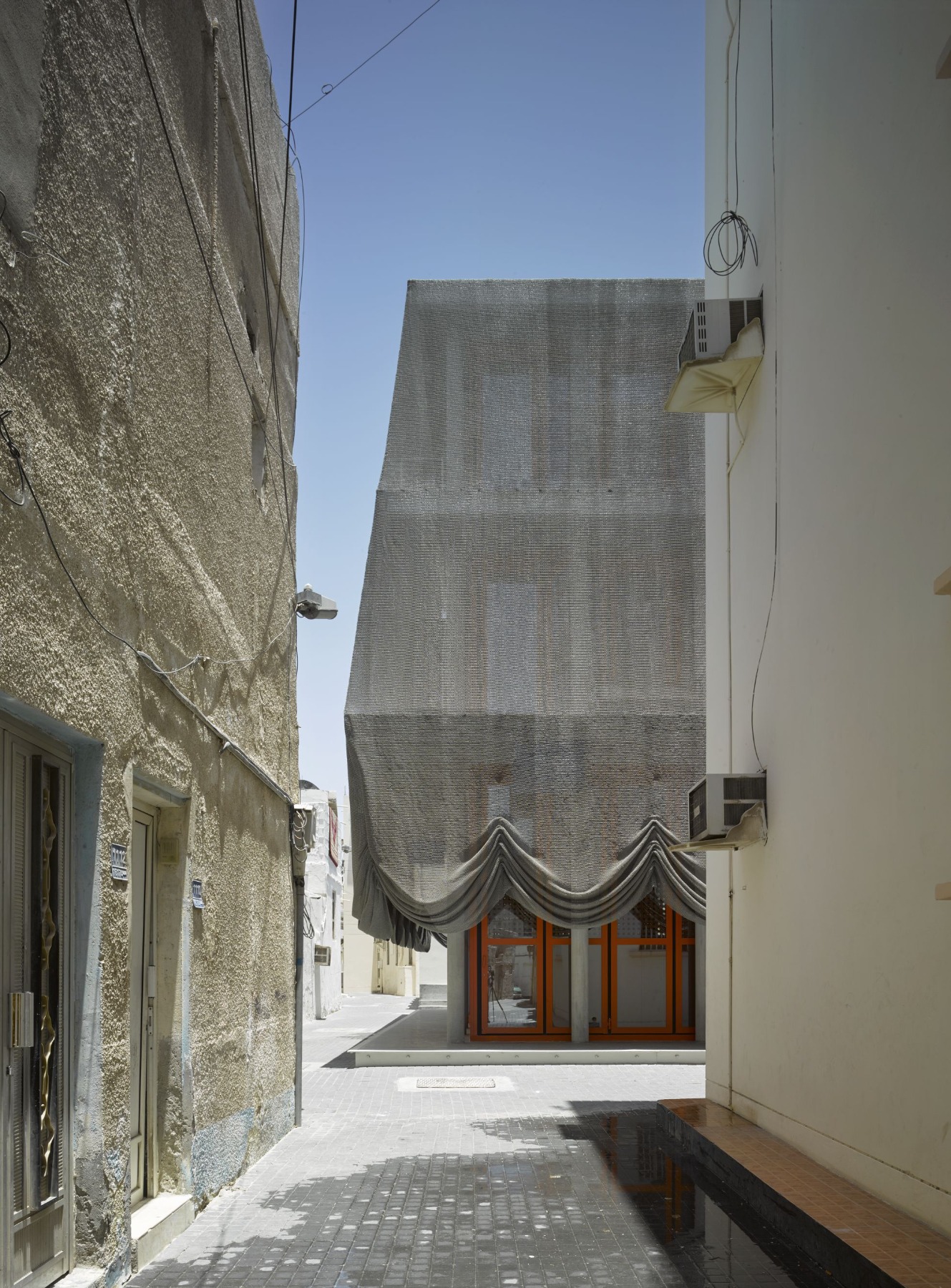 To what extent did you use the local resources in your projects in Muharraq?
Actually, everything was made locally. Even the stainless steel mesh curtains for the traditional music centre. There is a company that makes all kinds of mesh in Bahrain. With this company we also designed a system of cables that was integrated into the mesh and allows us to move it like a real curtain. It was quite amazing to see local people making all of it by hand. It gave a kind of feeling of community – people working together, side by side. And you can also feel a sort of craftsmanship that is involved. Today, there are some little problems with the mesh, but since it is made locally, the local producer can restore it and work with it.
The same goes for the squares and the bridge. The squares are made of concrete, but there are pieces of oyster shells in terrazzo to give a pearly reflection in the pavement. The wells, light poles, and benches are all made locally as well.
Of course, there was a lot of research from our side to get this done. We had to invest a lot of time and energy to see how things could be made there, and to see how we could further develop things. And, of course, we had big ambitions.
Dar al Jinaa: Photo: Bas Princen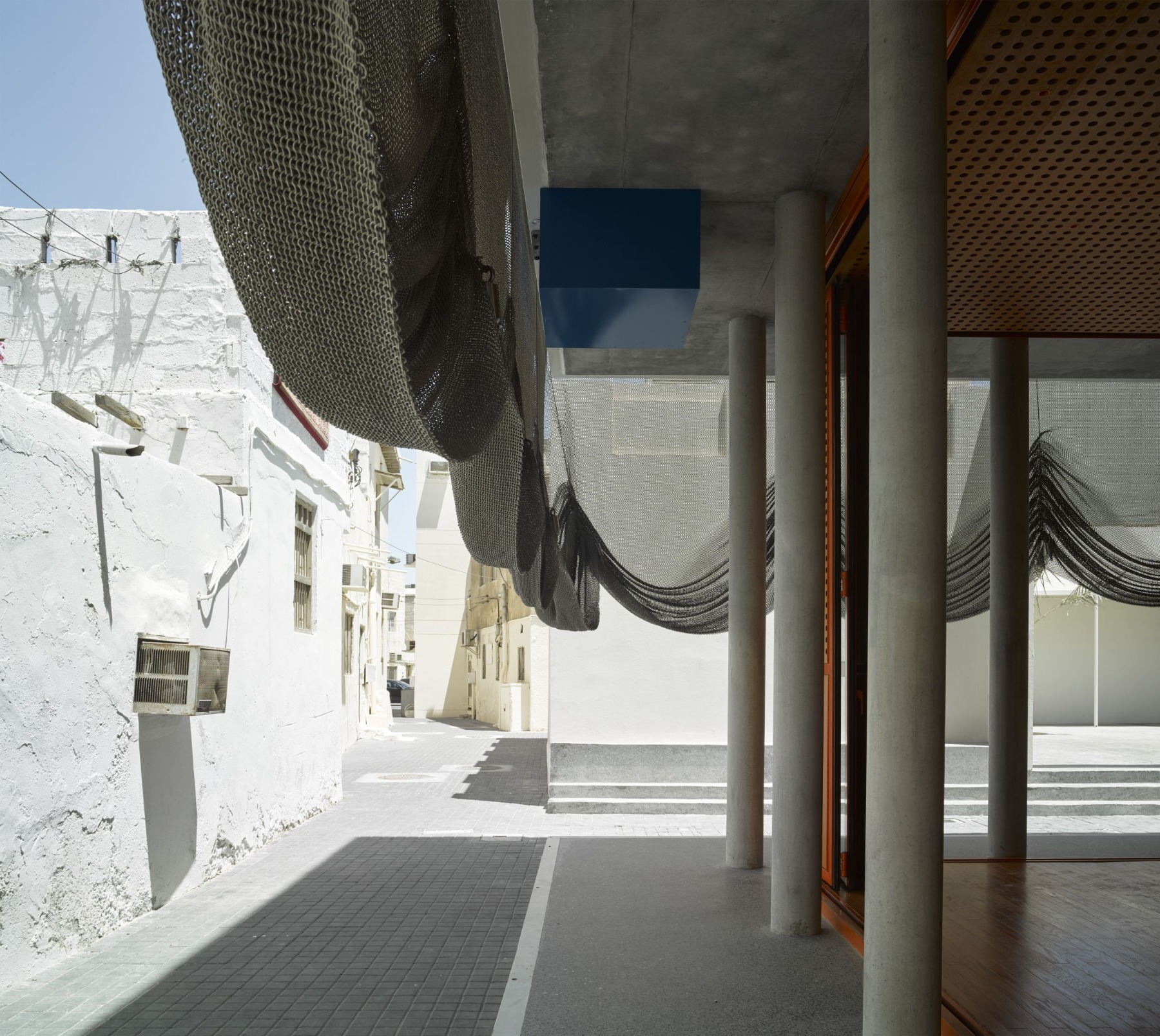 How important is it for you and your office to integrate into the local environment?
It is important, but we are focusing not only on that. I think it is important when you work somewhere that you really need to understand the context and work with it, but there is also a kind of broader ambition. So, I don't think it's only about traditions – you can always bring in new technology and new construction. The idea of the global world comes with many ideas that can be shared.
At the same time, you do have to work locally. Architecture is not something you can do somewhere else and just transport everything. Some things are very specific in engineering. There were things we could do in Belgium, but we had to re-investigate them in Bahrain to see how it could be done there. In a way, it is logical to work locally. And we learned a lot from this experience.
Architecture is inherently related to culture – it is social and political. Architecture always reflects its time. What does the revitalisation project of Muharraq say about modern Bahrain?
We have to congratulate the Authority for Culture & Antiquities Conservation Department, especially Noura Al Sayeh – she is the right hand of the President of the Bahrain Authority for Culture and Antiquities, Sheikha Mai, who is also a woman, by the way, and comes from this area of Muharraq. The renewal project for Muharraq was initiated by her – it was her wish to contribute to the old neighbourhood where she grew up.
It is a very important project for the region. The entire project – the path, the bridge, the dars, the visitor centres, parking, etc. – is an injection of modern architecture into the old city. It is a blending of these very traditional neighbourhoods with lots of immigrants with modern architecture, and in the best cases, it really works together.
It is a success. Of course, we can argue – it is implemented from, let's say, different perspectives of European architecture, but I think that each of the invited architects really did their best to understand the local values. The project won the Aga Khan Award for Architecture – the biggest architecture prize in the Middle East. That shows what a significant and positive effect the project has had on what was Muharraq before and what it is today. They want to finish the whole project by March of next year.
Pearl Path. Photo: Bas Princen
Your work often incorporates a sense of minimalism and simplicity. How do you approach achieving simplicity in your designs? What does it mean for an architect to think clearly and uncomplicatedly, and to give up the ambition of reinventing the wheel every time?
We believe in a kind of essence and simplicity. Architecture is an abstract shape that frames the complexity of life itself. Sometimes you have this mess of the world, and you need to simplify it, or cut out the moment of peace and space. I would say that the best architecture survives all kinds of temporary complexities. It has a timelessness that simply allows the user to be in a space that is not trying to be something else. It is a room, it is a set of columns, and it is geometric shape – it's made in a very direct way so you can understand it easily, and at the same time, it is not trying to be oversimplified.
Maybe it is important also to see that there is no such thing as modern or historical architecture – it is one big thing in which you can see a lineage. If we talk about history, it is not just European history; rather, it's world history. We are talking about Arabic culture and the architecture of courtyards – a lot of inspiration comes from there, in our case. Someone once said that we are a weird mix between Arabic and Japanese architects. Arabic courtyards and Japanese super-refined wooden houses are extremely beautiful, almost modern, and actually simple. You just have to allow the inspiration to flow.
Pearl Path. Photo: Bas Princen
Could you give us a look behind the scenes at the working process at your office? For instance, can you outline the path of how an initial idea turns into a concept?
Behind the scenes, we have 40 people in the office. We work on lots of projects at the same time. The projects inspire each other. There are a lot of overlaps. We always make collages and we have a big atelier where we make models to test things. That gives a certain limitation on how things will work. There are constraints in the sense that you cannot do everything you would like to. It is not a 3D-printed model – you have to cut a real piece of wood, cardboard, foam or other material, and these constraints give you a kind of freedom and help you to create. Of course, there is also the intellectual level of discussions between Kersten [Geers, a partner at OFFICE], me, and the whole team, which is very important in understanding the implication of architecture and the concept. It is always about finding the final form of the project while making it.
Pearl Path. Photo: Bas Princen
How do you think the direction of architecture has changed in these globally very turbulent times? If it has changed at all…
I can mostly describe it from the perspective of architectural schools – institutions and students, of course. You know, three years may not seem like much, but in terms of human life, especially when you are young, it is a lot! The Covid period has been quite tough for them. There were real crises not only economically but also in terms of intellectual sharing. It is important to go outside, meet people, make models and discuss projects around a table, be in a physical presence, and travel. I have a feeling that the reopening of the schools has brought in a certain new energy.
But in a broader sense, I think that things will become more local again. It is good and bad at the same time. We come from a hyper-open globalised world, but it is changing. I am not yet ready to say exactly how, but there will be a small correction in the system. We are still in the middle of an economic and political crisis. I think architecture is a profession that has a kind of rigidity or slowness to it, which helps to put things in perspective. Architecture is not like the latest trend or development in high tech; it is slow. Sometimes that is really annoying, but at the same time, that is one of its greatest qualities. It has a certain level of solidity and calmness that helps to survive the difficult moments that the world goes through. We will see where it goes.
Do you tend to use architecture as a tool of activism in your office? To fight against global geopolitical challenges or local issues?
If you do that, then architecture becomes very temporary – five years later, it's already outdated. Activism, in most cases, does not correspond with the timeline of architecture. When architecture becomes very political, it also is a danger. As a person, as an individual, you can be active, but the actual body of work doesn't have to be exactly the same.
***
Kersten Geers and David Van Severen
OFFICE is an architectural practice founded in 2002 by Kersten Geers and David Van Severen. OFFICE projects differ in scale and type, and range from furniture to urban design. Recent projects currently under construction include the Aerospacelab Megafactory in Charleroi, Belgium; the Swiss Radio and Television building in Lausanne, Switzerland; the Lafayette Department Store in Paris, France; and VRT Headquarters in Brussels, Belgium. The practice also integrates academic research and teaching, thus creating unexpected parallels between the two aspects of OFFICE's production. Since 2018, OFFICE is a partnership led by Kersten Geers, David Van Severen and Jan Lenaerts, together with associates Justine Rossillion, Alexander Smedts and Jacopo Lugli.