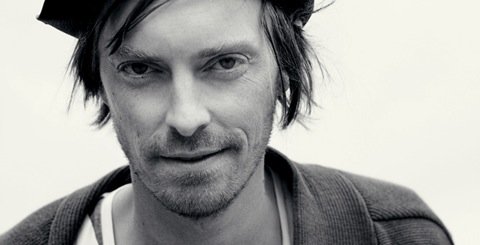 Dynamite Against Boredom
10/06/2011
Henrik Vibskov is among those who have made Danish fashion internationally recognized. Vibskov has a cult following right now, and is one the leading young designers in the world. However, his work isn't limited to clothing collections.
Vibskov's achievements encompass almost all possible forms and expressions of creativity. He surprises, provokes, and entertains, but in his eccentricity he preserves a cool head and a practical approach. This year, the awards committee at Sweden's Röhsska Museum recognized Vibskov as an important avant-garde figure in the contemporary fashion industry, and awarded him a prize of one million Swedish krones.
Vibskov is respected in Sweden, his men's clothing collection is awaited in Paris, and the Henrik Vibskov Boutique has now found a home in New York. It seems almost as if a Vibskov pandemic has started all over the world, including in Riga. In May, Vibskov began work on stage consume design for Hotel Pro Forma's new project War Sum Up, which will debut at the Latvian National Opera on September 2.
As Henrik emerged from the costume department at the opera house in Riga, closing a small sketchbook and stuffing it in his bag, I managed to snag him for a conversation in the opera's café. He boyishly pushed back a cloth cap on his head, and occasionally tugged up over his knees a pair of drooping socks, where he had stuck in the tips of his harem-style pants.
Henrik began the conversation and the meal by bumming a cigarette. Though it seems as if Henrik could puff long and hard on a single thought, he smokes each answer succinctly, without dragging the string of thought from figure to figure in order finally to form a complete drawing.
During the course of the conversation he practically justified his essence as an artist, showing the pragmatic and practical side of his personality. After a while he found his misplaced pack of Camels, which hadn't been lost somewhere on account of Henrik's artistic inattentiveness, but was simply hidden deep in his bag.
Your are the costume artist for the theater company Hotel Pro Forma's new project War Sum Up. The nature of war is at the heart of this musical production. What, to your mind, are the colors of war? And with what colors will this war story be told on stage?
First of all, I must say that the production is a contemporary discourse about a war entered into by modern fantasy superheroes with otherworldly abilities—characters who can be seen in the comics genre and computer games. The production design was inspired by Japanese manga drawings.
When the first sketches were created for the production, they were based on an idea to use the color orange. Yet since an essential visual aspect of the production is the lighting design and the design of the projected images, and light plays off the color white very well, then the costumes will be dominated by the colors white, sandy gray, and ash gray. There will be a total of fifteen costumes, which will use such materials as cotton, silk, jersey, and knits. Only one costume—for the role of the narrator—will have a loud yellow color.
Do I think these are war colors? I don't know…
In street fashion today, we often see the use of war stylistics—camouflage, army-style boots… Is war in style now?
A few of the production's costumes are extensive, with a reference to Japanese Samurai outfits. Of course, I don't see these outfits being worn on a daily basis.
Yet at the same time, Western war-themed outfits and modern variations on uniforms can be seen in street fashion. Camouflage, army uniform pants, jackets, books. I think that their popularity is based on the practicality and functionality of these outfits.
Is this really just functionality!? Is it possible that the choice of these outfits has been influenced by countless discussions about the apocalypse, World War Three…?
Maybe. Yet I still hold to the comfort and functionality aspect. And we can wait once again for the next date set by the people announcing the end of the world… (Laughs.)
On a recent visit to the Textile Museum in Washington, D.C., I happened to be wearing some camouflage. A museum employee reprimanded me: How could I, as a fashion designer, wear something like that?! Camouflage—that means war, killing people, death, blood…! Yet I hadn't thought of things like that; I had thought about comfort.
In general, do you tend to think of fashion in philosophical categories?
Yes, sometimes, but not for long. There can be concepts and philosophies, but in the end there are the consumer's actual needs.
Tell us, please, about your recent projects.
I'm working simultaneously on several projects. Right now I'm working on the costume design for War Sum Up at the Latvian National Opera. Alongside the opera, I'm getting ready for Men's Fashion Week in Paris.
I am also working on projects whose central theme is the panopticon. Right now I have three projects whose foundation is the idea of the panopticon: my clothing collection; a big installation project for the multidisciplinary exhibit Basic Instincts, which will open on June 31 in Berlin and where the panopticon idea will be used in setting up the collection, creating a multimedia zone; as well as at London's Central St. Martin's College of Art and Design, where I graduated from and am now an instructor, and where my students are working on panopticon projects.
It seems like panopticons are everywhere! In the morning, riding my bike along my usual route, I suddenly came across some panopticon architecture that I hadn't noticed before…
The term "panopticon" mostly refers to a prison-type building constructed almost like an amphitheater. The prison guards are in the middle, and can observe what is going on around them. The idea of a circle and a center, and full visibility.
One panopticon idea, three projects. One show by fashion designer Henrik Vibskov, a full performance program. Why do you choose to "get crazy" like this?
If the possibility exists, you should work in such a way that it's interesting for all the senses. So that at a fashion show, your ears have something to hear, and at a concert it's worth keeping your eyes open.
I do it because I'm afraid that at one point I could get tired of what I do. I do it to escape from tedium and boredom, to preserve passion and excitement.
When working on a multimedia project, is it easy to find the "glue" that arranges and unites all the elements and artistically holds them together?
The glue is the illusion about what things should look like. Then there's the striving for a result.
I understand that idleness is not your thing. Is that why you are often referred to as "Danish Dynamite"?
"Danish Dynamite"—that's great! Dynamite makes things explode!
Yet I was given this nickname back when I was studying at Central Saint Martins College in London. Lots of students from different counties studied at the school, and many had their own "character types"; we had "Wonderpower," "The German Huntdog," and so on.
Yet in regards to "Danish Dynamite," that's the name of a Danish football team's anthem, which I think is pretty dumb…
You also collaborate with other artists. Please tell us about the fruits of collaboration in the creative process.
I'm working with a Swedish graphic designer named Andreas Emenius. Together we have completed the art projects The Fringe Projects and The Circular Series. Emenius was my classmate in London, and then moved to Copenhagen because of a girl.
Of course, collaboration doesn't always work, almost like human relationships. It's not easy to collaborate with somebody, if you have already mastered your own system, game, and directions. It's hard to give up your own ways. Alone, you can do whatever you want—if you paint in yellow, then you can do it for ten years if you like. But then somebody interrupts you and asks, "Why yellow? We need pink!"
But to a large extent, everything depends on where you are and what you do. I think it's much easier to find somebody to work with in music; it's more difficult in other fields.
Do you have any authorities in art, fashion, or music?
Fifteen years ago I saw a photograph in a newspaper from a Hotel Pro Forma production and thought, That's so great! Last summer I got an email from this theater company offering me to collaborate with them.
But authorities… I don't know. Possibly all those people who work excellently in their own fields.
In music right now I really like LCD Soundsystem.
How is it for you in music? Would you consider yourself one of the excellent ones?
In order to be excellent in music, you have to get completely lost in it. Yet I couldn't do it as the only thing, day after day. You see, that's a bit boring for me. Performing concerts means eternal waiting, trips. You drive all day long, but only play for an hour or for ninety minutes.
When the drummer for the Rolling Stones was asked how it is to have been the band's drummer for the last thirty years, he answered that he had played in the Rolling Stones for only five years, but had spent twenty-five years waiting. I've played drums since I was a little kid, so for twenty-eight years now.
Is your daily life and your creativity in a single rhythm with the rhythm of a percussion instrument?
I am very stable and don't miss flights that often [the interview was planned the day before, but Henrik missed his flight to Riga. –A.Č.]. I often come close to missing it, but don't miss it. I am a responsible person. If people ask me to do something, I do it; I don't think of excuses, I don't show this here [the middle finger. –A.Č.]. I'm not somewhere up in the clouds! That's why, yes, stability, consistency—those are the things that characterize drum playing.
What has moved you recently in art, fashion, or life?
Wonderful things happen to me all the time. All the time. Two months ago I opened my own boutique in New York. This month I won the 2011 Torsten and Wanja Söderberg Award for design.
What does recognition and receiving awards mean to you?
This is an important prize, the biggest design award in the world, granted by a fund established by the Söderberg family of Sweden. I was given the award by a respectable jury, Danish design was put in the spotlight, and the size of the award is considerable—wonderful! Though nothing much changes because of this.
Nothing?
Denmark will be proud of me!
What is the central quality of Danish style and fashion.
We don't have factories or big products. We have brains, culture, experience, and the ability to define ourselves.
How do you see the direction of Henrik Vibskov's clothing design in the international context?
I will continue to do what I do. With those resources that I have. Without advertising. Creativity, not advertising, is what I do. And what I do for advertising is also very creative.
In the international context, so much money is put into advertisements, ads with supermodels. Yet I think young people are smart and selective. Sure, they can of course buy Kate Moss, if they have enough money, yet they can just as well choose crazy and expressive things. But since the majority can't afford Kate Moss, then it's clear what the direction is…
Please name one utilitarian article of clothing.
One? If I were naked and I had one choice, then that would be underwear. No, socks. Tennis socks. To be naked with socks on—for me that is very OK!
My wardrobe includes lots of long socks, as well as hats and sunglasses.