To Say Things with Fewer Words

21/05/2013
Rolandas Palekas (1963) has a reputation of being one of today's most established and well-respected Lithuanian architects. He is a professor of architecture at the Vilnius Gediminas Technical University, and since 2000 has run his own company, Paleko ARCH studija, which recently completed the work on the most ambitious architectural project of contemporary Lithuania – the building of the monumental Vilnius University Library, Science Communication and Information Center.
The new library is located on the outskirts of Vilnius, where the pine forest has inspired the spatial conception of the project. The three independent buildings are clad with white terracotta elements, but the facades have been carefully arranged so that all joints and gaps are horizontal and run parallel around the building. "We believe that the library should radiate an emotional charge because it is a place of non-material creativity and spirituality. Therefore, we have chosen a scenery of expressively and unpredictably varying silhouettes as the main architectural language," voice the architects of Paleko ARCH studija.
Paleko ARCH studija has already won several awards for its ambitious project, and Rolandas Palekas was recently invited to Riga to judge the Latvian Architecture Award of the Year. The long-anticipated awards ceremony took place on the evening of May 17 and this year, amongst the seventeen projects competing for the grand prize, the international jury gave their votes to the Riga-based architecture office MADE arhitekti and their outstanding work on the Saldus Music and Art School.
Before the winner of the Latvian Architecture Award of the Year was announced, Arterritory.com had the opportunity to sit down with Rolandas Palekas and discuss what it is that forms the foundations of great contemporary architecture today.
Does a term such as "good architecture", or "good design", even exist today?
I think that it does exist. I believe so. The design, however, comes afterwards, as nowadays other things play a more important role in architecture. You should never start with the design. The way I see it is that an architect has to arrange the rooms, arrange the building, from the inside. He has to see the building from the inside, rather than from the outside. Even the concept of the building should start from the inside, and when you build your structure, the design will just happen. It's a reflection of the needs of the rooms. In other words, if the rooms are happy, the facades will be happy, too. (Laughs)
I also think that design has more to do with technical aspects, with detailing. Design has to show quality in physical terms. Here in Latvia, for example, we often saw really good architectural concepts; everything was great, except for the detailing, the final touches or the craftsmanship.
How would you describe your architectural handwriting, your style?
I usually let other people describe my architectural style. (Laughs) Actually, I have never really thought about it. I try not to think about it, because a style has something to do with design. Zaha Hadid or Frank Gehry, for example, are usually considered icons of a specific architectural style, but I would hate to be in their shoes. It must be pretty boring as everybody starts to expect a certain image from you. In terms of style, you become a factory. I appreciate my current situation, in which I have the opportunity to start the thinking process from an empty table, when I don't know what will happen. But, of course, somehow my views are reflected in my work. They are my inner rules. It has nothing, however, to do with one particular style. I like to change. I like to explore new ideas.
But is it important for you that people recognise your projects?
I don't know if they do. (Laughs) It's a good question, but I haven't faced that. Some people have said that they do recognise my work, but I think it's because they know about it. If the people don't know much about architecture, they probably won't see any connections. I think it's the same with most of the architecture today. There are some exceptions, which I already mentioned, but even then people might not be too sure if it is Zaha's project, as today there are so many replicas all around the world. Actually, I have become more and more sceptical about styles. I think it's more important to say things with fewer words. The library project, for example, in the sketch model appeared as an idea of expressive silence and I liked it. But one day, I just felt that it was enough. I realised that everything else should be said as quietly as possible, as neutraly as possible. The expressive forms of the three pavilions were enough – you need to have silence. I tried not to forget that. I am always facing the question of how to make things as simple as possible. If you are not able to say something through architecture, don't say it. If a building needs your explanations to express something, do something else.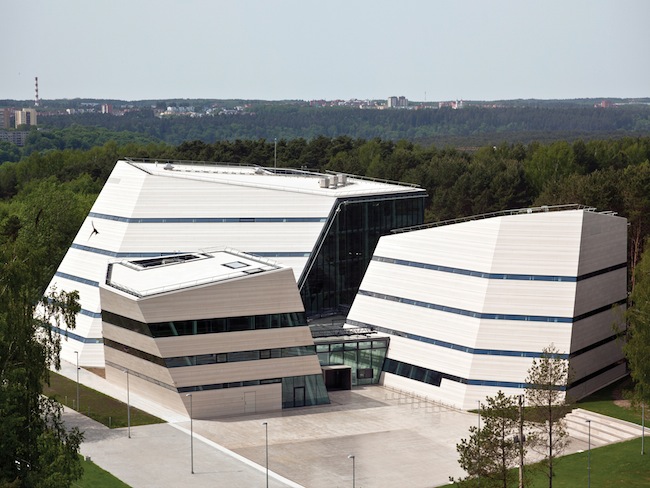 Vilnius University Library, Science Communication and Information Center. © Raimondas Urbakavicius
Where do you draw this line between simplicity and boringness?
(Takes a long pause) It's all about the details, but it is not so easy to achieve. I am not too strong in this regard. Sometimes, when I see simple examples of my colleagues' work and I notice that they have discovered new layers of architecture, I am jealous. I wish I could do that. (Laughs) Sometimes my architecture could be seen as boring, but I would call it neutral. I do, however, think that these projects will stand the test of time. They have continuity. If you make something rich, complicated and colourful, one day you may realise that you are out of fashion. It has become a waste.
Does budget influence creativity?
No. An architect can be creative even with a very low budget. The library, of course, was a big-budget project and usually when you do something different, when you use sophisticated connections, forms and technical solutions, when the building is not just a box, the budget grows together with the building. I know many projects which were believed to cost much less, but then the prices increased twice or thrice. With the library project, however, it was the opposite. The process was so professionally well-maintained that we managed to save money. We didn't spend the entire budget. That is very unusual. This is not exactly what you asked, but I answered your question. (Laughs)
What is more interesting for you – working on public or private projects?
One comfortable thing with working on public projects is that you don't have to be a slave to private views, opinions and tastes. If it is a private project, usually the company or the person who pays the money will want to feel like a king. An architect then becomes a servant in every meaning of the word. He usually expects that. I hate that situation. I do take on private projects, but I feel much more comfortable when I have to do something for the city. I like it when the people who I am talking to are only mediators. They usually understand my situation, and the process is more satisfying for me. I never want to implement something so unique and so unseen that only a private client will allow me to do it. There has never been a problem with that. Also, I will always take something away, if I want to add something additional to the project. I am not the one to do funny, crazy things. (Laughs) That's why I wish to work on public projects.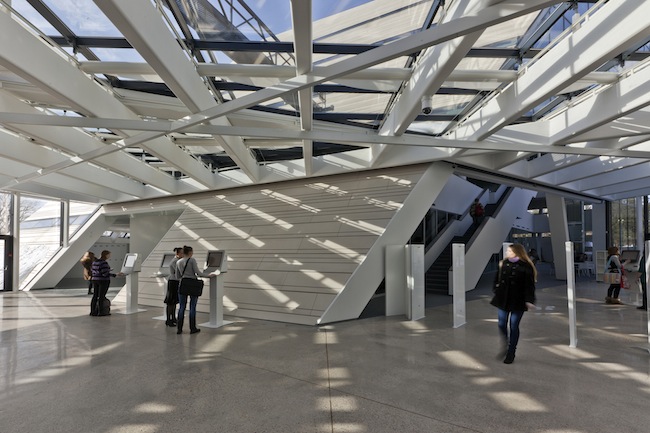 Vilnius University Library, Science Communication and Information Center. © Raimondas Urbakavicius
How open is Lithuanian society to new ideas and new projects, regarding architecture?
I think it is open and it is becoming even more open. In that discourse, everything is changing extremely fast. Young people are travelling, taking exchange years in universities, working abroad and coming back. Even middle-age and older people are doing that. Now it's not so easy to surprise people with some innovative solutions. They have seen a lot already, so everything is merging and becoming more equal. I think that our society is very open.
The team involved in the library project decided to do an experiment – to have the library open 24 hours per day. This idea was introduced from the very beginning, and it worked. It suddenly became an attraction for young people to go to the library to study, to meet in the evenings, to talk, to read, or just to be there. It was a really big surprise. No one expected that by now, we would have around 2000 visitors per day. It is full of young people. The people appreciate the possibility to be there 24 hours per day. It has become a public place. I just hope that this interest will not end when their curiosity passes. I hope that it will last.
Does this mean that an architect needs to know the basics of psychology to really understand how we human beings behave and think?
Definitely. At least, that is how I work. I am not strong in psychology. Actually, an architect could be whoever – the person just needs to have an idea and an understanding. He needs to have principles. He needs to have an imagination in many different aspects, including psychology. For me, psychology plays a very big role in these projects. I really believe that if you are reading a book, or if you have been staring at a computer screen for a long, long time, after a while, you will need to relax your eyes. That is why it is ideal if you can lift your eyes and see the pine trees swaying in the wind in front of you. It helps. Is that psychology?
Have you studied human behaviour, or is your practice, more or less, intuitive?
It is intuitive. I believe in the power of nature. We cannot do anything without the help of nature. Without nature, there is nothing. Maybe this is quite direct, but this is what I believe in. Today we are questioning our national identity. Do we have an identity? Which stage is it in? Do we even need to search for it? But I think that our identity is deeply connected with nature, our surroundings.
In terms of design, it's very tough to do something original today. When you have so much information around you, everything is immediately connected. What you do in terms of design, somebody will find similar to things that have been done in the past… or that soon will be done in the future. So, one way to achieve an original result is to employ the topography – not only the landscape, but also in the physical context. You need to talk to the surroundings. This is what I believe in and what I always try to do. When you have the chance to design and to form a building, you have to create something that you would not be able to take away, to parachute it somewhere else. It has to be something that has grown out of that place. I consider it a very important aspect of my projects.
What is your reaction towards criticism? Do you listen to criticism and take it into consideration for your future projects?
I think that one of the most important things for me is to listen. I have a lot of friends, acquaintances and colleagues in the field of architecture, but only a few of them – one or two people – can be honest with me, they can say the truth to me. I really appreciate that. Even though at that moment you might feel a little bit frustrated with the received criticism, later you think about it and you really appreciate the person who shared his honest opinion with you. I do take criticism into consideration and I evaluate what could be done differently in the future. I especially appreciate criticism from my younger colleagues, my architects in the studio. I always like to work with strong, younger partners. I always doubt myself.
Young students often come to me, as they think that I am experienced and I must know everything. They are convinced that they will get the answers they seek from me. But that's not always the case, so one day I decided to do something about it and I wrote "I know nothing in advance; I am just thinking" on the wall of my office. (Laughs) Now, whenever people come to obtain my knowledge, I just show them the sign.