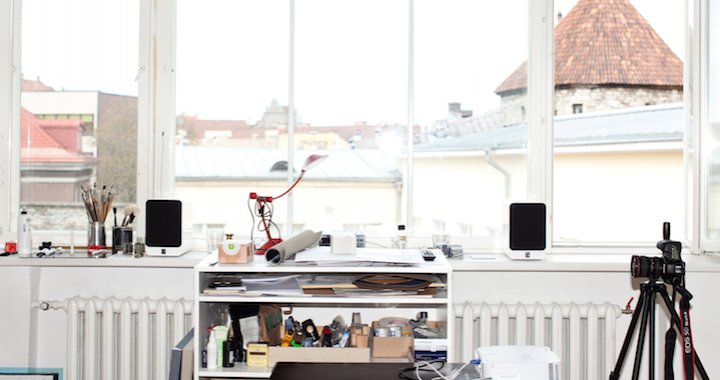 Book release: "Artists' Spaces. 16 studio visits"
A sneak-peek into the working environments of 16 young Estonian artists… all born in the 1980s

20/01/2017
Book release: "Artists' Spaces. 16 studio visits"
Rundum project room (Pärnu mnt 154, 3rd floor, room 304)
January 24, 2017, from 7 pm
Where does the new generation of Estonian artists work? What are the aspects affecting their working spaces, and how is this reflected in the artists' practices? The answers to these questions will be revealed by Merilin Taumaa and Annika Toots on 24 January as they present the book "Artists' Spaces. 16 studio visits". The authors of the book visited 16 young Estonian artists working in a variety of environments: from large production-floor-type spaces to small and intimate home studios, and even a compact mobile studio that fits into a suitcase...
The book consists of visits to the working environments of 16 young Estonian artists and, through interviews and photographic material, exposes the conditions that shape and influence their creative processes. The book is published in Estonian and English.

Studio of Mihkel Maripuu. Photo: Kristina Õllek
Taking into account Arterritory.com's interest in taking a behind-the-scenes look at how artworks are created (we even have an online photo-gallery featuring the studios of Latvian artists that we've visited), we were especially curious to speak with the new book's authors, Merilin Talumaa and Annika Toots, and find out how they put "Artists' Spaces. 16 studio visits" together.
How did you come up with the idea for a book on Estonian artists' studios? What inspired you?
We were contemplating the local art scene, and how it has changed a lot since the latest young generation of artists has emerged. The topics of creating art as work, and artists at work, were the issues that seemed most relevant to us. What is the work of an artist? In what sort of conditions does the young generation of contemporary artists work, and what do they themselves have to say on these topics? It's not only about creating a piece of art, but also about applying for exhibition times, requesting grants, doing the logistics and bookkeeping, traveling, making the necessary connections, and surviving in general. We wanted to show the professional work that goes into the making of art, and what it takes to create a career for oneself in the field. Although, not all artists are willing to show this side of the coin. In many ways, it is still a bit of a taboo to actually reveal too many details about one's practice.

Studio of Kristi Kongi. Photo: Kristina Õllek
Could you elaborate more on the process of how the material for the book was collected?
We selected 16 artists who agreed to share both their private and working spaces with us. Although it was not something that we aimed for in the very beginning, it turned out that they were all born in the 1980s, so we essentially captured one generation. We visited their studios, interviewed them, and took photos of their natural, everyday environments. We wanted to create an informal atmosphere, so there is not a lot of posing, and the interviews are more like conversations on topics that interested us and let us explore further the conditions of contemporary artists working in the local art scene.

Studio of Jass Kaselaan. Photo: Kristina Õllek
What does an artist's studio tell about her- or himself?
The artist's studio tells a lot about the person inhabiting that particular space. One can really see the person's character, as well as the way she or he works. Artists project their ideas in this room. Whether they do it on purpose or not, one can really see the process behind creating art in these spaces. One also notices how an artist thinks about her or his practice and the creation of art. A studio space is always "in the process", so it can be difficult to grasp it all within a short time-frame. Rather, it reflects the very moment and mindset of the person inhabiting it, as ideas are always in a state of constant change. This particularly brings these rooms very close to the way in which their owners perceive the world around them.

Studio of Flo Kasearu. Photo: Kristina Õllek
Can the act of having a peek into an artist's studio change one's perception of that particular artist's work?
It can change one's perception, and that is not a bad thing. It can broaden our understanding of the artist's strings of thought and the resultant work. Yet some artists prefer to keep an artwork separate from the space in which it was created. For them, the process is not part of the work itself, and they don't want to reveal the process behind it. This, of course, doesn't mean that the process is arbitrary or misleading to the viewer.
Could you describe the aesthetics of the book – its design, content, structure, etc.?
The book contains an introductory essay and 16 interviews with the artists, accompanied by photographs depicting the details of their working spaces, as well as typologies of similar objects or angles that we found in many of the spaces. For example: books that they read, art that they collect, their working desks, etc. The structure of the book is built around the different practices which, in turn, have shaped and influenced the characteristics of the studio spaces.

Edith Karlson at her studio. Photo: Kristina Õllek
Could you expand on the design team for this edition?
The book was designed by Jaan Evart, and the photographs were taken by Kristina Õllek. It was truly an on-going collaboration with Kristina Õllek and Jaan Evart, as we all shared our visions and thoughts from the beginning on. The artists were invited to help select which photographs to use, since we had a lot of photographic material.
If this book were a journey, how would you describe it?
It has been a quite long and memorable journey. We have learned and experienced a lot. It was definitely well worth taking it!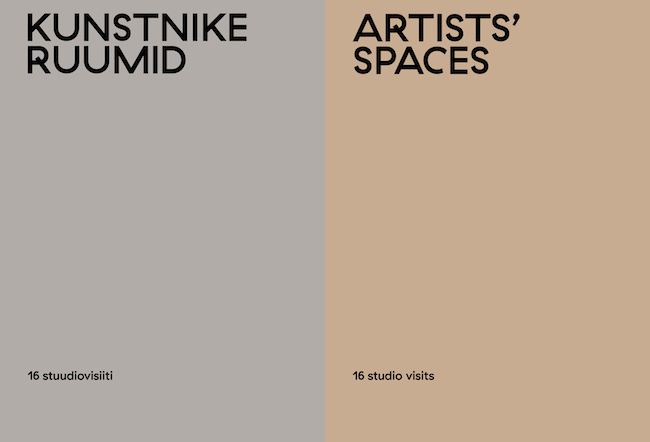 Featured artists: Kris Lemsalu, Laura Põld, Timo Toots, Flo Kasearu, Ivar Veermäe, Karel Koplimets, Kristi Kongi, Tõnis Saadoja, Jaanus Samma, Edith Karlson, Jass Kaselaan, Anu Vahtra, Paul Kuimet, Laura Toots, Mihkel Maripuu, Maarja Tõnisson, and Mihkel Ilus
Interviewed and edited by Annika Toots and Merilin Talumaa
Photography by Kristina Õllek
Graphic design by Jaan Evart
Translated by Martin Rünk, Keiu Krikmann, and Anna-Liisa Laarits
Proofreading: Rachel Kinbar and Michael Haagensen
Copy editor: Neeme Lopp
The book is published by the Estonian Academy of Arts
The release of this book is supported by the Estonian Cultural Endowment, Hooandja, Nordea, the Estonian Contemporary Art Development Center, and the European Regional Development Fund.