VIENNA DESIGN WEEK begins
From 27 September to 6 October, Vienna is becoming a 'City Full of Design' for the 13th time
27/09/2019
Design traditions in Vienna have historically been very strong, from art deco to legendary Viennese modernists like Otto Wagner, Josef Hoffmann, and Adolf Loos. And, as evidenced by the thirteenth year of VIENNA DESIGN WEEK, which begins today and lasts until October 6, design and design thinking is part of the DNA of Vienna's urban environment and lifestyle. Being one of the world's most prominent design festivals, VIENNA DESIGN WEEK is also a platform for creative and experimental processes that affirm/remind us that design is much more than just an aesthetic object that has been created by a designer. Since its very beginnings in 2007, content and a sense of context have been a priority for VIENNA DESIGN WEEK; the festival presents design in a wide variety of formats – from exhibitions, product presentations, workshops, discussions and educational tours that, through design, take us to previously unknown corners of the city, to completely brand-new projects and initiatives created specifically for VIENNA DESIGN WEEK.
VIENNA DESIGN WEEK boasts in attracting more than 40,000 visitors each year, and the festival has already earned the status of having become a virtual magnet for professionals and cultural excursionists.
This year's VIENNA DESIGN WEEK consists of 12 thematic sections – a highlight of each fair is the selection of the festival's headquarters (the iconic but previously closed-to-the-public building above the 'Franz-Josefs-Bahnhof' train station), which are located within this year's Focus District (this year it is Alsergrund/District 9), and the Guest Country, which for 2019 is Finland. For its part, the central theme of the festival this year is Game Design and its impact not only on how we spend our free time, but also on the fields of science, business and research. Having by now become a classic part of the festival, the Passionswege section shows what craftspeople can do with design, and there will also be a special exhibition that takes a closer look at textiles and ceramics, which are now being reconsidered as cutting edge materials. In total, the festival programme consists of more than 120 different events.
Shortly before the start of 2019's VIENNA DESIGN WEEK, Arterritory.com met with the festival's director, Lilli Hollein (daughter of legendary Austrian architect Hans Hollein), and its project manager, Gabriel Roland, to discuss the place that VIENNA DESIGN WEEK has secured in the city's 'design bloodstream' as well as some highlights of this year's festival.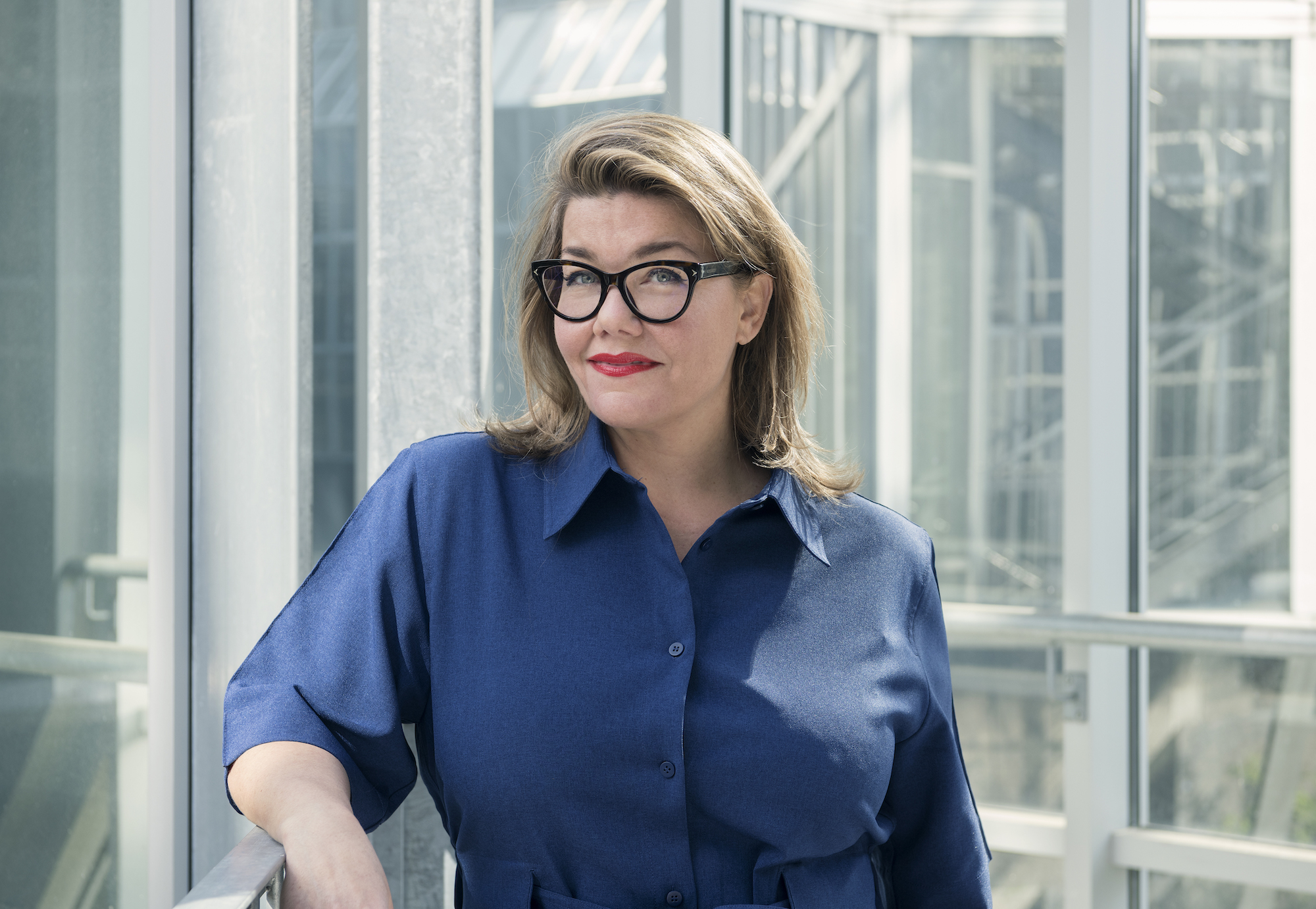 Lilli Hollein. © Katharina Gossow, Vienna Design Week
How has VIENNA DESIGN WEEK developed since it's beginnings, and what do you see as its main impact on the design scene in Vienna? Has the festival been successful at changing or influencing how its inhabitants and visitors view design?
Lilli Hollein: I think that thirteen years ago when we founded VIENNA DESIGN WEEK, there was no platform for the design scene in Vienna. I founded the festival together with Tulga Beyerle and Thomas Geisler because all three of us were convinced that we either have to change it, or we leave. And change was, obviously for us, only possible via connecting the city to the international design discourse.
I think Vienna has a lot of attractive things to offer, and connecting them and making them visible and interesting for an international audience and designers is what VIENNA DESIGN WEEK has been trying to do throughout these years. The festival changes every year (I would say dramatically so) because every year it takes place in totally different areas and venues, which also means different partners, different preparations, etc. It could be said to be following a certain framework in terms of covering crafts, graphic design and social design for many years, but every year these formats are totally new in terms of where they are located and who is involved and so on.
One of the cornerstones of VIENNA DESIGN WEEK is the Focus District – with each successive festival we try to put a spotlight on a certain neighbourhood of the city. People love to come to Vienna but it's altogether clear that if you, for instance, are part of the art world, you will always go to one and the same places. Until quite recently, all of the galleries were located in the Inner City and you had no reason to go somewhere a little bit more suburban. The second reason that made this very important to us was the intention to have a festival which is attractive to both visitors from abroad and people from the city, and how we could get people from the city to return every year. Because if you go to the same venue, sooner or later you have a feeling that you have already been there before. With VIENNA DESIGN WEEK, you most likely will never have this feeling because we open venues that haven't been opened to the public – either ever or not for a long time. And then we throw a different light upon the areas that many people have never gone to. We are discovering them more in detail, we're opening workshops, cooperative projects with craftspeople there, with people who come from the creative industries, etc. So, every year we gain deeper insight into one part of the city.
I think the same is true for the Guest Country. We always try to involve the Guest Country in as many aspects of the festival as possible, thereby giving the broadest possible impression of what's going on in its design scene and the latest developments. It's also been very interesting for ourselves to find out that there are countries where social design is not really much of a topic; they are much more developed in other parts instead. Since the beginning we have looked mostly at eastern European countries, but this year it is Finland.
I think what we definitely have achieved is that VIENNA DESIGN WEEK has its place in the yearly schedule of global Design Weeks. And all of the professionals know that VIENNA DESIGN WEEK is not a fair, but a curated event that always tries to target the newest topics. For example, this year we will look at game design from a new perspective. In our discussions we noticed that it is very easy to say about game design – I don't play games, so I am not interested. But if you look in the media, if you look closer at the science pages of daily newspapers, you will find that a lot of new developments in science, a lot of innovation, is based on the structures and architecture of games and gaming. And we're not looking only at games – i.e. is it a good game, is it fun, etc. but rather – where is it leading us as a society? And this is something I personally find super-interesting because I am interested in the aesthetics of games, too. This is a world in which many of us spend a lot of time. Why would this be so different from looking at an interior design magazine?
Gabriel Roland: We don't react to things that manufacturers and designers already do, but we try to bring topics to the table and challenge people to work with topics that we think are going to be relevant in the future. Turnover-wise, the gaming sphere is by far the largest part of the creative industries. And it is fast-growing. But the discourse is very much a bubble, and that is what we will try to challenge with our format – by creating an open working space where we match game developers and graphic designers and force them to work together and find new modes of collaboration. I think it is very important to open up this sphere and to introduce it to fields that have a lot in common mainly because they're working in the same direction – they tackle the same issues and use the same tools, but they do not talk to each other because there is a certain different heritage, different histories. Coming from traditional design disciplines, people look down at gaming because they think it is just a game. And within the gaming sphere, people often say that they do not understand us anyway and that we are more successful in what we do. What we are trying to prove with this format is that mutual dialogue can be beneficial to both sides.
Lilli Hollein: I know it may sound odd, but something that we are very good at and which we really follow through with and want to offer others is the connecting of people, the connecting of scenes – to make the right people meet at the right moment. I think that's something that's been a large part of the success of VIENNA DESIGN WEEK in its past...and also will be in its future.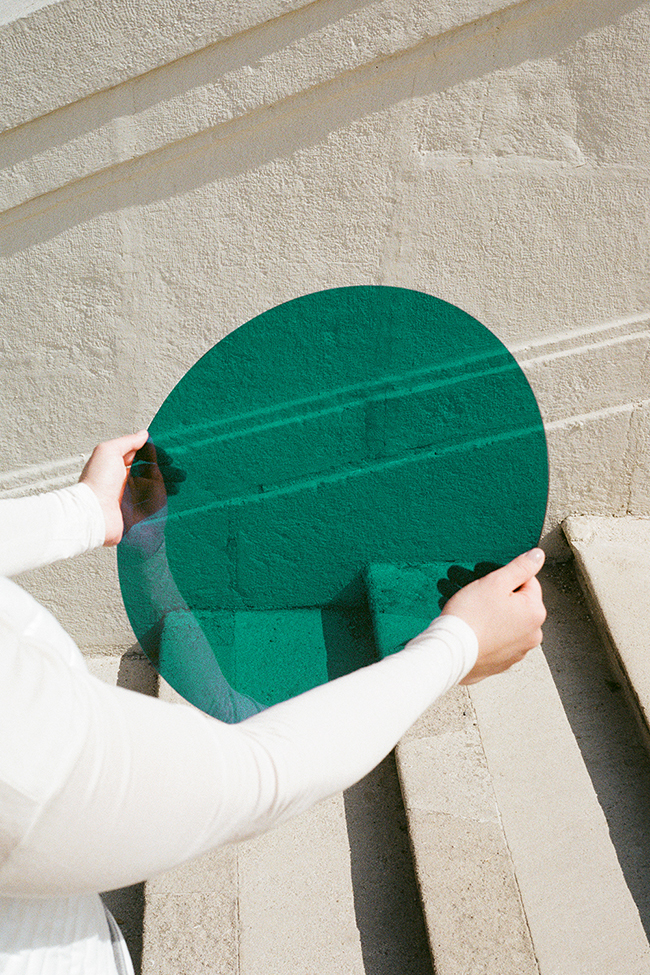 Festival Campaign 2019. © Katarina Šoškić - Bueronardin, Vienna Design Week

Vegetable Living Room Takeover!, Raiseaplant. © raiseaplant, Vienna Design Week
In previous years, the guest focus countries at VIENNA DESIGN WEEK have mostly been central and eastern European countries – Poland, Romania, Hungary, the Czech Republic. This year it's Finland. How did you come up with that choice? The Finnish design scene is already very well known.
Gabriel Roland: To go back a bit: we always understood that Vienna is a gateway to our neighbours – central and eastern Europe. We've had spotlights on very different countries and states of design and it was very interesting for us. But now that we came into talks with Finland last year, it was clear that it would be a completely different experience working with them because the institutions are so strong there and the Finns have this incredible design awareness that permeates throughout their whole society. People understand design as something that benefits them – each person individually as well as society as a whole. And this is an idea, a concept within Finland that is so far ahead of other countries. More than with previous cases, for us it was a mission to learn something from our Guest Country. Our primary partner is the Finnish Institute in Germany, but we're also working with Visit Finland. The content that we have created together is tailor-made for the festival. We have many things that will premier at VIENNA DESIGN WEEK. For example, the main part of the Guest Country's contribution is going to be an exhibition that will focus on perhaps the lesser-represented aspects of Finnish design. When we think about Finnish design, it is very calm, material-based, rational design; serious and sensible design. The Finnish Institute in Germany has commissioned a very young curator/designer called Tero Kuitunen, who came up with the concept Wild at Heart in which he postulates that, beneath this layer of seriousness, there is a very passionate, very colourful and very wild Finnish soul. He illustrates this beautifully with a few meticulously handpicked objects by eleven Finnish designers and brands (Eero Aarnio, Klaus Haapaniemi, Antrei Hartikainen, Tuuli-Tytti Koivula, Tero Kuitunen, Ragmate, Sofia Okkonen, Teemu Salonen, Aamu Song, Johan Olin, and Milla Vaahtera), thereby showcasing cutting-edge aspects of Finnish design through works that include textile and wood design, artworks, and design objects. I think for many of our visitors who know a lot about Finnish design, they will see new aspects of it. After VDW, the exhibition is going to travel to Budapest and Stockholm.

Wild At Heart, Tero Kuitunen. © Styling- Tero Kuitunen, Image- Maija Astikainen, Vienna Design Week
Vienna is a rather traditional city that – at least on the outside – doesn't appear to be undergoing any swift changes as, for instance, Berlin is. How do you select which neighbourhood to make the Focus District of VIENNA DESIGN WEEK?
Gabriel Roland: Vienna is not a city in which gentrification is a massive issue. I am not saying that Vienna is not a growing city – it is – and there are very interesting concepts of the new developing areas in different locations around Vienna. I think the city is doing a lot to preserve this mixed structure that we have in Vienna; it is also preserving the affordable cost of living that we still have and which is based on the history of social housing that has been implemented from the 1980s onward. This is where Vienna was like a lighthouse, guiding other countries to put social housing systems in place. In Vienna, it's still working and it's still going strong.
I agree that the established districts in Vienna aren't changing dramatically, but what we as VIENNA DESIGN WEEK are doing is looking at the character of these individual districts and working out things that might be surprising to our visitors and to locals as well. For instance, last year we focused on the 7th district, which is one of the main shopping districts. This is a district which has become very affluent, very commercialised. If you're looking for design in Vienna, you definitely would go to the 7th – a lot of design studious are there, a lot of educated people live there. It took us twelve years as VIENNA DESIGN WEEK to go there because it wouldn't be the obvious choice, but we did it. You should take a couple of steps back to actually see and discover the things that you haven't seen before in that district in order to bring them out.
In 2017 we were in the 15th district, one of the poorest and the most problematic neighbourhoods in Vienna. A lot of the visitors that year said: you know what, I think this is the first time I've been here. And when people say that, it means that we have done our job. Every year we extend a hand and say: come in, you might have not seen this before.

Analog Furniture, Pro-Ject Audio Systems with Harri Koskinen. © Harri Koskinen, Vienna Design Week
What were your greatest discoveries in the 7th district last year?
Gabriel Roland: The main discovery was definitely the festival headquarters. It was a former Sophienspital, an old hospital, built largely in the 19th century as a centre for community medicine and which had closed down recently. Historically, the 7th district was a very dense urban area and actually, the courtyard of the hospital was one of the largest green areas in the whole district. But it was not publicly accessible until VIENNA DESIGN WEEK decided to make its temporary headquarters there. Essentially, the hospital moved out and we moved in and opened it up. This was also a pivotal moment in the development of the area because the hospital is now closed and the whole hospital complex will be changed. This is one of the roles that VIENNA DESIGN WEEK likes to play – to come into these pivotal moments. We do a little intervention – we ask questions about what directions should the city be moving in, what is needed to attain these goals, etc.
Another discovery was that there was more manufacturing and crafts taking place in the 7th district than we could have imagined. It was a very pleasant discovery. The textile industry, leather working, glass workshops – they all are still there, and they are still making things. We feel that it is very important to the city to have this mixture – to not have a monoculture of shops or apartments or manufacturing, but this lively mixture. We are at the point in Vienna where it is still there and we are trying to promote the benefits that it creates. I imagine it is not always pleasant to live next to a factory, but it creates a certain atmosphere in the city in which you are not alienated from the place where your objects come from. And you still have an understanding that it takes a physical effort, that it takes resources and energy to make the things that we use. I would argue that this creates the kind of mindset that makes you appreciate and value more the things that you have. And it is also a matter of quality of living, in that you can just drop in at the glass workshop around the corner to say: my window broke, could you make me a new one? And they say: sure. You don't have to google it or order something on-line – you can deal face to face with the person who has actual knowledge of your individual problem.

Festival headquarters located in the Althan Quarter. © VIENNA DESIGN WEEK, Vienna Design Week
This year the focus is on the 9th district or Althan Quarter.
Gabriel Roland: It is also, let's say, a bourgeois neighbourhood. It is a university quarter and it has big hospitals; traditionally, many professors and doctors have lived there and it's one of the districts that connects the city centre with the more suburban areas. Again, we have a spectacular festival headquarters which used to be Bank Austria's technical centre up until very recently; it is situated on top of the 'Franz-Josefs-Bahnhof' train station, which is a bit of a landmark. It was designed by Karl Schwanzer, one of the greats of Austrian modernism, and then built by a group of planners headed by the architect Kurt Hlaweniczka. In the coming years, 6B47 Real Estate Investors – the festival's location partner this year – will transform Karl Schwanzer's glass construction above the train station into the newest city centre. It is the largest festival space we've ever had, and so we have more exhibitions, more presentations and more installations than ever. It is also has a very unique atmosphere – a 1970s vibe.
The Althan Quarter, occupying an important place in the city's fabric, is more than a simple concentration with a variety of functions: it also provides space for an eclectic variety of social life and urban biodiversity. The district is important with crafts workshops ranging from glass works to carpenters, book-binding, metal coating, and so on. Probably the most exotic workshop we have there is the manufacturing of tiny toy solders. We've got it all! It's at the workshops where we show the collaboration between designers – we invite and commission them to make a project not at this space, but with the craftspeople. Dialogue is at the heart of this format; we really pay close attention to the two sides and have a very open discussion – not one in which they lecture one another, but one in which they work together and make something that they both are passionate about. It will not be just a beautiful object, but it will also tell a story about the craft, about the place, about the people creating it. This individual-based talking about technology, crafts and objects creates a sort of mindset that makes people value what they have. Which is, I think, a very relevant thing to do.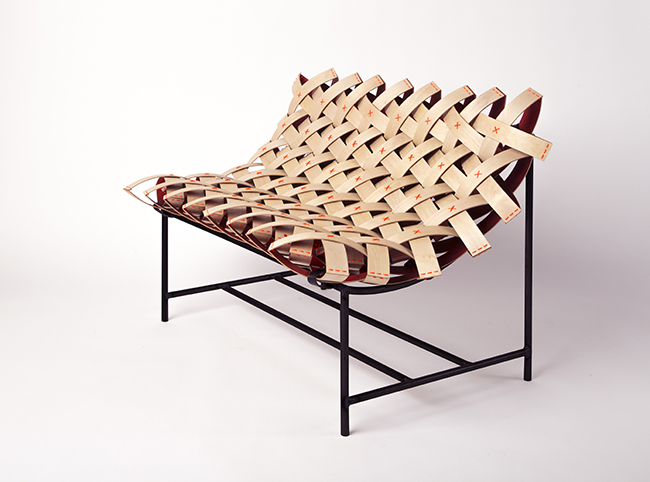 MOWO move with wood, Lisa Stolz. © Lisa Strolz 2019, Vienna Design Week

Surfaces!, NEU-ZEUG. © NEU-ZEUG, Vienna Design Week