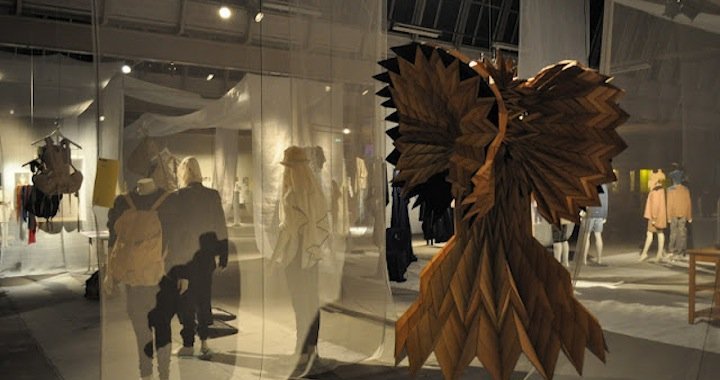 "Room Story", by Keta Gūtmane, Is Part of a US Exhibition. An Express Interview

28/10/2013
The Latvian fashion designer Keta Gūtmane is participating in the prestigious US exhibition, "A Queen Within: Adorned Archetypes, Fashion and Chess", which will run from October 19 through April 18. Held in the World Chess Hall of Fame in St. Louis, the exhibition bring to the forefront the queenly archetypes as seen in fashion, and how they have influenced innovation in the imaginations of designers. The exhibition's curator, Sofia Hedman from London, believes that the display will present a completely new take on fashion and fashion shows. "There is something fascinating about the queen's role in the game of chess. The queen breaks the rules. On the chess board, she does what she wants. When we began to research how this type of thinking influences fashion, especially private collection works, it became the starting point for the exhibition – we had an important story that had to be told," says Hedman, who has organized and arranged many exhibitions in London, Tokyo and Stockholm. In the "Queen" exhibition, Keta will show her 2010 project, "Room Story", which will be displayed along works by such icons of design as Alexander McQueen, Henrik Vibskov, Hussein Chalayan, and Jean Paul Gaultier.
The World Chess Hall of Fame is a non-profit organization with the aim of popularizing the relevancy of chess in culture and art. It was founded in 2011, in St. Louis, Missouri, and its galleries are housed in a historic, three-story building.

Fashion short film Creak by Keta Gūtmane and Mārtiņš Grauds
Keta Gūtmane's works are not only fashion; in creating her projects, it is important to maintain a contact between fashion and art. By cooperating with artists working in other mediums, a much wider spectrum of opportunity for expression opens up. Keta's installation "Room Story" came about by working together with the director Mārtiņš Grauds. Consequently, they also made a fashion-themed short film, "Creak" (2010), in which clothing has the starring role.
Keta Gūtmane sat down for an interview with Arterritory.com the day before the exhibition's opening, to talk about the exhibition and her parquet-floorboard-dress – "Room Story".
What are the most important aspects of the exhibition "A Queen Within: Adorned Archetypes, Fashion and Chess"?
A significant aspect of "The Queen Within" exhibition is the distinct approach of its curator, Sofia Hedman: in making exhibitions, she brings conceptual fashion and art to the forefront – in order to popularize experimental fashion.
The exhibition's main theme and starting point is a study of the private collections of Alexander McQueen: how McQueen, as a designer, interpreted the archetype of the chess queen in his collections, and how his thinking influenced fashion overall.
Another essential part of the exhibition is the inclusion of works by radical and experimental designers: Charlie Le Mindu, Iris Van Herpen, Hussein Chalayan, Hideki Seo, Henrik Vibskov, Hussein Chalayan, Jean Paul Gaultier, Maison Martin Margiela, Writtenafterwards, and Viktor & Rolf.
What makes the exhibition even more interesting is that it is being held in the World Chess Hall of Fame in St. Louis, thereby locking in the concept even more boldly.
What does it mean to you to be participating in this exhibition?
It is a great honor and joy!
How did you conceive the idea of "Room Story", and what is its narrative?
The origins of "Room Story" can be found in the Cēsis Art Festival, where I took part in a group show with just a rather small part of the installation that you see today. Over time, the initiatory work took on a story: the dress became "larger" and more whimsical, and it became the main character of the short film "Creak" (directed by Mārtiņš Grauds).
The concept of the installation is based on playing with sensory perception; it was an attempt at giving a different meaning and function to seemingly every-day, stereotypical objects. A significant challenge was the experimental use of non-traditional materials as textile.
Where has "Room Story" been exhibited?
In Latvia, France and the Netherlands.
Has the work been received differently outside of Latvia? – As more of an artwork, or as fashion design?
It's hard for me to discern – I don't know how my installation was received in Latvia. Curators or other industry representatives in Latvia haven't approached me about including the piece in other exhibitions. I think that the piece has garnered an acceptable amount of attention outside of Latvia – it has received great interest and complements. I've noticed that when exhibited, people are very animated as they look at the object – they walk around it, they aren't afraid to come closer, or to critique it – it's quite a lively viewing experience.
Are you working on any new projects right now?
I'm currently very engaged in creating my own label. It's like I'm on thin ice. When the right time comes along, and with some patience, everybody will find out what Keta has been coming up with during all this time.

Maison Martin Margiela. 2011

Pam Hogg, 2013

Serena Gili, 2012. Photo: Kirill Kuletski I-D Online

Alexander McQueen, 2011 (c) S. Carmody Photo, Courtesy of Private Collection