A Collection That Fits Inside a Cupboard
An Interview with French Video Art Collectors Isabelle and Jean-Conrad Lemaître

08/05/2014
It takes courage to collect video art. Perhaps only the collecting of performance art takes even more courage. To steer your passion and efforts towards something non-material – that always demands the taking of risks.
A digital video work, a copy of it, and a certificate. That's it. The collecting of art in this form doesn't take up much space, nor does it need insurance outlays. And nevertheless, video and new media artworks make up only 10% of the world's art collections, while paintings make up 83%.
In the case of exhibiting video art, the issues are altogether different – even though video works require a specially-suited environment with access to technology, the most essential requirement of all is the viewer's time. It could be that this is why the popularity of this genre has been slow to take hold: the "technology-era" audience still has to struggle through the conflict that it has with itself, and in addition, it has to accept that even though a video artwork has been created in an era when "everyone is short on time", this genre of art specifically requires time – on average, ten minutes – and sometimes more.
Although video is the absorption of scenes from the real world, it's different with a video artwork – it has been formulated by the artist's own individual vision and language. It is specifically video art – as an alternative vision of the world – that has been chosen by the Parisians Isabelle and Jean-Conrad Lemaître as the subject of the collection that they have been gathering for the last fifteen years.
In February of 2014, Larry's List, the leadings database on art collections, listed the Lemaître's collection as one of the world's top ten significant collections of video and new media art.
The Lemaître's started acquiring videos in 1996 – a time when video recording technology had already been widely available outside the walls of the television studio. Bill Viola, one of the pioneers of video art (and whose substantial retrospective is currently on view at Paris' Grand Palais through the end of July), once said that as soon as the format of video appeared in the world, artists instantly knew what to do with it. And without any hesitation, the Lemaîtres began to follow this new medium used by the artists.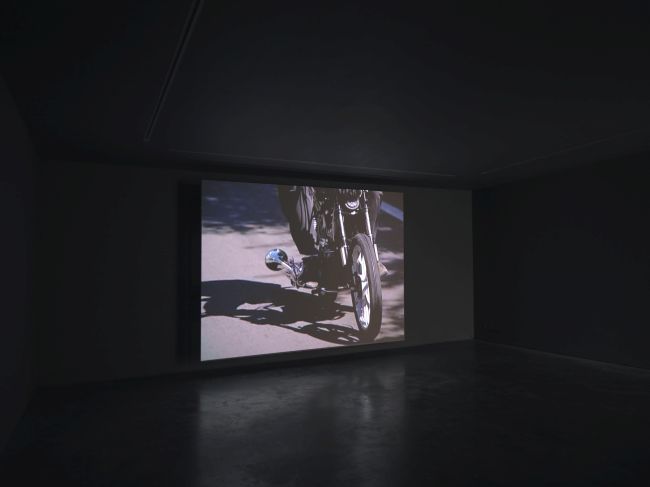 Allora & Calzadilla. Returning a Sound, 2004. Single-channel colour video projection with sound. Courtesy the artist and Lisson Gallery
Many impressive artists can be found in the video art collection of Isabella and Jean-Conrad: Gillian Wearing, Mark Wallinger, Tacita Dean, Isaac Julian, Steve McQueen, Keith Tyson, Mario Garcia Torres and Sebastian Diaz Morales, to name a few. At its start, the collection may have focused more on already well-known artists, but now the Lemaîtres tend to look more towards the efforts of emerging artists.
A myriad of nationalities are represented in the Lemaître's collection, with works hailing from such countries as Argentina, Mexico, Israel, Lebanon, Lithuania, Estonia, Turkey, Japan and China, among others. Having works from every continent is a logical extension of their own life journey -- Jean-Conrad Lemaître's work in the banking sector required numerous moves and adaptations to new cultures – the USA, Spain, Belgium, the UK; not to mention business trips to Middle East and Far East.
Currently the Lemaîtres are active participants in museum exhibitions, as well as dedicated festival organizers and supporters. They also take part of acquisitions committees in French museums.
During our conversation in their Paris home not far from Trocadéro Square, for one brief moment I hear in my head that earworm from the 80s – from The Buggles' hit song, "Video Killed the Radio Star", that line in which the singer laments: "...pictures came and broke your heart, put the blame on VTR..." But then Isabelle speaks up: "I've always said that if it weren't for this collection, my husband would be, if not quite clinically dead, then dead on the inside, art saved him. His work in banking was quite serious and often dry, but collecting gave him the gift of another, parallel life."
How did your passion for collecting start?
Forty years ago, we started collecting engravings. Paradoxically, we ended up at video art, which, in a certain sense, is an etched format – just like engravings.
However, there was a period between the engravings and video art that we devoted to contemporary art – paintings, some sculptures and photographs.
We left France in 1977, and returned to Paris only five years ago. We spent thirty-two years away from our home country while Jean-Conrad worked in international banking.
We bought our first contemporary artwork in 1983, in Madrid – it was a work by Fernando Zobel, and it inspired our interest in Spanish painting. We then added to the collection additional paintings by Spanish artists such as José-Maria Sicilia, Barcelo and Tapies.
After four years spent in Spain, we moved to the UK, which is where we turned to few sculptural works – because the British artists had been mesmerized by the accomplishments of Henry Moore.
That's how we began to diversify the collection. In the 90s, while in the UK, we became interested in photographic works, but by the end of the decade, we had turned our focus on video art.
What was it in contemporary art that spoke to you back then, leading you to make such a drastic turn away from the genre of engravings?
You could say that it was a discovery that happened to us in the Spanish city of Cuenca. We understood that we could acquire the works of the artists around us for an affordable price. Before then, we had perceived the art in museums as icons, like, for instance, in the Louvre. They seemed unattainable. We hadn't even entertained the thought that they could be taken off of the wall, bought, and brought home. When we entered the gallery and saw that works by the same artist whom we had just seen in the museum were available for sale, we understood that that is what we must do!
That's how we started acquiring works by Spanish artists. We later turned to British and international artists – Richard Long, Richard Deacon, Tony Cragg, Sugimoto, Gerardt Richter.
What was the mood in the European art world at the time, and what place did collectors have in it?
For example, in Madrid, before the counter-cultural movement of La Movida Madrileña in 1985, many artists were living outside of Spain – either for political or other reasons. After La Movida Madrileña, the new generations of Spanish artists began to return. That was a very active time and it perfectly coincided with our time there – from 1982 to 1986.
There were very few art collectors in Spain at the time, but it slowly began to move forward. Collecting contemporary art was rare in London as well, before the 80s. It became more common only at the end of the decade, which is also when the Frieze Art Fair fervor began. The prestigious Turner Prize, which was supported by television channel 4, was also established in 1984. Those were the turning points that served as the stimulus for the new artists' activity.
Contemporary art began to take its position back then, and we, as collectors, were right there with it. In the 90s, bit by bit, the art world became friendly towards collectors.
I still remember the first exhibitions in Europe in which people could get a look at private collections – one of these was Belgium's Chambres d'Amis organized by Jan Hoet, founder of S.M.A.K. - the Municipal Museum of Contemporary Art, in Ghent, Belgium [Chambres d'Amis was an innovative exhibition in Ghent in 1986. In that show, about 50 American and European artists were invited to create works for 50 private homes in Ghent, which were then opened to the public for several weeks – A.Č.]. Whereas in France, Suzanne Pagé showed her collection for the first time at the Musée d'Art Moderne de la Ville de Paris, in the exhibition titled "Passions privées".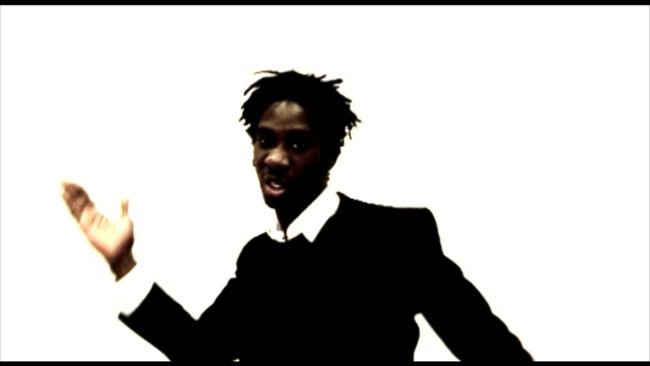 Moussa Sar. L'étalon noir / 1'35 / 2011
What led you to video art?
Interestingly enough, it was photography! Artists working with photography began to gravitate towards, and use, this new medium of video. Since we tended to follow along with what artists were doing, we also followed them to video art. In addition, we've always been cinema freaks and love. So, through video art, we've been able to bring our passions together.
Every time we moved to a new city, we would invest a lot of time researching the local art scene. We'd buy works by artists from the country in which we were living, thereby creating new acquaintances – a new family. That's also why the first exhibition of our video collection, in 2006 at La Maison Rouge, had artists representing eighteen countries.
Without your traveling the world, the collection wouldn't be what it is...
Getting involved in the art world was the way in which we discovered for ourselves the culture and country in which we had to live. It opened the door to the art world at-large – it allowed us to learn about the culture, to think more broadly.
What was the first video work that you bought?
That was "Boy Time" (1999), by the British artist Gillian Wearing. In the piece, four young adolescents attempt to keep up the illusion of a group portrait. Staying still in one position for a whole hour – that's not easy for youngsters. Boredom creeps in, as does irritation, griping, and cursing at curious passersby. The still pose begins to fall apart. And the artist films this. It's an interesting work!
We bought it from a London gallery. We then continued with works by Steve McQueen and Mark Wallinger, Tacita Dean and then we began to look beyond Europe.
You mentioned that every time you came to a new country, you gathered others around you, just like a new family. Do you mean to say that you tend to also foster a personal relationship with the artists?
People want to be next to the artist because in that way, they are closer to God – the artist is a creator.
Overall we try to select a work before we meet the artist. The main thing is meeting with the artwork, because the problem lies in the fact that on a human level, a mutual affinity can influence the decision making. We want the work itself to move us. We collect works, not artists.
We like to organize dinners and parties in which we meet with the artists, creating encounters, but we only do that after the works have already been acquired. We also like to follow the evolution of the artists' work.
Do you watch the works repeatedly? How does your perception of them change from one viewing to the next?
You could ask the same thing about books and other works. Someone once said that you can read the same good book in your twenties, forties and sixties, and you'll find something new with each reading.
The contents of a good artwork must be very rich. The more interesting it is, the harder it is to completely grasp it. It's the same with video works – with each viewing, you understand how multi-layered it is, and how much you missed the previous times you watched it. The more you watch it, the more you discover! That should be a feature of every good artwork. The piece must have depth and a gravitas that is enduring... Sometimes a work can really captivate you at first, but after a while, you realize that it's actually quite flat.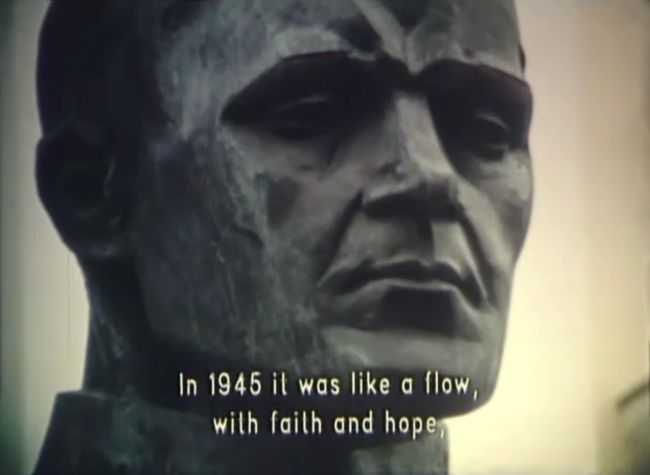 Deimantas Narkevicius. Kaimietis, 2002
How large is your collection?
It isn't large! It fits in one closet! (Laughs)
We have more than 150 video works, based on deeply personal choices. We don't listen to other people, except some close friends curators with whom we discuss, we don't follow trends.
Video have started in the 60s – along with the pioneers Nam Jun Pek, Vito Acconci, Bruce Nauman, Bill Viola, or at the end of the 80s – when video art experienced its renaissance.
Most art collections consist of various kinds of works – rarely are they focused only on video.
How do you store your video art collection?
We have two copies of the collection on two hard-drives. Some video works can be reviewed in the catalogs of our exhibitions at La Maison Rouge and Kunsthalle Kiel.
Of course, a collection of this sort doesn't require much space, it doesn't need a warehouse, and the works are easy to loan out to exhibitions. There is no issue with transportation, and no need to insure.
Are there any themes or issues on which your collection specializes?
No. Actually, we can't follow any kind of thematic framings. We choose by "coup de coeur" – our favorite – when it comes to acquiring works.
Putting together an exhibition according to some set theme is also a dangerous thing – it could be that the artist's intentions correspond to the framework of the theme, but the piece itself is in not necessarily the artist's best work.
We don't have any thematic frameworks, nor does the collection have any specific geographic focus; however, it does have a certain precision. After fifteen years of some video experience, we have formed our own definition of what is video. We like a work if, in our opinion, it really is a video artwork, and not a documentary piece, short film or clip.
Our collection is a reflection of our taste and understanding of what is video.
What, then, is a video artwork?
Image, sound and movement. This combination of all three.
What sort of video artworks speak to you?
We like very simple video – without any expensive meaning to it. In our opinion, that is the biggest difference between cinema and video.
Any other essential differences?
The main difference between cinema and video art is that a video can exist without having a story. A film has to be seen from beginning to end, whereas a video, often times, has neither a beginning nor an end.
In addition, they can be viewed in an exhibition while you are moving about the room; one doesn't have to be sitting, or in a static position.
What is it that separates a video work from a cinematic film in terms of quality?
It is ever more difficult to discern a difference in terms of quality. The precision of today's video is getting increasingly better; video technology is hot on the heels of film!
In 2008 we saw how the British artist Steve McQueen made his film debut with "Hunger", and`received Hollywood awards for his third film "12 Years a Slave". There's a whole slew of artists that have come to video art.
How important do you think is the environment in which video works are screened?
The artist has to indicate that; only he can say. When putting together an exhibition, the exhibition space and the collector should come to an agreement with the artist about this.
We have been firm in pointing out to museums that they must take into account the preferences of the artist, because those are part of the work. Video is visual, and it must be presented in a visually suitable way – so that it doesn't loose any part of itself.
In the last five years, we've had several exhibitions. We always ask a curator and have never done exhibitions on our own – it's important that all of the problems associated with exhibiting are solved.
How much of an interest do museums have in video art?
The interest is growing, museums have always bought video art.
When we had just begun acquiring video works, and still weren't well-known as collectors, we had to fight against museums and other institutions in the galleries – the dealers wanted to sell only to museums and institutions in order to ensure that the works would be publicly shown.
The Stedelijk museum in the Netherlands acquired some new works – their collection is top-notch. The Pompidou Centre has the largest video art collection in Europe. The Tate Modern has shown interest, but they only started showing video exhibitions in 2002 with Time Zones exhibition, which rather late.
You see, video works have finally been accepted as works of art. Before, it was looked upon as a consumer product, just like photography had been previously.
How do you evaluate the public's interest?
The older generation believed that a work of art must be a physical object. Video is not material. Today we can see this transfer from the material to the non-material; this non-material form is much more understandable to the new generation, and that's why interest in video art will never fade.
How accessible is today's video art?
People mistakenly think that art is only for the rich, only for the elite. That's not true. Although there are works with high prices, at the same time, there are many emerging artists whose works are very accessible in terms of price.
If a person wants to, he can acquire them, because in our opinion, it's not a well-known name that will ensure that you get a work that you really want, that you really like. In addition, if a person has a knack at spotting good art, sooner or later he'll see that the artists that he's bought are beginning to gain recognition.
We know of occasions in which young people – a group of friends – have pooled their money and bought a video work.
If people want to talk about money in the context of our collection, then that's where the conversation ends – we have nothing to talk about.
Could you talk about the activities through which you deliver your responsibility as collectors?
We are very active collectors. When we buy a video work, we don't hide it – we show it, we share it.
We are active members on museum boards and on acquisitions committees.
Jean-Conrad is the chairman of LOOP Barcelona, the video fair; I work on PR, inviting collectors, he selects galleries and works. We've been supporters of this event for the last ten years.
We have created a festival in Burgundy called Video Video. Collectors show their collections there, and emerging artists show their works.
In 2007 we established a new award for video artists, the VideoCollector Prize, with the Studio National du Fresnoy in Tourcoing (France); each year we select a collector who accepts to select a winner among the annual exhibition "Panorama" at Le Fresnoy and give out the prize.
Something else that we do is educational work in schools, and we talk to people not only about our collection, but also about what has been going on in the field in the last fifteen years.
We support the creation of works, but we never finance the act of creation – we only buy when the work is finished.
Who are some of the new and emerging artists in video art that are worth following?
We quite often acquire works from students at the Le Studio National du Fresnoy, best school of media in France. The school is in the city of Tourcoing in northern France, and it has a powerful audio-visual department. It was for this school that we established the VideoCollector Prize.
But on a whole, we have our own taste and these are our personal searchings, and that's why we believe that everyone can choose what they want – as long as you have enough time and your legs are strong enough to walk through the gallery stands and numerous fairs. The artists are many, and they work hard. We went to a fair in Singapore, and then to Istanbul and other places closer to home – to keep on discovering...
In April, the LABoral Art and Industrial Creation Centre in the Spanish city of Gijón will be organizing an exhibition of your collection titled "Universo Vídeo – The Magic of Images". Could you tell me some more about this exhibition, as well as the usual procedure you follow when organizing exhibitions of your collection?
These will be twelve works freely chosen by the curator Benjamin Weil, and brought together under the title of "The Magic of Images".
We never select works for exhibitions ourselves because they are all very dear to us. We always let a curator do this. The process is exciting, and there is so much that you can learn about your collection and yourself while going through it.
When the curator Christine Van Assche was putting together our first exhibition at La Maison Rouge, she pulled out pieces from our collection that we had never even thought about putting together with one another – political, geopolitical, always very humanistic...
And for the first time, we saw with our own eyes several of our works together – because we had usually watched them individually. All of a sudden, they're on the walls – and there are 2000 square meters of them!
How has collecting influenced your relationship as a couple?
It's brought a lot of joy and fun! We've gone on trips, we've had arguments, we've gone through intellectually stimulating processes together, we've been curious together... We continue to do this, and it keeps us young!
We search and find together. Jean-Conrad makes the final decision, whereas I do the organizational work. After the houses have been built and the children raised, collecting has allowed us to build something new in our relationship, like a real construction.
Is it necessary to have a special way of thinking, of feeling, to create a collection like this?
Courage is necessary. Video art is non-material – it's not simple. Even more courageous are the people who collect performance art! At least we have a piece of plastic! But you certainly get a certificate and a master for acquiring videos.
One also needs to have an artistic sensitivity, curiosity and passion as we both have.