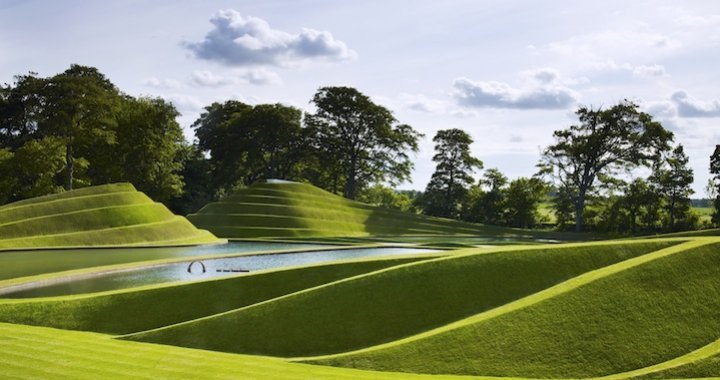 A Place for Synergy Between Art and Nature
An interview with Scottish art collectors Nicky and Robert Wilson

12/05/2014
"Jupiter Artland" just may be one of the most visually vibrant contemporary art collections in modern-day Europe. Spread out upon 100 acres (40 hectares), in the middle of it stands the Jacobean architecture of Bonnington House, home to the collection's owners – the sculptress Nicky Wilson and her husband, Robert Wilson, owner of a chain of homeopathic pharmacies; it is also the headquarters of the Jupiter Foundation. The Wilsons acquired the property in 1999, deciding to move from London to Scotland in order to live in this rural setting just a mere seven kilometers from Edinburgh. Nearby is the "Little Sparta" sculpture garden created by Ian Finlay (1925-2006) – Scottish poet, writer, artist and gardener – and which is now accepted as an essential element of the Scottish landscape's cultural canon. Some of Finlay's artworks are also included in Jupiter Artland. His "Temple of Apollo", now ensconced by verdant trees, was originally planned to be located in Little Sparta, but it turned out to be a much better fit for the landscape of Jupiter Artland.

Temple of Apollo. Ian Finlay. 2005. Photo: Allan Pollock Morris. Courtsesy of Jupiter Artland
The mutual interaction between the land and the art is what dominates the Wilson couple's way of thinking and how they take action. During our conversation, they often return to the dictum, "art enriches the land, and the land enriches art". They are also adamant supporters of the educational aspect of art – that it is an instrument with which it is possible to cardinally influence the way that children and young people think. Their desire to share with others was the impetus for the 1999 opening of the manor's stainless-steel main gates (titled "Sputnik", and designed by the architect Benjamin Tindall) to not only their friends, but to everyone who wishes to enjoy a long, art-filled walk on the manor's park grounds. The synergy between the landscape and the art is truly magical. Later in our conversation, Robert Wilson, a homeopath himself, explains that art – much like homeopathy – has healing properties.
Filled with green, spiral-terraced hillocks and man-made bodies of water, the field which opens up at the end of the manor's tree alley is reminiscent of a cosmic plane, its lawn touched-up by the hands of a perfectionist hairdresser. Called "Life Mounds", the scene was created by Charles Jencks, the American-British architectural theoretician, critic and landscape designer. It is the first work of art commissioned by the Wilsons, as well as the most publicized of the pieces to be found at "Jupiter Artland". According to Nicky Wilson, these hillocks are the most expensive object in the park. "It cost eight years of my life," she laughingly reveals, adding that every inhabitant of the manor – from its owners to the fund's employees – helped in its construction.

Nicky and Robert Wilson. Publicity photo
For Nicky, art is not just a hobby. She studied sculpting at both the Camberwell College of Arts and the Chelsea College of Art and Design, and it seems as if she is still quite obsessed with it. Robert, on the other hand, admits that his own private corner consists of his collection of contemporary paintings. Both husband and wife are active participants in contemporary art processes. Robert is president of the famous Edinburgh Art Festival, while Nicky is a member of the board of trustees for the Scottish National Gallery. Jupiter Artland is a place where of-the-moment art events resound – Jeremy Deller, who represented the UK at the 55th International Venice Art Biennale, visited Bonnington House last summer immediately after returning from the opening of the Biennale. "He's a true embodiment of Britishness and Englishness," says Nicky, adding that Deller's artistic representation was slightly controversial for that specific period in time, considering the approaching referendum on Scotland's possible succession from the UK. This year Jupiter Artland will be one of the venues taking part in GENERATION, Scotland's all-time biggest contemporary art project, and the objective of which is to focus on the most vivid phenomena in art to come out of the region in the last twenty-five years.
The name of your sculpture park is Jupiter Artland. In preparing for this interview, we couldn't find any explanation or reasoning for the reference to Jupiter...
Robert Wilson: Jupiter... In Greek mythology, he is the archetype for happiness, creativity and enjoyment. And it was specifically this trinity that we wanted to put into the foundation of our park, thereby making it a colorful platform for creativity.
Nicky Wilson: There's something magical in this name. There aren't many places in Scotland like this. We wanted to create something out of the ordinary. Jupiter embodies this objective of ours.
R.W.: It sticks in your mind. People remember it.
N.W.: Yes. Although I wasn't all that excited about the name at first. But now I see that it is very fitting for a place in which two people have created a sculpture park without caring about anything else except how to fill the place with their dreams. Perhaps the name is a bit eccentric, but it expresses who we are. We have created this park with one another, we have curated everything ourselves, and we have a pronouncedly personal relationship with Jupiter Artland.
You also collected art before Jupiter Artland. How did you arrive at the idea of making a sculpture park?
N.W.: I will tell you a completely true and revealing story. I was a stay-at-home mother with four children, and still breastfeeding the youngest. Robert was working in London all the time, and I was struggling with the homekeeping and daily family life; I was terribly lonely, and bored, and I felt abandoned in this woodland. I am a sculptress by profession, and next to the children and my husband, art is what gives me happiness and joy. So, it was actually a very simple route that I took, coming up with the idea of calling Charles Jencks and telling him that I want to build one of his huge environmental objects on our park grounds. It was done on my initiative and it was my personal interest, but it was also Robert's and my wish to do something together. And also the realization that it was something that was crucial for the landscape of our property.
R.W.: When you look at things, one tends to postulate about how they came up with the concept for it. But it seems to me that often times, the concept isn't what one starts with. Usually, there's a first step, you make the first move.
N.W.: I remember we were making Sunday dinner. I found Charles Jencks' telephone number – I don't even remember how – and strangely enough, he answered right away and said: "See you tomorrow".

Marc Quinn. Love Bomb. 2006. Photo: Keith Hunter, 2013. Courtesy Jupiter Artland
And was that the first artwork for the park?
R.W.: Yes, it was the first that we had commissioned, but it wasn't the first one that could be viewed. It took us a long time to build Jencks' object. A whole eight years.
N.W.: It's the most expensive work in the park since it took up a part of my life. Everyone who lives or works at Jupiter Artland took a physical part in building those hillocks.
R.W.: The very first completed work in the park was Marc Quinn's "Love Bomb".
N.W.: Yes, and it's also the one most filled with drama. On the day that Quinn set up the sculpture, we had friends over and decided to go for a ride with the horses. My horse hadn't yet seen "Love Bomb", and it ended with me falling off and breaking my leg. Those are vivid and slightly scary memories. But everything ended well.
It seems as if you could write a book about the secrets hidden behind these artworks.
R.W.: Yes, each one has a story.
How do you select which artists to invite?
N.W.: It's actually quite simple. We love the artists and their works. I am utterly convinced that to do something like this, you must have an affinity for art – it must speak to you. We're not the kind of people who are ready to fight for something just because they want to own it at any price. We only collect that which truly inspires us.
R.W.: Every artist who comes here thinks not only about what to create, but he also looks for the best location for his work. In truth, they control the whole process – not only what the art will look like, but also its conjunction with us. The time during which the commission is created is very crucial. Galleries always try to sell you an artwork that has already been completed. What makes Jupiter Artland special is that all of the works you see before you have been specially created for this specific place and topography.
N.W.: And the topography here is strange. It's form doesn't adhere to the traditional associations one has with the green hills of Scotland. This is an industrial and rather poor part of Scotland; it's not far from the airport. But in the short period between May and September, when everything is leafy and green, it's a truly wonderful place. And the art makes the land beautiful.

Charles Jencks. Cells of Life. 2005. Photo: Allan Pollok Morris. Courtesy of Jupiter Artland
How does the process work? You call up an artist, and then...
N.W.: We call the artist and invite him to, say, lunch. He says either "yes" or "no". I must say that most do say "yes". Then we might have a bit of wine, after which we go take a walk to show them the landscape. We talk a lot.
R.W.: Many of them spend the night. For instance, Antony Gormley spent several days here. Cornelia Parker stayed for three months until she found the ideal spot for her piece and created it. Anya Gallaccio also stayed with us until she had built her crystal grotto ["The Light Pours Out of Me" – A.].
You have here a galaxy of the brightest stars in contemporary art. Which ones would you say are the highlights of Jupiter Artland?
N.W.: Truthfully, many of the works in the park are very close to me, but I am especially fond of Nathan Coley's "In Memory". The same goes for Anya's crystal grotto and Cornelia's piece [Cornelia Parker, "Nocturne (A Moon Landing)" – A.] Of course, there are many others that I like, and each for its own reasons. It seems that the visitors, however, are most fond of Laura Ford's "girls" ["Weeping Girls"]. It is the public's absolute favorite. The most pictures get taken with the little girls in the woods.
Currently there are 30 objects on view in the park.
N.W.: Yes. Actually – 31. We have several larger projects in the works over the next couple of years. I'm happy about the process.
And what are you going to do when the grounds will be overflowing with art and there won't be any more space to put anything?
N.W.: We'll buy more land (laughs).
R.W.: Actually – it's very hard to buy more land around here.
N.W.: Everything is changing. This is this point in time. And nothing is forever. There are several possibilities in how the park could develop. One aspect that is important and meaningful for us is the educational programs. We're also thinking about projects that would be located outside of the park grounds. There are many interesting possibilities and challenges.
And of course, there's always the constant upkeep of the artworks and the grounds.
R.W.: The name of the park itself is made up of two words – "art" and "land". And that is very significant; in the sense that art enriches the land, and the land enriches the art. The landscape is a constantly changing phenomenon. And so, too, is the art – depending on whether you're looking at it on a beautiful, sunny day, or in the snow, or through the blinding rain. It's a never-ending process of change.

Cornelia Parker. Landscape with Gun and Tree. 2010. Photo: Keith Hunter. Courtesy of Jupiter Artland
You mentioned that the works at Jupiter Artland have been specially created for the environment in which they are located.
R.W.: When art has been successfully set into the landscape, a triangle of relationships is formed – between the art, nature, and the viewer. And it is magical.
N.W.: Every object requires its own correct, true context. The artwork cannot be a foreign body, it can't be simply put anywhere just because it has to be placed somewhere. You must take into account the conditions dictated by the topography – actually, even the smallest of nuances. It's the whole that we keep in mind. And in returning to the park again and again, you will discover these nuances.
Your own house lies in the middle of the park. Considering that the park is open to the public, isn't this slightly bothersome?
N.W.: Yes, this is a very private area. Sometimes it's not easy if people don't respect the fact that this is also our home. But to me, it seems that the most important thing is that the park reveals itself to the visitors in the way that we have hoped it would – so that every artwork looks the way it's supposed to. I don't like to receive visitors when, due to some reason or other, some of the pieces are only partially on view, or even not at all. Nevertheless, we never say no to schoolchildren. There are so many schools in the area, and you can almost always find children or young people on the grounds, just having a great time and taking long walks.

Sara Barker. Patterns. 2013. Photo: Keith Hunter. Courtesy of Jupiter Artland
Why did you choose to make this place open to the public?
N.W.: We both understood that you can't own such wonderful artworks and not share them with others. I think that it truly has become important for people to see art, if they are willing to pay the park admission. And all proceeds, every single penny, is used to pay for the educational programs. That's why truly every visitor is important to us. But if it's a family, we don't charge admission for the children.
R.W.: Efforts to get the attention of young people have always been the main objectives of our fund; we've stimulated their curiosity to come here for themselves and find out how art has the power to change a person's sense of perception. In the five years since Jupiter Artland has been open, 14,500 schoolchildren have visited it – free of charge. Charity is a very vital part of the park's concept.
What is the role of the collector in the world of today's contemporary art?
N.W.: I think it's changing. Here in the UK, public institutions aren't too keen on getting private collectors involved in their work. Perhaps they're of the opinion that it is an attempt by private collectors to better their own reputation. Nevertheless, I think that today the relationships between private and public institutions are more important than ever before. It's a great way to enable things to get going.
Of course, there are collectors who use art as a marketable good, as a way to make money. But we're not one of them. I even have a feeling that we're never going to sell any of the works. They will always be with us. Actually, withholding the fact that we're one of the top ten art collectors in the UK, we are a very small unit. We don't look at ourselves as being part of the "great art world". We never buy works at auction. Actually, not even a single one.

Ian Finlay. Beehives. 2009. Photo: Allan Pollock Morris. Courtesy of Jupiter Artland
Based on your experience, can you give an explanation as to why people begin to collect art?
N.W.: I like to look at an artwork; it brings me absolute joy. And that's probably the reason why I do all this – it makes me happy. And – if one can afford it – it's an exciting way to spend your money.
R.W.: I think it's the wish to beautify the world around you.
And what about the wish to possess something, to satisfy your ego?
N.W.: The relationship with an artwork is something very special. Looking at artworks changes you, it changes the environment around you. It is freeing and intellectually stimulating.
Do you both – a professional artist and an enthusiastic art lover – look at art from the same viewpoint, or do you use different criteria for your personal appraisal?
R.W.: I'm not trained. I think I evaluate art from the simple position of "I like it" or "I don't like it". Whereas Nicky is able to analyze art from an academic position as well. She knows the body of artistic method, she is able to control it, and understands how it works. Nevertheless, we usually end up liking one and the same things.
N.W.: I believe we do think quite similarly. As a sculptress, maybe I'm more interested in how it is made and why it is made. I like to talk to artists about such themes – it fascinates me. When we work with the artists, I'm always completely involved in the process.
But Robert does have a fine sense of intuition – he has a great feel for art. Intuition is a very powerful instrument for the collector. As you know, Robert is a homeopath, and just like art, homeopathy is it's own form of magic, of abstraction.
R.W.: Intuition is also essential in homeopathy.
N.W.: Yes, and the homeopath's ability to accept abstraction is an instrument that wonderfully helps Robert perceive the vibrations of art.

Anya Gallaccio. The Light Pours Out of Me. 2012. Photo: J. McKenzie. Courtesy of Jupiter Artland
Do you believe in the statement that art is its own form of alternative medicine?
R.W.: There is a philosophical connection between homeopathy and art. Both of these fields have similar qualities – the ability to heal. They both use very fine energetic vibrations.
Are there any artworks that you'd like to acquire, but for some reason or another, this hasn't been possible?
R.W.: For me, that would probably be Duchamp's urinal ["Fountain", 1917 – A.], which is an especially notable example of 20th century art.
N.W.: In terms of sculpture, it would be one of Henry Moore's pieces. I truly love his sculptures, and I'm sure that I'd know how to situate it in the environment better than others have. Also, Antony Gormley's "cloud" ["The Quantum Cloud" – A.] – that would be something just for me. You could say – for my bedroom.
Is it of concern to you what will happen with this environmental art collection after you are gone?
N.W.: It will go to our children... And they, perhaps, will sell it... (laughs). Actually, we haven't thought about it because we're still young.
That's a good thing to hear, because most notable art collectors of the moment are getting on in age...
R.W.: Nicky's right; there's no point in planning ahead.
N.W.: As I already said, nothing is forever. They are environmental objects and their survival is not possible without daily maintenance; that's why I'd like to think that one of the children will stay on in this house and, I trust, takes responsibility.