A tale about Saint Basquiat
An interview with Colombian-born gallery owner, art dealer and collector Lio Malca
26/02/2016
Colombian-born gallery owner, art dealer and collector Lio Malca has been living in New York City since the 1990s and was one of the first to take serious notice of the artists Jean-Michel Basquiat and Keith Haring, both of whom the institutionalised art world had then not yet really acknowledged. In 1997, at the same time as the Whitney Museum of American Art was hosting a Haring retrospective, Malca organised the In Your Face exhibition right across the street, which featured the works of three peers and friends: Basquiat, Haring and Kenny Scharf. These three artists also formed the foundation of Malca's own collection. Today, he is one of the leading experts on Basquiat and Haring and lends artwork from his collection to museum exhibitions worldwide.
He says that the question/feeling of who'll be the next big thing still drives his passion for art. Malca has attended the "births" of many well-known careers, including those of Brazilian artist Vik Muniz and the currently best-known Lithuanian artist, Žilvinas Kempinas, whose show at the Lio Malca gallery in New York can be seen until February 27.

La Nave. Photo: The Vitorino
"I believe art has taught me to understand art itself and has also given me the ability to appreciate quality. And I'm trying to reflect that in everything I do," says Malca. Last summer, he transformed an old salt warehouse along the Mediterranean Sea into a dynamic exhibition space on the glamorous Spanish resort island of Ibiza. Malca, who also owns a summer home in Ibiza, considers the exhibition space to be his gift to the island, which he calls one of the most magical places on earth. La Nave opened with an exhibition of works from Lio's private collection by Brooklyn-based artist KAWS. The art fits harmoniously – but also provocatively – within the concrete floors, salt-crusted stone walls and the old wooden beams of the former warehouse.
Malca also recently opened a hotel in Mexico, or, to be more precise, a 35 suite accommodation with the scope of an art gallery. Located in Tulum on the Yucatan Peninsula, Casa Malca treats guest not only to fantastic views of the surrounding natural landscape and laid-back luxury; it also offers a practically museum-like collection of art including such names as Jean-Michel Basquiat, Marco Brambilla, George Condo, Keith Haring, KAWS, Vik Muniz, Kenny Scharf, and Andy Warhol.
I meet Malca at his apartment in Soho in New York. It's on Broadway, right in the epicentre of the city, life teeming all around. The apartment's interior is the energetic equivalent of its owner, embodying the feel of both a gallery and a nightclub in the form of a living space.
Your collection contains artwork by three friends: Jean-Michel Basquiat, Keith Haring and Kenny Scharf. Do you collect all three partly because they were friends?
Yes, those guys were friends, and I like them very much. I bought my first drawing by Basquiat in Boston. That's how my collection started. They meant a lot to me, because I identify both with the era in which they painted as well as with their artwork. I wanted to know as much as possible about them. I read, I met their friends – that was the only way to get closer to them, because by that time Basquiat and Haring were no longer here.
I'm still friends with Kenny and follow his work and business. But today I also follow the young artists. I buy according to my instincts.
Basquiat died in 1988 from a drug overdose, Haring died in 1990 of AIDS-related complications. You started collecting in the early 1990s, so that means you never personally met Haring or Basquiat.
No, I did meet Haring. In 1989 he celebrated his last birthday at a restaurant called Gonzales on Broadway. It's not there anymore. Someone told me, listen, there's going to be a pretty party for him, and so I went to it. I came to New York in 1988/89, but I moved here permanently in 1990. So, I was already looking for his pieces, and, when I went to the party, I met him and we shook hands.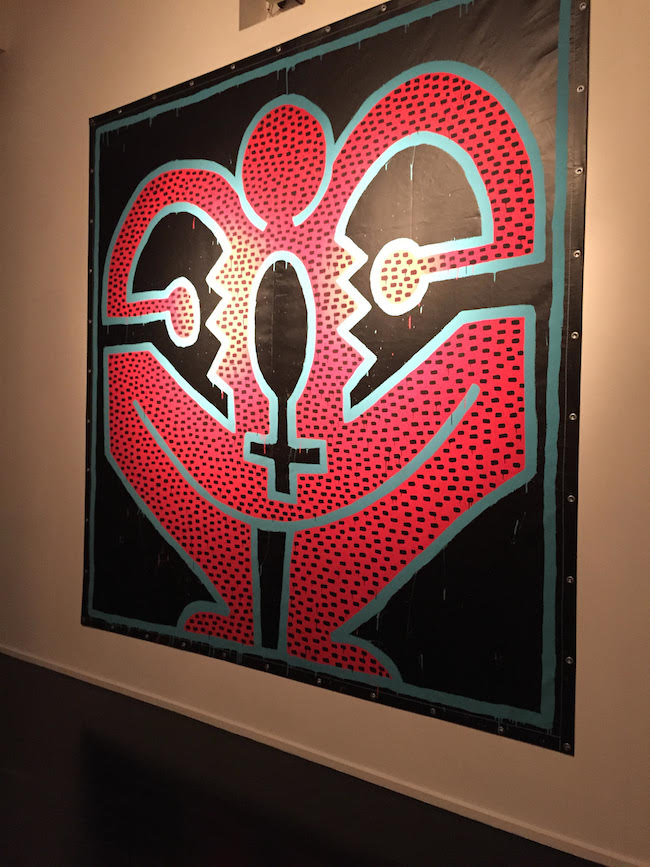 Keith Haring. Untitled (Tarp), January 1983. Acrylic on vinyl tarp, 121 x 119 inches 307 x 302 cm. Courtesy of Lio Malca
Did you buy any of his work that time?
No, because he wasn't selling anything himself then.
In terms of the art market, Haring was always undervalued compared to Basquiat.
And he is still undervalued.
Why? Both of them were strong, both as artists and also as personalities.
I think the machinery that was put under Basquiat at that time was much stronger. Galleries, collectors and also some museums had already accepted his works. I think Basquiat opened the door in the 1980s to this kind of collecting. And once the door was open, the entrance for Haring was easier. And I think that's what is happening now.
But they were almost the same age....
When you hang a work by Basquiat, people react differently than they do to Haring's work. Because Basquiat's strength shows in his work immediately. When you look at his work you see an immediate reaction to the strength of the idea he put into it. Haring looks more decorative, but when you understand how the work was done and where it's coming from, you realise how important it is
In the beginning, Haring was also not accepted by the art world. When Haring started his pop-up shop projects, he become very famous, but in the meantime he was exiled from the serious art institutions. Museums didn't buy his works.
Basquiat, too. But now, when you look at what's going on at museums and where the curators are headed, the scene has changed a lot. Le Musée d'Art Moderne de la Ville de Paris did a Basquiat show in 2011, and it broke all the museum's previous attendance records. Three years later, in 2014, the same museum staged a Haring show, and it broke the previous record set by Basquiat.
Jean‑Michel Basquiat. Famous, 1982. Courtesy of Lio Malca
Is it true that you sold a drawing by Basquiat to build a hotel in Tulum?
Yes, I sold one work by Basquiat. I bought the drawing in 1997. I had it for 18 years. It hung above my bed all these years, and I said I would never sell it. It was very important to me. And then I went to Tulum and I fell in love with this property and I wanted to buy it. It has so much to do with the Mayans and the history of the place. The locals told me that the Mayans used to say that Tulum is the centre of the universe. Not the planet, but the universe. I came back to New York, met a friend of mine, and I said to him that I would like to buy this property, what should I do? He told me, "Listen, I know you love Basquiat so much. But if someone told me that after 17, 18 years of owning a Basquiat that you can trade it for property at the centre of the universe, I would be doing so right now."
What took the place of the Basquiat in your bedroom?
Right now it keeps revolving. I had another Basquiat in that spot, but that went for the exhibition at the Brooklyn Museum, and now it's going to other places. At the moment I have Vik Muniz above my bed.
How would you characterise your approach to collecting?
Instinct. It's eclectic. There's no nationality because it doesn't matter. Sex, religion, gender, age doesn't matter. I think that I have an ability to recognise quality. To have that kind of ability, you cannot close yourself to any particular area or age. I like to surround myself with things I can identify with. I would always recommend that you not buy a mediocre piece by an artist that you like; instead, buy a masterpiece by an artist that you also like. But don't compromise quality. Quality is the most important lesson I've learned in my life. Quality in everything you do.
Being a dealer and collector – is it easy to combine those two things in one person? Because a dealer is a person who lets things go, but a collector wants to own them....
It make no distinction for myself. Because for me it's very difficult to sell anything that I don't like. I can't do it. And it's also very difficult to sell things that I like, because I like them. But I've learned that everything in life has a cycle, even things that are very important to you. I always wanted to sell masterpieces, and I hope I will always be surrounded by masterpieces.

Lobby at Casa Malca. Photo: Courtesy of Lio Malca
What makes something a masterpiece?
First of all, I like to learn about the artist – his career, important moments of his life. For example, for Basquiat and Haring 1982 and 1983-84 were very important years. Of course, there were also some other peaks in other years, but those cannot be compared to their beginning years. But, for example, in Basquiat's case, 1984 and 1985 was the time when he concentrated on colour copies and began spending time with Warhol – he started riding another wave. And this was the wave to fame. Some of his pieces were still good, but when you look at the pieces he did in 1985 and 1986, only a few were very powerful. Basquiat became strong again shortly before his death; that period was also very important.
Do you think his friendship with Warhol didn't help him as an artist?
Actually, I think that for Basquiat it was good to know Warhol. But it was also good for Warhol to know Basquiat.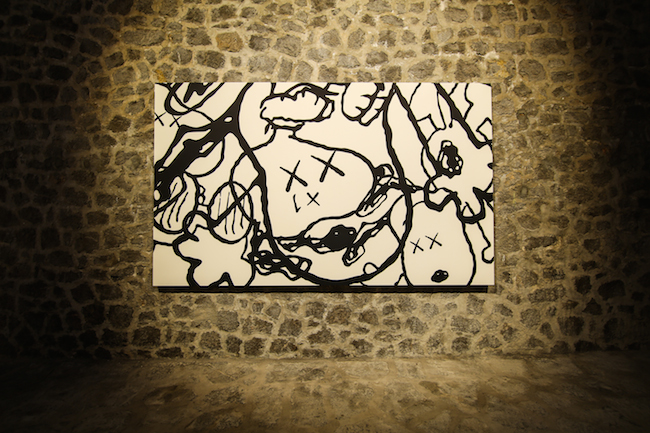 KAWS at La Nave. Photo: The Vitorino
Speaking of comfort, Damien Hirst, Richard Prince and Jeff Koons also live very comfortably nowadays. Can one say that they've thereby lost their creativity?
No. First of all, they're still alive. We don't know what Basquiat and Haring would have been like today if they were still alive.
When looking at the names represented in your collection, it seems you are not so interested in elitist art but more in its connection with popular culture.
Totally. Because when I started it was also more accessible to me. I mean, I could look at the masters, but I couldn't buy, for example, Jasper Johns or Rauschenberg. I could get prints, but I wanted to have the originals. I like the "hands on" by the artist. I like something that they created themselves, not machines or somebody else. Basquiat and Haring – the artists I like so much – they were accessible to me, and I decided this was the way I'd go.
But you still continue.... KAWS, with whose exhibition you opened an art space in Ibiza this summer, began his career as a graffiti artist.
Yes, because I've always been interested in what's coming out on the streets. I think in some way KAWS is the progression, the continuation, of Haring today.

Room at Casa Malca. Photo: Courtesy of Lio Malca
When comparing the street art scene today with what it was like 30 years ago, how much has it changed? Or is the vibe the same?
It's totally different. Very good, but different. If you compare it with 30 years ago, the influence of technology and the internet has been immense. Haring had some images of computers. But what they looked like back then – huge boxes with huge screens. Just imagine what was happening then and what is happening now. Similar changes have taken place in all fields.
As an art collector, have you ever literally – almost like a hunter – tried to track down a specific piece of artwork that represented a missing link in your collection?
Yes, it happens. Interestingly, sometimes I've seen the pieces come onto the market and I've tried to buy them but couldn't. I think to myself, I'll never see this piece again, and then – a year later it comes up at another auction. I think sometimes the things that are meant for you eventually come out somehow. They will find you.
What is your latest discovery? A piece of artwork that has evoked the strongest emotions in you.
I'm involved a lot in video art, projections and computer generated images because I think that is the future.
[Malca shows me a work by Lithuanian-born artist Žilvinas Kempinas, who is now based in New York. The artwork is located right by the entrance to his apartment and consists of a fan and a piece of cassette tape, the form of which, thanks to the flow of air generated by the fan, is in constant transformation.]
Work by Žilvinas Kempinas. Photo: The Vitorino
For me, it's an extension of Calder today, because it's mobile, it's kinetic. But many people ask me what this piece is about. How much is it? I say the market doesn't matter to me. Yes, but the fan is just an American fan and the tape is just an ordinary cassette tape. That means everyone can have one. Sure. You can buy the fan in the store for 100 dollars and the tape is easy to find, too. But this piece of artwork is based on the conceptual artist's idea, and in this case the question is: do you have a piece of artwork that's been created by the artist himself? It's an edition of six and therefore it's unique. This is the area that interests me right now, as well as all these amazing random things. Because randomness is the next thing, it's the future.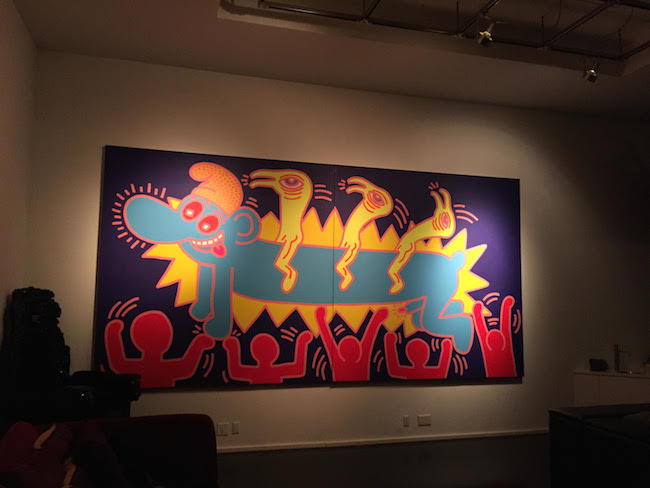 Keith Haring. Untitled (June 10, 1984). Acrylic on canvas. Overall: 94 x 188 inches 238.76 x 477.52 cm. Courtesy of Lio Malca
On the one hand, the art market is one of the most unregulated markets existing in human economics. There are no rules, but, on the other hand, it works. Intelligent people exchange real money. Why are people willing to pay such huge amounts of money for art?
Yes, it is one of the most unregulated markets, but it's becoming more regulated. Because more people are entering it. When I started, you did deals with a handshake. This was secret, you couldn't talk about it, it was done and I know the person. Now I sell the piece to an advisor, who goes to the collector, et cetera – all these contracts are taking place. It's becoming regulated because it's expanding so much, and the expansion is happening because art has become a status symbol.
It always has been. Already back in the time of the Medicis....
Yes, but at that time it was for the elites. Nowadays it's a status symbol for everybody. You go to somebody's house, and they maybe don't have an original painting, but they have a print. And this print has a name, it has a signature. And it immediately becomes a recognisable status symbol.
When so much money flows into the art market, is that helpful to the development of art, or quite the opposite?
I think there's a lot of quantity, and there are a lot of people collecting for the wrong reasons.
More than 80% approximately....
I don't know, because I don't work with them. I pride myself in the fact that I like to sell pieces to people that I like.

KAWS at La Nave. Photo: The Vitorino
On the other side, there's always the discussion that a museum show adds value to the collection....
Yes, that's true. I believe the purpose is for the pieces to be seen. And if the pieces being seen on a museum's walls brings their price up, so be it. I believe we cannot lose the purpose of a museum – a museum is a place where you can go to see very good art. So, if that affects the market, that's secondary. And lucky are those who have pieces that can go on the walls of a museum.
Why did you decide to open an art space in Ibiza?
I've been going to the island for many years already. More than ten years. So I said to myself, the island has given me so much over the years, maybe it's time to give something back. And what can I give back to it? The only thing that I feel I could give back is the ability to show what is art. So I decided to open a space there, and I'm happy I did that.
One of the most impressive works of art in the opening exhibition was KAWS's seven-metre-tall sculpture titled Clean Slate. Do you already know which artists you're going to show in Ibiza next year?
Yes, we have an idea, but I think it all comes down to the moment. When you start planning things too far in advance, they look planned and it also goes against the essence of street art. Street art is something that's totally spontaneous. Therefore I don't have a rigid schedule. In any aspect of my life.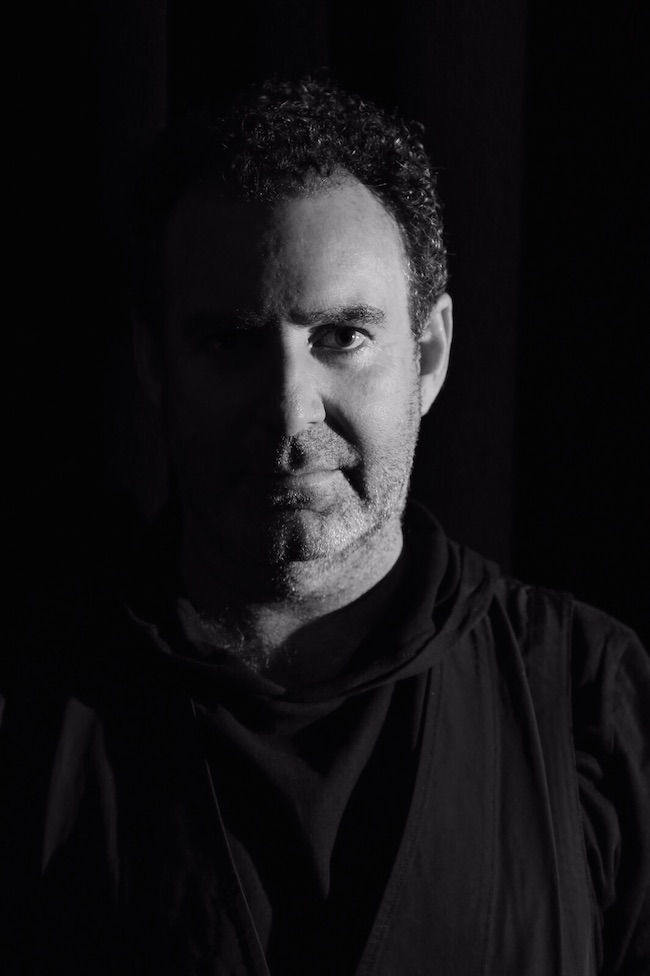 Lio Malca