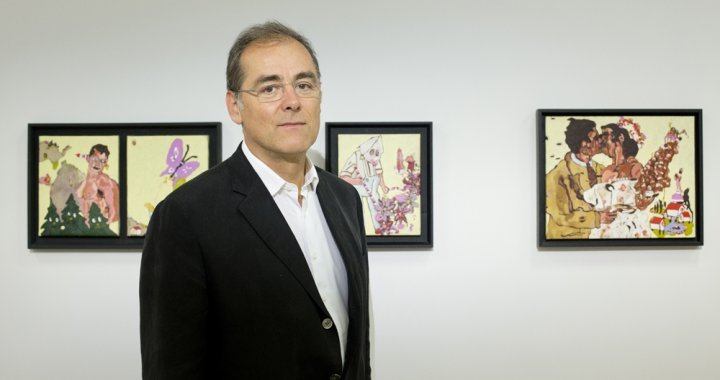 To Collect Means to Choose, and Also Acknowledging that You Can Make Mistakes
An interview with French collector Pierre Pradié

16/05/2016
Our conversation begins with a stroll through the exhibition "Kramplauzis / Le Cambrioleur / The Robber"*. French art collector Pierre Pradié has come to Riga along with colleagues from the Association for the Diffusion of French Art (ADIAF), a group for whom art and the collecting of art has become a years-long passion. In Pradié's case, his adventures in art collecting began approximately twenty years ago, with visits to the studios of the artists Vincent Bioulès and Marc Desgrandchamps. The idea that art can stimulate the imagination, and thereby broaden one's world, encouraged Pradié to continue to add new works to his collection, always searching for "the distinctive". Pradié's collection consists mainly of works by French or French-based artists, but he also has a few German, Swiss and American pieces. Paintings take up the larger part of his collection, perhaps due to the fact that it was painters who directed the collector's interest towards contemporary art.
With visible joy, Pradié takes me from one work to the next, as exhibited from his collection. "Philippe Perrot – that's an artist who has been greatly influenced by cinema. In his works you can feel the influence of the American artist Philip Guston, as well as the artist's own complex and fraught personal memories. Perrot's works are very rare; he's done maybe a hundred paintings. You're quite lucky – I've loaned the Riga exhibition a whole six," Pradié jokes.
How many paintings do you have in your collection?
Around a hundred, but I also have many drawings and photographs.
This is a very young artist – Pierre Seinturier, whose work I bought at the last drawing salon in Paris. I've known Philippe Perrot for a long time, but here [with Seinturier] I can only go by intuition – I like the scene's delicate atmosphere and its very gentle painterly quality. The subject here is violent, and I'm fascinated by the contrast between this mildness and the violent subject matter.
Hyppolite Hentgen. That's not a first name and surname – it's actually two women who work together, but it's impossible to tell who did what parts of the work. When you come closer to the work, extremely special and unique painterly qualities reveal themselves to us. In the blackness you see details that are truly impressive.
Valérie Favre is a Swiss-born artist who has worked in France, but now lives in Berlin. Here is her painting "Fortuna", from the series "Shortcuts". She pays great attention to the drawing; the drawing itself is essential to her.

Pierre Seinturier. It's wet T-shirt night!, 2015. Paper, oil pastel. 130 x 195 cm. Pierre Pradié's private collection, Paris. Photo: Aurélien Mole
Are there any works here from other collections that you would like to acquire yourself?
I'll show you Laurent Pernot. He's a young video artist. He also makes objects. (Indicates the artwork "Captivity") A bit sad. The bird is gone. (Laughs). Only the moon is left, to symbolize its absence. Perhaps that's exactly why I didn't acquire it...
Are any of your favorite works on display in this exhibition?
Gaël Charbau [the curator of the exhibition] selected the paintings from my collection; I participated by providing the names of the artists whose works I collect. I wanted to understand what interests him. Some individual works I rediscovered for myself, as displayed here. For instance, seeing Hyppolite Hentgen's work along with the others, it seems as if it is breathing. I am extremely proud of Philippe Perrot, who I was lucky enough to meet fifteen years ago in his studio. He worked in a small room in which the light fell directly onto the canvas – almost like in a cave.
I also greatly admire the works of Marc Desgrandchamps. I first met him more than twenty years ago. He didn't have a gallery at the time, and I bought a very large painting of his directly from his studio in Lyon. I've been following his career and buying his works ever since. Today I could probably put together a retrospective of Marc Desgrandchamps' works, with paintings, drawings, graphic prints, and even an artist's book. I am very happy to see that an artist whom I supported from the very beginning is now being recognized in museums. He's had three large shows – at the Strasbourg Museum, the Centre Pompidou, and the Paris City Museum – and, of course, I'm extremely proud that I met him before he became renown.
Do you like the feeling of having discovered something?
Yes; especially because that was at the time when paintings weren't being bought in France. Many said that painting is dead, but they were mistaken.

Marc Desgrandchamps. Suite Basserode, 2009. Oil on canvas. 200 x 150 cm. Courtesy Galerie Zürcher, Paris - New York
Desgrandchamps' piece was the first in your collection?
Yes, so it was. When I bought the painting, I hung it in my house in Versailles, and it's still there. In a sense, it's a symbol of our family – my children also love this painting. It's a work that provokes intuitive reflection; it changes with different lighting, and also in regards to the viewer's mood or emotional state. That's what Desgrandchamps said – the viewer creates the painting.
I create my collection intuitively – I look for paintings and other artworks that pose questions: Why? What does this painting mean? What is its message? That's the most interesting thing – if the work continues to ask questions.
Today, Desgrandchamps is represented by two galleries. One is Galerie Zürcher (Paris/New York), which is his first gallery and which he has never changed. When Galerie Zürcher stopped taking part in the FIAC art fair in Paris, Desgrandchamps joined the Eigen Art gallery in Berlin. As a result, this artist, who was a complete unknown twenty years ago, now shows his work in New York, Paris and Berlin. It's still relatively easy to acquire his works – since he's French, they don't fetch a lot compared to works by German, British or American artists from his generation. Similarly, the works of other French artists are also not expensive. That can be explained by the fact that many French collectors used to give priority to collecting the works of foreign artists, and the galleries in France wanted to be open to foreign artists. In the early 60s, we French lost our power in the art world, and that brought about our loss of love for the accomplishments of French artists. Today the market has become globalized; artists' works are shown at FIAC, at Art Basel, in Brussels. For a gallery to bring an artist to these venues, the work must be expensive, otherwise the gallery can't pay for their booth. It's like a no-win situation, but right now it's beginning to rectify itself because – along with the internet, traveling, events such as this one in Riga – French artists are becoming better known in the world; people now understand that it is worth acquiring their works.
You mostly have French art in your collection. Why is it important to you to collect artworks specifically by French artists? Is it patriotism?
It's definitely not patriotism. First of all, it's important what we understand with the term "French artist". Your question made me pose this question to myself. In my collection I also have works by the American artists Jim Shaw and Peter Saul, and the German artist Bernhard Martin; Valérie Favre is a Swiss artist living in Berlin; we met the artist Hervé IC in Paris – he's French, but lives in Brussels. I have works by Stéphane Belzère – he is Swiss-French, but lives in Paris, Berlin and Basel. Living in Paris, one can visit 30 galleries in one weekend. We are infused with art that has been created in Paris. In my collection I also have works by the Alsatian artist Kader Attia. In Paris, the atmosphere is conducive to coming into contact with art. I've bought the works of many French artists because I went to see them in their studios. For instance, you speak with one artist, and he says: go see my friend, too. Or you talk to an artist and when you ask who has influenced him, he tells you about another, older artist.
In my case, networking has a lot of meaning, not words – I'm not influenced by articles in the press or by galleries; I'm influenced by friends, other collectors, and also by artists. I can give an example with Marc Desgrandchamps. He once told me: "Pierre, you could go see the works of Bernard Dufour (who is 94 now). At the time, Bernard Dufour[1] didn't have a gallery, and I bought his works while visiting him in his studio. I've known Dufour for ten years now. Three weeks ago, I bought his self-portrait; it's very special, and I'm especially proud of it. Dufour hasn't been painting for three or four years now – he has Parkinson's disease. About a year ago, when we visited his studio, he had returned to his brushes and had managed to overcome – that's the real word here – the disease, and he had begun to paint again. Biologically, Bernard Dufour is an old man, but spiritually, he is a young person – a young person with experience, one who has finesse, one who is cultural. And this painting is very complex – it's almost impossible to photograph. A couple of months ago the internet publication Le quotidienne du l'Art contacted me and asked what is my latest love; I told them about Bernard Dufour.

Valérie Favre. Fortuna from the Short Cuts series, 2009. Oil on canvas. 20 x 50 cm. Pierre Pradié's private collection, Paris
It looks like you've put your collection together based on emotions and feelings, and not as a financial investment...
Definitely. I'm a tax lawyer. If I need more money, I just work a bit more. Of course, I'm happy that the works of the artists in my collection are increasing in value, but the possibility of prices climbing in France is quite small. Which makes things even better! It's important to me that these artworks are dispersed among many people, into the collections of collectors from the world over, and also into the hands of young people who can buy drawings or prints that are not that expensive. Graphic prints allow for a broad dissemination of an artist's works, and I'm interested in those artists who spread themselves around.
You've visited some galleries while in Riga. Did you see anything particular that you like?
It happened too quickly, although I really did like the way I was welcomed, the atmosphere, and the enthusiasm. I'd like to come back to Riga. I feel a freshness in the art here. I'd like to find in Riga's galleries works inspired by Baltic culture, and maybe less by international ones. When I hear, for instance, that this artist's achievements are going to be shown in Venice, I don't listen anymore. When I'm told – the great collector Pinault has bought works by this artist, I also stop listening; it doesn't interest me anymore.
Latvia has very many artists who have not been shown in Venice, and whose works are not part of any large collections...
You see! When a person comes into these wonderful galleries for the first time, they try to make us feel secure by mentioning Venice and Pinault. But no – I came here to meet with you! There's a risk that today's international art scene will become completely homogenous and it will all be directed by just money. That is, of course, one possible way in which to talk about works of art, but it's no thermometer that can indicate the worth of an artwork. We've seen many artists whose works were very expensive for five years, and then they were forgotten.
Taking into account your deep involvement and passion for French art, do you think there are any French artists who has been undeservedly forgotten, or not even noticed at all?
We had one artist – or more correct, we have an artist, for artists don't die – Gilles Aillaud. He is often spoken about as belonging to the figurative narrative style of painting. Along with that, he's been sort of lost within a not-very-interesting group; nevertheless, he had a character that rose above others if we look at how he construed a painting. He often painted animals in cages, in zoos. In the painting we see an animal, and don't immediately notice that the animal is caged. But there are signs through which that is somehow carried across, for instance, in the animal's sadness. It's interesting how the viewer forms in his own mind this preconceived notion of a zoo, of being caged.
Is there anything that you try to avoid in your collection?
Boredom; and works that dazzle me, even though there actually is nothing within them. I've done much studying of painting and drawing, and a bit of photography and graphic print art. My collection doesn't have conceptual or post-conceptual art, but I do have a lot of paintings. That's also because I live with these artworks. For instance, I'm really fond of these two video-films being shown over here (indicates the video works of Cedrick Eymenier), but it's not possible to live with them. I really like watching them here or in some other art center, but not at home.
Is your whole collection on display in your home?
I have several residences, and I also have works on view in my office. I can hang any monstrosity there. But there are also artworks that are stored and are not on display. I also lend out pieces to my children.
Have you sold any works from your collection?
Never. Why would I sell? They belong to the history of this collection. There are, of course, moments when I don't want to see a work anymore – when it doesn't fit with my mood at the moment – but nevertheless, the work belongs to the family, and it stays in the family.
Can we speak about a unified feeling of the collector that the collection expresses? A portrait of you?
Yes; that can be seen, for example, in my home, and also in my office in Paris.
Outside of its regular location, can your collection be seen anywhere else besides ADIAF exhibitions?
In the spring I showed two Philippe Mayaux paintings in Brussels; there's a Mayaux painting here as well. One large collage is being shown in the art center in Thiers. Next year we're going to have an ADIAF exhibition with the theme of courage, of challenge. That will also have a couple of paintings from my collection. When the works are in circulation like this, it's interesting to see them alongside others – to see, for instance, if this work from my collection is powerful, if it interests me in relation to other works. Earlier you asked me a very interesting question – which work from another collection would I like to have in mine. That's what happens in exhibitions – I ask myself if I have made the right choice. I have financial limitations; I can't buy very many artworks, only as many as my budget allows. To collect means to choose, and also acknowledging that you can make mistakes.
What is the biggest mistake you've made as a collector?
That's very easy: when I began collecting, I wished to buy three small paintings. I went to studios, and the works enchanted me – and I overdid it a bit. Now I buy less, but the works are more mature. For instance, if you have a budget of 20,000 euros, it's best to buy two works for 10,000 each, not five works for 4000 each. That's my pronouncement – buy less, choose better. It's similar with writing – a person writes page after page, and when he reads what he has written, he must be able to strike things out. It's painful to cut things out, but you have to arrive at what is essential; because later, only the essential will remain, and that is what will move us even further. My education in law is at fault here – we express our ideas with a maximum economy of words and sentences. Today especially, it's very important to be able to say what we want to because floods and an overabundance are not healthy. That's my personal verdict.

Hyppolite Hentgen. Builder, 2009. Paper, acrylic, ink. 74 x 72 cm. Pierre Pradié's private collection, Paris
What do you say to all of those who say that painting is dead?
This saying is, in a sense, kind of like a "de Grandchamp-position" – back when French art was knocked off of its pedestal due to Rauschenberg receiving the top prize at Venice [in 1964]. Painting has always prevailed, since prehistory. Today, creative artistic work has been enriched; we have a variety of art mediums – painting, graphic print art, photography, video, etc. – and the appearance of a new art form doesn't invalidate what has come before.
Another example – the artist Pierre Soulages is a painter, and in May 2014 we opened a museum in his honor, in Rodez, France. In order to open it, in order to show paintings, a lot of money was spent; that means that painting is not dead. The opening of a new museum dedicated to a specific artist is very rare in France.
But, for instance, if one goes to the Venice Biennale, or to Kasel's documenta, painting is not very widely represented there...
Exactly. Gilles Fuchs recently reminded us that in France, we have an institution called the Ministry of Culture. An institution – an administration with art centers, functionaries, people who allow art to live and who buy art, but not with their own money. They are not collectors. And it is through this institution that the idea has spread of painting "being dead". I wish that one day, we – the French, would have the courage to show painting in Venice.
An opposing example: the Marcel Duchamp Prize is a meeting between the ADIAF (collectors) and the Centre Pompidou (an institution). The award is 35,000 euros and an exhibition at the Centre Pompidou. So our association, nonetheless, does work together with an institution, and we try to influence them. I don't remember precisely, but in 2007 or 2008 we awarded the Marcel Duchamp Prize to Philippe Mayaux, who is a painter. He also works with installation, but he is mostly known for painting. We managed to convince the institution to show this artist's accomplishments; we were also successful at getting Marc Desgrandchamps' works on display at the Centre Pompidou and at the Strasbourg Museum.
There is also conceptual painting, of course. Everything is possible – the door is open. To be modern today means to imagine that painting will be very powerful tomorrow. I agree – that is a political statement, though.
*The exhibition "Kramplauzis / Le Cambrioleur / The Robber" took place at Riga Art Space, September 5, 2015 – November 20, 2015.