A Structure of Thoughts
An interview with Viennese art collector Michael Klaar

25/05/2016
From today's vantage point, the story of how Viennese pianist and conductor Michael Klaar's collection began sounds like a fairy tale of the art world. Klaar is just over forty years old and started collecting art at the age of 13. For him, a fascination for art was actually a form of teenage escapism. Klaar's parents made him attend anthroposophy courses every Sunday, which he couldn't stand, but finally the parents agreed to let their son visit the Kunsthistorisches Museum after the despised courses, a place Klaar had more or less chosen at random. Gradually, however, art became his passion, and he began comparing museums and their collections wherever he happened to travel or be. Klaar spent his summers in Basel, where he continued doing what he did in Vienna, that is, going to museums. The Kunstmuseum Basel is still one of his favourites.
As a boy, though, Klaar did not know much about the currents and undercurrents of the art world; he only knew that Pablo Picasso, Mark Rothko, Jasper Johns, Paul Klee and Wassily Kandinsky were unattainable for him. But he also encountered the painting Gris avec graphismes noirs (1962) by Catalan artist Antoni Tàpies in the Basel museum's collection. Klaar found out that Tàpies was represented by Galerie Beyeler right there in Basel, and immediately visited the gallery. Surprised by the boy's interest in Tàpies' work, the gallery owners Ernst and Hildy Beyeler, still showed Klaar some paintings and drawings. When he asked about the price of a certain gouache, he was told by Hildy Beyeler that it was 500 Swiss francs. This was a great amount of money for Klaar. But after a sleepless night, he returned to the gallery to buy the work. The Beyelers apologised, saying that they'd misquoted the price, and it was actually considerably higher. Seeing a look of despair on the boy's face, they asked how long he would still be in Basel and whether he could return to the gallery the next day.

From left to right: Donald Judd.Untitled, 1986; Untitled, 1987; Untitled, 1963; Untitled, 1963; Untitled (Prototype for Plywood Chair), 1992. Lawrence Weiner. SMASHED TO PIECES (IN THE STILL OF THE NIGHT), 1991; SMASHED TO PIECES (IN THE STILL OF THE NIGHT), 1990.
Entdecken und Besitzen at Museum moderner Kunst Stiftung Ludwig Wien, 2005. © Photo: Museum moderner Kunst Stiftung Ludwig Wien
Even though Klaar was scheduled to go back to Vienna the next day, he returned to the gallery, where his desired work was already packed up and waiting for him. Sold, needless to say, for the originally stated sum of 500 Swiss francs. Thus, this piece by Tàpies formed the beginning of Klaar's collection. He bought his next artwork only a few days later, and he's been at it ever since.
Today, Klaar's collection comprises approximately 500 works and covers a time period from the 1960s to the present. It includes works by Vito Acconci, Josef Albers, Richard Artschwager, Tauba Auerbach, Alighiero e Boetti, Louise Bourgeois, Isa Genzken, Eva Hesse, Roni Horn, Donald Judd, Sol LeWitt, Paul McCarthy, Jonathan Monk, Lawrence Weiner, Christopher Wool, and many others.
"Turning to artists of my own generation or younger is the result of a natural and logical process, as I am not in the position to continue to collect works by artists such as, say, Paul McCarthy or Donald Judd anymore. This was quite different in the early 1990s when the attention of the people was not necessarily focused on minimal and conceptual art. So, over the years the collection has become younger and more contemporary. Still, the art of the 1960s and 1970s – so-called minimal and conceptual art – is of utter importance to me," says Klaar.
Our conversation took place last autumn, in Klaar's apartment in central Vienna. As a part of the Viennacontemporary art fair's VIP programme, he had opened his doors to a small group of art collectors and enthusiasts. Flooded with light, the place is sparsely but carefully furnished with selected pieces by Alvar Aalto, Sep Ruf, Achille Castiglioni, a piano, books, and art; the roofs of Vienna stretching far and wide beyond the window. This easy lightness frees the mind. As Klaar states "I was always interested in the idea of immateriality, which might be a contradiction if you collect".
A work by Robert Ryman from the 1970s is installed on one wall; sculptures by Pawel Althamer sit on a table; one of Laura Owens' Clock Paintings (2012) is placed right across. A series of Jonathan Monk's "Holiday Paintings" referencing travel agency advertisements can be found in Klaar's office. One of them quotes "Bahamas. 24 May. 14 Nights. Room Only. From Manchester. £329." "I bought them in 1993 at Lisson Gallery in London. At that time the price of each work was actually the same as was the price for the advertised trip. I think that in some way they really embody the essence of art. It's about desires. What is more important – a nice trip or a work of art? It's up to you to decide. As I did not have any ambition to travel to the Bahamas, I bought the painting," laughs Klaar.
Why do you think, way back then, Mrs. Beyeler let you buy that Antoni Tàpies drawing for the originally misquoted price? Do you think it was because you were a 13-year-old boy?
Yes, Hildy Beyeler told me the wrong price – 500 Swiss francs. Which, of course, was a fortune for me at that time. Maybe she didn't take me seriously and just said some figure. But subsequently, she was very warm and noble enough to stay with that price. I think it must have been quite weird for them that a 13-year-old boy walked into the gallery and asked for works by Antoni Tàpies.
But at the same time, the Beyelers treated you as they would any serious client.
Yes, they even gave me white gloves in order to inspect the works. Which was quite a thrilling moment, I have to say. It was the beginning of a passion that still exists.
But, you know, it wasn't just the Beyelers who were of tremendous supportive importance to me.
Later, people like Annemarie and Gianfranco Verna in Zurich and Rolf Ricke in Cologne played a pivotal role. In Vienna, gallerists like Hubert Winter and Rosemarie Schwarzwaelder were of indispensable value to me. Their generosity, wisdom and cordiality has been and still is overwhelming, and I do feel a great deal of gratitude and thankfulness towards them.
Do you think it's still possible for a 13-year-old boy to just walk into one of those blue-chip galleries today and try to buy something? Considering that the times – and also the situation in the art market – have fundamentally changed.
Well, it's hard to tell. In the end it's all about personal relations and personal moments. I think they occur sometimes. You can't really say that these things couldn't happen anymore. But I agree, the atmosphere in galleries can be quite cold, quite stiff and daunting. As a 13-year-old, I think, it could be rather difficult to talk to some of the players in today's art world in the way I talked to the Beyelers. But, of course, the business was totally different back then. The Beyelers were always there, surrounded by the most fantastic art: Picasso, Klee, Kandinsky, Rothko and so on. Ernst Beyeler was a brilliant businessman, but at the same time, they were very humble people and completely dedicated to art. Well, obviously, things really have changed. Sometimes I miss this kind of immediate passionate approach towards art. I'm tired of talking about prices, auctions, this artist's hype and that artist's hype, or this or that artist declining. This is very boring, and I'm absolutely not interested in that.

Jonathan Monk. Holiday Paintings, 1993. Entdecken und Besitzen at Museum moderner Kunst Stiftung Ludwig Wien, 2005. © Photo: Museum moderner Kunst Stiftung Ludwig Wien
What do you think has changed? Is it just the power of money?
Sure, money has become one of the most important forces. But there's the market, and then there's the art, I think. And sometimes there's a mixture between those two elements. It might sound quite pessimistic, but it seems that the commodification of art has become quite excessive nowadays.
As far as I know, not only did your own collection begin with a work by Tàpies, but so did the collection of the legendary Italian collector Giuseppe Panza di Biumo.
Panza was very influential to me, of course. We met several times, and I visited him at Villa Litta in Varese. At the same time, he was a controversial figure. Remember the dispute between him and Donald Judd? Judd wrote this tragicomical text called "Una Stanza per Panza" (1989),* where he points out that Panza, contrary to their initial agreement, had produced and installed works after Judd's sketches that were not approved and supervised by the artist. Judd accused Panza of being a liar, a forger and so on. However, I was very impressed by his focused and profound approach towards collecting. But, as you know, there was not just one but several Panza collections. The first one, which started with Tàpies, then the American Expressionism collection, which he sold to the Museum of Contemporary Art Los Angeles, and his collection of minimal and conceptual art, which he sold to the Guggenheim Museum. To me, selling pieces from my collection is not of any interest, because I consider myself a collector and not a dealer.
But you began with the same artist.
Yes, a funny coincidence. Actually the influence regarding Tàpies has its origin in Switzerland. Because a part of my family lives in Basel, I've visited the Kunstmuseum Basel ever since I was a small boy, and I became immediately intrigued by its fabulous collection. Especially by the works of Mark Rothko, Clyfford Still and, above all, Barnett Newman's two paintings White Fire and Day Before One. But, unfortunately, I was forced to realise that works by Newman and Rothko were already far beyond my means. Then I discovered Antoni Tàpies' painting Gris avec graphismes noirs in the collection of the Kunstmuseum and was truly touched by it. I thought that this is one I'd like to have at home (laughs). I learned that he was represented by Galerie Beyeler, which induced me to go there and ask for available works by Tàpies.
If I'm not mistaken, museums were something like a second home for you back then?
Well, probably a second home, but, from a psychological point of view, I'm pretty sure it also had to do with an aspect of escapism. I loved to spend time in museums, and in those days there were not too many visitors. I remember being alone in Hans Holbein's room for hours and looking at Christus im Grabe (1521/22) or at The Artist's Family (1528).
Sounds like a luxury nowadays.
Oh yes, a marvellous privilege. Back then I could spend entire Sundays there almost completely alone, which was really fantastic.
Has this feeling about the museum changed over time?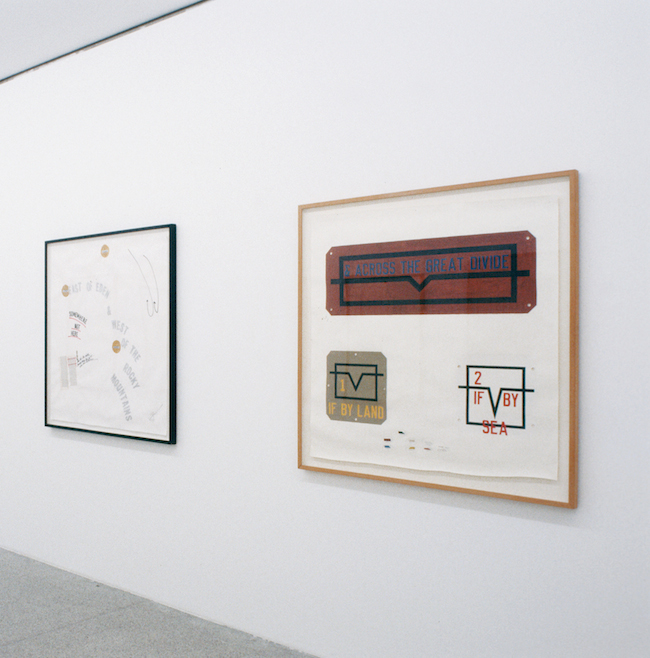 From left to right: Lawrence Weiner. EAST OF EDEN AND WEST OF THE ROCKY MOUNTAINS, 1992; ACROSS THE GREAT DIVIDE, 1991.
Entdecken und Besitzen at Museum moderner Kunst Stiftung Ludwig Wien, 2005. © Photo: Museum moderner Kunst Stiftung Ludwig Wien
Going to museums is still an integral part of my life. I can't imagine not looking at art, be it in a museum, a gallery or in my own private context. It's a need in some way.
Why is it important to you? The German art collector Egidio Marzona once told me that "art is always a question for me". And basically, he's spent his whole life searching for answers.
Well, for me, that's one of the core reasons why I do collect. I do not imagine to understand a single work here to its entirety. But I try to. But this kind of resistance that the works contain is utterly important to me. The constant effort towards an exegesis, answering questions that are not really answerable is what makes it challenging. So, I'm not so much interested in art that is obvious.
You've said that you've always been interested in immaterial things....
Yes, in the end, any art is totally immaterial. I mean, the canvas, the paint, the paper is not what constitutes the actual work of art; they're just a representation. It's manifested in this materiality, but the quality is immaterial, I would say.
Is your dialogue as a musician with art also essential?
I mean, I am a musician, and music is always on my mind, in my soul. I listen to music all the time in my head, and even now some music is going on in my mind. It's very hard to tell. I would rather prefer to stick with Ad Reinhardt: "Art is art and everything else is everything else". It's not easy to build a straight bridge between music and art. But both art and music provide us with an immense capacity of intense experiences of an intellectual and emotional nature.
Do you think art always needs a spectator, someone to look at it?
Given the fact that art is about dialog, I think it needs two people.
In your opinion, what is it that makes something a work of art?
I think it was Bruce Nauman, no, it was Carl Andre who stated that art is what an artist says is art. Art is what a critic says is art. Art is what an artist makes. Art is none of these things, some of these things, all of these things.
This is one kind of approach to answering your question. I think that the question in itself is already the answer. The questioning and trying to understand the things that are maybe not really understandable is one of the first steps when it comes to forming an understanding of art. And here comes another quote by Carl Andre, describing the singularity of art within the human radius: "A man climbs a mountain because it's there; a man makes a work of art because it's not there."
Have you always found necessary to understand what is behind the piece?
Not necessarily in a mystical understanding. There's this famous statement by Frank Stella: "What you see is what you see," which later became sort of a catchphrase for those artists subsumed under the term minimalism. What you see is what you see, there's nothing behind it.
As I told you before, Donald Judd was multi-influential to me. His writings, his dealing with space, with given space, at 101 Spring Street in New York or in Marfa, Texas** – given structures that he redid and rearranged. I like the anti-hierarchical character of Judd's work. There is a box, and nothing is more important and nothing is less important. The thing as a whole, as written in his seminal text "Specific Objects", is the most important thing. As is the sheer interaction between the viewer and the work. There's this famous quote by Rainer Maria Rilke: "What is more mystical than clarity?" What is more astonishing than clarity? This is what I sometimes have in mind when I look at the work of Donald Judd.
Is that a reason why minimal art was so relevant for you already from the very beginning?
I don't know if this might have been a reason; it has always been an immediate approach. I remember exactly when I saw Six Cold Rolled Steel Cubes by Donald Judd in Basel for the first time. At that time I had no idea about Judd, but the perception of that work was an exceptionally deep experience for me. Being confronted with the powerful presence of those six steel cubes was an epiphany, so to speak. As you might know, the artist Rémy Zaugg wrote a wonderful book called Die List der Unschuld on that very work, which I read much later. My discovery of the paintings by Robert Ryman at Hallen für neue Kunst in Schaffhausen was crucial as well. These canvases, superficially speaking, painted white all over – which is not the case, as they are executed in the most delicate way – became, almost immediately, an incredible fascination for me. So, actually, the basis of my passion for art is an immediate, emotional one. I have a passionate relationship to works by Donald Judd, Lawrence Weiner, Walter De Maria. They give me emotional pleasure as well as intellectual challenge. But the dialogue between those two components – the emotional part and the intellectual one – is what I really like. That's what I'm searching for, that's what's at the core of it.
...what keeps you going.
Exactly.
How crucial for you is the aesthetic aspect, the beauty of a piece of art? You know, there was this famous discussion between David Hume and Immanuel Kant about their different standpoints on the subjectivity or objectivity of beauty. Hume agreed that beauty is "in the eye of the beholder", though Kant said that it is based on personal experience but in a way that presumes that others will agree.
Which may be true somehow. I do not perceive the beauty of a work of art solely in an aesthetic, retinal way, but deeply believe in the beauty and power of thoughts. In the layers behind the visible surface.
I vividly remember numerous conversations with Elaine Sturtevant, who unfortunately passed away two years ago. She was a fantastic woman, a great friend and probably the most intellectually trained artist I have ever met. She was incredibly strict, incredibly thoughtful, merciless, but a fantastic and warm personality. And when we were talking about art, one of her favourite words was beauty. Which is really interesting. You know, her artistic practice dealt with the most conceptual structures, but in the end it was beauty. "Michael, isn't it beautiful?" she would always ask me. When we walked through her exhibitions and talked about this or that piece, she was always asking me, "Isn't it beautiful?"
Do you think a work of art has energy?
Yes. Art has it all. Swiss art collector Emanuel Hoffmann once said that art is a vessel filled with a capacity to move, to touch. It really bears everything in it.
How important is it for you to meet and to discuss things with an artist?
It really depends. I'm not a collector who collects artists; I collect art. But, of course, I'm lucky enough to have a few artists friends. I do listen to them, and these exchanges are really wonderful. I love people. I love to talk with people. Actually, I don't love interviews that much.
I'm sorry...
No, no, it's ok. I love to exchange, I love the dialogue. As I said before, if there's a dialogue, maybe a friendship between an artist and me, that's wonderful. But to appreciate a work of art knowing the artist personally is not a conditio sine qua non. That's not important. I don't have to hang out with artists every night. If that happens, it's great, but for me the personal encounter with the artwork is what really matters.

From left to right: Lawrence Weiner. Cat. # 490, 1981. Walter Obholzer, Otaku 5, 2000. Entdecken und Besitzen at Museum moderner Kunst Stiftung Ludwig Wien, 2005. © Photo: Museum moderner Kunst Stiftung Ludwig Wien
Artists are sometimes very contradictory personalities, like Richard Wagner was....
And that's wonderful. I like contradictions. I don't like one-dimensionality. It's a very human thing. And maybe that's one of the reasons why art is so close to me. Because of all these unanswered questions.
You said that you like to change and rearrange the works that are around you.
Well, on the one hand it's just an organic process – it regularly happens that this work or another is on loan, others return from museum shows, new acquisitions come upon site-specific installations. On the other hand it's not just coincidence, rather the opposite! As Judd once stated, it takes a great deal of time and thought to install a work of art.
But do you have time to just sit quietly in this room and look at the artworks you have?
I know that it is an enormous privilege to live with art. It's not at all about decoration. It's not like what you see in glossy magazines like House and Garden or Architectural Digest; I'm not interested in that aspect. So, of course, I do look at things and I think about things.
In an interview you once said that authenticity is very important for you in art....
Really? Did I say that?
You said that you look for authentic things, and that there are possibly fewer and fewer of them around today....
I have to admit that there is some truth to it. Don't you think? Maybe I'm blind, but I have to say that at most of the art fairs I do not see so many works that touch me. Of course, you see fantastic work at Art Basel, but even there there's a lot of scream, bluff and glittery stuff, and I'm not so interested in that. But, of course, it's also a mirror of our time and in that respect contemporary. I'm not so keen about the work of Jeff Koons, but he might be an important artist. As a phenomenon, as a social, political, structural and intellectual phenomenon. So I do not deny that he might be important as a representative of our current society.
Collectors quite often admit that collecting art has some similarities to hunting, that they feel the hunter's gene coming alive in them.
A hunting gene? No. I mean, of course, you've got to have a certain drive to build up something that might be called a collection, because otherwise you wouldn't do it. But, it's more about building than hunting. I know, it might sound strange, but I really think about building a structure of thoughts. Because building a structure means trying to assemble things that might not be related to each other, and you must find the common threads and kind of connect them all. A structure of thoughts, of experience.
But if a collection is a structure, can it ever be finished?
No, of course not, but that's not the point. There are billions of missing links, but one has to be aware of that. It's not about finishing; actually, it's even the opposite – open it up more and more... And each piece that comes into the collection is not what brings it towards a possible end. No. The opposite happens. Each piece widens up the space of thinking.
But when did you realise that you're not only someone who sometimes buys art, but you're already a collector?
I've never thought about that actually. This is a question that doesn't really interest me. It's written here in the VIP programme of the Viennacontemporary – "a visit to the collector's house". OK, he's a collector. But what does that mean?
What does it mean?
I have no idea. I don't even want to think about it, because this is a label that has become kind of fashionable. I do what I love to do. I don't think about being a collector or having a collection. It's totally not an issue.
Is there any work of art in the world that you would like to have but cannot afford?
That's a very difficult question. It would be the same as if you asked me about my favourite piece of music. It's a very hard question. But I have to admit that, while formulating an answer for you, one painting instantly came to my mind. It's the self-portrait by Jan van Eyck in the National Gallery in London.
Why?
It's an incredible, unbelievable experience to look at this painting. At his eyes, his face. It's very small. And on the frame is written ALC.IXH.XAN ("As good as I can"). I get goose bumps when I think of it. It's very direct, and it touches the body as well. It really involves the whole person. In my experience, art – not only this painting, but art in general – can evoke that. So, I don't know why, but this painting came to my mind. At the same time, there are numerous other works that hold great importance for me.
Do you think art has the power to change something in people?
This is such a...
...stupid question (laughs).
No, it's not a stupid question. From my experience, I don't know how different I would be if I had not looked at art for the past several decades. Maybe I would be different, but I have no proof for that. I think that being with art, looking at art has changed many, many things when it comes to me. So, in this respect I think it is possible that art has an impact. I don't think that art can solve the current refugee crisis or stop a war though, but it does have the power to change perspectives and to move people. Otherwise why should one spend time with art?
What do you think about the future of your collection? What's the best thing for a collector to do with his or her collection – give it to a museum?
Well, I actually started collecting with such a plan in mind.
Really?
Yes, true (laughs). When I was a boy I noticed the tremendous difference between the collections of the Viennese Museum moderner Kunst and the museum in Basel. Another thing that struck me in the Basel collection was that on almost every label one could find, among the usual information about the artist, the title of the work, etc., phrases like: donation Maja Sacher, bequest Raoul La Roche, donation Staechelin, gift of Emanuel Hoffmann and so on. So I realised that art does not fly into a museum like a butterfly, but that there is private commitment and passion behind it. I decided to do the same: buy art and donate it to our Viennese museums, as they were not as brilliantly equipped as the ones in Basel when it comes to art of the 20th century. I was driven by that ambitious but quite strange idea. Well, I forgot that I was not an heir to a pharmaceutical fortune – nor to a banking or an oil fortune – which I was forced to find out very quickly. But that was my initial plan. Today I feel it would be pretentious to talk about the future of my collection. I would love to continue collecting in a concentrated way and see what happens. But I can say that, more and more, I feel a need to share things of utmost importance to me with other people. This is really something that's growing inside of me – to share a certain passion, a certain love with other people. But I don't have a specific plan.
Isn't it the case, though, that a collection is truly alive only when it's together with the person who created it and continues to develop it? Because, in a way, the collection is a mirror of that person.
No, my goodness, no. In my view it is selfish to bind a collection to its creator. Of course, I assembled it, but the artworks are independent creatures. I mean, they don't need me. I need them, maybe. But they don't need me. They can live with any other person.

Michael Klaar. Photo from personal archive
* In his 1989 manifesto titled "Una Stanza per Panza" (A Song for Panza), American artist Donald Judd accused Italian collector Giuseppe Panza of fabricating Judd's works from sketches he owned, incorrectly and without the artist's permission.
** In the early 1970s, Judd acquired property in Marfa, Texas, and the ranch lands of Presidio County, Texas. He gradually obtained a number of buildings in town, converting each to have a specific purpose and demonstrating sensitivity to the original structures while maximising light and space. These living and working spaces are now managed by the Judd Foundation and include the artist's residence, art studio, architecture studio, library, archives and ranch office.