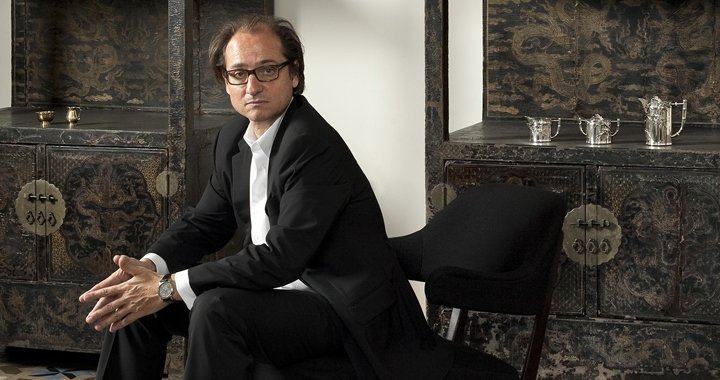 Have an eye. Trust yourself. Be quick
An interview with art collector Désiré Feuerle

03/06/2016
This spring the art world became richer with the addition of one more private museum – The Feuerle Collection* in Berlin showcases the impressive art collection of Désiré Feuerle. Along with big names in contemporary art (Cristina Iglesias, Anish Kapoor, Zeng Fanzhi, and James Lee Byars, to name a few), the collection also features Imperial Chinese furniture and Southeast Asian art from the 7th–13th centuries. In fact, Feuerle's assemblage is viewed as one of the most notable collections of Asian art in Europe. Having spent several years crossing the globe in search for a suitable location for the museum, Feuerle found the perfect spot in Berlin – in Feuerle's opinion, a city with a rough and harsh-enough character for the public to come
into contact with his very sensible and fine collection. Housing the collection is a building that once served as a telecommunications bunker during WWII, now resurrected for different uses by the British minimalist architect John Pawson.
Désiré Feuerle's passion for art can be felt in the scale of both his collection and the new museum, as well as in the manner in which he speaks of them; it is his belief that a collector's passion is one measure of how good a collection is. In fact, Feuerle speaks so ardently about one subject that he holds in especially high regard – Khmer sculptures – that you can almost see a mysteriously-lighted figure of a bodhisattva appear in front of your eyes as the collector expounds on the subject in ever deeper detail. Indeed, Feuerle's own persona could be said to be enshrouded by a veil of mystery.
At the moment, Feuerle continues to work on his own collection, in addition to consulting other notable collections that focus on modern, contemporary, and/or Asian art. Back in the 1990s, however, he was busy organizing revolutionary exhibitions that juxtaposed antique artefacts with contemporary art – both at his own namesake showroom, The Feuerle Gallery (1990-1998), as well as at other venues. In the first decade of the 2000s, Feuerle continued curating a number of exhibitions, such as Imperial Chinese Furniture. From II bC to XVIII c. (2006), and Cultivation and Sensibility: Scholar Furniture: Inside and Outside the Forbidden City (2007).
Asia is Feuerle's current home base, and he says he spends an inordinate amount of time flying from one place to another. He has come to Berlin in order to be present for all preparatory work going on at the Museum – even the smallest of details is important to him. Although the physical layout of the exhibition has already been worked out digitally, Feuerle wants to be on site during its execution. When asked what are his hopes for the Museum, he replies: "I hope I will achieve people entering a different world, and maybe looking at things differently. I try to be a little different myself. I hope people will feel this. I want them to remember this place as something very special when they think about Berlin."

Vishnu, Baphuon. 11th century. Stone; height: 79 cm. Courtesy of The Feuerle Collection. Publicity photo
How did it all start – when and why did you begin to collect art?
I've been collecting since I was very small. As a child I had a very nice collection of keys, from the Gothic period to the 19th century. At the age of 12–13, I started to collect small silver things I could find in flea markets. Then I turned to silver tea- and coffee pots – mainly from the 17th–19th centuries, but also earlier ones (although it was very difficult to find very early ones). I was crazy about silver pots... Really! (Laughs.) I had items in the collection ranging from Russian to Chinese. I also became interested in contemporary art at a very early age, but my collection of it started when I lived in Cologne – I think I was 23 years old – and I had just come back from New York, where I had gone after my studies at the Sotheby's school in London. In New York, I worked in many different departments of Sotheby's – from Russian works of art and Impressionist paintings, to modern art and jewelry. I think I was very good at sharpening my eye in various subjects. In my opinion, the most essential thing is to be able to see quality – whenever you look at something, even if you don't know much about it, you should see its quality. I believe you can educate your eyes by observing well-made things. And New York was the best place for that.
In New York, I had an interview with Leo Castelli; through him I met Mary Boone and she introduced me to Michael Werner. And then I thought, now that would be a cool gallery – Michael Werner in Cologne! Even though I didn't want to go back to Germany, it was an opportunity to work for Michael Werner, after all. So I went to work for him. It was a good time, and all of the artists who are very well known now were in Cologne back then – from Gerhard Richter to Kippenberger. I met Kirkeby, Baselitz, Polke – all of these people. It was a really wonderful opportunity to learn a lot.

Cristina Iglesias, detail of Pozo V (Version 3), 2013. Stainless steel, motor, electrical system and water; 113 x 187 x 128 cm. Installation on view at Museo Nacional Centro de Arte Reina Sofía. Photo: Attilio Maranzano
You are a pioneer in juxtaposing antiquities with contemporary art. How did you come up with the idea?
Quite soon I was struck by the urge to curate exhibitions, and I wanted to do it differently – because I was always interested in both old and contemporary art, and modern as well. I curated the first show for the Jablonka Gallery – featuring Yves Klein, George Baselitz and Brice Marden, together with Madonnas and Pietàs from the Gothic to Baroque eras. It was a very successful exhibition. After that came the exhibition of Rosemarie Trockel's works, juxtaposed with 24-karat emerald ear pendants and some early 15th-century terracotta from Burma.
Then I decided to have my own gallery. I opened it in 1990 with a showing of works by Gilbert & George with Gothic and French Empire clocks.Then came Richard Deacon, with silver tea- and coffee pots from the 17th to 20th centuries; then – Anish Kapoor and Ban Chiang terracottas from 3600–2500 bC; Richard Tuttle and oboes and clarinets; Richard Artschwager with animal objects; furniture by Etienne Avril with [Lucio] Fontana and [Piero]Manzoni; Rosemarie Trockel and scientific instruments; first editions of Augustine, Erasmus, Plato and Aristotle, with a video work by Claus von Burgh; [Eduardo] Chillida with Chinese neck rests from the Ming and Song dynasties; and Julian Schnabel with early tapestries from France, Belgium and England. These are just a few of the many shows of this kind that we held.
Do you remember what first gave you the impulse to put together antiquities with contemporary pieces?
The feeling is the same for both old and contemporary things. I look for pieces that give off the exact same impression – when you look at them individually you have to feel the same thing. But it is very important that it is done precisely – the same nerve must be hit when you look at the contemporary piece as when you look at the old piece. One shouldn't look like the background decoration for the other.
For example, I proposed to Chillida that he exhibit his works together with cushions from the Ming and Song dynasties. He said: "Wow! This is something I've been interested in my whole life! Did you know that?" I didn't. He liked it because there was something there that he could feel. Chillida then asked: "Do you want to show it with my forged iron works?", and I said – Absolutely not! With terracotta pieces and with your works on paper – to which he replied: "Wonderful, this will work perfectly!"
When I think of the next exhibition I want to do, I work with photos – sometimes I have them up on my walls for years. And I look at them many times, until I feel I can say: this will be a great show. It has to be convincing. Just to show how clever I can be? – I wouldn't like that.

Head of Avalokiteshvara, Bayon. 12th–13th century. Stone; height: 51 cm. Courtesy of The Feuerle Collection. Publicity photo
Your collection includes contemporary art as well as Imperial Chinese furniture, Khmer sculptures, Ban Chiang vessels, Thai and Burmese ceramics, and terracotta. What was it that drew your interest towards Southeast Asian art, and China?
I traveled very early on – as a child with my parents. When I was a teenager, I went to China for the first time. At that time it was a very special thing, you needed special permission. I was received like an important guest of the state; it was really amazing – I was very impressed. Later I made trips on my own, and I always felt a special sensuality in Asia – especially in the Khmer sculptures. I haven't found anything like that in other cultures, including the rest of Southeast Asia. There are a lot of beautiful things, but the most attractive to me – the most sensual to me, the most elegant and beautiful – of what I've found, is Khmer sculpture.
Chinese art came later. At the Armory show in New York I saw a chair – it was clear to me that I must have it! I thought – what a sculpture! I bought it and I asked the Palace Museum in Beijing to research it. They discovered that this was the finest lacquer gift ever given to the Emperor. It was one of the masterpieces of the Palace. So then I thought, if it is possible for me to buy such a chair in New York – where all the big collectors are walking around with consultants and they aren't taking it – then this is the moment! I should look deeper into Chinese art and buy more furniture and sculpture. So, I started to collect Chinese Imperial furniture, which was not being collected by people at that time. I asked everybody in the field – Show me what you have.
I collected stone furniture as well as scholar furniture. I liked both the rich and the very minimal – rich in material and/or figurative elements, things that belonged to the court; and very minimal things that you could find in the court and also outside of the palace, from unknown artists who made their own calligraphy table. Whether it is Imperial or not – you can feel it when you have bought the right pieces.
For me, it is not really furniture – these are sculptures. It is for this reason that I became so impassioned by it. I shared my passion with other people – with those who always ask me what am I buying now. Many of them sneered at me back then but now they all regret. A lot of people collect through their ears – they don't use their eyes. But when you use your eyes, you always have the possibility of making a truly great collection.

A carved chair with Lingzhi motifs. China, Early Qing dynasty (17th century). Red and black lacquered wood with gold painting. Courtesy of The Feuerle Collection. Publicity photo
When you choose a piece of art, are you more of a professional or a regular person – that is, do you go by your head or your heart?
I always do it intuitively – according to my feelings. But of course I am always in close contact with the leading authorities in every specific field, what means I am not buying things blindly but even so you must trust your own intuition.
I also consult important collections worldwide. Sometimes they come to me and say – How can you know that, you are not an expert in, for instance, early Chinese bronze. I reply – I'm telling you, it's a masterpiece. Nevertheless, they end up not buying it; but years later, they come to me and say – Not buying that was really a huge mistake.
I also tell people to buy early – before anybody else has interest in it. For example, the story of Imperial seals: I've been offered seals, the best in the world (because I have access to the collections). I didn't understand much about them, but then again, I had an eye for it. Today, these seals are the most expensive, the most collected items. One example fetched over 10 million Euros at auction. All of the newspapers write about them because they are so expensive.
The same goes for contemporary art – you can see the quality, but you have to take a risk, too. So, I just do it before others start thinking about doing it. I think that's the key to creating an important collection in general – have a good eye and trust yourself, or, have a good man on your side and trust this man. And, you have to be quick; don't think too long.
Was this a family tradition – art collecting?
Yes, my father is a real collector, with a very eclectic collection whereas I always try to focus on one thing, and I fell very early in love with Asia. It was my passion, in combination with a good eye and luck. But I think you can look for luck in life. You need courage, and you have to take risks. I was willing to take risks. Maybe I have spent a lot of money on some things, but when I am convinced about something, I think it is the right thing to do. And you never do things for money if you want a great collection. When you think – Oh, this will be a good investment – that is so wrong. When people who think like this sometimes come to me, I already know – he/she will never be a real collector. You have to feel the passion in the collection. It also encourages the dealers to help you if they see – Now this guy is a real collector, he is really into it. Also, if you go to an artist and he can feel that you honestly like his work, he tries to help you.

An eight-poster canopy bed. China, 17th century. Southern elm. Courtesy of The Feuerle Collection. Publicity photo
Have you made any mistakes in regards to buying art?
No; the only mistake I've done is – sometimes I should have bought more. Even if I spent over my set budget, in the end, I was so happy that I did.
In terms of collecting, what is the craziest thing you've done?
The craziest thing happened many years ago – I had just bought an apartment, but I sold it to buy one very important art piece. My parents said – Are you crazy?!, and I replied – I don't care, I have to do it, I need that piece!
Which piece of art in your collection are you most proud of?
That's difficult to say; I am proud of so many pieces. I think a piece's quality is an important feature. And it does depend on how you install/display the objects. I own a very beautiful fragment of a sculpture – a hand. Another collector had wanted the piece, but then he thought – Well, it's only a hand... Later, I showed him how I had displayed it, and he said – Wow, is this the piece?! I was there when he was thinking of buying it – he was looking at it from the wrong side. I, instead, had turned it to the other side. And now he was asking me how much do I want for it...
This is also what I want to do in the new Museum – display things in a different way, so that an old piece becomes a contemporary piece. The important thing is to contract the pieces, to take out the musty atmosphere that surrounds so many museums. I would say that an old-master painting can be very sexy, too. It depends on how you display it! To install the piece well, it is very important that you illuminate every piece individually to bring the essence of the character of every piece out. An old piece can be so modern and so strong next to the most contemporary of art pieces, so that it can actually be in very strong competition to the contemporary piece. In The Feuerle Collection, I want to let people enter another world and experience art differently, so that each artwork speaks to them. And it is not important if they know anything about art or not – the art piece should make them stop and look at it.
I really think it is very important to slightly change this perception that there are museums specifically made only for contemporary art, or for only modern art, only Asian art, etc. In my opinion, it is beautiful to focus on the quality of the pieces. And Berlin is a very good place to do that. The objects I collect are very elegant, sophisticated, sensual. Berlin is more on the rough side. It will be a contrast, a contradiction in features. The art pieces will look completely different than if you were viewing them in Rome, Paris or Venice.

Hallesches Ufer Sketch. South-west elevation from Landwehrkanal (original site condition). Publicity picture
So, your Museum will be in contrast to the existing assumptions of how a museum should look.
We acquired the building because it was a stark contrast compared to the collection. As is the city. I find this very attractive. Also, there will be something very special – we're going to have an Incense Room in the Museum.
Incense is an old tradition in China, one that goes back to the time of the Emperors. I'm speaking about incense wood that is more than 1000 years old. According to tradition, a master leads the ceremony; it lasts two to two and a half hours, and a maximum of four people can take part in the ceremony. In ancient times it was one of the greatest honors one could get in China – to be invited to participate in an incense ceremony.
It is very difficult to get high quality incense, but I thought – I have to bring this to the Museum. Since it is not easy to have a master here, and we have time limits (if we want a maximum number of people to experience it), I decided to make a special Incense Room. I asked architect John Pawson to design an incense table respecting the forms of classic Chinese furniture. The table has an electronic system – it is heated so that the incense oil diffuses out of the table; we can offer this special experience to visitors. It will take about a half an hour to experience two different scents.
It was very important for me to bring the sophisticated world of China here. It took a long time – we worked on this for two years. At first, I tried to create the incense artificially – I invited one of the best noses in the world to compose this scent, much like he does with famous perfumes. This person came and we did the three-hour-long ceremony. Never in his life had he been so impressed by something. And scents are his life! This person worked hard for one year to create the scent and... he could not even come close. He agreed on that point.
So, we created this new table to be able to enjoy the scents. For me, it is an art piece – sophisticated and beautiful – and it transports China, the most refined side of Chinese culture, here. It will be the only table of its kind in the world.

Hallesches-Ufer Current Site. Photo: © Gilbert McCarragher
The new space for the collection is very special, too. How did you find it?
I looked around everywhere – from Istanbul to Venice; from London to China and Spain; and also, Berlin. Here, I saw (as I explained before) the contrast, which is what made it attractive to me. The building is a former telecommunications bunker, but it has nothing to do with what one usually thinks of as a bunker – there had been people working inside of it, so it has relatively high ceilings. We have three rooms, each one around 2000 m2 large.
I wanted to install art pieces in a minimal manner, so I thought – Why not get a very minimalistic architect? The most minimalistic architect in the world, I would say, is John Pawson. But I thought – Let's look at some other great architects, too. I took one year to visit great architects – from Switzerland to Japan. At the end, John Pawson was the right one for the project. Other architects had a problem with the dominance of the building, but John realized that this is truly incredible architecture; the building has to stay – as elegant and simple as it is – but it has to be focused on the art.
Will the new Museum hold your whole collection? How big is your collection?
No. It's always nice to have surprises. (Laughs)
So, you will change the collection from time to time?
Yes.
Do you think you could fall as deeply for a new, not-yet-so-explored field of art (already within your collection, that is), thereby adding yet another point of focus?
The collection is never complete. I think it is always nice to add something to increase the contrast in the collection. The attractive thing about collecting is – as long as a collector is alive, there is always something missing in the collection. Always!

Zeng Fanzhi. Untitled, 2009. 117 x 61 x 42 cm; bronze; 129.5 x 26 x 26 cm (base) © Courtesy of the artist and The Feuerle Collection. Publicity photo
You had a gallery in the 1990s, and, of course, a gallery sells art. But as a collector – have you ever sold anything from your collection?
I'm not planning to sell anything. Adding new pieces to the collection always gives me satisfaction. It is like meeting a new friend. I love to meet new people, too. It takes one's whole life to surround oneself with interesting people, and then we have to cultivate our relationships with them. It is a beautiful thing to have the most different kinds of people around you, because while you are with them, you enter another world – even if they think differently than you do, it is very pleasant, nonetheless. Sometimes I experience the same thing with art. There are some sculptures about which I have thought – maybe this is not something I really need right now, but the piece is so interesting that I want to have it around me. After a while, I understand that it has changed my view, it has helped me to see something I didn't see before. [Smiles.] By the way, all of the pieces that I collect – they are like human beings to me. I have a relationship with them.
Do you speak to them?
Nearly! (Laughs.) Nearly, nearly... Because there is a person behind each art piece – someone has created something very special, something that moves me, and that has moved hundreds of other people, too (if we're speaking about old pieces). It is wonderful! For example, with some furniture pieces, it took four years of work to make something special enough to impress the Emperor of China... Hundreds-of-years-old items. I even have things that are more than one thousand years old – a Chinese platform – quite possibly the first seat in the history of Chinese furniture. You connect through that back to those times. There is a spirit around these pieces, and you can absorb that spirit.
I suppose there are many art pieces in your collection that were made for sacral purposes. Like those Khmer sculptures, for example. Does this aspect mean anything to you as well? Do you "feel" them as sacral objects, or are they simply works of art for you?
For me, it is both. It is a piece of art, but I also feel something more – they transmit tranquility, calmness; they really can calm me down. And not only me. I have witnessed that some people – who have nothing to do with Buddhism – after having sat in front of certain sculptures, say: "I would have never thought it, but it gives me a good feeling, just sitting here." These pieces are art, yes, but they also have this kind of meditative energy which really can be felt by anybody.

Désiré Feuerle. © Mark G. Peters, photographer; Patricia Ketelsen, stylist
Are you a Buddhist?
I like the story about the Thai king in the 19th century who built a church. People were very shocked about that and asked why he did that. He said: "I am Buddhist, but I think that is not important – one can pray everywhere." I like that; it is also my mentality to be open to everything. Whatever religion it is, it always transmits a good energy.
You mentioned the Armory Show. Where else do you search for ancient art pieces? Or is that a secret?
It is always a secret (smiles), but the thing is – you have to know important collectors. It is a small community in this large world, and it is essential to know what is out there – in private collections, in important state museums, and worldwide. Regarding contemporary art – if you want to have early pieces of an artist, you need to meet them personally. This is also how you can support people in their early stages, and you also become older along with them. It is a nice thing to be connected from early on. The key is to build up relationships, friendships. You have to always look for the right connections in life, and then it's up to you how you will make use of them.
*The first opportunity to experience The Feuerle Collection Museum will be from April 29 – May 7, when it will be open to the public. From June 4 – September 18 the Museum will be hosting the 9th Berlin Biennale – during that time only a part of the collection will be on view, and only on one floor of the Museum. The Museum will open officially in October of this year.