You just spend your time with the art
An interview with Lithuanian art collector Vilius Kavaliauskas

30/01/2017
In the Lithuanian art scene, the name Lewben Art Foundation needs no explanation. Founded in 2013, the organization is not only the holder of a substantial art collection, but also one of Lithuania's largest patrons of the contemporary arts. Just within the last year the Lewben Art Foundation supported the 6th International Vilnius Painting Triennial, the Young Painter Prize exhibition, and a large number of solo shows held at the Vartai gallery, including those of artists Žilvinas Kempinas, Heimo Zobernig and Julia Haller, Linas Jusionis, Julionas Urbonas, Krišs Salmanis, and Andrius Zakarauskas.
In 2016, works from the Lewben Art Foundation's collection were exhibited for viewing at: the "Shaping Ideas: Sculptures" exhibition, which was done in collaboration with Art Vilnius; the exhibition "Shapes and Forms", held at the Kempinski hotel in Vilnius; and in the exhibition "From Realism to the Object. Lithuanian World Art in the Collection of the Lithuanian Expatriate Art Foundation", at the M. K. Čiurlionis National Art Museum in Kaunas.

Žilvinas Kempinas. Columns, 2006. Magnetic tape installation. Photo: Rytis Šeškaitis
Another noteworthy accomplishment of the Foundation was its sponsoring of the site-specific installation "Scarecrow" (2014), by New York-based Lithuanian artist Žilvinas Kempinas, in New York's Socrates Sculpture Park; the piece was the largest piece exhibited in the park's history. The Foundation also underwrites the publishing of art books and monographs.
Established by the international finance and management consulting company Lewben Group, the Lewben Art Foundation provided the auspices for the creation of its subsidiary, the Lithuanian Expatriate Art Foundation, the mission of which is to actively promote the acknowledgement of Lithuanian diaspora artists (past and present), and to encourage the return of their works to Lithuania. In addition to this collection of works by diaspora artists, the Foundation also has a collection of works done by endemic Lithuanians – spanning from late-18th-century works to the currently most-promising new artists – and everything in between, such as classics of Lithuanian modernism and the biggest names in Lithuanian contemporary art. Works by international contemporary artists have also been added to the Foundation's collection.
At the head of the Lewben Art Foundation is Vilius Kavaliauskas, passionate art lover and collector, and the organization's founder. In 2014 Kavaliauskas became a member of the Tate Modern Russian and Eastern European Acquisitions Committee, a position which, as he says, is a great opportunity to popularize Lithuanian art around the world. I met with Kavaliauskas in the offices of the Lewben Art Foundation, located in one of the high-rises of Vilnius' city center. Brightly-colored, life-affirming paintings hang from the walls of the dusky-toned interior, and the tenth-floor windows provide views of both the city and the Neris River.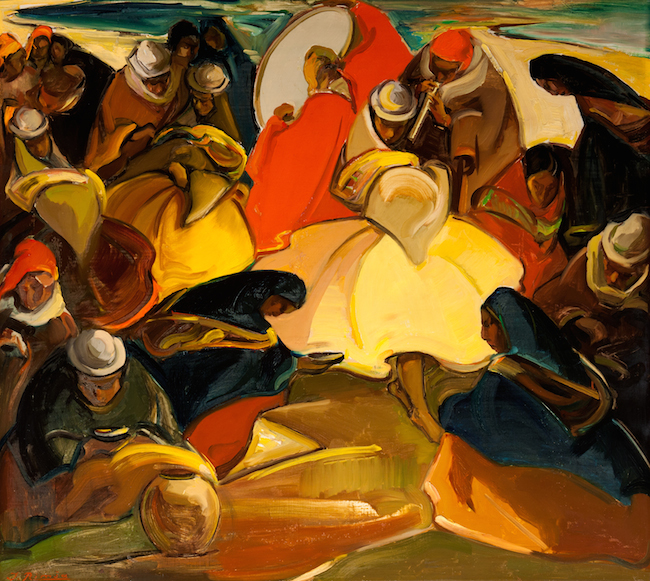 Jonas Rimša. Rhythm. From Aymara Trilogy III, 1962. 87.5x97.5 cm. Oil on plywood. Photo: Arūnas Baltėnas
What was the starting point for the collection?
As usual, it starts with the buying of a couple of pieces. For some people it turns into a hobby – one for just decorating the walls – and that's enough for them; but for us, it became a passion, and we started to collect more and more. Over the years, the collection's goals have changed. In the beginning, we were mostly interested in the works of artists such as [Viktoras] Vizgirda, [Pranas] Domšaitis, [Jonas] Rimša, and others who had left the Lithuanian art scene either during or after World War II. When buying these things, we noticed that there really were a lot of pieces still out there – many of the collections hadn't come back to Lithuania. So, we decided to create the Lithuanian Expatriate Art Foundation, and to include in it all of the expatriates who had lived and created abroad. Now the goal of the Foundation is to bring back this heritage of Lithuania, and to do research on these artists. We have yet to publish all of the completed information that we have on them.
Why did you turn to art? You could have collected something else – wine, cars, etc...
I guess nothing else interests me as much as art. Anything else is really just materialistic. However, I suppose that one doesn't simply choose to start to collect something – one doesn't choose to become a collector. It just happens. You find something that you like very much, so much that you feel a passion about it – that's what drives you. Actually, we didn't consider ourselves to be collectors until we had quite significant amount of art works. Then we decided to institutionalize, and to call it a collection.

Tony Cragg. Contradiction, 2013. Bronze. 215x85x80. Photo: Charles Duprat
What was that first inkling of passion, the first acquisition for your collection?
[Vytautas] Kasiulis and Rimša made a large impact. At the point when we started to become interested in art, we had two exhibitions of both artists in Lithuania, and I think that – especially the colorful palette of Kasiulis' and Rimša's later works – created some kind of impact. Good pieces by those two artists were really hard to get at that time, and that fact just increased our passion to get more and more pieces that nobody else had. The search for artworks that are difficult to find, the process of researching them – is really the most interesting thing, I think.
Do you still have those first artworks that were bought by you?
Yes, most of them are in the collection. I couldn't say if they are on view somewhere at the moment, because we have a lot of pieces, and most of them are in storage. Surely there were pieces in the very beginning that would not be interesting for us anymore, works that I would now consider as having been a mistake to buy; but still, they are a part of our history, and I would not like to deny that we have made mistakes. Mistakes lead us to where we are today.
What was the biggest mistake?
That would be the most expensive mistake, probably, because everything relates to money in the end. I would name the [Jan] Stanisławsky piece that I bought, although he is a very good and famous Polish artist. It is a nice and really beautiful piece, but it doesn't have any connection to Lithuanian art, expatriate art, or international contemporary art, which is now our passion as well. It doesn't fit into the collection. We have moved on to a different kind of level in our collection.
In your interview with Arterritory in 2015, you mentioned that you have a new idea for the exhibition space. How is that coming along?
Yes, we still have that idea, but this is maybe not the right moment for it. In the future, we would like to create something – a kind of museum or gallery, or an exhibition hall. We would like to find something very specific, but as yet, nothing that we'd be interested in has appeared. Of course, it also depends on material things, like money. We can never know what will happen tomorrow. It is really hard to predict something in this environment we have now.
Still, we need to think about having a good and big collection. I guess it already is an important collection in Lithuania, so now we should think about its future. It cannot be divided or sold – we wouldn't like it if our children sold it. It is a huge legacy of Lithuanian art. Plus, it is a tool with which to get some international contemporary art into Lithuania, something which we still greatly lack. Nobody collects it, none of the museums have anything.

Viktoras Vizgirda. Landscape with the Boats, 1965. 76x101.5 cm. Oil on canvas. Photo: Arūnas Baltėnas
The new Modern Art Centre is going to be built in Vilnius.
Yes, but it is orientated towards modern and contemporary Lithuanian art, not international art. There will be, most probably, exhibitions of various international modern and contemporary artists, but I am not sure if there will be any international contemporary art pieces in its permanent collection.
How big is your collection at the moment?
There are around 1500 pieces, maybe more – photographs, sculptures, paintings, videos.
You are on the Russian and Eastern European Acquisitions Committee at the Tate Modern. Can you tell us more about that?
Our goal in being there is to promote Lithuanian art – many good modern and contemporary Lithuanian artists could appear at the Tate Modern; it is one of the main and most important art institutions in the world. Jānis Zuzāns is a Tate member as well, and Latvian art is his focus.
If our artists can be shown there, they will become important worldwide. At the moment, it is going quite well. We have done a study at our Foundation's level on what we could offer the Tate Modern in terms of Lithuanian art.
Up to now, Tate curators had been concentrating just on Central Europe – for example, last summer we [the Tate Acquisitions Committee] confirmed the acquisition of about 15 pieces from Central Europe – we went along with the curators to the Czech Republic and Slovakia; whereas in 2015 the Committee concentrated on Romania. We have discussed that the curators plan on visiting the Baltic countries in 2018.
Our goal is to increase efforts in getting the curators to do deeper research – both on their own and to look at ours – and to start choosing which new artists they would like to see in the Tate Modern collection. We plan on starting with our donations before 2018, and some funds have already been set aside specifically for Lithuanian, Latvian and Estonian art. The Tate's curators are very interested in Lithuanian photography – the museum has a big department on photography. Lithuania is quite strong in that field, so I think we have good chances of appearing in the Tate before 2018, maybe in 2017 – we'll see how it goes. The main goals of my being on the Tate Committee are to have access to curators, to perhaps influence them a bit, and to encourage them in promoting Lithuanian art.
Why is this important to you, personally?
One thing is – we are passionate about Lithuanian art as a whole, and we would like to see it more popular worldwide. Why should just Lithuanians know about great Lithuanians? By supporting our artists, buying their works, making exhibitions of their works, going to other institutions' exhibitions of their works – all of this increases their cultural value, as well as their future financial value. I'm not saying that we wouldn't be disappointed if our collection didn't increase in financial value over time, but what is most important is that its historical, cultural, and artistic value increases in the future. And as more works by Lithuanian artists enter big institutions – like Tate, MoMA, etc. – the more valuable our collection becomes.
Why do you think that the Baltic area is not all that visible in the art world at large? We have been independent states for more than 20 years.
I think there are a couple of reasons. The main reason is that we were part of the Soviet Union for a long time.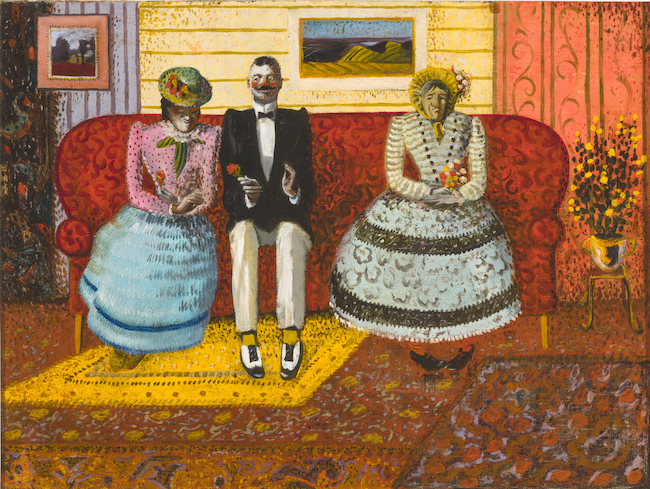 Vytautas Kasiulis. Matchmaking, 1941. 76x100.5cm. Oil on canvas. Photo: Arūnas Baltėnas
Most of the art world is familiar with Russian art...
That's because there are a lot of rich people in Russia who promote it. Our galleries and artists are not supported by the government, nor do they get support from private individuals. Galleries are not that wealthy, but any activities to promote an artist cost money – holding a good exhibition somewhere, going to biennials, to art fairs, etc. Another reason is – curators of the big museums simply don't have the time to travel everywhere to see art. Now that I've been working with the Tate Modern for two years, I can see that these people just don't have the time to get to the Baltics. Of course, that is also not their priority; otherwise things would be different. However, I think that with time, this is going to change. I doubt that we will have a lot of our contemporary artists in the world's museums, but still, it will definitely be more than we have today. Tate curators know some artists from the region – ones who are relevant to them, and who have a good reputation. They would like to see them, but they just don't have the time. Also, they have limited funds, so they put their priorities elsewhere – into areas that have more importance today. If the Tate Modern would had donations coming in from the Baltics from time to time, they definitely would have acquired some of our artists by now. But even donations have to go through the same system as acquisitions do – any donation that is received must go through all of the committees that any acquisition does, and this takes time. Every art piece needs to be confirmed by all of the committees, and at the end, by the trustees; only then does the work have the right to be in the collection. They don't accept everything. So, it has to be a really important artist and a really important piece.
What have you observed – do they see the importance in the context of local art, or do they think it should be international? What are the criteria?
What I see as the main criterion is that the artist has to be important to some kind of movement or period of time in European art. They certainly take into account that the artist is locally acknowledged, but they would like to see the artist being part of an international heritage as well. For example, we have a lot of famous artists who are just known in Lithuania, and I really doubt that their works could get into an international museum because they simply cannot be placed within a larger European context. It is especially hard for the modern artists who were creating works during the Soviet era, unless you can somehow relate them to the Russian movements. And that is difficult because very few of these artists were related to any movements in Russia. We actually tried to separate ourselves a bit from those movements. Besides, these artists haven't been exhibited abroad a lot, only in the Soviet Republics.
I suppose one could do a researched study on why artists from the Baltic countries never became that famous in either the Soviet or international art scenes – I am, of course, speaking about modern art, not contemporary art, which is a completely different story.
Perhaps that is one of the reasons why you work as a patron of the arts.
Yes, I think it is important to support young talented artists, because without the support of the government or private individuals, it is really hard for them to get the necessary motivation, not to mention getting into the international market. The international market is where one gets popularity and acknowledgement. You can be important in Lithuania, but if you are not important in the international contemporary art market...

Linas Jusionis. Repetition, 2011. Acrylic on canvas. 115x150. Photo: Arūnas Baltėnas
Is it important for you to be connected to artists – to meet them, to have discussions with them?
For me, personally – not really.
What about connections to other art collectors?
We have a lot of discussions with collectors; we do meet. It is not necessary to meet and talk about art, but we do know the most important local collections, and we definitely share our experience and knowledge – we talk about acquisitions, etc. It is interesting because, actually, each collector wants to show off.
We have some connections to artists, but they are not especially close ones. One couldn't say that we're experiencing a bohemian life together with the artists. Some people may do that, but that's not an important aspect for me.
Do you go to exhibitions and see what is going on in the art world?
We are definitely always there, looking for something, always interested in art processes. Our curators do research, and send us proposals and information about current exhibitions or currently emerging artists. The Lithuanian side is covered quite well because it is a small country, and we know most of the artists and how the situation tends to develop here. Certainly, the international market is much broader and much more difficult to navigate. As we collect works of emerging artists – those who have already established themselves a bit with exhibitions in major museums, as well as those who are in the collections of major museums but are still emerging – we have a curator who works on the information about these newcomers. Last year we visited almost all of the art fairs – in Latin America, Miami, New York, London, Hong Kong, Brussels, Paris, Basel. We go to biennials as well. This is the way to really learn. It is a kind of process. It is a hobby. You don't need to make plans to do something, like when working. You just spend time with the art – that's it. It is, however, a compulsory thing once you are abroad, just as it is to go to the museums and major exhibitions that are in town. It is a way of life.
Is there an exhibition that has left a lasting impact on you more than any other? For me, this happened many years ago – I saw an exhibition that I can still remember very clearly because the experience was so very strong and emotional.
[Thinks for a moment] I guess that something like that is yet to come. Most definitely the 2015 Venice Biennale left a really nice impression on me – as a whole week-long event. Some of the pavilions – such as the Japanese exposition, or Belgium's pavilion with the huge robotic art piece – were really interesting. But I couldn't say that a specific artist's exhibition has made any kind of a huge impact on me.
Perhaps a specific artwork...?
Actually – Ai Weiwei's "White House" at Art Basel 2015, in the Unlimited section. I like his works! But he is just too expensive for us. That piece is really, really beautiful; it is amazing! The Japanese pavilion at the 2015 Venice Biennale was an aesthetically beautiful thing to see. The idea behind it was also interesting. [Magdalena] Abakanowicz is a great artist whom I love. But I couldn't highlight something specific. Each time you go to some big art event, you can definitely find something.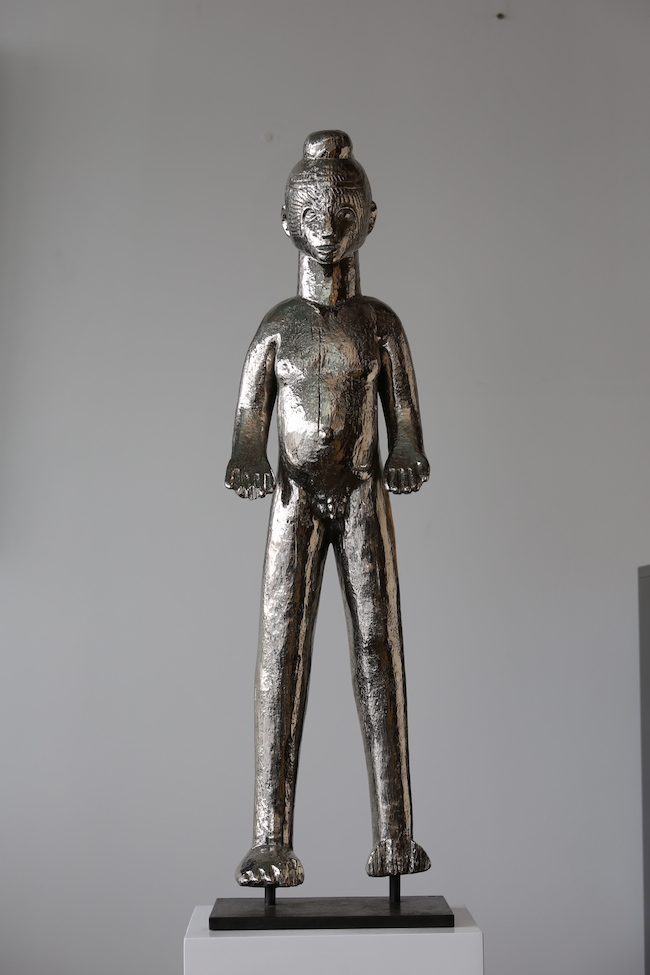 Bertrand Lavier. Ibo, 2008. Bronze. 96x25x16 cm. Photo: Arūnas Baltėnas
And in your collection – what would you say are three highlights?
If we're speaking about the international part of the collection [thinks for a moment]... I would name Charles Avery – his huge, very colorful drawing that we exhibited at Art Vilnius 2015. It is an amazing piece which will be hung in my house. "Ibo", by Bertrand Lavier, is an absolutely beautiful piece. I love Thomas Houseago, but I wouldn't say that I have any of the most important pieces by him, as he is quite expensive. Tony Cragg is a very important artist, and the piece we have is really good. But there are many things that I would still like to acquire. There are many artists that we still don't have in the collection. I think they will come with time. For example, I love [Antony] Gormley's beautiful sculptures.
What do you have at home on the walls?
We have just Lithuanian art right now. In the new house, we plan to have contemporary art. It will be a bigger space, so we will be able to hang larger and more important pieces. We could go with Charles Avery, with Secundino Hernandéz. "Ibo" by Lavier, and his other work – "Dayak" – will definitely be in the house.
If one were to disregard prices, and consider all museum collections – what would you like to have?
All of the "blue chips" are really good – [Jeff] Koons and [Damien] Hirst are the ones I would like to have, especially his installations. We used to like paintings very much, but over time we've moved on to different mediums as well. Most of the things we've recently bought are not paintings. As you saw in Art Vilnius 2016, there were no paintings – just sculptures and videos. We are developing an interest in videos, but that's coming along more slowly. With a painting, you simply see it and select it; whereas with video, you need to watch it and understand the idea behind it, read about it – as with all contemporary art, but that holds especially true for video. I suppose that everything comes with time and knowledge – with more reading, expertise, knowing about the artist, about the work he or she is doing, and why he or she does it.

Charles Avery. Untitled (View of the MoAO from the direction of the Place de la Revolution with Hammons, Hepworth, Koons, Unknown Easter Island Artist), 2013. pencil, ink, acrylic, gouache on paper. 252.40x408.50. Photo: Arūnas Baltėnas
Do you think your interest in art has changed anything about you personally? Some people believe that art can change the world. What do you think?
[Thinks for a moment] Everything changes, but I wouldn't say that art, specifically, has changed us in some way. I would say that art came at the right time. We grew up for a period of time with art as individuals, but it is not as if it has changed a lot in us. However, we have increased our knowledge because of art – we have gotten more of an understanding into different kinds of things.
On a global level, I wouldn't say that art could really change anything. Politically – no; economically – yes, to some degree, just because huge amounts of money are invested in it, but it is still just a minor impact considering the total spending of wealthy individuals, or even just regular people.
But if an artwork makes somebody think...
Art definitely makes one think, but let's look at a certain period of time – how much has art really changed the world? I wouldn't say that it has changed it somehow. Art, or a specific piece of art, could change the art world, of course.
Art can, however, positively influence attitudes towards culture. When new museums, cultural events, and huge collections come to countries where they haven't been before, one can say that those are changes for the better. Those are positive things compared to, for example, the destruction of ancient and important works of art in Syria.
Art collectors are individuals who wield a very strong influence in the art world. How do you feel that you, personally, can affect change?
Even in Lithuania there are a couple of collectors who can make an impact on the art market. I would say that two thirds of the best art pieces in Lithuania are either in museums or in private collections. If those collectors would put a hundred of their art pieces onto the market, the market would go down. If, instead, they hold onto the pieces, and do not put them on the market, they could increase their value. People look to the collectors to see what they are buying, and then they try to follow them and buy the same artists' works. That, of course, also increases the value of the market and of the relevant artists.
On that side, the collector's impact is huge. On the cultural side, the impact is huge as well – look how things have changed in the private sector over these last five years: there are more and more private individuals and companies supporting art, collecting art, and showing art. Most of the people doing this are collectors, not individuals who have no interest in art at all. Think about how many exhibitions are supported from private funding alone! This can be especially seen in foreign countries, where millions are donated to build new museums. For example, the Tate Modern's new building – more than a half of the money was donated by private individuals or private companies. That had a huge impact on the art world.
And so much money in being invested in art by private collectors, American collectors especially! If a well-established and known collector (with a massive collection) buys something from an emerging artists, people begin to say that artist is probably worth paying attention to. With this kind of attention, it becomes more probable that a good gallerist would take this artist on board, and so on.
I would say that there are four players in the art market – museums, collectors, galleries, and auction houses; and they are all connected. Probably the most objective of these four are museums, because they always need to think about the works' legacy, etc. Private collectors can think subjectively; they don't really need to care about what they are buying – if they like it, they buy it. Galleries and auction houses play one and the same game – how to make the most money. Nevertheless, all of them make positive infusions into our cultural life, as well as into art marketing.
I recently spoke to the Polish artist Katarzyna Kozyra, and she had a very strong opinion on this issue, namely, that the huge influence that money has on art is not healthy – an ever-increasing number of artists are thinking about money when making their art.
Beginning way back in history, there has always been somebody who has supported artists – either the church, private individuals, or whoever else. Artists need to be a little hungry, but they also need money to create. Artists don't create just for themselves; the world does not work like that anymore. Everything is commercial, and in the end, all artists try to earn as much money as they can from their art.
The prices for art are going up and up...
Just to materialize an idea costs a lot of money. The more money an artist has, or the more money somebody gives the artist to create something, the more interesting pieces the artist can create, I guess. There are two sides to it. I wouldn't agree with Kozyra.
It seems a bit sad if everything is about money.
But it has always been about money.
Of course, there has always been commissioned art, and beautiful things have been created thanks to financing. However, personally, I think that artists should create because they have a need to create; otherwise, it becomes fake.
Objectively, to create an artwork you don't need a lot of money, right? But if we look beyond that, if you really want to create something nice, especially in contemporary art, to materialize the idea and to create something huge and specific, one definitely needs to spend some money. One can, of course, do a performance, which costs nothing, and that can also be a nice thing. I think there is no black and white here; it is a gray issue. Of course, there are a lot of things being commercialized these days.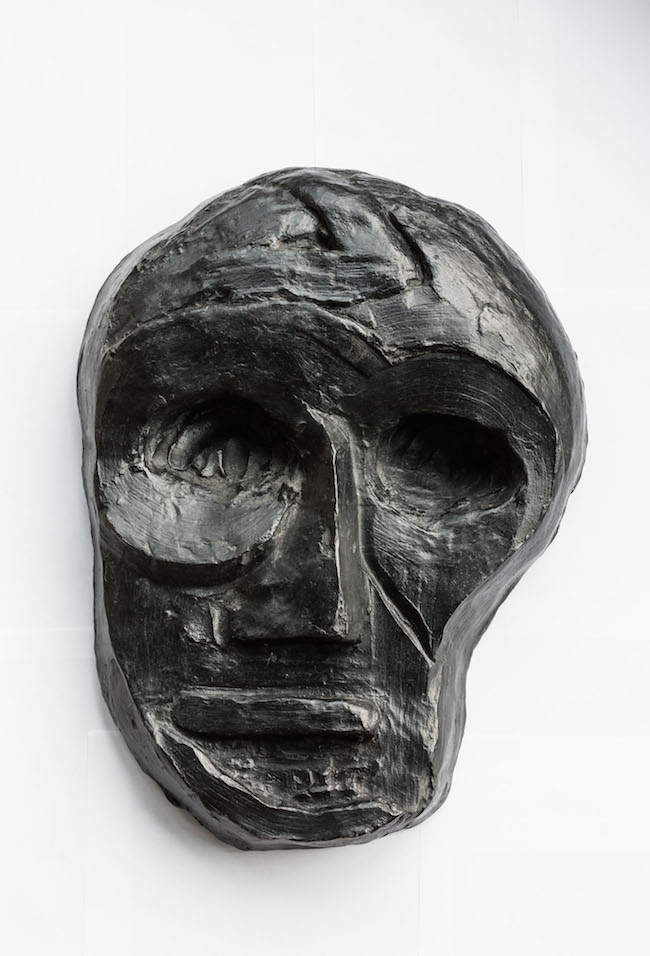 Thomas Houseago. Bronze Portrait (Midnight Mask), 2009. Photo: Arūnas Baltėnas
Going back to the Lewben Art Foundation, what are its plans for the near future?
Right now we are planning to release the second album from the Lithuanian Expatriate Art Foundation, in which all of the pieces by expat artists have been cataloged. We are also planning on publishing a monograph on the expatriate artist Petras Kiaulėnas, who lived in the USA for a long time. An art historian has done a great amount of research on him, and we are working together to release the Kiaulėnas monograph within the next two years. And then, slowly, we are moving on to working on those artists who are not being reflected in the art world today – doing more research on them.
We are still buying Lithuanian art, but the collection is already quite big, and it seems as if most of the main artists have been represented; those are good works, so we really don't need to develop it that much anymore. The idea is more along the lines of promoting Lithuanian art abroad, especially using the possibilities being offered up by the Tate Modern: to combine some international art with Lithuanian art, make exhibitions abroad, organize joint exhibitions with other foundations, and simply try to bring more Lithuanian art into the world. I think that's the most important goal of the Lewben Art Foundation. There are just different ways to do it, and we can never be sure which will be the best one.