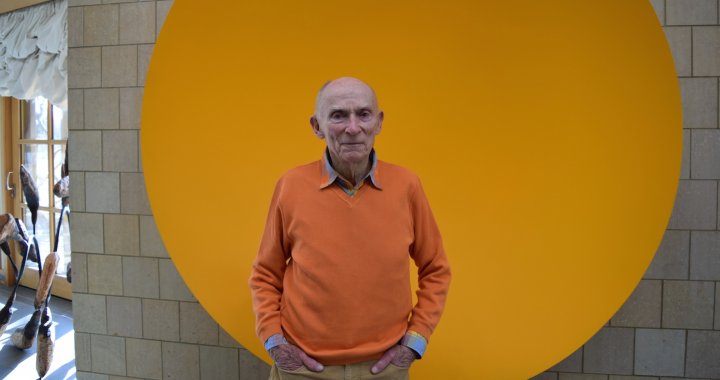 Feeling at home with something unconventional
An interview with American art collector Al Shands

28/02/2017
This is the story of a very unusual art collector or, rather, a "temporary custodian of art", which is a fitting description in this case. Al Shands is an Episcopalian minister who, despite not having his own church, held his congregation's weekly services in a seafood restaurant. That may have been back in the 1960s, in Washington, D.C., but today Shands continues to approach things in his own peculiar way, even matters outside the realm of spiritual service – namely, the art environment of the early 21st century. We're talking about people like Sol LeWitt, Anish Kapoor, Olafur Eliasson, Elizabeth Murray, Tony Cragg, Ernesto Neto, Alfredo Jaar, Jaume Plensa, and Zaha Hadid – artists whose works can be found in Shands' contemporary art collection.
I meet with the jovial Al Shands in London, where he's also planning on visiting the Victoria Miro Gallery and meeting up with British artist Alex Hartley there – Hartley's latest installation, a Bauhaus-inspired folly, has just been set up in the Gallery's garden. Another of Hartley's pieces, a dilapidated skeleton of a modernist building, can be found in the field behind Shand's house, in one of the deepest corners of the property.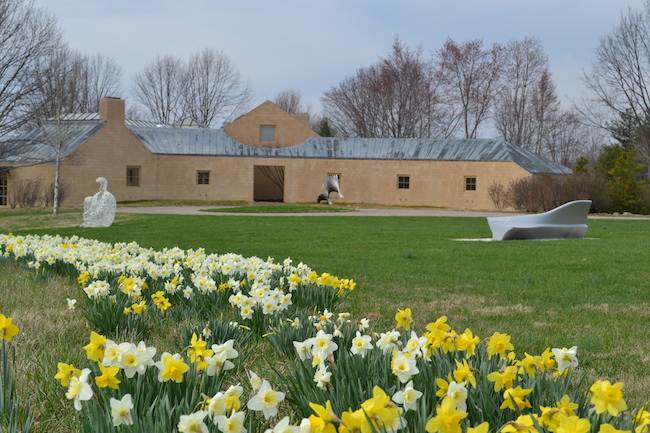 A view of the front of the house at Great Meadows with works by Jaume Plensa (White Shadow, 2009), Alyson Shotz (Axis of Rotation, 2007) and Zaha Hadid (Bench, 2003). Photo: Edward A. Winters
In 1988, Shands and his wife Mary commissioned the architect David Morton to design a special house for them. Morton expertly grasped the couple's specific wishes and vision, and created the Great Meadows country estate in the idyllic Kentucky town of Crestwood – to serve as a home to both its owners and their growing contemporary art collection. As if it were carved by wind and water, Morton constructed a two-story home from layered, Minnesota-quarried Kasota limestone – it is a structure that perfectly settles into the Kentucky landscape. The house literally invites one to discover the fascinating artworks both within and without its limestone walls. Despite the fact that the collection has considerably grown since the house was built, each work of art has its own space – a place in which to freely breathe and live its honorable life – be it a painting, a small-format artwork, a sculpture, or a site-specific installation.
Al Shands perceives the collection and its home as a unified whole, and jocularly compares it to a grand sit-down dinner where a great number of guests all have to be seated at one table – and everyone has to be placed next to an interesting conversational partner. This was the dream that the couple started out with.
Mrs. Shands passed away seven years ago, and the property now features a memorial to her in the form of a looping audio work: the blowing wind strums guitar strings, thereby reminding listeners of Mrs. Shands' special spirituality and connection to nature – the reasons for why the collection is what it is today.

Alex Hartley (UK, born 1963). A Gentle Collapsing, 2016. Galvanized steel and concrete. Photo: Julien Robson
As the onward march of the natural world teaches us, life is made up of cyclic episodes that have a clearly delineated beginning and end: birth and death. So, too, is this art collection subject to the inevitable changes that occur with the passing of time – Al Shands has bequeathed the greater part of his art collection to the Speed Art Museum in Louisville, KY, on whose board he has been for many years. The only condition attached to this gift is that there are no conditions. The whole of the collection will be moved off of the tranquil premises of Great Meadows, and the museum will be able to do as it pleases with it. Shands believes that his custody of the collection will have come to an end, and that the collection will have to change and adapt to its new circumstances. As will the museum. The collection will drastically change the museum's game – it will not only fill in the museum's empty spots, but will also foster the start of new dialogs and create a new contextual base for the collection; not to mention the fact that, in a purely physical sense, the outdoor pieces of the collection will radically alter the topography of the museum. Ultimately, this future event will strengthen the visual art environment in Kentucky, an objective that Shands has already contributed to through the establishment of the Great Meadows Foundation in 2016.
What was your very first contact with art? I've read that what you saw at The Phillips Collection museum in your youth greatly inspired you.
There was something before that, too. However, Phillips was the main thing that pushed me in the direction of art. My grandmother lived near The Phillips Collection, in Washington. I often spent weekends with her and used to visit the museum by myself. It's interesting: nobody told me to do that; I just did it. I have always been attracted to museums, to their collections.
The museum was the Phillips' original mansion in which they had lived. I went there so often that I could have given tours of it. I knew exactly where everything was located, and I felt that there was a connection between each piece in the collection and myself. There was a sort of personal identification. For example, I thought that Thomas Eakins' portrait of Miss Amelia van Buren (1881) looked like my mother.
This collection is of such high quality, and it was all the vision of one individual man and his wife. Duncan Phillips had a large amount of money and, at that time, a person with money could buy the first rate French Impressionists, such as Renoir's Luncheon of the Boating Party (1880-1881). At the time one would approach this piece in the museum by walking up the steps that lead to a ballroom on the top floor... and there you could see Boating Party coming up like the sun. I spent a lot of time looking at this painting. We must never forget that the Phillips Collection was seen in a domestic setting, the Phillips' own home. I've always had a preference for that kind of setting. So, that's how it started…
What was your first experience of actively collecting?
I had completely forgotten about it, but as I look back, a sort of impulse to collect was always there. At a very young age I was already collecting empty French perfume bottles, as well as these little jugs that people called Toby Jugs. They were little pottery jugs in the form of a seated person (such as Winston Churchill, or other famous or not-so-famous people), with a handle in the back. And there were other small collections, like miniature dolls and lead soldiers.
Speaking of museums in the 1940s, you've said that it wasn't really fashionable to go to them. How did people regard museums at that time?
In those days not many people went to museums, and certainly not teenagers. The National Gallery of Washington was just being built, and some people began to go there, but mainly it was a sort of bourgeois thing to do – to go to museums.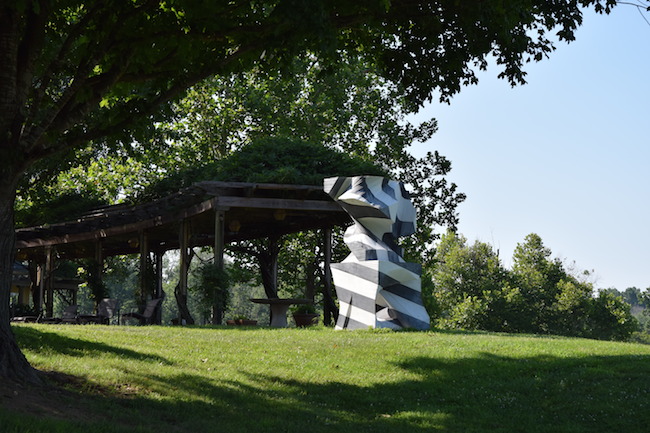 Mel Kendrick (USA, born 1949). Marker #6, 2014. Cast concrete. Photo: Edward A. Winters
In the 1970s and 80s, when Donald Judd created his Marfa - Judd Foundation, he believed that museums and galleries exhibited artists' work poorly, and he wished to create the perfect space for his art himself. Do you agree with that position? What is your point of view in terms of museum spaces and the way that they exhibit art today?
Personally, for me, the background for the art is almost as important as the art itself. A lot of art needs a domestic setting. Art improves when living with it. And there is something about some art institutions – that they sterilize and sanitize art. I never understood Judd until I went to Marfa and saw how he had transformed an old army barracks. On one building he opened up the walls to nature, put glass on both sides of the building and placed the objects in the middle. The result is that you always have to look at them against the background of nature. Here, I understood his art in a way I never could before. I can understand what he meant with his intolerance about how museums exhibit art. In my point of view, all art has to be seen against a background of nature.
And that's why you commissioned the architect David Morton to build a house for your collection, in a completely idyllic corner of the countryside...
Yes, my late wife Mary and I ended up building a house for the collection, big enough for it to grow.
The architect was very aware of what we had been collecting. At that time we didn't have as many pieces as now, but he already understood our taste, and he built a house which really reflected what we are and how we want to live. He managed that very nicely. An architect has to be somewhat like a psychotherapist – he should know you better than you know yourself. Dealing with an architect is an experience based on trust. It is like commissioning a work of art – you don't tell an artist what he or she has to do. You simply trust the artist when you do a commission.

Sol LeWitt (USA, 1928–2007). Wall Drawing #714: Irregular Form With Color Ink Wash Bands (1993). Color ink wash. Photo: Edward A. Winters
How did Morton find the right solution, the right formula for building a house for an art collection that will be continually increasing in size? How does this house differ from an ordinary family home?
This house is very unconventional. Or, rather, it is unconventional and conventional at the same time. We told the architect that the house should be made for two people, Mary and Myself, or 86 people seated for dinner; but we really didn't want a dining room. We wanted people to come here for meals and special occasions – to mingle with others and, at the same time, see the art. In response, Morton created a huge hall space in which we can set a large number of tables for dining. I often talk about how, in this house, we discovered that art, architecture, landscape and hospitality are all part of the same experience.
The people who like this house best are artists. If I ask an artist to do a commission, they come and stay for a weekend, they envision an artwork, and then I ask them, "where would you like to put it? Because where you're going put the work is as important as the piece that you just created."
This whole thing – the collection and the house – is like having a gigantic dinner party. Like when you're hosting a crowd and you have to decide which people get seated next to each other. They are all different, yet they all have something to say to each other. The same goes for this collection – you do have a few bad boys who like to stir the pot, but not too many to disrupt the occasion.

Eva Rothschild (Ireland, born 1972). Culture and Nature, 2014. Painted aluminium. Photo: Edward A. Winters
Can you imagine your artworks warehoused, stored away?
We never had any storage. That's why we had to be very careful in terms of how much we bought, because otherwise we'd run out of places to put it. That's also one reason we started to go out of doors, and we began to commission pieces meant to be displayed outside. But I didn't want it to look like an art park. I want it to look like a place where somebody lives. We added about twenty sheep on our property, which helps to remind one that the place is still a farm, that it is organic and nature-related.
You made your collection together with your wife.
Yes, we started together. We had very similar tastes. We worked great together. She made very quick and immediate decisions, whereas I wanted to think. But she was usually correct. We missed out on some really good stuff because I wanted to wait.
What, for example, did you let pass by?
One thing that comes to mind is a sculpture by Jim Dine that we let go. I remember that Mary wanted to buy it right away. I was against it. Now I reflect and think it might have been an interesting addition.
Then there is a great story about the ceramicist Ken Price. Back in the sixties, he did very weird shapes in the form of an egg. Mary and I saw his work for re-sale in a gallery in New York, and we both loved it. However, I said, "Mary, this thing is too expensive, we are not going to buy it." But I couldn't stop thinking about this piece, and after a while I called up the gallery and said I was ready to buy it. And they answered, "Mr. Shands, we are sorry, but unfortunately, we have already sold it." This was around Christmas-time. So, on Christmas morning, I'm opening up a Christmas present package from my wife and, to my complete surprise, she had bought me that piece by Ken Price! Now it is one of my favorite and most valuable pieces.
But you know, when you let something pass by, it's kind of like in romance – "the one that got away" – but there will always be another girlfriend [laughs].
What else – besides Mary's spontaneity and your tendency to think things over – has made the collection what it is today?
It was very important for Mary to take on a kind of custodianship over artists. She was very concerned with helping them sell their work. Sometimes, for her, it became more important than the artworks themselves. For me, it was more about quality instead of just helping out the artist. I also like the process of challenging an artist with a commission. At the moment there are about fourteen commissions in and around the house, the largest of which is a land work by Maya Lin.
You have a memorial for Mary at Great Meadows. Could you tell more about it?
Yes, it is an audio piece by Stephen Vitiello, called Aeolian Harp (2010). I wanted something that really reflected her taste, which was, in some way, more spiritual than mine. It was a different kind of spirituality. It was much more related to nature. I should learn how to relate to nature more, but she was a natural at that. This is a piece that was made with a guitar, which Stephen laid against a tree on the estate while he recorded the sound of the strings being blown by the wind. Back in his studio he synthesized these sounds into an audio work designed for the entrance courtyard of the house. It is like a monochrome painting. It lasts about an hour and, as you listen, the work creates a chorus with the sounds of nature.

Chiel Kuijl (Holland, born 1971). Spiral Stairs, 2016. Sail fabric and rope. Photo: Edward A. Winters
Do you agree with the argument that one must know how to look at art?...know how to listen to music?
Art has to teach one how to listen, how to see. I remember there was a John Logan play, "Red", in New York – it was about Mark Rothko. At the beginning of the play, there is no curtain, and Rothko sits with his back to the audience for half an hour. Finally, the doorbell rings and this young man comes in – Rothko's new studio assistant. Rothko stands in front of this picture and says to him: "What do you see?" And that's the big question. It takes time to know what you're looking at. And it changes. You can develop a kind of sensibility inside yourself, a facility of close observation. The artist sees what you have never seen. I think artists have a sort of magic. You look at the work of art and first of all – it is not settled. You can see how the artist is struggling with his idea. And he never totally comes up with a final answer. You do it yourself – as you become part of the process. One of the words I like very much is "gaze" - to contemplate and consider.
Once I was in conversation with Philippe de Montebello, the former director of the Metropolitan Museum in New York. I asked him if he still goes to the museum, and he answered – "Yes!" "What do you do when you go?" I asked. He replied, "I never spend more than hour, and I never look at more than ten works of art." So he spends five or more minutes in front of one piece of art. That's what we all should be doing! An artist may spend a whole year on a painting, and most people spend just 30 seconds…
Do you involve yourself in the artists' creative processes?
No, I stay as far away as possible. Sometimes artists can challenge you to learn to like something later on.

Foreground: Richard Long (UK, born 1940). Slate Atlantic, 2002. Delabole slate. Photo: Edward A. Winters
The collectors that we interview are increasingly questioning the idea of one's "ownership" of art. Should they really be its "owners"? Is it even possible to fully "own" it?
You use it for just a while, and then somebody else will use it. Of course, when you are a collector, it's in your nature to acquire things. But you have to realize that one day you are going to die. Nothing is permanent. Also, your taste is always changing. There are a few things that I bought in the very beginning just for their shock value. Now I am not interested in shock value – not at all. Of course, I want works of art that are challenging but sometimes people get stuck in the shock-value aspect of art, and that's all they buy. A collection always reflects the collector's personality. And while you might be in possession of the work, you must be cautious that the works do not possess you.
Have you thought about commissioning an artist to create, for instance, a chapel, or anything else linked to religion? Something modern, but still sacred?
The answer is "no", in spite of my background. I really like Matisse's Vence Chapel. I like Coventry Cathedral… But most of the stuff... I don t know. I think in general there is a lack of understanding, where religiosity overtakes the power of art. I think – everything is a chapel. It is not just one place.
Do you know other church-related people who assemble art collections?
No. If they are church-related, then they are into religious art – which, I think, is awful. Religiosity is always a trap.

Sol LeWitt (USA, 1928-2007). Wall Drawing #1082: Bars of Color (room), 2003. Acrylic paint. Photo: Edward A. Winters
You have one room completely dedicated to Sol LeWitt, one of the most famous of the conceptual artists. Why him? When you work in that room, do you feel a special connection to the artist? Do his soul and spirit speak to you, inspire you?
He was a genius. He never saw or came to the house; he just saw pictures of it. He actually never touched his own hand to the walls of the room but, from seeing drawings of it and a model, he understood the space completely. His design – which was carried out by one of his studio assistants – continues to hold my attention and fascinate me. It's actually my office so I spend a great deal of time in there.
I think that artists make alternative worlds. Artists offer another way in which to look at life and at the world. And I like their vision of the world better than the one I have to live in. There is a sense of fantasy (which is very important), and I like fantasy in my own life – to live in it.
We also have a bedroom commission that was made by the ceramicist Betty Woodman. Another guest room commission was made by Susanna Solano, from Barcelona, and we have new one done by the African-American artist Odili Donald Odita.
Odili Donald Odita (USA, born 1966 in Nigeria). Field of Dreams, 2016. Acrylic paint. Photo: Edward A. Winters
What will happen to these rooms once your collection goes to the museum?
Well, the truth is… like with other things, art undergoes many transformations. This collection, for the moment, is marvelous – the house and its surroundings, everything about it is a wonderful thing. And that will come to an end with my death. The bulk of the collection, including all these commissions, will be given to the Speed Art Museum in Louisville, and there it will have different uses. I should also add that part of the collection will be given to KMAC Museum, which Mary had a hand in founding back in 1981. You have to realize that the original use is not necessarily the only use for the collection. You use the art in your lifetime, and then you let somebody else use it. Art really doesn't belong to you; you paid for it, but it doesn't belong to you. It belongs to anybody who looks at it. And people can look at it in different ways.
Have you put down any special conditions that the museum will have to follow? There are many situations in which museums must adhere to the rules laid out by those who have given donations.
No, not in my case. I am not telling them what to do. I know that's true about the Isabella Stewart Gardner Museum in Boston. She was a major collector and she wanted to make sure that nothing could ever be changed. For me, I think – it has to change.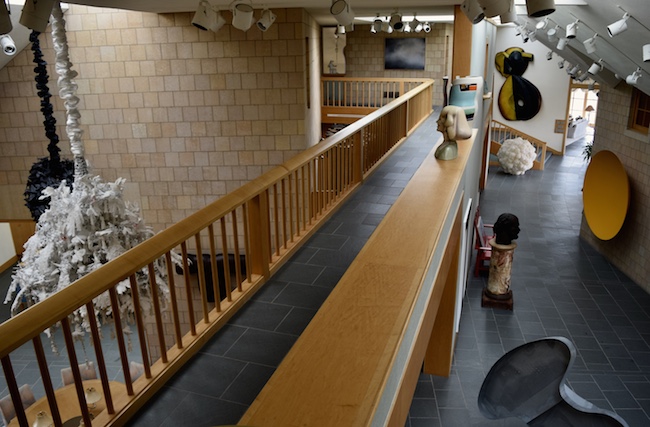 View from balcony includes, among others, works by Petah Coyne, Matthew Metzger, Elizabeth Murray, Javier Pérez, Robert Arneson, Anish Kapoor, Richard Deacon. Photo: Edward A. Winters
Have you ever used the services of a curator or consultant in putting together your collection?
I've always been closely linked to our local museum, the Speed Art Museum; I've always been on the board of this museum. I've received immeasurable insights from this experience; I've gained knowledge from professionals that has helped me create my own collection. That's why, now, I want to give back to the community by giving it to the museum.
I'd like to turn to another facet of your persona, namely, you've also been a filmmaker.
I am a pastor and I am also a Saggitarian. Saggitarians are interested in new horizons. They like to journey, to move on. It is part of religion. I think that, actually, religion is about life, and life is ever changing – there are always new horizons and new situations. The point of religion is to show you how to make yourself open up to change. As a pastor, I thought if l made a film, it would open me up to change even more. So I went to film school; I was about 40 years old then. Martin Scorsese was running a film program in New York University that I attended. The teachers were all about 23 years old, and the students were mostly 19-year-olds. And they were very gritty. That was an eye-opener for me. I remember, there was a girl who was recruited to help on these student films. There was no money to make the films, so we had to get people who would do things for free, or for just a little something. I remember there was a filmmaker, and this girl went home with him the first night. I had never seen anything like that in my life! [Laughs].
Later, I started making documentary films for television in Kentucky and won a Peabody Award, the most prestigious television prize. What I didn't realize at the time was that I was filming history. It was the 70s. Now people look at these films and they can't believe what was happening in the city and the state back then.
How was life in Kentucky at that time?
It was much more contained. It was much simpler. It was run basically by five families. You could get anything done with just five phone calls. Now that's all gone. The corporations have taken the place of the families. And it has become much harder to get things done for the community. Everything is unsettled now. You never know what will come next. For example, this president...
In the US, a president's impact on cultural policy is minimal. Nonetheless, he can send signals that influence creative activity...
I am fearful. I see there is something slightly crazy about him. You don't know what he is going to do next. And he is not very smart. He is smart at business, I suppose, but he is very controlled by the making of money. The making of money is taking over society – probably more so than we're even guessing at. We think we are making decisions, but they are already made for us by corporations.
Perhaps this situation will serve as a kind of motivation for artists...
I think this will bring people together. They will understand that we cannot sit back and take things for granted. I think artists will become more prophetic than they have been. And people will realize how important art really is to vision.

Mary Carothers (USA, born 1967). Beneath the Surface, 2016. Porcelain and steel. Photo: Edward A. Winters
Where is the art world going now in the US?
I am very perplexed, and I guess it has to do with my age. I look around here in the public places and everybody is at least 40 years younger than me – I realize that's a huge age gap. They're tweeting, and I don't even know what that is. It's a different world, and I am disappearing.
You have recently set up a foundation. What motivated you to establish this and is it proving successful?
When I looked at my collection I realized how few Kentucky artists were in it. I began to wonder why. I concluded that local artists had become very insular and had minimal exposure to anything outside our locale. On the whole, they seemed to me to be closed up in their studios, never looking beyond what they already knew. So I decided that a primary need for art in Kentucky was to provide the means for artists to travel outside the state to distant locations where they would be exposed to art and individuals who had a more world-wide perspective. So I set up the Great Meadows Foundation about a year ago. So far we have given out about 60 grants to full-time artists living in the state, for the purpose of travel. When applying, we talk to each one individually and help them with their application. They have to convince us how their travel is expected to impact their work and why, precisely, they want to travel anywhere. The foundation has opened a whole new door in my relationship with local artists and I've already received many expressions of thanks from artists for this kind of support.
How do you see it developing?
I see it developing with more initiatives to help art in Kentucky flourish. This will include programs for curators to travel and helping institutions in the state. I am expecting that eventually, this will affect the kind of museum shows seen throughout the area, and the foundation will help fund exhibitions both in and out of state that create a broader context for Kentucky artists. Additionally, I hope that the foundation's activities will raise the awareness of younger collectors and, in this way, support the future of collecting.
What would you say are the very best collections you have ever seen?
Those that have one personal vision! The first would be The Phillips Collection – his taste was amazing to me. My favorite museum is the Fondation Beyeler museum – also created by an individual - because it's not so huge, and it has this vision of opening the door to nature, looking out onto the park. Everything is of such high quality. A small collection, high quality, and nature. It is refreshing.

Jaume Plensa (Spain, born 1955). White Shadow, 2009. Painted stainless steel. Photo: Edward A. Winters
If your collection were a journey, how would you describe it?
Interesting question. It is, in a way, a journey from conventionality to unconventionality. Feeling at home with something that is unconventional. That it is part of me. I like things that are unconventional. I like both elegance and mystery. I want to be taken to new places. I think that is what I want.
This interview took place in London, in November 2016.