I am just an art lover
An interview with German art collector Erika Hoffmann-Koenige

10/04/2017
In the very centre of Berlin, in-between the two small streets of Sophienstraße and Gipsstraße that traverse the borough of Mitte, is a block lined with buildings from various centuries and architectural styles. In the very middle of this block stands a sewing machine factory complex, built at the end of the 19th century. Today, this complex is known as Sophie-Gips-Höfe, and since 1997 it has been home to Sammlung Hoffmann – one of Europe's most notable private collections of modern and contemporary art, as assembled by Erika and Rolf Hoffmann. On Saturdays, Sammlung Hoffmann opens its doors to visitors who have made a reservation in advance, allowing them to view the collection's exhibition, which is spread out among 1400 square metres throughout the building's top two floors. Every July, Erika Hoffmann puts together a new exhibition from the works contained in the collection, finding new contexts for the artworks as they relate with one another, as well as to the ever-changing present moment in time.
Art has been instrumental in Erika Hoffmann's life since her early youth. From 1958 to 1963 she studied art history at the respective universities of Freiburg, Vienna and Bonn, and in the 60s she became involved in the fashion company van Laack, which was headed by her husband. Erika Hoffmann created the women's fashion lines for the company from 1968 to the middle of 1980, which is when the company was sold.
In 1968, in the small German town of Mönchengladbach, which is where the Hoffmanns lived at the time, she opened up a fashion boutique where one could buy clothing, listen to music, and have a cup of coffee. Indeed, it was the architecture of the building where the shop was located that inspired Erika Hoffmann and her husband to purchase their first work of art, a piece which, unbeknownst to the couple at the time, would eventually become the first piece of the Hoffmann Collection.
Currently the collection includes works by artists of various generations and nationalities. At the beginning, by virtue of their contacts with Düsseldorf's bustling art scene, the Hoffmanns encountered the ideas and works of the German artists group ZERO (Günther Uecker, Heinz Mack, and Otto Piene). Later on, as a consequence of more frequent trips to the United States, works by American artists (like Felix Gonzalez-Torres, Mike Kelley, Bruce Nauman, Fred Sandback, Frank Stella, and Andy Warhol) were added. Following their move to Berlin in 1997, the Hoffmanns became increasingly interested in Eastern Europe and Asia, and acquired works from the likes of Olga Chernysheva, Fang Lu, Katarzyna Kozyra, and Hiroshi Sugimoto.
"Everything – also the selection of certain works – has biographical reasons," explains Erika Hoffmann in the following interview. The Hoffmanns' move to Berlin also had a specific rationale behind it – with the fall of the Berlin Wall, the collectors wanted to actively participate in the social and cultural changes that were taking place after reunification. They developed the idea of a Kunsthalle for Dresden, to be done in a public-private partnership. A bold architectural design for the project was provided by Frank Stella. As initiators of the project, the Hoffmanns believed that, in the long term, the project should be self-financing, and they sought to gain powerful investors as co-founders and other collectors as lenders. When the plan failed because of public opposition, they began to think about a completely private, and thus, independent, project – in Berlin.
Following the death of Rolf Hoffmann in 2001, Erika Hoffmann has continued to actively add to the collection, and now leads Sammlung Hoffmann alone.
I met with Erika Hoffmann in August of last year in Riga, where she had arrived to attend the scientific conference held in connection with the exhibition "Elective Affinities: German Art Since the Late 1960s". After I had turned off my voice recorder, our conversation continued as we went for a stroll around the city, and later, to a cultural centre favoured by the younger generation of creative bohemian types. I could sense that the unrestrained atmosphere of this "alternative" lounge didn't confound Mrs. Hoffmann in the least. In fact, as she reiterated several times during our conversation, she feels most uncomfortable when she is identified as "an art collector".

François Morellet. Gitane No. 2 (3 demi-cercles de néon inclinés à 0°, 45°, 90° dans un angle), 1991; Warren Platner. Table and chairs, designed 1964/66; © Sammlung Hoffmann, Berlin
Sammlung Hoffmann holds one of the most important collections of modern and contemporary art. What was it like in the beginning? How did you start developing your collection?
First, I would certainly say that we never started it as a collection. It just happened that we got into purchasing certain artworks as we liked to discuss the exhibitions being held in the museum of Mönchengladbach, which is where we lived at the time. That was in the 1960s. We were happy enough that there was an interesting – a very small but very interesting – museum doing great shows. Usually, at the openings we would meet the artists – not only those coming from Düsseldorf or Cologne, but also those from the Netherlands (as Mönchengladbach is close to the Dutch border) or Belgium. We met artists like Marcel Broodthaers, Richard Long, Günther Uecker, and Heinz Mack (one of the founders of the ZERO group). We became intrigued by their ideas, and began to consider acquiring their works in order to continue the discussion, the exchange of ideas. The first work I bought was not even from one of the artists we knew, but by Vassilakis Takis – a Greek artist from the international artists' circle called ZERO.
I didn't even buy it for our home. I had remodeled a milkshop into a boutique, and there was a little niche over the entrance door where a sculpture of a saint had stood; so, I put the object by Takis there. It emitted soft blue light every few seconds. At the time, we were convinced that purchasing artworks and decorating the home was just a characteristic of the greedy bourgeoisie, and we didn't want to belong to that. But it was like our – probably in German we would call it Sündenfall – original sin. Some time later, I had to remove that object, called "Signal TS1" (from 1966/68), because it would disturb the traffic, so we brought it home. Eventually, we bought more of Takis' signals, so the whole thing developed.
With the growth of our company, we both were working, we were travelling, we had houses in different countries and continents, and of course, we were acquiring more and more artworks. Finally, when my husband sold the company, we realised that we had at least an assemblage, if not a collection, of artworks. I started to look into what we had gathered, and so we became a little more conscious and more responsible. On the other hand, we had more money to spend as well as more time to contemplate art and to get more educated. So, there was never a concrete decision to collect art, and even today – and more than ever – I'm really embarrassed to be called "collector". [Smiles].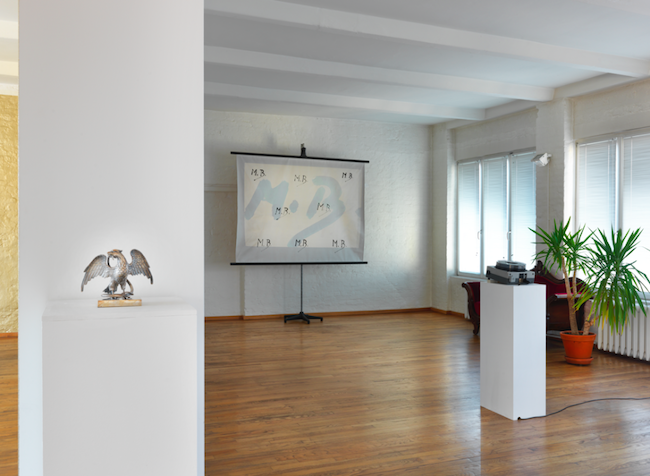 Unknown artist. Eagle and Snake, 19th century. Silver, India (?); Marcel Broodthaers. Signatur, 1971. © Sammlung Hoffmann, Berlin
Does that mean that, in the beginning, there was no particular direction or topic for your collection?
Never, not even today! Our goal was to make experiences, different from those through contemporary literature or music. We were both interested in music and, of course, in architecture, but my main interest was in art (not just contemporary art). Even today, there is probably no reason to travel if not for visiting museums and looking at art from all periods. That was always essential to me, and my husband joined me with enthusiasm. In this way, we spent much time together, looking at art.
How could you decide what to buy and what not to buy? There were two of you – one might like one piece, the other – something else.
Yes, of course there were a lot of discussions going on; we always had arguments. There was never a boring moment. [Smiles]
Did you fight about art?
Yes, we did have fights. Nevertheless, we had made the decision that we wouldn't buy anything that we didn't both agree on. That made the process of decision making very slow, and sometimes an artwork was gone by the time we finally agreed on it; fine, so it was not meant for us. I remember that sometimes, it even took us years...sometimes months, but it was never spontaneous.
Even years…?
Yes. There was a moment when, after several years had passed, we would approach the gallerist and ask – Maybe you still have that piece? And he would say – I'm so sorry, it was sold last week.
If it had gone into good hands – fine. This acceptance was probably due to our early beginnings, when we mainly wanted to support the artists we valued. We wished that their artworks would be cared for in a good way.
Some say that collecting is a form of escape. As I understand, for you, it was like making your own world.
You are right. Creating our own cosmos and being able to live there has become my main pleasure over the years. The dialogue between artworks, the way they correspond with each other – today, this is more important to me than a single work.
I don't buy much today, and if I do, then very slowly. What I still find most rewarding is creating new correspondences among the artworks.

Felix Gonzalez-Torres. Untitled (Dark Corner), 1993; Untitled (Arena), 1993. (Picture taken in Cologne home, before moving to Berlin)
You mentioned that you've met a lot of artists. What would you consider as being the most significant encounter you've had?
In the beginning, it was certainly important to meet Marcel Broodthaers. Also we became very friendly with the French artist François Morellet – a totally different kind of artist. Meeting Frank Stella stimulated us strongly. Later, the oeuvre and the concept of Félix González-Torres or Isa Genzken – became very important for us, too.
Anyway, I would never say that I've collected the artist; a work, or maybe a number of works, but really – it's the works, and not so much the artist. The work itself is separate from the person who made it!
And, of course, there are personalities who are more or less talented in terms of being social and at ease to exchange ideas than others. But I like to meet artists, and when it happens, I greatly enjoy the communication and correspondence that can take place, like, for instance, with Ernesto Neto. There are some artists I am very friendly with.

Isa Genzken artworks from 1981-2003. Photo: © Sammlung Hoffmann, Berlin
Would you say that some of them influenced the way you look at art?
Yes, certainly, thinking of the artists I mentioned, even though they are very, very different in their approach. That was probably the charm to our fascination – that these very diverse artists and their individual concepts encouraged us to discover totally different worlds.
In the case of Marcel Broodthaers, you have also worked together on your fashion label.
We hired him as a model, just for one single photograph. We were friendly with him; so we wished...to help him in a tough situation. We were looking for a person for our publicity campaign – someone who did not look like the normal male fashion model. Marcel, in my opinion, just looked fabulous.
What about Andy Warhol – was he also involved as a model?
We hired Andy Warhol as a model for a fashion show we did in New York. Everything he did for us – it was like, logically consequential. However, I was touched how modest and shy he performed in that role, but it all went well. He was even delighted to be able to do it. He insisted that we booked him through the best modeling agency at the time – to make the whole thing really professional. So, we got a copy of the catalogue of the Elite fashion model agency, including his portrait and measurements, and we hired him through that.
Of course, for us it was a great moment. Imagine – in the early 1980s, making an event for a German fashion company in the USA. That was already a contradiction in terms, and then topping it off by hiring Andy Warhol! So, it was like a big clash, and we had a lot of success – we had our 15 minutes of glam.
That could also be considered as having been an art project...
Yes, we could have viewed it as an art project, but at that time, we were still too business-minded and completely into our fashion routine. We kept those two worlds separate – the business and the art. We did not want to act strategically in the art world because the rest of our life was subordinated to being successful at our business. However, both worlds merged in these moments.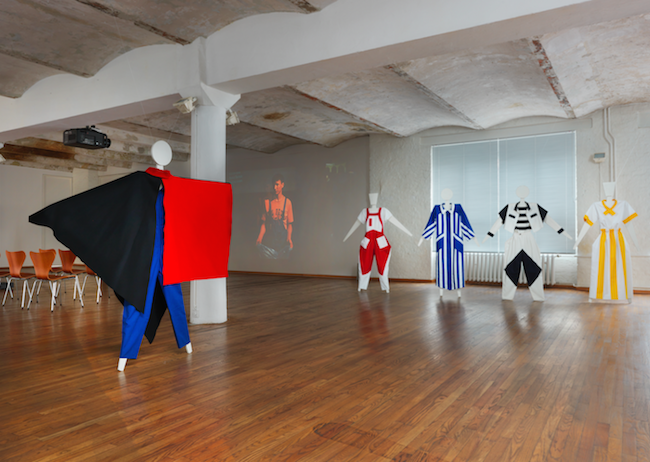 Costumes made after designs of Liubov Popova (1922) and Varvara Stepanova (1922), realised by Erika Hoffmann-Koenige in 1979; Video installation: Olga Chernysheva, Trashman, 2010. Photo: © Sammlung Hoffmann, Berlin
So, your interest in art didn't influence your fashion business?
In some cases it did. For instance, we ended up meeting Andy Warhol in the first place because of a fashion show I did in Los Angeles for the opening of the exhibition "The Avant-Garde in Russia 1910–1930". There was a performance with constructivist dresses, which I had executed referencing designs of the early twenties by Lyubov Popova, Varvara Stapanova, Aleksandra Ekster, and others. It took place at the Los Angeles County Museum of Art, in 1980. The exhibition was partly based on the George Costakis collection, which was famous at the time. Stephanie Barron, the curator of that show, had a fancy idea – she called me up in Mönchengladbach and asked if we would show the dresses she had heard about from George Costakis.
It just happened that Andy Warhol was in town because of his own exhibition at Ace Gallery. He attended the opening of the Russian avant-garde show, and we met. He used to say – how fascinating, how interesting! Later we met again, at an exhibition called "Art and Capital" which he did together with Joseph Beuys in Düsseldorf, at the Hans Mayer gallery. At that time a very provocative and popular show. Of course, we also got a portrait done by him, as did many people. Andy was doing it almost like mass production by then, working like a machine. Still, it was, of course, very exciting for us. Also, because of that fashion show, he asked me to give an interview in his Interview magazine.
And your portrait by Andy Warhol still remains in your collection?
Yes.
You also have Russian constructivist works in your collection.
Yes, but very few.

Frank Stella. ngeragrag (series: bamboo), 2004; Of Whales in Paint; in Teeth; in Wood; in Sheet Iron; in Stone; in Mountains; in Stars (Moby Dick Series chap. 57), 1991; k. 171a (Scarlatti series), 2012. Photo: © Sammlung Hoffmann, Berlin
Did those serve as the inspiration for your constructivist fashion collection?
Ever since my art history studies, I was fascinated by the Russian avant-garde and its revolutionary approach. That point in history was as far as we could study at the time, but even today I am inspired and stimulated by this kind of art. And I also see manifestations of it in the art of the 20th century; for example, Frank Stella using the same language, just with a different vocabulary, the reason why I was so fascinated with Frank Stella, too.
In 1977 we travelled to Berlin (we weren't living there yet) for a weekend, to see the show "Tendenzen der Zwanziger Jahre" (Tendencies of the Twenties). The exhibition displayed not only paintings and sculptures but also applied art – fabrics, small swatches, porcelain, glass, etc. That's where I got the idea of taking over some of the designs for the ladies' collections of van Laack.
Are you still interested in the art of that period?
Yes, whenever I can see it.
Do you also buy it?
No, not any more. That was a short moment in the late 70s when we actually did. Of course, in the "Tendencies of the Twenties" show, we looked at the labels of the artworks to find out to whom they belonged. There was the name Galerie Gmurzynska, from Cologne whom we contacted the day after our return. So we got some works of that period – usually on paper or cardboard. That continued over two, three years, and then we stopped because other collectors also had become interested... We have never spent a lot of money on art because as entrepreneurs, we had to support the company, and – so to speak – every profit had to go back into the business.
Do you ever participate in art auctions?
No. I am even revolted by that whole scene. Although I'm conscious of being a part of the art world, I don't participate in that aspect of it.
It seems that since that moment when you began to think of your art collection as "a collection", the art world has changed a lot. How do you see that?
Yes, a lot has changed. For us, buying a work of art was never an investment. The most essential criterion in making our selections was – Would we like to live with it? Meaning to live with it all life long. If it weren't too kitschy, I would say that the artworks became a part of the family.
What do you think about current processes in the art market?
I am aware of the fact that there is too much money involved today's art market to allow a total flop. The finances bound by that are just too powerful to get lost. I don't know where it is going, but sometimes I feel insecure about continuing the way I have so far, that is, having my home open on Saturdays for the general public. I'm risking that it is being looked at as a display of wealth. The latest auction results are published in the newspapers, the general public knows what a work by Basquiat costs today.
That's why now, more than ever, the creating of certain contexts – in which the artworks correspond with each other in a precise formal or narrative way – is the most important to me. My aim is to make people forget about the singular works, and, of course, to hold back on the labels.

Roni Horn. From Some Thames - Group I + L, 2000; Roni Horn. Blake's Burn, 1994/95; © Sammlung Hoffmann, Berlin
Is it getting increasingly harder to find any new correspondences or conversations in the contemporary art of today?
There are two sides to it – in my opinion, it can't possibly be that there is nothing new and interesting, but because my frame of mind was shaped in the early 60s and late 50s, I don't perceive it. I'm not really interested in the concept of the surface. It is all about meaning for me. Of course, the meaning has to find an aesthetic technique through which to manifest – in the only possible way of conveying it.
Is there an art piece that has evoked very strong emotions in you lately?
It happens with all artworks created by Félix González-Torres. There is probably not a single one of my yearly arrangements that hasn't had a work by him, sometimes even several. I still like them a lot.
The creation of a new exposition is always a new adventure, a new experience. Artworks get a new life every time I refabricate them. That I find very interesting and also, one could say, very consoling. Many consist of ready-mades, and as such, they are not strictly original because they have been refabricated with the means of today – new printing techniques, original bulbs may have to be replaced – there is nothing fixed for eternity. However, there still is an aura to them – for me, that is a very intriguing idea, one which correlates with what Benjamin wrote; or, if we think about it, all of the modern philosophers, too. Even if you project something on the floor, people will move around, avoid crossing it... That observation moves me.
The re-arrangement of the collection is always exhausting, yet I feel happy to be able to live in that self-created environment.
Why did you decide to show your collection to the general public?
It had to do with the Berlin Wall coming down.
The van Laack company was sold in 1985; in 1988 we moved to Cologne, to be at the centre of the then-contemporary art world. In 1989 the Wall came down. We had just settled in Cologne – our house was beautiful, nothing was public, only certain friends-of-the-museum groups visited us, but it was rather anonymous at that point. However we felt a certain responsibility (and curiosity) to not only experience that reunification process, but also to participate and, maybe, even to contribute to it. And why not with the most important thing of our life? We had been inspired by artworks in making certain decisions on which steps to take in our life – which risks to take, and seeing how things would develop. For example, the selling of the company – and getting rid of all of the structures we had built up for ourselves to function in the world – allowed us to feel free and enabled us to live more spontaneously.
You have owned a company, you have done fashion design, and you have an impressive collection of artworks – even though you did say that you are embarrassed to be called "a collector". In which role have you felt the most comfortable? What would you call yourself?
I am just an art lover. [Smiles.] But, of course, I am in the role of the collector, too. Still I don't like to be expected to function "like a collector".
I'll share a very personal remark – I recently got a new haircut, and some people don't immediately recognize me anymore. In the past, I've even fantasized about wearing a wig when visiting galleries, just so I wouldn't be recognized. I have felt more comfortable visiting galleries in Paris, New York or Los Angeles as compared to Berlin. Now, I am anonymous in galleries everywhere. Oh, what a fabulous moment! [Both have a laugh.]