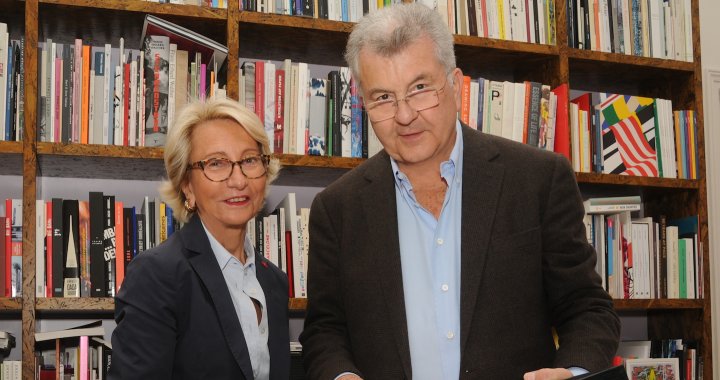 Collectors of Fragile Art
An interview with art collectors Daniel and Florence Guerlain

12/06/2017
Daniel and Florence Guerlain are one of the most well known collectors of paper artworks, especially contemporary drawings, in today's art scene. An impressive part of their collection (1200 units) is now under the ownership of the Centre Georges Pompidou; in 2013 the couple decided to go down the path of endowment to ensure that the collection stays together as a whole, as well as from a wish to share with others the joy that they had received from the works. Having started collecting in the mid-80s, they readily admit that it took them quite a while to progress from amateur art lovers to the status of bona fide collectors. When we asked the Guerlains how they would describe the unstoppable force that drives art collectors, they reply: "It is, most likely, an affliction". In 2006, the Guerlains established their own art award, the Drawing Prize of the Daniel & Florence Guerlain Contemporary Art Foundation, which targets artists for whom the medium of drawing dominates in their creative body of work. Although the Prize recipient's nationality is irrelevant, the artist's links and relationship to French culture and its art institutions is taken into account. When one considers that the name Guerlain has become an ingrained symbol of the French lifestyle, attitude and success, this condition seems wholly understandable. Daniel Guerlain descends from the family that founded the legendary House of Guerlain in 1828. Daniel's grandfather, Jacques Guerlain, one of the most famous master perfumers of all time, was also an avid art collector. It is said that he created artworks just as important as his friends, the impressionists – the only difference being that Jacques' works were invisible, and could only be sensed by smell. Daniel admits that although he has not inherited a talent for creating scents, he is certainly in ownership of the gene expressing a passion for art.

Etel Adnan. Sans titre, 2000. Aquarelle sur papier, 29.5 x 21 cm. Courtesy Galerie Lelong, Paris. Florence et Daniel Guerlain collection. © André Morin
At first, the Florence and Daniel Guerlain Collection placed equal emphasis on photography, painting, and drawing, but over time, drawing took the upper hand. It is a complex medium for collectors due to its fragile and sensitive nature, and requires special attention and care, and subsequently, particular storage conditions. The Guerlains believe that drawing is one of the paramount genres of art and wished to promote and highlight a medium embodying both great classical tradition and bold modernity. This year, the Drawing Prize of the Daniel & Florence Guerlain Contemporary Art Foundation celebrated its tenth year by awarding the top prize, 15 000 EUR, to the Romanian artist Ciprian Muresan. The international panel of judges announced the winner on 23 March at a special ceremony held during the prestigious Salon du Dessin contemporary drawing art fair, which was held at the Palais Brongniart in Paris. (The two runners-up in the 2017 competition, Charles Avery and Didier Trénet, both received a gift of 5000 EUR.) From 15 June to 11 September, the Pompidou Centre presents an exhibition celebrating the Prize's ten-year anniversary featuring the works of the 30 artists who have been nominated for the Prize over the last decade.

Marcella Barcelo. Timidité, 2013. Encre de chine sur papier, 137,7 X 70 cm. Courtesy galerie Da-End, Paris. Florence et Daniel Guerlain collection. © André Morin
We have a rather private question – about ten years ago, I had a fantastic meeting with Jean Paul Guerlain, who is the latest famous "nose" of the legendary House of Guerlain, during his visit to Riga. I wished to determine his familial relationship to you before we met today, but I was unable to.
D.G. He is my cousin and we used to live in the same family area.
Having spoken to Jean-Paul, and after having read-up on the principles behind your collection, I began to wonder if there were any connections behind creating fragrances and collecting art. There seems to be something similar to the two – the wish to find special and rare ingredients.
Am I going in the right direction here, or no?
D.G. That could very well be true. Creating a fragrance – it is a dialog with someone, a dedication to someone. A very time-consuming process that involves memories and a huge amount of various ingredients. I think that painters deal with something similar; except their work is hung on a wall. These two things are close to one another, and yet very different. A woman's look changes whether she is wearing perfume or isn't...And perfume has the ability to help one recall from memory situations and people. Actually, the creation of perfumes has also a certain link to cooking. My grandfather was also a wonderful cook. And I have written some books about cooking.

Margret Blöndal. Sans titre 2010. Huile d'olive, aquarelle et crayon sur papier, 34,8 x 25 cm. Courtesy i8 Gallery, Reykjavik. Florence et Daniel Guerlain collection. © André Morin
Your grandfather also had an impressive art collection.
D.G. Yes, he collected impressionists. He wasn't interested in modernism.
How do you remember him?
D.G. My grandfather lived surrounded with beautiful things. I visited his home very often. We always had Christmas lunch there.
What happened to your grandfather's collection?
D.G. Unfortunately, it was sold. I have a few pieces from it. But he had five children.
That's quite sad considering that he had collected throughout his whole life.
F.G. Yes, that's one of the reasons that we decided to give our drawing collection to the Pompidou Centre.

Zilla Leutenegger . Lina no Bardi, 2015. Acrylique, encre de chine et crayon sur papier, 63 x 37 cm. Courtesy Stampa, Basel. Florence et Daniel Guerlain collection. © André Morin
How did you become art collectors?
D.G. Actually, I don't know. We've always bought art and have always lived with it. At the very beginning, we acquired works from our friends who were artists.
F.G. We're not even quite sure at what point it turned into collecting. At some point, someone who saw what we had simply said – you are art collectors.
You didn't consider yourselves as being collectors?
Now, of course – yes. But back then, we thought of ourselves more as amateur art lovers. But with the creation of the drawing collection, we truly became collectors.
I've heard that you transformed a tennis court into a park for environmental artworks. Is that true?
Yes, it is. How did you find out about that?
I read it in the media. You stopped playing tennis and gave the place over to art. What made you do that?
D.G. That place is in the countryside, 40 km from Paris.
F.G. Daniel is a landscape architect.
D.G. I decided to create a garden for sculpture. But overall, we don't really plan things out ahead. Later on, we opened our Foundation there. We wanted people to have the opportunity to see art.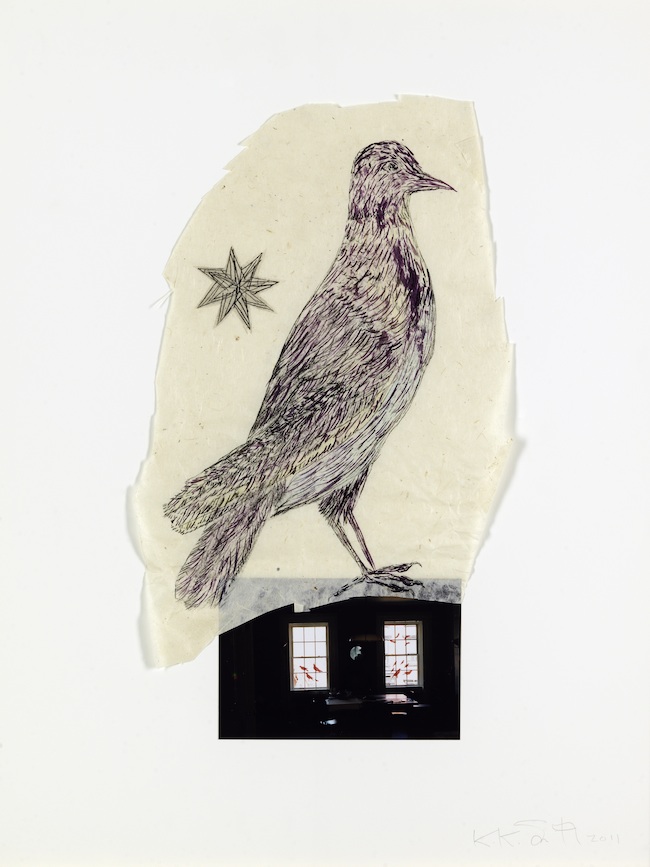 Kiki Smith. Bird in my House, 2011. Epreuve chromogène et encre sur papier Népal, 55 x 45 cm. Courtesy Galerie Lelong, Paris. Florence et Daniel Guerlain collection. © André Morin
That was in 1996. It's not open to the public anymore…
F.G. Yes, that's true. Although the property appears to be quite close to Paris, it's still too far away. You can't get there by train alone. The train station is six kilometers away, and you have to take a taxi to the park. Subsequently, the exhibition openings were packed, but afterwards, there weren't any visitors. The Foundation also had a lithograph workshop, and seminars were held. It's a very beautiful place. Unfortunately, we were pressured to close it to public viewings, and now we just keep it as a place in which to exhibit a part of our drawing collection for friends and other collectors to see.
How did you decide to focus your collection on specifically drawings – not an expressly popular form of expression in the contemporary art scene?
D.G. We have always concentrated on sculpture, photography, and drawing. As we already mentioned, our collecting process wasn't all that organized. I think that drawing has lately seen a revival; an increasing number of artists are turning to it.
F.G. I believe it is one of the paramount genres of art that is seeing a revival today. And Daniel likes to draw.
D.G. Yes, it is one of the ways in which I used to think about my projects – by drawing. Lately, not all that much, though.
F.G. Drawings and paintings are a way in which to be close to art – they're right next to us, on the wall.
D.G. We sold a large part of our collection of photography because it wasn't possible to maintain such a huge quantity of works in the conditions required, which are very specific for works on paper.
F.G. Yes, we had to choose. Drawings are a very special medium – it is very sensitive to light. We change the works on exhibit twice a year because they cannot withstand any more light than that. We have a wonderful work by the Spanish artist Jose Maria Sicilia that was created with pigment. It used to hang in my office, and after a couple of years we noticed that it was slowly fading. It was so beautiful and I was so sad… Nothing could be done… The pigment had simply faded.

Ciprian Muresan. Image from a Book on Dora Maurer, 2015. Graphite sur papier, 66.7 x 48.9 cm. Courtesy David Nolan Gallery. Florence et Daniel Guerlain collection. © André Morin
How did you decide on giving your collection to the Centre Pompidou?
F.G. As Daniel said – so it wouldn't be sold and it all would be in one place. And also, our wish to share with others. We didn't want the drawings to sit in a warehouse; we want them out on display.
So you have a special agreement with the Centre Pompidou?
F.G. No, we simply gifted it. We didn't request any special conditions to be set requiring the Pompidou to exhibit them. Regardless, we are very happy to see that several exhibitions of our donation have been organized; the Centre Pompidou organized a very important exhibition in 2013, and then we had an exhibition in the Southwest of France, in the Libourne Museum of Fine Arts in 2014, as well as others in Europe: in the Nordiska Akvarellmuseet at Skärhamn in Sweden in 2015, and in 2016 at the Kunsten-Aalborg Museum of Modern Art in Denmark. Two exhibitions are planned for 2017: a very important one in Paris at the Centre Pompidou fort the 10th anniversary of our drawing prize, and in Spain at the MACE/Museu d'Art Contemporani d'Eivissa of Ibiza. In 2019, the donation will be on view in Vienna, Austria … These exhibitions are extraordinary opportunities to share our passion with art lovers.
So it was a lesser part of the collection that went to the Pompidou…
No, the greater part – 1200 drawings! But we carry on buying and have enlarged our collection.

Margret Blöndal. Sans titre 2013. Huile d'olive, aquarelle et crayon sur papier, 34,8 x 25 cm. Courtesy i8 Gallery, Reykjavik. Florence et Daniel Guerlain collection. © André Morin
What is it in a drawing that makes it exceptional? What do you look for – emotions, intellectual puzzles, a deft hand, or something else?
F.G. You know, we simply sense if it is good or not.
D.G. All of the above. It has to have something that moves your inner self.
F.G. A moment of shock.
Can you name a few drawings that have been able to affect you in such a manner?
F.G. The works of Kiki Smith. She is magnificent. Also, the drawings of Yan Pei-Ming and a lot of others.
What would you say makes your collection of drawings unique?
F.G. When we exhibited the collection in 2008 at Fonds régional d'art contemporain de Picardie in Amiens, the director of that foundation, Yves Lecointre, said that a key characteristic of our collection is the presence or absence of the body, the figure. We hadn't really thought of it that way up to that point. In any case, we didn't select works based on whether it had a figure in it or not. That happened intuitively. Now we are aware of it.
D.G. A collection of drawings is a very private phenomenon. Curators are usually not involved.

Etel Adnan. Sans titre, 1997. Aquarelle et pastel gras sur papier. 30 x 21 cm. Courtesy Galerie Lelong, Paris. Florence et Daniel Guerlain collection. © André Morin
Are there many great collectors of drawings?
F.G. No, there definitely aren't. When we met up with other collectors of drawings in New York a while ago, we were so happy to be together! It really felt like family.
In 2007 you established the Florence & Daniel Guerlain Contemporary Drawing Prize. How did you come up with idea for that?
F.G. The idea behind the Prize came very organically. I don't want to boast, but I think that it encourages not only a return in status for drawing, but it attracts artists to the medium as well.
How do artists become selected as a nominee for the Prize?
F.G. There's a selection committee that names specific contenders and provides a basis for their choices. Six experts sit on the committee, including us two. We're constantly traveling around Europe in search of artists, and we even go to the US and other countries such as China, Japan, and Mexico to view art and meet with artists and collectors there. From this group, three nominees are officially selected; the winner is chosen by an international panel of judges.
Do you enjoy meeting the artists in person? Does this influence your choices in any way?
F.G. Sometimes the meetings end up disappointing. There have been times when we've gone to an artist's studio and they don't have anything to show us. But generally, it's an extremely rewarding experience.

Margret Blöndal. Sans titre 2013. Huile d'olive, aquarelle et crayon sur papier, 34,8 x 25 cm. Courtesy i8 Gallery, Reykjavik. Florence et Daniel Guerlain collection. © André Morin
What do you think the collector's role is in today's art scene and in the current art market? What is the collector's range of responsibility?
F.G. When we started buying drawings, it wasn't so expensive. Now the prices are nearing absurd levels. We once found a great young artist whose drawings were going for about 1000 EUR; shortly thereafter, the prices for his drawings had gone up to between 15 000 and 20 000 EUR. This happened in an unbelievably short amount of time. An artist shouldn't cave into the power of money. Today's market is fast and the galleries are taking advantage of that; there's an infinite number of collectors from all over the world.
D.G. There's true competition among the collectors. And that's a problem.
F.G. The collector should take care that the processes don't become uncontrollably swift. And, of course, one must share with others...help educate people. I like the idea of putting art in shopping centers like in China or in France That's an excellent idea if the choice of works is really rigorous.
How so?
F.G. So that people come into contact with it. Exposure to art makes people much happier.
But if art is displayed in shopping centers, there's a dangerous possibility of it becoming just another item that is up for sale…
F.G. I believe it's an opportunity to expose people to it.
Do you think that art has the ability to change people?
F.G. It must be able to do that.
But is it able to?
D.G. Not always in a true way. Competition is also a feature of the art world. Among collectors, too.
F.G. It happens among millionaires who simply pay to get the best one. We mostly associate with drawing collectors who try to do only the best possible thing. But there aren't many of them. In reply to your question – I don't know.
As art collectors, have you ever asked yourself why does a person have the need to have something in their possession? If so, have you found an answer to this? Why can't collectors stop?
D.G. It is, most likely, an affliction. Of course, in many cases, for large companies, art collections are a part of their brand publicity campaigns.
F.G. There are, of course, some really great things that happen due to ambition and "the spirit of competition". For example, the exhibition at the Louis Vuitton Foundation which, for the first time in history, brought together the entirety of the Shchukin Collection that had been divided between the Hermitage and the Pushkin Museum.
As collectors, have you made any purchases that you later regretted? Have you made many mistakes?
D.G. All the time. When people begin collecting, they buy what fancies them at the moment. When you become older and acquire more knowledge, you begin liking something completely different. The earlier purchases are not mistakes. That's simply life.
F.G. A mistake is something that you no longer like. Tastes change. You're always looking, training your eye, and everything changes.