He collects stories
An interview with Joseph Kouli, art collector

12/04/2018
French art collector Joseph Kouli lives in Paris. He's in the advertising business, and a little over ten years ago he bought an artwork that was rather reminiscent of an advertising poster – in fact, it looks very much like the ones you see on the sides of bus stop shelters. He didn't have any future plan mapped out; it just seemed like it would be a good thing to own a piece of art. Yet today he has a collection with more than 150 pieces of art. Joseph Kouli is not a name often bandied about, and it is actually quite rarely seen in the press, a place where, in his opinion, art collecting is positioned as either a leisure pastime or an investment mechanism of the rich. As Kouli himself underscores during our conversation, his collection has emerged out of his regular salary. 'Actually...this fact is quite important. I tell people – I live well, but I'm not a rich guy who buys art just for fun.' However, in the professional art world, especially France's, he is well known. Case in point: from 2015 to 2018 he was a member of the acquisition committee for Centre National des Arts Plastiques (the French national collection of contemporary art), along with two art critics, two artists, two institutional representatives, and another art collector. CNAP is the largest public contemporary art collection in Europe; its objective is to loan artworks to museums, cultural institutions and exhibitions, and inclusion on the committee must be approved by the Minister of Culture.

Exhibition view. Collection Joseph Kouli, FIAC Parcours Privé, 2016. Works by Saâdane Afif, Rirkrit Tiravanija, Bruno Peinado, Aukje Koks, Jérémie Gindre. ©Aurélien Mole
Kouli says that it is important for him not to be the last link in the art process chain; he wants to be an active participant – not just a 'storer' of artworks, but a doer and a promoter. 'It's great that you brought me a copy of Conversations with Collectors,' he remarks as he happily looks over Arterritory.com's latest issue and the newest addition to his library. 'I'm trying to assemble a variety of publications on art collecting. I've been trying to introduce new people to art for the last ten years now.' We meet at Kouli's office, which is also an exhibition space. 'There are all sorts of different art institutions in this area. In the next two years, Francois Pinault [honorary chairman of PPR/Kering – ed.] will open his art space right around the corner from here, and Fondation Galeries Lafayette recently opened just two blocks away.' When asked if he plans on making his art collection open to the public, he admits that he thinks about that from time to time, and it just might happen at some point in the future. Currently his collection can be seen a few times a year such as at the annual FIAC-initiated invitation-only tour, in 2017 at the public exhibition La vie, mode d'emploi at CACC in Clamart, and in a collector-run space in Marseille this year. 'Over time, my attitude towards what is art has changed cardinally. At first I needed frames...I required an object, something that really belonged to me and which I could buy.' But now: 'I like to collect ideas, collect stories – not aesthetics. I don't need four-metre-large canvases in my own private museum to prove that I have a lot of money.' Our conversation transmuted into a combination interview/excursion – Kouli is an earnest and impassioned guide, and every single artwork in his office was accompanied by a long story. Artists from his generation are his passion. Some have yet to be represented by a gallery, whereas others have stepped onto the art scene directly thanks to Kouli. He is an admirer of paradoxical and conceptual art, and very receptive to artists' ideas.
I must say, you're very young...for an art collector.
Yes, it's usually a passion of older gentlemen, with an average age about seventy. When you look at art collecting from the viewpoint of some national daily newspapers, articles on the subject are almost always in the financial section, and so there arises the unequivocal notion that art collecting is only a leisure pastime for rich people, or a way to invest their wealth. I don't believe that that is the true character of collecting. When people in France speak of collectors, most people immediately think of Bernard Arnault or Francois Pinault – financial giants. The dominant line of thinking is that everyone who collects must have their own museum. Basically, there's the categorical assumption that an art collector is wealthy.

Janis Rafa. I Used Plural by Mistake, 2014. Video loop, single-channel HD, 16:9 Aspect ratio, no sound, color. 11 min. Film Still.
I know it's none of my business, but you're not all that moneyed…
You are free to say that. Actually...this fact is quite important. I tell people – I live well, but I'm not a rich guy who buys art just for fun. I buy with the money I make from working. From my salary. It's not money that I earn from capital. I sometimes picture myself as a 'proletarian collector'.
I do have much-more-well-off friends from the financial sector who I would like to 'pull into' collecting. They have all the capacities to do it – intellectual, financial, access. I don't want to say that if you don't have an interest in art, then life is boring, but I do think that they should aim a bit higher, a bit further.
I am convinced (because over the years, I've proven that you can collect with limited funds) that if you're smart, if you take risks, and if you approach an artist before the institutions and big collectors begin showing interest – it can be done. And...if you listen to your intuition. You can't collect 'with your ears'. A collector must have good taste and the ability to not listen to the talk circulating in the art market. During art fair previews, everyone can tell you which pieces have the greatest value. But I don't like this game, and it's not available to me either.

Amalia Pica. The wireless way in low visibility (recreation of the first system for non cable transmission, as seen on TV), 2013. Balloon, helium, copper wire, wood coil, printed paper and glass, 290 x 90 x 90 cm, variable ©Roman März
Do you ever use the services of advisors or consultants?
No, never.
Not even at the very beginning?
Back then… I have very many friends who work as art critics and curators. At the very start of my collection, I would watch what they do. What they like, what do they show in their exhibitions, what do they select. But the decision was always mine to make. Afterwards, you could say that I made some mistakes, but I prefer the view that they aren't mistakes. Because every work of art that I have bought was important to me at that specific point in time...as well as an equally important stage in the progression towards the next work. Collecting is a really long path that one walks down. Today I wouldn't make that same choice, but at that time, I needed to make it. The fifteenth work in my collection impacted the purchase of my thirtieth, and that one had an impact on the hundredth piece to enter the collection, and so forth. It's a long story. Maybe an endless story.
So you could say that, through your collection, you're documenting your life, your viewpoints, perhaps even finding solutions to problems…
Yes, exactly. In a sense, it costs just as much as a good psychotherapist. A collection makes one look deep into oneself. Five years ago, when I put my collection on view for the first time by answering the invitation of Mains d'Œuvres art centre, I decided to show absolutely every single work. Sixty units at the time, and in the same sequence as I acquired them. It revealed who I was at every respective point in time, for example: that 2007 was a full year for me; that in 2010 I bought practically nothing, just two works; that certain artists show up again and again in my collection. And then – not with my eyes but with those of a visitor – I discovered what my obsessions were. I had friends who said – now we see you completely differently.
Bertrand Planes. Bug's Life, 2014. Modified solar lamps and piezo buzzers, variable dimensions. Installation view in Jardin des Plantes, Paris. Commissionned for the FIAC Hors les Murs program in 2014 ©Bertrand Planes
Is it true that you're part of a whole group of like-minded people who have become infatuated with collecting art?
When I started out, through galleries and friends I would meet other young collectors. One couple lives right here, fifty metres away. We often meet up, talk, have dinner and exchange our opinions and advice. We're allied in our wish to try to do things, to participate in the process. We're not of the kind who buy an artwork just so we can sell it to Christie's six months later. We are not part of that kind of a story. For example, I own an environmental installation that takes up 200 m2 in total, and I was the one who produced it for Fiac Hors les Murs in Jardin des Plantes in 2014. In my opinion, for today's collector, it is essential that they are not at the end of the process chain. It seems sad and dry to me if I go to a gallerist and he says – 'well, that's what is left. You can get a ten percent discount and I'll deliver it by tomorrow.' That is not what links me to the process. I want something more – to create an event, to organise an exhibition, to put out a book. And it's not only about having a sense of having something that belongs to me, but about the wish to expand boundaries. I don't want to be a stupid guy who simply has a lot of money.
That's a bit egotistical, to wish to become something more…
Yes, of course.

Alicja Kwade. Von Anderen Aussagen über den Moment (From other statements about one moment), 2014. Lamps, dimmer, box. Variable dimensions. 172 sec. New York.
The core of your collection is made up of works by young, rather unknown (in some cases, completely unknown) artists. Was that a conscious decision from the very start, or did things just turn out like that?
You know, I started out with art that was created by my generation. That was a significant aspect for me – to understand how people my age and who live a very similar life to mine perceive the world and interpret it through the language of art. I wanted to find an image of my time, which is why I focused on peers with whom I had something in common in terms of thoughts and feelings. I couldn't start out collecting established artists. That would have been altogether strange. When it all started ten years ago, there was an active group of artists on the French art scene who were becoming known not only locally, but on the European art scene as well. Before then, for several years already, French art had been a closed-off and specific phenomenon. And then the tipping point occurred – the new French artists were starting to show abroad, and the collectors were also starting to notice them. Perhaps a reason for that was that the rest of the art world had become weary of bright and decorative things, and was now ready for something more conceptual and intellectual. I had the chance to observe and meet this new generation. Sometimes people ask me: 'What do you collect? Photographs, paintings...?' My priorities are not a numbered list of forms of expression or specific names of artists. The most important thing to me is the work of art – that is the first thing that I look at. After than, I try to find out everything about the artist. I caught on quite quickly to a very important detail – when you buy a work of art, you buy a part of the artist's body of work. And you have to have a truly easy relationship with everything that they have done before and after this work. You have to be able to accept that, and you have to be very careful because every artist can have one truly exceptional work, but it may not represent the true nature of their oeuvre as a whole.

Alexander Gutke. Measure #1, 2011. Laser engraved brass Moebius strip, 69 x 14 x 3 cm
Does that mean that before you purchase a work, you do in-depth research on the artist's body of work and personality?
Yes; I can spend months, even years on this process before I'll make a purchase. It really takes me a long time. There are people who can do this almost immediately – at art fairs, but I'm not ready for something like that unless I know the artist's work quite well already.
But you do regularly go to art fairs.
Yes, regularly, but only in Europe; I never go to Asia or America. Of course, an art fair is the worst place to look at art – too many people, too little space. It's a total shopping centre. However, as at any professional event, there you have the opportunity to see a lot of different artworks from all over the world in a very condensed place and to meet with a lot of professionals. Those days are filled with four or five meetings, intense conversations, and lots of introductions.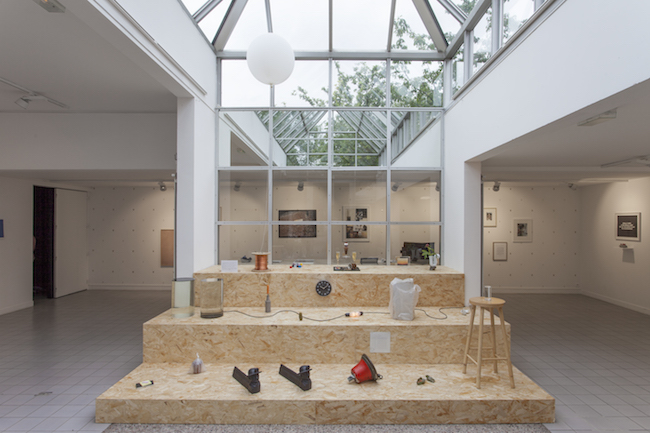 La vie, mode d'emploi. Exhibition view. Collection Joseph Kouli, Centre d'Art Contemporain Chanot, Clamart, 2017
And then you think about the art that you saw there?
Exactly. But sometimes it takes a lot of effort to restrain yourself from acting on this feeling of urgency...to not to buy under pressure. You have to believe in the artist whose work you like. They will continue to create because, after all, this is contemporary art. That one specific work is not the end of them. You have to be confident in not only one work – you have to be confident in the artist. I remember a work I saw at FIAC years ago. I had been hesitating for three days because this would be quite an investment for me. But then a mighty collector visited the booth and bought four artworks – including the one I had my eye on – in two minutes flat. In the end, eight years would pass until I chose the right work from this artist. The artist himself had made great strides in his career by then and had confirmed my intuitive hunch. Other people and institutions had confirmed this as well. And even if the prices had gone up by then, I was still a winner because I came into possession of a work that was even better than the one I had seen all those years ago at FIAC. So that was the right decision – to wait.

Vanessa Billy. Torso, 2009. Breeze block, plastic bag, 40 x 22 x 22 cm
Does it matter to you that as prices rise, the value of your collection also rises?
No. I've never sold an artwork.
Of course, I am glad and proud when I lend to the Hammer Museum or the Venice Biennale artworks by artists I spotted years ago, back when only a few people were looking at them.
And if the name of an artist becomes weightier over time, the price of their art might also increase. But I have the feeling that many of the works in my collection are worth less now than what I paid for them. But I really don't care about that. Maybe it's even a 'statement' of sorts. When I bought Torso, a concrete block in a plastic bag by Vanessa Billy, I was well aware that it could be perceived as worth nothing – just a bag and a found piece of concrete. To me it was something else, and I paid, according to many of my friends, an impressive sum of money for it. Sometimes people aren't able to comprehend that. It's a kind of political act to me – to buy artworks without trying to equate them with their price. That is truly important to me.
Does your professional career in advertising influence what kind of art you choose? As for what I can see here in your office, there's a clear emphasis on conceptual art.
Yes, that's what I look for and what I like. It is the most closely associated with my personality, with what I do for a living. The first artwork I acquired was like an advertising billboard – the size of those you see on bus stops. Obviously, at that time I had this inner need to have by my side something that I knew and understood well.
A few years later I bought a photograph by Angelika Krinzinger, and even a work by Lisa Holzer, which both contain very direct references to advertising – it's provocative, it draws the eye. These are inciting gestures that are now here, in the office.
Right now there's an exhibition of women artists here. Why this turn towards feminism?
In 2013 the Pompidou Centre held the exhibition Elles, curated by Camille Morineau. At the time, one of the arguments that she was proposing was that women artists are less visible than men, and that they require support and that we must 'go back' into art history and reveal the role that women played in it. A few months ago, Hanna Alkema, working with Camille Morineau on the AWARE project (Archives of Women Artists, Research and Exhibitions) asked me if I knew how many women artists I had represented in my collection; I checked and it turned out that my collection was pretty balanced – which is rare – and that most of my ensembles were by women artists. You know what is really strange? At least in France, art schools are markedly populated by mainly women. But in the art scene, there's a striking predominance of men. My question is – what happens in the middle, in the transition stage? My collection doesn't consist of only women artists, of course, but I try to keep a balance between both sexes. It's not a stated objective, but I try to keep it in mind.

Exhibition view. Collection Joseph Kouli, Fiac Parcrours Privé, 2016. Works by Navid Nuur, Aiden Morse, Martin Soto-Climent. ©Aurélien Mole
Your office functions as both a working space and an exhibition space. How important is it for you to live with your art – to be in the same room with it, to rotate the works on view – and not only here, but in your home as well?
When I began to collect, of course I immediately put the purchased work on the wall. And then I put the second one next to the first, and after a while, the third one. Now, I no longer believe that everything has to be visible, that is, on display. It's not even possible anymore.
Several years ago, FIAC asked me to open up my collection to visitors – a private tour. Now it's become a tradition, and I change the exhibition once a year. I understand that it is very important for the artists. I'm not any kind of a saviour, and I don't collect to help out artists. I buy also for myself; it really is an egotistical activity. However, I believe that I am obliged to show the art that I own. To give the artists support. Many of them are rarely shown, some not ever. In my circle there are people who work in the art world, and my actions have possible consequences...they can influence: when my friends spot something, they may choose to work with that artist or another. At the same time, it's also setting an example to other young people that they, too, can collect. That you can buy a striking work of art for, say, 300 euros.
Overall, changing the works on exhibit is not all that simple. Everything has to be taken down, sometimes the walls have to be repainted, you have to fill in about fifty holes in the wall, and then all the new pieces have to be put up. In my kitchen at home I have a large-scale neon installation by Angela Detanico and Rafael Lain which is impossible to take down – it's staying there. That happens with a few art works that naturally find their perfect place. The same goes for the two-metre-long John Giorno work in my bedroom, right above my bed – that is also staying there; I don't even have another space where it would fit.

Exhibition view "Collection Joseph Kouli (29/10/16 – 15/02/13)" in Mains d'Œuvres, Saint-Ouen, 2013. Works by : Erwin Wurm, Angelika Krinzinger, Oleg Kulik, Bertrand Planes, Bruno Peinado, Angela Detanico & Rafael Lain ©Aurélien Mole

You must have a very close relationship with this artwork…
Yes, it is a saying in French – Chacun Est Une Deception Totale – which could be translated as 'everyone is a complete disappointment'.
And you see this every day!
Yes; people cannot fathom how I can live with this on a daily basis.
But, you know, when I'm lying in bed, I don't see it [laughs]. With artworks, it's just like any other daily routine. When you take the same route to work every day, you get used to your surroundings and you don't really notice anything anymore. If you live with an artwork and you're used to seeing 'something' on your wall, after a while you seemingly don't even notice it…And that's why artworks need to be rotated. Maybe a collector doesn't even need to live with their artworks. As we were saying before, the pieces in my collection are altogether conceptual, and sometimes, after acquiring them, they stay in the gallery for a year or two before I collect them. I get a kind of satisfaction from knowing that I've bought a piece of art, and that now it belongs to me...and sometimes that's enough. There is no need to put it up on the wall. If I wanted to display everything, I wouldn't have enough space. I already told you about the installation that takes up 200 m2 – I can't put that in my Paris apartment. It's currently being stored in a warehouse and I'm in talks with a few museums in southern France that could exhibit it. It is an established axiom that when you begin buying artworks that you cannot hang on the walls of your home or office, or which you have nowhere to display, you have become a collector. It all began in November 2006 with Now that this has been done it will never have to be done again, by Bruno Peinado, which I mentioned as an example of how I had, in some sense, searched for my 'life in the advertising world' within the art world as well. At that time, this catchphrase was symbolic for me. When I bought it, I wasn't even thinking about collecting. The artist was well-known. He was nominated for the Marcel Duchamp Prize. I simply asked how much it cost and said to myself: 'Ok, I could buy that.' At the time, I thought it would be great if I owned a work of art that I could live with. And it was only coincidence that, in this totally incidental way, I began to also look at other artworks as objects that could come into my possession. In ten years' time I've acquired more than 150 works, among them a few sound art pieces and also a rather large number of video works. Over time, my attitude towards what is art has changed cardinally. At first, I needed frames. Within the space of a few years, I guess I became better educated and began to look for something else besides an object.
For what, exactly? Are aesthetic categories, appearance, totally inconsequential to you?
There isn't one definitive answer to this question because aesthetic categories can snag me and make me stop and look. However, if we come to the point of acquiring an artwork… I can also buy just a story if it interests me. Sight unseen. Sometimes that's all it takes. I like to collect ideas, collect stories – not aesthetics. I don't need four-metre-large canvases in my own private museum to prove that I have a lot of money. I remember going to a gallery in which there were two shelves with the same sculptures by the same artist on display. The shelves were standard IKEA shelves. One was maybe 20 centimetres taller than the other, and the gallerist told me that the first one costs about $9,000 but the second about $11,000 – because it's noticeably larger. You know, that's always the answer that gallerists give you when you ask them how much something costs. They say that this is expensive because it's big. You know, I'm absolutely convinced that even if people knew that all of the works had the same price, they'd choose the bigger ones. That is how we perceive things, and it's only natural...the wish to get the most for your money. But art is not about that. Art is about changing perspectives and getting out of your comfort zone.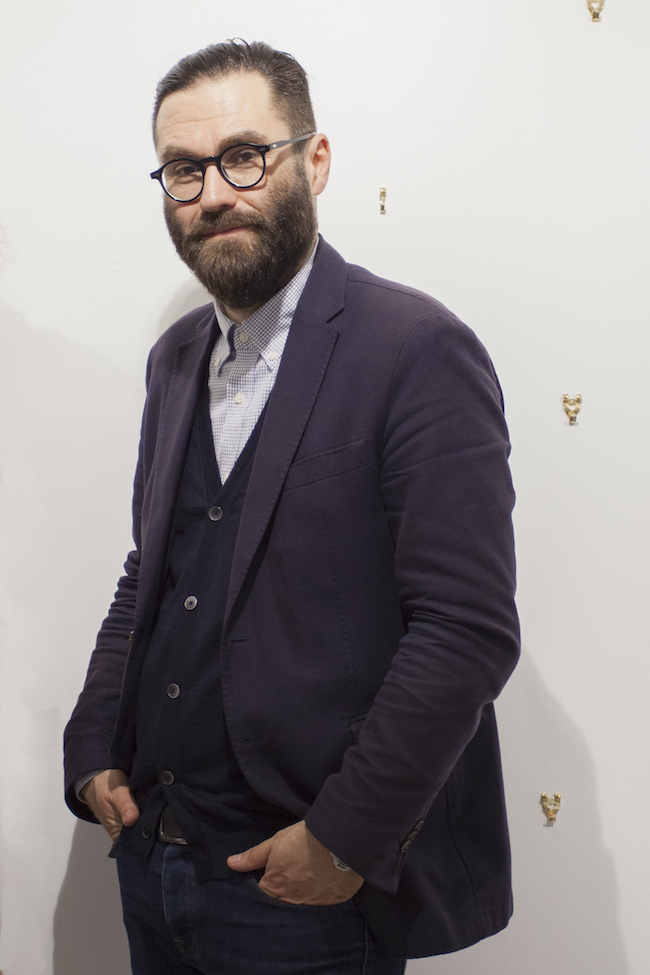 Joseph Kouli in front of the work by artist Elsa Werth ©Nicolas Giraud