An unconventional collector
An interview with art collector Gil Bronner

16/04/2018
Even though using the word "typical" when speaking about art collectors is off the mark to begin with, because each of them is the quintessence of individualism, Düsseldorf-based art collector Gil Bronner is a very unconventional figure indeed. Interviews and articles about him usually mention two things: he's always late, and the name of his art space, Philara, has nothing to do with the Greek root phil-, meaning 'love' and ars, the Latin word for 'art', and is instead simply an acronym of the names of his two children.
Bronner's main business is real estate development, but he grew up in a family of art collectors and has been building his own collection for more than twenty years. A large part of it consists of work by young artists, mostly graduates of the Kunstakademie Düsseldorf. Their work forms a dialogue with the other work in the collection by prominent Düsseldorf artists such as Thomas Ruff, Katharina Fritsch, Andreas Gursky and Hans-Peter Feldmann as well as internationally well-known names like Kris Martin, Pae White and Monika Sosnowska. Bronner is convinced that Düsseldorf and the surrounding area – instead of Berlin – is the true hub of art and the most important art region in the world.
The Kunstakademie Düsseldorf has produced such famous artists as Joseph Beuys (who later became a professor there), Gerhard Richter, Anselm Kiefer and Sigmar Polke. Bronner's Philara Collection works closely with the academy, thus fulfilling one of its main goals, namely, the recognition and promotion of new artists.
The Philara Collection moved into the former Lennarz glass factory in 2016. The art space (1700 m2) currently contains only a part of Bronner's private collection, but the exhibition is rotated periodically. Separate spaces feature temporary exhibitions as well as a café and artists' apartments. It also hosts a variety of performances, concerts and films.
When we meet, Bronner overturns the first assumption about himself and arrives precisely on time. We hurry up to the large rooftop terrace, because it is already five in the afternoon and the sun is slowly sinking in the sky. David Renggli's bright pink installation Reclining Nude (2014) basks in the slightly surreal early evening light against an otherwise grey backdrop of functional, industrial, post-war architecture.
"No one's actually interested in art," says Bronner sarcastically. "Museums are only full on the opening day of an exhibition." A surprising beginning to a conversation with an art collector, I think to myself.
More than two hours later, we finish our conversation in the basement level at Philara, where Artichoke Underground (2003), a psychedelic installation by the American artist duo of Jonah Freeman and Justin Lowe, is displayed across several rooms on two levels. Bronner acquired the work at Art Basel and doesn't hide the fact that it's possibly the strangest piece in his collection. When I ask him whether he thought for a long time before deciding to buy it, he says, "No, if I had thought about it, I would never have bought it."
It took more than three months to set up the Freeman/Lowe installation. "Everybody was happy when it was over. It was totally crazy. For example, this French guy, Bernard Arnault, he has a fantastic collection, but I'm sure he has never had some of the weird experiences I have, while building his collection. The whole thing here is fake, all of these collages, books, film posters, the kitchen, the incubator for plants, everything."
As we return to ground level, where a work by Anne Imhof (who represented Germany at last year's Venice Biennale) is exhibited, a train passes right by Philara's large windows. "This really is an urban environment," states Bronner.

Peter Buggenhout. The Blind Leading the Blind #26, 2008. Courtesy the artist and Philara Collection. Photo: Susanne Diesner, Düsseldorf
You said that no one is interested in art. So why did you open this space? Surely no one comes here, either.
No, actually we don't suffer that much from a terrible lack of visitors. But I seriously believe that it's only a tiny minority of people who are genuinely interested in art. People are more interested in event culture and going to places, because after that you can post on Instagram where you've been.
How did your own story with art begin? Does the fact that you belong to this small group of people who are truly interested in art mean that you are exceptional in some way?
A person is not exceptional because he belongs to the minority. Of course, there are people superficially interested in art. I'm not saying they're not. But judging from our visitors, I don't know how many of them are genuinely interested in art and how many just want to feel the atmosphere, have an experience, or whatever.
But there are undeniably more people around now who are, or at least seem to be, interested in art, just like there are more and more artists and art spaces. Art is everywhere today. Do you think this popularity stimulates the quality of art as well, or only its quantity?
It's difficult to say. Being a participant in the art market was easier fifty years ago than it is today. There was simply less on offer back then, and nowadays the market is so broad that it's much more difficult to find your way through it. There are more participants as well.
There's too much competition.
Yes, among the artists, among the galleries. There are ten to twenty times more galleries today than there used to be. And there are twenty times more artists than there used to be. And there are probably twenty times more collectors, too, I would guess. Maybe 5000 times more collectors than there used to be.

Leunora Salihu. Stück, 2012; Sabrina Fritsch. Nove, 2015; Hans-Peter Feldmann. Seestücke; Björn Dahlem. Sonne, 2012; Andreas Schmitten. Kinosessel. Vitrine Nr. 1603. Courtesy the artists and Philara Collection. Photo: Stefan Müller, Berlin
Has this overcrowded situation also changed your approach towards art and collecting?
No. I've been a part of this new market already since I began collecting. I haven't experienced what it was like before. I witnessed those processes only through my parents, because I come from a family of collectors. It's in our genes. I guess my children will be collectors, too.
You were interested in new art already from the very beginning. Is that still the case?
I still collect a lot of very young artists. Their work still makes up about half of my collection.

It's quite important to understand the codes of each generation. You represent one generation, but there are already new generations emerging. Do you feel that you can completely understand the new art?
That's true. Actually I don't buy too much so-called post-digital art. I try to buy what interests me and what I think will not bore me in the long term. And some of the things are rather bland intellectually, and then I don't buy them.
What is it that interests you in art? Is it an intellectual challenge?
It has to be a good mix of everything. If you take a look at my collection – even if just at what's exhibited in this space – you'll find some works of art that I see as both intellectually stimulating and also attractive, well-made. Of course, that's not the sole way you look at things, but it's only honest to admit that, when you look at the work of the artists you collect, you ask yourself again whether you've got faith that their career will develop, or are you essentially just wasting money? Most of the art I buy ends up in the warehouse anyway. So, when you buy art, you always try to hope that what you're buying is something that will have a future.
In terms of intellectual or financial value?
Both. Financial and intellectual. Relevance basically. I don't mind if an artist doesn't rise in value as long as the work stays substantive, meaningful. Meaning, the artist continues being an artist. Instead of, for example, becoming a taxi driver. That would annoy me because that is a double loss. And I know that very well, because I buy young art – approximately 95% of what I buy might not have a relevant increase in value. That's just the way it is. I think I'm trying to make a clever choice, but the truth is that it's not my choice to make.
The market is in large part created and influenced by the big players, people like Gagosian and so on. Collectors at my level can only hope that, by showing pieces from our collections in our art spaces, we are at least in some way helping the careers of these artists. For example, all sorts of people come to Philara, including curators, who might become aware of a good artist here that they might otherwise have missed. Lately, I've often heard them say that they didn't know anything about this or that artist before, that he or she is really interesting. And that's a part of what I do.

David Renggli. Reclining Nude, 2014. Courtesy the artist and Philara Collection. Photo: Paul Schöpfer, Düsseldorf
So, you believe that in some way you can help further the careers of these artists?
Well, you can't really say that, because only time will tell. You cannot be the judge of something that essentially has to develop over a period of twenty, thirty years. Some of the artists I collect, I've been collecting them right from when they began, and of course I believe they will have great careers. But at the same time I know very well how many people have started on great careers and then ended abruptly.
A great example is the Zero group. Nobody was interested in the Zero group any more twenty years ago. Back then, you could buy a large Uecker for 30,000 euros. I know that because his works were offered to me. Today, Zero is very sought after and that same picture is probably worth 1.5 million. And you wonder why that happened.
Do you have an answer for it?
On the one hand, the value of an artist is something we can't put a finger on. It's just what the market is willing to give. Does that make a painting created twenty years ago more valuable? Does it make it more valuable than that same artist's contemporary work? Not necessarily, but it's just what the market is willing to pay for it. And there's so much money in this market today; people want to have big names. They want to prove their worth by having something that is, on the one hand, intellectually gratifying and, on the other hand, they can show off with it. And art is the best way to show off. Anybody can buy a Lamborghini or whatever, but to buy good art you need to be smarter. More distinguished. And everybody wants to be distinguished in some way.
Last week I went to the Anselm Kiefer show at the Thaddaeus Ropac Pantin gallery in Paris, and it was already sold out before the opening.
Friends of mine bought a beautiful work there, actually. But I'm not so big a fan of his.
If we're talking about show-off artists, there's approximately twenty or thirty of them, not more. They're just a small part of the whole market.
I think it was Gagosian who showed a huge gold-plated sculpture by Takashi Murakami. People stood in front of it and did thousands of selfies. That's not my idea of art.
In one interview, when speaking about your newly opened art space, you said that your goal is "to illustrate what's currently relevant in the art market". I wondered why exactly you mentioned the art market?
That's just what you call it. It could be the art world as well.
Is it all equal – the art scene, the art world, the art market? Is it all the same?
Not really. I think if you define it, if you take it really semantically, then the art world means all of the players. People like you, me, gallerists, artists, the ones who organise art fairs, anybody who has anything to do with art. Basically, it's the same with the art scene, too – that's always a local thing, people who are connected to or part of the world of making art. The art market, then, is the art that's on offer to buy. And that's why I say "relevant to the art market". It sounds very commercial, but it's actually the correct definition. It narrows down what I mean. I think there are very few people who won't agree with me.
But why do you have this need to own works of art? Can't you simply go and look at them in the museums?
No, in my case I am the one who shows the art.

Kris Martin. Altar, 2014. Courtesy the artist. Photo: Paul Schöpfer, Düsseldorf
What is the main difference between a private space like yours and a public museum that belongs to the state?
Basically, if you look at it, it's curators who decide what is shown, and it's directors or the friends of museums who decide what is bought. I made a decision a long time ago: I went into business, not into art. Back then, I wasn't so interested in art, otherwise I would have become a museum person and my life would have turned out completely differently.
Some of the greatest museums are based on private collections that were donated and therefore formed the founding stock of the museum. Is it any different because it's public? Not really. So, this here is my choice of artwork that I've bought. Together with my curators we decide what is shown. I really don't see much of a difference. The difference is basically budgetary. And I am much quicker in my decisions. And that's what makes the difference.
I don't think that what we show here is mainstream. It's really quite individual. When I went to the United States to look at some private collections – the big private collections in Miami and elsewhere – it's basically all the same, and it's boring. One Rudolf Stingel next to another. And they look as if they've been made in his studio and he hasn't even touched them. So slick, so clean. And then they buy Polke and Kippenberger, and I don't know what they're doing. It's got nothing to do with their heritage, nothing to do with where they come from. It's just there because their advisers said this is the clever thing to buy now because of the art market. Maybe I'm too negative, but I think in their case it's better if they buy cars.
At the same time, one could say that there are already too many private museums now, and too many in the process of being built.
I'm not criticising. It's not a question of the quantity of private museums; it's a question of the quality of what they show. If it's good, then that's great.
I think it's also a question of the collector's ego.
OK. It is a question of ego, absolutely. Sure, I'm satisfying my ego here, too. But then again, I feel that in Düsseldorf I'm in a good position with this venture. We have one of the most important art academies in the world here, particularly if you look at the post-world-war scene, if you look at all the major movements, all the major artists that have been part of this academy, the number of museums and the quality of the collections in this area. I honestly believe that if you take any other big metropolitan area, like London, Paris, New York, you won't find this same kind of density anywhere else in the world. I'm not talking only about Düsseldorf; I'm talking about Wuppertal, Essen, Cologne, Duisburg...all the other cities that are around here. Therefore, opening a private museum in Düsseldorf makes so much sense. I'm in the hub of things. So, that's my excuse.

Installationview. Friedrich Kunath, Juckreiz, 2016. Philara Collection, Düsseldorf. Courtesy the artist and BQ, Berlin. Photo: Achim Kukulies
What's your explanation for why this particular region is so special? Instead of, say, the Berlin area.
Berlin has fantastic art galleries and a couple of good museums, and it has great artists living there. I love Berlin, I love Paris, I love London. I'm not saying that they're bad; I'm just saying that, from some points of view, Düsseldorf is better. Why? I guess it's historical, because if you go back in time, the last Medici (Anna Maria Luisa Medici [1667–1743] – Ed.) brought parts of the family's collection over here, and the first public museum in this region was in Düsseldorf. And the art academy was established at that point, too. Why this developed more significantly here than in other places, it's difficult to say. Again, before the Second World War, Paris was probably the hub of where art was produced. But as a school and as a centre, I think North Rhine-Westphalia is very important now. I believe it's the most important area.
I think there's also a very dense concentration of collectors in this area. You must probably know all of them.
I honestly do not know that many collectors. I know a few in Cologne and a few here and in Essen. But I think everybody collects individually, on their own. I don't think there's such strong coherence in the market here as there is, for example, in the United States...where in most cases you buy what your art advisor tells you to buy. I believe that in Europe collectors are much more individual.
But can you say that over those twenty years your collection was immune to fashions and trends dictated by the art market?
No, of course not. You adhere to trends you believe in, you buy works you think are relevant, and then it turns out they are not. It doesn't take ten years to find that out.

Installationview. Barbara Kasten, Parallels, 2018. Philara Collection, Düsseldorf. Courtesy the artist and Kadel Willborn, Düsseldorf. Photo:Paul Schöpfer
I read that you've started an initiative in this art space that's called a "spoton", in which a group of people look at a single work of art for the duration of two hours.
We did it once. People liked it, so we should do it again. You're right. I had just forgotten about it. My problem is that I'm a victim of these times – my concentration, my attention span has become very short. Meaning less than three minutes. I generally do not have the patience to look at videos, because everything has to go faster and faster. But of course, I look at the art that I buy.
For three minutes, or more?
No, generally more. And for me it's also an atmospheric thing. I went to the K20 recently, and I was just sucked in. It fulfils me. I see the room with the different pieces of art talking to each other, and I just find it satisfying.
But when you go to an art fair, I suppose you have completely different feelings.
Art fairs are hard work for the collector. When you go to Art Basel, which everyone calls the biggest museum of contemporary art – and it really is – as a collector you have three days to see everything there. You try to concentrate on what you're looking for, you talk about the work of art, you talk about the artist, and you compare prices as well. It's really, really tough. Sometimes you're looking at things for just a few seconds. You have to filter everything. Another problem is that you know too many people, and you're constantly running into someone you know, and you need to cut down on the small talk in order to concentrate.
When you're adding something to your collection, are you looking mostly for new names or do you try to follow an artist, to fill the gaps?
I try to follow artists, too. Following is always the most difficult part. If you're successful in what you've bought, the prices go up so quickly and you hate buying something that used to be
10,000 euros, for example, and now all of a sudden it's 65,000 euros. Then I simply don't buy it. It's ridiculous.
Do you have a strict budget?
I try to set a budget for myself, but it never works out. I'm always broke. I always buy too much.
Have you ever sold anything?
I sold two pieces. Just to prove to myself that I could make money selling art (laughs).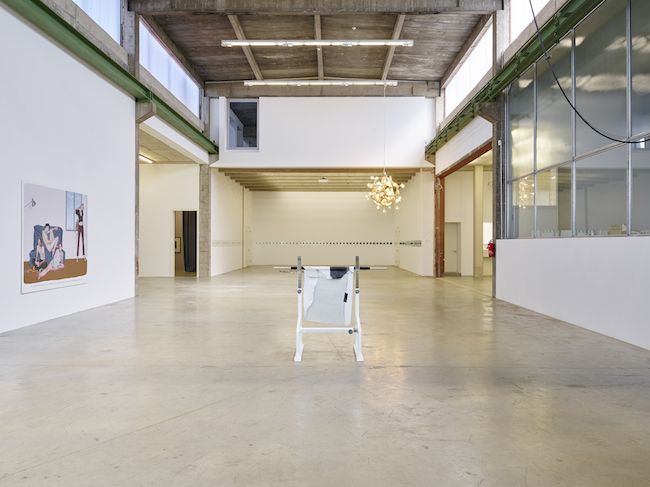 Installationview. On Display II, 2017. Philara Collection, Düsseldorf. Photo: Paul Schöpfer
You once mentioned that the idea of "spring cleaning" comes to your mind from time to time. Do you think that maybe one day you might sell a part of your collection?
My wife keeps telling me that I should, but the problem is, if you don't necessarily need the money, then you don't sell. And, if the work you no longer want hasn't risen in value, you simply lose money. If I could get back the same amount by selling a piece as what I bought it for unsuccessfully, then I might sell it. But that never happens. And then you have to admit to yourself that you made a big mistake, which resulted in losing money. And I hate doing that.
For example, I once bought a piece from a young artist for 12,000 euros, and now I look at it and wonder why I ever bought it. Right now, if I'm lucky, I can sell it for 5000, maybe 3000. In addition, I have to admit to myself that I've lost 9000. So, I just tell myself there's no downside to keeping it. Maybe one day the guy will become successful, and if I still don't like his work then, I can sell it for a better price. As long as you don't need the money in a desperate way, who wants to take such a loss? I have enough storage space, and the space is cheaper.
Looking back, do you think you've made about an equal number of mistakes and successful investments as a collector?
I'd like to think so. But when I look at what I bought at the very beginning, I don't really believe it... Although I think that, on the whole I don't buy art that has a good chance of selling well at auction. I have not been a savvy investor as far as auctions are concerned. But as far as the success of an artist is concerned, yes. But the artists I've bought have not really sold at auction very well.
In most cases, though, bringing a young artist to an auction can totally ruin his career.
It generally ruins his life. Stefan Simchowitz is a ruiner. I hate people like that. They stand up and they say that they know more about the market and that the market will change and will become their market. But it will always isolate between real collectors and people who want to make a quick buck. Now investment bankers are buying stuff that they think is hot, and then they're trying to sell it again in a few months. Showing off to their friends. But this has nothing to do with the real art market, with the real art world.
Do you think that, proportionally speaking, there's still about as many passionate art collectors around as there were, say, in the 1970s?
I think there are more now. There's generally more of everything. Although percentage-wise it may be the same amount.
I could call myself a passionate collector, and I know many people who, like me, really enjoy the art, but that doesn't mean that we ignore prices. Of course, I watch the prices. And if I see everything has doubled in value, I can't say that it doesn't affect me. But I think we have to look at things in the long term. And, basically, the future will decide whether an artist was successful economically or not. I'll probably never find out. Which is OK.
I was in Paris and I saw the Shchukin collection at Fondation Louis Vuitton, and it was so brilliant. I'm sure he must have bought a few things that were not so great, but, generally speaking, if you look at what he bought a hundred years ago, you really have to admit, "What a guy – he bought amazing stuff!" And this is what you should aim for. That a hundred years from now someone will say, "Look at what this guy was able to notice, what he bought, what he collected." I probably won't be around anymore then, although I kind of wish I could be. You never know, though. Maybe I will still be around, 150 years old and still flirting...
Yes, thanks to genetic manipulation!
And with artificial intelligence (laughs).
The on-line art auction Paddle8 is planning to accept bitcoins in their upcoming auction this summer. Can you imagine ever buying artwork with bitcoins or another cryptocurrency?
I believe Bitcoin is due to fail. If someone wants to pay for something with bitcoins, they can. If they want to invest in bitcoins, they can. But I think it's nonsense.
But do you believe that in the future art will be bought and sold mostly on the internet?
It has nothing to do with art. Art is the smell of oil paint.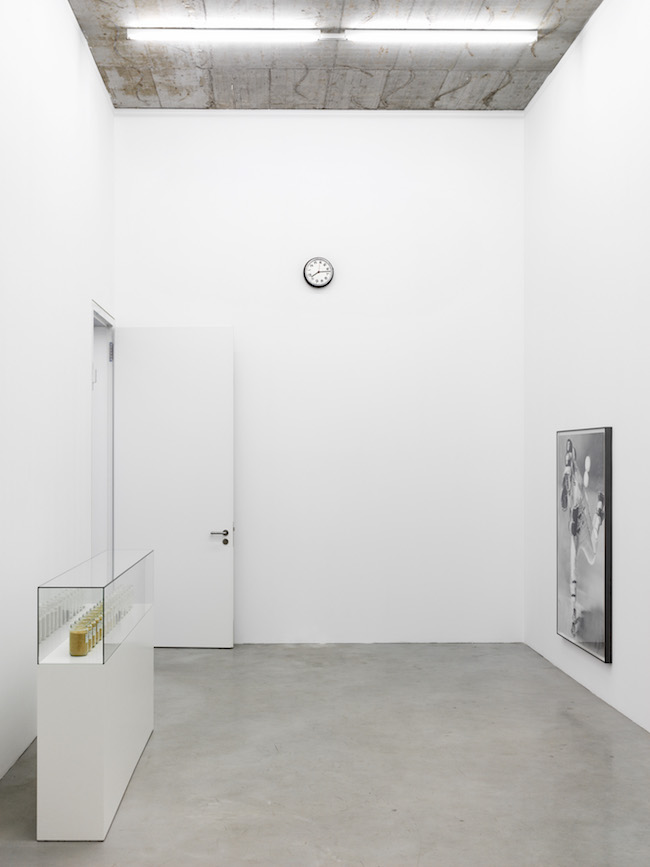 Alicja Kwade. Kaminuhr, 2014. Gegen den Lauf (ref 13), 2014 Sebastian Riemer. Double Duck Pitcher (McNally), 2014. Courtesy the artists and Philara Collection. Photo: Achim Kukulies, Düsseldorf
In today's art market situation, what is the collector's greatest responsibility?
There is one very big collector in London who just dumps works. He buys a huge amount, and then he just sells it. For whatever price. It doesn't matter. And by doing so as publicly as he does, he's just wrecking artists' careers. Market manipulators like Simchowitz, whom I mentioned before, take a new artist like David Ostrowski or Christian Rosa – who are great artists and would probably have fantastic careers anyway – or whoever, and he pushes them up, convinces his friends to buy their work, pushes it up at auctions, and five months later no one is buying that artist anymore. And that's a serious problem. This new artist's work has sold for 100,000 euros, but now no one's ready to pay that much for it anymore. It's so much more difficult to lower your price once it's been high, because that always means a drop in your career.
I know artists who are now almost 60 years old; they came from the former Soviet Bloc and were hyped and sold expensively. I also know artists who are now professors at the academy and were successful one time in their careers as artists. That's the worst thing that can happen. There's an American movie, The Meyerowitz Stories, in which Dustin Hoffman plays a guy who keeps talking about the year when the Whitney bought his work. It's just there in his head and he can't get rid of it, and nothing else is really important to him, and no other artist is really important. He is the one, but the market doesn't recognise him. It's bad if you're unsuccessful in your life, but it's even worse if you were successful just one time. Or you thought you were successful.
Is it true that the first important piece you bought was by Neo Rauch?
Yes. But I don't have that many pieces by him. I think he's a fantastic painter. It's just that he became very expensive, that's all.
Do you have a feeling that he's overrated?
No, no, I don't think so. I actually think he will probably be even more valuable. But, like I already said, it's not the collection's size that's important to me; for me, what's important is to show what's relevant right now, at this moment. Instead of spending, for example, 900,000 euros on a large oil painting by Neo Rauch, you can buy a lot of other work by good artists. It's not only about value; it's also about the collection.
What is the mission of your collection?
Why does there have to be a mission? Like I said, I am collecting in my own time. I read a book about the gallery owner Hans Mayer, about all of the shows he's organised, all of the people he's met – it's simply fantastic. I meet with new artists, we plan shows together – maybe in the future that will be a part of art history, too. For example, I've had the opportunity to organise a show for Barbara Kasten. She's a fantastic artist and an outstanding personality.
In a way, with your collection you are kind of buying a key...
A key to eternity. That's true. Actually I was always jealous of artists, because what they do is eternal, it's something that stays. They become a part of something. I'm a real estate developer. So what? I've bought buildings, I've developed them and rented them out to this or that. And, in retrospect, I've probably done more things that are long-lasting than a lot of other people have done. But will economics be the only reason why I lived and died? Will I never have left my mark anywhere? Now I do have that feeling that I might have left something in the world. But only time will tell.
A person needs to change something, to move something. With my collection I am a part of the scene; we collaborate with the academy, and as a real estate developer I dedicate space in my projects for artists' studios. I am a part of the whole thing. From this perspective, we are like a large family.

Installationview. Rooftop, 2017. Philara Collection, Düsseldorf. Photo: Paul Schöpfer
Do you have something like a core part of your collection, a part that you'd like to keep together?
Everything (laughs). Even the bad stuff. I swore to myself that at some point in time we will show the whole collection. I'd still like to do that, but it's difficult, because there is a lot. And some of the works I don't like that much that I'd necessarily want to see them up on a wall.
After collecting for more than twenty years, do you feel that the collection is in some way also a mirror of your own personality?
It's difficult to say. I have a strong affinity for artwork that has to do with psychology, sexuality, humour, human issues. Does it mirror my personality? Probably. But it's not necessarily true. For example, I bought a new work from Barbara Kasten and showed it. It doesn't mirror anything, except for the fact that I admire her work. But generally there are themes that come up again and again that I find very interesting.
I saw a fantastic video work by a young artist concerning the economic crisis of 2008. It was actually made before the crisis, and it's absolutely brilliant. I like things that can really give an intellectual stimulus. But then again, I always find that the intellectual stimulus provided by art generally remains within certain borders. It's not like a book or a movie; with art you can't go into too much depth. But you can be critical. In the meantime, however, so many artists today – especially those who are coming from the academy here in Düsseldorf – are not critical at all. We live at a time when terrorism and the whole general situation – at least during my lifetime – is as critical as never before. The whole world is in turmoil, with idiots ruling everywhere.
And you don't see that reflected in art?
No. Not in the German art coming from the academy.
What is your explanation for that? If you look at the Turkish art scene, for example, it deals a lot with these issues.
Because they suffer. I don't know the Turkish art scene that well to be able to judge it, but I do know the German art scene quite well, and I don't see it reflected in that.
Maybe the level of comfort is too high.
Yes, probably. It's just become too bourgeois. Look at the artists, the people at the academies nowadays, they start sometimes when they are seventeen, and they finish when they're 28. So, the ones who are 28 now, they were born in 1990. It's a comfortable time in Germany. Almost no unemployment, everybody has food, there are no serious problems. Things have probably never been as good as they are now. Or as it's been for the last 20–30 years. A lot of leftists would say that's not true, we are still suffering. But the truth is that whilst there is still inequality, even the poor are better off than ever before.
Some of the discussions going on right now are just ridiculous. For example, the guy who protested at the Palais de Tokyo about his own protest image that was being shown there. Bright is the guy's name. (An image of the American artist Parker Bright protesting in front of Dana Schutz's painting Open Casket [2016] was removed from an exhibition of works by French artist Neïl Beloufa after Bright wrote online that "my voice does not matter in this case [Beloufa's piece]; I am being used as raw material." – from The Art Newspaper). He claims that only black artists have a right to portray black suffering. So, what now, Christian Boltanski is not allowed to work anymore? Or Miroslaw Balka? And Anselm Kiefer is irrelevant, and Gerhard Richter is not serious? They are all Christians who are suffering Jewish pain. And they can't do that now anymore?
It's such nonsense. It just boggles the mind that someone's self-confidence is so low that he imagines his suffering is limited to only his own group of people. And to come up with this bullshit, and that there are people profiting from it. It's just ridiculous. The United States seems to be a beehive of stupid campaigns that people jump on.
That's what I mean when I say that people aren't interested in art; they're interested in general topics that they can use as façades. Like the #MeToo campaign. It's just so stupefying, and it's always the same thing: you have a topic that's actually relevant, there are people who have really suffered and been molested by men or whatever, but then someone looks askew at someone else's red toenails, and suddenly it's called sexual harassment. You're taking away the relevance of the actual subject.
At the same time, the queues for museum exhibitions are getting longer and longer, but people remain the same, they don't change. I think it's rather naïve to believe that art can change anything in this world.
Nothing. The only thing that can change anything is clever politics, which is very rare nowadays.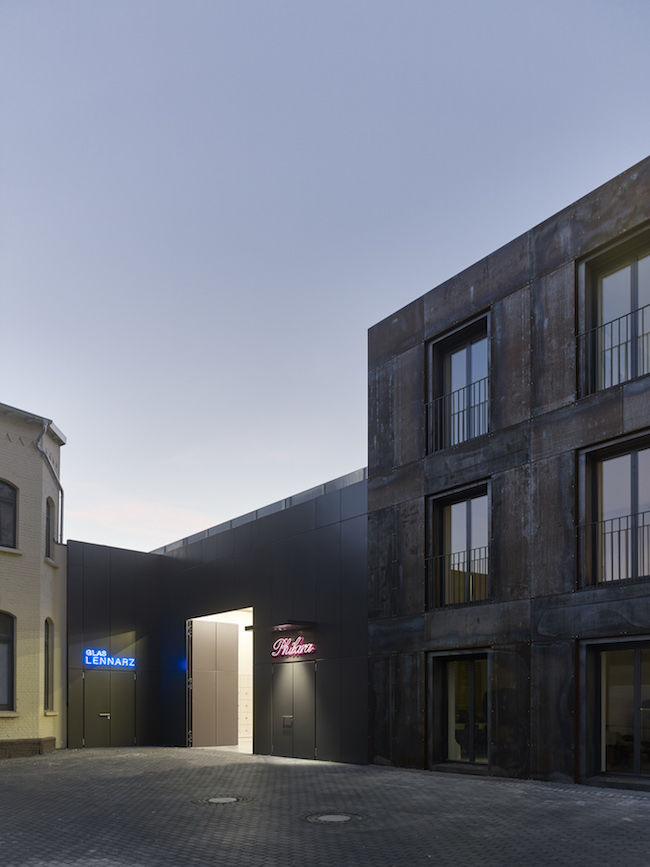 Philara Collection. Photo: Stefan Müller, Berlin
In your opinion, what is the role of art?
It can portray problems. Art can be good as a historical reminder of something that was bad in the past. You look at Otto Dix's work, which depicts the suffering of the First World War, and you almost physically feel the pain. Such an intensity of feeling would probably be impossible to get from just reading a history book. Of course, only if you're empathetic. But on the other hand, without having read a history book, you don't understand the suffering in Dix's portrait. But that's one way that art can help.
But I don't think, especially in today's world of media, that anything you see in art can make you aware of something you haven't heard of before. Every little thing that happens nowadays is blown straight out into the world anyway. So, then it's just replicated by art – with better or worse results.
I'm interested in artwork that has a clever political statement. For example, Simon Fujiwara's Hope House, which was recently shown at Kunsthaus Bregenz. It's a full-scale model of the Anne Frank House, based on a model that you can buy at the souvenir shop at the Anne Frank museum. And then you have to ask: how ethical is it to sell a model – basically, a doll house – of something that's essentially the epitome of pain and suffering?
A separate part of Fujiwara's installation is called "Anne Frank's Bedroom Wall" and is inspired by the images that Anne Frank herself collected as well as celebrities who later visited the Anne Frank museum in Amsterdam. Beyoncé was among them, too. She later posted a picture of herself at the museum on Instagram, adding how greatly she had been moved by the museum. Beyoncé was wearing a simple, light-blue outfit. Nothing fancy. But it was already sold out at TopShop just a couple of hours after she posted the photo. Fujiwara's installation includes a copy of the outfit. I think this is a wonderful example of a situation in which art meets the real world. There's this critical discourse, but at the same time there's no judgement. Just references and facts.
There are a lot of powerful works of art – such as Andrea Bowers' campaigns – but whether they'll be able to change anything in the long term, or will have only portrayed that particular artist's fears or worries or other emotions, is a different question. I really don't believe that one work of art can change anything. Picasso's Guernica portrays the suffering of the past. But is there any work of art made today that makes people aware of problems that they haven't seen before, and then because of that they're able to affect something? I'm inclined to say no. But expressing one's feelings to get others to wonder, reflect, and maybe even laugh about something? Yes, that's possible.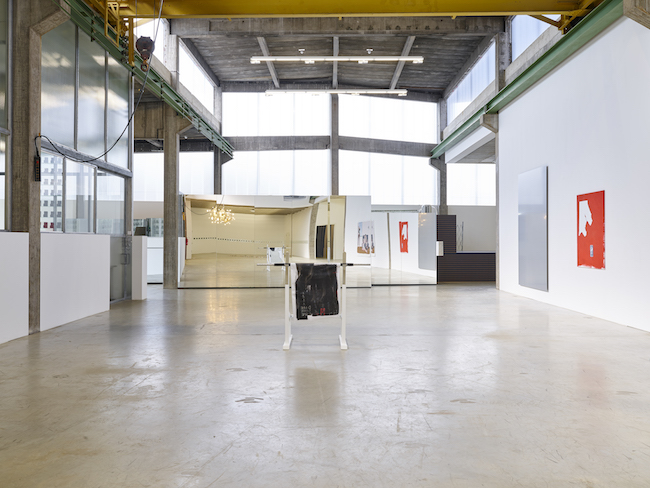 Installationview. On Display II, 2017. Philara Collection, Düsseldorf. Photo: Paul Schöpfer
If someone were to look at your collection 120 years from now, could they get some idea of how we lived during this time?
It's difficult to say. Is the collection a good example of how we lived? It's perhaps an example of how people thought.
On the other hand, how objectively does today's art portray that thought process?
I don't know. Because the things that are happening today are not really processed properly in art. When you look at this unbelievable level of primitiveness coming from people like Trump or Erdoğan... For example, in the artwork that I collect, I don't see the crisis in the Middle East portrayed powerfully enough. Maybe that's because Arabs living in the Arab countries aren't allowed to criticise the regime, while those living elsewhere may do so, but they're really not as critical regarding those regimes as I would like them to be. Because there is so much pain and suffering going out from the mullahs, from Assad. And I'm sure that for the American artists, this caricature on TV called Trump gives them so much stuff to feed on.
Depending on the society where the art comes from, yes, it will be relevant to what people thought at the time. I mean in Western society. But in the meantime there are a lot of societies that are just left out. I don't think that there is so much critical Chinese art. And there is some, but not very much critical African art. If you ask me to name one critical African artist off the cuff, I'd say William Kentridge, but he's Jewish and he lives partly in London.
Do you think there's a point at which you'll be able to say that your collection is complete?
I really doubt it. Maybe when I don't have so much energy to buy new things anymore. Like I see in my parents – they are still connected to art, they still buy it, but they don't have the same level of energy that they used to.
Can you imagine ever becoming bored by art?
I wish I could. Then I'd finally save money (laughs). Seriously, to be bored is the worst state in life. It's the worst thing that can happen to you.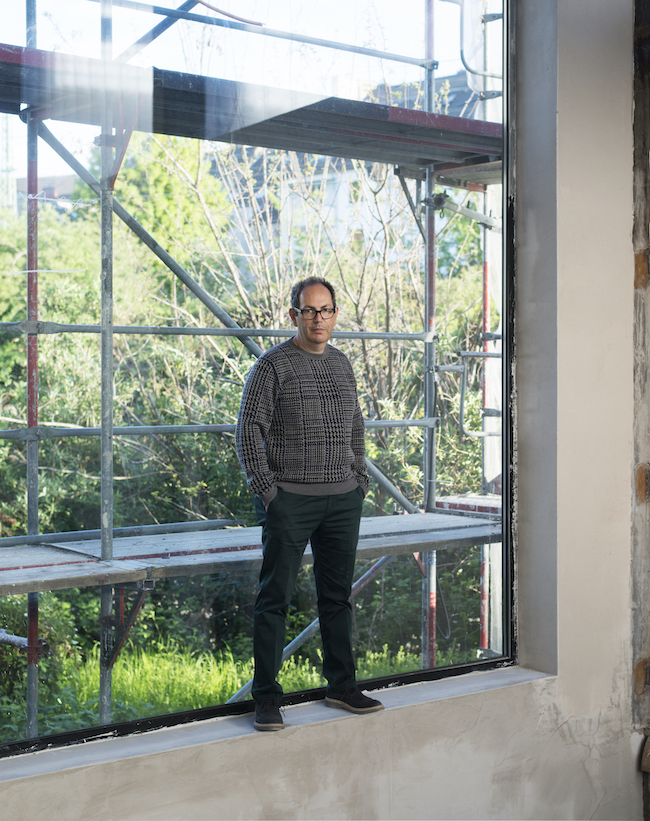 Gil Bronner. Photo: Albrecht Fuchs, Köln