A medieval castle's dialogue with contemporary art
An interview with art collectors Dieter and Gertraud Bogner

09/05/2018
Kunstraum Buchberg is a medieval castle about an hour's drive from Vienna. For more than thirty years, it has been the home of Dieter and Gertraud Bogner and their unique collection of more than 30 site-specific installations of conceptual art. In fact, the art is undeniably the dominant partner in this relationship, occupying the lion's share of the castle's fifty rooms.
Schloss Buchberg, whose history dates back to the 12th century, was acquired by the Bogner family in the 1960s. Ownership of the castle had changed hands several times over the preceding centuries; it had also undergone various reconstructions and teetered on the edge of bankruptcy until the family bought the woods together with the shabby castle, which was not at all part of the economic strategy of this acquisition.
Although Dieter Bogner initially worked in his family's steel trading company and in his younger years even visited a number of former Soviet Bloc countries on business, since the 1970s he and his wife, Gertraud, have been professionally linked with art. Dieter is an art historian and a developer of museums. In 1989 he created the concept for the MuseumsQuartier (Museum Quarter) in Vienna, and from 1990 until 1994 he served as the project's managing director. He is also a founder of the Austrian Frederick and Lillian Kiesler Private Foundation in Vienna and has been on the board of the New Museum in New York City from 1995 to 2018. In addition, he is a curator of exhibitions and the author of countless publications dedicated to art and modern architecture.
However, since 1979 Dieter and Gertraud's life's work is the Kunstraum Buchberg and their large collection of contemporary constructive and conceptual art. In 2007 they gave a large part of that collection – four hundred works of art (100 paintings, sculptures and installations as well as 300 gouaches, rare books and archival materials) – to the mumok Museum moderner Kunst Stiftung Ludwig Wien in Vienna.
When I arrive at Kunstraum Buchberg at our arranged time shortly before Easter, Dieter and Gertraud are already waiting for me at the gate and apologise for not having filled the water pool under the Star of David Pavilion (1989) by American artist Dan Graham. The glass and aluminium pavilion is in the shape of the Star of David, and, similarly to other works by Graham, blurs the borders between perception and seeming reality thanks to the mirroring effects of time and light. At one point, as Gertraud stands inside the pavilion and Dieter is outside it, their faces seem to merge together into one.
Even though Schloss Buchberg is located just a few kilometres from the village of Gars am Kamp, the castle seems to exist outside of time and space. "The Kamp River comes from the north, goes around the park, and then comes back, crosses again and goes down the valley. There's a railway line on the other side. So, we're in a small microcosm here. And also nature-wise – there are wet areas, very dry areas, the whole biological part is very interesting, too. And from the road you can hardly see the castle. Only a few people cross the bridge and disturb us," says Dieter.

Bernhard Leitner. Ton-Raum Buchberg. Upper courtyard. 4 loudspeakers in metal boxes, each 50 x 50 x 50 cm. 1 loudspeaker underneath base plate 106 x 106 cm. Courtyard: side length 1200/1400 cm, height 1500 cm. Design 1989/90, realisation 1992 and 1998. Photo: Wolfgang Woessner
In honour of my visit, however, the Bogners have turned on the Ton-Raum Buchberg, 1 (Bernhard Leitner, 1992) sound installation in the castle courtyard. The sacred, flowing, meditative sounds coming from the bright red loudspeakers bounce off the old stone walls and disappear into the infinity of space. The unbelievable vibrating acoustics pull us into a strange between-space outside of reality.
The interior spaces of the castle have been preserved as authentically as possible, with only the most necessary improvements having been made. "Wherever possible, we've left the floors as they were the first time we saw them," explains Dieter. "That's much better than making everything perfect. All of the rooms are very nice to live in. You can set up a table, a chair or whatever you want and feel comfortable." Nowadays, however, most of the rooms are self-sufficiently occupied by art.
An old wooden table stands at the very centre of one of the central rooms, which has pale sky-blue walls. In the summers, the artist Thomas Kaminsky, a close friend of the Bogners, often uses this as his studio. "He helps us a lot with his critical commentary on what we are doing," say the Bogners. In 1979 they organised the first symposium and workshop devoted to constructive art, which lasted ten days and took place at Schloss Buchberg. With time, such symposiums at Buchberg became practically the stuff of legends. "Back then, the artists who came here said that we must not touch the walls in this room. So, since that time we have this blue. Actually you can't reconstruct it. It's a living atmosphere, not a white cube," they say.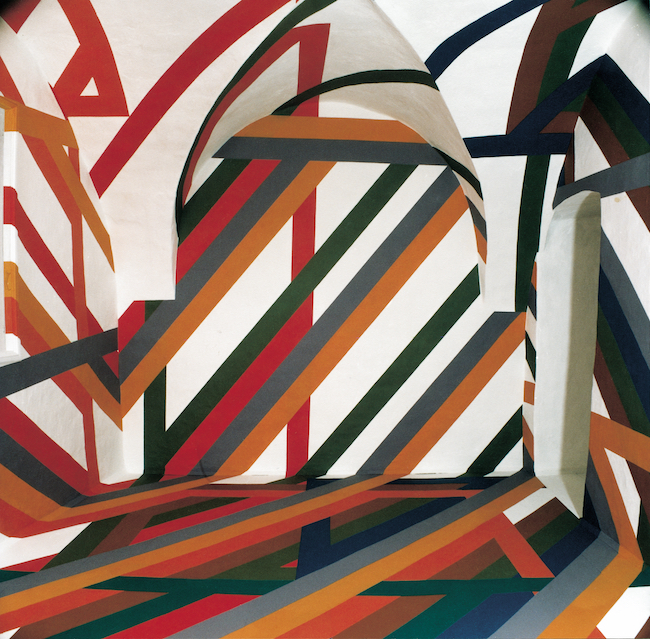 Dóra Maurer. Quasi-Bild. Donjon, first floor. Acrylic. Room dimensions 400 x 320 x 370 cm. Design 1982, realisation 1982/83. Photo: Dóra Maurer
The first site-specific work of art to join the Buchberg collection was Hungarian artist Dóra Maurer's geometric colour installation. When Dieter curated an exhibition at the Modern Art Gallery in Vienna, with Maurer participating, she expressed interest in painting one of the rooms in the castle. "She was so happy, and so were we. Later on, she developed an actual series of work out of these elements," says Dieter. Eventually the Bogners added some of those later works, as well as the drawings on which she based her installation, to their art collection. Their next project at the castle is to establish a library focussing on the artists they have in their exhibition as well as their artistic context from the 1920s to the present day. It will also hold an archive documenting the creation process of all of the site-specific installations exhibited at the castle: drawings, sketches, models, letters, texts.
Archives like this are another very crucial part of the Bogner collection, because they believe that archives are of great importance not only for museums but also for private collections. When in 2011 Karola Kraus, the director of mumok at the time, organised the Museum of Desires exhibition, which brought together works of art that the museum wished collectors and patrons would acquire for the museum, the Bogners also noticed among them the archives of the legendary Viennese art phenomenon museum in progress. "museum in progress is one of the best things that Vienna has produced in the last decades. We bought the whole archive, and gave it directly to the museum," says Dieter. "We also bought the archive of the Ernst Hildebrand Gallery, which in the 1960s was one of the first avant-garde galleries in Austria. In a way, what we did here in 1979, they had already done before."
ARCHIVE: An interview with Vienna-born curator Kathrin Messner about "museum in progress"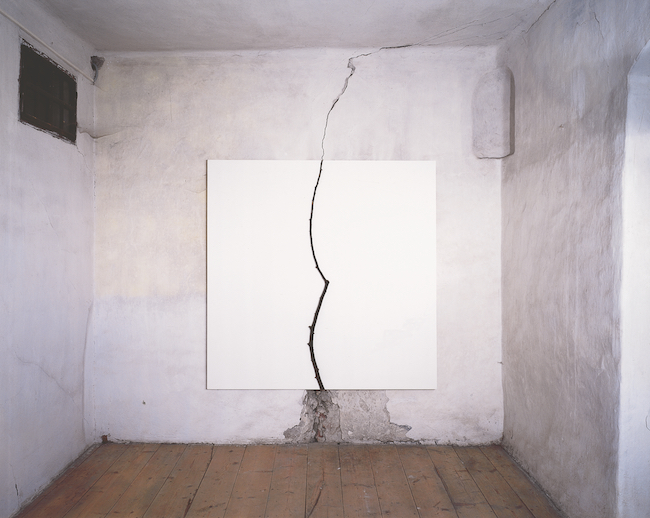 François Morellet. Géométrees and through. Lézarde et fente de ce mur. North wing, second floor. Cracked wall, primed canvas, branch. Canvas 200 x 200 cm. Room dimensions 500 x 400 x 350 cm. Design 1984, realisation 1986. Photo: Joerg Burger
It's possible that the almost physical interaction between the old castle and contemporary art is best embodied by French artist François Morellet's installation Géométrees and through. Lézarde et fente de ce mur, 1986. It's located in one of the rooms next to the old castle tower and consists of a tree branch stretching across a white canvas. The canvas seems to cover a crack in the old plastered wall, with the branch symbolically defining the crack. The actual crack, a sign of the inevitable passage of time, seemingly grows out of the branch and continues across the wall. "It's ingenious," says Dieter. "It's a branch with a crack. Between the 12th century, when the tower's cornerstone was laid, and the 17th century. And it's really an in-space installation, because the crack goes further. And if you take away the canvas, it will not be a work of art anymore. And that's the essence of real site-specific installations – you cannot take them away."
Dieter laughs when he tells about the time a Czech art collector living in the United States visited them. When she saw Maurer's painted room, she exclaimed, "Oh, I want this room!" Dieter suggested she contact Mauer, who would paint something for her. But the collector responded, "No, I want a copy of this room."
Another one of the historical values at Schloss Buchberg are its old tile stoves, which survive to this day in a number of rooms. When noticing some of the old objects in the castle, people often ask the collectors whether those are works of art as well. "There are some situations in which you could think that maybe it is a work of art," says Dieter.
As we meander through the many rooms of the castle, I have lost my sense of direction. Every now and then I unexpectedly hear Leitner's installation in the background. Our excursion concludes in the castle's huge attic, where, under the massive wooden beams stands Czech sculptor Stanislav Kolíbal's large-format wood, metal and neon installation Fundort Dachboden (1992). Starting from the first drawings and sketches, it took three years to complete. "When Kolíbal finished it, he was a professor at the Academy of Fine Arts in Prague. It's a process that's possible only here. Because there's no time limit. He came with a model and drawings – diagonal, square, circle, half circle etc. – and he continued to work on site. Technically, he could take the whole construction out and rebuild it somewhere else, but it's not possible because elements of this space are also a part of the installation. It's an integration. From the market aspect, this piece – like most of the other installations – doesn't have any financial value, because you simply could not sell it," explains Dieter.
As he points to a layer of dust, he continues: "This would be immediately wiped away in any museum. Here, it's a part of the life. We have millions of flies, we have wood-boring beetles and bats. It's a very lively building."
Except for several weekends in the summer and special exhibition projects, Schloss Buchberg is not open to the public on a daily basis. However, this summer – as a part of the Yesterday, Today, Today exhibition, which will open on June 23 – the castle's unique collection of installations will be on show to all. The exhibition's title is from a work by Ukrainian artist Nikita Kadan, who is also one of the eight artists participating in the event: Martin Beck, Michael Beutler, Josef Dabernig, Nikita Kadan, Hanne Lippard, Ulrike Müller, Nicole Six/Paul Petritsch, Sofie Thorsen. The project was developed in collaboration with mumok, and it focuses on the interplay between history and the present. "Contemporary art and social history are always linked to the past that they are attempting to overcome. When new stories are being told in historical locations, the history of these places appears in a new light, experiencing a visualisation through art," say the Bogners. They add: "In the beginning there was no competition. But now, seeing how other artists chose locations for their work, everyone who comes here tries to find a place for himself in the existing context. And it's interesting – the first generation, they installed artwork related to the artwork, but today, they are installing artwork related to history."

Robert Schad. Gerüst Für Buchberg. North wing, second floor. Wood, iron. Room dimensions: 700x500x350 cm. Design and realisation 1986. Photo:
If I understand correctly, both of you came to art from different backgrounds. Dieter worked in the steel industry, Gertraud studied physiotherapy. And later, you arrived at contemporary art through the study of art history. In Dieter's case, it was medieval painting and sculpture in France.
Gertraud Bogner: Yes, but that was at the very, very beginning. At first I wanted to study medicine, but instead I finished a two-year course in physiotherapy. Then I went to work in Italy, because I wanted to enjoy freedom as soon as possible. After working in this profession for three years, I began studying art history and cultural and social anthropology.
Dieter received a scholarship to study in Paris for a year, and so we headed there. And during the year we spent in Paris, we met the Austrian artist Hildegard Joos, and she invited us to come to her studio. There we saw an abstract black-and-white painting. For me it was like a turning point. The artist was already 70 years old – like my grandmother – but she was such a nice person with a young spirit. And I couldn't understand why she had made a painting like this. And that's how our interest in contemporary art began. That was in the mid-1970s.
Dieter Bogner: Hildegard Joos introduced us to the art scene in Vienna. We began taking an interest in geometric and constructive art. In 1979 we met Richard Paul Lohse, who was a door-opener for us. In 1982 I began writing about contemporary art and art theory, and we began working as freelance curators.
GB: To a certain extent, the beginning was also linked in a way with the huge property of Buchberg. No one in our family was interested in the castle. When we met with artists, we would tell them that we had this old building. What developed was quite spontaneous. The Hungarian artist Dóra Maurer came up with the idea of site-specific installation. To do contemporary art in this empty, slightly devastated building was quite ambitious.
DB: We travelled to the Netherlands, and on the way back we stopped for some coffee. We had the address and telephone number of an artist, and we couldn't decide whether to call him or not. If we had not done so, none of this would exist. But we called and went to visit Ewerdt Hilgemann, one of the leaders of the "Internationaler Arbeitskreis für systematisch konstruktive Kunst". In fact, we stayed the night, and that's how we came up with the idea of the first symposium at Buchberg. That was in 1979. The castle wasn't inhabited yet; we had only managed to pull in electricity and water. More than thirty people took part in that first symposium: artists, art historians, curators. Richard Paul Lohse helped us very much; he connected us with galleries, artists and collectors.
How did your fascination with geometrical, constructive and concrete art start? This artistic direction was not very well known in Vienna at the time.
GB: We made this decision when, having returned to Vienna from Paris, we understood that in Austria this art movement was not very much appreciated by galleries, museums and art historians. This situation made us curious, and we decided to examine it.
DB: I've written very much about the 1920s in Austrian art history. The Vienna art history school was very structural and conceptual in this period. Austrian culture always knew a strong tradition of formalism and positivism – in music, philosophy, architecture and art. For example, in 1919 – years before Arnold Schönberg – Austrian composer Josef Matthias Hauer developed his legendary structure-oriented twelve-tone method ("Zwölftonmethode"). Or, Viennese philosopher Otto Neurath, who developed the Vienna Method of Pictorial Statistics ("Wiener Methode der Bildstatistik") in the 1920s. And, last but not least, the architect, theoretician, scenographer, artist and sculptor Frederick John Kiesler, who was the only Austrian member of the Dutch De Stijl group and who created during these years his visionary City in Space. In terms of a broader view on society, their popularity cannot compete with Klimt, Schiele or Kokoschka. Around 1900, Adolf Loos and Josef Hoffmann were the most formally reduced architects working in this period. But the influence of Austrian structural and formalistic concepts on 20th-century intellectual history was much stronger than that of most celebrated Austrian painters.
To appreciate this contribution, a multidisciplinary approach is fundamental. If you go to the Belvedere Museum, whose permanent exposition of this period in Austrian art is largely confined to painting, you'll never get a picture of what really happened in the interaction between the disciplines. Frederick John Kiesler was one of those all-around talents in the 20th century working in all disciplines. In the mid-1980s, a number of young Austrian artists emerged, such as Heimo Zobernig and Gerwald Rockenschaub, who worked in the so-called Neo-Geometric Conceptualism tradition strongly involved in an multidisciplinary discourse and production approach, while "wild-painting" was still celebrated around the globe. These are the fields in which we started to collect in the late 1970s and 1980s. These key areas of 20th-century art were very weak in the collection of mumok, the Museum moderner Kunst Stiftung Ludwig Wien in Vienna. That's why the museum was very happy when we donated our collection to them, because it filled a gap. And we are still filling the gap with further donations.
In 2007 you donated 400 works of art from your collection to mumok. And you did not place any conditions on them. Why did you do it?
GB: By accepting this donation, mumok had to invest a lot of work into documentation and preservation of the artworks, installations, drawings and books. They store the material under perfect conditions. But above all, in the museum our collection has the chance to survive a long time, while private collections are often dissolved by the next generations. It's a long-lasting responsibility that they're taking on. In our age, I believe it's already saying quite a bit if an institution accepts a donation like that.
DB: mumok changes the display of its collection several times a year. What we really like is that we see pieces from our collection each time in a new conceptual context. The curators create compilations we would never dare to do. And that makes us more satisfied than a rigid permanent presentation.
But one point is important for us: you do not donate your collection to the institution or the museum director, but to society. That is the most important aspect of a donation and is often forgotten!
GB: But there's also another story behind why we gave the collection to this particular institution. In a way, mumok is a part of our own biography. Some of the curators at the museum were once students of Dieter's. And mumok's director in the 1980s, Dieter Ronte, helped us very much at the beginning of our activities. He showed the results of the 1979 workshop, Dieter was able to curate the first retrospective of Frederick John Kiesler in 1988, and in the same year he was able to show the Viennese years of the Swiss painter Johannes Itten. And finally, the MuseumsQuartier, where mumok stands, is one of Dieter's projects.
By giving away our collection, we now have more energy to concentrate on new projects.
But we continue supporting mumok, because we're fans of the institution. When curators see a piece of art that would fit into our collection and we can buy it, it goes straight to the mumok's collection. We continue to build our collection within the museum.
Do you know any other collectors who have done similarly?
DB: Unfortunately not. But I think somewhere there will be a similar example. In any case, we hope that such examples act as a stimulus.
There are various discussions regarding the role of the museum today. There's an opinion that the museum is a process and it doesn't always need its own collection. What's your opinion on this?
DB: Museums should work dynamically with their collections. In my function as a museum developer, I was working on three museum projects with historical collections. I convinced the team to dedicate only one of two floors to a longer-lasting thematic exhibition of the collection and use the second floor for semi-temporary presentations of the collection. One of these projects is in the Salzburg Museum. Together with the curators, we decided that on one of the museums floors, which has about twenty different rooms, each room should be devoted to one well-known or unknown person from Salzburg whose work is present in the collection. They went to their storage space, and, apart from known materials, boxes were found that had been at the museum since the 19th century and had never been opened. So, they had a chance to show unknown material that hardly ever would have had the chance to see the light of day in a permanent setting. The problem with museums is that people who've once seen the collection don't return on a regular basis or return only for temporary exhibitions. That's why it's very important that the collection be mobile and one can always see something new. But a crucial point is that changing collection-presentations have to be marketed as intensely as temporary exhibitions.

Dorit Margreiter. Cinéma. Attic. Aluminium mobile, concrete pedestal, projection screen. Pedestal 45 x 45 x 90 cm, screen 410 x 230 cm. Realisation 2015. Photo: Hannes Böck
But do you think museums always need a permanent building? museum in progress is a good example of an institution that can exist in a totally different way.
DB: When I start to look at a museum, the first question is – do they have good storage? Perfect storage is the basis for dynamic work with the collection. Ideally a museum should have the chance to take everything out of the building and put it into storage. In empty galleries it's much easier to develop a visionary future than in spaces with hardly changeable installations. In recent years, several Austrian museums could construct new storage buildings with perfect climate and logistics.
Right now I'm conceiving the Museum Quarter Kirchenfeld in Bern. It's an huge area that is currently the home of Kunsthalle Bern, the Bernisches Historisches Museum, the Swiss Alpine Museum, the Natural History Museum, the Museum for Communication, the National Library and a huge gymnasium. At present, it's an accumulation of autonomous institutions with entrances from the most diverse directions with hardly no coordination of logistics, signage, information or marketing. The huge area does not even have a name. Large, open spaces between the buildings are divided by fences and are used as parking or storage areas and are not accessible to visitors. Our feasibility study will develop on the basis of a systemic approach a multilayered coordination of internal (underground) and external logistics, which, for example, will enable the use of the "Kubus", the Bernisches Historisches Museum's new temporary exhibition hall, by the other institutions. Artwork transported to the "Kubus" will remain within the same climate and security zone and won't need any costly transports between the buildings. So, these are very practical problems. But each problem like this reduces the quantity and quality of the exchanges and communication. In the future, hopefully, visitors will find open areas for recreation with entrances to all the institutions from a central garden with restaurants and outdoor installations of the museums.
How did you solve the internal transport problem when developing the MuseumsQuartier concept in Vienna?
DB: I wrote the first concept for Vienna's MuseumsQuartier in 1989. It envisioned a truck tunnel in the backyard that connects all the museums. Visitors to the museum would not see it. But, you know, the original project size was reduced by 50% because of heavy public and media resistance against modern architecture within historical structures. Today, trucks have to cross the inner courtyard.
So, the MuseumsQuartier as we know it today is only half as large as the original plan?
DB: The most interesting thing is that when the project concept was made public, all of the discussions were only about modern architecture and not at all about the multidisciplinarity of the programme. Besides museums and a Kunsthalle, in includes theatre, dance, music, architecture, design, a children's museum and theatre, etc. It's a mix of contemporary culture. And this aspect was never discussed. The only discussion was about the height and volume of the buildings. As a result, the huge media centre was cancelled, the museum spaces were reduced by nearly 50% and "hammered down" into the ground, because they should not be seen above the Baroque surroundings. So, the project was more successful conceptually than architecturally.
At first, many people were against the MuseumsQuartier. It was even called the Museum Monster in the media.
DB: It was a real fight splitting society. Many of my university colleagues from the art history department fought against the project. It was a shame, because the interesting architectural concept suffered. There's a lack of exhibition space, and the storage issue has not been fully solved.
Do you agree that all good art should end up in a museum?
DB: I would say contemporary art should be collected by museums conceptually. The quality of the artwork and the power of the concept may secure a good future for the works of art and for the institutions. Looking back to the 20th century, there are always forgotten or under-appreciated artists to be discovered. Each decade discovers what previous decades have overseen. At the moment, many female artists are finally getting great appreciation. Their work does not appear only in a few museum collections, and now commercial galleries are digging them out.
GB: I believe the greatest possible diversity of collectors is necessary; private collections, private museums, state museums, academies follow different criteria and tastes. Together they can mirror the productive diversity of contemporary art. Many private museums offer very exciting examples of architecture, and – most importantly – you very much feel the art collectors' personal stories in the collection. Our collection of permanent site-specific installations in a historical building where we live can hardly be copied by a state museum or a corporate institution. It's not the quantity that counts but the distinctive quality and atmosphere.
DB: We do not limit ourselves to acquiring works of art and installations, but we try to obtain the drawings and sketches linked to artists' work that's already in our collection. The creative process has always been very important to us. That's why we also collect archives and set up in Schloss Buchberg together with the collections a library and archive documenting as comprehensively as possible the artistic and theoretical context we are interested in.
GB: There are two parts to our collection. One part is very closely linked with Dieter's research on multidisciplinary artistic phenomena in the first half of the 20th century, and the other part is very much related to the site-specific installations and all our activities at the castle.
DB: Very often during my research or curatorial activities I could acquire singular objects or a convolute related to the specific theme. For example a set of items related to the intense exchange about art and music between Johannes Itten and Josef Matthias Hauer or a wonderful group of works from Frederick Kiesler. At the same time, we also financed the publication of catalogues or two volumes of a catalogue raisonné of our collection at the mumok, which was a very time-consuming process inviting young art historians to do research and write texts. However, if you now want to organise an exhibition containing works from our collection and you want to add labels to them, you have a short text about the artist and that specific work of art available. There are many private collection catalogues with great pictures but only some information. Of course, if you're able to acquire Warhol or Kiefer, much has already been written about them. But when lesser-known artists are collected, the issue of context is very important.
Eastern European art is also represented in your collection.
DB: We've never declared that we collect specific artists or eastern or western European art. But in the collection you will find Czech, Hungarian and Slovenian artists, and this summer Nikita Kadan from Kiev will install a permanent neon installation on one of the towers at Buchberg.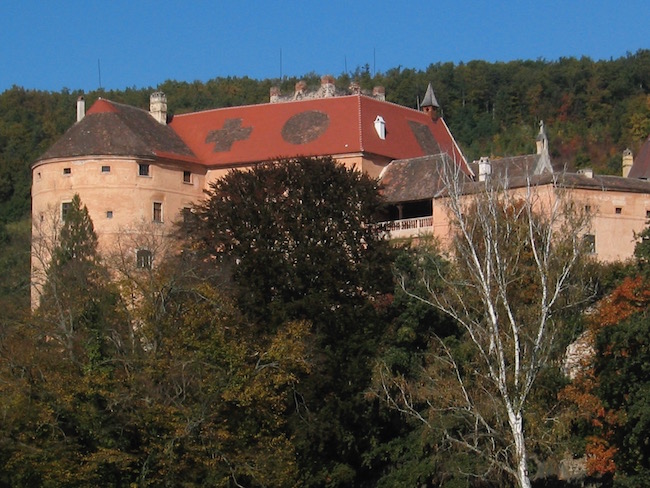 Buchberg castle. Photo: Dieter Bogner
How do you imagine the future of this castle? Will it be opened as a museum? Or perhaps it will become a part of mumok in the future?
DB: We're working on this question very conceptually right now. You can't even imagine what all would need to be changed here in order to open the castle up to the public. Escape stairs and other safety issues, museum climate, public toilets, facilities for disabled persons, signs, parking, etc. You would not recognise Schloss Buchberg anymore. The current aura would be completely destroyed.
Do you see any way of preserving it?
DB: We need to find an optimal equilibrium between privacy and public access. We call it "private Öffentlichkeit" (private public access). That's what we're working on right now. First of all, no institution, no government will ever take over this building because of the maintenance costs. In this sense, I harbour no illusions. You have to provide longer-term financing for basic expenses and find a public institution for the concrete activities.
Does that mean that, if you were to decide tomorrow that you were going to give all of this to mumok, the museum could simply not accept the gift?
DB: They can't take it. I wouldn't recommend them to take it (laughs)! That's one of the collectors' problems – they give and they want something. However, if you give your collection to a museum, it will always mean extra costs for the museum. Try to calculate how much one square metre of painting or a cubic metre of sculpture costs per year. That's what a museum offers you – they store and look after these works of art. Therefore museums should not take collections on long-term loan. If you donate your collections, the long-term storage and maintenance costs have to be secured by the museum. There are just a few private collections outside museums that have lasted for more than fifty years.
What do you think is the collector's main responsibility towards the artist?
DB: I doubt that in the actual cultural and artistic world you can define a general responsibility of collectors towards artists. There is not "the" collector. The range between the art lover, the conceptual collector and the collector who sees art as an investment is extremely diverse, and, above all, there are numerous combinations possible. There should be different terms to describe the specific types of collector. The relationship between collector and artist oscillates in time and space.
It is possible to build up an important collection without direct contact with artists and without any affection towards their intellectual, artistic or economic situation. I'm aware that this is not the normal approach, and in regard to the historical development of collectors, such a position towards artists is extreme. But I think sometimes this radical position would be better than a superficial, self-related attitude using the artist's image for one's own representation.
But this is not our position. What we are aiming for is the role of an intermediary between the artist's aesthetic and intellectual production and the aesthetic and intellectual reception and understanding by society. Our collection has a very specific focus on the historical and contemporary phenomenon of constructivist, concrete and conceptual art. When we started thirty years ago, we felt responsible towards artists representing hardly known (or not known at all) artistic and intellectual concepts as well as towards society to communicate these concepts and results. We felt that they were important for the contemporary aesthetic and intellectual discussion in Austria. In this sense we did not – naturally, with exceptions – collect and promote only one or another artist, or Austrian art or European Art. We promoted a range of artistic concepts representative of a field of ideas that we thought would be important. The difference in regard to museums is that our most individual, not market-driven possibility of ideas was quite specialised, which gave our collection a very specific character. When we offered mumok our collection, they accepted it with open arms, because the result of our individual collection strategy, which responded to a specific historical situation, filled a gap in the museum's collection.
A collector has a triple responsibility: towards the artist, the museum (the gallery!) and society. In the end, the artist is the most important player in this game; he is the producer and, as such, a sensor for what's going on in the world. Finally, collectors – like museums, galleries, governments – have a responsibility to enable the production of independent art.

Dan Graham. Star of David. Former pleasure garden. Glass pavilion on water basin. Steel, two-way mirror, concrete, grating. Side length 420 cm, height 240 cm. Design 1988, realisation 1995/96. Photo: Dieter Bogner
Returning to this castle, most of the artwork at Buchberg is now exhibited either indoors here or right outside of the castle walls. Have you also thought about exhibiting art in the castle's extended garden?
DB: Till now we've remained with permanent installations within the historical fortifications surrounding the main building: the Star of David Pavilion by Dan Graham in the fountain garden, the installation by Heimo Zobernig reconstructing the former pergola, a new spiral staircase in an old tower that Hanne Lippard will combine this summer with a sound installation. In summer, the natural environment of the building is overwhelming. We've therefore never touched the park or the extensive meadows on the other bank of the Kamp. It's nice to walk there, but I don't think that it's wise to set up sculptures or installations there. But I'm sure that eventually an artist will come up with a convincing idea!
We have to have a sense of equilibrium between architecture, art and nature. We still have possibilities at Buchberg, but there's a point where we have to stop. If there's too much, then you walk around like in an exhibition hall and you lose the fascinating relationship between the historical building and its specific narrative, the surrounding ambiance and the stories the art tells you. The 2018 summer exhibition is called Yesterday, today, today*, a perfect expression of our commitment towards art and its relation to the given historical context.
* The title comes from a work of art by Nikita Kadan.
www.bogner-knoll.at