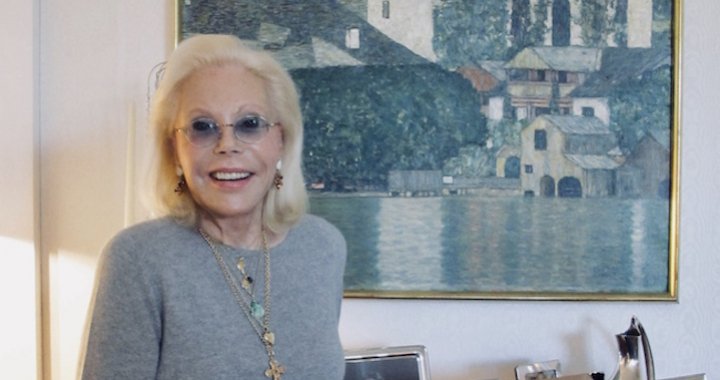 WOW - Hidden Treasures of Masterpieces
Irene Gludowacz's conversation with Countess Heidi Goëss-Horten in Vienna

14/05/2018
Viennese born philanthropist, patron and art collector Countess Heidi Goëss-Horten has assembled within the past 50 years one of the most impressive private collections in newer European collecting history. Known for being rather cautious and retiring - especially when it comes to publicity about herself in the press - it was even more surprising that she decided to "go public" with a big number of her works and sponsored the exhibition in the renowned Leopold Museum* in Vienna – founded by private collector Rudolf Leopold.
Her passion for art began at an early age and collecting works of art started when she married her first husband Mr. Helmut Horten – a German business man and department store mogul. Both met in the early 60ies, at the still fancy summer holiday resort Velden at the Wörthersee in Carinthia (Austria). The couple began collecting with iconic works of German Expressionism to place them first in their home in Düsseldorf and then later in their various private residences. In those days art works of that quality i.e. by Ernst Ludwig Kirchner, Emil Nolde, Franz Marc or August Macke were still available on the market for a somehow affordable amount – whereas today this is extremely unlikely. After Mr. Horten sold his substantial chain of department stores the couple left Germany and installed themselves in Switzerland where he created a foundation focusing on medical research and healthcare. In 1971 his wife took the position as the vice president of the board of the foundation. In this function she lately sponsored a chair at the ETH Zurich for research purposes.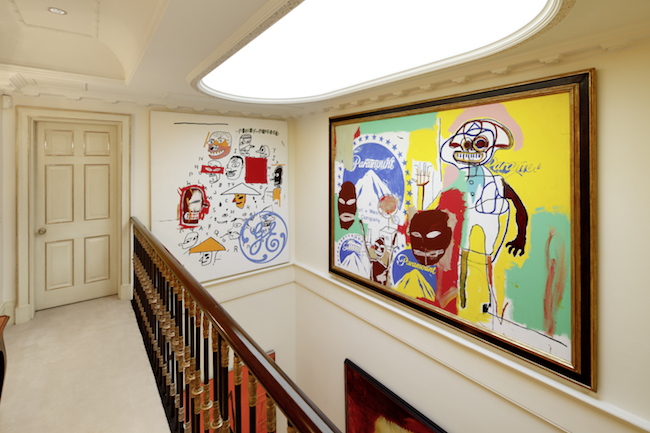 The London ResidencPhoto (c) Heidi Horten Collection
After the passing of Mr. Horten, Countess Heidi Goëss-Horten gave the collection her own signature by building it up within her long lasting years of collecting. Major works from the late 19th to the 21st century include art periods such as: Modern Art, Surrealism, Arte Povera, Pop-Art, Neo-Expressionism, Contemporary Art , etc.

The London Residence with works byhoto (c) Heidi Horten Collection
The exhibition "WOW" is a selection of about 170 works of her around 500 pieces art collection presented in the Leopold Museum, Vienna - and is the first public presentation which gives an insight of her hidden treasures of masterpieces. In the past she has been lending to major museum shows but only anonymously – which explains the rumors as hardly no one knew what exactly her collection is about. Not only that she is one of the rare European woman collectors who was able to unite quality of major art periods and movements of the late 19th, mainly the 20th and even the 21st century - but also her collection covers various kinds of genres: paintings, sculptures, works on paper, mixed media art and last but not least antiquities and objects of art. Today she shares her live with her third husband count Carl von Goëss and the couple lives with the works of art - which often change places - in the various Austrian and international residences.

Francis Bacon. Study for portrait of Henrietta Moraes, 1964. © The Estate of Francis Bacon, All rights reserved / Bildrecht, Wien, 2018
What made you collect art? When was your first encounter with fine art?
Well, when I think back, I had a quite natural approach to art as my father was an engraver and also used to paint – I remember that I liked to draw as a young girl. As I am a person with a high sense for aestheticism, I always loved to surround myself with beautiful things – not only art, but also furniture and objet d'art. Today, the art in my home has become an essential part of my life – I couldn't imagine being without it anymore!

Georg Baselitz. The Shepherd, 1965. Oil on canvas 163 × 131 cm. Courtesy Heidi Horten Collection © Georg Baselitz, 2018
How did you start collecting with your first husband? Which works were the first ones you acquired together and where did you find them? (Perhaps a story linked to this memory?)
I would say we discovered our passion for art and collecting together. We travelled often and loved to discover the local art scenes, getting to know the artists and also commissioned some portraits. Even if those first pieces weren't of the highest artistic quality, I still hold them in my collection as they contain lovely memories. But then again, we focused on collecting German Expressionism and the international modernists. We especially loved the "Brücke" artists like Emil Nolde, Ernst Ludwig Kirchner or Ernst Heckel – but we also bought some beautiful gouaches by Chagall and an early Picasso. We loved to surround ourselves with those artworks.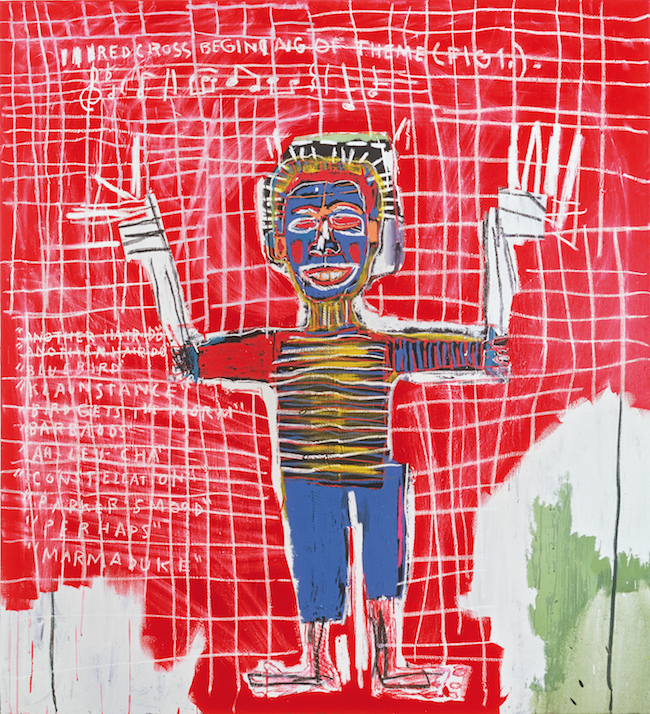 Jean-Michel Basquiat. Red Savoy, 1983. Acrylic on canvas, 167,5 × 153,3 cm. Courtesy Heidi Horten Collection © The Estate of Jean-Michel Basquiat / Bildrecht, Wien, 2018
How did you continue to build up the collection on your own? What were your preferences in artists and art periods? Where did you mainly discover the works?
After my husband's death in 1987 I felt the wish to give my life a new direction. I started to redecorate my homes and I considered building a collection that would truly reflect my personal taste in art as an essential part of this process. It was in the early 1990s that I got to know my now long-time friend Agnes Husslein. She was a senior director of Sotheby's Europe and an expert on modern and contemporary art. She used to bid for me in auctions anonymously – over the years we built a relationship of trust and loyalty. I deeply valued her opinion on the artworks I wanted to buy, and she had a great sensitivity for my taste!
In this connection I have to mention this one auction in London in 1996 – it truly changed the relevance of my collection overnight: In one sale, we bought some 30 works from impressionism, modern and contemporary art – I have a lively memory sitting on the phone with Agnes Husslein and the thrill and joy I felt as we received bid after bid – my collection at once contained masterpieces by Auguste Renoir, Joan Miro, Max Pechstein, Pablo Picasso, Henri Matisse, Paul Klee, Lucio Fontana, Jean Dubuffet, Fernand Leger, Egon Schiele, Lucian Freud, Francis Bacon, Yves Klein, or Georg Baselitz. As we also bought "Les Amoureux" by Marc Chagall, one of my absolute favorite artists, we strengthened the focus on this artist in my collection. I also remember that the international media was full of speculations about who might have bought this number of masterpieces. Some were guessing about the opening of a new gallery, others suspected a mafia boss behind the purchases. At least the New York Times attested the buyer to have "superb artistic taste" (laughs). I have to admit bidding anonymously was very important to me throughout building up my collection. This is why I valued Agnes Husslein's advice so much – working for the largest and one of the most successful auction houses, she always knew where the best quality of artworks would come up for auction. About 80 percent of the works forming my collection were bought at auctions. Only around the year 2000 I decided to buy also from galleries, in particular from Thaddaeus Ropac and later also from Ben Brown. Of course, I also visited some artists in their studios and even commissioned some works.
Today your collection holds about 500 works. It needs space, as well as conservation and archive. How do you manage to live with them? Are there works which you have never seen?
Yes, in the last 35 years my collection grew quite a bit and it spreads from the 19th century to the present – this means more than 100 years of art history can be displayed with my collection. The artworks show my personal taste and include oil paintings, works on paper and quite a few sculptures. On the one hand I love artworks with bright colors which transcend a positive feeling – on the other hand you will also find artworks that can be a challenge for the viewer, given their complexity. I try to value the intention of the artists. Looking at artworks you can also learn about the difficulties they have to overcome until they finish an artwork. I would never buy a work of art only to put it into storages! Art comes to life only if it is in a lively surrounding – this could be a private living room or an aula in a museum. It was actually exciting for me to see my artworks arranged in a totally new context at the museum!

Marc Chagall. Les amoureux, 1916. Oil on cardboard 70,7 × 50 cm. Courtesy Heidi Horten Collection © Bildrecht, Wien, 2018
Your collection represents not only 100 years in art history with different art-movements and periods. Was this a decision in the beginning or how did it evolve?
Well, it started with the German expressionists that I collected together with my first husband and then, in the 1990s, I regularly bought at auctions and thus continuously broadened the range of art movements represented in the collection. I can say that German expressionism and American Pop-Art form the two biggest groups in my collection – but then again, I was interested in the positions of international modernism like Picasso, Chagall, Munch, Matisse, Freud, but also Francis Bacon and Georg Baselitz representing the expressionist movement.
After more than 35 years I began to see the exciting relations between some of the artworks and the artists – who was collaborating with whom, who was connected – so whenever a work fitting into the collection came up for auction, we bought it – to give an example: I bought the wonderful monumental painting "Forest Scene" by Roy Lichtenstein – a few years later, my friend and consultant told me about the possibility to acquire an artwork by Franz Marc – which Lichtenstein used as direct reference for his painting!
From most artists I have works from many phases of their oeuvre – if you stroll around my exhibition in Vienna's Leopold Museum, you will see some mini-retrospectives e.g. from Francis Bacon, Georg Baselitz, Yves Klein or Lucio Fontana. You get an impression which artists were connected in which ways.
Those fine links became even more obvious after I read the catalogue accompanying my exhibition in Vienna – it represents the first academic review of my collection as a whole!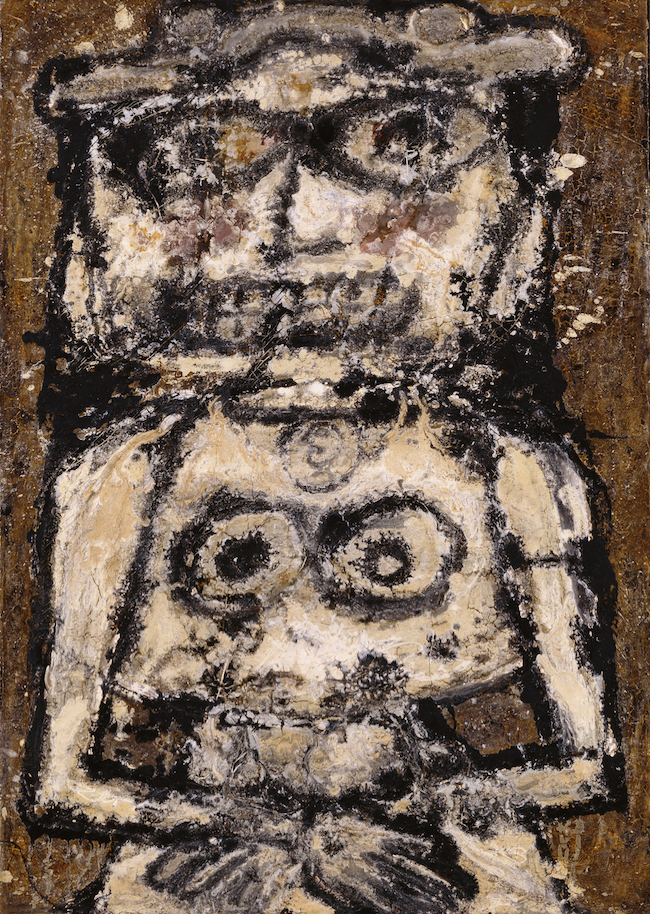 Jean Dubuffet. Minerva, 1945. Oil on canvas 92 × 65 cm. Courtesy Heidi Horten Collection © Bildrecht, Wien, 2018
Also, your collection covers art in diverse media: painting, sculpture, objects, prints and drawings, etc. Are you lending to museum exhibitions and if so - what are your "conditions" in lending?
Although I understand the interest of national and international museums in including works from my collection in their exhibitions, I am very selective in lending the works. I have been lending in the past – for instance when Agnes Husslein asked me if I would lend single works for the museums she was working for, but also to other important European museums. Of course, I was happy to contribute to some great exhibitions. But my decision was based more on the advice of my good friend and advisor concerning the importance of an exhibition - in the end it is vital for an artist to be represented in a retrospective and I wanted to support that. And it is not a disadvantage for my works to be exhibited in the Pompidou, MoMA, Tate Modern, Royal Academy or other important museums (twinkles).
What must an artwork have to attract your attention and what does quality mean to you and for you in a work of art?
Well, the story of an artwork has to strike me somehow! I just have to fall in love with it in one way or another (smiles). Also, to be a bit more precise, the composition and colorfulness has to convince me. I also have to say I prefer paintings to works on paper, and if there is a connection to animals, as for example in the wonderful sculptures by artist couple Claude and Francois-Xavier Lalanne – you can count me in (laughs).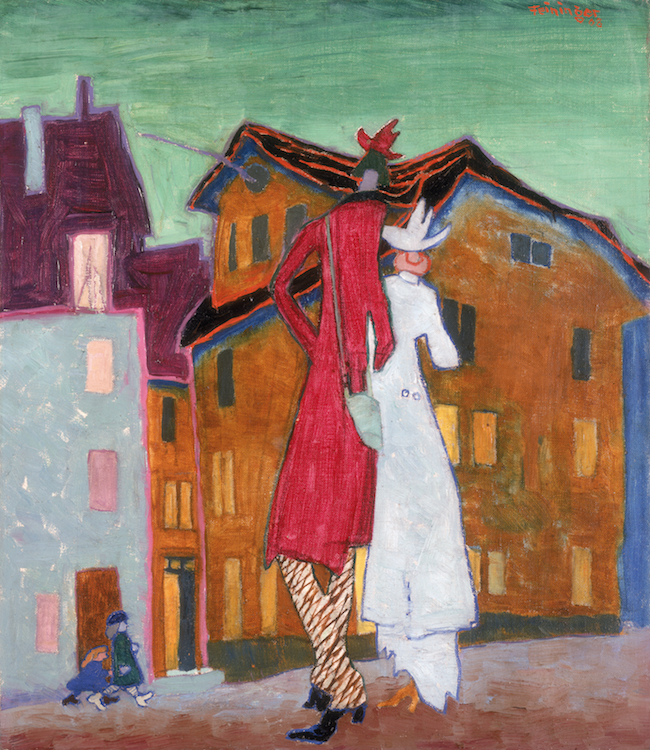 Lyonel Feininger. Honeymoon, 1908. Courtesy Heidi Horten Collection © Bildrecht, Wien, 2018
There are many "living" artists in your collection. Would you like to pick out one or the other work which tells a story on how you "met" the artist and came across the work?
Well, in the late 1990s I got to know George Condo and Julian Schnabel – I visited them in their New York studios and even commissioned two works to Julian Schnabel: "Painting for Heidi" #1 and #2. With George Condo it was special – I was curious about his work and as I encountered it in his studio I somehow fell in love with his post Pop Art style when nobody else even recognized him as a "good" artist. That one time I was at his studio I bought not five but around 15 works at once! You see, I didn't always have my consultant around when I bought art works. This was a very spontaneous decision – I trusted my gut feeling!
Have you ever separated from an art work - if so – which one and why?
I have sold a painting once – a wonderful landscape by Chaïm Soutine - and I very much regret this decision…

Gustav Klimt. Church in Unterach am Attersee, 1916. Oil on canvas 110 × 110 cm. Courtesy Heidi Horten Collection
What was the impulse – initial reason - you decided to exhibit 170 works of your collection and share these treasures with the public?
To be honest, I was playing with the idea of presenting my collection to a larger public for quite some time now. I felt the wish to share the joy the artworks give me every day and hoped people would feel the same excitement as I felt when I first encountered them. I also thought that my collection had reached a level of cultural importance – spanning over 100 years of art history, from Gustav Klimt to Damien Hirst – so I asked my friend and consultant Agnes Husslein to curate this first public presentation. She was excited about the idea, since she knows the art scene very well and knew there would be a lot of interest in it. When the director of the Leopold Museum, Hans-Peter Wipplinger, heard about our project, he was thrilled to offer the "bel etage" of the museum. With its collection based on another passionate collector – Rudolf Leopold – there are some parallels to the collection of the museum. An amusing thing that I have been told by my friend is that we were competing against Rudolf Leopold when we bought certain works that are now in my collection – from Egon Schiele and Gustav Klimt to Alexej Jawlensky – Rudolf Leopold was the underbidder and deeply regretted that he lost against us – maybe the fact that some of those "lost" artworks are now in his Museum for some time will make him happy (twinkles).
Also, I think with the Leopold Museum's location in the center of Vienna's hip Museumsquartier we have found the perfect place to show the collection to a national and international audience.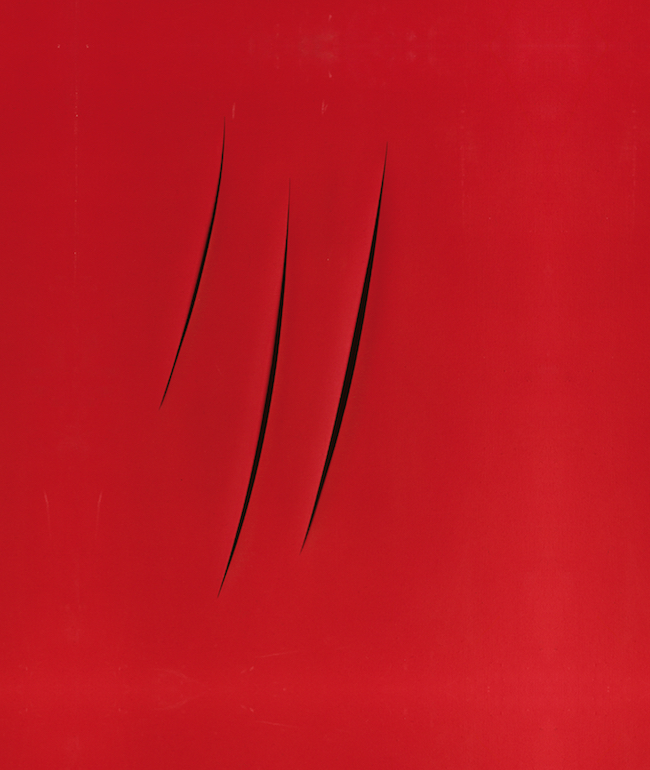 Lucio Fontana. Concetto spaziale attese, 1959. Water-soluble color on canvas 80 × 60 cm. Courtesy Heidi Horten Collection © Bildrecht, Wien, 2018
The exhibition "WOW" in the Leopold Museum in Vienna has nominated the 100.000 visitor only after the opening 6 weeks ago. This might be the most successful exhibition within the past 10 years or more in Vienna and possibly in Austria? How do you explain yourself this tremendous success?
First, I truly have to thank Agnes Husslein for her expertise and strong sense for creating a unique set-up for the artworks. I trusted her to curate the exhibition because she knows the collection very well. I am convinced, the combination of the high quality of the artworks, the way they are displayed and the surprise that there is such a high-carat art collection in Austria made people curious. I admit though I never thought about that kind of figures when I decided to go public with my collection – so it strikes me even more and gives me joy to see how strongly people are reacting to the artworks when they see them! It was also my wish to offer a financially barrier free access to the art – this is why I decided to support free admission and educational programs for children and young adults. It makes me very happy to hear about the positive responses from teachers and children – they get inspired from the artworks and even make their own masterpieces!

Lucian Freud. Girl in a white dress, 1947. Colored pencil and graphite on gray paper 57 × 48 cm. Courtesy Heidi Horten Collection © Lucian Freud Archive
You have/had different homes in different countries. Do you still travel to major art centers such as New York or London, or perhaps Asia to get inspired? How do you make your choices today if you acquire a work?
I still consider myself a global citizen and I use the internet and magazines a lot to keep up with the developments. I don't travel as often as I used to, but my friend and consultant always keeps me informed if she finds interesting additions to my collection. Today I am very selective when it comes to new acquisitions – I only buy works that perfectly match my collection. For example, I recently bought two polaroids by Andy Warhol – he used them as templates for the portrait of empress Farah Diba, which is part of my collection. Generally speaking, I would stress that the story behind every work I acquire has to strike me – this was a rule I followed from the first to the latest acquisitions: For instance, when I bought "Les Amoureux" by Marc Chagall – the artist painted the portrait as an intimate token of love for his wife Bella. When I saw the work – the most exquisite in a series of some nine paintings – I knew it belonged to me. You know, all of the artworks in my collection are exceptional pieces marking milestones in an artist's oeuvre. Just think of Yves Klein's RE1, his first sponge relief from 1958, or Andy Warhol's Group of Five Campbell's Soup Cans from 1962, which he made before working with the factory.
You have been collection for about 40- 50 years. How would you describe the change in the art world within these past years/ time? What was better/easier in the "old days"? What is better/easier today?
This is a valid question: Looking back, I think I chose a good time to form the base of my collection in the early 1990s – you'd find artworks in the highest quality for comparably low prices. The art market was at a low. Now we are facing a very volatile market and prices are manipulated by investors and art flippers. The art market is still non-transparent compared to other markets. On the other hand, keeping up with trends and developments and also watching the work of artists has become a lot easier with the internet. You can easily find information on prices, provenance etc. Some years ago, I wouldn't have imagined this, but now I like to keep up with the modern developments also via Instagram.

Keith Haring. Untitled, 1985. Acrylic on canvas 121,9 × 121,9 cm. Courtesy Heidi Horten Collection © Keith Haring Foundation
With your experience in the art world and building up a collection which advises would you give to a "new" collector who just intends to start an art collection?
Be individual, don't put yourself under too much pressure and train your eye. I think two things are very important when buying a work of art: first, you have to like it and second, it should be of high quality. It takes some time and training to recognize good quality – so either you have a good consultant, or you take the time and go to see as many exhibitions, fairs as possible. I was lucky to have both – a great consultant AND time to train my eyes. When I bought Warhol in the early 1990s, nobody thought he would become such a superstar in the art world!
What are your future plans for your art collection?
Well, for now I am very happy about the success of the exhibition at the Leopold Museum – we will even prolong it until August 26th 2018. I didn't fix my plans for future projects yet.
Apart from Art – what other passions do you have?
I am an animal lover! I have a little gang of dogs and some other pets – animal welfare is a very important issue to me and I regularly donate to different organizations. If you see my collection, my love for animals will be visible in it – I love the sculptures by the French artist couple Claude and Francois-Xavier Lalanne, Antony Gormley, Mimmo Paladino or Barcelo. Another passion of mine is ice hockey – I love to watch my local club KAC in Carinthia and support the athletes to give them the best training conditions. So, you see, I am a collector with many passions!

Damien Hirst. Ammonium biborate, 1993. Gloss varnish on canvas 173 × 204 cm. Courtesy Heidi Horten Collection © Damien Hirst

Alexej von Jawlensky. He and she, 1912. Oil on cardboard 66,4 × 42 cm. Courtesy Heidi Horten Collection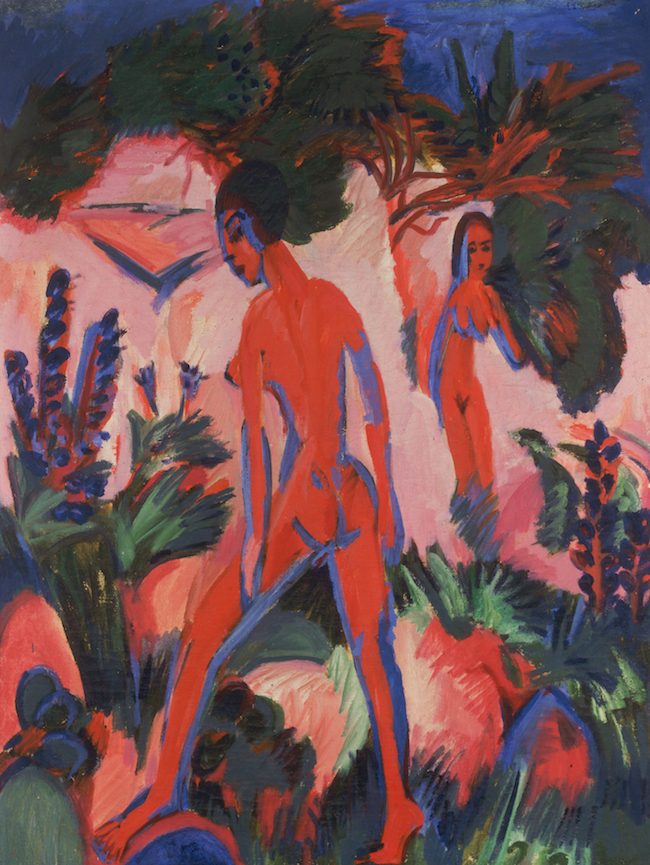 Ernst Ludwig Kirchner. Red nudes, 1912. Oil on canvas 120 × 90 cm. Courtesy Heidi Horten Collection

Paul Klee. Siblings, 1930. Oil on canvas 70,7 × 45,2 cm. Courtesy Heidi Horten Collection

Yves Klein. Re 1, 1958. IKB pigment, synthetic resin, and natural sponges on canvas. 200 × 165 cm. Courtesy Heidi Horten Collection © The Estate of Yves Klein c/o Bildrecht, Wien, 2018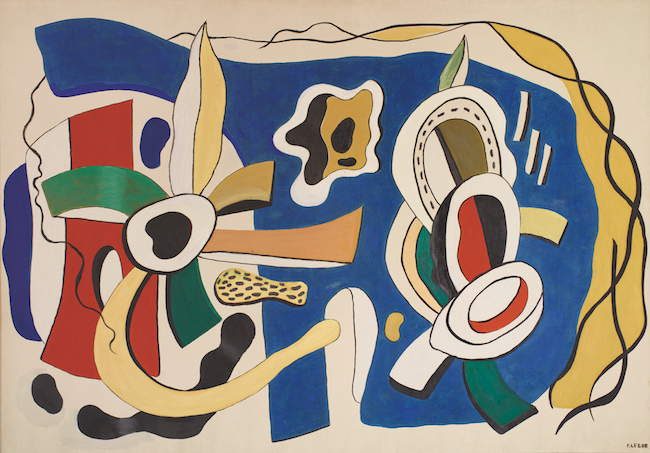 Fernand Leger. Nature morte, fond bleu, 1937. Oil on primed canvas 89 × 130 cm. Courtesy Heidi Horten Collection
*"WOW! The Heidi Horten Collection" is on view at Leopold museum in Vienna till July 29; leopoldmuseum.org