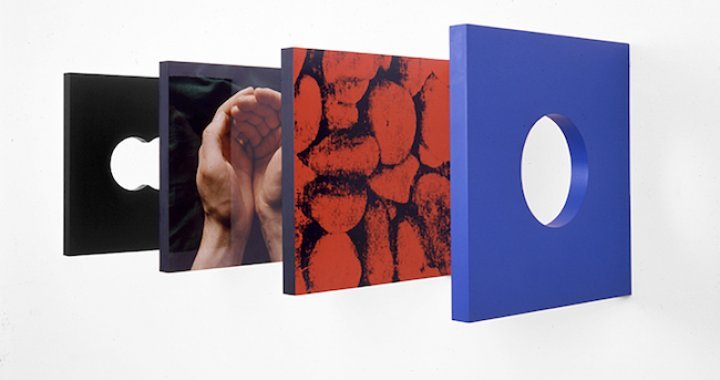 Architects of their own lives
An interview with Belgian art collectors Wilfried and Yannicke Cooreman in Vienna

16/10/2018
Cultural economists and sociologists have discovered that one's affinity for art and culture correlates with how much one has experienced these phenomena. That is, the more we are involved in (or consume) art and culture, the more accustomed we become to them, occasionally leading to what could even be called addiction. For Wilfried and Yannicke Cooreman, a pair of art collectors from Belgium, an interest in art began once they started to visit museums and galleries; later on they would also regularly travel to the main European art fairs. Today they freely admit that art collecting has become a 'disease' that they just cannot shake. In the 1970s, at a time when the goings-on of the contemporary art world were still unfamiliar to most people, Wilfried and Yannicke started collecting art, funded only by their salaries as an accountant and a teacher. This is not the usual route in which art collections are formed, especially taking into consideration that the works contained in the Cooreman Collection constitute one of the most interesting features of the European art scene of the last half of the 20th century.

Yannicke and Wilfried Cooreman. Photo: Ivan Put

The Cooremans are known as supporters of young and emerging artists, so it follows that their collection mostly consists of works created by artists at the start of their careers. What makes this collection stand out is the collectors' ability to be among the first to sense which artists would go on to become representative for their generation. In the 1980s they acquired works by, among others, Thomas Schütte, Martin Kippenberger, Juan Muñoz, and Franz West; in the 90s, in addition to many others artists, they bought early paintings by Victor Man and Adrian Ghenie, who is now best known for breaking record sale prices at art fairs. As we spoke, Wilfried Cooreman was very open about having an eclectic collection simply due to the fact that 'life is eclectic'. We met at the viennacontemporary art fair, where he was invited to participate in a public talk on collecting art. Although Mr. Cooreman was the most active speaker in our conversation, his wife, Yannicke, would occasionally add noteworthy comments or details to the discourse in her soft voice.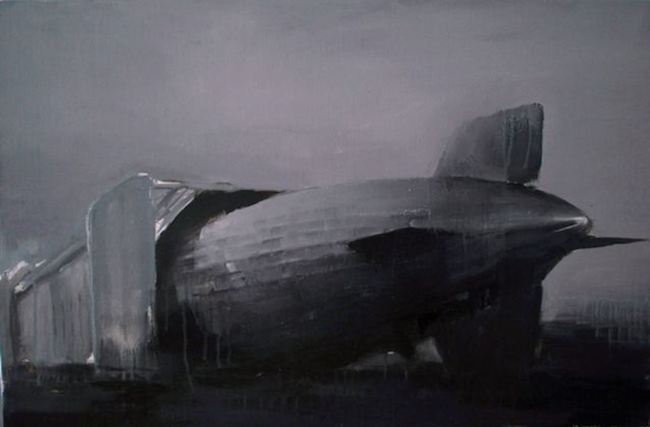 Adrian Ghenie. History is always horny 2, 2007. Oil on canvas, 80 x 52 cm. Photo: Courtesy of W&Y Cooreman collection

Let's start from the beginning. You started to collect art in the 1970s.
Wilfried Cooreman: More than 40 years ago. My wife and I started collecting in 1972. Before 1972 we were regular visitors of galleries, institutions and museums in Belgium and the Netherlands. We were and are living very central in Europe.
Was it a conscious decision to start a collection?
W.C.: I think it was a mental need to start a collection, although we had no intention to collect. You start with one work, and then there is another one, and so it goes. From our parents (born 1906), we received an intellectual legacy, not a financial one. They were quite knowledgeable and respectful of art, literature and theatre. We inherited this enormous respect for art, dance, theatre, and literature... that's how it came into being, probably – a mental need for collecting, and to be able to live and be surrounded with something that is not only beautiful but that can also give rise to discussions. In fact, it was food for the mind. So, it was not done intentionally; it was more like something we needed and which was missing.

Jean-Marc Bustamante. Tableaux (T.38/80), 1980. Colour photograph, 103 x 130 cm. Photo: Courtesy of W&Y Cooreman collection

Perhaps because your professional lives weren't connected to art?
W.C.: Professionally, I was an accountant/internal auditor, and that had nothing to do with art as such. However, on intellectual level, we were ready to read about the art or at least look and read the works, which is, of course, completely different than decide to acquire a work. We deliberately visited exhibitions, visited museum shows and art fairs... at the beginning there were only a few of them – Art Basel, Cologne and Paris as well, a situation that has changed lately.
Yannicke Cooreman: At the very beginning, there was only Cologne.
W.C.: One of the first artworks that we acquired was a work by Pierre Caille, a Belgian painter and sculptor. He was the one who did the stage scenery for a ballet choreographed by Maurice Béjart, Le Sacre du printemps, on the music by Igor Stravinski. Caille had a painting with the same title, and we bought it. But actually, our first acquisition took place when we went to Prague in 1968, to spend our honeymoon. Behind the Iron Curtain. Friends and family asked us – why are you spending your honeymoon in Prague? It was about culture, and our curiosity, of course. On that trip we bought two drawings by the artist Václav Mánes (he was the director of the Prague Academy from 1835 to 1836 and again in 1840).
Do you still have your first acquisitions?
W.C.: Yes, absolutely. A bit later we acquired a work by the painter Alan Green, an artist who was showing at the Annely Juda Fine Art gallery in London. We acquired his work through a Belgian gallery. The painter wondered – why is this young couple buying my abstract painting? Well, that was the way one starts a collection. As I said, it was a mental need to have something to talk about, to read about, to reject, to take back, and to discuss with others as well. Our next acquisitions were large-scale works by German artists such as Thomas Schütte, Harold Klingelhöller, Reinhard Mucha...
Y.C.: And Tony Cragg...
W.C.: Those are artists whose works we can't put up at home and which we lend out to museums. Some of these large scale works were on long term loan at Van Abbe Museum Eindhoven. It was the start of the 80s. We have works in the Dhondt-Dhaenens museum, MuZee in Ostend, and another museum in the Frenchspeaking part of Belgium. And our children have some works at home as well. We would like to see the works at home, but we know that it's not possible because of their size. If you are a collector, you shouldn't limit yourself to your walls, my wife said. For instance, around 1999, we bought a work by the German artist Björn Dahlem: an installation seven meter long, three meter wide, and two meter high – a full-size installation of the Andromeda constellation. And the certificate itself was 1.5 meter by half a meter, on which he had drawn the whole installation. We were looking for a solution in which it could be put up in a museum. Nobody was interested because the artist was young (he had just finished the art academy, so he wasn't yet known), except for one museum in Ghent, who wanted to have the work but the fire brigade said that it was too much of a fire hazard and that it couldn't be shown in the museum. So we looked for other solutions. Meanwhile, Dahlem had an exhibition at Petzel Gallery [New York] and at UCLA Hammer Museum, L.A. He became known. But we still couldn't resolve the installation problem; we asked the gallery to take the work back. And we exchanged it for another work. We had no choice. It was absolutely an astonishing work, which is why we were attracted to it in the first place. I'm still unhappy with the outcome.

Mathew Cerletty. Roses, 2008. Oil on canvas, 171 x 171 cm. Photo: Courtesy of W&Y Cooreman collection

How big is your collection now?
W.C.: Most collectors don't like to talk about the size of their collection. So do we. It's not important. Although we have been collecting for more than forty years, it is still an ongoing process. We started collecting artists from our own generation. Afterwards we were always looking at a younger group of artists, which have been added to the collection. Today we are still collecting a young generation of artists. We are still building our collection because it is such a passion and so difficult not to continue. It is a disease, in fact...
Quite a few of collectors call it a disease or an addiction...
W.C.: Yes, absolutely. Each time we say – what should we still add to the collection? It keeps on growing, and we cannot show it at home. An artwork comes from a fair or from a gallery, and then it is packed away at the house. For instance, the work that we are lending out now for the 50th anniversary of the Konrad Fischer Gallery in Düsseldorf and Berlin – an installation by Harald Klingelhöller, which needs a large space – we just saw it for the third time ever. We first saw the work when we bought it, then in the Van Abbe Museum, and now in the gallery. That's the difficulty of the situation – most of the works are packed away in storage.
Y.C.: But we did have an exhibition of our collection in 2009.
W.C.: That was a way for us to see a lot of our works. The museum director made a kind of architectural structure throughout the exhibition. The visitor could start off the exhibition by seeing some works from the 80s, and then go chronologically deeper into the collection. This was also a chance for us to see the thread of our collection history. The collection is quite eclectic, of course, because our life is eclectic.
Where did the exhibition take place?
W.C.: In the museum Dhondt-Dhaenens in Deurle; it is a small museum but they have absolutely excellent exhibitions. The exhibition was the idea of the director of the museum. Most collections in Belgium are hidden away; they are not public so they are not very well known and visible. There are just a few collections open to the public, in premises where the works can be shown in the best conditions. The director was trying to open up the collections of Belgian collectors. We were the second ones who had their collection on display there. At first, we didn't want to participate, as we were not sure, why should we show what we have; is it worthwhile, and is it even ready to be exhibited? The director of the museum convinced us by explaining that we had a completely different way of collecting – with a different budget and a collection, which started at the time when the artworld was not yet submerged by Internet and magazines. More collectors start their own museum, some of them has consultants; world-famous architects are invited to create a place to protect their 'jewels'. The collectors' world is quite different, diversity is good. My wife and myself, we consult each other. We have been making our own choices, and not for economic reasons – we have never thought about economics. We are the architects of our own life, and we want to live with our collection on our own terms. Some pieces will not survive or won't be 'valuable' enough, but we made the choice at the time of purchase; we were quite aware. That's how we feel and how we try to collect.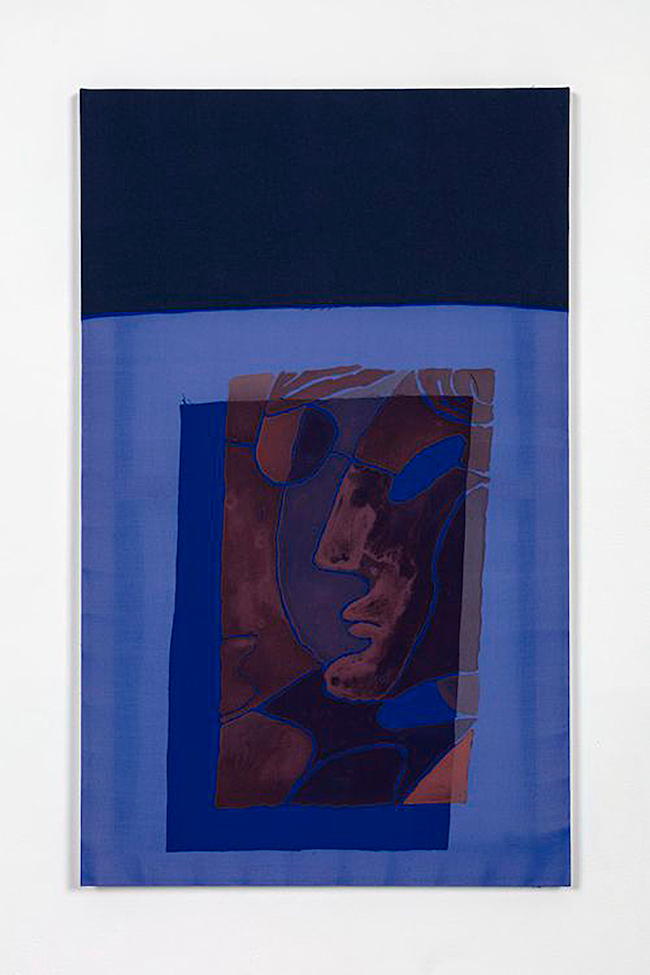 Carl Mannov. Untitled (Face With Lamp), 2017. Acrylic on chiffon and cotton, wooden stretcher, 100 x 60 cm. Photo: Courtesy of W&Y Cooreman collection

There are two of you – how do you decide what to include in your collection?
W.C.: We talk and discuss what the work would add to the collection – is it something that is missing? We discuss and we try to read the work, each one of us is making his/her own remarks about the work. We don't research which museums already represent the artist, or which other collectors are buying his or her work. The title of the exhibition in the Dhondt-Dhaenens museum was When the Mood Strikes. This title is reflecting our decision process. We didn't study art history, when there is something in the work that appeals to us, which we cannot define, that's the start of the consideration to purchase. It's difficult to describe how one has to decide. It's the moment in which we start discussing whether it will bring something new to what we have. Sometimes it also happens at first sight, like with Carl Mannov, a young Danish artist; we knew of his work, at Art Basel we saw that the gallery Standard (Oslo) was showing his work. We were grabbed by it – both the presentation and the link with other works were so self-evident that we decided to buy it. Usually, we do want to see the work in real instead of simply seeing a picture of it and buying it on the Internet. There was a moment one had to decide on the spot, but this seems to have passed.
It looks like it is important for you to meet and talk to the artists.
W.C.: I like it when the artist does not explain the work because he or she has to give viewers the freedom to read and interpret the work for themselves. You can, of course, discuss the work with the artist afterwards. Sometimes relationships with artists develop in a very nice way. Thomas Schütte made an announcement card for the birth of our granddaughter.
Y.C.: That was 21 years ago.
W.C.: It was a watercolor. I asked Thomas Schütte, what he wanted in return, the answer was – only 50 postcards without text. When he saw the card, he said that it was much better than the original. Juan Muñoz made an announcement card for the birth of our grandson, he considered us as friends. We keep all of these cards made by the artists, as well as other memorable things from meetings with them – it is history. It is for our archives. There have been a lot of changes compared to when we started collecting, talking to artists was easier... Acquiring work at the start of the career of an artist, will always be remembered.
Do you think your discussions with the artist might influence your decisions?
W.C.: Not really. Mostly we choose artists who are at the beginning of their careers. Being at the start of one's career is quite important. After so many years, we still have good relations with the artists. At the beginning, it is important to know the artist – how does he/she sees him/herself in the art world, what ir his/her aim. I must admit, that this is something, which attracts us. It's why we like to have a conversation with the artist.

Quodlibet. Exhibition view. Collection Coorman. Lemperz auction house, Brussels, 2016. Photo: Artlead

Do you ever go to auctions?
W.C.: No, then you are too late. You have to buy artwork before it goes to an auction house.
Y.C.: But we did have an exhibition Quodlibet at Lempertz Auction House in 2016, during Brussels Art Days.
W.C.: It is a secured building and they only do two auctions a year. The building is empty during the rest of the year. Gladstone Gallery showed a work by Anish Kapoor there, and Nagel & Draxler Gallery did a Joëlle Tuerlinckx exhibition. Other artists (Sean Scully, Heimo Zobernig) have also been shown there, and then we were asked to do an exhibition as private collectors. At first we said that we couldn't accept the invitation for an exhibition, because of the link with an auction house. But then we asked some friends and galleries from Belgium for advice, and they said we had to accept, to show the work in public, plus, the works were not for sale. In the end the exhibition had an excellent response and attendance. The exhibition's design was a special concept – it was a creation of a one-meter-high, X-shaped plinth in the middle of the space, which effected in four 'rooms' without walls, so one could look at each work from different angles. Around 30 works from our collection were shown.

Franz West. By Chance, 1991. Mixed media, dimensions variable. Photo: Courtesy of W&Y Cooreman collection

How did you choose which artworks would be shown at Lempertz?
W.C.: We made our choices together with Richard Venlet, who also made the exhibition design, we know each other for years. We have one of his works as well. Several years ago he expressed the will to do an exhibition with works from our collection. And now we had the chance to do it. He was keen on a small 1974 drawing by Matt Mullican; it was an obligation to have this work in the exhibition, this was the start. We wanted to have a specific choice. We didn't want to hang up everything because then it would be complete chaos. So there was only a small selection of works on view, instead of having the whole place filled up with everything.
Y.C.: We had an unexpected number of visitors at the opening. During the exhibition, which lasted for a month, there was a lot of interest.
W.C.: Several art schools and students from academies were interested to see the exhibition. These youngsters wanted to see some works from artists of the 80s like Franz West, Muñoz, Jan Vercruysse.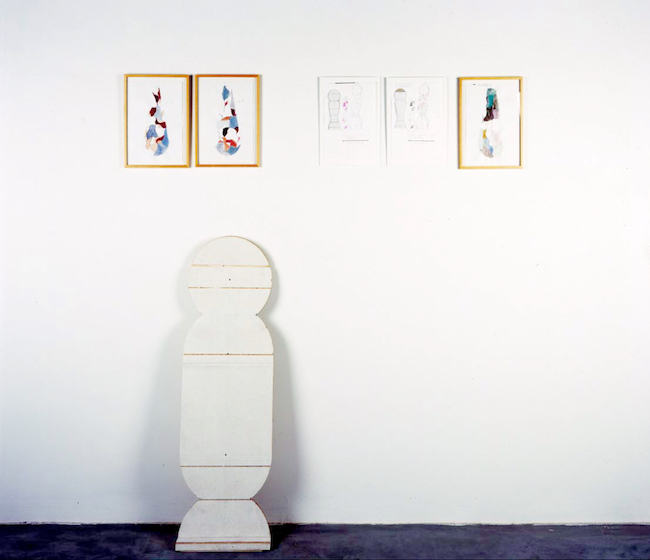 Manfred Pernice. Nicht existentes Doppelwesen, 1998, five drawings (mixed media on paper, collage) wooden sculpture, dimensions variable. Photo: Courtesy of W&Y Cooreman collection

Have you ever thought about what it is that draws your attention – what it is that pulls you in – when you look at an artwork?
W.C.: This is a difficult question. In our communication with galleries and artists, we often ask if we can see some more of their work. What has he/she done in the past and the recent past? Sometimes we just decide in the moment, but usually we ask about what else they have done. That is also one of our triggers. We like it if the artist's work is diverse – drawing, painting, sculpture, is the artist only focusing on one painting which will be developed for years? What's the intellectual value? It's difficult to predict, but what attracts me in the work of an artist and what becomes a criteria, is the multiplicity of the work and the vision. I try to extrapolate the work in time and to discover the future potential and how the work would develop. If I don't see any evolution from what has been done before; and if there are only some changes in the structure of the work, I'm not interested. I want to interrogate the work all the time and if there are no more questions...
Y.C.: There should be a mystery in the work.
W.C.: Yes, the work has to have a mystery, something which we call its 'soul'.
What is the mystery for you?
W.C.: A mystery that one cannot solve. There's a work by René Daniëls that we have at home, and each and every time we walk by, we see something new and undiscovered. That's one thing we like in a work of art.
Y.C.: The mystery of Alan Charlton, for example.
W.C.: Yes, Charlton has been painting with grey tones since he was sixteen. Now he is about seventy. The mystery is that his grey is always different. He is a worker artist: he takes the metro to his studio in London's Whitechapel at 9 o'clock in the morning, and at 5 o'clock in the afternoon he comes home. He prepares his own canvases; he does everything by himself. Every morning, when we open the curtains in our dining room, we see the vibrations in his work – the combinations of pink, green and grey change all the time. That's the mystery! It has always been at the same location in our house; it is something that repeats, but it gives us new questions each and every time. And his black... that's probably a revolution in the making as well.

Victor Man. Male White Shirt (corner), 2005. Oil on canvas mounted on board, 21,5 x 19 cm. Photo: Courtesy of W&Y Cooreman collection

You also said that sometimes, you are too late – is that in terms of price?
W.C.: Too late has indeed to do with the price of a work. A collection has also to do with a budget. There is the desire, but sometimes you have to miss out. On the other hand, we still have a wish list.
Is it a big list?
W.C.: Yes, it is too big. It reflects our first impulses – artworks that attract us from the start. Items on the wish list will probably be completely forgotten once we see the work in real life.
Where does the wish list come from – do you see the work on the Internet, or do you follow the artists by name?
W.C.: We either see the work, or it is in a gallery that we know. We don't frequent big-name galleries. We go to galleries, which we trust, galleries who work with artists that we are comfortable with. Nowadays there are some galleries that employ hundreds of people, which, of course, affects the prices of the artworks they represent.
In addition to now having the option to see and buy on the Internet, it seems that there are other aspects that have changed and that affect the art market since you started your collection.
W.C.: The Internet is fine – you can use it to find out a bit more about a work because every artist now has an artist's page. But you need to see the work in real. I wouldn't recommend buying art on the Internet because you don't know what you're getting – you haven't seen how the work reacts to you. You can see Billy Childish's Tree on my smart phone, but if you see the artwork in front of you, you cannot simply pass by it. Since the arrival of the Internet, development has been enormous, and you can't stop it. The Internet will always be there and it is a good source of information, but if you collect art, you should do it in real life – in person.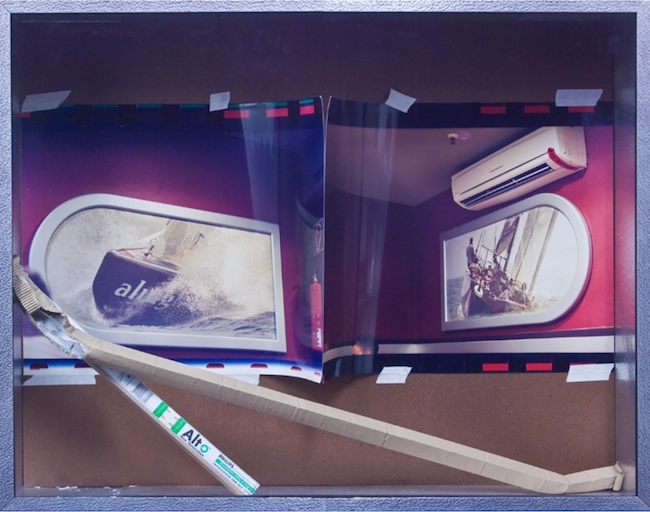 Simon Denny. Two Ships, 2008. Custom textured aluminium frame, hardboard, conservators tape, colour photographs, packaged fluorescent light bulb, 90 x 70 x 20 cm. Photo: Courtesy of W&Y Cooreman collection

Can you define what it is that makes the experience of seeing an artwork in real life so different from seeing it on the Internet or in a book?
W.C.: You can't even reproduce a painting in printing – its colours, its dimensions, the physical presence of the work; even more so if it is a sculpture – you have to have the ability to walk around it. You have to experience the impact of the work when you see it in real life.
So you go to art fairs and galleries... how about biennials?
W.C.: Yes, but I'm convinced that galleries are the most important places for meeting artists, to see what he or she is doing; it's a place for discussion, a place where it all happens. If an artist has a representative, we never buy directly at his or her studio; we always go to the gallery. We had a small publication about our collection in which all of the galleries where we acquired works were mentioned. We had included a gallerist who had recently closed down his gallery because of his age, although just before that he was still representing very famous artists. He came by and said that he appreciated that we mentioned him as a gallery although his gallery didn't exist anymore, and he gave us a poster by Martin Kippenberger, just out of gratitude. That was really nice.

Steven Claydon. In New Walkonia, 2007. Mixed media, 172 x 30 x 53 cm. Photo: Courtesy of W&Y Cooreman collection

What do you think is the biggest responsibility of an art collector today?
W.C.: A private collection is a snapshot. Collecting is a private affair. As a collector one can have its share of confusion and frustration. There is something of the acquisition process about excitement, adding a new piece to the collection is also a terrific responsibility. We are not in the museum business – that is requiring premises, personnel, management, security, documenting, conservation, restoration... We try to live with the art; we want to be surrounded with works of art. It makes our lives meaningful. At the end of our lives, we want to be able to say, we have lived. We have been and we are the architects of our own lives.
Is it important to you where these artworks will end up after you are gone?
W.C.: Yes; we have three children and two grandchildren. Charlotte, our eldest grandchild, is now studying art history, and she is quite fond of what we are doing. So I think that there will be a continuation of the collection but, of course, we don't know that for sure. In the end and in time, all private art will become public.