Art is a global language
An interview with Hungarian philanthropist Péter Küllői in Budapest

15/04/2019
Péter Küllői is a Hungarian businessman, philanthropist and visionary. Until the age of forty, he was an investment banker, first in Budapest and then in London. At the height of his career, he decided to walk away from his active role in the business world, return to Hungary and become involved in a number of philanthropic projects.
"I think I was a good investment banker," says Küllői. "But the fact that I was in the right place at the right time, and that change was happening in Central Europe, played an important part in my success. So I felt that I needed to give back to that region."
Küllői is currently the chairman of Bátor Tábor (a recreational programme for children with life-threatening illnesses), a board member of the Common Purpose Charitable Trust, and he sits on the board of the SeriousFun Children's Network, which was founded in 1988 by legendary actor and director Paul Newman. He is also an active supporter of the Hungarian and Central European art scene, promoting global recognition of the region through his ideas and work in the field. For the past six years he has been a member of Tate's Russia and Eastern Europe Acquisitions Committee, and last year he became the co-chair of the committee.
Although he owns a small collection of art, Küllői does not consider himself an art collector. Instead, he describes himself as an art lover. One of the artists represented in his collection is Dora Maurer, the 82-year-old internationally known Hungarian conceptualist whose retrospective at Tate Modern opens this summer (August 5, 2019 – July 5, 2020). "I'm very happy with this show," says Küllői. "It's really a coronation for Dora Maurer – for being such a fantastic artist and being brave enough to experiment all the time. Because it's very often the case that when artists becomes successful, they forget the bravery and begin repeating themselves. This is not Dora's case. She's still very active."

Dóra Maurer. Schautafel 4, 1972. Acrylic, Chinese ink, twigs and graphite on board, 91 x 63 cm
When you look at the list of the artists selected by Ralph Rugoff for the main curatorial exhibition at the Venice Biennale 2019, just four of the eighty-three artists represented are from Central and Eastern Europe. A Lithuanian man, who is also the youngest on the list, one from Poland, one from Romania and one from Ukraine. That's it. And most of them are not based in their native countries anymore, but in Berlin or London. What's your comment on the situation?
The way I see it is that, from the point of view of the top museums, art in this region is fascinating in terms of the avantgarde. There were fantastic artists here before the Second World War, and also later, in the 1960s and 70s, which was a continuation of the avantgarde, or a new avantgarde, as some people call it. That's actually where I see a breakthrough now finally happening. The big museums – the Metropolitan, MoMA, Tate, Pompidou – they're buying or acquiring or accepting donations of this 60s-70s art. And that's a huge step for this region. Because it indicates an interest in the region in general, not just in some individual artists who were born here and then became successful.
However, there are many "next steps" on the way forward. Regarding art collectors, we're still only in the beginning stages. These kinds of acquisitions by major museums and the exhibitions they're organising undeniably help to bring attention to artists from this region, but it's difficult for the top collectors to believe that this is fantastic art, because the price is still relatively cheap. There needs to be some kind of conviction. You have to admit, though, that the prices are gradually moving upwards. This is helped very much by the fact that the big international galleries, like White Cube and Hauser & Wirth and others, have also taken notice of these artists.
The younger generation of artists from this region needs to deal with global competition, so that's a very different environment than for the art from the 60s and 70s. For them to get the needed success, it's very important to understand that this is not only about art. It's also about your network, how you build your brand. What kind of team, what kind of gallery you're working together with. What kind of connections you have. It's a business where you have to understand the rules of the game and be more and more a part of it. And I see that Central Europe is very much lagging behind in this sense. But I really hope that the ever-increasing interest of prestigious art institutions in 60s and 70s art from this region – which I see now that I'm involved with Tate and also through discussions with some other museums – will help to open the door also for the younger generation.
I do believe that this is not just a trend, and that we're going in the right direction. Many things are happening. Also locally. For example, the fantastic Czech businessman Petr Pudil is building – with his own money – a Kunsthalle in Prague. And it will be not only an exhibition space but also a research centre for Central and Eastern Europe. That has also been missing.
Henry Kissinger once asked the question "If I have to deal with Europe, who should I call?" The same applies if I want to know more about Central and Eastern Europe – where should I look? We aren't seen as countries; we're looked at as a region. But we're not approaching it as a region. We're approaching it as if our country was part of the West. No, it's part of a region that's part of the West. So we need to understand what kind of thinking and what kind of change in our minds, in our approach, is needed to be understood better. Steps are happening in the Western world, steps are happening here – more and more people understand it. So things are going in the right direction, but still slowly. Of course, that's maybe not the best answer for many artists who are struggling, but that's the way it is.
At the same time, India is quite well represented on this list. There's even an artist from Bhutan, which sounds very exotic, but somehow he managed to be included. Of course, it's the curator's list, and there's obviously some subjectivity in it.
It's a private selection, and it's a selection for a single exhibition. I wouldn't see it as a trend. But there are many lessons to be learned from it. We need to be more present, more recognised. We need to be part of the network, building on the successes that are happening, and talking to each other and understanding each other so that we can be much more regional than local.
The role of the collector is becoming more and more important nowadays. Serving on the boards of Tate or other significant institutions is also definitely one of the ways to promote the region, to promote the countries.
I agree with that. I think that there are some people who, I'm sure, are doing it as an ego game in terms of them feeling important. But actually I believe that most of the people are there because they understand that the work carries a lot of responsibility and opportunities as well.
Tate's own approach to building its collection has also changed – developing the idea of transnationality and the exchange of global art. Or, according to Gregor Muir, Tate's director of collection, international art: "The whole point of the collection now, in terms of building a memory, a knowledge of art, is to show that it has a life well beyond the so-called canon of American and European art."
I think Tate is definitely one of the leading museums in terms of stating that. Although all four of Tate's locations are in the United Kingdom, it's a global museum. And the collection has to be global as well. Before, too much focus was put on Western Europe and the United States, so that's the reason why they set up these committees. That's the reason why they're not doing any regional issues anymore; they're doing solo shows or global shows. It's an approach that I think is right – it's based in the 21st century, and it's also creating a lot of opportunities for the region.
How long have you been involved in art? I read that you retired from business at age 40, that you have enough money and now it's time to give back.
It's not about the money. I don't give money to my children because everybody appreciates what you personally achieve, not what is given to you. I give back because I was lucky; I was an investment banker at the right time in the right place. I was successful and, again, with that comes a responsibility. I give back mostly through charities but also through my involvement in art.
When I and some like-minded people started a charity for children with cancer, of which I've been the chair for already 18 years, one of the ways we raised money was by doing charity auctions of contemporary art. First we did them in Hungary, then also in Poland and Slovakia, and next year we will add Prague. From 2020 onward the auctions will happen in all four places. And it became THE contemporary art auction, because we had an international jury, we made sure that we got the best pieces of art, and it become an event.
Six years ago I got involved with Tate, and then less than a year ago I was asked to be the co-chair of its Russian-Eastern Europe Acquisitions Committee. So that's my involvement.
Did your parents collect art?
My parents loved art, and I was brought up surrounded by art. If I went anywhere as a child, it was mainly to museums. Of course, at that time it was mainly Hungarian art.
I'm still an art lover. But I'm very far from being a professional. I'm interested in abstract, conceptual and avantgarde art; for me, it's very much a combination of the brain and the heart. And I live my life in a combination of the brain and the heart. I'm also very lucky in the sense that the art that's becoming more and more successful from this region is actually the same art that I love.
In a way, one could say that you've always been more interested in the intellectual challenge that art provides rather than the aesthetic aspect.
Absolutely. And you know, with everything I did in business, it was always international or regional; I don't think in terms of countries. That has also helped me in supporting the approach that I feel is needed in this industry. Forget borders – they're only for politicians to use for their nationalistic approaches. Otherwise, in business or in art, they don't exist.
Did you understand this already from the beginning?
Yes. That's how I was brought up. My family's relatives moved to the United States. I was born in 1960, and I think it was in 1974 that they sent us the first edition of Newsweek. So, the international approach was there from very early on.
Do you think it's possible to speak about national art nowadays? I mean, from your viewpoint, as a global citizen?
It's both, I think. First of all, if you think about these artists from the 60s and 70s, they were a part of this international concept. They saw Robert Rauschenberg, and it was a sensation. Some of them went to the Venice Biennale in 1964. The information was going around, but there was also local art. The tapestry by Ilona Keserü (a Hungarian artist, born in 1933 – Ed.), which is now exhibited at the Metropolitan Museum of Art, was based in her desire to merge modern abstraction with references to Hungarian folk culture. The toothlike motif recurring throughout the composition relates to her study of local graveyards not far from Budapest. But it also very much fits into the international.
Of course, the world is becoming very open, but I think it's fascinating to see local culture as well. From a global museum's point of view, it's very important to understand local culture. And for the local culture to be successful, I think it's obviously important to understand what's going on in the global arena. It has to be both.
You said that you're more of an art lover than a collector. But "collector" is just a word, a label. What's the difference between the two, seeing as art collector is not a profession?
No, but you can build a systematic collection focused on this or built around that. Mine is more approached with my heart, and maybe I just check with my brain to see if I'm not doing something stupid.
But if I like something… My wife passed away at the end of last year, but it was always a joint decision if something would fit on our wall or not. It doesn't mean that everything has to be on the wall, but… I don't think I'm a systematic collector. I love art, and I also buy some art.
Anyway, I heard that you have a small but very good collection. What do you buy, what do you love?
I love art from the 60s and 70s and the avantgarde. I have work by Hungarian, but also Czech, Romanian, Polish and Slovakian artists. So it's mostly Central European artists and a very few pieces of international art.
Do you believe that art can change anything in people? Does art have, if not exactly curative powers, at least a positive influence on people?
Absolutely. Art is a healer in many ways, and art is becoming more and more important. If someone asks me what is the biggest lesson I've learned in the nineteen years since I retired from business, it's that, if at one end of the spectrum is the emotional and at the other end is the rational, then politics is at the extreme emotional end. It doesn't move to the rational even when there's a crisis. Business is much more on the rational side, and that side is moving more and more to the emotional side, because today you have to be cool, you have to be responsible. These are all emotions.
I believe, for example, that Apple's products are not so successful because they're innovators. No. Instead, it's the art of how to use them, how to communicate with the consumer's brain and heart to enjoy the products. Art is becoming more and more important in terms of business, in terms of how to teach and how to educate the younger generation, in terms of what you need in the 21st century, and one of those things is creativity. It's more and more important in terms of how to enjoy our time, how to find our own balance. How to move from the heart to the mind, from the mind to the heart, because we need both. So, art helps a lot, and it can heal as well. One of the charities I'm involved with does a lot of art projects with sick children, and I can see its impact.
Tell me more about this project. How do you involve art?
There are a couple of projects. For example, one was a photo project that was for children who live in foster homes. Some of them wanted to learn about photography, and we organised a camp for them on the other side of Europe. They took photos, and then we had them make an exhibition. Our approach had been that they will see the world in a different way. But it turned out to be wrong – they saw the world in the same way as before, but with much more sensitivity. These children very often feel that they are not needed, because their mother or father just let them go. So, with this we taught them that they are indeed valuable, they are needed, and they can do something that is fascinating.
There's another foundation I support that's for autistic children. There's an artist who helps these children do art. And then there's an auction at the end of it, and again, it really shows that even though some of these children have difficulties expressing themselves, deep down they have something fascinating that's difficult to get out. But with the help of art, it can be very, very interesting. And of course, the most important thing is that they enjoy it and they have fun with it.
Why did you decide to end your career as an investment banker nineteen years ago? Was it an easy decision? As we know, some people couldn't just stop like that.
It was easy in the sense that at age thirty-one I decided that I would retire when I turned forty. Without knowing how much money I would have or how successful I would be. And then we moved to London, and I told my children that we were only going to be there for three years, because then I would retire. So it was a pre-planned decision. But what was kind of difficult was the letting go of my feeling of importance, my ego. For a year after retirement, I still agreed to be an adviser to a big investment bank in London. And every first Monday of the month I was in London, but actually I realised that there was no challenge in it anymore and also that some of my business partners were calling me back the same day and some were not. But that's wonderful, because it's like a filter. I could see who was in for my position and who was in for me. So the ego part took some time to let go, about half a year. That was the most difficult thing, nothing else.
And I still have an amazing life being involved in charity, in art, in some American start-ups and being on some boards. But you know, when I retired, I felt that I was moving from business to another world, to that of art and charity. And what I learned is that they're not separate; they are one. Charity is a business; it has to be run like a business. The only thing is that you need to measure your success in a different way than you measure it in a business. You measure how many children's lives change, not how much profit you make.
And the same is true with art. A museum has to be run like a business, too. And that's the problem sometimes. Being a charity, we say "I'm doing good", and we don't see it as a business. And also in art you think you're doing good, but you don't see that this is actually a brand that you're building as a museum or as an artist.
How successful do you feel you are in the field of art?
My approach is that I think I can add to the field. I can add by having this original approach, by probably understanding the key drivers of the art world. And I can add by having this position at Tate and by having a network. But I'm not looking for any more success. I think I've found my own balance. And I don't see it as a success. So, it's a different kind of approach. I do it much more because of the some things that can be helpful to others, not because I want to achieve success.
Nowadays we very often talk about how thirty, forty years ago the art world was small, whereas today it's so huge and there are so many people around. But I think in its essence it's still quite small. How do you feel about it?
I agree. I don't know how many VIP cards the top art fairs give out. But actually there are about a hundred key people in the art world. It's very small. The key curators, the key museums, the key galleries, the key dealers, the key collectors. These are the ones who are making it happen and successful. And networking is absolutely the key. And also for the artist to be part of that network. To learn, to see. To come to the art fairs and to see what's happening in the world. Like, maybe I believe that I've made something completely new, but it turns out that someone in Afghanistan started doing it already ten years ago. But how do I find that out?
So, I think it's very important to be part of that world and to see this. But that's unfortunately not part of the attitude in many Central European countries, where there's still a very local mindset. In terms of how the curators are approaching it in the local context instead of the regional one. And also the artists believe that if fifty local collectors in that country collect their art, then they're a fantastic artist. But that's not true. This is a global competition, and in order to be really successful, you need to be part of it all. Sure, you can decide not to be a part of it, but this is how to play that game. And to do that, you need to understand and you need to be there and you need to have connections. But for some artists that's very difficult.
Speaking of the collecting scene in Hungary, do feel that a new generation is also becoming involved in it?
The younger generations are getting more involved, but not enough. And also the success of the 60s and 70s artists makes it more difficult for younger artists at the moment, because the galleries are focusing on those earlier artists, they are the ones who are taking them to the next steps, to the art fairs, etc. So it's not that easy for younger artists to get the needed recognition, and also the state is a bit involved in terms of evaluating art – who is good and who is bad. If you're not in the official narrative, there are limited spaces in terms of where you can have shows. So it's definitely not easy, but there are some collectors who are really helping young artists. There are also a few galleries that are very successful in building a new collector base. Because they built the network.
How many active collectors are there in Hungary at the moment?
Not enough. Truly active collectors, maybe about ten of them at the moment. About ten to fifteen collectors who regularly go to the art fairs. But the number of collectors you usually meet at exhibition openings in the top galleries is higher – about thirty to fifty.
Let's talk about the future of art itself. I remember an episode from a recent documentary film, The Price of Everything, in which art collector Stefan Edlis shows a copy of Andy Warhol's portrait of Jacqueline Kennedy that he has in his home, while the original, which he also owns, is in a museum. Anything can be copied nowadays, thanks to modern technology. I know you have a vision that performance as a genre will become more and more important in the future because of its authenticity.
Absolutely. The museum will become a theatre.
Why do you think that?
Because it's already becoming one. I mean, if you look at films, the trend that's happening in the movies is that they're becoming a bit shorter. The 90-minute movie has to be built like thirty fragments of three minutes each. Because people have an attention span of three minutes, and then they do something else, and then they want to see the next three minutes. So, the environment is changing, and in order to get attention, you need to show a bit more than just a painting to look at. At Art Basel it was very clear that things are now going in that direction. With many of the works of art there, you could imagine them being in a theatre, like in a play. So, it's moving in the direction that people want to have fun. And having fun means having more live performances or more interaction, more impulses than just looking at a work of art.
Do you think painting will disappear?
No, it won't. You'll still have paintings, but you'll have more of this kind of work. Especially with artificial intelligence coming in. I was at Tate Liverpool, there was a show that had a robotic dog, a robotic man and a robotic woman dancing and interacting with some works of art on the wall. It was hugely successful.
I recently listened to a piece of music written by AI, and you couldn't tell it was AI at all. The same will happen with artwork as well. So these trends are definitely coming. How will a space draw in an audience? Performance will also be a part of that answer. So, to have the experience, to have the impulse right there on the spot. I think it's becoming more and more important.
Last October, the first work of art made not by a person but by an algorithm was auctioned at Christie's. It sold for 432,500 dollars. Was it part of a trend, or did someone really think it was worth that much?
It's new. I mean, curiosity has a price. That's a big question in terms of the art world – what is this going to mean? The fact that you'll be able to do an amazing fake work with a 3D printer in exactly the same way as this one was done will really decrease the value of the original work. It will decrease the importance of having the original work. Probably not for a long period of time, but in the end it's a big question: what will happen when machines will be able to do exactly the same as people do? I don't know. But it's fascinating to see.
But at the same time there is a feeling that people nowadays are searching for authenticity more and more, for things made by hand. For example, textiles are experiencing a renaissance right now.
It's both, yes. AI-generated art is only one trend; there are several others, too. And the world is changing so fast. I mean, I'm giving talks about the digital revolution – mainly to companies – and I talk about exponential change, the immense pace of change nowadays. The capacity of the chips keeps doubling every two years, and with our linear minds it's very difficult to understand that exponential change. I would say it's rather impossible. That's the world we're living in, but the change is so fast that it's too fast for people. So it leads to fear, which gives room for politicians to provide the wrong answers. Whether it's Brexit, or a war, or any of the many other wrong answers laying on the fear factor.
But it also very clear, especially with the younger generation, to provide the right answers. And the right answer, in my view, is to accept that change is part of our life. So, the only certainty and the only security I can have in my life is my constant ability to renew my knowledge. Nothing is stable. And also, the fact that I need to find a balance in life and I need to work with both the mind and the heart. And I do believe that, in this respect, there's a very nice future for us.
But what do you think, how strong is the voice of art nowadays? Because art is involved in all processes, whether we're thinking about politics, or global warming, or anything.
I'm a bit surprised that its voice is not stronger. We live in a world that is in crisis ecologically, financially and morally, and there have been times in history when art has played a much more important role. Especially in the political scene. But there is definitely a movement in that direction, and I think it will grow stronger. One of my favourite pieces recently was one that featured nine enlarged Newsweek covers beginning from the week when the Rwanda massacre began and until it got to the cover page of the magazine. What happened in those nine weeks that was more important for the world than a million people being killed? And twice it was O. J. Simpson.
So I think simple forms like that can have an effect. It had an effect on me, and I'm sure it had an effect on other people, too. Today there are so many ways and means to get a point across with the help of social media, and so many people can see it. I think it will happen more as we continue to go on in this crisis.
Social media is, of course, used by many artists as a tool. On the one hand, it's helpful, but on the other hand, it just stimulates this fragmented attention towards everything.
I agree. In the meantime, if something is very cool, it gets the attention. I think it's a must. If you want to be internationally recognised, people will go online and look at you. It's like a CV. I mean, you need to be part of the game and understand the rules of the game.
But do you use social media?
I'm on LinkedIn, but I'm not on the others. I don't need to. I have a network, and I don't need to make a career; I've had mine. I'm living the icing on the cake and not the cake itself. I'm very lucky in that respect.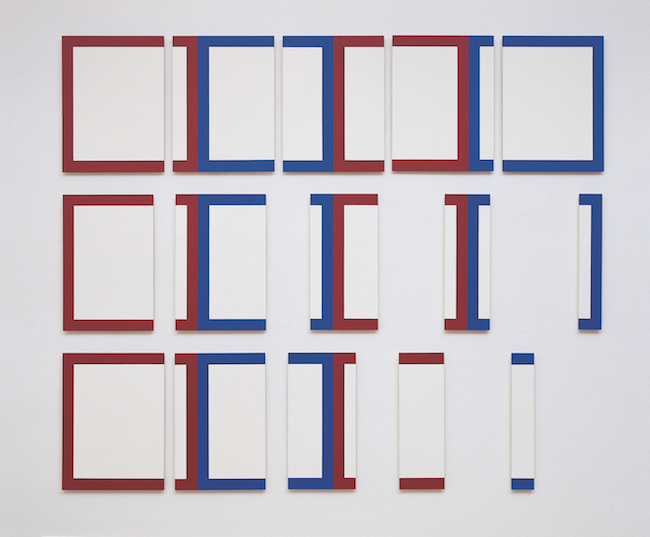 Dóra Maurer. 5 out of 4, 1979. Acrylic on wood, 3 x 5 panels, overall dimensions 190 x 240 cm
Right now, it's topical to talk about the absurdity of the art market and the price bubble in a specific niche. Considering your experience in business as well as in the art world, how appropriate is this situation? Is it even possible to measure the true worth of a work of art in terms of money? And isn't its conditional price actually just a reflection of the world at this moment?
You know, there's a Hungarian-born scientist who now lives in Boston. He's one of the top scientists in network science. His name is Albert-László Barabási, and his first book was called Linked (2002), which was read by two guys who later started LinkedIn. His third book is called The Formula: The Universal Laws of Success (2018), and it's about how much of our success is up to us and how much of it depends on the recognition of those around us. He analysed a lot of data and looked at where are the two are interrelated. And the outcome was that where performance can be measured.
For example, Roger Federer plays good tennis, is higher in the ranking, makes more money, more people are looking at his website, and so on. So there's a very clear correlation. But most things are not measurable. Art is among them. So what do you need for success? First of all, you need an achievement.
But you also need to build on previous success. The example Barabási uses in the book is that when people are asked who is the most famous scientist, almost everybody says Albert Einstein. And why's that? Einstein was known and written about in the United States already in 1910, before he wrote "The General Theory of Relativity" (1915). In 1921 he travelled by ocean liner to New York for the first time. Because of the previous articles about him, The Washington Post, The New York Times and other publications sent their journalists to meet him when he arrived. But there were 20,000 other people there, too. So, when Einstein got off the ship with another guy and got into a convertible car and drove around New York, people were celebrating. The next day, the front-page stories in the The New York Times and The Washington Post were about the famous scientist arriving in the U.S. Actually, the 20,000 people welcoming the ship were Jews who were waiting for the other guy, who was the chairman of a world-wide Jewish organisation. So, Einstein's fame was the result of a mistake building on previous success. So, that's the second thing.
The third thing is the network. And then, of course, there's the team. It's always one person who gets recognised for the success, but there's always a team behind him. And then there's the factor of luck, to see the right opportunities, to react to the opportunities that arise.
So being successful is a complex thing, and I think one needs to understand all this. And not just say that it's enough if I make good art. Maybe it is enough, but you need to understand this whole map in order to be successful. And then maybe you need to work in a team with other people, whether it's a gallery or whether it's someone else to build all of this, because this is the name of the game. Art is a business, unfortunately. And there are positives about that, and there are things that I completely hate about it. I mean, if I knew some things about a firm when I was a banker, I didn't buy any shares in it, because that would have been a crime. It's called insider knowledge, and it's a crime. But art is all about insider knowledge. So this part I hate. It's a completely non-transparent world, and it's a lot of insider knowledge, but that's the name of the game. So you have to understand this and use it to your advantage.
Is the art world becoming more transparent or not?
I think it is becoming more transparent. It's not happening very fast, but I see this with the digital revolution, that it's becoming much more transparent. If you go to Art Basel or any art fair via Instagram, you can immediately see which are the most popular works. So, there are many positive movements in this, but it's a nice and a dirty business at the same time.
Do you agree that all good art should end up in a museum?
No, I don't agree with that. Well, I agree if it means that all art should end up in a way that we can enjoy being with art. Whether art is where we are, on our walls, or elsewhere, but it should be shared, it should be a part of our life. And the museum is a very good way for many people to see art, but there are other ways as well. So, I do believe that all buildings and parks and so on should have art, and that art should be much more a part of our lives.
What are the main lessons art has given you?
The balance of the heart and mind, which I think is probably the most important thing in life. And art has given me joy. I'm just enjoying working with art. And it has also helped me to understand that my view about seeing business and charity/art as completely separate is wrong. It's all increasingly becoming one. Art is a part of how you develop a new product, how you develop a new experience for customers, how you develop a new real estate property. And building a brand is also part of an artist's job. It's all interrelated, it's becoming one.
I always consider myself a world citizen who happens to live in Hungary. But art is very clearly a global language, and it's a global phenomenon with a local element as well. So that's also partly why I like art so much. There are no borders.