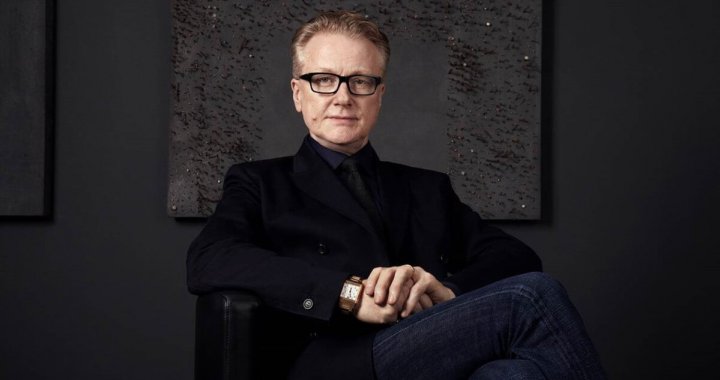 "I've always loved it"
An interview with British art collector David Roberts

26/04/2019
I meet British art collector David Roberts at his office in London. As we speak, he sits in front of a large-format work by British painter Rose Wylie. The work of art is a bit wild, somewhat fierce, full of energy – just one look at it seems to charge up a person's internal batteries. 'She likes to live life,' says Roberts, adding that meeting and becoming friends with artists with whom he feels on the same wavelength is, for him, an important part of being a collector. A property investor by profession, Roberts began collecting art in the early 1990s without having much experience in the field. 'I come from a non-art background. But I've always loved it.' And so he has spent the last 25+ years tirelessly learning about art. Comprising more than 2000 works, his collection represents a wide range of media and artists, from young and unknown, to truly influential names on the contemporary art scene. 'It varies from paintings and sculptures to prints, video works and photographs, it's a very wide range. The collection is a real mixture of artists from the start of their career right the way through to older artists that are rediscovered.'
In 2007 Roberts founded DRAF, an institution whose dynamic programme plays an essential role in London's art life. For several years, the foundation's space in Camden showed art that was slightly different from the usual routine programmes at larger institutions. DRAF was directed by Vincent Honoré, who is now a director of exhibitions at MoCo Montpellier. 'Vincent opened many ideas as far as the foundation was concerned, which I'm extremely thankful for.' Fatoş Üstek is DRAF's new director, however she is going to take over directorship of the Liverpool Biennial soon. While the gallery in Camden closed in the autumn of 2017, the foundation has now begun working in a new direction, namely, organising art programmes in various places throughout Great Britain. It also plans to also establish a sculpture park and art centre on one of Roberts' properties in Scotland. Although he believes that art is probably unable to change the world or people's lives, 'it can alter people's perspectives.'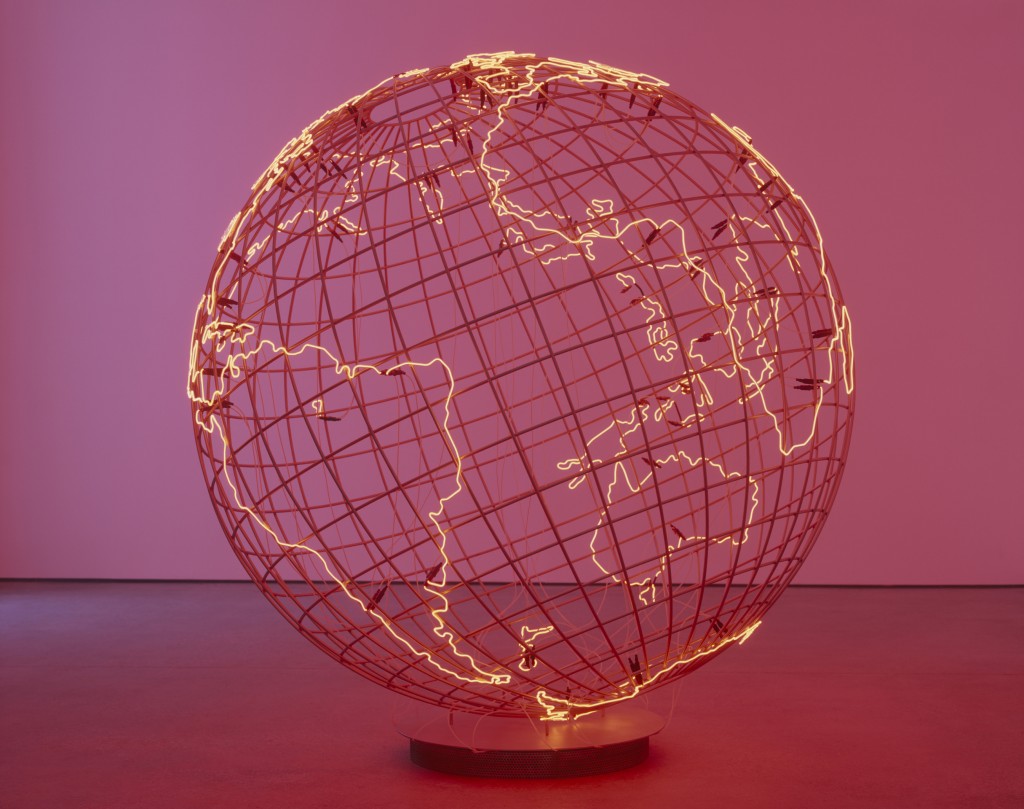 Mona Hatoum. Hot Spot, 2006. Courtesy of the artist and David Roberts Collection
That's a nice painting behind you. There's something primeval about it.
Rose Wylie is the artist. She's quite a character and likes to live life to the full at the age of 85. There are artists I will always follow because I love their work, and I'll continue to monitor what they're doing and go to their shows and, perhaps, add more works to the collection. I love meeting artists, and I'm very glad that I have many artists who are my friends. They can also give very good recommendations to other artists that I would otherwise not have found. Rose Wylie is a good example. Cathy Pilkington is an artist and a good friend of mine. I have many works by her in the collection, and she's the one who introduced me to Rose by saying: 'I think you would love Rose's work. You should look at the work or go to the studio.' And sure enough, she was right, and I liked the work very much. I found that I got a very emotional response to it. Meeting the artist makes a big difference, because there are occasions when their work can puzzle me, sometimes you meet the artist, and they explain their concept of the artwork and it resonates. It unlocks a door and you begin to appreciate the work more. But it can also go the other way. The works that I've collected are very wide-ranging. There has never been a rigid theme to the collection. This organic approach has always suited my personality it has also meant that there has been no restriction on the collection changing direction over the last 25 years.
What's important for you in art, what are you looking for?
The aesthetic is important to me. The idea behind it is important to me. But there isn't one specific thing. I like art that I have an emotional response to, but that emotional reaction doesn't necessarily have to be pleasure. It could be something that shocks me, something which makes me think about something in a way that I haven't thought about before. There are artists and works of art which people really love, but I find them slightly bland, I don't have a reaction to them, and I don't really believe in the idea behind them. And therefore – however popular the artist is – I'm not that interested.

Nicolas Party. Sunset 01, 2018. Courtesy of the artist and David Roberts Collection
You currently have over 2000 works of art in your collection. You have art by some of the stars on today's contemporary art scene, but you also have lots of work by relatively little-known artists.
I think the art market has changed dramatically in the relatively short time I've been collecting. It's evolved in terms of the selling of art and what it means to be a collector. I very rarely, if ever, sell anything, so the collection continues to grow. Obviously, if I acquire a piece of art and years later the artist has become very popular and the piece is worth more than I paid for it, it's a nice surprise. On the other hand, there are lots of artists in the collection that I love very much but the value of their art hasn't gone up. It's remained steady or gone down, or the artist has had a moment in their career where things haven't gone well. I buy artwork not because someone tells me it's going to be really hot in the market. I like to buy artists whose work I like and whose work resonates with me.
You started your collection in the early 1990s. In his book Lucky Kunst: Young British Artists, Gregor Muir, the Director of Collection at Tate, describes the London of those days as a dull place and not welcoming of art. It wasn't today's London, which is an important European art centre.
I didn't live in London at that time. But I did work there, and he is absolutely right – London wasn't what it is today. For example, the East End of London was quite a grim place. The reason it attracted artists was because property there was cheap. My introduction to art was far gentler than that. I started to collect in a very small way in the early 1990s, a lot of what I collected in those days wasn't very sophisticated. I began to concentrate on contemporary art more seriously in the mid- to late-1990s. Apart from anything else, I didn't have the resources in the early 90s, so tended to buy smaller things. I come from a background where art appreciation was a foreign language. But I've always loved art, design and architecture. I was born in a town where shipbuilding was a mono culture. My father, my grandfather, everyone worked in the shipyards, and originally, I was going to become a naval architect. That was my intended career path from school. So, I've always loved drawing and design, but I certainly didn't have an art education as a young man. No one in my family was interested in art, so it wasn't something that I embraced on an academic level, and I never imagined that I was good enough to be an artist. I could draw a little bit, but that was all. To begin with, I collected what I could afford, which tended to be posters and limited-edition prints and things by various artists that were within my budget. But then I made a career change and went into real estate. Things went reasonably well, and I had spare resources to be able to invest. People say it's a journey, and it was, because I didn't really know anything about art and collecting. So, I had to educate myself. By meeting artists, by dealing with gallerists, by meeting curators, by going to see shows, by reading about art. It's been something I've enjoyed very much, because it's a never-ending journey. One always discovers new things. There are things which along the road eventually lose their resonance, but some things never do. There are always new artists to be discovered or there are artists who have been around a long time but have been overlooked. I find that extremely exciting.

Arcadia Missa. Ways of Living, 2016. Curators' Series #9. Installation view. DRAF, 2016. Photo: Tim Bowditch
In 2007 you founded DRAF, which became one the most admired private art institutions on the London art scene with a wide-ranging and impressive programme. What's the main idea behind the foundation?
At the beginning it was not a very well thought out idea, it was over simplistic. I had accumulated a lot of works of art, I had filled the house and the office, and I was beginning to build a large storage facility. I don't like the idea of inaccessible amounts of artworks in storage. So, I suppose I was looking for a way that the art could be viewed. On a simple basis the idea was to have a space and to be able to show the collection. That idea changed very quickly, because I realised that having a space and just showing the collection was a vanity project. It wasn't adding anything meaningful to the art world. I was quite fortunate, though, that a couple of friends recommended Vincent Honoré as a potential curator. Vincent had lots of ideas which I really liked. He said: 'Why not develop a lending programme for museums? Let's try and do collaborations, let's try and encourage young curators, let's do shows where among the established artists we also show young artists, because you collect their work, after all. Let's try and promote the artists.'
You surrendered to the power of the curator…
I'm just not qualified to curate a show. It's not my thing. When I need to hang artworks at home, I leave it to my wife (artist Indrė Šerpytytė – Ed.). I seem to know when things look right, but I've no idea how to make that happen. So, I leave it to professionals. I'm talking about curation in its broadest sense. A curator must have a concept, he must curate his ideas, collaborate with artist, organise a team and make it all work aesthetically. It's a big undertaking. Vincent opened up my mind as far as the foundation was concerned for which I'm eternally grateful.
In a way, it should be the art critics who tend to that. But it seems that they have, in large part, lost their position…
I agree with you completely. I think there has been a loss of connoisseurship within the art world. I'm not necessarily harking back to when critics would look at old masters and art would be very delineated within different groups. That's not what I'm talking about. But I think the art market today has, to some extent, overlooked connoisseurship. There are lots of collectors who still love art but sadly there are many more now who love it just for investment and status. The critic has been largely replaced by the art adviser. Unfortunately, many art advisers select works based on market trends they don't always promote connoisseurship; they're not always promoting a love of art, they're not necessarily finding artists who have the greatest artistic skills nor the greatest artistic merit. They promote the artists who have the greatest potential market value. I think that's unfortunate and disappointing, but it's one of the aspects of the art world now. Then again, there was a time in the past – and I think these things are like a pendulum swinging over time – in which art critics had too much power. Things were missed because critics decided who and what was best. It's taken a completely different direction. Art critics can still be important, but it's become less the case. I agree with you. More than someone deciding what they believe good art is, I think that market forces have taken over.

Miroslaw Balka, 250 x 700 x 455, ø 41 x 41 / Zoo/T, 2007–08. Courtesy of the artist and David Roberts Collection. Photo: Stephen White, courtesy of White Cube
There are about 100 star artists that the market promotes and whose work many collectors long to acquire. In truth, that's quite boring…
Yes, I think that's a problem with the art market today. The art market has always been to some extent international, but not as global as it is today. That's because of the internet, the growth of art fairs, and the fact that everyone from around the world can easily tap into the international art market. I don't think that was the case twenty, thirty, forty years ago. It was completely different then. National interest in a national artist from a national collector was more the norm. Back then many collectors cut their teeth on buying work by local artists from local galleries. I think today a lot of people enter the art market in a much more direct way because they see it as an investment. When I started collecting art, I was, to some extent, buying small works of art from a variety of different places. It was a slow process. Today, if someone has enough money, they can get an art advisor, go to the big galleries, and within months they'll be buying works by the top hundred artists that you've just mentioned. There's no learning required. One can be told what to do and actually be quite comfortable within that environment. I'm not comfortable with that. I've bought works through auctions, galleries, from artists, from all sorts of different sources. And on all sorts of different levels: from students to established large galleries. In today's market, the top galleries have more and more influence. Obviously, they want that to be the case. There's been an explosion in the art market, and they want to control that as much as possible. I suspect that there's probably more money being spent in the art world now than there's ever been historically. But it's all focused in a very small area, and I think the environment was somehow healthier when it was more democratic. That makes it even more important to try and support interesting niche projects that might otherwise never see the light of day.
So, the market takes the creativity away from art?
There is an unhealthy concern amongst a lot of collectors as to the commercial value of art and only the commercial. But the idea that a work of art only has real worth if it has a potential to rise in value is very sad, because art is much more than that. Most artists become artists because it's a calling rather than perceived business opportunity. I hope someday we return to the situation were artistic merit is the larger part of art appreciation then just monetary value.
You closed the DRAF space in Camden a year ago, but the foundation still works with loans and public programmes.
Yes, the foundation is still very much thriving. We had an exciting time in Camden for five, six years. Vincent and the team put on some very good and interesting shows and it was fun too. We had a very loyal and knowledgeable audience. For a long time Indrė and I have discussed the possibility of doing more things outside of London. London is already very well served by museums and galleries and there's a very vibrant art life. It doesn't cost anything to visit the museums, it doesn't cost anything to go and see the art, and there's an enormous variety of it. It's very exciting. We thought it was important to try to offer something different. In Camden we were trying to have shows that wouldn't naturally be the kind of exhibition one would find at larger institutions because they are driven by funding opportunities. That inevitably means they must put on shows that are by blockbuster artists. It's very difficult to do exhibitions by lesser known artists for fear of not having large footfall. One of the things we tried to do in London was to have shows which might not otherwise be seen. More than that, though, we would now like to try to do collaborations outside of London. There are a lot of regional museums that find it very difficult to attract funding for their programmes. Until recently I was a trustee at the Hepworth Wakefield museum in Yorkshire. They put on incredible exhibitions in their amazing building designed by David Chipperfield. But raising funding to expand their programme remains a challenge.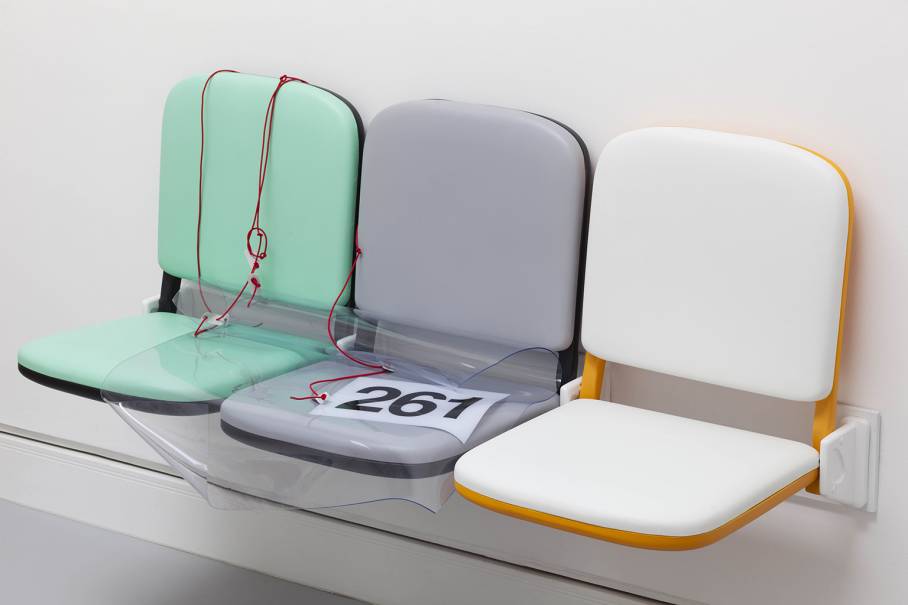 Magali Reus. Parking (Legs at Eye Level), 2014. Courtesy of the artist and David Roberts Collection
Performances in a variety of places throughout London are now a considerable part of your foundation's programme. You've also said that performance art is one of your great passions. But it's a genre that isn't very popular among art collectors.
My affection for performance art really came from Vincent Honoré. He was very keen on performance art, and I think he opened my eyes to its possibilities. I find the ethereal qualities of performance extremely exciting. One must be there to experience it as the documentation of it only acts as just that. The performance programme is always very exciting; whatever the venue, it's great to go and see an artist's vision coming alive. Some of them are humorous, some of them are thought-provoking; their performances are always very striking. I think a great performance is truly wonderful, and if you see it, it's something that stays forever with you. It doesn't go away. One aspect of performance that has always fascinated me is its use throughout history under repressive political regime. Where artist was not able to create anti regime works of art for fear of discovery and prosecution. For instance, in Eastern Europe and China artists have often used performance to circumnavigate censorship and repression. And the only traces of such performances are visible just through photographic or video documentations. I have a huge admiration for all the brave artists that despite the danger and against the odds kept creating.
Do you believe that artists and/or art can change anything in today's society, impact it in some way?
I'm not sure that art can change things in society. However, I think there are artistic interventions that can make a difference. When the Angel of the North by Anthony Gormley was commissioned the local population protested. They thought it was a complete waste of money in an area that had great deprivation. But if one tried to take that sculpture away there would now be great outcry. It has become part of the landscape and is loved both locally and nationally. It's a national treasure and a testament of great public art.
It's become part of their life…
The fact that there's now an icon in the landscape that the people love has made them more aware of art. But has it affected society? I'm not sure it has. I'm not sure how much of an impact art has on the general public, or the man in the street. However, trying to reach new audiences is one of things I would like our foundation to achieve. A good example of such project is Anthony d'Offay's Artist Rooms, which has marvellous works of art travelling to remote places. For example, exhibiting two Warhol paintings in a small townhall in Scotland that would normally never have been shown there. The local population has a chance to see something wonderful. I love that programme. I'm very envious that I didn't think of it. I'm convinced that such intervention sometimes might have ability to inspire an individual to pursue an interest in art that might otherwise have passed them by. Any project like the Artists Rooms I believe is very worthwhile.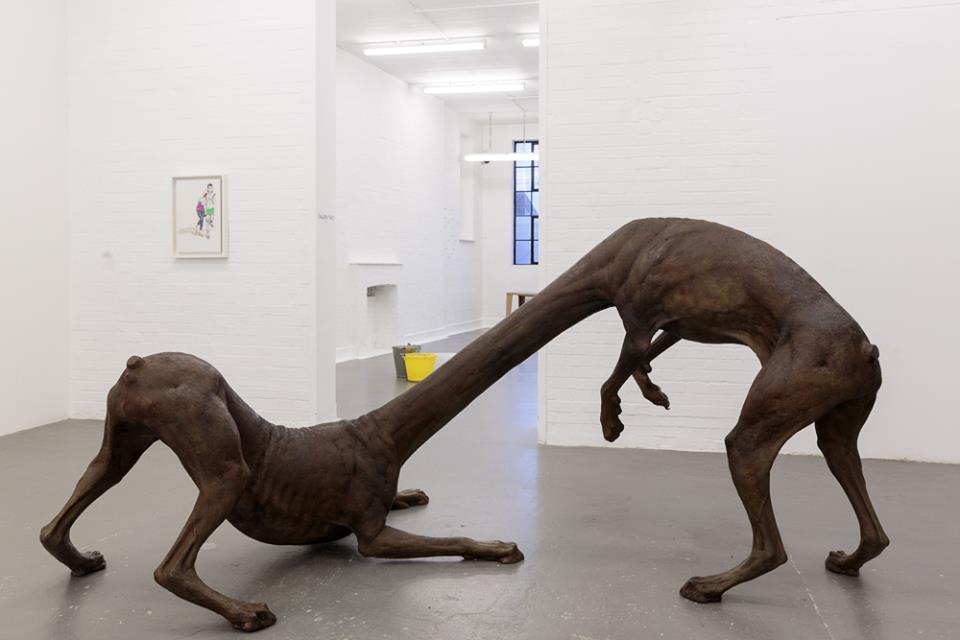 Charles Avery. Untitled (Duculi), 2013. Bronze, 308 x 160 x 145 cm. Courtesy of the artist and David Roberts Collection. Photo: Tim Bowditch
Tell me more about your own ideas regarding Scotland.
Indrė and I have a property in Scottish countryside with substantial grounds in which we have begun to install outdoor sculptures. We don't plan to move the foundation to Scotland, but we'd like to have a presence there. It is our intention to instigate a programme, which will include residencies for writers, curators and artists. Any other programming is still in early planning stage, but we are hoping that it will be activated by 2020.