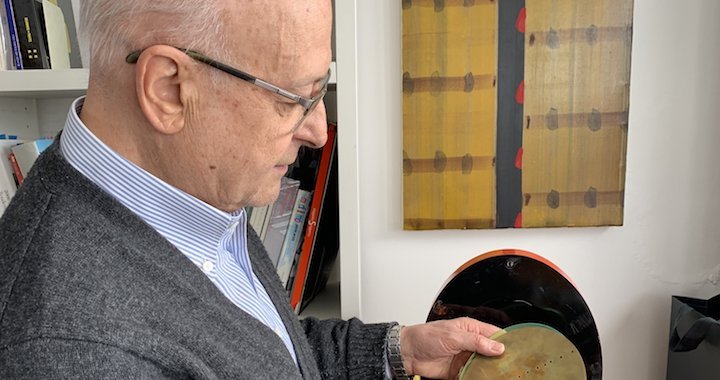 Passion and knowledge are the foundation of everything
An interview with Italian art collector Giorgio Fasol
12/05/2019
Italian art collector Giorgio Fasol is a real ball of energy: during our conversation, he scurries around his apartment, showing me all kinds of books and some of the smallest pieces of his collection, either picking them up and bringing them over to me, or pulling me out of my seat to bring me over to them. In his home, one comes face to face with art in the most unexpected and unusual of places – on the ceiling, by a baseboard on the floor, or attached to the edge of a table, as has been done with Martin Creed's tiny minimalist cube (one cubic centimeter in size), which, according to Fasol, 'gets bandied about' the apartment's many rooms. The cube in question was eventually located on a tour guided by the collector himself, which he organises for me when I ask him about the relationship between art and beauty. At the end of the tour, he volleys the question back to me: well then, was it beautiful, or not-beautiful?
When I inquire his age, Fasol replies: two times forty; and he's been an active collector for more than fifty of those years. He admits that there is something of an addictive element to it, adding that in truth, he's never had the financial means to acquire art without having to think long and hard about it. However, that has never held him back. He paid for his Lucio Fontana work in installments over several years, and only when it was paid for in full was he allowed to finally take it home.
In the early 80s, he decided to collect only works created by young artists, and consequently was one of the first to discover a slew of names that are well-known today. Of course, there's something of a gamble involved here, for you can never know for sure that you're going to win. But he likes to take risks, and lets himself fall in love at first sight. Admittedly, he's had a good run, for among his discoveries are Maurizio Cattelan, Gim Lambie, Subodh Gupta or Tino Sehgal. Every time a new guest arrives at his house Giorgio performs Sehgal's This is New (the original performance dating back to 2003). Also, to me, he was quoting titles from that morning's newspapers.

Kong Mo. Heart broken in the deepest room, with truth, 2016. Charcoal, Coal, Coal dust from Shanxi province China, 71,12 x 147,32 cm. Agiverona Collection, Artericambi Gallery
It's important for Fasol to support young artists not only through buying their work, but by promoting that work as well. Pieces from Fasol's collection have been exhibited in countless museums and exhibitions. The cultural foundation AGI Verona, which Fasol established in 1988 together with his wife, Anna (AGI comes from the first letters of their names), is known as one of the most generous of lenders. Photos of their collection have been reproduced in numerous books and catalogues – Fasol's office has bookshelves full of all of the publications in which works from his collection appear. 'Every book has its own story,' he says as he requests that I write in the date, place (Verona), and my name in the Arterritory publications that I have brought with me. Along with the personal Passion notes he has jotted down in the many exhibition catalogues that he has purchased, he has inserted the tickets for the respective exhibition, the receipt for purchase of the catalogue, and sometimes, even the public transport tickets that were used to get to the museum or venue hosting the exhibition.
AGI Verona has just signed an agreement with the University of Verona on holding the collection's exhibitions there over the next five years. There is only one condition – students must be involved in the project. 'Passion and knowledge are the basis of everything,' Fasol states in the manifesto of AGI Verona. He closes it with a quote from his friend, the legendary Italian art collector Giuseppe Panza: 'If you love art, art will love you! If you wish to use art for your own good, it is art that is using you!'

Apparatus 22. Arrangements and haze. Exhibition view
Excuse me for asking, but may I ask how old you are?
I am forty times two.
But right now your collection focuses on the youngest generation of artists…
In the late eighties, I decided that I would collect the works of young artists because prices had simply become too steep. I bought the works of artists who had organised two or three shows. With new artists, it's like gambling. Practically everyone whose works I've bought were unknown at the time. For instance, in 1980 I bought a piece by Maurizio Cattelan; in 1999, a piece by Lambie; and in 2000 I bought a Subodh Gupta. Now whenever I meet Gupta, he makes a little bow because I bought the first work he sold outside of India.

Sara Enrico. Skin, 2018. Photo by Sebastiano Pellion di Persano. Courtesy AGI Verona Collection / GDG Doris Ghetta, Ortisei (BZ)
What is it that makes you buy a work? How can you sense its potential?
That's my secret! I simply have to understand that this precise work is the real one. I make decisions quickly, but they tend to be led by emotions. I've acquired many works by young artists, which is why intuition is important, but even before the intuitive part (and even more important) – are knowledge and understanding. In 2014, for example, I bought a work by Ibrahim Mahama. I was the first Italian to buy one of his pieces; I beat everyone to it. Then, in 2015, Mahama's installation was featured at the Venice Biennale, and in 2017, at documenta in Kassel. It's important for me to support young artists at the very beginning of their careers. And I really like to lend out my collection because I'm convinced that it must be visible. That's very important for young artists – the more visible they are, the greater their opportunity to grow.

Otto Berchem. Dive for dreams. Broom, acrylics, 136 x 34 cm. Agiverona Collection - Ellen de Bruijne projects, Amsterdam
You've been collecting for more than 50 years. What is it in art that makes it important to you? What makes it have value?
When I acquire art, the only thing that is important is the liveliness of the work. The nationality of the artist and the medium have no meaning. It can be painting, sculpture, installation, video art, even invisible art. I have in my collection the work Missing Piece by Mario Garcia Torres. In the exhibition, instead of a work, there were just labels with the artist's name and the title of the work; it said: Mario Garcia Torres Missing Piece. But the work itself wasn't there. I also bought a work by Jonathan Monk – tea cups that have a picture of Queen Elizabeth printed on the inside, with the year 2028. When you pour tea into the cup, the picture disappears: the artist is predicting that in 2028, the UK will no longer be a monarchy. Since then, this piece by Monk has been exhibited in three shows, while the Torres' piece was shown three years ago, when we had an exhibition of my collection in Verona, and in three museums in Siena: the Museo Civico in Piazza del Campo, in the exhibition hall across from the Santa Maria della Scala church, and in the Accademia dei Fisiocritici [natural history museum]. In the top floor of the Museo Civico, in the Sala del Mappamondo [Hall of the Globe], we showed Missing Piece. The visitors to the exhibition tried to find the work in vain. Another interesting artist is Francesco Carone. I acquired one of his 'paintings'. That is, he took a plain canvas and gave it to an artist, who painted his interpretation of [Giorgone's] La Tempesta – that was the theme of the work. Then this artist gave his interpretation to the next artist, and so on; it was done twelve times in total. The canvas was covered in layer after layer. In the end, a book was published on all of the 12 artists involved and each of their interpretations. But in the beginning, it was only a blank canvas. This work is in my collection, and it demonstrates that the idea, too, can be beautiful. Nevertheless... it is very important to me that the art that I own reaches as large an audience as possible; so that the young artists get into as many exhibitions as possible.
At the same time, your collection also contains many artists from the canon of art history. For instance, Lucio Fontana…
I'll tell you how my career as a collector began. In short, when I finished high school in 1958, I decided to give myself a present. I had some savings because I had been working over the summer. So, I went to the only gallery in Verona at the time to get a work by Morandi. (Not because I knew who Morandi was, but simply because I saw an article about his show in the newspaper.) The gallerist told me: 'Well done, that really is a good choice! I don't have the work at the moment, but I can get it for you in a month's time. The price for the work is 1.5 million lira.' At the time, I had 365 thousand lira, so I told the gallerist goodbye and left. Some time after that, on a Saturday afternoon, I went to another gallery not far from my house to see a show. I didn't have any objective in mind. Anna and I had just gotten engaged. At the gallery, an unknown voice behind my back said: 'You don't have to look at Sara the unfinished edges of the works, just at the works themselves!' Later on I would become friends with this person – he was the artist Renzo Sommaruga from Verona. He was a sculptor, a poet, a writer, a painter, and also a publisher of art books. Sommaruga invited me over to his house when he had just finished printing the art book L'uomo del mio tempo (The Man of My Time), which he had put together with Salvatore Quasimodo – it contained lithographs made by several notable Italian artists of the 1960s such as Franco Gentilini, Domenico Canatore, and Giuseppe Capogrossi. They were all wonderful, but Caporgrossi blew me away. It was something new for me, something I had never seen before! Sommaruga was planning a new book featuring the lithographs of Giuseppe Aimone. We went together to Milan to visit Aimone's studio. Aimone made us wait a whole hour before he would see us, but when he appeared, he was holding a white piece of paper in his hand and said: 'Look what I've bought.' It was a work by Lucio Fontana. For me, personally, it was Capogrossi and Fontana – two works that determined and began my journey as a collector. I wanted Fontana, I wanted him so badly! In 1969 the gallery Cattaneo in Brescia held a grand exhibition of Fontana's works. I went to see it and asked the gallerist for the most beautiful and smallest work by Fontana that they had. It costed three million lira, but I only had one million. I told the gallerist: 'I'll leave one million, and I'll come back with the rest when I have it.' I signed a contract. After about two years, I came back, gave them the rest of the money, and came back home very happy with my first Fontana. Over those two years I had already managed to acquire several works from the Teatrini series and two small sculptures, because Fontana had become a turning point for me.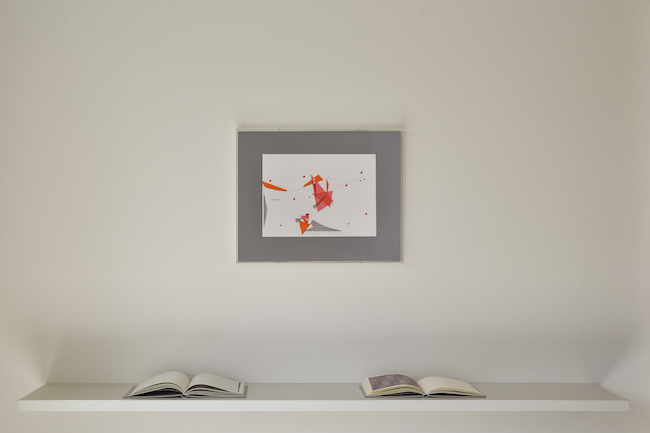 Christian Manuel Zanon. Verso Nullo, 2006–13. Courtesy AGI Verona Collection / Artericambi gallery, Verona
The collector Giuseppe Panza Di Biumo also played a large role in your life. You even quote him several times in your manifesto for the AGI Verona foundation.
I met Panza at a gallery in 1972; I was looking at graphic art. Panza said: 'Pay attention to these two.' One was a work by Mike Kelley, the other – by Frank Stella. We began to chat, and I'm still close with his daughter, Giuseppina. When I participate in conferences or public talks, I always quote this saying by Panza: 'If you love art, art will love you! If you wish to use art for your own good, it is art that is using you!' This phrase is very important to me.
What do you feel like – a lover, or a slave?
I am a lover of art, unequivocally! You could say I've been overwhelmed by art.
Panza was also involved in one of the biggest scandals of the art world. I'm referring to the public letter that Donald Judd wrote in which he accused Panza of improperly using his sketches to fabricate works incorrectly, with unsuitable materials, and without the permission of the artist…
Artists, unfortunately, are like that. They change when they become famous. For example, my case with Cattelan: I was the first to buy his works, but when I had to sell them in order to continue to develop my collection, our relationship has changed. He had forgotten that when I had bought the work in question, he was practically dying of hunger. Soon after I had bought his art, Cattelan wanted to go on sabbatical for a whole year. All of the art collectors who respected him agreed that it would be good if he stopped working and did nothing for a year. Do you know what he made after that year? He made an impressively thick slab of glass into which he etched the names of all of the collectors who had supported this oneyear sabbatical of his. It was exhibited in Milan, on the facade of Brera Academy. He removed the slab after six months and had it cut up into small chunks. Each chunk was wrapped with string and each of the collectors who had supported him received one (I still have mine). Cattelan no longer needs support now. But he still is disappointed because I sold his work. That's life!

Corinna Gosmaro. Baggages, 2016. 180 x 100 x 80 cm. Courtesy AGI Verona Collection / Gallery Apart, Roma
Do you often sell works from your collection?
I am always at a crossroads – either I must abandon art collecting, or I must sell a piece from the collection. That's how I create capital with which to acquire other works of art. I have to sell at least one a year. Actually, I'm always without money. However... That's the way it goes. I had a heart operation, and when I woke up in my hospital room, the first call I made was to a Milan art gallery to buy a work. I had seen it beforehand, but I hadn't bought it because I had, again, argued with my wife over it – she didn't want it. But after the operation, I decided that I needed this work. You know... I'm convinced that if I had had the money, I wouldn't have a collection like this. Because I wouldn't have worried so much about selecting the right work or not. I know various kinds of collectors. There's one who is truly interesting... his financial situation is unbelievably enviable and he's amassed a huge art collection, but... you see, he hasn't made his collection with love. For example, he has a Kandinsky, he has two works by Fontana, but considering the liberty he had, he could have stood out with a truly qualitative collection instead of one that stands out just because of the names of the artists he has.

Giacconi Riccardo. The variational status (tenda), 2016. 220 x 5 m
The art world has changed irreversibly in the last couple of decades…
The first thing they ask now is how much is it worth. Where has the illusion gone?! The gallerists are at fault as well. I understand that they have to sell works, but art has to be a part of culture, not business. It has to tell you something; it must arouse emotions. Art must be a field of intellectual discovery.
Do you believe that a collector has a responsibility to art?
Every one of the elements implicated in the art world – the artist, the gallery, the curator, the museum, the collector, art fairs, auction houses – carries a huge responsibility. Today, when culture is no longer spoken about much – but investment is – I especially emphasise that and object to the urgency of the business aspect. It is important to me to talk about culture because it is precisely culture that can bring me the greatest investment; and investment will never be able to bring me culture.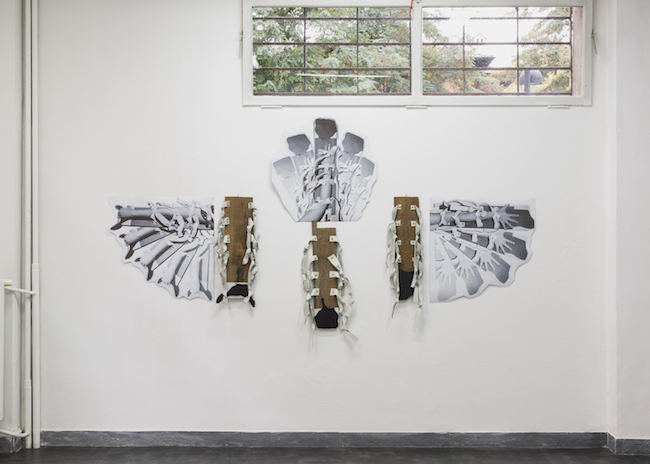 Apparatus 22. Hand tools. Form molding deep convictions, 2018
How did the creation of your foundation, AGI Verona, come about?
My wife came up with the name AGI Verona – it's a combination of our names [Anna + Giorgio]. I didn't want it to be called The Giorgio Fasol Collection. We founded the association in 1988, when we were preparing a small exhibition for the Bologna art fair. Our mission is to promote contemporary art and to support young artists. We lend out works to art fairs and museums. In this way, the art that I own reaches a larger audience. And for me, as I said before, it is important to popularise culture. This month I'm preparing to give a lecture at the universities of Venice and Milan about art and beauty. At this point in time, it is extremely important to talk about this. I've signed a contract with the University of Verona because they have a new addition to their campus – Santa Marta. I will exhibit 75 works from my collection there. But only on the condition that students will be involved in this project. I am not interested in the exhibition itself – I am interested in the students. We will present one exhibition a year, five times in a row; there will also be masterclasses, conferences, tours and... the organisers must be students. If they won't get involved, I'll collect my works and walk away from the deal. On February 19 the idea was approved by the University's Academic Senate, and on March 1 the rector called me to announce that the management had authorised this project with great joy and enthusiasm. And so we have a theme: art and culture. But we will also talk about many other issues such as art and business. Right now, I think that this project... is the most important thing I've done in my life. In addition, I'd like to find a young artist who could create an artwork representing Giuseppe Ungaretti's poem M'illumino d'immenso (I flood myself with the light of the immense).
Is that a completely new idea?
No, I've bee searching for the right artist for several years now.
And you still haven't found the right one?!
Well... no! Gerhard Richter could do it, of course (gestures towards a work by Richter hanging on the wall), but that wouldn't be interesting. Too simple.

Giorgio Fasol