The Vision of an Unstructured Structure
An interview with art collector Ramin Salsali
26/07/2019
Ramin Salsali was born in Tehran, which is also where he spent his early childhood. After leaving Iran, he moved to Germany and England to study economics, strategic management, and marketing with a focus on industrial design. In 1993 he graduated from Ludwig Maximilian University of Munich.
In parallel with his studies, he was active in the petrochemical industry; as a result, he founded his own company whose main focus was on introducing innovative and sustainable technology into the field. Later on, he also established a business that dealt with real estate development as well as the preservation of historical buildings. His passion for art began at an early age, and at twenty-two years of age, he began to collect. In November 2011 he opened SPM (the Salsali Private Museum) in Dubai – the first museum for contemporary Middle Eastern art in the Persian Gulf region. In recognition of his engagement and support of art and culture in Dubai and the U.A.E., he was honored with the Patron of the Arts Award by the Vice President and Prime Minister of the UAE and Ruler of Dubai, His Highness Sheik Mohammed bin Rashid Al Maktoum.
Salsali and his family live between Hamburg, Berlin, and Dubai.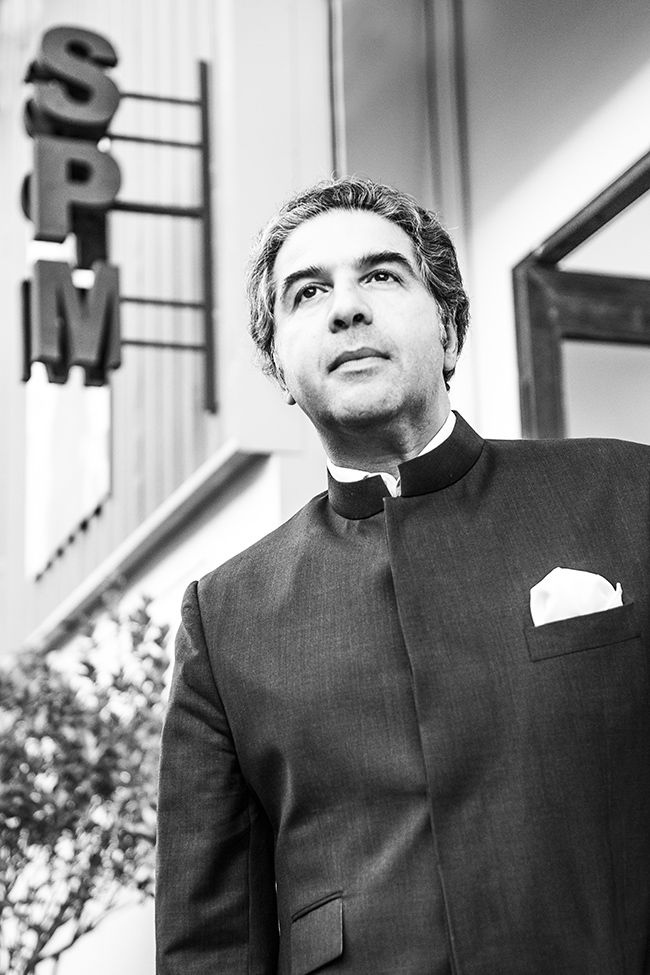 Ramin Salsali, courtesy of Salsali Private Museum
What made you begin collecting art? When did your first encounter with fine art occur?
I believe that a true collector has always collected an item in each phase of their life. I started to collect toys (match-box cars), and stamps at age ten; I still collect 1:43 scale toy cars today. I consider my collection as being extremely sentimental.
How did you start collecting art? What were the first works that you acquired, and where did you find them?
In fact, my passion started in my youth, when I collected stamps and toy cars. The transformation of this passion [to include art] happened when I was twenty-two – when I went to Munich to study in the 80s and 90s.
The first artworks that I acquired were by Kiddy Citney, a West-Berlin-based artist (at the time, a legend in the city's world of underground art) who painted and was known for his graffiti on the Berlin Wall. He later became famous for his graffiti paintings, and his works are still displayed today all over Berlin. This was the start of a friendship that still lasts to the current day.
Before the unification of East and West Germany, Munich and West-Berlin were the two cities (next to Düsseldorf and Cologne) that harbored artists and collectors. I met up with Kiddy both in Munich and Berlin.
What are your preferences in terms of artists and art periods? How did you continue to build up the collection?
I shall mention that I clearly distinguish between 'an engineered collection' and a collector who collects with his heart and emotions. Most emotional-based collections do not have a clear structure, but do reflect the phases through which the collector has evolved.
I had phases in which I only acquired photography or sculpture, whereas at other times, I collected abstract paintings, or objects like vintage furniture. After more than fifteen years of gathering knowledge and evolving, I started to become more interested in certain topics and certain regions, such as art from and/or connected to the Middle East – artists such as Hazem Harb, Hassan Hajjar, Hassan Sharif, Manal Al Dowayen, Ahmed Matter and Nabil Youssef, and in particular, from Iran: Reza Derakshani, Bita Fayyazi, Ramin & Rokni Haerizadeh, Sara Rahbar, Amirhossein, Ali Zanjani, and Ramtin Zad, to name a few. I very much believe that art from the Middle East deserves any and all support.
To build up a collection, one needs passion and knowledge. Step by step, my eyes became trained by the quality of the works, and, at the same time (at least in my case), I need to create a relationship with the artists.
While the Middle East became my main focus, I collected art from other parts of the world as well. The current show at SPM is by the Austrian artist Philip Mueller, and in the past we've hosted shows such as GERMAN COOL, which featured my collection of German art by Jonathan Meese, André Butzer, Mario Marino, and others.
Also, the diversity of my collection certainly reflects the fact that I have had the luck to live in many different cultures – mostly in Europe.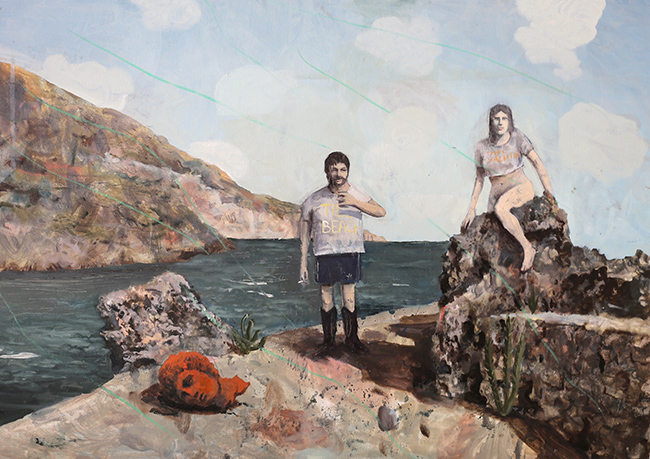 Philip Mueller, Beach Resort Tiberio, Summer of No Love South Nisyros, 2018. Courtesy of Salsali Private Museum
What is important to you when making acquisition choices? Do you work with advisers? What gives you inspiration, and where do you mainly discover the works?
I mainly follow my emotions and my passion. I never study anything or prepare myself beforehand, and I rarely ask for any advice. I sometimes consult once I am already considering acquiring a certain work. In cases where I am totally unfamiliar with the artist's work, or the history or the story about the artwork in question, I will start by doing some brief research about the artist.
The happiest collector is one who loves the artwork, adores the artist, and likes the gallery owner. If this happens, then the Moon, Mars and the Sun are aligned.
Do you focus on works by specific artists, or perhaps on specific media? How many works are there in your collection at present?
Unfortunately (or fortunately), focusing was never my goal. I cannot focus on just one issue; I focus on various issues. My collection reflects my character; in the end, I want to enjoy what I have collected. Today, my collection consists of more than 1000 artworks from the genres of photography, painting, video installation, and sculpture.
Needless to say, I do adore collectors who have deep knowledge and a capability for focusing just on select genres.
You've been living in Germany for many years now. How did you come up with the idea of establishing a private museum? And why in the Emirates? – Did you consider other locations as well?
The establishment of a museum for art and culture was always a dream of mine, one that reached back to the days when I was still just growing up in Tehran. My mother would take us to various museums, such as TMOCA, which was at that time virtually the first museum in the world displaying contemporary art.
After I left Iran, I sadly observed an increase in cultural misunderstanding taking place, and from my point of view, the only solution was (is and will be) to have a continuous cultural exchange through a neutral platform – a museum.
I always had two cities in mind: either Berlin or Dubai. Twelve years ago, there was a need for cultural institutions in the Emirates, and that is why I finally decided on Dubai.
When I had settled on Dubai, I decided to call it a private museum, as I wanted to emphasize that we are creating a museum, not a foundation. A foundation has a very clear definition; it should have an agenda and also an objective. What I wanted was to share my passion with the wider public and friends, and in my opinion, the framework of a private museum provides the maximum amount of freedom to do this.
The word museum originates from the Greek word for 'muse'. The world's oldest museum was created in Alexandria, Egypt, some 3000 years ago. When you look historically at the concept of a museum at that time, you will find that it was mainly based on a private concept: to show private treasures, jewellery, books, etc.
In the Middle East, Dubai is not a city, it is a universe-city, and, in fact, a university. It is the reflection of a successful model of cohabitation whose people represent more than 150 nationalities and 42 religions and confessions. It is an imperative moral duty and responsibility to support Dubai in any and all respects, and to contribute to the success of this model.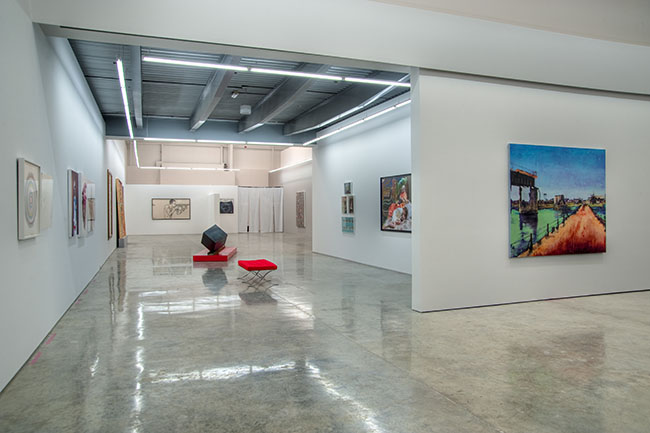 Salsali Private Museum, exhibition view. Courtesy of Salsali Private Museum
How is your museum structured in terms of programs and exhibitions?
It is very much like both me and my collection: no structure.
The concept of this private museum was and is that we share the space with all collectors. We established the first Collectors' Lounge in the world. Any collector has the opportunity to use our facilities free of charge and to meet gallery owners, artists, curators and other people who are interested or involved in the art world – it's like a meeting point for art enthusiasts.
We've sponsored several shows related to other collections, and have displayed our collection in various curated shows. In total, we've had over twenty-five shows in seven years. It has been a very unique experience for me. My intention, from the start, was to create a museum with a programme that has been reduced to the very minimum. I wanted to demonstrate that the creation of a museum can be easier than it looks.
Why not have a museum without a curator and a fixed programme or agenda, if a collector can be trusted to act as the curator? One of the few shows that I have left entirely in the hands of a curator was the show featuring Hazem Harb, a Palestinian artist.
I understand your point. What must an artwork have in order to attract your attention, and what do you understand by quality in a work of art?
This really depends on the artwork, and whether it is a photograph, a painting, a sculpture, or a video. For each genre, I consider a certain set of criteria, but what always comes first is the emotional connection to the artwork and to the artist.
I am very interested to learn about the history behind a work, and after many years of collecting, the quality of the artwork does play a major role. However, if a top-quality artwork doesn't have an emotional impact on me, I'm not going to choose it.
Have you ever divested yourself from an artwork, and if so – why?
I have divested from an artwork only once, when I gave it as a gift to another collector. I am sure that it is in even better hands.
What sort of a relationship do you have with other collectors? Do you exchange ideas with other collectors or friends in the art world about acquisition, trends, must-see museum shows, and so on? Are you involved with any other museums or museum boards?
I am the founding member of an association of owners of private museums. In line with the philosophy of Salsali Private Museum, collectors need to be connected to one another and remain in continuous communication. I guess the most inspiring part of the life of a collector is to meet artists and other collectors – learning their stories, listening to them, and understanding their philosophy.
I was on the board of several cultural institutions, but due to my time restrictions, I have limited my activity to just the Private Museum Association and Outset Germany.

Reza Derakshani, Hunting Nothingness. 2009-2011. Oil, tar and gold paste on canvas. 190 x 270 cm
How would you describe the changes that have taken place in the art world over the past decades? What was better/easier in the 'old days', and conversely, what is better/easier today?
This is a very good question. Communication is easier today due to social media and the development of communication methods, such as fast internet connection speeds and the possibility of being reachable online 24/7.
What has become more difficult is the determination of the value of an artwork in this fast-moving life. The manipulation of the value of an artwork cannot be ignored. Despite the many restrictions and regulations, the art market still finds itself in a vacuum. The commercial agenda of a minority has overshadowed the art.
With your experience in the art world and in building a collection, what sort of advice would you give to a 'new' collector who wishes to begin forming an art collection?
With the hindsight that I now possess, I recommend that one deepen their academic understanding and obtain a solid knowledge base; however, the first and prime condition must always be having a passion for the work of art. A collection without passion means a life without soul.
Visiting museums, art fairs, galleries and, in particular, the final shows of students graduating from art academies will provide a good foundation for beginning an art collection.
You were the first private collector to open a private museum in the Emirates. How do you see the future for private individuals who wish to establish museums in this region?
I am more than pleased and proud that SPM had the impact to be the catalyst for other private and public institutions coming to the Emirates. Today, we have three private museums in the UAE: the Jameel Arts Centre, the Jean-Paul Najar Foundation, and the Alserkal Cultural Foundation, as well as projects such as U.A.E-UNLIMITED, with Shobha Pia Shamdasani as its passionate director, and two public museums in the Emirates – the Louvre and the Guggenheim. I am more than proud to be in their company.

Ramin Salsali. Courtesy of Salsali Private Museum
How about your family – do they share your passion for art?
I am pleased and blessed to have the support of my family and my friends. My sons have worked in the museum, and my wife contributed to the design of the museum and in the acquisition of art works.
My sons are my connection to the younger generation, and through them, I try to understand the younger generation and how they contemplate art and museums. I've learned from them about the impact of social media and how one can use these tools to attract the younger generation to art and culture.
Apart from art, what other passions do you have?
I love to remodel historical buildings, and, in general, I am very interested in architecture. My latest project is transforming a parking garage so that it can accommodate artworks.
I love jazz and movies. I was a co-producer for several art videos, and recently I've become involved in the production of a documentary and a movie.
What are your future plans for your art collection?
My vision for the future evolution of my collection is to bring it to Europe and, in particular, to Berlin. There is not a single museum in Europe that features contemporary art from the Middle Eastern region. In these times, when more dialogue and communication are sorely needed, one of the best methods to help the situation is by creating a channel via art and culture.
The Salsali Private Museum was based on this philosophy of extending the boundaries of communication to another dimension. For me, to have a branch of SPM in Berlin would be a dream come true.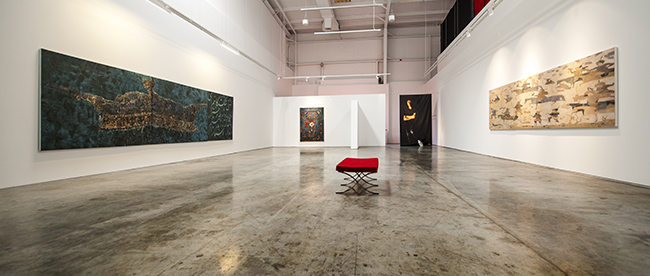 Salsali Private Museum, installation view. Courtesy of Salsali Private Museum