"I love to create"
An interview with Dutch art collector Joop van Caldenborgh, the founder of Museum Voorlinden
"To paint is not to copy the object slavishly; it is to grasp a harmony among many relationships," Paul Cézanne once said. This masterfully grasped and presumably captured harmony between such different and self-sufficient players – art, architecture, nature – also seems to perfectly characterize Museum Voorlinden. There aren't many museums in the world that have managed it. And perhaps that is why a visit here feels so rousing and inspiring, why thoughts roam so freely here. Nothing obstructs the view, and nothing clutters the space devoted to each work of art.
Almost by chance, I realize that I've drifted so far into the unhurried, meditative changeability of the blue sky of James Turrell's Skyspace that I forget I'm not in the middle of a meadow but instead in an exhibition hall and that Yayoi Kusama's Infinity Mirror Room is just a few steps away, Maurizio Cattelan's ankle-high elevator stands just around the corner, and Richard Serra's monumental 216-tonne "labyrinth" awaits in the next room. Even though Museum Voorlinden is a public art space, the relationship between the museum-goer and the artwork is surprisingly private.
Having opened in 2016, Museum Voorlinden is located on the west coast of the Netherlands, about a thirty-minute drive from Rotterdam, and is based on the collection of Dutch art collector Joop van Caldenborgh. With its dynamic program of exhibitions, however, the museum considerably exceeds the scale of a conventional private museum. The building, which exudes both a contemporary and classic vibe, was designed by Kraaijvanger Architects in close collaboration with Van Caldenborgh himself. The main element in the spacious, symmetrical structure is light, which enters the exhibition spaces through 115,000 angled tubes situated in the roof and provide precisely the right amount of illumination depending on the season. The museum also features a special acoustic solution that minimizes noise, letting the contemplative atmosphere inside merge with the peaceful natural surroundings designed by Dutch landscape architect Piet Oudolf. Like the light inside the museum, the garden changes and adapts to the environment along with the seasons, the various forms and textures of the plants highlighting the drama.
Although Van Caldenborgh's collection contains several thousands of pieces and represents a great variety of media – from painting and sculpture to video, photography, and installations – the museum does not feel overfilled. "We don't want to hang them all. We hang just a few. The pieces we want you to enjoy in combination, to admire them, to nearly worship them and say, 'This is good art; I can enjoy it.' And if you feel that feeling, then we've succeeded in doing what we wanted to do," says Van Caldenborgh when we meet.
Van Caldenborgh has been excited by art ever since he was a child. As a youngster, he visited the Gemeentemuseum in The Hague (and especially its room devoted to Piet Mondrian) so often that the museum presented him with an annual membership. He acquired his first work of art as a teenager and has not stopped collecting since. Although he has always enjoyed drawing, Van Caldenborgh realized he would never become a master artist himself and chose a very different field to work in professionally. He founded Caldic Chemie, an international distributor of compounds for the industrial, health and food industries, and served as its president until 2006. However, since the opening of Museum Voorlinden, he has again been focusing on art almost full time.
The museum opened with the Ellsworth Kelly Anthology exhibition, the first show of the American artist's work in Europe in very many years. Along with pieces from Van Caldenborgh's own collection, it also featured works loaned from such prestigious institutions as the Museum of Modern Art and the Whitney Museum in New York, Tate Modern in London and the Centre Pompidou in Paris. Thus the museum positioned itself on the European map of art already from its first day.
Ever since he began his collection in the 1960s, Van Caldenborgh has focused on art created during his own lifetime. He collects art that affects him emotionally, whether by surprising, moving, inspiring, exciting or simply seeming beautiful. Although the collection includes plenty of well-known names (from Louise Bourgeois, Ai Weiwei, Daniel Buren, and Antony Gormley to Tony Cragg, Mona Hatoum, and Robert Morris), it also contains work by many new and lesser-known artists. "It's important what you think of the painting, not whether you know the artist or not. People think they're experts if they recognize the name. But that's nothing. What do you think of the painting? Do you like it? That is what's important," says Van Caldenborgh. At the end of our conversation, we head to the museum's library. Designed by the Italian interior architect Andrea Milani, it holds more than 40,000 books about art, representing approximately 1500 of the artists held in the collection. And many more. With its sculptural spiral stairs connecting the library's two levels, this space is a work of art in and of itself – the ideal setting for its content.
Museum Voorlinden, Wassenaar. Photo: Pietro Savorelli
What do you look for in art? Do you search for connections based in your own personal background? Or do you search for intellectual challenge? What does art mean to you?
There are three things important for me in art. First, aesthetics. We have a lot of minimal art, Zero art and a very little bit of figurative art. I like the aesthetic aspect very much, as I think you can see in the museum.
But also it's important that a piece of art gives you emotion. In my opinion, it doesn't matter too much what kind of emotion it is, as long as it's there. It could be anger or whatever; it doesn't necessarily have to be beauty. Beauty is nice, but it's not the only thing that an artist will put into his works of art.
And last but not least, I like to tell stories, so if a piece of art tells a story or has a story – or, as they call it nowadays, a narrative (I don't know why they use that word all the time) – I like that, too. If I give tours in the museum or in my house or wherever, I like to tell about the artists, how they work, what I think they're thinking, maybe what they disagree with. And since I collect in a very contemporary fashion, focusing on today's art, I know many of the artists, and I like to discuss with them and get their answers on why they do what they do. Very often you find artists who don't really know the answer themselves. That makes it more difficult for me. I like to have a story behind the work.
So it has always been very important for you to meet the artists and talk with them.
Yes, meeting artists is important. For more or less my whole life I've visited artists in their studios, sitting there, having a cup of coffee or tea or a glass of wine with them. Very often not even talking, just looking, feeling the situation, noticing how well organized or how badly organized the artist is – both are fine with me, I don't mind. I like the artists very much. They aren't always nice people – or very often they are, but sometimes they're just not my type of character. If it's "yes", it helps. But if it's "no" – if I don't like the guy, but he makes good art – I'll still collect it.
So, I look especially for what I call good art. That definitely differs from person to person. In any case, it's my own opinion of what's good art, and don't ask me "why" or "how", because I don't always know. I read a lot about philosophy, and in my later years, I've also studied art history because I'm interested in it; it's not my profession. I just like to know more about where art comes from, not just have it on the office or living room wall.
The works by late American artist Ellsworth Kelly hold a very special place in your collection. Museum Voorlinden's inaugural exhibition was devoted to him and opened just a short time after he passed away. What are your most vivid memories of Kelly, what kind of person do you remember him as?
I met him several times, and he was an awfully kind gentleman. I wouldn't say soft, but kind. The last time I met him was three months before he died; we talked about the upcoming museum opening and the exhibition. He hadn't had a show in Europe for a very long time, and he liked the idea very much, but he was very weak by then. He had problems with his lungs. We were there with his partner and we had lunch. At lunch, Kelly said, "I'd like to come to the opening. Is that OK?" I told him it would be a great honor if he could come. "Send your private jet," he said. And I said, "Yes, I will," because I didn't dare tell him that I don't have one. (Laughs)
He never made it to the museum opening. But he was a great gentleman with maybe my most favorite kind of art. It's colorful, it's very abstract... I remember a story. We have in the collection a work by him called Blue Ripe. It's just a square painting with a very nice blue figure in it. I never quite understood why it was called Blue Ripe, so one day when I met Kelly – it was one of the first times we met – I asked him why he called it that. He said he also had one called Black Ripe. Well, Blue Ripe is like everything caught in a square, and here, at this point, it's trying to come out of the square, but it doesn't succeed. I thought that was such a nice explanation. Not "I just made a blue surface that looks nice." No, his work always had much more behind it, always something extra.
Kelly was also a great drawer. His plant drawings are especially good. We have several of those as well. Very often you can recognize a good artist by whether he can draw or not. In fact, my interest in art arose because I'm a reasonably good drawer myself, or at least I was in my younger years. Not good enough to become an artist, thank heavens. But I liked it. And so I had an eye for looking at art, too.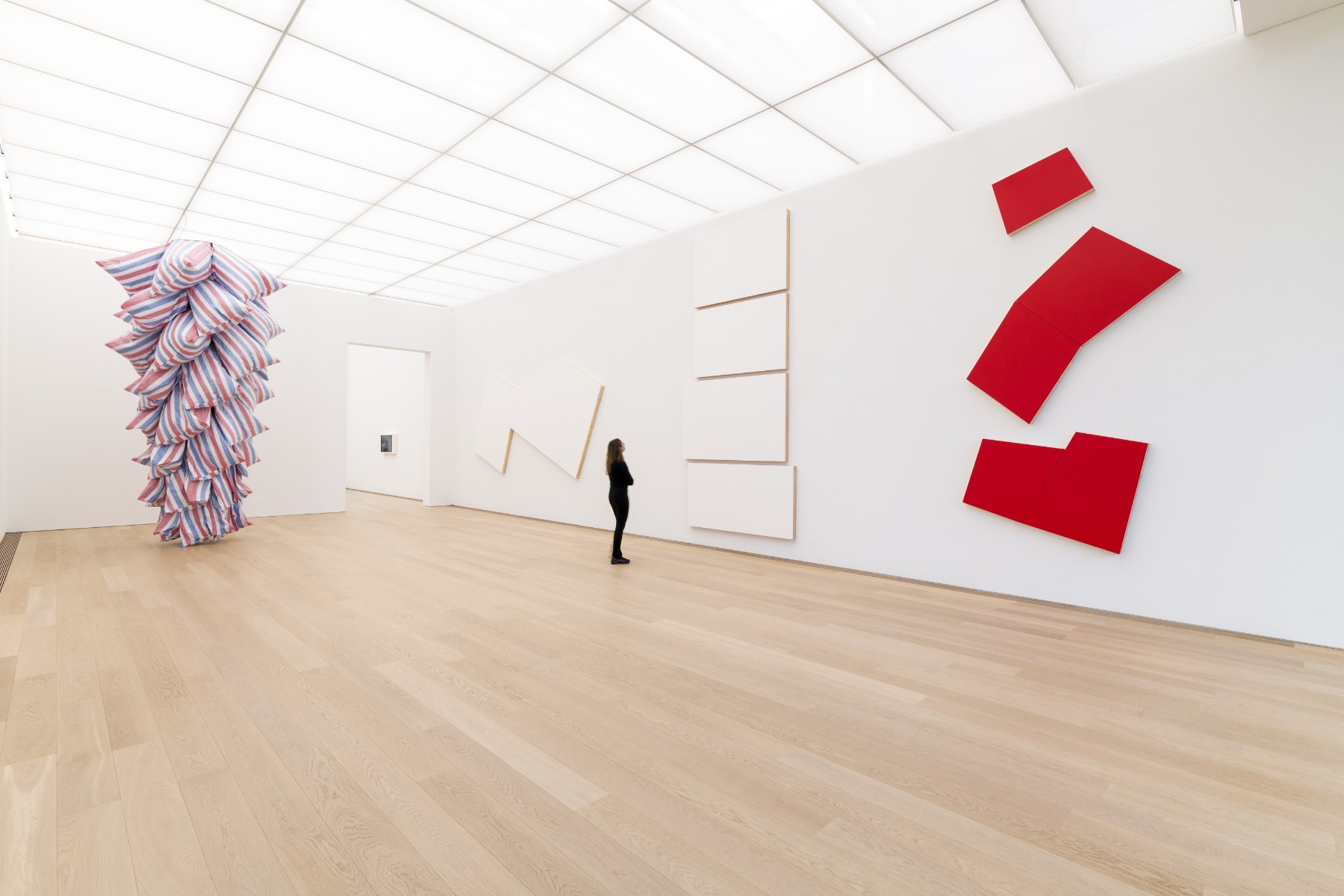 Momentum. Installation view, museum Voorlinden. Open until September 20, 2020. Photo: Antoine van Kaam
Did you try applying to art school, or did you just decide that you weren't good enough?
No, I decided I wasn't good enough and did something completely different, the complete opposite of art. But I did consider art, because the teacher at my school, where I illustrated the school magazine, he encouraged me to go to art school. But I don't regret it at all. Because I'm certain I'm not good enough.
However, you're still in the field of art and are fulfilling this side of yourself from a different angle.
Yes. Although creating is wonderful, too, if you can. I think creating is very satisfying for artists. For some probably more than others, but the act of creation is what drives the artist. And I understand that very much. I love to create.
Creating a museum is also great fun. All the work involved, the trouble of getting permits and so on – it's ridiculously difficult. But when it's finally all finished, it's incredibly satisfying. And when you see you're making a lot of other people happy, that's even better.
Creating a collection is also a process of creation.
It is a kind of creation, but it's a different kind of creation. When you start collecting, you usually don't consciously think "Let's start collecting art!" That's not the case. Now, there are people who do that – for example, "My neighbor collects art, so now I have to do it, too." But that didn't happen to me. I acquired some art when I was very young. I bought it cheap because I didn't have any money. And slowly I acquired more, until after a while my wife asked me, "' Why do you have all these paintings stacked against the wall? You can't hang them all." That's when I knew I was a collector. I did not make myself a collector; it just happened. I don't know why people do it. I loved collecting other things as well, such as stamps and cigar bands, all kinds of things. I loved collecting.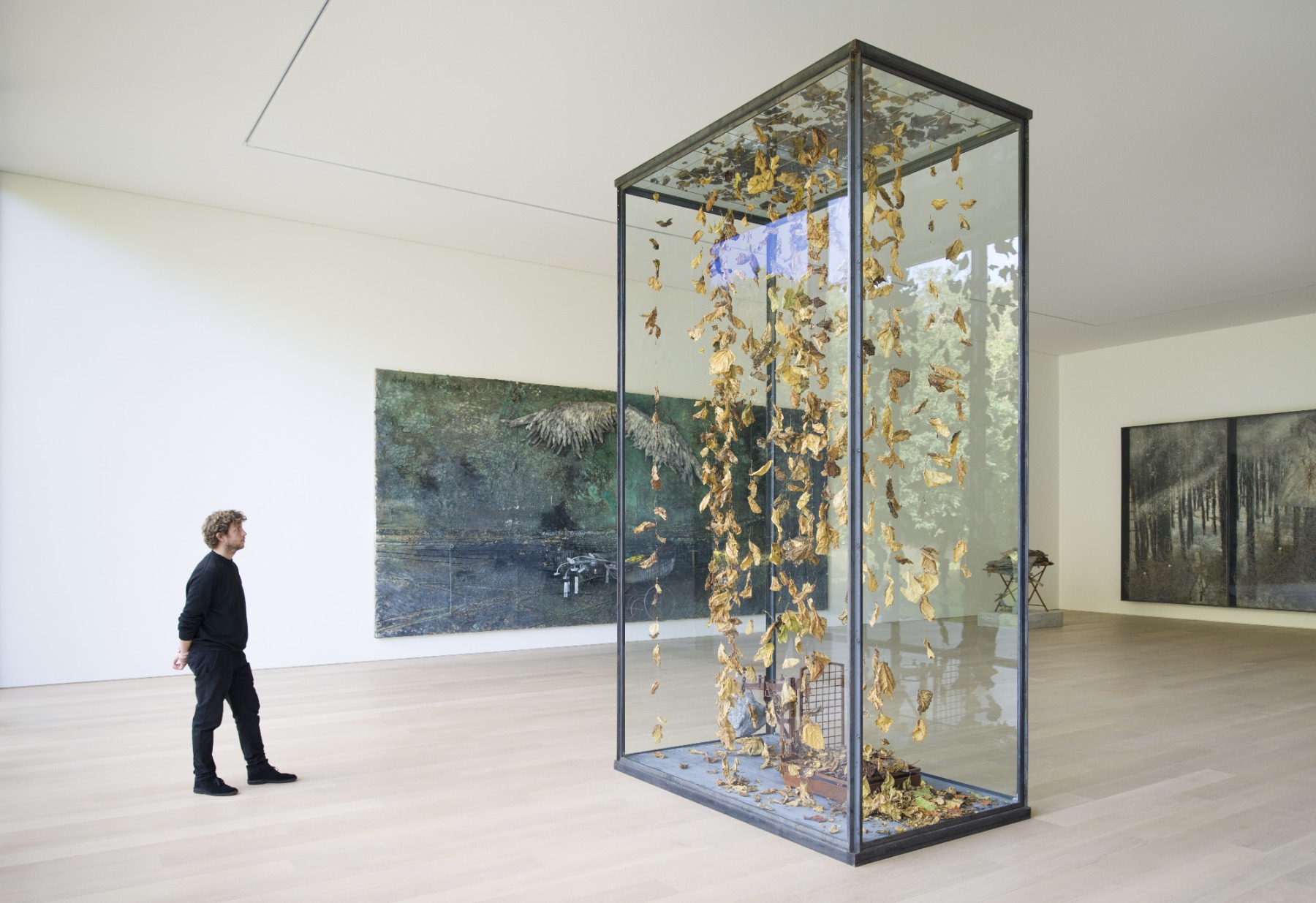 Anselm Kiefer. Installation view, museum Voorlinden. Photo: Antoine van Kaam
Yes, I think it's a passion and addiction at the same time. But returning to Ellsworth Kelly, are you trying to fill some gaps in your collection now that he's passed away?
We don't buy or acquire much backward. If I've missed an artist of my era while the work was still affordable, then I'll look in the mirror and say, "OK, you missed it, you didn't look at it very well." There are so many other interesting things to collect now by artists nobody knows, that I don't mind missing something. So I don't have a whole collection of Ellsworth Kelly's works; they're rather expensive now. I always calculate that with the money I save I can buy ten other works, and I would rather do that.
But buying and collecting from your own era – was that important for you from the very beginning?
If I was able to, yes. One has to discover an artist. You can discover someone very early if you go to art academies and visit the exhibitions they put on. Of course, they don't always show the best work by young artists, because artists develop after finishing their education, and maybe they become more interesting at a later stage. For example, if you look at Mondrian's early paintings, they're nice, I have a few. But if he had continued in that manner, he would have never become famous.
But it's not my goal to say, "Now so-and-so's dead, now I need to have at least ten works by him or whatever." No, I don't think I'll ever do that. Especially now that we have the museum and we've discovered that we can borrow works from everybody. Nobody refuses us anything. We've got works from MoMA, from the Art Institute of Chicago, from the Whitney Museum, etc. They all lend us art.
I know that you're interested in minimal art. There's a famous quote by Rainer Maria Rilke: "What is more mystical than clarity?" Is that, in some way, a reason why you find minimal art so relevant?
Awfully true. Most of the time I have very minimal works around me because they're very often much more interesting than the more figurative works. A figurative work, before you know it more closely, is often quite simple in what it means; there are great exceptions, but still. But with minimal work, you can think what you like, you can make up a fantasy, see things nobody else sees. I think you can probably look at minimal art for a longer time than a figurative work of art.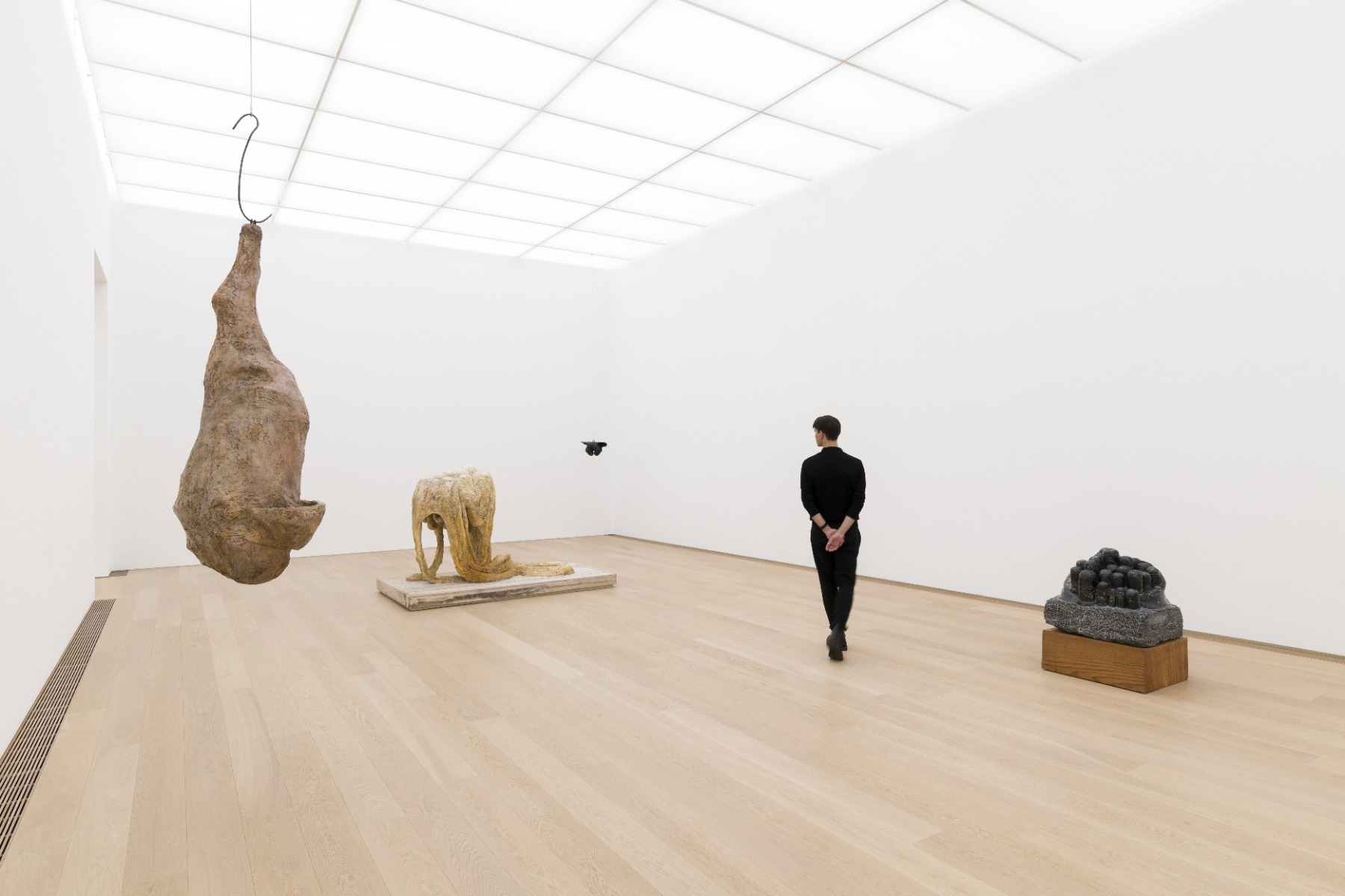 Louise Bourgeois, To Unravel a Torment. Installation view, museum Voorlinden. Open until May 5, 2020. Photo: Antoine van Kaam. Glenstone Museum, Potomac, Maryland Louise Bourgeois © The Easton Foundation/VAGA at Artists Rights Society (ARS), NY/Pictoright, Amsterdam 2019
Sam Keller, the director of the Fondation Beyeler, once told me in an interview that the most important thing he learned from Ernst Beyeler was to look.
I met Ernst Beyeler a few times, a very nice gentleman. And he had a great eye. As you can see in the collection of Fondation Beyeler, nearly all of the works they have are great. We have many more works than they have, but they're not all as great as theirs. Which I envy them for! (Laughs) Sam has helped us a lot with advice in building the museum.
But if you're open to it, you can learn to look. You can become an expert if you do it enough. It's the same with everything you do in life. If you work with horses your whole life, you'll understand horses better than I do. I'm afraid of them. And the same goes for art. People ask me, "How do you know before we do that this is good art?" I don't know. But OK, I maybe have a kind of feeling for it, and that's because I've been doing this for sixty years. I hate to say it, but I'm an old guy! If you've been doing something for a very long time, you naturally become an expert to a certain extent.
I don't like that word, by the way. I don't like being an expert. Everyone knows something. I don't know much more than you or anybody else. And I doubt anyone can really call himself an expert. He maybe knows many names or artists or whatever; maybe he knows the market or all this kind of nonsense. I'm not bothered by that. But once you try more, you know more. That's it. In any field.
Speaking about time, you've been collecting art for already more than fifty years. According to psychologists, most people experience a greater or lesser existential crisis every ten years or so. How has your approach to collecting and art in general changed over the years?
I'm not the crisis type. I'm a very optimistic person. I've never known depression, thank heavens. I've been very busy my whole life, so I've never had time to think about illnesses or mental problems. Certainly, though, you do develop and are influenced by external factors whether you like it or not. If a person says they're never influenced, that's nonsense.
I remember when my youngest son was born, I said let's call him Victor. Nobody calls his son Victor anymore; it's a very old name. It's a nice name, my wife agreed, and we called him Victor. And I thought I was being original. Then six years later he started playing field hockey. And there were these eleven little boys outside, and I shouted, "Go forward, Victor!" and four boys ran forward. Because there were four sets of parents at the same time who thought of this name for their sons. And they all thought they were exclusive. So, you're influenced by trends whether you know it or not.
And it happens in art as well. I read a lot about it. I read magazines, all kinds of things, I see a lot. It's true that we're influenced. And it's good that we're influenced; that's maybe even what we want. Everybody is influenced by whatever: by reading the newspaper, by watching television, by traveling, etc. There are a lot of things that influence us without our knowing that we're influenced. You wear different clothes. If you look back and see old photographs from, let's say, thirty years ago, and you think what funny bikinis, or what strange shoes, or whatever. I even remember a time when all gentlemen wore hats. But nobody wears a hat anymore. And how does that happen?
Nowadays in the Netherlands, nobody wears a tie anymore. I'm one of the last Mohicans still wearing a tie. And things like this seem to change in a very short period of time, three or four years. Not so long ago all of these lawyers and bankers would never have gone without a tie, but now they do because the time has come. I'm still fighting against it, but I know I won't win because the trend and the fashion are much more important than I am. I cannot change that.
Ron Mueck (1958), Couple under an umbrella (2013). Museum Voorlinden, Wassenaar. Photo: Antoine van Kaam
But why do you have this need to fight against change?
I think it's a certain kind of conservatism. I like to be modern, but that doesn't mean that you are.
At which moment did you as a collector understand that you were ready to show your collection in the context of a museum? Is a museum a consequence of having a collection?
That took a very long time. If you look at my past interviews, the last question was nearly always "When you are going to build a museum?" And I always gave the same answer: "Never." I remember.
Never say never...
Exactly. In 2010 our director, Suzanne Swarts, and I did an exhibition at Kunsthalle in Rotterdam. They had asked for it, and I said OK. I said I was willing to do an exhibition, but only if I could plan it all myself. I wanted to place the walls, I wanted to select what we hang, I wanted to do everything and not have the museum involved. If they wanted to get involved, I wouldn't do it. They thought that was difficult. We called the exhibition I Promise to Love You, after Tracey Emin's work, and besides being a great success, it was also great fun.
I remember the museum people asking me back then, "When are you opening your own museum?" And I said never. Although that exhibition in Rotterdam triggered the idea of having my own place. Suzanne and I liked this process of making the exhibition so much that we said we needed an exhibition space of our own. We didn't dare call it a museum. When we built it, it was always "the exhibition building". Now we call it a museum because that is the right word, I cannot help it. But basically it's an exhibition space.
In 2010 I also retired from my job, so I had more time. We acquired this property already with the purpose of building a museum. And now after doing it, I don't understand why I always said I would never open a museum. Making your own exhibitions and talking with people to get loans or putting it together, it's all incredible fun.
Momentum. Installation view, museum Voorlinden. Open until September 20, 2020. Photo: Antoine van Kaam
Are the exhibition ideas mostly yours?
No, not necessarily. They're based on discussions we have together with Suzanne. Most of the time, nearly always, there's a work or artist in the collection that we choose as something we would love to see shown. We cannot do exhibitions of all the artists we have in our collection, because we have so many. But we're now already thinking ahead to the years 2022 and 2023.
This year in May you're going to exhibit Antony Gormley. Why did you decide on him, because at the moment it seems like he's being shown everywhere: on Delos island in Greece, at the Royal Academy of Arts in London. Is that just a coincidence?
It is a coincidence. We thought of this exhibition already a long time ago. Antony Gormley is a very nice person, first of all. And I think he's a great artist; we've collected him from nearly the beginning up until the present day. And that's a fairly long time, thirty years or so. There aren't that many artists we've followed so well. So, that's why we arrived at this idea.
We don't like always taking the straight path, so to say. We also choose difficult paths. But we have nothing against the fact that somebody is well known or famous. We're not very contemporary-art centred, trying to bring the newest of the new. We do it from time to time, but that's not our aim. We want to make great exhibitions.
The first thing I felt when entering your space was this feeling of harmony, a unique harmony between art, architecture and nature. This is actually very rare. I've experienced it this deeply only once before in my life, on Naoshima Island in Japan. And now here.
There it's better than here. Did you stay at the hotel on Naoshima?
Yes, at the Benesse House.
You lie on your bed and look out the window, and the horizon is exactly in the middle of the window – I thought that was incredible. And it's a great feeling just walking through the little village and finding the spots where they have things displayed in the different houses. I think that's a great way of doing it.
Museum Voorlinden, Wassenaar. Photo: Pietro Savorelli
What were the main guidelines you gave the architects when you discussed the future building for Museum Voorlinden? I'm sure you did some brainstorming...
The word brainstorm is too nice a way of putting it. We had fights. (Laughs) It was difficult. But in the end we got what we wanted. So, the very first thing I said to the two architects we had was: "I want this space to be completely dedicated to art. I don't want a space for architects; I want a space for the art that we collect." Meaning, I wouldn't hire Frank Gehry. Nothing against him, he's great, but he's not for us, not for this project. That style is for showing what a great building a museum has, but it's not good for the art. Neither in Bilbao, nor in Paris now. Is it spectacular? Yes, that I have to agree with. But you have all sorts of strange rooms, different kinds of walls, nothing is straight. It's difficult. I have too much of a mathematical mind to enjoy that.
On the other hand, if you go into our exhibition space here, you find nothing on the walls, ceiling or floor that disturbs your ability to look at the art. Nothing distracts you. You don't even see the exit signs, which are obligatory by law – I invented a way to hide them.
Considering your long history of collecting, do you think that every art piece needs a viewer, a spectator, someone who looks at it?
That's a very interesting question. The artist tries to express something about himself or the environment or the era he lives in. That's what he does. And basically – although not all artists are – he's an exhibitionist. An exhibitionist via his art. Meaning, it has to be exhibited, either in a home, or in a museum, or any place dedicated to art. I don't think the aim of the artist is to put it somewhere in a garage and never see it. Otherwise why would he create it? So when we decided to build the museum, we knew that we would have visitors and that we would like to please these visitors with our art. And not just keep it for ourselves, which is a different kind of fun.
Do you agree that all good art should end up in a museum?
No, not everything necessarily has to end up in a museum. All together, there's much more art in people's homes than there is in museums. Museums should maybe have the better art, and that art will eventually end up in a museum anyway. People will donate it, or, if it has the means, a museum will acquire it sooner or later. Many museums buy "backwards", because it's difficult for them to buy now, while the art is current.
So yes, many works will end up in a museum, but if artists keep on producing as they do nowadays, the whole world will eventually be a museum. There are a lot of people calling themselves artists today. I have nothing against that, not at all, but still...we don't have to turn the whole world into a museum. So, art is also about the things you live with. A museum has something a little sterile about it, but art can just be something lively in your bedroom or wherever.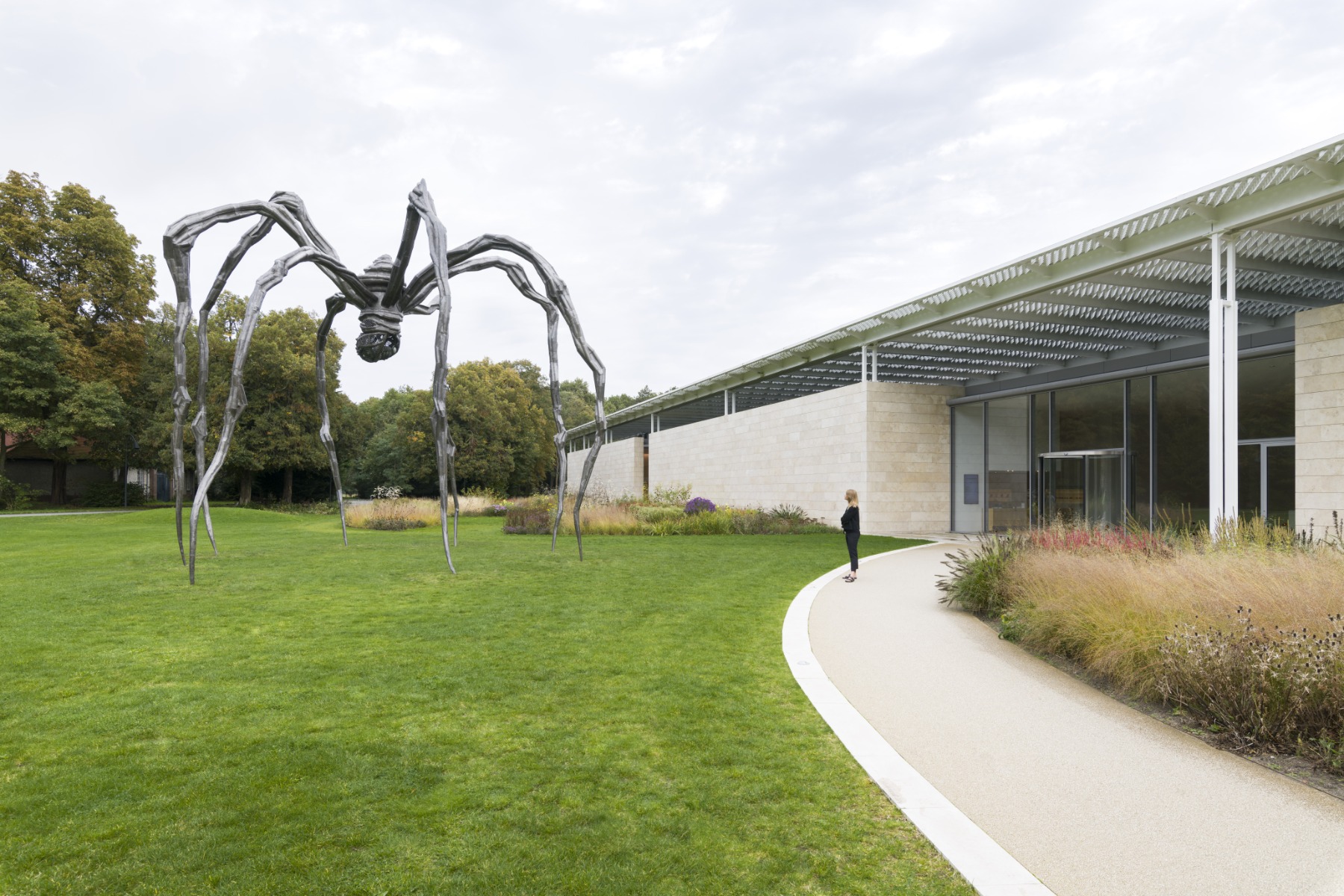 Louise Bourgeois, To Unravel a Torment. Installation view, museum Voorlinden. Open until May 5, 2020. Photo: Antoine van Kaam. Glenstone Museum, Potomac, Maryland Louise Bourgeois © The Easton Foundation/VAGA at Artists Rights Society (ARS), NY/Pictoright, Amsterdam 2019
But what makes something a work of art, besides the fact that it's created by an artist?
There is an artist – I can't quite remember the name – who said, "This is art because I make it." And then later Joseph Beuys said, "Everybody is an artist." And they're both right. So, that brings us back to the question of what is an artist. An artist makes art. And what is art? It's something made by an artist. And there you are.
It's easy to create something. It's only difficult to create something very good, or something that's very moving. And it's very often the case that no one else could do it, either because of the technique or the process of thought involved. But some techniques are very simple, and people say, "I could do that, too."
I remember one time...there's a big celebration in the Netherlands on the 5th of December, Saint Nicholas Day, when we make surprises, or gifts, for each other. And one year I thought I'd make a Mondrian for my daughter, who was studying art history at the time. And that's when I found out how much of a genius the guy was. I only tried to reproduce one of his works, and I can paint and draw quite well, but it was not simple. And don't forget, just copying a work is nothing. I can do that, too. But if you didn't think of it first, then it's not your idea, it's somebody else's idea. Many artists follow other artists and do a kind of copying with their own little touch. And the art of collecting is that you find the one who was the original, not the ones who only copy others.
How easy or difficult is it to find the perfect place for art? Many sculpture park owners say that's their biggest challenge – finding the right place to create the right dialogue...
That's difficult, because many collectors and exhibitors want to display too many things, and then they get in trouble. I don't understand why museums sometimes have these huge halls full of sculptures. I see only a large group of sculptures; I don't see individual sculptures. I look at one and then a second one and a third one, and then I can no longer see any of the other twenty-five sculptures in the room. It's too much. So museums should have different rooms. A single room can be devoted to only one piece, that's great. And the same goes for sculpture gardens.
In our sculpture garden we've spent a lot of time finding the right spot for each work, very often together with the artists themselves. I remember a nice story. I had acquired a work from Giuseppe Penone, a nine-metre-long branch with water coming out of it. He was here when the work arrived, and I said, "I want to select a place for it together with you." So we walked through the woods for maybe two hours and had selected one or two places, but neither of us were very happy with them. In the meantime, my art helpers and gardener, along with the truck driver, had unloaded the work of art and just set it down somewhere. And when we arrived, we both looked at it and said, "This is the perfect spot!" It was under an oak tree, it was an old branch, and it was exactly where it should be. Penone said, "What have we been doing? This is it!" And it's still there.
So yes, placement is important, just like it's important in a museum. What do you combine – not only in the name of the combination or the name of the exhibition, but also how the works communicate with each other and create harmony. That is important.
In a way, with Museum Voorlinden you also provided a home for artists who dream big. You have a piece by Richard Serra that weighs 216 tonnes. Have you found an answer for why artists have this need to work on such a gigantic scale?
I'm not necessarily thinking of Serra, but I think artists sometimes go for, say, the amazement factor, surprising the viewer. And you can do that in several ways. One of the ways is to make the work bigger than we expect. Another is to make it smaller than we expect.
Richard Serra (1938), Open Ended (2007-2008). Museum Voorlinden, Wassenaar. Photo: Antoine van Kaam
Like Maurizio Cattelan's little elevator.
Yes, that's it. Cattelan's work with the small elevators, people melt for it. Children crawl up to it on their bellies and look at it. I've always told them the little dwarfs are in it. They all believe it and love it. And at the same time we have the big couple by Ron Mueck, who are twice as big as normal human beings, and people love that, too. Because it "puts us on a different leg". And they admire the effect and how precisely it's done. It's the same thing – the artist likes to surprise us a little bit, and that's what we seem to appreciate. So, although the market maybe doesn't ask for it directly, people really like it.
Already in the Middle Ages people started doing things they liked. They'd have Jesus Christ in the middle, but on the sides they'd paint the people who paid for the painting. Because paintings were expensive, and they were proud of being rich and being able to afford them. So they wanted to be included in the painting, and that was meant to surprise other people. "Oh, you're in it!" Before then, only holy people were painted, whereas now they also painted normal human beings. And that's still the case today.
But Serra is different. He works on this big scale once in a while, but not always, because he likes the strongness of it, working with five-centimetre-thick steel, which is very difficult to forge into two different curves. When he came here to see the piece, he nearly wept, he liked it so much. And he's a tough cookie.
What do you think is the role, and maybe also the responsibility, of a collector in our times?
To start with, I think a collector has no responsibility at all.
Yes, you can burn your collection.
You go ahead. You see many collectors who enjoy the process of collecting, of bringing things together, hanging them in their house, and they're very happy. They have good pieces, they exchange some for better pieces, until they have something really beautiful. And then they die, and the children sell the collection. And basically there's nothing wrong with that, because it's good again for other collectors. Like an art trader I know says: "If it goes to a museum, we never get it back; if it goes to another art collector, wonderful. One day it will come on the market again." And so collectors don't really have a responsibility to do anything with their art. I did it out of joy, to keep it. And so that the children could not sell it anymore, I've given it all away to the foundation; it's not mine anymore. I did that just last year. I gave everything to the foundation, because what will I do with it? And that's also enjoyable, but it's not a responsibility. Now that I've done it, though, I have the responsibility to see that it's able to continue. Many collectors don't think about that, but I do. The art is now secured, and it will stay around for at least as long as we all like museums. A hundred years? I don't know.
Momentum. Installation view, museum Voorlinden. Open until September 20, 2020. Photo: Antoine van Kaam
But do you think good collectors are also critics in some way, for example, in the way they choose the pieces they acquire?
A collector is very critical if he's good. He should be. He's critical, and he doesn't take everything. But he's also adventurous. I'm critical, for example, about whether the art is well made, whether it has something behind it, etc. All kinds of little things that go through my mind. But I can also decide in an instant. Collecting is a part of life, and not everything in life is serious. A part of it is, but there are enough serious things in life, so let art be the more enjoyable part. Like I say, with art you're allowed to laugh as well.
And at the same time live several different lives.
I have a completely different career, I love it.
You've seen very much art over the years. How often is it still able to surprise you?
Regularly. Still. But since we have the museum, it's more difficult. I see too much in museums all over that disturbs me. For example, the art's not good, it doesn't hang well, there's too much, whatever...and I forget to look at the great paintings. That's wrong. So, I have to force myself – forget about it, look! Thank heavens, we still acquire a lot of new works. If I go to the galleries in London, Paris, New York, I see maybe ten galleries in a morning, and in some galleries I don't even stay for five minutes. That's wrong, too, because if I'd stay a little longer, I'd see more. I usually don't take notes; I only make mental notes of what I see, and the next morning I look to see what's still there in my head. Then I go back to see the art again. Then it might happen.
Do you ever enjoy your museum completely alone, wandering around it late in the evening? If yes, how does it make you feel?
The museum is usually closed at night.
Joop Van Caldenborgh. Photo: Lidian van Megen
But you can open it, it's yours.
I can't open it, it's very well secured. I cannot just go in on my own, and I'm OK with that. I could arrange it if there's a group of people coming before or after hours, but just for myself, no. In the early morning, though, yes. I very often walk around the museum between 8:00 and 11:00 in the morning.
And then you're alone?
Alone.
And how does that feel?
I love it, especially when one of the exhibitions is new. Because the museum does something extra to the art – it has the right spot, the right light, and the right space where the art can hang. As you may have noticed, we never hang artwork very close together. We might leave a whole wall empty, or hang just a little thing like that on it. We like doing that, because we want you to concentrate on and enjoy this or that particular work. The best thing I could do – but we don't, although maybe I will do it some day – is to give everybody a chair and set them down in front of only one piece of art for half an hour.