I need a challenge
An interview with art activist and collector Sandra Hegedüs
Sandra Hegedüs is a Brazilian-born, Paris-based art activist and collector. She has studied philosophy and cinema and was active in art processes in Brazil in the early 1980s, participating in performances, happenings and urban interventions.
Hegedüs founded SAM Art Projects in Paris in 2009, and the association has gone on to become a significant part of the French art scene. The organisation's philosophy is based on the conviction that much of today's art remains unnoticed and unknown and the desire to change the perception of art audiences, which are to a certain extent blinded by the famous names, seeing and taking notice of only the small proportion of art created by superstars. "People see what they know; the eyes see what they recognise. But in truth, people often simply don't see. Unless you really focus their attention, for example, with a large-scale solo exhibition at a museum. Then suddenly they notice the artist. But otherwise they go and they see – ooo, Anish Kapoor! But they don't see a lot of smaller, interesting things. They know the names of what they know. It's difficult to push more names into their view," says Hegedüs during our conversation in her apartment in Paris.
The mission of SAM Art Projects is to popularise French art on the local and international stage and at the same time offer opportunities for artists from areas outside the art market's field of view to gain recognition in France. It is important to note that in the majority of cases these are artists who are already quite well known in their homelands. SAM Art Projects is a purely private institution that ensures its high credentials by attracting well-known and respectable professionals to serve on its committee. The foundation hosts a residency programme as well as the SAM Prize for Contemporary Art. Each year, two artists from countries outside Europe and North America work at the SAM residence in Paris, concluding their residency in June with an exhibition at the Palais de Tokyo, one of the most influential art institutions in Europe today. The exhibition of the SAM Prize for Contemporary Art winner also takes place at the Palais de Tokyo, only in February. Any artist residing in France representing a project that is intended to be realised outside Europe or North America may apply for the competition.
SAM Art Projects is one of the most important aspects of Hegedüs's life right now. "I don't define myself as a collector," she stresses. However, it is precisely with collecting that she started out, and collecting is not something that she has left behind in the past. Already as I enter the courtyard of her apartment building, I look upwards and immediately recognise her windows, which glow unmistakably with neon lettering on this dark Parisian evening. As I later learn, texts are one of Hegedüs's passions. Almost all of the very many works of art she lives with bear some kind of lettering or sentences. I even find an inscription when I look up at the ceiling.
"Gardiennes d'images", Zineb Sedira, Prix SAM 2009, Palais de Tokyo, Paris 2010 © André Morin Production and courtesy SAM Art Projects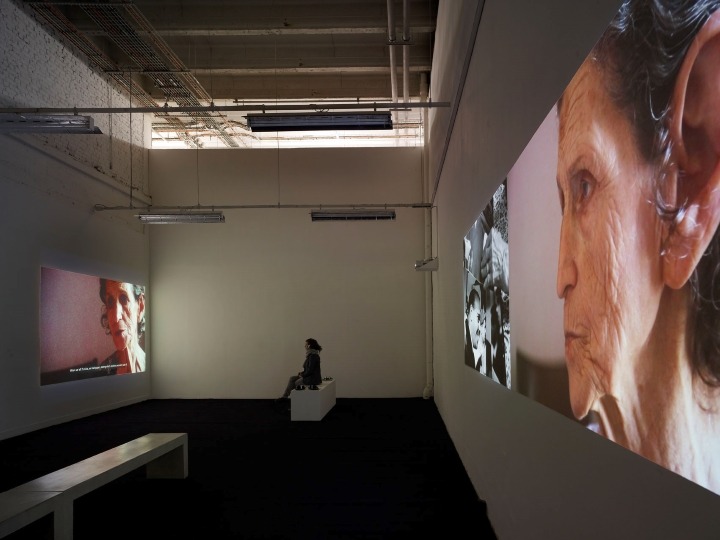 You are really obsessed with texts...
Yes, there are texts everywhere. For example, I really love Douglas Gordon and his writings. "Serve the good cause and die" – that can be applied to so many things.
Do you know where your enthusiasm for texts comes from? Does it come from your philosophy past?
Maybe. I love reading. Really, books are my first friend. There are certain themes on my collector's side... It's like a big puzzle. My collection is a story.
About what?
It's all about me and about what my life is going through. There's a lot of humour, a lot of written things. I have a lot of works of art about time. About love, about death, about time passing and about the world of a child. They're all my obsessions. I like it if people sometimes get uneasy about something. I live with my art, and my kids and cats live with it, too. It's not a museum; it's my space. I wake up and I come to these works, and they question me every day. Sometimes they take me out of my comfort zone, and I like that. I don't like to be in my comfort zone all the time. I need some kind of challenge, some kind of... Otherwise you get lazy in your thoughts. You need to be pushed around a little bit. That's what art is about for me. You have to be pushed in your questioning, pushed into what's not comfortable for you.
"Poems for Earthlings", Adrian Villar Rojas, resident SAM 2011 (Argentina), FIAC Hors les murs, Tuileries Garden, Paris, 2011 © Marc Domage Production and courtesy SAM Art Projects
But do you think that art has the ability to change anything?
For sure. It's a very free vision. Artists see things in a way that the world cannot see them. They influence the perception of big issues. I really believe that. Art and culture – not only visual art but also literature, music, etc. – they all have a vision. Artists see things before we do. I don't think that art can save the world, although it would be marvellous if that were possible. Unfortunately, the situation is very crazy right now. I'm still trying to understand how we got here and how we might get out of here. But the artists have antennas, and they were seeing all of this before us.
Do you collect impulsively, or do you make pragmatic decisions?
It's a kind of impulse when I understand that I need that one, very specific piece. Mainly, it's important that the work of art is a part of my own story. I just bought a piece by Eliza Douglas. It's a work of art that's a pile of t-shirts with the different logos. I really love it because it's a life story, it's about everything that we defended in our life. The rock groups that we loved, etc. And about how life passes and we throw that all away. They're like a pile of skins that you once wore. Like a snake, you're constantly changing your mind.
It's important that the works of art I collect speak to me in a very personal way. I can buy a work by an artist whom nobody has heard of or a work by a famous artist, but it has to speak to me. So for me, acquiring art is absolutely emotional and impulsive and connected to feeling more than anything else.
And do you plan to put that pile of t-shirts here, in your apartment?
Yes. I don't yet know where, but definitely. But I always find space, or else I take down an older piece and put it in storage.
"Baitogogo", Henrique Oliveira, resident SAM 2013 (Brazil), Palais de Tokyo, Paris, 2013 © André Morin Production and courtesy SAM Art Projects
Do you know how many items you have?
No idea... But that's something I should find out, by the way. I have to get more organised. I've been collecting art for almost fifteen years. That's not such a long time, actually. People do it for thirty years and more. My first piece of art was by a Brazilian artist who lives in France. Her name is Janice Melhem. It was an abstract painting.
But in general, it all happened very quickly. At the beginning, though, you're always unsure of yourself and you listen when others tell you that you've just got to buy this or that piece. You're not sure of yourself, and as a result you buy something that's not for you. It's the same thing that sometimes happens with a piece of clothing. You go and they say, "Oh, my God, you look great in those pants!" And so you buy the pants and just put them in the closet. But now I'm more careful. I know more; I know what I like and what's really part of the story.
Do you sometimes try to sell your mistakes?
It doesn't work. I just put them in storage. It's so much trouble just trying to think about selling something. But it's trouble for nothing. There's no real second market for contemporary art yet. It's just for a few names. And mostly they're not French.
Could you characterise today's French art scene?
It's very interesting, because if you take German, American and French artists with equal careers, you see that the market price for French artists is much lower. But they aren't any worse than the others as artists. So then the question arises: why is the price for Germans so much higher? I really love French artists, but I think there was a sort of protectionism in this country that was well-intentioned but worked against artists. They became kind of like state artists. For many, many years the only people who bought art in France were the state art centres. There was no real market with private buyers. In Germany or in the States or in England there was a real market being created, which made the price of artists dramatically increase. I don't think that French artists are better or worse. The question is how can the French catch up.
Since the 1980s, when the socialists were the ruling party here, the French art scene has been supported by the state. At that time there was a lot of money in the budget for culture. But that has extremely decreased, and now we have to deal with it. But the state bought a lot of art. And so exhibitions can be put together, and the state is still buying a lot of art.
"Bordel monstre", Asim Wakif, resident SAM 2012 (India), Palais de Tokyo, Paris, 2012 Curator : Daria de Beauvais © Marc Domage Production and courtesy SAM Art Projects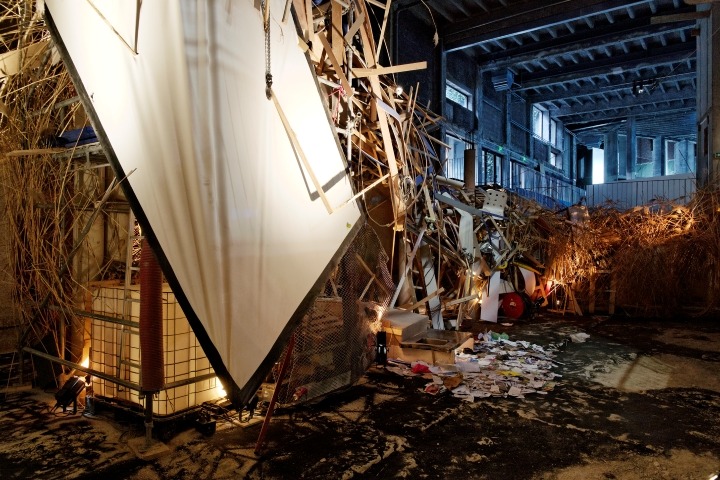 And what about French collectors?
They're not like collectors in Germany or in Belgium, who buy Belgian artists. French collectors mostly don't buy French artists, and that's a pity. It's very bad if collectors don't support their own artists. But I do (laughs).
You're from Brazil, so you know the South American art scene well. What is its essence? And does it differ from the art scene in Europe, or from the French art scene?
Politics and the state of the world are a big influence on how artists create. The political context in Venezuela or Brazil definitely influences how the artists react. These countries were colonies, they have experience with military dictatorships, they have a totally different history. And all of the artists there are part of that history. They were born there, they studied there, they live there. So their production comes out of this history. This affects the themes that they work with, but in terms of form their work is not different. Maybe sometimes, but not really.
There's very much art by South American artists in this room, but can you distinguish them from the rest...without me having to tell you? I know which is which, I know their stories, and I know what kind of materials they work with. But if you look at them in terms of form, there's no difference.
Maybe they are more socially and politically engaged...
I think so. But it's the same at the present moment in Europe, because now is a preoccupying moment. When you look at what's happening around Italy, in Great Britain, etc., artists will create according to these things, because they are worried. Artists are always extremely sensitive to everything that goes on around them.
"El Brujo", Louidgi Beltrame, Prix SAM 2014, Palais de Tokyo, Paris, 2016 Curator : Julien Fronsacq © Aurélien Mole Courtesy de l'artiste et Galerie Jousse Entreprise (Paris), Production SAM Art Projects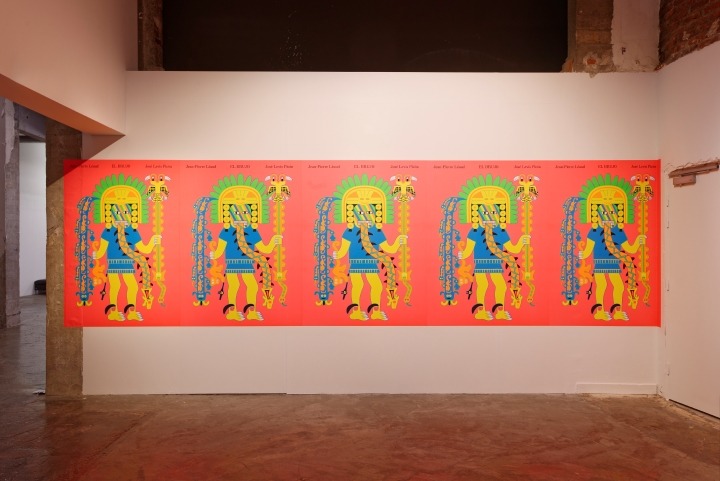 At the beginning you mentioned "my collector's side". How did you go from collecting to the idea of establishing SAM Art Projects?
Because people were coming to see my collection. They would see a lot of artists in it whom they didn't know, such as Brazilian artist Dora Longo Bahia, for example. And they would say, "Oh, this is great!" They didn't know her, but she is very famous in Brazil. And that's how I began, because I realised there was a problem. People who are stars or very famous in countries out of the view of the market, they are invisible. How can I help them get the visibility? And that's how the project started. I work mainly with confirmed, mid-career artists who are well known in their own countries but not known in the market. I don't work with really young artists; that's not my role. My role is to give visibility to artists who are already established but aren't getting visibility.
People see what they know; the eyes see what they recognise. But in truth, people often simply don't see. Unless you really focus their attention, for example, with a large-scale solo exhibition at a museum. Then suddenly they notice the artist. But otherwise they go and they see – ooo, Anish Kapoor! But they don't see a lot of smaller, interesting things. They know the names of what they know. It's difficult to push more names into their view, to make people open up to artists from countries that they don't know. But I think, so far, the actions we've taken have really worked. Because a lot of the artists who have participated in my residencies have then "exploded".
I started with art collecting, but I very quickly became involved in other kinds of activities. So, I don't define myself as a collector. I'm more interested in SAM Art Projects than in collecting. But, of course, I live together with art. But I have a need for these other activities of mine – to make the art of my time exist. Supporting art is super important for me.
What is the structure of SAM Art Projects? How does it work?
SAM Art Projects is based on a committee that works for a period of three years, and then a new group takes over. The committee consists of people who are highly respected in the art world. With this committee we choose artists to come to the residency. Each member of the committee proposes one artist, and then we vote. Also, we vote for the prize that we award for the French art scene. From May until September, French artists can send us projects that they want to do outside of France and outside of market countries. No Europe and no United States. Then, in December, we get together and decide who wins the prize. This means that the winning artists receive money to realise their project, and they must complete it within a year's time. They then also have a show at the Palais de Tokyo, and the book as well. I do three shows every year at the Palais de Tokyo: two are linked with the residency artists, and the third is the exhibition of the prize winner.
"UNTITLED (OF OCCULT INSTABILITY) [FEELINGS]", Dineo Seshee Bopape, resident SAM 2016 (South Africa), Palais de Tokyo, Paris, 2016 Curator : Adelaïde Blanc © Aurélien Mole Production and courtesy SAM Art Projects
How long are the artists' residencies?
It depends on their needs. On their first trip here they take a look at everything – the work spaces and the exhibition space at the Palais de Tokyo – and start thinking about what they want to do. And they also find out about the opening date of the exhibition. They have to decide what they need in order to be ready by this date. It depends on the project. We're very open. It can be six months, or it could be one month. It depends on the artist. They are all different, and they all have different projects. And also different techniques, some of which are very complicated. There are no restrictions regarding the media. They do the project that they want to do. Most of them are site-specific, and all of them are new works of art.
And what is the 'white card' that's mentioned on the SAM Art Projects website?
People invite me – they tell me that they'll give me a space during such-and-such an event and that I can do whatever I want with it, invite artists, etc. That's how I've worked with, for example, Nadim Asfar, whose exhibition took place at the Hôtel Villa Victoria in Nice, and also with several other artists.
Why exactly the Palais de Tokyo?
Our collaboration began during Marc-Olivier Wahler's time. I just went to him and said, you know, this is what I want to do... And you know, it's been the same with everybody else as well. Maybe because I'm Brazilian and I don't have these codes like you shouldn't ask things like that – I mean, people don't just go around asking for something like that... But I did. Actually, I know the codes, I just ignore them. But the fact is that everybody I asked said yes.
I arrived at a good moment. I arrived at a moment when France was in transition, and also because public money was drying up and people were saying maybe we can start working in an intelligent way with private money as well. So, my project passed as a part of this intelligent way. Of course, the committee is the key.
It's not me who chooses the artists. I don't say I have a cousin who does aquarelles. I sit down with really respected people of the art world. We choose artists in a very free way, and they have to be good artists. For the residencies, the artists first come just to meet the curator, to meet the director of the Palais de Tokyo, to see the spaces, and to start the process.
"Vues de l'installation", Rodrigo Braga, au Palais de Tokyo - Mer intérieure - SAM Art Projects, 2016 © Rodrigo Braga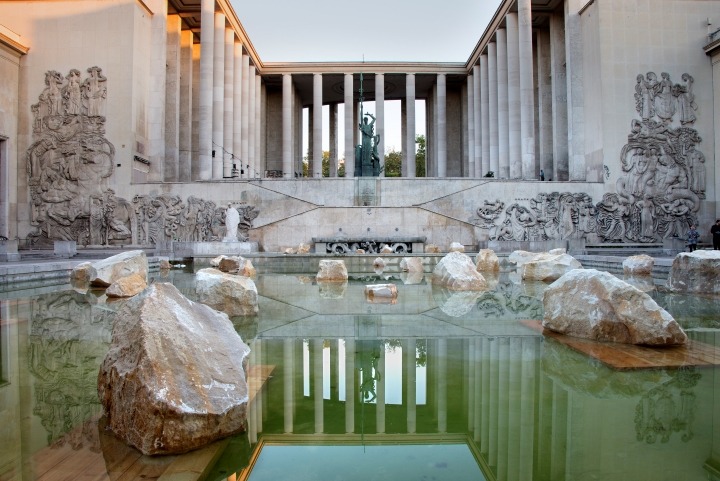 You're also on the board of the Palais de Tokyo. What do you think about the role of art institutions in today's world?
I think they're super important, because they're real spaces of liberty. This year the Palais de Tokyo will be doing a big show on Africa because it will be the year of Africa in France. I'm sure we're going to see a lot of very exciting artists coming from the continent. In France we're very lucky, because a lot of national, regional and municipal art structures have been created. That's super important, because people grow up with that. Art is accessible to everybody. In Paris you have access to very good exhibitions, and it's the same in all the other cities. For example, Nicolas Bourriaud is in Montpellier right now. He's an amazing guy. He's doing great things! He can fill a whole large area with interesting projects and thoughts. Or if you go to Toulouse, there's Annabelle Ténèze, who's also doing a great job! And so on... It's very integrated. I think we're very lucky.
The art world is still very much a boys' club. How do you, as a woman, feel in it?
I've never really felt that it's a man's world. I've never had any trouble, any obstacles. I went in like a bulldozer and have never felt that being a women is a problem. If you look at my prize, there are more women who've won it than men. About an equal number of men and women have worked in our residencies. For example, this year (2019) one of them was Felipe Arturo from Colombia, and the other was Taus Makhacheva, a woman from Dagestan. Next year I'm having one woman: Libia Poasada from Colombia and one man, Maxwell Alexandre from Brasil. On our jury we are five women and only three men. Right now the president of the Palais de Tokyo is a woman, Emma Lavigne. So I'm working a lot with women.
I know that in your youth you participated in performances, too.
Oh yes, I did! That was in the 1980s, when we were all doing crazy stuff. We were in São Paulo, but we were pretending to be in New York. We were fooling around, doing urban interventions, using existing architecture in the city, doing reinterpretations of things, coming in the night to change things illegally. But we also did performance in theatres as well as savage performances – performances where the people around us didn't understand what was going on. It was fun.
Sandra Hegedus © Renata Charveriat 2018
Was it a group?
Yes. It wasn't a professional group; we just wanted people to question their day-to-day lives. We would arrive at, for example, McDonald's and start doing something there. And no one understood what we were doing, what was going on. It was really crazy.
You were studying philosophy then?
Yes, and then I went on to study film.
In a way, it looks like your life is very much about the crossing of borders. Actually, all of us are crossing borders nowadays.
Yes. Everything at this moment is about crossing borders.